Wild Fire Updates
Monday, August 26, 2002
New Area Fires:
Smoke this morning was drift-in from the Pass Fire on the Shoshone National Forest on the east side of the Continental Divide. This fire, 18 miles south of Lander, was detected on Friday. It is more than 5,000 acres in size and 0% controlled. Summer homes in Pass Creek have been evacuated and an evacuation advisory has been issued to residents of Red Canyon. Engine crews are providing structure protection for twenty four residences.
All our small fires are now controlled. Forest Service firefighters spent a busy weekend chasing small lightning starts. The biggest was the Whiskey fire on BLM land west of Scab Creek campground which reached about 3 acres and was controlled last night. Crews were mopping it up today. Sublette County firefighters from Boulder assisted with this fire. The Dutch Joe fire reached about 1 acre. There were two small fires on Sweeney Creek over the weekend, one on Saturday and one on Sunday.

Forest Service fire personnel remind the public that despite the cooler temperatures, fire danger on the forest is still very high and that fire restrictions are still in effect. Vehicles with catalytic converters can potentially start grass fires if they stop and idle over grassy areas on back roads. Please be careful with cigarettes. Outdoor recreationists and hunters cover a lot of territory and are asked to report any new smoke columns that you see.
Most of our recent fires have been single tree lightning strikes. These can sometimes smolder for a couple of days before taking off into a larger fire. While you are out of doors, you might find a fire first with your nose instead of your eyes. If you smell a fire, but don't see the smoke, check it out. You may be the first person on a smoldering tree and can stop a larger fire if you take a bit of time to put it out or clear away more flammables around it. Mark as close as you can on the road with rocks or flagging ribbon and call the location in so firefighters can finish the job.
Those of you planning late season hiking trips, ALL major trailheads in the Wind River Mountains, with the exception of the Scab Creek trailhead, are OPEN. ALL CAMPGROUNDS ARE OPEN.
Divide Fire Update:
The Divide Fire remains about the same burning in the Bridger Wilderness. It is being managed as fire for resource benefit and is not being actively suppressed. The fire is approximately 2,200 acres. Trail and area closures remain in effect for the area. See below for related trail and camping closures for the Divide Fire.
The Scab Creek Trailhead and Trail remain closed due to the Divide Fire. This closure is being evaluated daily for safety.The Scab Creek Trailhead and Campground are NOT considered at risk at this time, but this situation will be monitored daily and evacuation actions taken if these areas are identified at risk. Area closures, trail closures and camping closures are in effect. CLOSURES
The Fremont Trail #096 (Continental Divide Trail) remains open to through traffic, but is subject to closure at any time pending fire activity. Expect smokey conditions at times depending on wind direction.
This fire was caused by lightning and is being managed as a wildland fire for resource benefit. There are no immediate risks to structures at this time.
Wilderness guards are posted in the area to answer the public's questions and concerns.
(National Fire Situation Report)
Bridger-Teton National Forest fire press updates
Fire Restrictions:
BTNF Fire Restrictions
Local Fires at a Glance
New small fires:
Cliff Ck, 1/4 acre, controlled
Silver Ck, 1/4 acre, controlled
Whiskey, 2 acres, controlled
Sweeney Ck, 1/4 acre, controlled
Dutch Joe, controlled
Divide Fire:
Bridger Wilderness, south and east of Divide Lake, Pinedale Ranger District
Size: appx. 2,200 acres
Status: Wildland fire for resource benefit
Cause: Lightning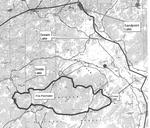 Divide Fire Perimeter, August 21, 2002. Click for larger version. US Forest Service map.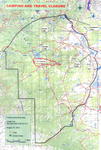 Divide Fire Closure Area, August 15, 2002. See above map for latest fire perimeter. Click for larger version. US Forest Service map.