Wild Fire Updates
Saturday, August 24, 2002 - 5:00 pm update
New Area Fires:
Bridger-Teton National Forest fire crews have been busy over the last couple of days chasing numerous small fires that have popped up from the recent thunderstorms. Crews have been working on fires in the Bondurant area, northern Wyoming Range, up the Green River, and in the mid-Wind River Range area. Fires up Jack Creek east of Bondurant are now out.
Whiskey Fire
The fire in Halls's Basin on the east side of Soda Lake, south of Boulder Lake, is now approximately 2 acres burning in light timber and grass. Crews from the Forest Service and Sublette County, supported by air drops, are on this fire Saturday afternoon. No closures to roads, trails or trailheads.
Joe Fire
Crews are also working on a smaller fire in the Dutch Joe area along the way to Big Sandy. More equipment was ordered for the fire this afternoon, so it appears crews will be on this fire a bit longer yet. No new info on size or precise location. No closures to roads, trails or trailheads in the Big Sandy area due to this fire at this time.
None of these fires as yet are threatening any structures, and no closures to roads, trails or campgrounds are being considered as yet. Closures ARE still in effect for Scab Creek Trailhead and the area trails due to the Divide Fire burning in the Bridger Wilderness (see below for more info on those closures.)
A small lightning start up Sweeney Creek was just declared controlled at noon today. Crews are on small fires, all around 1/4 acres, in the Cliff Creek drainage and another in Silver Creek west of Lookout Mountain (northwest of the earlier Mule fire).
Smokejumper personnel from Yellowstone National Park and from Missoula, Montana, are enroute to assist local personnel with some of our new fire starts. None of these new fires is large and the local crews have been getting the new starts stomped out pretty quickly after they are spotted. With high fire danger still a concern, crews want to get any new fires under control as quickly as possible.
Forest Service fire personnel remind the public that the fire danger on the forest is still very high and that fire restrictions are still in effect. As hunting season approaches and the weather cools, more people will be outdoors. Please report any new smokes that you see while you are out to the Sublette County Sheriff's office, local Forest Service Ranger District office, or Teton Dispatch. The public has been very helpful reporting smoke columns throughout the summer and fire officials very much appreciate the extra eyes out there keeping a look out.
Those of you planning late season hiking trips, ALL major trailheads in the Wind River Mountains, with the exception of the Scab Creek trailhead, are OPEN. ALL CAMPGROUNDS ARE OPEN.
Divide Fire Update:
The Divide Fire continues to burn in the Bridger Wilderness being managed as fire for resource benefit and is not being actively suppressed. The fire is approximately 2,200 acres. Trail and area closures remain in effect for the area. Six firefighters remain on the fire to monitor fire behavior. The fire is inbetween Divide Lake and Monroe Lakes and east completely around Knob and Moose Lakes, and between Silver and Lower Sylvan Lakes. See below for related trail and camping closures for the Divide Fire.
The Scab Creek Trailhead and Trail remain closed due to the Divide Fire. This closure is being evaluated daily for safety.The Scab Creek Trailhead and Campground are NOT considered at risk at this time, but this situation will be monitored daily and evacuation actions taken if these areas are identified at risk. Area closures, trail closures and camping closures are in effect. CLOSURES
The Fremont Trail #096 (Continental Divide Trail) remains open to through traffic, but is subject to closure at any time pending fire activity. Expect smokey conditions at times depending on wind direction.
This fire was caused by lightning and is being managed as a wildland fire for resource benefit. There are no immediate risks to structures at this time.
Wilderness guards are posted in the area to answer the public's questions and concerns.
(National Fire Situation Report)
Bridger-Teton National Forest fire press updates
Fire Restrictions:
BTNF Fire Restrictions
Local Fires at a Glance
New small fires:
Cliff Ck, 1/4 acre
Silver Ck, 1/4 acre
Whiskey, 2 acres, Halls Basin
Sweeney Ck, 1/4 acre, OUT
Dutch Joe, unknown status
Divide Fire:
Bridger Wilderness, south and east of Divide Lake, Pinedale Ranger District
Size: appx. 2,200 acres
Status: Wildland fire for resource benefit
Cause: Lightning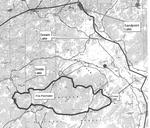 Divide Fire Perimeter, August 21, 2002. Click for larger version. US Forest Service map.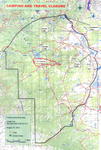 Divide Fire Closure Area, August 15, 2002. See above map for latest fire perimeter. Click for larger version. US Forest Service map.