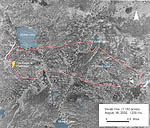 More Current Fire Information:
The Divide Fire once again doubled in size from 600 to approximately 1,200 acres today. This fire is in the Bridger Wilderness just south of Divide Lake and is moving east from there. Forest Service officials are still pleased with the fire's progress and direction of the burn. The fire has reached Sylvan and Knob Lakes, and is on both sides of Moose Lake, and down to Lower Sylvan.
Objectives are to keep the fire from spreading outside of the wilderness boundaries. The burn is spotty, mostly on the ground with occasional torching and spotting accomplishing the goals of eliminating ground fuels and debris. For those concerned with how the area looks, it is not a solid black swath but rather the desired mixture of burned and unburned areas which should be a benefit to the area.
It is possible the fire could reach 2,000 acres today due to red flag conditions which are bringing high winds, high temperatures and low relative humidities to fan the fire. At this time, there are two fire monitors and three wilderness rangers on the scene to monitor the fire's behavior and assist with public information. The smoke column was clearly visible from Pinedale.
CLOSURES
Camping Closures:
Lakes closed to camping within the closure area include Toboggan Lakes, Little Divide Lake, Divide Lake, Three Elk Lake, Pine Island Lakes, Monroe Lake, Knob Lakes, Moose Lake, Lightning Lakes, Full Moon Lake, Junction Lake, Sandpoint Lake, Bob's Lake, Dream Lake, South Fork Lake, Raid Lake, Cross Lake, Crescent Lake, Upper & Lower Sylvan Lakes, Warbonnet Lake, and Star Lake.
Trail Closures:
The entire Scab Creek Trail #110 from the Scab Creek Trailhead to Cross Lake
The Lowline Trail #095 from Little Divide Lake to Wolf Lake.
The entire Sage Basin Trail #109 from Scab Creek Trailhead to its junction with Scab Creek Trail, south of Crescent Lake.
The Highline Trail #094 from Full Moon Lake/Junction Lake south to Upper Silver Lakes.
The entire Sylvan Lakes Trail #162.
The entire Silver Lakes Trail #108.
The Fremont Trail #096 (Continental Divide Trail) remains open to through traffic, but is subject to closure at any time pending fire activity.
The Divide Fire is located inside the Bridger Wilderness, approximately 4.5 miles east of Scab Creek Trailhead, in the vicinity of Divide, Monroe, Knob, Moose and Lower Sylvan Lakes. The fire is burning in heavy lodgepole pine timber and is being managed as a wildland fire for resource benefit. This fire will help remove the buildup of dead rotting trees on the ground and create a mosaic of vegetation that will ultimately benefit wildlife and reduce larger fires that often sweep through uniform aged forests. The forest in this area has a large build-up of downed trees, snags and ladder fuels that lead to higher fire risk if allowed to continue to accumulate. While providing for increased resource benefits, this type of fire management action will limit the cost of the Divide Fire to approximately 30% of its potential suppression expense. There are no immediate risks to structures with this fire at this time. Although helicopters are occasionally being used to monitor this fire, horses are being used to pack in food and supplies to fire monitors and wilderness rangers. See our earlier update archive for aerial pictures of this fire. Note the new fire closure map for a perimeter of the new expanded closure area.
Trail closure status can change daily, so if you are planning on going into this area, check with the Forest Service before you head out for the latest updates and advisories. Current information can be obtained by checking with the Pinedale Ranger District office, 307-367-4326, or stopping by the District office. Check the Bridger Teton fire page and Teton Fires web sites for current press releases about fire conditions. Please be very careful with cigarettes when outdoors and remember that campfires are allowed ONLY in designated campgrounds. The weather in the high country is subject to wide variations in temperature this time of year. Be sure to bring clothing to layer for cold mornings and warm afternoons, and a sleeping bag rated for colder nighttime temperatures.

Bridger-Teton National Forest fire press updates
Teton Fires web site: www.tetonfires.com
Fire restrictions are in effect on the Bridger-Teton National Forest and Sublette County. No campfires except in developed campgrounds.
Fire Restrictions
BTNF Fire Restrictions