2017 Wind River Mountain Festival July 21-23 in Pinedale.

Schedule for 2017 Wind River Mountain Festival (posted 7/19/17)
July 21-23 in Pinedale
FRIDAY, JULY 21, 2017
8 AM - 12 PM: Vendor Booth Check-In/Set Up (Legion Park)
12 PM: Booths Open (American Legion Park)
5 - 6 PM: Surly Pika Adventure Race Bib Pick-Up (Surly Pika Booth)
5:30-8:30 PM: Music in the Park (Gazebo)
8:45 PM: Movie Introduction by Laura Hattan (Gazebo)
9:00-10:30 PM Featured Film: Chasing Ice (Gazebo)

SATURDAY, JULY 22, 2017
8-9 AM: Yoga with Zoe (Gazebo)
8 -10 AM: Lion's Club Pancake Breakfast (Donation, Upper Lawn)
9 AM: Booths Open (American Legion Park)
10 AM-12 PM: Tip Top Search & Rescue Water Demo (Park Riverside)
11 -11:30 AM: Preschool Story Time (Sublette County Library Booth)
11 AM-12 PM: Finis Mitchell Slideshow (Pinedale Auditorium)
1 - 4 PM: Pinedale Aquatic Center Activities (Park Lawn/Riverside)
2 - 4 PM: Whipsnake Obstacle Course (Park Lawn)
2 - 4 PM: Bicycle Poker Ride (Sublette Co. Special Olympics Booth)
2 PM: Kids' Crafts (Sublette County Library Booth)
3 - 6 PM: Surly Pika Bib Pick-Up (Surly Pika Adventure Race Booth)
4 - 6 PM: Painting Class (Pinedale Art and Craft Booth/Riverside)
5 - 9 PM: Music in the Park (Gazebo)
9 PM: After-Party w/ Live Music (Boondocks Pizza - Downtown)

SUNDAY, JULY 23, 2017 - SURLY PIKA ADVENTURE RACE
6 - 8 AM: Bike Drop-Off Station Open (Elkhart Park A-Frame)
6 - 8 AM: Paddle Drop-Off Station Open (Fremont Lake Campground #50)
6 -7:45 AM: Racer Check-In (White Pine Ski Area)
6:30-7:30 AM: Map Handout and Breakfast (White Pine Ski Area)
7:30-7:45 AM: Mandatory Pre-Race Meeting (White Pine Ski Area)
7:45 AM: Racer Shuttle (White Pine to Elkhart Park A-Frame)
10 AM - 2 PM: TA1 Open (White Pine Ski Area)
10:30 AM - 3:00 PM: TA2 Open (Kelly Park)
1:00-4:00 PM: TA3 Open (Fremont Lake Campground #50)
2 -3 PM: Bike Shuttle (TA2 to Lakeside Lodge)
3:30 PM: Paddle Check-In Closes* (Fremont Lake Campground #50)
*No Racers on the Lake After 3:30 PM
4 PM: Race Ends (Lakeside Lodge)
5 PM: Awards Ceremony (Lakeside Lodge)
7 PM: Racer After-Party (Fremont Lake Campground #50)

Related Links:
Wind River Mountain Festival
Pinedale Fine Arts Council

---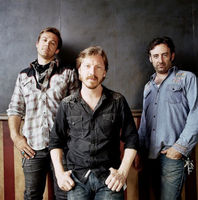 Jamie McLean Band headlines musical performances on Saturday, July 22 during the Wind River Mountain Festival in the American Legion Park in Pinedale.

Brooklyn's Jamie McLean Band highlights huge Wind River Mountain Fest lineup (posted 7/19/17)
July 21-23 in Pinedale
Pinedale Fine Arts Council
The Wind River Mountain Festival returns this weekend and features two nights of live music at American Legion Park featuring bands from across the country.

Friday's music will kick off at 5:00 p.m. with local singer/songwriter Jason Tyler Burton opening with a solo set followed by a headlining set from Philadelphia's Samantha Rise.

No stranger to Pinedale, Rise relocated to the City of Brotherly Love last year following a stint in Pinedale where she performed with a number of local bands. Rise returns to Pinedale with her full 5-piece Philly band featuring fellow Pinedale ex-pat Ryan Ptasnik on drums.

Friday's music will be followed by a live screening of the award winning documentary film Chasing Ice which follows National Geographic photographer James Balog across the Arctic as he deploys time-lapse cameras designed to capture a multi-year record of the world's changing glaciers. The screening is part of the Park After Dark series presented by the Sublette BOCES and the Mountain Fest.

On Saturday, music will again kick off at 5:00 p.m. with an opening set by Austin's Palomino Shakedown, a six-piece band that merges alt-country, swing, Southern soul and 50's & 60's rock and roll.

Headlining Saturday night will be The Jamie McLean Band from Brooklyn, NY. Jamie McLean had a big decision to make in 2006. He could continue to tour the globe as the guitarist for New Orleans' famed Dirty Dozen Brass Band playing sets at Madison Square Garden, Bonnaroo, Japan's Fuji Rock and working with the likes of Elvis Costello, Dave Matthews and Norah Jones. Or he could do it his way, take the road less traveled and begin to lead Jamie McLean Band.

McLean has never looked back and he's been relentlessly touring and recording with Jamie McLean Band ever since. Touring is a staple for Jamie McLean Band and they've hit the road with the likes of Gregg Allman, Aaron Neville, Dr. John, Taj Mahal, Derek Trucks, Susan Tedeschi, Blues Traveler, North Mississippi Allstars, Joan Armatrading, Drive By Truckers and Gov't Mule. Jamie Mclean Band has also appeared at festivals such as Bonnaroo, Mountain Jam, Gathering of the Vibes, Bele Chere, Ottawa Blues Fest, Quebec City Summer Fest, and Warren Haynes' Christmas Jam to name a few.

Following McLean's set at Legion Park will be an after-party show at Boondocks Pizza with local alt-country band 6 Foot 2 which features Terry Hill and the aforementioned Rise, Burton and Ptasnik.

For the full Wind River Mountain Festival lineup visit www.greatoutdoorshop.com.

Related Links:
www.pinedalefinearts.com Pinedale Fine Arts Council

---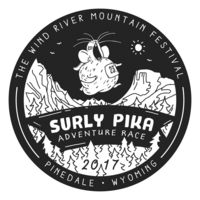 Sunday, July 23, 2017 - part of the Wind River Mountain Festival

Surly Pika Adventure Race July 23, 2017 (posted 7/19/17)
BIKE, TREK, PADDLE
The Surly Pika is not a triathlon or a relay. It is an adventure race in the front-country of Wyoming's largest mountain range, the Wind River Range. Teams of 2-3 will receive maps with pre-plotted checkpoints. Teams will make their way by bike, foot, and boat through the course to find checkpoints. Routes are not predetermined-racers will choose their own way from checkpoint to checkpoint. Teams do not have to secure all checkpoints to finish the race-this allows experienced racers to be challenged and new racers to create a course within their abilities.

Where is it?
• The Surly Pika Adventure Race takes place in Pinedale, Wyoming. The race starts at White Pine Ski Resort and ends at Lakeside Lodge on the shore of Fremont Lake.

When is it?
• The race begins at 8 am on July 23, 2017. All teams should finish by 5 pm.

How does my team win the Surly Pika?
• Winning is determined by the number of checkpoints first and time second. The team that finishes all of the checkpoints first is the winning team. Following teams will be ranked by the number of checkpoints they completed and then by their finishing time. For example: a team with 20 checkpoints finishing in 8 hours will place higher than a team with 19 checkpoints who finished in 7 hours. All teams must finish in 8 hours.

What are checkpoints?
• Checkpoints make up the race course. Checkpoints may be checked in any order, but must be completed in the correct leg of the race (you may not get boat checkpoints on a bike, etc.). Checkpoints may be skipped in the interest of time, but remember that your team's placing will be determined by the number of checkpoints achieved first and time second.

What kind of gear will I need?
• The Surly Pika has both team and individual gear requirements and recommendations. Check out the gear list for a detailed listing. Bring in a copy of your race registration to the Great Outdoor Shop in Pinedale to get a discount on any gear you need for the race!

Can I do it?
• You do not need to be a mountain climber, racer, or marathon runner to compete. You can achieve as many or as few checkpoints as you like, making the Surly Pika customizable to each team's ability. If you can ride a bike, hike, and paddle, you can race.

I can't navigate through Pinedale, how will I navigate the Surly Pika?
• Navigational skills are an essential part of the Surly Pika-find a teammate with good orienteering skills. Some checkpoints are easier to find than others. Customize your course to match your abilities.

What kind of distances are we talking about here?
• A large component of adventure racing is navigation and strategy. The fastest racers are not always the fastest finishers. A predetermined course takes away from this. The number of checkpoints completed and the route to reach them will vary by team, making it difficult to assess distances. This is an 8-hour race-be prepared.

Can we compete as a relay, or solo?
• No. The Surly Pika is a team race. Your team must stay together at all times.

Are GPS units allowed?
• No. All navigation must be done by map and compass. One-way safety devices such as the Spot Personal Locator Beacon are allowed.

More info
• You can also pop in to the Great Outdoor Shop, 332 W Pine Street in Pinedale, with any questions, or email a Race Director.

Can I attend even if I am not racing?
• Absolutely!

Registration
Registration can be completed online here: http://ultrasignup.com/register.aspx?did=48702. Links for the registration can also be found on our Facebook Page.

I don't want to race, but I'd like to volunteer-how can I help?
Races like these take an enormous amount of planning and help, and volunteers are greatly appreciated! There is an online sign-up sheet for volunteers-if you'd like to sign up, you can see the list here: https://www.volunteersignup.org/DJC8B

Gear List
The Surly Pika Adventure Race takes place in the front country of the Wind River Range in Wyoming. The terrain is rugged at times and can be thickly treed in places. The race is on United States Forest Service land, which is home to many different wildlife species, including moose, black bear, and grizzly bears. This is a compilation of gear that is mandatory (for individuals and/or teams), as well as some suggestions for recommended gear. The Great Outdoor Shop in Pinedale is offering a discount for any registered racers stocking up on gear-please bring in your registration confirmation to get your discount.

MANDATORY TEAM GEAR (each team must have these items on hand at all times, or when relevant to a specific race leg)
• Compass
• Emergency Blanket
• Race Punch Card, Map, and Guide (to be handed out on race day)
• Cell Phone (for emergency use only)
• Beartooth Publishing North Wind River Range Map
• Bear Spray
• Bike Repair Kit (tubes or patches, irons and a pump)
• Bug Spray

MANDATORY INDIVIDUAL GEAR (each racer must have these items on hand at all times, or when relevant to a specific race leg)
• Whistle
• Lighter
• Water (use good judgement with regard to the amount of water needed-dehydration is dangerous!)
• Food (again, use good judgement-calories are your friends in a race like this)
• Mountain Bike
• CPSC-certified bike helmet (must be worn at all times while biking)
• Boat and paddle-no motors or sails are allowed. If using a single boat or canoe for an entire team, each team member must have a seat.
• Type III PFD/life jacket to be worn at all times while in the boat.

RECOMMENDED GEAR (not mandatory, but strongly encouraged)
• Waterproof Map Case
• It may be useful to leave your bike on the course while you trek to a checkpoint. Bring a lock if you are not comfortable leaving your bike in the woods.
• Camera
• Sunglasses
• Sunscreen
• Headnet
• Multi-tool, especially for biking
• Long pants and long-sleeved shirts
• Dry bags to house your gear while boating
• Small first-aid kit
• Rain gear
Remember, gear can be left at transition areas. The weather in the Wind River Range can change rapidly and without notice. Racers are encouraged to stage extra clothing, food, water, and shoes at transition areas.
Bike transportation will be provided after the end of the biking leg. Bikes will be transported from the staging area to Lakeside Lodge, where the race ends. If you do not want your bike to be transported for you, a bike lock is highly recommended to ensure the safety of your equipment until you can get back to the staging area to pick it up yourself.

Registration
Registration closes July 20, 2017. Click here to get signed up (http://ultrasignup.com/register.aspx?did=48702) . Each team member must sign up individually-be sure to enter your team name in the space provided. Cost is per person. If you are a first responder, EMT, or member of Search and Rescue, email a Race Director for a discount code!

Racer's Guide
Start: The race start will be at the Elkhart A-frame at 8:00 am. Bikes must be dropped off at the A-frame before 6:30 am. There will be a manned station at the bike drop-off point. Race map handout and breakfast will be at 6:30 am at White Pine, followed by a mandatory pre-race meeting at 7:30 am-at least one member from each team must attend the pre-race meeting. After the pre-race meeting, racers will be shuttled to the start.

Finish: Surly Pika will end at Lakeside Lodge (not Sandy Beach). Racers finishing after 4:00 pm will receive a scoring penalty. Teams finishing after 5:00 pm will be un-ranked. Racers will be allowed to leave a bin or bag at the start to be transported to the finish. The Awards Ceremony will be at 5:00 pm.

Registration: Online registration closes Thursday, July 20th. There will be registration available at the Surly Pika booth at the Wind River Mountain Festival. Last chance registration is on Saturday evening at the booth until from 3:00-6:00 pm. There is no race day registration.

Checkpoints There are multiple checkpoints along the course. Checkpoints may be checked in any order, but must be completed in the correct leg. (ie you may not get boat checkpoints on bike). Checkpoints may be skipped in the interest of time, but your team's placing will be determined by number of checkpoints first and time second.

Transition Areas: TA's are check points where racers switch disciplines (bike to trek, trek to paddle). There are three TAs in this race. You will be able to leave bins or bags of gear at TA 1 and TA 3. Make sure your TA bin is well stocked-stash extra clothes, socks and shoes, food and drink. Unlike checkpoints, all TAs are mandatory. Racers are responsible for placing their own TA gear bins the morning of the race. Location of transition areas will be handed out at bib pick-up. Each TA will have water. Bring your own container – Surly Pika is a cupless race. If a team does not check in at a TA, Search and Rescue will be called to track down missing racers, so DO NOT skip a TA.

Mandatory gear: Mandatory gear is mandatory. There will be random gear checks on the course. There will be a time penalty for each missing piece of gear.

Other gear: Use good judgement. You must be able to get from TA to TA without resupply. Be prepared for weather changes and to be out longer than expected. Gear belts are not recommended. Lightweight backpacks are best.

Punch cards: Each team will be provided with a punch card. All checkpoints are marked by white and orange flags. A unique punch is at each CP-you will punch your card proving you were there. If you lose your card another may be provided, however, only the punches on the card you have at the finish will count.

Boats: Boats must be man-powered-no sails or motors are allowed. If you do not have a boat, The Great Outdoor Shop has a limited number of canoes for rent. All boats must have the Aquatic Invasive Species sticker available from Game and Fish. Boats must be dropped off at the staging area prior to race start. The boat staging area will be manned starting 6:00 am on race day for drop-off, or boats may be dropped off the night before as well. Note: Racers will not be allowed to start the boat leg after 3:30 pm, so please plan accordingly and watch your time. Surly Pika Adventure Race nor it's agents or volunteers are responsible for damage or theft of boats.

Bikes: While the Surly Pika bike leg takes place on trail, racers should still have a mountain bike-a road bike will not be sufficient. Bike drop-off opens at 6:00 am at the Elkhart Park A-frame to start the race. Bikes can be shuttled from TA 2 to Lakeside Lodge for racers at your discretion. If you do not want your bike to be shuttled, we would recommend locking your bike to a tree until you are able to either pick it up yourself, or arrange for a pickup by someone else. Surly Pika Adventure Race nor it's agents or volunteers are responsible for damage or theft of bikes.

Maps: Race-specific maps will be handed out at 6:30 Sunday morning at White Pine. Breakfast burritos, coffee and other snacks will be for sale at the lodge. It is recommended you get here at this time to enjoy breakfast look over maps to plan your route, etc. White Pine has been extremely gracious to house the race for the meeting early that morning, and any support you can toss their way is appreciated. Remember to bring (mandatory gear) Beartooth Publishing Wind River North Map, available at the Great Outdoor Shop. This is the most accurate trail map.

Entourage: Adventure racing is not the most spectator-friendly sport. However, family, friends and fans may cheer you along where able. Transition Areas are the best place for this. TA locations will be handed out with bibs. Remember no outside assistance, however, fans may pick up your bike or TA gear after you finish or shuttle you to the start. Lakeside Lodge will be a great place to gather, as well, as your cheering squad will be able to watch the progress across the lake while having some food or drinks.

Leave no trace: Pack it in pack it out. We are guests of the forest. The Surly Pika Adventure Race is permitted through the Bridger-Teton National Forest, and future races depend on you. Please be respectful of each other and of the area. Rules and regulations exist for a reason.

Bear safety: You are racing in bear country. Although an encounter is unlikely, each team is required to carry bear spray and know how to use it. Teams are also responsible for knowing how to travel in bear country. Take precautions with your food, please don't litter or leave food behind. This protects both you and the animals in the area. Safety should be a team's first priority-respect safe distances while in the presence of ANY animal.

Assistance: Racers are expected to be self-sufficient! Racers may not receive outside help, but are allowed to accept help from other racers. In the event of injury racers are obligated to stop and help each other. This is a team race, from start to finish. Stick together.

Manners: We do not receive special use of the trails as racers. We are required to abide by trail rules. Please yield to other trail users and say excuse me and thank you. You must yield to horses. Remember you are wearing race bibs and are representing Surly Pika Adventure Racing-everything you do, or do not do is a reflection of the entire race. The possibility of future events depends on you. Also remember your manners while interacting with race volunteers! Putting on a race like this is an enormous undertaking and our volunteers are taking time away from their homes and familes to help make the event successful. Treat all volunteers with respect-they certainly deserve it. Tell them thank you. Should you have a concern or a complaint, please reach out to a race director.

Rules:
• Race director wins all arguments.
• No motorized forms of travel.
• No GPS/phone navigation assistance. Altimeters and odometers are okay.
• Racers must be within 20 meters on foot and 50 meters on bike at all times.
• Helmets must be worn at all times while on bikes and PFDs must be worn at all times while in boats
• Only ride on trails. Bikes are not to be ridden at any time off trail.
• Failure to comply with any of these rules may result in team disqualification or time penalty.

SUNDAY, JULY 23, 2017 - SURLY PIKA ADVENTURE RACE SCHEDULE
6 - 8 AM: Bike Drop-Off Station Open (Elkhart Park A-Frame)
6 - 8 AM: Paddle Drop-Off Station Open (Fremont Lake Campground #50)
6 -7:45 AM: Racer Check-In (White Pine Ski Area)
6:30-7:30 AM: Map Handout and Breakfast (White Pine Ski Area)
7:30-7:45 AM: Mandatory Pre-Race Meeting (White Pine Ski Area)
7:45 AM: Racer Shuttle (White Pine to Elkhart Park A-Frame)
10 AM - 2 PM: TA1 Open (White Pine Ski Area)
10:30 AM - 3:00 PM: TA2 Open (Kelly Park)
1:00-4:00 PM: TA3 Open (Fremont Lake Campground #50)
2 -3 PM: Bike Shuttle (TA2 to Lakeside Lodge)
3:30 PM: Paddle Check-In Closes* (Fremont Lake Campground #50)
*No Racers on the Lake After 3:30 PM
4 PM: Race Ends (Lakeside Lodge)
5 PM: Awards Ceremony (Lakeside Lodge)
7 PM: Racer After-Party (Fremont Lake Campground #50)

Related Links:
Wind River Mountain Festival
www.lakesidelodge.com Lakeside Lodge on Fremont Lake
www.whitepineski.com White Pine Ski Area
---
Free career training for single Moms (posted 7/17/17)
Climb Wyoming
TETON AREA SINGLE MOMS — Are you ready to gain a full-time, year-round, professional career, not just a job? Climb Wyoming's next FREE career training starts soon! Training includes comprehensive office administration skills. Let us match you with a job that fits your interests, strengths and priorities—we continue to provide support as you settle into your new position. We'll connect you and your family to community resources right away so you can achieve success. Commuters welcome! We work with moms in Teton, Sublette and Lincoln counties. We want to hear from you. Reach us at 307-733-4088, find us on Facebook or visit climbready.org.

---
Sublette County Fair offers action-packed fun July 26-29, 2017 (posted 7/17/17)
Sublette County Fair Board
BIG PINEY – There will be something for everyone at the 2017 Sublette County Fair, Wednesday, July 26 through Saturday, July 29 at the Sublette County Fairgrounds in Big Piney.

We are excited to feature the four most popular evening events again this year! On Wednesday, July 26 at 7:00PM mud will be flying and the pigs will be trying to get away from the contestants as the Pig Wrestling takes place. Then, the following evening at 7:00PM, Little Buckaroos will be competing for belt buckles in the Little Buckaroo Rodeo. Come watch the kids try to rope the calves, ride the sheep, broncs, and mini bulls, or see how fast they can run in the stick horse barrel competition! Entries for the Pig Wrestling and Little Buckaroo Rodeo are due on July 19. On Friday, July 28, the teams of horses will get down in the dirt and try to pull a weighted sled at the Horse Pulls at 7:00PM. The fair will wrap-up when Chancey Williams and the Younger Brothers Band opens for Restless Heart. The concert will begin at 7:00PM and tickets are on sale now!

If you are looking to compete, we have plenty of options including:
• Pig Wrestling
• Little Buckaroo Rodeo, sponsored by Jonah Energy
• Recycled Western Art Contest
• Painted Rock Contest
• Chocolate Desert Bake-Off
• Open Class Static Exhibits
• Cowhide Race
• Cornhole Tournament

Acts on the free-stage include:
• Eric Haines, One Man Band
• Kaleb Austin
• Small Town Legend
• Jason Tyler Burton

Other entertainment options include:
• Action Entertainment, Fun Zone and Laser Tag
• Flippin'
• Reptile Adventures
• Lanky the Clown
• BPHS Robotic Demo's
• Sublette County Fair Dance

Or, you can check out the exhibits, vendors, and art show every day from 10:00AM to 7:00PM. Admission to the fair is free, so come relax and have some fun at our great event!

For complete schedules, times, and attractions, please visit www.sublettecountyfair.com, find us on Facebook, or call 307-276-5373.
---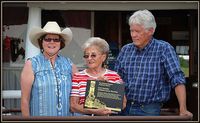 The historic townsite of Cora, Wyoming was recently listed on the National Register of Historic Places. L to R: Historian Ann Noble, former Cora Postmaster Joann Ludwig, Sublette County Historic Preservation Board President Clint Gilchrist.

Cora Townsite Celebration 2017 (posted 7/14/17)
Historic Cora Townsite listed on the National Register of Historic Places
Terry Allen
Past owners, employees, interested residents and visitors and those dedicated to documenting our history got together Friday, July 14, 2017 to celebrate the recent listing of the historic Cora Townsite on the National Register of Historic Places. There was a potluck BBQ, self-guided tours of the buildings, a history talk by historian Ann Noble, and a presentation of the National Register plaque to Joanne Ludwig.

Jonita Sommers agreed to introduce me to historic people and share some of her own remembrances. "We used to stop here when we were driving cattle north on the Drift," she said. "It had a small store back then. There was no bar. The beer was sold in the store. Doug Price would give me a silver dollar. You could buy pop, Vienna sausages and crackers. There was a rack of comic books which I sat and read."

Linda Anderson shared that a couple of cabins from elsewhere in the county were moved in and joined together to form the house. "Dad collected all these wagon wheels from around the county to make the yard fence," she said. "Every Sunday that's what we did. It was our Sunday outing."

I overheard Linda and another woman saying they acted as clothing models at the store when they were little girls.

Laurie Hartwig introduced me to her granddaughter from Iowa and Marley agreed to be the model to show off the wagon wheel fence in as artistic a way as I could manage.

Ann's daughters, Zoe and Laura, were busy taking pictures with Ann's new Nikon camera, so I went over to get their impressions of the work their Mother does in telling the history of our county.

"She gets up at 3am in the morning, types and drinks coffee...a lot of it," they said. "This is pretty much her daily routine. Sometimes we find her asleep on the floor when we wake up."

I guess that answers my question on how Ann manages to get so much done.

I spent some enjoyable time with Tina Nelson and Sam Nelson. Sam agreed to re-enact a character from the past coming out of the fully functional two-holer that still sits on the property. "We used to have a two-holer that sat right on the main street," said Tina. "Memories are a little unsure of who it was...could have been Grand dad Clemons or James Mark Noble, but one of them liked to sit there with the door cracked open so he could see people coming down the road and stop them so he could talk to them.

If anyone was a party to some of those conversations, I'd sure like to hear them, write them down and share them. I bet they were interesting, funny and reflected the times.

Thank you, Dawn Ballou for hiring me to attend this event and take photos and write down impressions.
______________________________

History
A typical Wyoming rural town
By Ann Chambers Noble
Early on, the town of Cora was founded to support the early settlers. Starting in 1898, James Noble had a general store at his Cora ranch about a mile east on the New Fork River that was patronized by area ranchers. The town also supplied area guest ranches that opened about the same time ranching did in the northern parts of Cora Valley and the Upper Green River area. The store was also the location for the Cora Post Office. For a short time, men working at a tie camp in Kendall, located north of Cora approximately 22 miles, also patronized Noble's store. But for the majority of time the camp was open, from 1896 until it shut down in 1904, Kendall had its own post office.

A few of the talented tie hacks working in Kendall stayed in the area and were valuable builders. Eddie Edwards, a tie hack, constructed many of the buildings on the Noble ranch. These buildings are hand-hewn sturdy logs that were transported from the Upper Green River near the tie camp. Two of these structures, the Cora Store and a warehouse, would be moved to a new townsite in 1919. These buildings display exceptional log craftsmanship.

The evolution of transportation had a formidable impact on the development and decline of the Cora townsite throughout the twentieth century. With the introduction of motorized vehicles, the wagon road up the Cora Valley became obsolete. The original road followed the New Fork River, making motorized vehicle travel difficult for most of the spring and irrigation season. Therefore, the State moved the road to higher ground one mile west of the Noble ranch and original townsite.

In 1919, Henry Clodius revived the Town of Cora, which by then had been experiencing an economic decline on the Noble ranch. Recognizing the importance of the new road, Clodius moved two of the structures from Noble's ranch and started a new Cora. The townsite has remained at this location to the present.

Cora would have been a typical Wyoming rural town in the twentieth century. Located along Wyoming Highway 352 starting in 1919, within a short time it housed a store, post office, school, teacherage, and community center, in addition to some residential housing. Cora was sustained by continued ranching community patronage. The town's economy was also assisted by guest ranches operating in the northern part of Cora Valley and the Upper Green River area especially until World War II.

With improved transportation, the school, teacherage and community center closed as residents now easily traveled to Pinedale for school and socializing. In time, the Cora store would also close for the same reason: people traveled farther, easier, and more often. The Cora Post Office, however, is still active and patronized by local residents.

Click on this link for more pictures: Cora Townsite listed on the National Register of Historic Places

Related Links:
Celebrating historic Cora By Joy Ufford, Sublette Examiner
National Register Listings in Sublette County, Wyoming
National Register of Historic Places Administered by the National Park Service

---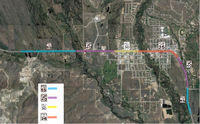 The Wyoming Department of Transportation has posted new speed limits on the outskirts of Pinedale. Graphic courtesy WYDOT.

WYDOT adjusts speeds through Pinedale (posted 7/15/17)
Stephanie Harsha, WYDOT
The Wyoming Department of Transportation (WYDOT) has made some changes to the speed limits on US 191 north and south of Pinedale.

Previously, the speed limits were set at 55 mph at milepost 96.22 to 98.88 (south of Fayette Pole Creek Road), then 40 mph to milepost 99.12 (south of Fremont Lake Road) and then 25 mph through town. Speeds picked up at milepost 99.90 (Lincoln Avenue) to 30 mph to milepost 100.41 and then 45 mph to milepost 101.25 (west of New Fork River).

A speed study was performed to look at what speed drivers are driving at and whether the posted speed limits were safe and feasible.

The study resulted in a few changes to the speed changes in this corridor.

From milepost 98 to 98.55 (Pole Creek Road) the posted speed is now 55 mph.
From milepost 98.55 to 99.13 (Sublette Avenue) the posted speed is now 40 mph.
From milepost 99.13 to 99.90 (through downtown) the posted speed will remain 25 mph.
From milepost 99.90 to 100.41 (north end of town) the posted speed will remain 30 mph.
From milepost 100.41 to 101.24 (heading north out of town) the posted speed is now 40 mph.
From milepost 101.24 to 102.25 (east of the landfill road) the posted speed is now 55 mph.

Speeds north of milepost 102.25 and south of milepost 98 will remain unchanged and as posted.

WYDOT urges motorists to be conscientious of the new posted speeds, obey all traffic signs and speed regulations and take extra precautions at night, being careful not to out-drive your head lights, and scan the roadway from shoulder to shoulder to look for wildlife.

For more information on road construction, closures and weather conditions, please visit http://www.wyoroad.info.
---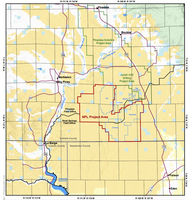 NPL

NPL gas field EIS released (posted 7/7/17)
Cat Urbigkit, Pinedale Online!
On Friday (July 7, 2017) the Bureau of Land Management (BLM) released its draft environmental impact statement for a major natural gas development in Wyoming.

The Draft Environmental Impact Statement (DEIS) for the Normally Pressured Lance (NPL) Natural Gas Development Project identifies a range of alternatives as to how the project can move forward. The document is available for a 45-day public comment period.

The proposed project, which was submitted by Jonah Energy LLC, could unlock 5.25 trillion cubic feet of natural gas, providing a reliable, long-term energy source for the nation and creating more than 700 full-time jobs and stable employment opportunities for southwestern Wyoming, according to the agency. The project could also create $2.2 billion in royalties, half of which would go to the State of Wyoming.

The project encompasses approximately 141,000 acres of public, state, and private lands, with the vast majority — approximately 96 percent—located on public lands.

Situated south and west of the existing Jonah Gas Field in Sublette County, the project proposes up to 3,500 directionally drilled wells over a 10-year period. Most wells would be co-located on a single pad, with no more than 4 well pads being constructed per 640 acres. On average, each well pad would be 18 acres in size. Associated access roads, pipelines, compressor stations and other facilities would be co-located where possible to further minimize surface disturbance.

Jonah Energy anticipates drilling at an average well density of one bottom-hole per 40 acres. Disturbance for each multi-well pad location would range between approximately 5.5 and 19 surface acres, with each multi-well pad supporting up to 64 wells. Ancillary facilities associated with the proposed natural gas wells include standard equipment on well pads (e.g., well heads, solar panels), water disposal wells, existing and new pipelines, powerlines, access roads, and regional gathering facilities (RGFs).

The exact locations of wells and ancillary facilities have not been identified at this time. Placement of final surface locations on BLM-administered land would be contingent on any environmental constraints identified during the Application for Permit to Drill (APD) process and the onsite inspection reviews conducted by the BLM.

The Proposed Action would result in an estimated short-term surface disturbance of up to 6,340 acres within the Project Area (4.5 percent of the Project Area). Up to 1,890 acres (or 1.3 percent of the Project Area) may remain disturbed for the life of the project, consisting of permanent facilities (e.g., RGFs), access roads, and equipment areas needed for ongoing production, servicing, and maintenance activities.

In addition to the proposed alternative, the EIS examines two other alternatives. Alternative A was designed to address sensitive wildlife resources. The maximum number of wells would be the same as the Proposed Action, but the location, timing, and pattern of development would be different than the Proposed Action with the timing of development occurring sequentially in three geographically defined phases. The maximum allowable density of development within identified Development Areas (DAs) would be largely driven by the presence or absence of delineated wildlife habitats in a given DA and the expanse of those habitats, if present.

Alternative B is the BLM's Preferred Alternative. The number of wells would be the same as in Jonah's proposal, but but the DA 1 area would have a reduced density of development, reduced surface disturbance, and more clustering of disturbance locations to reduce impacts to a range of sensitive resources in this area. Sage-Grouse Winter Concentration Areas would have additional resource protection measures including a disturbance threshold, phasing development from east to west, and centralizing above-ground facilities. For Alternative B, buried pipelines would be constructed to transport produced water and condensate from RGFs within Sage-Grouse Winter Concentration Areas and PHMA to RGFs outside of these areas. The development period would be slightly longer than that of the Proposed Action, resulting in slightly fewer new wells drilled per year (on average).

The BLM must receive comments by August 21, 2017. Comments can be emailed to blm_wy_npl_eis@blm.gov or mailed to the following address:
NPL EIS Project Manager
BLM Pinedale Field Office
P.O. Box 768, Pinedale, WY 82941

The BLM will also hold two public meetings on the project on the following dates and locations:

Tuesday July 25, 2017
BLM Pinedale Field Office
1625 West Pine Street
Pinedale, Wyoming 82941

Wednesday July 26, 2017
BLM High Desert District Office
280 Highway 191 North
Rock Springs, Wyoming 82901

All project documents are available for public review at the link below.

Related Links:
NPL DEIS- Bureau of Land Management

---
Business Directory
Click here for
Advertising Information