Real Estate scam alert (posted 6/30/16)
Sublette County Sheriff's Office
Today (Thursday, June 30th) the Sublette County Sheriff's Office received reports of an attempted email fraud. The person will attempt to push for financial information or encourage wire transfer transactions related to real estate. They are hacking for emails related to real estate transactions then using the contact info. We want to caution the public that if they are involved with real estate business they do so via mail or in person, especially with financial transactions to avoid issues. If you receive a suspicious email don't hesitate to contact us (307-367-4378).

---
FAA warning about drones and wildfires (posted 6/30/16)
Drones interfere with aerial fire suppression efforts
Sweetwater County Sheriff's Office media release
(ROCK SPRINGS) On behalf of Sweetwater County Fire Warden Mike Bournazian, the Sweetwater County Sheriff's Office is circulating the Federal Aviation Administration's recent email on the issue of flying drones near wildfires, which was sent out to all those with FAA-registered drones:

Keep Your Drone Away from Wildfires

There are lots of great places to fly your drones, but over or near a wildfire isn't one of them. In fact, drone operators who interfere with wildfire suppression efforts are subject to civil penalties of up to $27,500 and possible criminal prosecution.

Here's why it's important: Aerial firefighting aircraft, such as airtankers and helicopters, fly at very low altitudes, just a couple hundred feet above the ground and in the same airspace as hobby and recreational drones. This creates the potential for mid-air collision that could seriously injure or kill wildland firefighters in the air or on the ground.

As a result of unlawful drone operations near fires this year, fire managers have temporarily grounded all firefighting aircraft on several occasions for safety reasons. Shutting down firefighting operations could cause wildfires to become larger and can threaten lives, property, and valuable natural and cultural resources.

The bottom line is: 'If you fly, we can't.'

Sweetwater County officials noted that wildland fires are not uncommon in Sweetwater County. In July of 2015, a wildland fire burned well over 2,000 acres in the upper Bitter Creek drainage south of Rock Springs. About 100 local and BLM firefighters and support personnel were engaged in its suppression.

---
First-degree murder charges filed against Flint and Dereck Harrison (posted 6/29/16)
In death of Utah man Kay Ricks in May
Flint and Dereck Harrison have been officially charged with first-degree murder in the death of Utah man Kay Ricks. The father and son also face charges of felony kidnapping and wrongful taking or disposing of property. Court documents were filed in Lincoln County for the kidnapping and murder saga which began in Utah on May 10 and ended with the arrest of the two men near Pinedale, Wyoming on May 14th. The two men are currently in Utah facing charges involving the kidnapping and aggravated assault involving five female victims. Lincoln County Attorney Spencer Allred said he intends to bring the Harrisons to Wyoming to face the murder charges once the legal issues in Utah are worked out.

Click on the links below for more information:
Charging Documents Outline Case Against Flint and Dereck Harrison Sweetwaternow.com, June 29, 2016
Prosecutors: Dad, son fleeing police killed Utah rail worker Casper Star-Tribune, June 28, 2016
Lincoln County files murder charges in Ricks case Star Valley Independent, June 29, 2016

---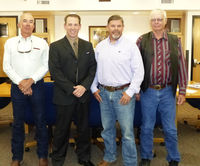 Pictured (L to R): Commissioner Jim Latta, K.C. Lehr, Commissioners Andy Nelson and Joel Bousman.

K.C. Lehr appointed as new Sublette County Sheriff (posted 6/28/16)
Pinedale Online!
The Sublette County Commissioners held interviews of the three candidates up for consideration to fill the opening for Sublette County Sheriff. The Commissioners met in executive session to interview each man. After two hours, they announced their decision.

Commissioner Andy Nelson first thanked the Republican Central Committee for their hard work in the selection process to present the three candidates from the field of 16 interested applicants. "They presented three excellent candidates," Commissioner Nelson said.

Next the Commissioners thanked the three applicants. "The County would be in wonderful hands no matter who of these three men were selected."

Commissioner Bousman moved to appoint K.C. Lehr to fill out the remainder of the term. The vote in favor was unanimous.

The Swearing-In Ceremony will be on Wednesday morning, June 29th at 8:30AM in the District Courtroom of the Sublette County Courthouse in Pinedale.

---
2016 Employer Information Seminars offered (posted 6/29/16)
The Wyoming Department of Workforce Services (DWS) is offering Employer Information Seminars to help Wyoming employers enhance their knowledge regarding new law changes relevant to employers, improving workplace safety and many other workforce-related programs.

The seminars will be held from 9 a.m. – 3:30 p.m. in the following communities:
Cheyenne, July 7, Laramie County Community College, Center for Conferences & Institutes, Centennial Room 129 and 130;
Rock Springs, August 4, Western Wyoming Community College, rooms 3650A and B;
Casper, September 29, Oil and Gas Conservation Commission, room 129

Employer Information Seminars are a resource for all employers whether they are new or have been in business for many years. Agency experts will be on hand to provide information regarding workplace training programs, what to expect during an unemployment insurance appeal process, changes to the workers' compensation experience modification rating system, new overtime rules and services offered by local workforce centers, among other topics.

There is a nominal fee to attend the seminars, which covers lunch and breaks. Individuals can register online through the Department of Workforce Services at wyomingworkforce.org or call (307) 777-8717 to request registration information.
---
Fire Danger increased to High (posted 6/28/16)
Teton Interagency fire managers announce that the fire danger rating is High for the Bridger-Teton National Forest, Grand Teton National Park, and Teton Interagency Dispatch Area. The potential for fire activity has increased due to drying vegetation combined with higher temperatures, low humidity, and brisk afternoon winds.

A high fire danger rating means that fires can start easily and spread quickly. When determining fire danger, fire managers use several indicators such as the moisture content of grasses, shrubs, and trees; projected weather conditions (including temperatures and possible wind events); the ability of fire to spread after ignition; and availability of firefighting resources across the country.

As the Independence Day holiday approaches, visitors and local residents alike are reminded that fireworks are not permitted in Grand Teton National Park, on the Bridger-Teton National Forest, or in Sublette and Teton Counties. It is critical that everyone comply with this regulation, especially given the very dry vegetation and warm temperatures throughout the Teton Interagency Zone.

Along with the fireworks prohibition on public and county lands, campers are reminded that unattended or abandoned campfires can easily escalate into wildfires; therefore, it is important that all campfires are completely extinguished and cold to the touch before leaving a site. Campers and day users should have a shovel on hand and a water bucket ready for use. All campfires must be completely extinguished and cold to the touch before leaving a site.

Visitors have abandoned 19 campfires on the Bridger-Teton National Forest and in Grand Teton National Park so far this summer. Campers should be mindful that they could be held liable for suppression costs if their campfire becomes a wildfire. Local residents and area visitors are reminded to know the risks, exercise caution, and practice heightened fire safety at all times.

To report a fire or smoke in Bridger-Teton National Forest or Grand Teton National Park, call the Teton Interagency Fire Dispatch Center at 307-739-3630. For more fire information, please visit www.tetonfires.com.
---
Yellowstone Park begins major Canyon Rim Rehabilitation Project (posted 6/28/16)
Yellowstone National Park
A major initiative to repair and improve overlooks, trails, and parking lots along the rim of the Grand Canyon of the Yellowstone River began the week of June 20, 2016.

The current area closures are the first step in a major rehabilitation project that will take place over the next four years, with completion scheduled for 2020. The project will re-route trails away from dangerous areas with stone barriers; connect historic overlooks with new walkways; create safe, accessible viewing areas with new informational signage; and use natural materials to integrate the infrastructure into the canyon's spires and cliffs.

Current closures include:
* Inspiration Point is closed until fall 2016.
* A section of the North Rim Trail between the Brink of Upper Falls and the Brink of Lower Falls is closed until July 23, 2016. The Brink of Upper Falls and Brink of Lower Falls are still accessible from their respective trailheads.

Areas impacted over the four-year period include:
* Brink of Upper Falls
* Brink of Lower Falls
* Uncle Tom's Trails and Overlooks
* Inspiration Point
* Red Rock Point
* Crystal Falls
* Sections of the North Rim Trail that connect these areas
* Parking areas at the Brink of Upper Falls and the Uncle Tom's area are being reconfigured to increase parking and the flow of pedestrian traffic.

Stay informed about current and future area closures at go.nps.gov/canyonprojects.

This project will be funded by the Yellowstone Park Foundation (www.ypf.org) through private donations and federal fee dollars. Construction will be managed and contracted by the Federal Highways Administration, with oversight by Yellowstone National Park. A crew of students from Montana Conservation Corps is assisting the National Park Service trail crew with work on the North Rim Trail.

---
BLM announces Travel Management Plan (posted 6/28/16)
Bureau of Land Management
The Bureau of Land Management has set priorities for Travel Management Planning (TMP) for public lands administered by the Pinedale Field Office. The BLM identified and prioritized nine travel management areas (TMA). Travel management planning is a comprehensive process and may take up to eight years to complete all nine plans. The nine TMAs identified in planning order are: Boulder, Rye-Grass Soap Holes, Bench Corral-Soap Holes, Anticline-Trappers Point, Wind River Front, Rim Merna-Upper Green, Ross Butte-South Desert, South LaBarge, and North LaBarge-Deer Hills.

"The BLM travel management planning process will address current and foreseeable needs and use related to roads and trails specific to BLM-managed lands in Sublette and Lincoln counties," said Caleb Hiner, Field Manager. "The BLM will focus on travel planning that incorporates public involvement at all levels. Public input is crucial in natural resource management."

The goal of the TMP process is to create a travel network that is logical and sustainable. Travel management must meet the increasingly diverse needs for transportation and recreational uses. The TMP will designate a network of travel routes and define the actions necessary to manage public use while protecting resources. Adaptive management practices will be incorporated as part of the plan to allow for changing uses, environmental conditions and the availability of funds in support of travel management.

The first step of the TMP process is to inventory the location, condition and use levels of existing routes. The public will have the opportunity to verify and provide feedback about their use of the routes within each TMA. "Your knowledge of existing routes and travel needs are valuable for creating a sustainable road and trail system," Hiner said. Route inventory maps for each TMA will be made available at the BLM Pinedale Field Office and on web-based sites.

The second step will be to ask the public and other entities affected by travel management, specific questions about their interests and use of public lands. The TMP process is designed to incorporate solutions to problems and avoid potential conflicts with the various visitor interests and uses. Ideas to better manage all forms of motorized and non-motorized activities are welcomed. The public is encouraged to participate in the TMP process. The public will have opportunities to provide comments and ideas useful for transportation planning.

The third step, with public input and the cooperation of State, County and local governments, is to develop management actions and alternatives. The TMP management actions and alternatives will be presented in a document compliant with the National Environmental Policy Act (NEPA). The NEPA document will describe the resources affected and analyze the effects of potential outcomes of the proposed action and alternatives. Travel management decisions will be subject to public review, appeal and protest. Public scoping meeting dates, locations and times will be announced at the appropriate time.

The fourth and final step is to implement travel management decisions. On-the-ground implementation actions include construction, maintenance, signing, and restoration.

"The public is encouraged to ask questions about the travel management planning process," Hiner said.

For more information contact Martin Hudson, BLM Pinedale Outdoor Recreation Planner at 307-367-5315 or send your questions to blm_wy_pinedale_wymail@blm.gov.

---
BTNF clarifies rules about electric bicycles (posted 6/28/16)
Allowed only on roads and motorized trails on the Bridger-Teton National Forest
Bridger-Teton National Forest
Recent occurrences involving people riding electrical bikes or e-bikes on non-motorized trails have prompted Bridger-Teton National Forest officials to clarify where the use of this new form of bicycling is allowed. The Bridger-Teton National Forest has several opportunities for e-bikes across the Forest though by definition, e-bikes have a motor propelled by electric power rather than human power, therefore, are classified as a motor vehicle. As with all motor vehicle travel, e-bikes are allowed only on roads and motorized trails shown on motor vehicle use maps.

Motor Vehicle Use Maps are available at www.fs.usda.gov/main/btnf/maps-pubs or at any Ranger District office.

Electric bikes are a new and promising alternative form of urban transportation and potentially trail riding. E-bikes can make biking more accessible to a segment of the population who do not currently use bicycles. Electric bikes or e-bikes are also evolving with more power and less weight each year. The evolving technology is quickly closing the gap between an electric bicycle and an electric motorcycle. As is true with any new technology, recreationists need to ensure they understand where new forms of recreational equipment can be legally used. E-bikes are capable of greater speeds compared with traditional mountain bikes, blurring the line between motorized and non-motorized forms of recreation. This creates concerns about safety and conflict on non-motorized trails shared with horses, hikers, kids, and dogs. Forest Supervisor Tricia O'Connor said, "At a time when we are working with many partners to respond to growing recreation use and provide quality outdoor experiences, opportunities for e-bikes need to be provided in locations where the use is appropriate for the desired setting and the potential for conflict can be minimized."

"E-bikes are managed as motor vehicles under our Travel Management Rule," said O'Connor. She noted that many opportunities for the use of e-bikes exist under the Travel Management Rule including

travel on all roads open to all vehicles, all trails open to vehicles, all trails open to vehicles 50" or less and all trails designated for motorcycles only. Trails designated for motorcycle use provide particularly attractive options for e-bike use due to the single-track design of these trails.

Questions have also been raised about the use of e-bikes as an assistive device for people with disabilities. The only motor vehicle exception for a person with a disability is the use of a device that meets both parts of the legal definition of a wheelchair or mobility device under the American Disability Act (ADA). Under the ADA definition, any device that is both designed solely for mobility for a person with disability and which is suitable for use in an indoor pedestrian area may be used where foot and other forms of non-motorized travel are allowed. E-bikes are not designed solely for people with disabilities and their use in an indoor pedestrian area would be unfit at the time. Therefore, e-bikes do not qualify for exception and may only be used where allowed by the Motor Vehicle Use Map.

For more information, visit the Forest Website at www.fs.fed.us/r4/btnf. For additional information, contact the Bridger-Teton National Forest at (307) 739-5500.

---
Fremont Lake Campground opens on Bridger-Teton National Forest (posted 6/24/16)
Reservations are being taken for the Forest's largest campground
Bridger-Teton National Forest
PINEDALE Today (June 24, 2016), the Bridger-Teton National Forest has reopened the Fremont Campground on the Pinedale Ranger District. The campground has been closed for construction since 2013.

The Fremont Lake Campground is located on the east shore of pristine Fremont Lake at an elevation of 7,400 feet, just 7 miles northeast of Pinedale, Wyoming. Water sports and fishing are popular activities on the scenic lake which is the deepest natural lake in the state of Wyoming. Fremont Lake sits at the foot of the Wind River Range, on a forested hillside above the lake.

The lake provides many recreational activities. Anglers enjoy fishing for lake, rainbow and brown trout, as well as kokanee salmon. Visitors also enjoy boating, sailing, canoeing, kayaking and swimming. The lake also serves as the water supply for the town of Pinedale.

Fremont Lake campground offers 50 family camp sites, some with spectacular views of Fremont lake, and one group site. "The campground improvements were necessary to address public health and safety issues, improve accessibility and provide quality facilities at Fremont Lake," said Pinedale District Ranger Rob Hoelscher. Facility improvements include new restrooms, new tables, fire rings, reconstructed parking spurs, overflow parking, a new group site, and two-way access to the boat ramp. "We recognize the campground closure has been inconvenient for the public and are extremely pleased to see this campground completed and open," said Hoelscher.

The Upper Fremont boat ramp and dock within the campground are currently being reconstructed in partnership with Wyoming Game and Fish Department. This boat launch facility will be open when construction activities have been completed. The Lower Fremont boat ramp, located on the southwest shore of Fremont Lake, will remain open to boaters throughout the summer and fall.

From U.S. 191/Pine Street in Pinedale, Wyoming, visitors would turn northeast onto Fremont Lake Road and drive about 4 miles to a "T" junction and turn left. Traveling approximately 0.2 miles, visitors should turn right at the "Y" junction and drive 3.5 miles to the campground.

For more information about the Pinedale Ranger District call 307-367-4326 or visit the Forest website at www.fs.fed.us/r4/btnf. Campground reservations for Fremont Lake are made through www.recreation.gov.
---
Air Quality public comment period deadline extended to July 8 (posted 6/21/16)
The Air Quality Division of the Department of Environmental Quality met with the public in Pinedale on May 31, 2016. The purpose was to gather information for Phase II, an approach to address emissions from existing sources and address new growth in the UGRB Ozone Nonattainment Area.

Below are the questions that were posed to the Pinedale community:
1. What is your perspective on the value of an emissions budget based control strategy? If value added, What form should the emissions budget based control strategy take? If not value added, what would an alternative be to address emissions from existing sources and new growth?

2. What source(s) should or should not be included?

3. What pollutant(s) should or should not be included?

4. What targets (including start and end points) are required for a viable approach to address existing sources and new growth?

5. What options could be considered as an alternative to the Interim Policy on Demonstration of Compliance with Wyoming Air Quality Standards and Regulations Chapter 6, Section 2(c)(ii)?

6. What additional information would you like the AQD to consider that has not specifically been address by questions 1 through 5?

Written input should be submitted to DEQ/AQD Ozone Team, 200 W. 17th St., Cheyenne, Wyoming, 82002, or faxed to 307-635-1784, by the close of business on July 8, 2016.

---
Controlled burn planned in Lincoln Co June 20 (posted 6/20/16)
Bureau of Land Management
Editor's Note: Some from this fire is visible to the south from Pinedale Monday evening.
_____________________________________

BLM High Desert District is planning on conducting a Prescribed Fire in the Miller Mountain area Monday, June 20, depending on weather forecasts and availability of resources. The prescribed fire is designed to improve wildlife habitat, reduce conifer encroachment within aspen stands, reduce hazardous fuels, and to stimulate regeneration of aspen plant communities. Visit: http://blm.gov/bqmd

---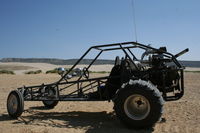 BLM courtesy photo

BLM finalizing rules for Killpecker Sand Dunes Recreational Site (posted 6/15/16)
Bureau of Land Management
The Bureau of Land Management Rock Springs Field Office is finalizing supplementary rules for the Killpecker Sand Dunes Recreation Site 23 miles northeast of Rock Springs, Wyoming.

The final supplementary rules will increase safety and maintain a high quality and unique experience for visitors to the Killpecker Sand Dunes by allowing the BLM to more effectively manage the area. The rules will require safety flags on all vehicles for better visibility in the 10,500-acre off-highway vehicle (OHV) open area, prohibit glass containers to decrease hazards in the OHV recreation area and limit speeds to 15 miles per hour or less within 500 feet of access roads to reduce traffic accidents.

The effective date is 30 days after the publication in the Federal Register.

More information on the Killpecker Sand Dunes Recreation Site is available at www.blm.gov/wy/st/en/field_offices/Rock_Springs/rec/dunes.html.

More information on the proposed rules and the 2013 Killpecker Sand Dunes Recreation Site Facility Improvement Environmental Assessment are available at www.blm.gov/wy/st/en/info/NEPA/documents/rsfo/Killpecker.html.

Persons who use a telecommunications device for the deaf (TDD) may call the Federal Information Relay Service (FIRS) at 1-800-877-8339 to contact the individual below during normal business hours. The FIRS is available 24 hours a day, 7 days a week, to leave a message or question with the below individual. You will receive a reply during normal business hours.

For more information, please contact Georgia Foster at 307-352-0327.

---
Western Wyoming wolf problems (posted 6/8/16)
Cat Urbigkit, Pinedale Online!
With the recent retirement of Mike Jimenez of the U.S. Fish & Wildlife Service, responsibilities for dealing with wolves that repeatedly prey on livestock has transferred to Tyler Abbott of the agency's Cheyenne office. Abbott has had his hands full since taking over the program a few weeks ago, with wolves in three areas of western Wyoming causing chronic problems.

Owl Creek
A wolf pack killed an adult ewe and lamb on a ranch along the Owl Creek Mountains near Thermopolis on May 19th. After federal officials killed one wolf from the pack, the pack escaped onto the Wind River Indian Reservation. Depredations continued, with the pack returning to kill two calves and three lambs over Memorial Day weekend. Seven wolves were spotted, and on May 31st, two more cattle were killed, as well as five more sheep. FWS authorized the removal of four more wolves, but so far that kill order has not been completed. On June 3rd, another calf was killed by the pack.

Absaroka
A second problem pack has been the Absaroka pack outside of Cody. On May 17th, four calved were killed by the pack, and FWS authorized the removal of two wolves from the seven-member pack. The pack eluded control efforts, and on May 21st, five more calves were killed, and one wolf was killed in response. In the coming days, the pack killed again, taking three calves on the 22nd, three calves on the 23rd, and finally, on May 24, one male wolf was killed. FWS upped the kill authorization to take out additional wolves from the pack. After 15 dead calves, and injuries to five others, five pack members have been killed, and FWS authorized the removal of all remaining members of the pack.

Lander
A third problem area has occurred eight miles outside of Lander, where another seven-member wolf pack has preyed on cattle. The first three calf kills were verified on May25th. Another calf was killed on June 2nd, and a cow was killed on June 6th. Two wolves have killed in control actions, and FWS has authorized the removal of two more wolves from that pack.

Other areas
There have been other problem areas of the state where wolves are preying on livestock, including a case of a pack of wolves killing a brood mare, and injuring her foal, in May in the Fontenelle area. Although wildlife damage control officials have sought out the wolves involved in the depredation, efforts have so far been unsuccessful. Other confirmed depredations involved cattle in the Gros Ventre, and in the Dunoir area near Dubois, where four wolves were removed in response to continued depredations.

Status
According to FWS: "After exceeding recovery goals for the Northern Rocky Mountains for 13 consecutive years, wolves (Canis lupus) were finally delisted in Wyoming in 2012. However, on September 23, 2014, the Federal District Court for the District of Columbia vacated the delisting rule and reinstated the Federal protections for wolves that were in place prior to our 2012 delisting." That decision is under appeal in federal court.

Wolves remain listed under the Endangered Species Act throughout all of Wyoming and are managed by the U.S. Fish and Wildlife Service. There are at least 382 wolves in about 48 packs inhabited the state, including Yellowstone National Park and the Wind River Indian Reservation.

Most depredations on livestock usually take place later in the year (August through October) in Wyoming. FWS manages for wolf population growth and wolf distribution to minimize chronic loss of livestock from wolves and promote wolf conservation by maintaining the Wyoming wolf population well above recovery objectives.

Contact
Livestock producers experiencing problems with wolves in western Wyoming can contact FWS's Tyler Abbott at 307-286-7242, or Rod Merrill of USDA Wildlife Services at 307-320-5109.

Related Links:
Wolf Watch - by Cat Urbigkit, Pinedale Online!
---
Rendezvous Rodeo July 7, 8 & 9th (posted 6/5/16)
Entries due into the rodeo office by Saturday, July 2nd
This year's Rendezvous Rodeo will be held Thursday, Friday and Saturday, July 7th – 9th as part of Green River Rendezvous days. The event is put on by the Sublette County Sporting Association and held at the Pinedale Rodeo Grounds. The rodeo starts at 7PM each evening. Admission is $7.00 each evening, ages 7 and under get in free.

Events will include roping, barrel racing bareback saddle bronc, bulls, calf scramble, Bull Poker, Ring of Fear, and Diamond Z English Shire Hitch.

Barrel Racing:
Open Barrels – Friday (Finals on Saturday for top 10)
Junior Barrels (age 11-15) – Thursday (Finals on Saturday for top 5)
Peewee Barrels (age 10 and under: ½ run Thursday, 1/2 run Friday (Finals on Saturday for top 5)

Roping:
All ropers, except #8 and #12 teams, rope in Thursday and Friday rodeos. Top 10 in each event will qualify for the Finals at the Saturday night rodeo.
Tie-down Roping
Breakaway Roping
Team Roping, #8 and #12 ropings will be run Saturday morning at 8:30AM.
Open roping – Teams rope in Thursday and Friday rodeos.

Rough Stock
Contestants ride all 3 nights. Bareback, Saddle Bronc, Bulls

Entry fees:
$100 for all Rough Stock and Roping events
$70 for Open Barrels
$30 for Junior Barrels
$15 for Peewee Barrels

Entries are due in the rodeo office by Saturday, July 2nd. (note date correction)
Entries should include 1. Events
2. Entry Fees
3. Phone number
4. Address
Send entries to:
SCSA
PO Box 405
Pinedale, WY 82941

Barrel Racers are responsible for calling 307-367-2302 on Wednesday, July 6th between 4:00PM and 8PM to see if they are in slack.

Veterans who have served in the Armed Forces will be honored at the Saturday night rodeo. They may pick up their tickets at the Pinedale VFW or from Spencer Nichols in Big Piney.

For more information and any questions, call Mary Anne Almquist (Secretary) at 307-367-2302.

---
Business Directory
Click here for
Advertising Information