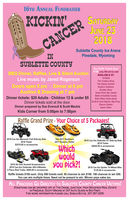 Kickin' Cancer June 23 at the Sublette County Ice Arena in Pinedale

Kickin' Cancer June 23 (posted 6/23/18)
The 2018 Kickin' Cancer for Sublette County will be held on Saturday, June 23rd in the Sublette County Ice Arena in Pinedale. All proceeds from this event goes to help Sublette County cancer victims. There will be a BBQ dinner, raffles, live and silent auction. There will be live music by Jared Rogerson. Dinner prepared by Sue Eversull and Scott Mackie.

Doors open at 5:00PM. Dinner at 6PM. Auction and drawing at 7PM. Dinner tickets available at the door. Adult tickets $20, children 12 and under $5. There will also be a kids corner from 5-7PM.

• This year's grand prize choice of:
- 2018 CanAm Maverick Trail side-by-side, 2018 trailer & $5,378 in accessories
- 2018 CanAm Defender XT side-by-side, 2018 trailer & 2,642 in accessories
- Two (2) 2017 SeaDoo's & 2017 Karavan trailer
- 2018 SkiDoo Summit snowmachine, 2018 CanAm Outlander 450 four-wheeler, 2-place trailer & $899 in accessories
- 2018 CanAm Spider tri-wheel bike & $135 in accessories

• Cash prizes: 50 chances to win $100 and 100 chances to win $50
• Need not be present to win; Can win multiple times on the same ticket
• TICKETS: $100 each; 500 tickets sold.

For more information go to www.kickincaner.com


---
11th Annual John Colter Day to tell story of Mountain Man history in Jackson Hole June 25 (posted 6/22/18)
Grand Teton National Park
MOOSE, WYOMING - The annual John Colter Day will be held Monday, June 25, at the Colter Bay Visitor Center in Grand Teton National Park. Colter explored the vast Yellowstone country during the winter of 1807-1808, and was likely the first Euro-American to travel the region. This marks the eleventh year that Grand Teton has offered special presentations to highlight the life of John Colter and the mountain men of the 1800s.

John Colter Day highlights include:
Colter Stone on Display - June 22 - July 1, 2018
The stone is a piece of rhyolite lava carved into the shape of a human head and engraved with the name John Colter, and year 1808. Discovered in Tetonia, Idaho in 1933, the stone, if authentic, represents the only solid proof of the route followed by trapper and explorer John Colter. As a member of the famed Lewis and Clark expedition from 1804 to 1806, Colter was given an early discharge from the Corps of Discovery. He set out on his own from a fur traders' fort in the southern Montana territory and he traveled south to present-day Cody, Wyoming. On his return, he passed through an area that is now part of Yellowstone National Park. A section of his journey may have brought him through Jackson Hole, over Teton Pass, and along the western slope of the Tetons. The stone is part of Grand Teton National Park's museum collection but is housed at the Teton Valley Historical Museum in Driggs, Idaho for most of the year.

Presentations at Colter Bay Visitor Center auditorium and amphitheater - June 25, 2018

11:00 a.m. - The Story of the Colter Stone, Location: Colter Bay Visitor Center auditorium
Ranger Naturalist Dan Greenblatt will detail the legend and history of this fascinating artifact.

3:00 p.m. - John Colter: Mountain Man Superhero, Location: Colter Bay Visitor Center auditorium
Dr. Barbara Mueller, professor of anthropology at Casper College, will discuss the life of John Colter, widely considered to be the first mountain man of the American West.

5:30 p.m. - The Story of Sacagawea, Location: Colter Bay Visitor Center auditorium
Local author, historian and storyteller, Ken Thomasma, will talk about Sacagawea, a Shoshone woman who accompanied the Lewis and Clark expedition across the western United States from 1804-1806.

7:00 p.m. - Mountain Men of Jackson Hole, Location: Colter Bay amphitheater
Ranger Naturalist Andrew Langford will re-create the rugged life of a mountain man, enduring brutal winters and physical dangers in the unmapped West during the 1800s.

9:00 p.m. - Run for Your Life: Then and Now, Location: Colter Bay Visitor Center auditorium
Dr. Barbara Mueller, professor of anthropology, will discuss historic adventures.

For more information about the Colter Day events, please call the Colter Bay Visitor Center at 307-739-3594.

---
Forest Service proposes amendments for sage grouse conservation (posted 6/22/18)
USFS releases Supplemental Notice of Intent to prepare an Environmental Impact Statement to amend land management plans regarding greater sage grouse conservation in Colorado, Idaho, Nevada, Utah and Wyoming
(June 21, 2018) - The Forest Service published a Supplemental Notice of Intent (NOI) in the Federal Register this week to create a Draft Environmental Impact Statement, beginning a 30 day comment period. The Forest Service is proposing to amend the Forest Service land management plans that were amended in 2015 regarding greater sage-grouse conservation in the states of Colorado, Idaho, Nevada, Wyoming, and Utah.

The NOI lists several categories of potential changes, but specific proposed adjustments to the text in the plans can be found for each state at: https://www.fs.usda.gov/detail/r4/home/?cid=stelprd3843381. Commenters are encouraged to comment on the textual edits that are being considered.

The purpose of proposed changes are to improve the clarity, efficiency, and implementation of greater sage-grouse plans, including better alignment with Bureau of Land Management (BLM) and state plans, in order to benefit greater sage-grouse conservation on the landscape scale. The agency will use lessons learned from new science, scoping and implementing during the last three years to make revised plans more efficient. Proposed actions are intended to improve sage-grouse conservation and although some management areas, such as Sagebrush Focal Areas may change in name designation, limits to development and other protections will remain.

After reviewing comments to the June 20 NOI, the Forest Service plans to continue the planning process with multi-regional draft and final Environmental Impact Statements, and have plan amendments finalized in the spring of 2019.

To read and comment on the Supplemental NOI, visit:
https://www.gpo.gov/fdsys/pkg/FR-2018-06-20/pdf/2018-13260.pdf
---
FEIS released for Normally Pressured Lance (NPL) natural gas development project (posted 6/22/18)
Final Environmental Impact Statement
The Bureau of Land Management in Wyoming has released the Final Environmental Impact Statement (FEIS) for the Normally Pressured Lance (NPL) Natural Gas Development Project in Wyoming. The NPL project is located immediately south and west of the existing Jonah Gas Field in Sublette County, Wyoming.

The FEIS is not a decision document, but one will be issued 30 days after the FEIS's release.

If approved, the NPL project could unlock up to 7 trillion cubic feet (TCF) of natural gas providing an additional reliable energy source for America. The proposed project could also create approximately 950 jobs during the development phase and generate $17.85 billion in total project revenues with Federal royalties amounting to about $2.2 billion, of which about $1.1 billion would go to the State of Wyoming.

"The NPL project is important to Wyoming and the nation," says BLM Deputy Director Brian Steed. "It will provide valuable natural gas to power the country, significant royalty revenue to the state and Treasury, and the type of jobs that support western communities."

A copy of the entire NPL Final EIS is available at https://go.usa.gov/xnp3E.

For more information, contact Kellie Roadifer with the BLM Pinedale Field Office at 307-367-5309, or email blm_wy_npl_eis@blm.gov. Persons who use a telecommunications device for the deaf (TDD) may call the Federal Relay Service (FRS) at 1-800-877-8339 during normal business hours. The FRS is available 24 hours a day, 7 days a week, to leave a message or question. You will receive a reply during normal business hours.

---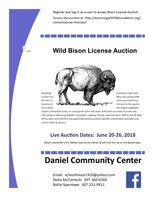 Wild Bison Hunt License opportunity will benefit the Daniel Community Center

Wild Bison Hunt License Auction will benefit the Daniel Community Center (posted 6/20/18)
Live Auction from June 20-26, 2018
The Daniel Community Center has won the opportunity to sell a wild bison hunt license. The online auction will only last a week, from Wednesday, June 20 to Tuesday, June 26, 2018.

The Wyoming Governor's Big Game Coalition was started with the idea of returning proceeds of the Governor's licenses to the species from which the license originated. Daniel Community Center, as a non-profit seller will retain 30% of the proceeds of the sale. 70% will go to the Wyoming Wildlife Foundation, splitting 10% for administration, 10% to the All Wildlife Account, and 50% into non-game/education account to benefit conservation and various other programs.

Bison License #3 is for the Daniel Community Center and the auction will be live only on these dates: June 20-26, 2018. Register and log in as a user to access the Bison License Auction at http://wyomingwildlifefoundation.org/commissioner-licenses/

For more information:
schoolhouse1920@yahoo.com
Delta McCormick 307-360-6766
Rollin Sparrowe 307-231-9911

---
Sage Grouse public meeting in Pinedale June 27 (posted 6/20/18)
BLM public meetings in Wyoming for review of Sage-Grouse Draft EIS
Bureau of Land Management
As the next step in aligning federal habitat conservation efforts with state wildlife management plans, the Bureau of Land Management (BLM) will hold two meetings in Wyoming beginning June 25, 2018, to provide information and answer possible questions regarding the recently released draft amendments to sage-grouse plans finalized in 2015.

Draft Environmental Impact Statements (EISs) and amendments to the 2015 plans were published on May 4, 2018, beginning a 90-day public comment period. The public meetings will help attendees learn about the draft plan amendments and formulate written submissions before the comment period ends on August 2, 2018.

"The purpose of the public meetings is helping BLM identify new information that supports refinements to the alternatives, or suggestions for new alternatives to consider," said Wyoming state director Mary Jo Rugwell.

Western governors have sought changes to the 2015 plans for BLM-managed lands in their states, which spurred the BLM in proceeding with the plan amendments. Comments on the draft amendments will guide the BLM in finalizing changes that build on and strengthen these plans to conserve public land habitat in cooperation with state plans for managing wildlife species.

Plan amendments could affect up to 61 BLM land-use plans for about 53 million acres in the seven western states. In Wyoming, 10 plans guiding management on 17 million acres of public land could be revised.

The public meetings will be held in an open-house format, with BLM specialists attending information stations to interact with meeting attendees to provide answers or additional information. Oral comments will not be accepted at the meetings, but computer terminals will be available for submitting written comments on-site. Wyoming meetings will be at:

Monday, June 25: Cheyenne 4:00-7:00 pm, Laramie County Library, Cottonwood Meeting Room, 2200 Pioneer Ave., Cheyenne, Wyoming
Wednesday, June 27: Pinedale 1:30-4:30 pm, Lovatt Room, Sublette County Library, Pinedale, Wyoming

---
Montana canine is a wolf (posted 6/19/18)
Montana Fish, Wildlife & Parks
The canine creature shot in Montana a month ago that captured the curiosity of the nation is actually a gray wolf.

DNA from the animal, which was shot legally by a rancher near Denton on May 16, was tested at the U.S. Fish and Wildlife Service forensic laboratory in Ashland, Oregon. The lab compared the animal's DNA with thousands of other DNA samples from wolves, coyotes and dogs. The conclusion was clear – this animal is a gray wolf from the northern Rocky Mountains.

Confusion about the animal might be due to the condition of the animal and the photos, which seemed to show short legs and big ears. Inspection of the animal at the Montana Fish, Wildlife and Parks wildlife health lab in Bozeman revealed a relatively normal looking, dark brown wolf.

Physical variations aren't unusual for animals, said Mary Curtis, geneticist for the U.S. Fish and Wildlife Service.

"Within species there can be variability that's not surprising at all," Curtis said.

The wolf was a non-lactating female, which means she didn't have a litter of pups. However, any unique physical features she has might also appear in her siblings or parents and may continue to be passed along by others in her family. The wolf measured 45 inches from the tip of the nose to the rump and weighed 84.5 pounds. It's estimated that the wolf was between 2 and 3 years old.

Wolves are fairly common in Montana. According to the 2017 Montana Gray Wolf Program Annual Report, population estimates suggest there are approximately 900 wolves in Montana. This marks the 13th consecutive year that Montana has far exceeded wolf recovery goals.

Property owners in Montana have broad legal authority to shoot wolves they feel might be a threat to their livestock, as was the case with this wolf near Denton.

Related Links:
Wolf Watch - by Cat Urbigkit, Pinedale Online!

---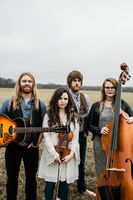 The Barefoot Movement

Third Annual Beer & Gear fundraiser June 21 (posted 6/18/18)
The Barefoot Movement Nashville bluegrass quartet to perform
Pinedale Fine Arts Council
The Pinedale Fine Arts Council (PFAC) and Wind River Mountain Festival (WRMF) are proud to present Nashville bluegrass quartet The Barefoot Movement performing live Thursday, June 21 at the Third Annual Beer & Gear Fundraiser. Sell your used outdoor gear, listen to great music and have a cold one to benefit the Wind River Mountain Festival. The event kicks off at Wind River Brewing Company with an opening set by Pinedale singer/songwriter at 6:00 pm followed by The Barefoot Movement's headline set at 7:00 p.m.

Heralded by CMT Edge as "one of the most promising bands on the bluegrass scene," the music of the Nashville based group The Barefoot Movement is as down to earth as their intention for members of their audience: sit back, relax, take your shoes off, and stay a while. All the worries and frustrations of the world melt away as the charming four-piece acoustic band takes listeners back to a simpler place and time. Whether you're seeking emotional ballads or rip-roaring barn-burners, you can expect a collection of music that offers something for everyone.

Stop by The Great Outdoor Shop in Pinedale for more information or if you plan to sell your gear.

---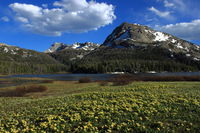 Big Sandy Lake. Photo by Fred Pflughoft.

Backpacking to Big Sandy Lake (posted 6/14/18)
Mid-June in the Wind River Mountains
Fred Pflughoft took his first backpack of the season with his son Kit and daughter-in-law Kelli to Big Sandy Lake in the southern Wind River Mountains in mid-June. "Weather was great, scenery was spectacular as usual and although we escaped the bugs because of the cold front that moved in they will be ferocious by this next weekend." Click on this link to see more of Fred's scenic photos of the area: Backpacking to Big Sandy Lake

Related Links:
Fred Pflughoft Photo Gallery

---
BLM conducts prescribed burns (posted 6/13/18)
Editor's note, Smoke update, Wednesday, June 13, 2:00PM: The Pinedale BLM is conducting a prescribed burn approximately 12 miles west of LaBarge on the east face of Miller Mountain, south of the LaBarge Creek drainage. The Burdick prescribed fire project involves approximately 848 acres of slash and standing conifer targeted to burn. Smoke from the burn is visible as far north as Pinedale today and residents of Big Piney are reporting smelling smoke. For more information, contact the BLM Pinedale Field Office, 307-367-5300.
___________________________________

Original post May 14, 2018
BLM to conduct prescribed fires in Sublette and Lincoln Counties
May 14, 2018
The Bureau of Land Management High Desert District fire crews are planning to conduct two prescribed fires between May and June as part of a multi-year project. Both projects will take place on public lands administered by the High Desert District's Pinedale Field Office. Fire operations will begin only when conditions are favorable for a safe and effective burn.

The Perkins Creek prescribed fire project is located approximately 16 miles west of La Barge, Wyoming and consists of 47 acres of slash and standing conifer. The Burdick prescribed fire project is located approximately 12 miles west of La Barge, Wyoming on the east face of Miller Mountain, south of the La Barge Creek drainage. There are approximately 848 acres of slash and standing conifer targeted to burn on the Burdick prescribed fire Project.

These prescribed fires are part of the Wyoming Range Mule Deer Habitat Project, which was developed as part of the Wyoming Game and Fish Department's Wyoming Range Mule Deer Initiative that was completed in 2011. The purpose of the project is to improve vegetation conditions in crucial mule deer winter range, transition range, and fawning ranges. The vegetation conditions are improved by using prescribed fires to reduce conifer where it is encroaching on native aspen stands and to stimulate new aspen growth.

Fire crews will implement a number of burning tactics to start and control the burns. Smoke will be visible to the public during the operations. Fire crews will remain on scene and monitor the burn areas afterward to ensure safety until the fire is out.

Prescribed fire is a beneficial management tool used to replicate natural wildfire. Many land management agencies conduct prescribed fire to ensure the overall improvement of land, vegetation, and wildlife. It can also help return the ecosystem to its natural composition and healthiest function.

For more information, please contact Mark Randall at 307-367-5350 or visit the Pinedale Field Office located at 1625 West Pine Street in Pinedale, Wyoming.

---
WYDOT receives $14 million federal grant for new Rock Springs interchange (posted 6/12/18)
Wyoming Department of Transportation
A $14 million federal grant for a new interchange project on Interstate 80 near Rock Springs will improve traffic mobility and safety, and help entice business development in the area.

The Wyoming Department of Transportation will receive a $14 million federal Infrastructure for Rebuilding America (INFRA) grant that will be used to construct a new interchange and reconstruct Industrial Road from Foothill Boulevard south to Blairtown Road.

The $14 million grant WYDOT will receive is part of the $1.5 billion INFRA grant program, which is part of the federal Fixing America's Surface Transportation Act.

"This project is vital to Wyoming because it will improve traffic flow and provide a direct connection from Interstate 80 to an intermodal industrial park that provides energy-related services," said WYDOT Director Bill Panos. "The Rock Springs area has a growing industrial park, which has direct access to rail service. This interchange will facilitate intermodal access, and freight movement and will open new areas for commercial, industrial and economic growth."

Although WYDOT will receive $14 million, the total cost of the project is just under $30 million. Federal grants like the INFRA program are necessary to help important projects like the one near Rock Springs come to fruition. Federal grants rely on local match, and in order to be competitive, the state's ability to provide matching funds is necessary.

The project includes replacing an existing bridge over the interstate to provide a higher vertical clearance, constructing eastbound and westbound ramps with continuous acceleration/deceleration lanes to Dewar Drive and building a new grade-separated crossing over the Union Pacific Railroad for access to the industrial park.

Construction could begin in 2020.

WYDOT applied for the grant to help improve traffic flow and safety in the area. Currently, there is no direct access to the interstate from the industrial area. Trucks have to drive through residential areas to access the industrial park.

With I-80 being a major freight network, the new interchange will help improve movement of freight within the state and nationally, helping to diversify the economy in this part of the state. It can also help entice future growth in the industrial area by offering direct access to the interstate.

"The Rock Springs project meets the needs of the public because it will reduce truck traffic in non-commercial areas while it addresses the current needs and future growth of the energy sector in that area," said Gregg Fredrick, WYDOT chief engineer.

---
Wolf News Roundup 6/12/2018 (posted 6/12/18)
Cat Urbigkit, Pinedale Online!
Reintroducing Wolves
The National Park Service has issued a decision to reintroduce wolves to Isle Royale. Over a three to five year period, the NPS will introduce between 20-30 wolves on the island.

Swedish Hunt Halted
Hunters in Sweden will not be able to hunt wolves this year, since the wolf population has fallen to just over 300 animals. A Swedish court ruling requires that the country maintain a population of at least 300 wolves before wolf hunting can be authorized.

Wisconsin: 238 wolf packs
Wisconsin's wolf population has decreased slightly, but still has at least 238 wolf packs, with a minimum population of more than 900 animals, according to state wildlife officials. The 2017-18 overwinter minimum wolf count is 905-944, a 2.2% decrease from the 2016-17 minimum count of 925-956. 
The most recent count represents a modest decline in the population following three years of population growth, including a 6.8% increase last year. 
This leveling off has been anticipated and may suggest that wolves are beginning to occupy less-suitable habitat as their range has expanded in the state. 

Related Links:
Isle Royale - National Park Service
Swedish Hunt - The Local
Wisconsin - DNR website
Wolf Watch - by Cat Urbigkit, Pinedale Online!

---
Accolades to Coach Bill Lehr (posted 6/7/18)
Cat Urbigkit
When Big Piney's Bill Lehr stepped into the Sublette County Commission budget work session on Wednesday, June 6th, he expected to speak in support of the budget request for the Southwest Sublette County Pioneers senior center. But what he got was a standing ovation from the commission.

Commission Chairman Andy Nelson said, "We want to thank and recognize Coach Lehr for his many years of service to the county."

Coach Lehr has officially retired, after more than 50 years coaching youth, with more than three decades at Sublette County School District No. 9. He retires with 12 state championships (including six state football championships, five boys track titles, and the recent girls state track and field championship title).

Lehr was also recently recognized as the Wyoming Coaches Association Coach of the Year.

---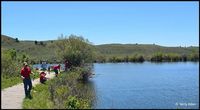 Kids Fishing Day at the CCC Ponds. Photo by Terry Allen.

Free Fishing Day in Wyoming (posted 6/4/18)
Terry Allen
Worm dirt, Worm dirt, Worm dirt.
That's what I was repeating over and over as I finished flossing my teeth Sunday morning...so I'd remember to write it in my notebook to add to this story. I had noticed worm dirt under my nails that was still there after a Saturday night shower and a Sunday morning shower. It was there because Saturday, June 2nd was Free Fishing Day all over the State of Wyoming, sponsored by our State Game & Fish Department; and I'd been fishing nightcrawlers out of a styrofoam Ridley's cup to bait my #2 hook with.

I used the same memory process Saturday night when I found a Tick on my Belly, Tick on my Belly, Tick on my Belly...and I was googling how to get him to let go. I had a cigar handy...but it seemed like a high risk plan so I gave up the most photo-worthy idea I had. Choking him to death with sun tan lotion didn't work, flicking with my finger nail didn't work, finally just grabbing hold with steady pressure for awhile got him to let go...and I flushed him. Sorry, my trip to the Zen Buddhist Retreat was a long time ago.

A whole slew of Game & Fish people in red shirts were demonstrating different things. Pete was exposing the brain of a Speckled Dace and explaining how to think like a Dace in case you wanted to catch one.

Luke Shultz was teaching stream function, stream habitat, erosion and deposition; and why certain habitat didn't have a whole lot of sustainable life and conditions in it.

Liam Strand and his Dad were trying to work out a "hold and admire the fish" moment, and it was only about a half a moment before he made good his escape.

There was a burger and dog bbq going on in the parking lot, being conducted by some of our favorite archeologists. I missed my burger because I forgot to say, "My burger, my burger, my burger." Save one for me next time, guys. I'll get it in 10,000 years when it's done.

I found myself fishing off the spillway at sunset when Madeleine and Scott Murdock came by. I learned her husband Stan had been part of the group to get the spillway put in, and Madeleine had done a lot of the ordering and such.

Pretty soon it was just me, one trout, and a tick on my belly getting into my truck, and a Bluebird watching as we bumped back down the dirt road to Pinedale.

Thank you Dawn Ballou at Pinedale Online for sponsoring this story.

Click on this link for more pictures.

Terry Allen: txpartisan@gmail.com

---
Highway clean-up to help keep Wyoming beautiful (posted 6/3/18)
Wyoming Department of Transportation
Volunteer groups and other civic-minded people will be out this month cleaning areas near the state's interstates and highways as a way to help keep Wyoming beautiful.

As part of the annual Spring Clean Fling, about 900 Adopt-A-Highway volunteers have either already started or will start cleaning their sections of road. Wyoming's Adopt-A-Highway program is now in its 29th year.

"WYDOT values and appreciates the efforts of the Adopt-A-Highway volunteer groups," state Maintenance Engineer Kent Ketterling said. "The commitment and dedication shown by these groups to keep the roadsides around their communities clean is a testament to the quality of citizens we have in our great state."

Adopt-A-Highway members are encouraged to get out as weather permits this month and in June to make the first of their two required cleanups for the year.

"Our litter control budget is about $2.5 million a year," said WYDOT Director Bill Panos. "Without our volunteers, our litter control budget would be significantly higher. Our volunteers help keep Wyoming beautiful, and we are grateful for the pride they have for Wyoming."

WYDOT supplies the orange safety vests and trash bags to the volunteers for each cleanup. Volunteers should contact their local WYDOT offices to arrange to pick up the vests and bags.

"Volunteers should always make their own personal safety their top priority," Ketterling said. "Volunteers are required by law to always wear their orange vests since they are working near traffic."

In the past, volunteers have removed about 50 tons of litter from the highways. Their work means Wyoming can remain beautiful for the people and visitors to the state.

The Adopt-A-Highway volunteers include members of fraternal, civic and social clubs, employee and professional organizations, churches, governmental agencies, families and retirees.

When a group adopts a highway, WYDOT places a sign designating that section of road as that particular group's.

WYDOT officials asks volunteers to be on the lookout for dangerous objects such as broken glass, needles, sharp metal objects and exposed nails when picking up trash. Volunteers should carefully put those next to their bagged garbage for pickup.

Volunteers also should not pick up abandoned containers with unknown substances because they could be dangerous. Instead, volunteers should tell WYDOT about it.

Anyone interested in adopting a highway section can contact a district coordinator at:
• (307) 745 2100, for Laramie, Albany and Carbon counties;
• (307) 473-3200, for Natrona, Converse, Platte, Niobrara, Goshen, northern Carbon and southern Johnson counties;
• (307) 352-3050, for Sweetwater, Uinta, Lincoln, Sublette and western Teton counties;
• (
307) 674-2300, for Sheridan, Campbell, Crook, Weston, northern Johnson and northern Niobrara counties; and
• (307) 568-3400, for Park, Fremont, Hot Springs, Washakie, Big Horn and eastern Teton counties.

---
Candidates vying for county seats (posted 5/28/18)
Cat Urbigkit, Pinedale Online!
As of Friday, May 25, there have been six candidates file for the two seats on the Sublette County Commission that will appear on the 2018 ballot. Joel Bousman of Boulder is seeking re-election and five other Republicans have also filed:
Kay Malkowski of Daniel
David Stephens of Cora
Doug Vickrey of Daniel
Ron Gordon of Big Piney
Richard Griffin of Big Piney.

Three Republican candidates, all from Pinedale, have filed for Sublette County Clerk:
Carrie Long
Rhonda Egle
Tara Bolgiano.

Emily Paravicini has filed for Sublette County Treasurer; Jeness Saxton has file for re-election as County Assessor; and Janet K. Montgomery is seeking to retain her position as Clerk of District Court. All are Republicans.

Also filing to retain their current positions are:
Curt Covill as Coroner
KC Lehr as Sheriff
Clayton Kainer as Attorney.

The filing period for candidates seeking to appear on the primary election ballot closes Friday, June 1.

---
WG&F approves grizzly hunt (posted 5/29/18)
Wyoming Game & Fish Department
The Wyoming Game and Fish Commission set a conservative approach for Wyoming's first grizzly bear hunting season since 1974. Grizzly bears in Wyoming have exceeded recovery criteria since 2004 and management of the bear was returned to the state last year.

The vote of the Commission was unanimous and followed the recommendation of Game and Fish personnel, the latest research, a three-state memorandum and thousands of public comments.

"I want to thank all of the people who came to today's meeting to participate in the process. Additionally, thousands of people commented online and truly made this regulation a better regulation," said Scott Talbott, director of the Wyoming Game and Fish Department. "Many, many people have been part of this process since last fall in helping to set a direction for all grizzly bear management, from education, conflict reduction to hunting. Wyoming is committed to ensuring a recovered population to provide opportunity for anyone who is interested in grizzly bears and this decision is part of our management."

The draft quota inside the demographic monitoring area, which is the area experts deemed as suitable habitat is 11 bears with a very conservative one bear female sub-quota. Allowable mortality limits are developed using a pre-set formula outlined in a cooperative agreement between the states of Montana, Idaho and Wyoming.

Parts of this approved plan that were based on public input include: mandatory education for grizzly bear hunters, hunt areas and regulations to direct harvest to areas with higher potential for grizzly bear/human conflicts, a closed portion of a hunt area next to Grand Teton National Park to support the wildlife viewing tourism economy and a prohibition against hunting grizzly bears near highways.

The regulation clarifies the process to obtain a license if a hunter is placed on the grizzly bear license issuance list for hunt areas 1-6. Hunters who are high enough on the list will be required to submit payment for their license fee and proof of a hunter education certificate within 10 days of notification.

Additionally, the regulation establishes 10 day hunt periods for those hunting in areas 1-6.

The Commission approved two regulations: Chapter 32, Regulation Governing Firearm Cartridges and Archery Equipment as well as Chapter 68, Grizzly Bear Hunting Seasons. The regulation is for grizzly bear hunting seasons and adds to another existing rule that was passed in 2017 to establish some of the specifics around grizzly bear management.

The cost of grizzly bear licenses was previously set in law by the Wyoming Legislature. It is $602 for residents and $6002 for nonresidents.

Related Links:
Grizzly Bear Hunt - Read all the details here.


---
Info on vehicle registration laws in Wyoming for non-resident workers (posted 5/29/18)
Sweetwater County
In a joint release issued on Tuesday (May 29, 2018), Sweetwater County Sheriff Mike Lowell and County Treasurer Robb Slaughter described the details of Wyoming statute concerning vehicle registration for non-residents working in the state.

"The Wyoming statute that addresses this issue," Slaughter said, "is W.S. 31-2-201 (j) and (k). It can be reviewed online at the State Legislature's website at http://www.wyoleg.gov/StateStatutes/StatutesConstitution?tab=0 ."

Lowell and Slaughter outlined the statute as follows:

A non-resident who is employed in Wyoming, on either a temporary or full-time basis, and who is the owner or operator of a vehicle in Wyoming that is not a commercial vehicle must immediately obtain a valid Wyoming registration or purchase a temporary registration.

To obtain a temporary registration, their vehicle must display a valid registration from another jurisdiction and be properly insured. Application is made in person at the County Treasurer's Office at the Sweetwater County Courthouse at 80 West Flaming Gorge Way in Green River. The fee for a temporary registration is $50.00 per month and cannot exceed 120 days per vehicle. If a worker is going to be employed in Wyoming for longer than 120 days, a regular Wyoming registration must be issued.

Those applying for a temporary registration will need to bring with them the following:

- The vehicle's current, non-expired registration
- Proof of insurance
- Color of vehicle
- Payment for temporary registration in the form of cash, credit card, or debit card

Subsection (k) of the statute makes the following provisions for a commercial vehicle owner, a non-resident owner of a vehicle who is not employed in Wyoming, or any owner, upon transfer of ownership to, as an alternative to registration:

A 30-, 60-, or 90-day permit may be obtained in any 12 month period. The temporary permit begins on the date the owner enters Wyoming or on the date of purchase of the vehicle. The fees for a temporary permit are:

Up to 30 days - .10 X regular registration fee
Up to 60 days - .20 X regular registration fee
Up to 90 days - .30 X regular registration fee

Lowell and Slaughter noted that Wyoming has full reciprocity agreements with Idaho, New Mexico, Illinois, and Nebraska. Non-residents working in Wyoming who live in these states may run with their regular registration. If they take up residence in Wyoming, however, (by living here over 120 days, for instance), they must obtain Wyoming registration.

In addition, Wyoming has daily commuter reciprocity with Colorado, Idaho, Montana, Nebraska, South Dakota, and Utah. Non-residents who live in these states and commute to work daily in Wyoming may run with their regular registration.

Lowell emphasized that Sweetwater County deputies are enforcing this statute, and will continue to do so.

Slaughter said those with questions may contact their County Clerk's office.

---
Wyoming concealed firearm permit application information (posted 5/23/18)
Sweetwater County Sheriff's Office
A complete, updated, printable information package describing the step-by-step procedures to follow in applying for or renewing a Wyoming Concealed Firearm Permit (CFP) is now available on the Sweetwater County Sheriff's Office website, Sheriff Mike Lowell announced.

As the instruction package notes, prior to 1994 Concealed Firearm Permits (CFPs) were issued by Wyoming's county sheriffs, but carry permits are now the province of the state's Division of Criminal Investigation. (Wyoming's sheriff's offices are still involved in the application process, however.) Applications are available only online at http://wyomingdci.wyo.gov and must be completed before you take the next step at the Sweetwater County Detention Center, west of Rock Springs.

A link to the printable instructions appears below:

www.sweet.wy.us/document_center/Sheriff/Concealed%20Firearms%20Permit%20Update%20-%20Effective%20April%2027%202018.pdf

Questions can be directed to the Division of Criminal Investigation at DCI at CFP@wyo.gov or (307) 777-7181, or the Sweetwater County Sheriff's Office at burkholderb@sweet.wy.us or (307) 352-4901.

"In addition," said Lowell, "the DCI website also features a color-coded map at that identifies in green those states in which a Wyoming Concealed Carry Permit is recognized, which are Alabama, Alaska, Arizona, Arkansas, Colorado, Florida, Georgia, Idaho, Indiana, Iowa, Kansas, Kentucky, Louisiana, Maine, Michigan, Mississippi, Missouri, Montana, Nebraska, Nevada, New Hampshire, New Mexico, North Carolina, North Dakota, Ohio, Oklahoma, Pennsylvania, South Carolina, South Dakota, Tennessee, Texas, Utah, Virginia, West Virginia, and Wisconsin."

Lowell emphasized that, as outlined on the DCI website, "It is the sole responsibility for all concealed firearm permit holders to be aware of the requirements and laws of all states. The permit issued by your state does not supersede any other state's laws or regulations. Legal conduct in your state may not be legal in the state you are visiting."

---
FWS sticks to Grizzly Delisting (posted 5/23/18)
Cat Urbigkit, Pinedale Online!
In late 2017, the U.S. Fish and Wildlife Service opened a public comment period on the impact of a federal court ruling on its decision to remove the Yellowstone grizzly population from federal protection. The action was taken because the federal court (in regard to wolves in the Great Lakes region) had overturned the agency's decision to both designate a population as a "Distinct Population Segment" at the same time the agency removed that DPS from federal protection. The agency had undertaken the same action with the Yellowstone region's grizzly bear population.

The court had ruled that while FWS had the authority to designate a DPS and delist it in the same rule, it violated the Endangered Species Act by designating and delisting the Great Lakes wolf DPS without evaluating the implications for the remainder of the listed entity of wolves after delisting the DPS. The court also ruled that FWS failed to analyze the effect of lost historical range on the Great Lakes wolf DPS.

FWS noted, "In light of this ruling, we asked for public input to aid our consideration of whether the GYE delisting determination should be revisited and what, if any, further analysis was necessary regarding the remaining grizzly bear populations and lost historical range."

The federal wildlife protection agency has now decided that the federal court ruling in the wolf case does not impact the Yellowstone-area grizzly bear delisting, since all of the grizzly bears in the lower 48 States remain listed as threatened, except where superseded by the Yellowstone grizzly DPS delisting. In addition, the delisting is consistent with the agency's overall recovery strategy.

---
Business Directory
Click here for
Advertising Information