Memorial Service for Irv Lozier Sept. 5th (posted 8/28/15)
Memorial services will be conducted at Lozier's Box R Ranch on Saturday, September 5, 2015 at 10:00AM. Reception at Stockman's Restaurant in Pinedale at 12:30PM. In lieu of flowers, please make donations to Yellowstone Boys and Girls Ranch Foundation, PO Box 80807, Billings, MT 59108.
---
Memorial Funeral Services for Bud Decker Sept. 1 (posted 8/26/15)
Memorial Funeral Services for Bud Decker will be held on Tuesday, September 1st at 11:00AM at St. Andrews Episcopal Church in Pinedale.

---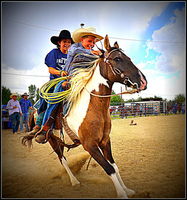 Ride for Reid. Photo by Terry Allen.

Ride for Reid Memorial Rodeo (posted 8/26/15)
A College Fund from Reid's Friends
Friends, families and fellow competitors came together to remember and celebrate the life of young Reid Schouboe; and raise money to start a college scholarship fund, by participating in a ranch skills event held at the Pinedale Rodeo Grounds on August 15, 2015.

There were a number of individual and team roping events, as well as Steer Stopping and Team Branding. Thrown in for good measure were impromptu foot race sprints in the arena for all age groups, genders and specie combinations.

Some competitors dressed up in more colorful riding gear than what they might normally wear, while others dressed in the well-worn legendary uniform of the west…Levi's, a shirt of some kind and boots.

The following quotes by those who knew and loved Reid were willingly offered. The photos taken of the event are an attempt to share the world that Reid lived in. The people are real. The animals are from local ranches. The skills on display…by person and horse are a product of the hard work of daily life.

"Rodeo is an important event because of all the families it brings together. It brings together all the fathers and their sons and all the mothers and their daughters. I've been hittin' it hard for 35 years and all three sons compete." -
Anonymous Cowboy –

"Reid would have wanted to be remembered like this. He usually heeled. We rode a lot together. A scholarship is a great way to remember him. He was a great athlete. He was good at football, snowmobile, roping, driving his truck and motorcycle. He was a good buddy. He'd want everybody to have a good time doing everything." -
Colt Ramsey –

"He was an amazing kid. He never failed to brighten a room." - Steven Winer –

"He was one of my good buddies. He always helped people out in school and at rodeos." - Wyatt Phelps –

"This is a great event for a great kid and he'll always be remembered. My first memory is him smiling. He had a tendency to put everyone around him in a good mood."
-Phil Selby, Jr. –

"He always made me laugh. We talked about our pickups a lot. I helped him tune it up so it wouldn't smoke."
- Chantz Albrecht –

"It is a good day to celebrate a life. It was way too short a life for him but he will be remembered for a long time because of the creation of the college fund. He was one of those kids you want your own kids to be."
- Boone Snidecor –

"I made these spurs as a donation for the Champion of Youth All-around award. Reid was the best person I ever met and it only took him 14 years to get there. I would have liked to see what he would have done with his life. Him leaving really impacted everyone's lives." - Clayton Selby –

"It is a tragedy but I'm glad something good came out of it. Scholarships are more appreciated than most know. I'm a student at CSU Vet School. I drove the school bus he rode on for a couple years. He always had a smile on his face…and he'd talk to you as long as he possibly could." -Nikki Marincic –

"It's a nice day for a good cause, a great event and a great kid." - Doc Sare –

"I'd like to be more like Reid." - Phil –

"I'm really impressed with the support of the community. It's really keeping my mind on other things. My mind is on one thing only and it's nice to have the support of friends right now." - Eric Schouboe – (Father)

Results from the Ride for Reid.

Winner of the all-around 17 & under and high money winner:
Arye Espenschied

Team Roping:
Winners Allison Hospadar & Nick Nichols
2nd Arye Espenscheid & Tj Jarrad

Steer Stopping
1st Arye Espenschied
2nd Hayes Child
3rd Jade Espenscheid

Team Brandng:
1st Kyndall Tibbits
Wade Tibbits
Roger Jones
Nick Nichols

2nd: Brian Espenschied
Chad Espenschied
Tj Jarrad
Arye Espenschied

3rd: Gabe Clark
Chance Albright
Weston Albright
Tanner Smith

4th: Taylor Selby
Clayton Selby
Phil Selby
Taylor Hurley.

To make a donation to the scholarship fund:
http://www.cfjacksonhole.org/donors/charles-reid-schouboe-memorial-scholarship/

Click on this link for more photos: Ride for Reid

Photos by Terry Allen

---
2015 PAC Fall Expo/Grand Welcoming of PAC's New Addition Sept. 9 (posted 8/24/15)
The Pinedale Aquatic Center (PAC) invites everyone to come out on Wednesday, September 9th, for the 2015 Fall Expo/Grand Welcoming of PAC's New Addition. The EXPO will be from 3:30-6:30PM and is a great chance to find out what's happening in Sublette County this fall. There will be fitness demos, facility tours, free food, raffle prizes, and much more. For more information, call 307-367-2832 or go to www.pinedaleaquatic.com.

---
Local Services:
Abortion Alternatives
Accounting & CPA
Arts & Entertainment
Attorneys & Legal
Automotive
Banks & Financial
Bars
Beauty Salons
Bed & Breakfasts
Boating
Bookkeeping
Builders & Contractors
Building Material
Business Services
Cabins
Cellular
Child Care
Churches
Cleaning Services
Clothing
Commercial Art
Computer Supplies
Consultants
Convenience Stores/Fuel
Convention/Meeting
Dentists
Dining
Dry Cleaning
Events
Fabric & Crafts
Fencing
Fishing
Flooring
Food & Drink
Funeral Homes
Furniture
Gifts/Western
Government
Graphic Design
Grocery & Market
Guest Ranches & Lodges
Handyman Services
Hardware & Feed
Heating
Health Care & Medical
Horseback Adventures
Insurance
Interior Design
Internet/Web/Advertising
Landscaping
Laundry
Liquor Stores
Lodging
Log Homes
Massage Therapy
Modular Homes
Motels
Mountain Biking
Movie Theaters
Museums
Nails
Newspapers
Office Supplies
Oil Field Services
Optometrists
Organizations
Outdoor Equipment
Outfitters & Guides
Packaging & Shipping
Painters
Pet Stores
Pharmacies
Photography
Plumbing
Professional Services
Radio
Real Estate Agencies
Real Estate-FSBO
Remodeling
Retirement
Retreats
RV Camping
Schools
Scrapbooking
Septic Services
Skiing
Snowmobiling
Snow Plowing
Storage and Storage Units
Tanning
Tattoos & Body Art
Tax Preparation Services
Taxidermy
Transportation/Shuttle
Trash Services
Trucking
Veterinarians
Visitor Services