'Meet the Candidate' social for Michael Kudar April 25th (posted 4/23/14)
Everyone is invited to a "Meet the Candidate" social for Michael Kudar, candidate for Pinedale Town Council, on Friday, April 24th from 5-7PM at Wind River Brewing in Pinedale. Come with questions, comments or concerns. Michael will have a Special Guest there for everyone. Appetizers will be served. This is a kid-friendly event.

---
Funeral Service for Mary Brabant April 25 (posted 4/22/14)
Funeral Services for Mary Brabant will be held on Friday, April 25 at 10AM at Our Lady of Peace Catholic Church in Pinedale. Rosary will be held on Thursday evening, April 24th at 6PM.

---
DEQ to hold Winter Ozone Season open house May 22 (posted 4/22/14)
DEQ will host a public open house in Pinedale on Thursday, May 22, 2014 to discuss the recent Winter Ozone season.

The open house will provide multiple stations to help answer individual questions and exchange information. The topics to be represented include the update to the Ozone Strategy, the 2014 Winter Ozone Season activities, emissions reductions and permitting, and photochemical grid modeling.

This meeting is being facilitated by DEQ at the Sublette BOCES Building, located on North Tyler in Pinedale, WY. The open house is slated to start at 6:00 pm and end at 8:00 pm.
---
'Meet the Candidate' social for Matt Murdock April 26 (posted 4/22/14)
Everyone is invited to a "Meet the Candidate" social for Matt Murdock, candidate for Pinedale Town Council, on Saturday, April 26th at Serendipity Coffee House, 215 Country Club Lane in Pinedale, from 9:30-11am.
---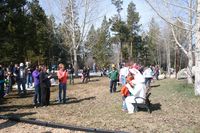 Lions Easter Egg Hunt. Photo by Mindi Crabb.

Lions Easter Egg Hunt in Pinedale (posted 4/21/14)
A big crowd of impatient tikes gathered at the Pinedale Boyd Skinner Park on Saturday, April 19th for the annual Pinedale Lions Easter Egg Hunt. Eager kids and their families filled Town Park and cleaned up 200 pounds of candy within minutes. The Easter Bunny made a special appearance and posed for photos with the kids.

Lions Club International is a community service organization that does volunteer work both locally and internationally. The Lions motto is "We Serve." Local Lions Club programs including raising money for worthy causes including hospices, disaster relief efforts, hearing and cancer screening programs, Habitat for Humanity, eyeglass collection program, hearing aid programs, diabetes awareness, youth outreach, environmental conservation, international relations, Special Olympics and more.

Click here for Lions Easter Egg Hunt more pictures (7 photos)

Photos courtesy Mindi Crabb

---
2014 Election update (posted 4/21/14)
Candidate Forum May 1st; Pinedale elections May 6th
Pinedale Online!
TOWN OF PINEDALE MUNICIPAL ELECTION MAY 6, 2014
The Pinedale municipal elections will be held on Tuesday, May 6, 2014. This year citizens will be voting to elect the positions of Mayor (4-year term) and two Town Council positions (4-year terms). These positions are presently held by Stephen Smith as Mayor, Councilman Dave Hohl, and Councilman Matt Murdock (who filled Chris House's vacated position.) The filing period for municipal nomination candidate applications opened March 12th and is open through April 25th.

Note: To vote in the Pinedale Municipal Election on May 6, 2014, a person must be registered to vote or register to vote on or before April 24, 2014 (The last day available to meet the 14 day requirement.). Or eligible citizens may also wait to register to vote on the day of the election or otherwise register to vote in compliance with Wyoming statute (absentee registration generally).

CANDIDATE FORUM MAY 1ST
The Sublette County Chamber of Commerce will be hosting a candidate forum for candidates running in the Town of Pinedale elections on Thursday, May 1st at 6PM in the Lovatt Room of the Pinedale Library.

PRIMARY ELECTION AUGUST 19, 2014
The Primary Election will be held on Tuesday, August 19, 2014. The primary election filing period is May 15-30, 2014. Sublette County offices that will have elections are County Commissioner (2 positions, both Joel Bousman and Andy Nelson's terms are ending), Clerk, Treasurer, Assessor, Attorney, Clerk of District Court, Sheriff, Coroner and Precinct people.

GENERAL ELECTION NOVEMBER 4, 2014
The General Election will be held on Tuesday, November 4, 2014. The General Election filing period is August 6-25, 2014. Sublette County offices that will be voted upon in this election are Upper Green River and Big Piney Cemetery Districts, Rural Health Care District, School Districts 1 & 9 and Conservation District.

2014 Key Election Dates:
Primary Election Candidate Filing Period: May 15-30, 2014
Initiative Filing Deadline: February 10, 2014 (37,606 signatures required)
New Political Party Deadline: June 2, 2014 (4,833 signatures required)
General Election Filing Period: August 6-25, 2014
Primary Election: Tuesday, August 19, 2014
Independent Candidate Deadline: August 25, 2014 (4,833 signatures required for statewide races)
General Election: Tuesday, November 4, 2014
Referendum Filing Deadline: 90 days after the adjournment of the legislative session

Click here for Wyoming election date information.

Related Links:
Candidate advertising on Pinedale Online!
Other advertising options on Pinedale Online!

---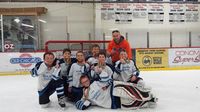 Big Sky State Games tournament champs. Photo courtesy Kylah Bowers.

Pinedale hockey players part of team that takes win in Big Sky State Games (posted 4/18/14)
Teagan Bowers, Jayden Currah, and Bridger Smith, along with their Jackson teammates, took home gold in the Big Sky State Games tournament held in Billings, MT over the weekend of April 12th. This win qualifies the team to compete in the national state games held in Lincoln, Nebraska in 2015. Bowers, Currah, and Smith were part of the Pinedale Glacier Squirt team that won the Wyoming Squirt State A tournament in February.

Photo courtesy Kylah Bowers

---
Pedaling through Pinedale this summer (posted 4/16/14)
Meet & Greet April 17th at the Pinedale Library
Sublette County Library
The Greater Yellowstone Coalition (GYC) has revealed that its "Cycle Greater Yellowstone" 2014 route – which features 465 miles, five mountain passes, and nearly 20,000 feet in elevation gain – will be passing through Pinedale this summer.

The Sublette County Library invites you to join members of the Tourism Board and GYC communications director Jeff Welsch at 6:30 pm on Thursday, April 17th for a Meet & Greet where he will answer questions for the community about the second-annual "First Great Ride in the Last Best Place" set for Aug. 17-23.

The fully supported tour will begin in Teton Village, Wyo., and conclude a week later in Grand Teton National Park and includes overnight stops in Victor, Idaho, and Hoback Junction, Pinedale, Lander (two nights) and Dubois, Wyo.

"Nearly 500 riders from 42 states are already registered," Welsch said. "More than 800 riders and 100 volunteers are expected for what is already the fourth-largest multi-day bicycle tour in North America.

Last year, more than 660 riders and 80 volunteers from 44 states and five countries participated in the inaugural Cycle Greater Yellowstone, which began in West Yellowstone, Mont., and ended in Red Lodge, Mont.

For more information visit the Library website: sublettecountylibrary.org or call 307-367-4114.


---
SAFV Task Force Annual Spring Luncheon April 24 (posted 4/9/14)
Starting the Conversation
The Sexual Assault and Family Violence Task Force (SAFV) will host their annual Spring Luncheon on Thursday, April 24th from 11:45 am – 1:15 pm in the Lovatt Room of the Pinedale Library. The topic is: Services and support in Sublette County for victims of sexual assault and the prevention efforts of the agencies. Lunch provided by Moose Creek Catering, Cost is $20. Reserve tickets in advance by calling 307-367-6305 or 307-276-3975.
---
Local Services:
Abortion Alternatives
Accounting & CPA
Arts & Entertainment
Attorneys & Legal
Automotive
Banks & Financial
Bars
Beauty Salons
Bed & Breakfasts
Boating
Bookkeeping
Builders & Contractors
Building Material
Business Services
Cabins
Cellular
Child Care
Churches
Cleaning Services
Clothing
Commercial Art
Computer Supplies
Consultants
Convenience Stores/Fuel
Convention/Meeting
Dentists
Dining
Dry Cleaning
Events
Fabric & Crafts
Fencing
Fishing
Flooring
Food & Drink
Funeral Homes
Furniture
Gifts/Western
Government
Graphic Design
Grocery & Market
Guest Ranches & Lodges
Handyman Services
Hardware & Feed
Heating
Health Care & Medical
Horseback Adventures
Insurance
Interior Design
Internet/Web/Advertising
Landscaping
Laundry
Liquor Stores
Lodging
Log Homes
Massage Therapy
Modular Homes
Motels
Mountain Biking
Movie Theaters
Museums
Nails
Newspapers
Office Supplies
Oil Field Services
Optometrists
Organizations
Outdoor Equipment
Outfitters & Guides
Packaging & Shipping
Painters
Pet Stores
Pharmacies
Photography
Plumbing
Professional Services
Radio
Real Estate Agencies
Real Estate-FSBO
Remodeling
Retirement
Retreats
RV Camping
Schools
Scrapbooking
Septic Services
Skiing
Snowmobiling
Snow Plowing
Storage and Storage Units
Tanning
Tattoos & Body Art
Tax Preparation Services
Taxidermy
Transportation/Shuttle
Trash Services
Trucking
Veterinarians
Visitor Services