White Pine Job Fair Sept. 13th (posted 9/2/14)
White Pine Resort has set Saturday, September 13 as the date for the Job Fair for the hiring for 2014/15 Winter Ski Season. The job fair will be held at White Pine from 9am to 2pm.

There are positions available throughout the ski resort including Lift Attendants, Maintenance, Ski Patrol, Ski School, Rental Shop, White Pine Grill (cook, assistants and servers) and office support.

For applicants looking for work with an immediate start, there are various lodge and outdoor projects to be completed over the next two months. Winter employees will commence work throughout November to assist with tasks prior to the resort opening for the ski season.

Additionally there are part-time vacancies for those wishing to work either Saturday or Sunday.

Some positions do not require previous experience as White Pine will train.

White Pine is open 4 days a week, Thursday through Sunday throughout the ski season. The resort will be open every day from Thursday December 18 through to Sunday January 4th. Additional help is required during this period and college students, home for the Christmas period and looking for some work, are invited to contact White Pine.

Application forms can be requested by emailing business@White Pineski.com, will shortly be available online at www.whitepineski.com and can be picked up at Office Outlet and the resort.

White Pine is an equal opportunity employer and reserves the right to drug test all employees.

For further information:
Robyn Blackburn
Tel 307-367-2319
Cell 307-360-6272
---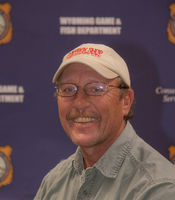 Dan Stroud. Photo courtesy Wyoming Game & Fish.

Dan Stroud retires from Wyoming Game & Fish (posted 8/31/14)
After more than 31 years of service
Wyoming Game & Fish
Dan Stroud, habitat mitigation biologist in Pinedale recently retired after more than 31 years of service with the Wyoming Game and Fish Department.

Stroud, a Worland native, graduated from Worland High School and attended Casper College earning an associate's degree in wildlife biology. He then attended the University of Wyoming earning a bachelor's degree in wildlife management and a master's degree in range management.

During his 31 years with the Game and Fish, Stroud has served as a habitat biologist at the Game and Fish Springer Wildlife Habitat Unit near Yoder. In 1980 he was promoted to habitat biologist in Pinedale and in 2005 was assigned to wildlife biologist duties dealing with energy development in the Pinedale area. Later that year he transferred to Lander as habitat biologist and completed his career as habitat mitigation biologist in Pinedale.

Assistant wildlife division chief Scott Smith said Stroud has been actively involved in Wyoming's wildlife landscape and has been involved in developing thousands of acres or habitat improvements and has worked with landowners in obtaining key conservation easements. "Dan's dedication to wildlife and the habitats they depend on is very evident," Smith said. "His efforts will have lasting impacts to Wyoming and its wildlife resources."

Prior to coming to the Game and Fish, Stroud served as wildlife research technician with the University of Wyoming and worked seasonal positions with the U.S. Forest Service and the Bureau of Land Management.
---
Upcoming Seminars (posted 8/31/14)
The Sublette County Chamber of Commerce and Sublette BOCES are co-sponsoring several upcoming educational seminars.
Leading with Excellence-Tools for Effective Boards is being cosponsored by Sublette County Chamber of Commerce and Sublette County BOCES. BOCES is handing the registration of $25 for the 5 session series which begins Tuesday September 16 and runs through October 14. Pre-registration is required. Topics for the series:
Sept 16 Overview: Board Responsibilities and Good Governance
Sept 23 Tools for Effective Meetings and Board Decision-Making
Sept 30 Financial Management and Fundraising
October 7 The Board-Building Cycle
October 14 Strategic Board Communication

Two Financial Literacy Series being offered in Big Piney

Putting Your Affairs in Order a three part workshop begins Tuesday, September 30 and runs through October 14 at 1:00 in the Big Piney Library. No registration required, no fee.
Sept 30 Who Get's My Good Stuff
October 7 So Now You are an Executor
October 14 Organizing Important Papers in your Life

Planning Ahead, Difficult Decisions: ---two part series is being offered Tuesday, October 21 and Tuesday October, 28 at the Big Piney Library 1:00, No registration required, no fee.
October 21 Introduction to Estate Planning
October 28 Planning Considerations… to Steps After a Death

---
Sheriff's Race Continues (posted 8/27/14)
Cat Urbigkit, Pinedale Online!
The Sublette County Clerk has released the official list of candidates for local elected office who will appear on the General Election ballot in November.

Although Stephen Haskell beat out incumbent Dave Lankford for the Republican nomination for sheriff, he'll face two independent candidates: Brian Sparks, and Scott Winer, both of Pinedale.

Incumbent commissioners Andy Nelson and Joel Bousman will face Democrat Courtney Skinner.

Clerk Mary Lankford, Assessor Jeness Saxton, Treasurer Roxanna Jensen and District Court Clerk Janet K. Montgomery are all incumbents without challengers. Curt Covill will appear on the ballot uncontested as Coroner, as will Attorney Clayton Kainer.

The Rural Health Care District Board will have a race, with incumbents Laura Clark, Tom Peters and Scott Sherbel seeking re-election, facing with two challengers: Paul Ulrich, and Chuck Bacheller.

Sublette County School District No. 1 candidates include incumbent at-large representatives Jamison Ziegler and Chris Nelson; Charles Prior has filed for the Pinedale West seat; and Mike McFarland and Robin Schamber have filed to represent Pinedale East.

Sublette County School District No. 9 candidates include incumbents John Fear and Glade Jones for the two at-large positions.

Incumbents Coke Landers and Darrell Walker filed for the Sublette County Conservation District board.

Filing for seats on the Upper Green River Cemetery District are: Miriam Carlson and Wilma Shriver. Filing for seats on the Big Piney Cemetery District are Margaret Kozeal, Frank Morrison, Spencer Nichols, and Valerie Williams.
 
Related Links:
Candidate List - Sublette County Clerk's Office Candidate List

---
Suicide Prevention Walk & Candlelight Vigils Sept. 9th and 11th (posted 8/27/14)
In Big Piney and Pinedale
The Sublette County Prevention Coalition and the Prevention Management Organization of Wyoming will host candlelight vigils and walks in Big Piney and Pinedale in September for National Suicide Prevention Week.

The Mountains of Hope Suicide Prevention Walk and Candlelight Vigil is set for Big Piney on Sept. 9 and Pinedale on Sept. 11. The walks are open to the public. Signs will be available for walkers to hold, and participants are encouraged to bring pictures of loved ones they would like to remember during both events.

Both walks will begin with a free, one-hour suicide prevention training course. Called QPR, (Question, Persuade and Refer), this is a nationally-recognized course to help the public learn the warning signs of suicide, and to get people in crisis the help they need. The classes are set for 5:30 p.m. Sept. 9 at the Big Piney Library and at 5:30 p.m. Sept. 11 at the Pinedale Library.

Big Piney community members will begin their walk at the Big Piney Recreation Center parking lot at about 7:30 p.m. (around dusk) and walk to a vacant lot near the corner of U.S. Highway 189.The candlelight vigil will follow, and a local speaker will offer a short talk of hope for attendees.

Pinedale community members will begin their walk at about 7:30 p.m. (at dusk), from the Pinedale High School parking lot and will end at the American Legion Park. During the candlelight vigil, a short message of hope will be given and time for reflection.

Again, both events are free and open to the public. Certification will be available for those who complete the QPR training course.

For more information, contact Ranae Pape, Community Prevention Professional with the Prevention Management Organization of Wyoming at 307-360-6382 or by email rpape@pmowyo.org.

---
Community Health Education Summit Oct. 1 (posted 8/27/14)
The 1st annual Community Health Education Summit will be held Wednesday, October 1, 2014 at the Pinedale Aquatic Center. The goal of this Summit is to promote health, educate the public on health issues that they have but might not understand (i.e. diabetes, prescription drug use and interaction), inform the community of all the different services available to them locally, and encourage health and wellbeing.

It is being held at the Pinedale Aquatic Center to showcase a facility that promotes health through exercise and physical activity. This event is free to the community. Businesses that choose to get involved may promote their business and services in the community.

Any interested person who has a specialty, for example a pharmacist, and want to give a class on proper hygiene during insulin administration, is invited to participate as a lecturer, have a booth, demonstration, etc. Organizers are also looking for someone who might be able to teach a basic self-defense awareness class.

Anyone interested in participating in the Education Summit can contact Heidi Gay at znsbmom@gmail.com or call 307-231-1166.

---
Community Ice Bucket Challenge Sept. 6th (posted 8/27/14)
Fundraiser for Shannon Cave
The Marbleton/Big Piney Clinic Challenges YOU to a Community Ice Bucket Challenge for local Shannon Cave. The Challenge will be on Saturday, September 6th from 1-3 pm at the Pavillion in Big Piney. Cake and hot chocolate will be provided by the Marbleton/Big Piney Clinic. A donation collection for Shannon will take place at the event. Please come and show your support.

---
Sublette County Conservation District wins Agriculture Award (posted 8/24/14)
During the 102nd Wyoming State Fair, the Wyoming Department of Agriculture honored individuals and groups around the state who have made significant contributions to agriculture during the Directors' Reception.

On August 15, Sublette County Conservation District was presented with the Friend of Agriculture Award by the Natural Resource and Policy Division of the Wyoming Department of Agriculture (WDA). This award is presented to a person or group who has gone above and beyond to promote sustainable agriculture in Wyoming. The recipient has worked with the Department of Agriculture, particularly the Natural Resources & Policy Division, and demonstrated an expertise and passion for agricultural values.

Sublette County Conservation District went above and beyond these standards in their work with the WDA on numerous projects over the past few years. Energy development, shifting priorities by agencies from traditional uses like livestock grazing, and an increase in large predators have created immense pressures on public and private lands throughout Sublette County. Sublette County Conservation District board proactively recognized the increased pressures by hiring additional staff to meet the growing needs of local constituents and by cooperating and collaborating with agencies experiencing reductions in funding and staff.

Their range staff has cooperatively worked with multiple groups on a number of high profile grazing allotments, built the trust and respect of many Sublette County agricultural producers, and have communicated effectively with local agriculture operators and grazing permittees to learn their concerns and seek solutions. They also successfully secured water quality grant funding to collect vast amounts of data on waters throughout the county and have completed numerous other projects.

Other recipients of Excellence in Agriculture awards during the Directors' Reception include Kelcey Christensen (Outstanding Service Award), Wanda Manley (Science Cooperator Award), Converse County (Outstanding Fair Supporter), Don Bryant (Agriculture Industry Supporter Award) and Bob Budd (Pacesetter Award).

Related Links:
www.sublettecd.com Sublette County Conservation District

---
Sublette County Rural Health Care District 2013-2014 Annual Report available (posted 8/24/14)
The Sublette County Rural Health Care District's 2013-2014 Annual Report to our Community is available online for review. The report includes new programs that have been added in the past year for Pain Management, Home Sleep Testing, Tele Psychiatry, and Electronic Medical Records; new and renewed programs; new equipment; community involvement; sustainability changes; description of services; clinic staff; hours of operation; clinic visitation; budget, revenue and expenses; ambulance runs; Emergency care visits; and more.

Click on this link to go to the report on the Sublette County Rural Health Care District website: http://www.sublettehealthcare.com/annual-report.html

Click on this link to read and download the report:
http://www.sublettehealthcare.com/uploads/3/2/2/5/3225103/scrhcdannualreport2014.pdf

---
Pinedale Airport 3rd Annual 2014 Fly-In Sept. 6 (posted 8/23/14)
The public is invited to the 3rd Annual Pinedale Airport Fly-In on Saturday, September 6th from 7:00 am – 10:00 am at the Pinedale Airport. Come enjoy a free pancake breakfast and see the airplanes. Sponsored by the Pinedale Airport Board.

Related Links:
Pinedale Airport KPNA - AirNav

---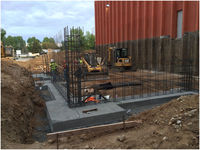 The PAC's new addition should be finished by early spring 2015.

PAC construction update (posted 8/23/14)
Construction is on track and anticipated occupation date is early spring 2015.
Pinedale Aquatic Center
The Pinedale Aquatic Center's nearly 8000 square foot addition will be at all three PAC levels. Basement space includes freight entry, file storage, two offices and equipment storage. At the gymnasium level, there will be a vestibule with south-side egress that will include restrooms and a water fountain and much needed storage space for PAC supplies and equipment. Opening off of the track at PAC's second level, there will be a large studio room, capable of being divided into two functional spaces. There will also be a small fitness equipment storage room adjacent to this second story activity space.

PAC staff anticipates close to 100,000 total visits in 2014, surpassing 2013's total of 95,500 visits. We know this additional storage and program space will greatly enhance patron satisfaction, as more of what the community wants will be available. Youth and adult activities will be concurrently facilitated during our prime time after school and evening times of the day. And, equipment will be safely stored out of the way of activity areas. This will ensure a safer, tidier environment.

We are proud to be able to offer our stakeholders this essential addition to PAC, knowing it will improve our current programs and ensure safe and effective classes, activities and special events far into the future.

Construction updates and activity information can be found on www.pinedaleaquatic.com and the PAC Facebook page, or call at 307-367-2832 with any questions, or contact PAC Director JJ Huntley at jhuntley@pinedaleaquatic.com.

Related Links:
www.pinedaleaquatic.com Pinedale Aquatic Center

---
Local Services:
Abortion Alternatives
Accounting & CPA
Arts & Entertainment
Attorneys & Legal
Automotive
Banks & Financial
Bars
Beauty Salons
Bed & Breakfasts
Boating
Bookkeeping
Builders & Contractors
Building Material
Business Services
Cabins
Cellular
Child Care
Churches
Cleaning Services
Clothing
Commercial Art
Computer Supplies
Consultants
Convenience Stores/Fuel
Convention/Meeting
Dentists
Dining
Dry Cleaning
Events
Fabric & Crafts
Fencing
Fishing
Flooring
Food & Drink
Funeral Homes
Furniture
Gifts/Western
Government
Graphic Design
Grocery & Market
Guest Ranches & Lodges
Handyman Services
Hardware & Feed
Heating
Health Care & Medical
Horseback Adventures
Insurance
Interior Design
Internet/Web/Advertising
Landscaping
Laundry
Liquor Stores
Lodging
Log Homes
Massage Therapy
Modular Homes
Motels
Mountain Biking
Movie Theaters
Museums
Nails
Newspapers
Office Supplies
Oil Field Services
Optometrists
Organizations
Outdoor Equipment
Outfitters & Guides
Packaging & Shipping
Painters
Pet Stores
Pharmacies
Photography
Plumbing
Professional Services
Radio
Real Estate Agencies
Real Estate-FSBO
Remodeling
Retirement
Retreats
RV Camping
Schools
Scrapbooking
Septic Services
Skiing
Snowmobiling
Snow Plowing
Storage and Storage Units
Tanning
Tattoos & Body Art
Tax Preparation Services
Taxidermy
Transportation/Shuttle
Trash Services
Trucking
Veterinarians
Visitor Services