Wyoming Legislature report: February 26, 2015 (posted 2/27/15)
Albert Sommers, House District #20 Representative
Hello Sublette County, this is Albert Sommers reporting to you from Cheyenne on the evening of February 26th. Today in Third Reading Senate Files that passed the House included a bill designating a stretch of I-25 as the Vietnam Veterans Welcome Home Highway, a bill defining how grazing lease money on state owned Camp Guernsey can be utilized, a bill reauthorizing the Digital Privacy Task Force I served on, and a bill allowing certain hospice care facilities to expand their services if they have open beds. I supported these bills.

SF132, the Wyoming Fair Housing Act passed Committee of the Whole. This bill would put into statute federal fair housing laws, which would allow Wyoming or an authority designated by Wyoming to be the regulator of fair housing issues. Generally, anytime Wyoming can control authority for some federal mandate it will simplify management, and with this mandate the feds pay the bill. We also passed a bill in Committee of the Whole which would allow the Wyoming Department of Transportation to increase speed limits to 70 MPH on roads other than the interstate, when they deem conditions to be safe.

SF133 & 134 were crafted to prevent the Forest Service in Region 4 from eliminating domestic sheep grazing due to Bighorn sheep disease issues. We were told today that a ruling on Region 4 forest lands in Idaho forbid domestic sheep herds from grazing within 50 miles of a Bighorn sheep herd. The forest service through their sensitive species designation is moving closer to usurping state ownership and management of wildlife on this list. Sensitive species are not on an endangered species list, and are not subject to the authority of the US Fish and Wildlife Service. There is a very small herd of Bighorns on Darby Mountain in western Wyoming, about 16 head, which have been reestablished a couple of times. If Region 4 holds true to form, then multiple domestic sheep herds in western Wyoming will be in danger of losing their grazing rights. The Darby Mountain herd is a non-essential herd as established by the Bighorn Sheep Workgroup. SF134, simply puts into statute the Bighorn Sheep Workgroups state-wide bighorn/domestic sheep plan, which will show that Wyoming has some regulatory authority over this interaction. SF133, would relocate the Darby Mountain herd if the feds kick domestic sheep off of any allotment in the Wyoming Range as a result of this domestic/bighorn interaction issue. I support these bills, because the state made the same threat in South-central Wyoming a couple of years ago, and the forest service has not followed through with eliminating domestic sheep in the region. I supported these bills in Committee of the Whole today, though I believe it is sad we have to resort to these tactics to get the Forest Service's attention.

If you have any questions about these bills or any other, I can be reached at albert@albertsommers.com.

Thanks,
Albert

---
Afternoon Tea at the Pinedale Library March 11th (posted 2/26/15)
Stella McKinstry family homesteading in Grand Teton National Park area
Sublette County Library
March is Women's History Month and the Sublette County Library invites you to stop by for a cup of tea on Wednesday, March 11th at 4:30 pm. Stella McKinstry has been known locally as our region's longtime UW Extension nutrition and food safety educator, but she is also the daughter of Harold and Linda McKinstry, who homesteaded in the early 1900s in an area now part of Grand Teton National Park. The library is exhibiting Stella McKinstry's family's historical photographs in the gallery throughout the month. Refreshments will be provided and Stella will be in attendance.

For more information visit the Library website: sublettecountylibrary.org or call 307-367-4114.

---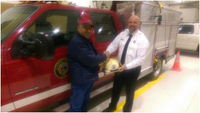 Joe Sampson (left) and Shad Cooper (right), Sublette County Unified Fire.

Joe Sampson appointed Kendall Valley Battalion Chief (posted 2/26/15)
Shad Cooper, Sublette County Unified Fire - Fire Chief/Warden
Sublette County Unified Fire is an organization in its infancy. However, it is built upon the hard work, dedication, and sacrifice of those who gave themselves to help ensure our communities are safe from fire. These civic-minded founding fathers laid the groundwork establishing what would eventually become the organization we are today. It is critical to the success of our newly established unified fire department that we have the right people in the right positions. Given Chief Joe Sampson's previous experience as a founding member of this organization, I am confident that his appointment as Battalion Chief will best serve our customers' needs. His immense education, qualifications, and experience will ensure our organization will continue to provide excellent service to all citizens of Sublette County, and to the visitors who enjoy our spectacular community. I look forward to working together with Chief Sampson in his new position as the Battalion Chief of Battalion 6 – Kendall Valley.

Related Links:
www.sublettecountyfirefighters.com Sublette County Unified Fire


---
Local Sage Grouse Working Groups to meet in Jackson and Pinedale in March (posted 2/26/15)
March 5th meeting in Pinedale
Wyoming Game & Fish
Two sage grouse local working groups based in Jackson and Pinedale will be holding meetings to consider recommendations for updating the Wyoming Sage Grouse Conservation Plan's core area map. Each working group's recommendations will be passed along to the statewide Sage Grouse Implementation Team who will then make recommendations to Governor Matt Mead.

Upper Snake River Basin Local Working Group: March 4, 1:00 p.m. in the Jackson Game and Fish Office.
Upper Green River Basin Local Working Group: March 5, 8:00 a.m. in the Pinedale Game and Fish Office.

Anyone proposing a change to a core area boundary should provide the local working group with maps and/or written descriptions with a rationale of their proposals in advance of the meeting. These documents should be emailed to: tom.christiansen@wyo.gov.
Each local working group will be discussing additional topics at their respective meetings, which are open to the public.

There are eight such local working groups statewide. Each is composed of citizens representing various stakeholder groups interested in sage grouse conservation and associated land management issues.

The local working groups develop and initiate conservation plans to benefit sage grouse and, when feasible, other species that use sagebrush habitats. Learn more about sage grouse, the local working groups and their management plans at: http://wgfd.wyo.gov/web2011/wildlife-1000817.aspx# .

Wyoming Game and Fish supports the Americans with Disabilities Act. Anyone needing auxiliary aids to attend this meeting should call 800-423-4113 (Jackson) or 800-452-9107 (Pinedale). Every effort will be made for reasonable accommodation.

---
Do habitat treatments work? (posted 2/26/15)
Sage Grouse habitat research helps with 8th Grade Science Fair project
Wyoming Game & Fish
It's a question both wildlife managers and members of the public often wonder about. Each year, state and federal biologists spend a great deal of time and money to improve habitat for a variety of wildlife species, but do these habitat treatments really work?

Last summer, Pinedale Habitat Biologist Jill Randall collaborated with a young scientist, Pinedale 8th grade student Katelyn Hayward, to answer the question of whether the sage grouse habitat treatments were really benefitting sage grouse or not. The monitoring project would also serve as Hayward's science fair project.

Her study focused on mountain big sagebrush that was being used by sage grouse as brood rearing habitat. The study was designed to determine if sage grouse use was higher in treated areas compared with adjacent untreated areas.

Hayward visited four mechanical sagebrush treatments (mowing and aerator) and conducted pellet group counts along a 1 x 50 meter belt in three paired control and disturbed locations in each treatment.

Her results indicated at most sites (n=10) the treatment had a higher count of pellet groups compared to adjacent untreated areas and at the other sites (n=2) the treatment and control pellet counts were equal.

Hayward and Randall concluded that the sagebrush treatments were working!

---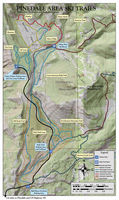 Nordic Ski Trail map courtesy Sublette County Recreation Board.

Nordic ski trail grooming report – February 26, 2015 (posted 1/26/15 )
Report courtesy of Mike Looney, Groomer
Thursday, February 26, 10:00AM report: Kelly Park, Lower surveyor, Tree Loop, Flatline, Old Road Trail and some of Surveyor Park and Moose Ridge groomed this morning – basically the race course for this weekend. About 1 inch of fluffy snow overnight. Very cold this morning, -8 in Surveyor Park, but is 23 degrees now. Note that there will be kids inspecting the trails in Surveyor Park and Moose Ridge today. The High School Championship ski race is Friday and Saturday on the White Pine area trails. Races start at 10AM both days. Friday is the 10K freestyle and Saturday is the 5K classic race. This Nordic Ski Trail grooming report is courtesy of the Sublette County Recreation Board. For more information, call or text Mike Looney, 307-360-8488. Permission granted for other outlets to reprint this trail grooming report.

Related Links:
X-C Ski Trail Map - (356K PDF)
Road and Weather links
www.visitpinedale.org Pinedale tourism website (lodging, dining, area information)
www.whitepineski.com White Pine Resort
www.greatoutdoorshop.com The Great Outdoor Shop
---
Wyoming Legislature update: Feb. 26, 2015 (posted 2/26/15)
Albert Sommers, House District #20 Representative
Hello Sublette County, this is Albert Sommers reporting to you from the Capitol on Thursday morning, Feb. 26th.

On Wednesday, we passed several bills on Third Reading including a bill that ensures governmental agencies purchase some of their materials from Wyoming distributers, a bill that creates an endowment account for Wyoming Public Television, a bill amending the Funeral Services Practitioners Act, and a bill that revised certain election codes. All of these bills I supported.

In Committee of the Whole Wednesday, we passed a bill giving veterans an opportunity for in-state tuition at the University of Wyoming, a bill allowing all elected county officials to be covered by Workers Compensation, a bill funding the Large Projects developed through the Wyoming Wildlife Natural Resource Trust Fund, and a bill that would create a Bean Growers Check-off program to fund bean research. I supported all of these bills.

I did have concerns with an election vote centers bill that is supported by the county clerks in Wyoming, because it does away with the requirement that a polling place be created in each voter district. This bill would allow county clerks to centralize voting, and move polling places away from the rural areas. I was convinced this bill is necessary, because it is getting harder to find election officials in all precincts and it is hard to find American Disability Act compliant facilities out in the country. I have been assured this flexibility will not be abused, and so I will vote for the bill in the end.

If you have any questions or concerns, I can be reached at albert@albertsommers.com. My updates are available on my website at albertsommers.com. Thanks.

---
Memorial Funeral Service for Bettine Moore Close Feb. 28th (posted 2/24/15)
Covill Funeral Home
A memorial funeral service for Bettine Moore Close, 90, of Big Piney, Wyoming will be held Saturday February 28, at 11:00 A.M. at the Marbleton Senior Center. A reception will follow the services there at the Senior Center.

---
Ben Smith resigns, Jeremy Qualls named new Pinedale High School principal (posted 2/23/15)
Sublette County School District #1
Superintendent Jay Harnack announced on Friday, February 20th, 2015, that Pinedale High School Assistant Principal Jeremy Qualls, has been promoted to the position of Pinedale High School Principal for the 2015-2016 school year. Current Pinedale High School Principal Ben Smith resigned from the position of Pinedale High School Principal at the February board meeting.

---
Local Services:
Abortion Alternatives
Accounting & CPA
Arts & Entertainment
Attorneys & Legal
Automotive
Banks & Financial
Bars
Beauty Salons
Bed & Breakfasts
Boating
Bookkeeping
Builders & Contractors
Building Material
Business Services
Cabins
Cellular
Child Care
Churches
Cleaning Services
Clothing
Commercial Art
Computer Supplies
Consultants
Convenience Stores/Fuel
Convention/Meeting
Dentists
Dining
Dry Cleaning
Events
Fabric & Crafts
Fencing
Fishing
Flooring
Food & Drink
Funeral Homes
Furniture
Gifts/Western
Government
Graphic Design
Grocery & Market
Guest Ranches & Lodges
Handyman Services
Hardware & Feed
Heating
Health Care & Medical
Horseback Adventures
Insurance
Interior Design
Internet/Web/Advertising
Landscaping
Laundry
Liquor Stores
Lodging
Log Homes
Massage Therapy
Modular Homes
Motels
Mountain Biking
Movie Theaters
Museums
Nails
Newspapers
Office Supplies
Oil Field Services
Optometrists
Organizations
Outdoor Equipment
Outfitters & Guides
Packaging & Shipping
Painters
Pet Stores
Pharmacies
Photography
Plumbing
Professional Services
Radio
Real Estate Agencies
Real Estate-FSBO
Remodeling
Retirement
Retreats
RV Camping
Schools
Scrapbooking
Septic Services
Skiing
Snowmobiling
Snow Plowing
Storage and Storage Units
Tanning
Tattoos & Body Art
Tax Preparation Services
Taxidermy
Transportation/Shuttle
Trash Services
Trucking
Veterinarians
Visitor Services