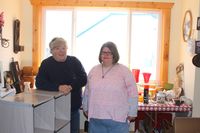 Bev Wals and Kristen Wels spend their next-to-last day as volunteers at Our Lady of Peace's thrift shop.Photo by Joy Ufford.

Catholic thrift shop closes Saturday (posted 4/20/18)
Joy Ufford, Pinedale Roundup
PINEDALE – Three years ago when Bev Wals retired, she and daughter Kristen moved from the heat of Phoenix to Pinedale and settled in very comfortably as volunteers at Our Lady of Peace Catholic Church's thrift shop.

It was opened about six years ago in the older brick home, shed and garage at 128 South Sublette as a means for the Pinedale Council of Catholic Women to raise money to build a new Catholic Church.

"Kathy Larson, Barb Lager and several other volunteers started the shop with the goal of the money going to the building fund for the new church," Bev Wals related as Kristen and Gail Toth looked at knickknacks and talked to a very young customer.

So far, minus some expenses, the shop has raised between $40,000 to $50,000 for the project that now calls for a new hall, classroom and renovated church entrance. In fact, the entire church is being remodeled.

PCCW volunteers knew that eventually, the shop would be closed and its buildings demolished or dismantled.

Twice a week – on Wednesday afternoons and Saturday mornings – the Walses and other volunteers have welcomed customers from nearby neighborhoods to across the country – even out-of-state Midwestern hunters who needed much warmer gear than what they'd brought.

Over the years, the thrift shop has served as social, philanthropic, practical and economical boon for families, collectors, visitors and its next-door congregants. That changes Saturday, April 21, when the thrift shop closes its doors for the final time at noon.

Now even the shelves, displays and tables are being sold and everything is priced almost to give away. Saturday from 10 a.m. to noon, all kids' clothes are free and many items will be nearly free or by donation. The Pinedale Food Basket will take what's left into its store.

The buildings must be empty by May 1 so next week, volunteers including Pinedale High School students will pack things to move. Construction is slated to begin July 1.

"I might just set a lot of stuff in the yard," said Bev, noting 14 folding tables hide under all the donated clothing, shoes, books, cookware, linens and household knickknacks.

Swing by 128 S. Sublette Ave. on Saturday, 10 a.m. to noon (or so), to see what's available.

Anyone interested in any part of the South Sublette buildings, windows or materials should call Brian at Jorgensen Engineering, 307-367-6548.

Joy Ufford, Pinedale Roundup, jufford@pinedaleroundup.com

Related Links:
www.pinedaleroundup.com Pinedale Roundup

---
Donkey Basketball May 7 (posted 4/19/18)
Pinedale High School will be hosting a fun night of Donkey Basket ball on Monday, May 7th. The event is to raise money for the National Honor Society scholarship. It will be from 7-9pm in the Wrangler gym. Tickets can be purchased ahead of time in the Pinedale High School office and Office Outlet in Pinedale. Advance tickets Adult: $8.00, Student (grade 7-12): $6.00, Child (grade K-6): $4.00. Ticket prices at the Gate- Adult: $9.00, Student (7-12): $7.00, Child (K-6): $5.00.

---
Pinedale Senior Class Lasagna Dinner May 10 (posted 4/19/18)
The Pinedale High School Senior Class will be hosting a Lasagna Dinner fundraiser on Thursday, May 10th. The purpose is to raise money for the Class of 2018's "Stay Safe Party" after graduation. It will be from 5-8pm in the Wrangler Cafeteria. Admission is by free-will donation at the door.

---




Pinedale Aquatic Center

Should the Pinedale Aquatic Center be absorbed by SCSD#1? (posted 4/19/18)
Decreased funding causes concerns over sustainability issues
Amber Anderson, Director, Pinedale Aquatic Center
The new year brought a lot of new to the Pinedale Aquatic Center… a new director, a first in PAC's history, followed by a new leadership team in the recreation department to fill the vacated positions from the director changeover, and in the midst of the transition, a new topic of conversation… should the PAC be absorbed by Sublette County School District #1?

To understand the initiation of this conversation, it is important to acknowledge PAC's history. PAC was originally built by Sublette County School District #1, on school district property, to replace the old school pool. A Joint Powers Board was created to oversee the governance of the center with five appointed members; three school district, one county, and one town. A recreation mil was levied by SCSD#1 to fund PAC operations; no other monetary commitments were requested from the town or county. A lease agreement between SCSD#1 and PAC outlined facility obligations and use priorities along with a set annual rental rate to be secured for future asset preservation.

With these parameters established, PAC has operated as its own organization separate from the school district, town, or county. PAC employees are employees of the Pinedale Aquatic Center, governed by the Joint Powers Board, and funded through the SCSD#1 Rec Mil with a small portion attained from membership/program fees.

The problem… decreased oil and natural gas activity = lower mil levy values. For perspective, in 2013, the Rec Mil produced just over $3.8 million, PAC was allocated $3 million. - In 2017, the Rec Mil valued around $1.8 million, PAC was allocated $2 million. With a current operating budget (FY 2017-2018) of just over $2.4 million, following a $1 million budget reduction in fiscal year 2016-2017, the need for further planning for the sustainability of PAC and balancing PAC and Rec Mil budgets became priority. So came the question, should the PAC be absorbed by SCSD#1?

The findings… absorbing the PAC by SCSD#1 did not provide the financial savings originally anticipated. The evaluating committee thoroughly reviewed all options and the impacts of each on current program offerings, hours of public availability, and future growth potential. The decision was made to leave the joint powers board as is, with a few adjustments to the joint powers agreement, to give PAC the opportunity to explore alternative funding and revenue options for securing PAC's long term success.

The results… new protocol was established for the allocation of rec mil funds to ensure asset preservation as well as PAC funding. In the original lease agreement between SCSD#1 and PAC, an annual rent amount of $600,000 was to be paid to SCSD#1 and preserved for future building preservation. Over the past couple of years, rent forgiveness was granted as PAC worked to reduce its overall budget. In efforts to ensure that future major maintenance, repair or replacement of the PAC will be possible, the preservation money will now, in accordance with the amended lease agreement, be set aside directly from the rec mil in an annual amount between $600K-$750K. This will remove rent from the PAC's budget. However this will also reduce the amount of rec mil funds available for PAC funding. As an example, if the rec mil produces $1.8 million, $600,000 will be set aside directly for asset preservation and $1.1 million be allocated to PAC, with the remainder being allocated to other projects funded from this account. In addition, all reserve funds accumulated over the past 10 years, with exception of $400,000 are to be transferred back to the school and secured in the asset preservation fund, approximately $7.5 million.

Under the newly adopted allocation method, PAC is anticipating receiving between $1.1-$1.3 million from the rec mil. After adding our internal revenue, approximately $300,000, PAC will be left with a projected deficit of $200,000-$400,000 even after reducing the budget to under $1.8 million (a near $300K reduction from FY 2017-2018). As a result, PAC has been provided the opportunity to pursue additional funding and revenue options for long term funding security.

What now… overall, we see this unprecedented position as an unique and new opportunity. A second opportunity to define PAC and recreation in the county. We know the strengths of PAC, the value it brings to the county, and now is our chance to rally together to capitalize on it further. With the formation of new partnerships, we envision opportunities to strengthen and improve recreational opportunities in the community and the county.

Our immediate goal is to sustain PAC operations and services that the community has come to love and expect while further developing PAC and recreation in our community. We are working hard on our current budget to minimize reductions to public access hours or elimination of programs, while tightening the purse strings to find that sustainable budget that allows for continued operations. A task force has been developed to brainstorm opportunities, develop a short and long term action plan, and initiate the attainment of additional funds. We are in the process of establishing a "Friends of PAC" 501(c)3 non-profit that will be governed independently by a volunteer board and able to fundraise, accept donations, and apply for grants on behalf of PAC. We will be focusing advertising to attract out-of-county visitors and capitalize on the tourism industry. Conversations with the town and county about the development of partnerships are in the near future.

The question we want to be asked now… what can you do? Watch for our press releases, status of PAC report, and annual report (coming this fall). Come visit, and use, PAC. Participate in our patron survey (coming in early May). Ask questions, let us know what you love most about PAC, and share your ideas. Share PAC with others and engage in the conversation about recreation in the community. PAC has become a staple of Pinedale, a place this community can't imagine living without. We'll be asking for your input in the coming months. We invite you to join the conversation about where we go from here.

Related Links:
www.pinedaleaquatic.com Pinedale Aquatic Center
---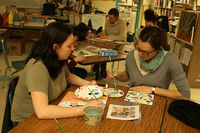 Students from Hannah Horrigan's Pinedale High School advanced art class display their mosaic map of Wyoming. Photo courtesy PFAC.

Rocky Mountain Power Foundation awards $3000 grant to PFAC (posted 4/19/18)
Pinedale Fine Arts Council
The Rocky Mountain Power Foundation has awarded a $3,000 grant to the Pinedale Fine Arts Council to help support PFAC's arts in education programs.

The Pinedale Fine Arts Council is currently offering 20 different school arts programs in both ends of Sublette County. These include Dancer's Workshop programs, Utah Shakespeare, Fine Arts classes, a variety of school performances and a brand new STEAM workshop which will take place in both Pinedale and Big Piney. Recently students participated in a week-long project making two painting mosaic collages of maps: one of Yellowstone, and one of Wyoming. The final mosaics were almost 5ft square and represented non-traditional landscape art.

"We are pleased to be able to support the Pinedale Fine Arts Council through this grant, funded by our charitable arm, the Rocky Mountain Power Foundation," said Ron Wild, Rocky Mountain Power Regional Business Manager. "We feel that the arts education effort of PFAC is very important to the communities of Pinedale and Big Piney. PFAC brings programs that would be unavailable to the children otherwise. They are most deserving of this grant."

About the Pinedale Fine Arts Council
The Pinedale Fine Arts Council was started in 1976 and has brought community arts programming and educational programs to Sublette County for the past 40 years. The Mission of the Pinedale Fine Arts Council is to present quality cultural and fine arts performances, residencies and workshops that educate and engage all ages from youth to senior citizens. The Arts Council has been recognized by State of Wyoming as a recipient of the Governor's Arts Award.

About the Rocky Mountain Power Foundation
The Rocky Mountain Power Foundation is part of the PacifiCorp Foundation, one of the largest utility-endowed foundations in the United States. The foundation was created in 1988 by PacifiCorp, an electric utility serving 1.8 million customers in six Western states as Rocky Mountain Power (Utah, Wyoming and Idaho) and Pacific Power (Oregon, Washington and California). The foundation's mission, through its charitable investments, is to support the growth and vitality of communities served by Rocky Mountain Power and Pacific Power.

---
Death Notice: Rick Hubbard (posted 4/16/18)
Rick Hubbard of Pinedale, Wyoming passed away on April 12, 2018 at the age of 59. Per his wishes, there will be no funeral or memorial.

---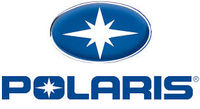 Polaris

Polaris gives Pinedale a special celebration (posted 4/15/18)
For being chosen to be 'RANGER Country USA'
Dawn Ballou, Pinedale Online!
Last fall, Polaris rolled out its 1 millionth RANGER off the assembly line. To celebrate that milestone, Polaris began a search for "RANGER Country USA." Five towns were nominated that embody the hard-working values of RANGER and represent the RANGER Country lifestyle. The votes were tallied, and Pinedale, Wyoming won.

Polaris hosted a RANGER Country USA party for Pinedale which included an official naming ceremony, donation of three Polaris RANGER vehicles to deserving organizations, and a special guest appearance. The celebration was held on Thursday, April 12th at the Sublette County Fairgrounds. Their special guest performance was a concert by country music singer Jake Owen and members of his band. Sublette County residents got free tickets to attend the event.

As this was a huge event for the county, it involved a well-planned massive coordination effort by many people including the Sublette County Sheriff's Office, Tip Top Search and Rescue, Sublette County Emergency Management, the Sublette County Fire Department, the Town of Pinedale, Wyoming Highway Patrol, the Sublette County Fairgrounds staff, the Pinedale Lions Club, and many volunteers. There were people doing traffic control on the highway, people assisting with orderly parking, people manning the metal detection screening at the entry gate, and event staff people inside for all the set up and event coordination. Pitchfork Fondue of Pinedale provided the food services for the event.

Local Pinedale Polaris dealer, Bucky's Outdoors, was on hand and helped greatly with getting Pinedale on the Polaris radar as truly being the best candidate to win the title of RANGER Country USA. Four-wheelers and snowmobiles are embedded in the daily life, work, and recreation for the locals of Sublette County.

The other towns in the Polaris RANGER Country USA competition were Spring Creek, Nevada; Darlington, Wisconsin; Stephenville, Texas; and Corning, Arkansas. Each community created a video explaining why they should be declared the one that best fit the title. Polaris also donated RANGERS to those communities as part of their promotional event.

The event was organized to accommodate over 2,000 people and our guess is that close to that were present. It was held in the big event building at the Sublette County Fairgrounds. There were many models of RANGER vehicles on display throughout the parking lot and inside the event hall showcasing the new 2019 models.

On either side of the actual stage was a huge flat screen monitor. Polaris brought a camera crew with a stationary camera at the back, a camera mounted up above the stage to look down at the action, and several roving cameramen, all combined to make a professional multi-camera shoot of the event. It allowed those sitting in the very back bleachers to get an up-close view of what was happening on stage as it displayed on the two big screens.

Local auctioneer Dave Stephens entertained the audience with Polaris 'Did You Know?' questions while everyone waited for the huge crowd of people to flow in and get seated. Many Polaris t-shirts were given out and some lucky people won big coolers. As the time got nearer for the event to start, the Polaris people started shooting off t-shirts in t-shirt cannons, to the thrill of the people in the audience and those who caught the projectiles.

Dave Stephens served as MC for the event on stage and first introduced Josh Hermes, VP of Marketing for Polaris Industries. Hermes explained why Polaris was doing the promotion, in celebration of the making of their millionth RANGER, and that Pinedale won by receiving over 300,000 votes to be picked 'RANGER Country USA.' He gave recognition to Bucky's Outdoors, our local Polaris dealer in Pinedale, and their years of loyalty to Polaris, going back to founders Bucky and Lucy Neely, and their son Gary. The dealership ownership has now been passed on to Sandy Sletten, but the Neely family is still very much a part of helping the business and using Polaris 4-wheelers and snowmachines for work and play.

Pinedale Mayor Bob Jones was introduced and he thanked Polaris for this recognition. Local community leaders helped Polaris pick the three deserving organizations that would each win a Polaris RANGER. The criteria for the winners was that they be organizations that help out the community, and the RANGER gift would help make their organization stronger so they could do their job better. "Polaris, we can't thank you enough for doing this for us," Mayor Jones said.

At that point, Hermes and Jones unveiled a small version of a sign that is to be installed in Pinedale later the next week. The sign declares Pinedale as Polaris RANGER Country USA. The big version of the sign will go on the outside of the old town hall building on Pinedale's main street.

Dave Stephens then introduced Bucky's Outdoors owner Sandy Sletten so they could announce the three organizations who won the new RANGERS and give them the keys to their new vehicles. The three winners were Tip Top Search & Rescue, the local chapter of Boy Scouts of America, and MESA Therapeutic Horsemanship

Lesta Winer, representing Tip Top Search & Rescue, said, "This will definitely allow us to quickly respond to those in need. We have over 5,000 square miles of territory to cover. This new RANGER will help us to transport people and gear to search areas."

Jasper Munns was introduced on stage to accept the new RANGER keys on behalf of the local chapter of Boy Scouts of America. "Troop 18 and 851 will use our new RANGER in our scout camp at Camp New Fork. We'll do service work in the community and get more boy scouts in the mountains," he said.

Marilyn Jensen got to take the keys on behalf of MESA Therapeutic Horsemanship, an organization that does equine-assisted riding therapy for individuals with a wide range of physical, cognitive and emotional challenges. Funding for the program is paid for by grants and donations, so families receiving the therapy do not have the economic burden of the program. MESA stands for Mind, Energy, Spirit, Attitude. "Our new RANGER will be used to feed horses, muck out stalls, and keep the horses where they need to be. The kids really appreciate it," she said.

The presentation ended with a thank you to Gary Neely and Sandy Sletten of Bucky's Outdoors, and Maureen Rudnick of the Town of Pinedale for their countless hours preparing for this event.

With that, Dave Stephens introduced the entertainment part of the show to bring out Country Western star Jake Owen and his band who gave an outstanding musical concert. People danced in the aisles, and many migrated from their seats to down in front of the stage to enjoy a close up view of the band. Jake and the band were a real treat!

At one point near the end of the concert, someone up front by the stage threw a ball cap hat up to Jake, which he caught. The hat said "Waterhole #3." One of the girls up front invited the band to come out to the Waterhole after the show. Waterhole #3 is a bar in Marbleton, just a couple miles down the road. Jake laughed and proceeded to delight the crowd by singing an impromptu personalized song about "Watering hole #3." If you're wondering where the name came from, 'Waterhole #3' was a movie made in 1967. It was hugely known and popular even into the 70s when the bar was opened in Marbleton. It was a western comedy set in the late 1800s after the Civil War, starring James Coburn, involving a search for a buried cache of stolen Army gold and the antics that ensued. Great movie, rent it sometime.

We don't know if Jake and the band made it out to Waterhole #3 after the concert. He said his next stop was Las Vegas. But we hope, if not, someday he and the band members will return when they have more time and experience the amazing outdoor lifestyle of the Pinedale area that earned us the title of Ranger Country USA. 80 percent of our county is public land, forest and open sage range land with miles and miles to explore, camp, fish, and hunt on. There are hundreds of miles of trails to play on with 4-wheelers and snowmobiles. There are places you can go in the backcountry and not see another human being for days. There are places you can stand in the mountains and look out and see for a hundred miles. There are lakes you can go to and not see a single man-made structure around the entire lake shore to impair the view. There are more antelope and cattle in Sublette County than people. We are so rural there isn't a single traffic stop light in the entire county - for real. (The manually activated crosswalk light in Pinedale doesn't count.) We have real cowboys here, and don't be surprised if you drive down the road and find yourself stopped for half an hour by a cattle drive going down the highway, with hundreds of cattle taking the entire road guided along by cowboys (and cowgirls and cowkids) on horses moving the herd from one pasture to the next. And we're pretty proud of that and them.

The concert ended with the local sheriff's office and Wyoming Highway Patrol again guiding traffic out of the fairgrounds complex and safely out onto the highway, and a long line of red tail lights in the blackness of night headed the 30 miles back to Pinedale.

Thank you, Polaris!

Click on this link for more pictures: Polaris gives Pinedale a special celebration

Related Links:
Ranger Country USA Story and photos by Terry Allen, Pinedale Online! April 14, 2018
www.polaris.com Polaris
Polaris RANGER Country USA
www.jakeowen.net Jake Owen's website
www.visitpinedale.org Pinedale, Wyoming visitor website
www.ttsar.org Tip Top Search and Rescue
www.mesarides.org M.E.S.A. Therapeutic Horsemanship
Boy Scouts of America Camp New ForkTrapper Trails Council
www.buckysoutdoors.com Bucky's Outdoors, Pinedale, Wyoming

---
Request for Proposal for Marketing and Public Relations (posted 4/6/18)
Pinedale Travel & Tourism
PUBLIC NOTICE:
The Town of Pinedale, Sublette County, Wyoming is seeking proposals for Marketing and Public Relations for the Pinedale Travel and Tourism Commission. The Request for Proposal package may be obtained at the Town Hall, 69 Pinedale South Road, Pinedale Wyoming 82941-0709, or requested by phone at 307-367-4136, or email maureenrudnick@townofpinedale.us. Sealed proposals shall be received at the Town Hall, no later than Friday, April 27th at 12:00PM. All proposers are required to have proof of liability and workman's compensation insurance with their bid. The right is reserved by the Town of Pinedale to reject any and all bids.

---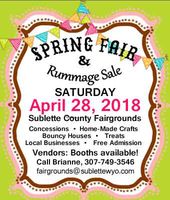 Spring Fair April 28th at the Sublette County Fairgrounds

Spring Fair & Rummage Sale April 28 (posted 4/4/18)
The Sublette County Spring Fair and Rummage Sale will be held at the Sublette County Fairgrounds north of Marbleton on Saturday, April 28th from 10AM to 3PM. There will be vendor booths, bouncy houses, home-made crafts, businesses, concessions and more. Admission is free. Booths are available for vendors. Standard booth size is 10' x 10', but larger spaces, and electricity, are available. Applications are on a first come, first serve basis. Call Brianne for more information, 307-749-3546 or email fairgrounds@sublettewyo.com. Call early to reserve your space! Click here for the vendor booth application form.
---
Local Services:
Abortion Alternatives
Accounting & CPA
Apartments/Townhomes
Arts & Entertainment
Attorneys & Legal
Automotive
Aviation Services
Banks & Financial
Bars
Beauty Salons
Bed & Breakfasts
Boating
Bookkeeping
Builders & Contractors
Building Material
Business Services
Cabins
Cellular
Child Care
Churches
Cleaning Services
Clothing
Commercial Art
Computer Supplies
Condos
Consultants
Convenience Stores/Fuel
Convention/Meeting
Dentists
Dining
Dry Cleaning
Events
Fabric & Crafts
Fencing
Fishing
Flooring
Food & Drink
Funeral Homes
Furniture
Gifts/Western
Government
Graphic Design
Grocery & Market
Guest Ranches & Lodges
Handyman Services
Hardware & Feed
Heating
Health Care & Medical
Horseback Adventures
Insurance
Interior Design
Internet/Web/Advertising
Landscaping
Laundry
Liquor Stores
Lodging
Log Homes
Marketing
Massage Therapy
Modular Homes
Motels
Mountain Biking
Movie Theaters
Museums
Nails
Newspapers
Office Supplies
Oil Field Services
Optometrists
Organizations
Outdoor Equipment
Outfitters & Guides
Packaging & Shipping
Painters
Pet Stores
Pharmacies
Photography
Plumbing
Professional Services
Radio
Real Estate Agencies
Real Estate-FSBO
Remodeling
Retirement
Retreats
RV Camping
Schools
Scrapbooking
Septic Services
Skiing
Snowmobiling
Snow Plowing
Storage and Storage Units
Tanning
Tattoos & Body Art
Tax Preparation Services
Taxidermy
Transportation/Shuttle
Trash Services
Trucking
Veterinarians
Visitor Services