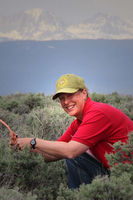 Jill Randall. Photo courtesy Wyoming Game & Fish.

Jill Randall honored as Wildlife Professional of the Year (posted 10/24/14)
Pinedale Habitat Biologist for the Wyoming Game & Fish Department
Wyoming Game & Fish
Wildlife professionals from across Wyoming have named Jill Randall, Pinedale Habitat Biologist for the Wyoming Game and Fish Department, as their 2014 Wildlife Professional of the Year. The Wyoming Chapter of The Wildlife Society, an international organization of professional wildlife researchers and managers, presented the award to Randall at their annual meeting in Sheridan recently.

Randall started her Game and Fish career in 2003 as a Brucellosis-Feedgrounds-Habitat biologist in Jackson. Then in 2005, Jill accepted the position as the Habitat Biologist in Pinedale where she has served ever since.

"Jill is a great team player with excellent interpersonal skills," said Eric Maichak, Pinedale Brucellosis-Feedground-Habitat Biologist and President of the Wyoming Chapter of the Wildlife Society. "Her unique ability to work with other agencies, conservation groups, and landowners has allowed her to accomplish a great deal for wildlife and their habitat in the Pinedale Region."

Maichak provided a recent noteworthy example where Jill played a pivotal role in coordinating with grazing permittees and federal land managers to allow the 64,000 acre Fontenelle Fire of 2012 two year's rest from livestock grazing. This required finding alternate grazing forage for no less than 11 different grazing allotments, thereby allowing the wildlife and habitat to realize the maximum benefit from the fire.

In addition, Jill has collaborated with the Bureau of Land Management (BLM), Forest Service and private landowners to implement a number of mule deer habitat projects in the Pinedale Region, and specifically for the renowned Wyoming Range mule deer herd. As a result, earlier this spring the BLM completed a comprehensive planning document that calls for treatment of some 28,000 acres of mule deer habitat in the Wyoming Range over the next 10 years. These extensive habitat treatments were initiated earlier this summer with nearly 1600 acres of sagebrush mowing, 60 acres of Dixie harrow/seeding, 70 acres of Plateau application to stimulate mountain mahogany regeneration, herbicide spraying of 200 acres for cheatgrass control and mechanical preparation of over 700 acres of aspen for future prescribed burns.

Prior to this work, Randall has been instrumental in implementing a number of important wildlife habitat improvement projects, including several prescribed burns to promote aspen along the Wyoming Range front and a variety of mechanical and chemical sagebrush treatments benefitting both wildlife and livestock. Furthermore, Randall has worked closely with area landowners and funding organizations to accomplish a number of conservation easements on key parcels of wildlife habitat within the Wyoming Range and Green River valley.

"While Jill has done an excellent job as the Pinedale Habitat Coordinator, she has also always been quite willing to help out other work units with their projects," said John Lund, Pinedale Regional Wildlife Supervisor, noting her involvement in projects such as the Pinedale elk test & removal project, sage grouse surveys, mule deer mortality surveys, and hunter check stations, among others. "Her commitment to Wyoming's wildlife resource is exemplary."

Randall is a native of Jefferson, Ohio. She is a year 2000 graduate of the College of Wooster in Wooster, Ohio, earning a Bachelor's degree in Biology. Immediately upon graduation from college, Jill left for Wyoming taking a job with Grand Teton National Park as a heavy equipment operator. Jill has also been very active in the Rocky Mountain Elk Foundation during her time living in northwest Wyoming.

In her free time, Jill, and her husband Mark, are kept busy with their two year old son, Garrett. When not chasing Garrett, the two are usually chasing one of a number of outdoor pursuits they enjoy, including hunting, hiking, kayaking or horseback riding, to name a few.

---
Public invited to talk about Pinedale parking (posted 10/23/14)
Pinedale Online!
Posted on the Town of Pinedale website: "Unfortunately, there is a rumor going around town that the Pinedale Town Council is considering installing parking meters on Main Street. This is not true!! There is an isolated parking problem on the West end of town that will be discussed at the next Town Council Meeting (Monday, October 27, 2014 at 5:30pm)."

The Town of Pinedale invites the public to come to the next Town Council meeting on Monday, October 27th to talk about parking in downtown Pinedale. The topic has come up because of comments and concerns raised recently about parking congestion, particularly around the brew pub.

Apparently some business owners near the pub are frustrated that some people, who appear to be employees of nearby businesses, are parking their cars along main street for 8-10 hours at a time in front of businesses during the day taking spaces that should be left available for business customers.

Pinedale Mayor Bob Jones said the Town wants to hear the views from the public on what to do about this situation. One of the options being discussed is signage in front of the PFAC and health food store that would designate a couple of parking spaces as short-term, 20-30 minute parking. Jones emphasized that there is absolutely no truth to the rumor circulating that the Town might be considering installing parking meters downtown. "We're not even remotely considering parking meters," he said. He described the problem as an isolated circumstance. Jones said that it is Business 101 that employees shouldn't park their vehicles in spaces that customers use to access businesses.

The issue will be discussed as public comment at the beginning of Monday's Town Council meeting, right after the minutes, starting at 5:30PM at the Pinedale Town Hall. "I invite people to come in and talk about it," Mayor Jones said.

Related Links:
www.townofpinedale.us Town of Pinedale

---
The Food Basket can help those in need (posted 10/23/14)
The Pinedale Food Basket encourages those who are planning on using the Food Basket provisions this year to sign up for food before the end of October. This is especially important during the holiday season to ensure the availability of special meals for those who are in need. For more information and to make arrangements, contact Bonnie at 307-231-2316.

---
Big Horn Sheep Bow demonstration Nov. 4 & 5 (posted 10/23/14)
Talk about Native American bows by Wyoming artist Tom Lucas
The Sublette County Library invites everyone to one of two demonstrations of the lost Native American art of making the ancient bighorn sheep bow. There will be a talk on Tuesday, November 4th at 6:30 pm at the Pinedale Library and another presentation on Wednesday, November 5th at 6:30PM at the Big Piney Library.

Tom Lucas is an authority on bighorn sheep bows, considered to be the most powerful weapon before the gun. The bows, made of flattened bighorn sheep ram horn, were highly prized by native peoples including the Crow, Sheep Eater and the Mountain Shoshone Indians. The horns are softened to allow them to be bent in the reverse the curve of the horn.. The finished bow was strong and extremely powerful. One of the rare ones found still in existence is on exhibit at the Museum of the Mountain Man in Pinedale, and is a prized artifact.

Lucas's interest and passion of ancestral tool making has led him to be documented on PBS in such films as Sheep-Eaters: Life in the Mountains and Archers of the Yellowstone. Tom has mastered replicating Indian artifacts including bighorn sheep bows, war-bonnets, beaded clothing and shoes, horn scoops, knives and arrowheads. He is also an accomplished oil painting artist of over 40 years. His lifestyle as a cowboy, mountain man, hunter, trapper and outdoorsman serves as the ultimate foundation for his art. He currently resides in Dubois, Wyoming.

For more information visit the library's website: www.sublettecountylibrary.org or call 307-367-4114.

---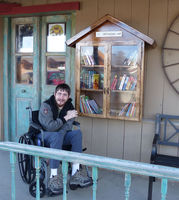 The Jimmy Sims Little Free Library.

There's a new library in town (posted 10/19/14)
Dawn Ballou, Pinedale Online!
And it's tiny. It's located on the outside of the Dandylion Den gift shop in Pinedale. It's one of the newest "Little Free Library"s that are popping up in neighborhoods all across the county as a fun way to encourage reading and community. The new little library was installed in mid-October and is ready to use.

What is a Little Free Library? It's a "take a book, return a book" gathering place where neighbors share their favorite literature and stories. In its most basic form, a Little Free Library is a box full of books where anyone may stop by and pick up a book (or two) and bring back another book to share. The goal is to promote literacy and the love of reading by building free book exchanges worldwide.

Pinedale's newest little library was put up by Kristy Sims who saw the idea from news stories about ones other people have done. She asked local carpenter Chris Lockwood to build her library case and he installed it on the outside of her store, the Dandylion Den, on south Sublette Avenue.

Little Free Library book cases come in all sorts of sizes, shapes, clever designs and colors. Most all have glass front doors to see the books inside. Cases placed outside are watertight to keep out the weather.

Sims went to the Pinedale Food Basket to stock it with the first set of books, a mixture of adult and children's books. She then found a nice bench to place next to the new Library. Sims named the new library the "Jimmy Sims Little Free Library," after one of her sons.

The first little libraries began to appear in 2009, and since then more and more people liked the idea and started making them. With the great grassroots movement, LittleFreeLibrary.org became a non-profit organization in 2012 in Wisconsin. They had the goal to build 2,510 Little Free Libraries—as many as Andrew Carnegie—and keep going. They reached that goal in August of 2012, a year and a half before their original target date. By January of 2014, the total number of registered Little Free Libraries in the world was conservatively estimated to be nearly 15,000, with thousands more being built. The idea has grown to other countries worldwide The Jimmy Sims Little Free Library has Charter No. 18,798.

Check it out!

Click on this link for more pictures.

Related Links:
www.littlefreelibrary.org

---
Rendezvous Pointe selected as 1 of 16 'High Performing Nonprofits in the Nation' (posted 10/19/14)
In 2013, two university scholars conducted a nation-wide sample for analysis and evaluation of human resource management practices in non-profit organizations delivering human services in the United States. Rendezvous Pointe Senior Center in Pinedale, Wyoming was selected as one of sixteen "high performers" out of the hundreds of organizations that responded to the survey.

Jessica E. Sowa, Associate Professor, School of Public Affairs at the University of Colorado in Denver, and Sally Coleman Selden, Professor of Management at Lynchburg College in Virginia conducted the research project over the course of two years.

Executive directors from 344 organizations responded to the survey. The top sixteen were selected from eight states including New Hampshire, Vermont, Michigan, Virginia, Idaho, Utah, New Mexico, and Wyoming. Rendezvous Pointe was also one of just four traditional senior centers selected in the eight states. The other nonprofits that were high performers included a YMCA, a YWCA, health clinics, a free clinic, and ones working to prevent domestic abuse, sexual assault, and child abuse.

After providing and completing an extensive survey and other data, each of the 344 responding nonprofits was ranked on ten measures including quality of service, ability to raise money, ability to secure grants, ability to retain essential employees, satisfaction of clients, and relationship with funders. From those responses, sixteen top performers were selected for further evaluation.

In the fall of 2013, researcher Jessica Sowa came to Pinedale and visited Rendezvous Pointe to complete their case study examination. Three staff members were personally interviewed, including Paul Jensen, the Executive Director. In addition, staff and volunteers completed a survey providing more information which was a critical component of the research.

Rendezvous Pointe's finances, financial management, program management, and the treatment and management of employees accounted for their status as a high performing nonprofit. Specifically, they were distinguished by sharing information with all employees, providing employees with an opportunity to express their views and participate in problem solving, and establishing performance based compensation and other non-monetary benefits such as flextime, some form of health care, retirement plans and verbal recognition of outstanding performance.

For more information, contact Paul Jensen, Executive Director of Rendezvous Pointe, 307-367-2881, edrpointe@centurytel.net.
---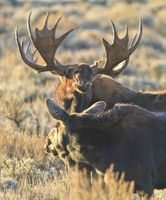 Courtship dance. Photo by Dave Bell.

Moose mating encounter (posted 10/18/14)
Dave Bell's business took him to Jackson earlier this week and, of course, his camera equipment joined him on the trip. He left early in hopes of photographing something spectacular. " I was certainly not disappointed. I was able to witness the entire mating ritual of the moose and photograph the entire event. It was very interesting as quite a lot of courtship is involved. This is not a "slam bam, thank-you maam" event as it goes on for quite some time." Click here for his gallery of the encounter: "moose mating encounter"

---
Pinedale Community Blood Drive Nov. 3 (posted 10/15/14)
Sublette County Rural Health Care EMS is sponsoring a blood drive on Monday, November 3rd from 1-6PM in the Pinedale EMS Building Training Room, 635 E. Hennick.

To make appointments, log onto www.bloodhero.com and use sponsor code: Pinedale. Or contact Jerry Kirchoff at 307-749-4137.

You can also save time by going online and doing a self-interview. Go to www.unitedbloodservices.org. Complete the Health History questionnaire on the day of your donation, print the ticket and bring it to the blood drive. Please bring your photo ID and donor card. Every donation gets a free cholesterol testing.

---
Local Services:
Abortion Alternatives
Accounting & CPA
Arts & Entertainment
Attorneys & Legal
Automotive
Banks & Financial
Bars
Beauty Salons
Bed & Breakfasts
Boating
Bookkeeping
Builders & Contractors
Building Material
Business Services
Cabins
Cellular
Child Care
Churches
Cleaning Services
Clothing
Commercial Art
Computer Supplies
Consultants
Convenience Stores/Fuel
Convention/Meeting
Dentists
Dining
Dry Cleaning
Events
Fabric & Crafts
Fencing
Fishing
Flooring
Food & Drink
Funeral Homes
Furniture
Gifts/Western
Government
Graphic Design
Grocery & Market
Guest Ranches & Lodges
Handyman Services
Hardware & Feed
Heating
Health Care & Medical
Horseback Adventures
Insurance
Interior Design
Internet/Web/Advertising
Landscaping
Laundry
Liquor Stores
Lodging
Log Homes
Massage Therapy
Modular Homes
Motels
Mountain Biking
Movie Theaters
Museums
Nails
Newspapers
Office Supplies
Oil Field Services
Optometrists
Organizations
Outdoor Equipment
Outfitters & Guides
Packaging & Shipping
Painters
Pet Stores
Pharmacies
Photography
Plumbing
Professional Services
Radio
Real Estate Agencies
Real Estate-FSBO
Remodeling
Retirement
Retreats
RV Camping
Schools
Scrapbooking
Septic Services
Skiing
Snowmobiling
Snow Plowing
Storage and Storage Units
Tanning
Tattoos & Body Art
Tax Preparation Services
Taxidermy
Transportation/Shuttle
Trash Services
Trucking
Veterinarians
Visitor Services