Funeral Services for Connie Binning May 3 in Pinedale (posted 4/28/16)
Covill Funeral Home
Connie Binning passed away Wednesday, April 27, 2016 at her home in Cora. Funeral services will be held Tuesday, May 3rd at 10:30 A.M. at the Pinedale L.D.S. Church. A viewing will be held one hour prior to the service at the church. Interment will follow the services in the Cora Cemetery.

---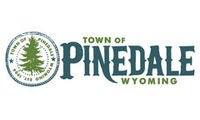 Town of Pinedale

Town of Pinedale update (posted 4/28/16)
Town elections, board openings, public input sought on KOA campground land
Town of Pinedale
As most of you already know, the Town of Pinedale Municipal Election will take place Tuesday, May 3 at the Wrangler Gym.

The election is to fill three open seats on the Town Council. Remember, only residents of the Town of Pinedale (that is residing inside the Town limits) may vote in this election. The polls will open at the Wrangler Gym at 8 AM and remain open until 7 PM.

Again, voting will take place at the Wrangler Gym.

Absentee voting is open, ballots must be received at 69 Pinedale South Road by 5:00 PM on May 2, 2016.

As Americans it is not only our right, but our privilege to have the opportunity to vote. So please, don't waste an opportunity to participate in your community. Vote- your opinion matters.

Aside from the election, the Pinedale Travel and Tourism Commission will soon have an open seat. If you are involved in the tourism industry in Pinedale, you may be a good fit. For more information on the commission or what is involved in serving, please contact the Town Hall at 307-367-4136, or simply submit a letter of interest.

Other important happenings are about to begin. Keep your eyes and ears open for the announcement of a workshop to determine use(s) of the former KOA Campground. The Town Council will want to hear your ideas and concerns for the future of the nearly 5 acres in the center of one of our largest residential areas.
If it sounds like we have a lot going on here in beautiful Pinedale,,, we do. Don't wait to be asked, vote, volunteer, or get involved any way you can.

Related Links:
www.townofpinedale.us Town of Pinedale website

---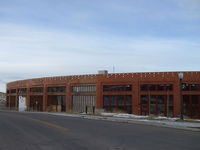 The historic Union Pacific Roundhouse building in Evanston, Wyoming. commons.wikimedia.org

Wind River Brewing moving brewing operations to Evanston, Wyoming (posted 4/27/16)
Wind River Brewing Company of Pinedale will be expanding their brewing operations to Evanston, Wyoming. They will be moving into the historic Roundhouse building, built in the early 1900s to service railroad locomotives used by the Union Pacific Railroad. The unique building is now owned by the City of Evanston and one section of the building has been restored and is being used as a meeting and convention center. It is a big attraction in the town. Three other sections of the Roundhouse remain unrestored, but provide a huge expanse of floor and high ceiling space for potential future use. Wind River Brewing will take two of those open sections for their new brewing operations.

The City of Evanston recently received news that the State Loan and Investment Board (SLIB) has awarded them $3 million in a community development grant towards completing the restoration of the historic Roundhouse. The grant will be used to complete the masonry, windows and doors for the outside façade of the remainder of the Roundhouse. Wind River Brewing will build a larger brewery, have a restaurant, tasting room and gift shop in their space. They plan to keep their brewery and restaurant in Pinedale as well.

Click on the links below for more information.

Related Links:
Wind River Brewing facebook page
Wind River Brewing Company
Roundhouse Restoration Inc. A non-profit organization whose mission is to foster support for the Historic Evanston Wyoming Roundhouse and Railyards.
Evanston, Wyoming

---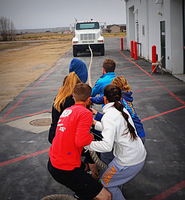 Truck pull. Photo by Terry Allen.

First Annual Battle of the Gyms (posted 4/27/16)
Terry Allen
Andrew Zook, owner of Wyoming Athlete Development in Pinedale, put on the First Annual 'Battle of the Gyms' in Pinedale on Saturday, April 23, 2016. Five teams of six athletes each from Wyoming participated in the competition. Team Iron Kitchen from Alpine, Two teams from GYM22 in Jackson, and Team PAC and Team Wyoming Athlete Development from Pinedale competed in Powerlifting, Strongman and Endurance events.

Bright blue skies greeted competitors Saturday morning, but a low dark line of roiling storm clouds threatened from the western horizon. The building wind added extra swing to the pony-tail on the back of Kendall Brunette's head as she did high-kicking warm-ups in the parking lot.

The booming tunes provided by DJ Ben Davis welcomed participants into the gym and made toddlers and athletes break out spontaneously with their dance moves. The music seemed to make the building walls pulsate. Ben gave the photographer his best DJ pose. "I lift to stay in shape and stay active and so my wife won't leave me," he said. "I've been working out over 10 years. I work out at the high school gym…drop by sometime. We've got a pretty good bunch of guys over there."

Metal plates clanged as they were slid onto bars; hands were thrust deep into the talc bucket labeled 'puke bucket' and then clapped together creating great white clouds as they knocked off the extra. Athletes got set and then dramatically lifted impossible weights over their heads and then dropped them with great crashes that shook the floor.

Outside on a sprint course, athletes picked up either 75 or 100 pound beer kegs, large welding tanks weighing 130 pounds each, one in each hand for a total of 260 pounds, and great barbells loaded with well over 100 pounds each.

As the sky turned black and the first few raindrops appeared, the teams of six took turns with each of the three devices and made their way down the course and back as fast as they could. Unlucky for Team PAC and Codie Bush, one of her male teammates took off jogging with her 75 pound keg, so she had to carry the 100 pound keg, which equaled her own body weight, down the course. But it worked out okay because the photographer got some really great face agony shots.

A large iron sled weighing a minimum of 110 pounds was loaded with more weight for successive runs until it weighed 235 pounds. Each team had to push the ever increasingly weighted sled the length of the skating rink in the west parking lot until everyone had their turn. There was a bit of vomiting or a serious threat of vomiting after a few of those killer pushes.

The next event was the truck pull. The truck turned out to be a big bobtail water tanker attached to an arm sized rope. The first team to try to pull the truck across the finish line was the PAC team. Andrew yelled 'go' and pulled the trigger on his stop watch and the team gave the rope a mighty tug…then about 3 or 4 successively mightier tugs, but the truck didn't budge. Finally, someone got with the driver Mike and they figured out the air brake release hadn't been pushed in all the way. Problem solved, Team PAC put their backs into it and hand over hand dragged the big truck across the finish line.

Back inside, a steady line of athletes took turns climbing the rope tied off on a high metal beam. When they got to the top, they gave the beam a quick slap and took the elevator down.

The finale of the day's event was The Death March. A quarter mile course was laid out in the large dirt lot to the west of the skating rink. The teams pulled and dragged the iron sled, carried or rolled the 90 pound Atlas stone and carried or dragged the 110 pound anvil around the now muddy course. Every 15 seconds the athletes had to drop or stop their weighted items and drop into the dirt, mud and a suspicious white spill, and do push-ups, jumping jacks, and burpee's for 15 seconds. Then get back up and start pushing and carrying their burdens.

The far end of the course had 6 or 8 dirt berms, approximately 3 feet high that they had to drag, push, roll or carry all the weight over…while slipping in the mud created by the now freezing rain and snow blizzard.

Sopping wet, frozen, and gasping in exhaustion; each muddy and bloody team collapsed into the weeds across the finish line...to the delight of the also soaked and frozen photographer whose main goal was to capture the essence of their struggle.

Not one to make anything easy, event host Andrew Zook only awarded one prize; and that went to champions GYM22 of Jackson. "The battle of the gyms proved to be one of the most extreme team competitions I have ever put on," Andrew said. "I was impressed with how hard these teams were able to push through the pain and agony of these events just to be crowned champions. Not one team bowed out or gave minimal effort. Because of the nature of this event the athletes could only prepare so much until they had to just let the mind take over and go beyond what the body could do. This was a great event to host in Pinedale and just the beginning of what Wyoming Athlete Development plans to bring to this great community."

Kendall Brunette of Team PAC was wet and bloodied but enthusiastic as ever. "This competition provided an awesome opportunity to showcase the strength and dedication of local athletes. Thanks to the Zooks for putting the event together -- I hope it is the first of many!"

Doug Wellemeyer, who at first glance one might take for being one of the most dangerous looking of the athletes, also turned out to be one of the most polite. He regularly tried not to cross in front of the photographer as he was shooting, and said 'excuse me' a lot. But he also knew the value of looking right into the lens when the camera was turned on him. As a result, we got some great images. "I've been competing like this for 8 years," said Doug. "This event is a tune-up for The Strongman event in July at Rendezvous."

Unable to run down the author of the following quote before posting this story, it will nevertheless be included. A member of the Jackson GYM22 team, a Marine, is rumored to have said that this event was tougher than anything he'd ever seen in the Marines.

Click on this link for more pictures: Battle of the Gyms (79 photos)
________________________________________

For comments, corrections or to purchase high-rez images, contact Terry Allen at txpartisan@gmail.com

---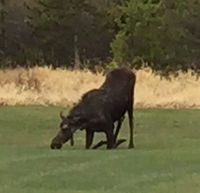 Town moose. Photo by Joe Zuback.

Town Moose (posted 4/27/16)
Joe Zuback sent in this photo of a moose spotted in the Town Park in Pinedale oon Monday, April 25th.

---
Endangered Species delisting issues (posted 4/26/16)
Sublette County Commissioner Joel Bousman went to Washington D.C. during the week of April 18-22 to testify before the House Oversight and Government Reform Interior Subcommittee on delisting issues with the Endangered Species Act. Below are links to his written and oral testimony. The oral part is listed as Barriers to Endangered Species Act Delisting Part I April 20, 2016.

Information on the hearing:
https://oversight.house.gov/hearing/barriers-to-endangered-species-act-delisting-part-i/

Commissioner Bousman's testimony:
https://oversight.house.gov/wp-content/uploads/2016/04/Bousman-Statement-4-20-ESA1.pdf

View the livestream on the committee's YouTube page:
https://www.youtube.com/user/oversightandreform

---
Funeral Mass for Rose Dickie April 30 (posted 4/25/16)
Covill Funeral Home
Rose Dickie, 72, of Marbleton, Wyoming passed away Wednesday, April 20, 2016. A funeral mass will be held Saturday, April 30th at 1:00 P.M. at St. Anne's Catholic Church in Big Piney. A rosary service will be held the night before April 29th at 6:00 P.M. at the church. Interment will follow the services in the Plainview Cemetery.

---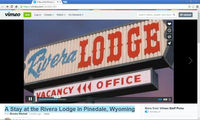 Vote soon in the Wyoming Short Film Contest.

Vote in Wyoming film contest (posted 4/24/16)
Video features the Rivera Lodge in Pinedale
Brooks Mitchell, Professor Emeritus at the University of Wyoming, has submitted a short movie about the Rivera Lodge in Pinedale in the Wyoming Short Film Contest by the Wyoming Film Office. The 10 entries that receive the most "likes" will move on to the final judging for first place. Voting ends this week for videos to get into the finals, so people have to vote soon.

Here are instructions on how to vote:

Following are a set of instructions which might help.

Step 1: Go to: https://vimeo.com/groups/thatswyfilms/page:1/sort:date Brooks Mitchell's video on the Rivera Lodge is on page 3.

Step 2: Go to page on the web site and find the icon which says, "A Stay at the Rivera Lodge"

Step 3: Vote in the upper right-hand corner. All you have to do is click the heart symbol. It will then ask you if you want to login via Facebook or vimeo. If you have Facebook, just click that button and it will let you vote. If you click the vimeo button, it will ask you for an email address and a password (it's free).

Here is the promotion for the film contest:
It's no secret that Wyoming is an ideal setting for adventure. And the greatest adventures often begin by asking one question: "Why?" This year, the Wyoming Short Film Contest asks entrants to submit film concepts inspired by the question "WY am I here?" There are endless ways to explore the theme, and a $25,000 Grand Prize for use toward the winner's next shot-in-Wyoming project is on the line. Entries will first go through a public voting round, so encourage your friends and family to like and share your video. After that the ten best-rated entries will go before a panel of judges. Judges will select the Grand Prize Winner.
---
Wyoming Legislature update – April 25, 2016 (posted 4/25/16)
Albert Sommers, House District #20 Representative
Hello Sublette County, this is Albert Sommers reporting to you from the Sommers ranch calving pastures. I do not believe that I have ever seen such an early spring. I hope we continue to get some beneficial moisture, as that helps cattle, wildlife, meadows, and lawns. There are a few issues that I would like to update the community on.

On May 9th and 10th, the Joint Corporations Committee of the Legislature will meet in Lander, at the Inn of Lander. At 1:15 on the 9th, the committee will discuss the issue of county residents participating in municipal elections. I have been contacted by several property owners in Pinedale about their inability to vote on municipal issues that affect their property rights and wallet. I had the Legislative Service Office research this issue almost two years ago, and they found that Colorado has a statute that addresses this concern. Colorado allows municipalities, by charter ordinance, the ability to grant qualified non-resident property owners the right to vote in municipal elections. This is strictly a home rule decision in Colorado, which a town council would make of its own volition. Qualified voters have to meet certain age, citizenship, residency, and ownership requirements, and any similar effort by Wyoming should have strict criteria for participation. I asked the Legislative Service Office to draft a bill based upon the Colorado law, but have not filed the bill during a session because I wanted the idea to be vetted thoroughly through a legislative interim by citizens, clerks, and municipalities. Prior to this last session, I was contacted by a Senator from eastern Wyoming who was interested in a similar idea. I have also been approached about expanding municipal voting rights to citizens within some defined radius of a town, one to five miles. One mile has some justification due to a town's ability to deny a subdivision plat within one mile of its border, thus affecting private property rights of those who cannot participate in the election of decision makers, but I am more supportive of qualified property owners. We presented these ideas to the House and Senate Corporations Committee Chairman, and the concept was placed on the interim study list. Some of the municipalities in Sublette County support this increased flexibility, provided towns make the decision, but some municipalities do not like the concept. Everyone will have the opportunity to voice their concern or support for increased municipal voting flexibility on May 9th. Unfortunately, I will not be at this May 9thmeeting, because the Select Committee on Statewide Education Accountability meets that day in Casper. I serve on that select committee. If you want to provide comments on the municipal voting issue, but cannot make the meeting, please send me your thoughts via e-mail. Pro or con, I will send the chairmen your comments. My e-mail is albert@albertsommers.com.

I have never been a big fan of state level education accountability, because I believe that is the role of local school boards. Two years prior to my arrival in the Legislature, Wyoming passed a comprehensive bill mandating the creation of an accountability model for Wyoming schools. This statewide accountability effort had been pushed at a federal level, and was part of a national reform movement for K12 education. I will never believe that legislators and state bureaucrats know more about educating children than do the teachers and administrators hired by local citizen boards. Phase I of Wyoming's education accountability program, school accountability, is fully in place, and utilizes the statewide assessment to grade school performance. If Wyoming simply uses this system as a way to shine a light on those schools needing support, and then if the state can provide some meaningful support, this will be a successful endeavor. Phase II of education accountability is teacher and leader accountability, and would attempt to grade teachers and principals at a state level. In my opinion, this is a local school board's job, and the state should not be involved in those decisions. At the May 9th and 10th meeting of Select Accountability, we will discuss topics like Phase II accountability, Wyoming's next statewide assessment, and alternative school accountability. I have been vocal about eliminating Phase II, and need to be at the meeting to continue to support that position.

This past session, I was a co-sponsor of a bill that raised the speed limit on highways from 65MPH to 70MPH. As someone who travels the long stretches of road in Wyoming, I look forward to the new speed limit. However, in recent weeks, I have received multiple comments about the effect this raise in speed limit will have on migrating big game in Sublette County. Certain stretches of highways in Sublette County already see high big game fatalities, and I certainly do not want to see that exacerbated by this higher speed limit. I visited recently with a communication specialist for the Wyoming Department of Transportation, and she assured me that the department will monitor wildlife collisions, and that they have the authority to reduce speed limits based upon local conditions. I have often thought that a reduced speed limit during night time hours would help reduce collisions in these migration areas. I will continue to pursue the issue of lowering speed limits in these critical wildlife movement areas, especially the moose corridor between Boulder and Pinedale. Please e-mail me any concerns or questions on these or other issues.

Thank you
Albert

---
Babysitting services offered for Dancing with the Sublette Stars attendees (posted 4/24/16)
The Buffalo Jump Pony Club is holding a Babysitting Fundraiser on Friday, April 29th from 5-11:30 pm for people attending the Dancing With the Sublette Stars event for the Children's Learning Center. They will be in the UCC Community Hall in Pinedale, 113 South Maybell Avenue. Please bring a blanket and pillow for your child. Dinner and snacks will be provided. Cost is $50 per child for children aged 2-12. They are offering a $15 discount for each additional sibling. For more information contact: April Neubauer at neubauerapril@yahoo.com or 307-231-3056.

---



Saturday, April 30th at 11:00AM at the Boulder Community Center.

Meet & Greet for Range Solar & Wind April 30 in Boulder (posted 4/22/16)
At the Boulder Community Center
Range Solar & Wind LLC is a renewable energy company out of Casper, Wyoming. They will host an informal Meet & Greet at 11:00AM on Saturday, April 30th at the Boulder Community Center in Boulder, Wyoming. This should be of interest to anyone wanting to know more about wind or solar powered products and technology. They do site evaluations, system designs, product installations, service & maintenance, education about renewable energy products, energy independence & self-sufficiency. They do grid-tied, off-grid, and off-grid with battery backup. They have installed many Skystream wind turbines and offer free site visits. Get more info at www.rangesolar.us/, 307-262-4647.

---



Rural Health Care District financial information available

Sublette County Rural Health Care District news (posted 4/22/16)
Financial info, Stroke Month, free school physicals
The Sublette County Rural Health Care District has posted their financial information on their website so it is fully accessible to the community. They have their annual budgets, year-end audits, copies of their annual reports and their monthly "snapshots" to get a quick look at how they are doing month-to-month. Click on this link to get to their financial information: www.sublettehealthcare.com/financial

Here are dates for upcoming health events:

Entire Month of May – Stroke Month
Free Stroke Risk Assessments for routine patients aged 50 or older at both Clinics, Pinedale and Marbleton.

May 18th & May 19th
Mountain Medical Mammovan
9 AM to 5 PM
Wednesday, May 18 – Pinedale Clinic (307-367-4133)
Thursday, May 19 – Marbleton Clinic (307-276-3306)
Please call Clinics to schedule

FREE School Physicals
Wednesday, June 29th – Wrangler Gym, 8 AM to 12 PM
Wednesday, July 20th – Wrangler Gym, 8 AM to 12 PM
Wednesday, Aug 10th – Marbleton Clinic, 8 AM to 5 PM

Related Links:
Financial information
www.sublettehealthcare.com Sublette County Rural Health Care District

---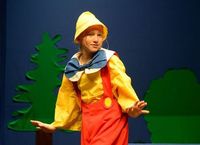 Pinocchio. Photo by Arnie Brokling.

Pinocchio Comes to Town (posted 4/19/16)
Terry Allen
The Missoula Children's Theatre came to Sublette County Friday night, April 15, and put on their version of Pinocchio, using child actors from our own community.

Pinocchio was written in 1883 by Italian writer Carlo Collodi. It is a story of a woodcarver named Geppetto from a small northern Italian village near Florence. Geppetto carves a wooden puppet who dreams of becoming a real boy. The play follows Pinocchio as he grows into a real boy, but who is prone to telling lies and fabricating stories as he learns life's lessons along the way.

The Missoula Children's Theatre was founded 40 years ago and this year will send out a fleet of little red trucks loaded with sets and costumes and work with 65,000 children in more than 1200 communities in all 50 states and 17 countries.

Mandy Corbett from New York and California, who was acting as the Director for this show, is an actor herself. She recently graduated from Pacific Conservatory Theatre. "I auditioned for this job because I wanted to learn the tools and strategy required to put on shows in one week," she said. "It is pretty intensive learning experience. We drive to a town and in about 14 hours of practice over several days, we are able to put on an exciting show with kids who may never have been on stage before."

Andrew Yabroff who was a working actor in Chicago for three years decided he wanted to travel with his acting. He also successfully auditioned for the job. "I switch off acting and directing duties with Mandy every two weeks," he said. "Tonight I'll be playing both Geppetto and Stromboli. After the play, we will ask for volunteers to help pack up our truck and then in the morning we'll hit the road and be putting on another play in a few days."

Emma Liske played a clown and said the thing she liked the most was making people smile.

Keegan Hankins acted as a street urchin and liked the face paint and the costume.

John Covill, who played Jiminy Cricket, said he liked to be able to jump around and yell a lot. "But, I didn't agree with the makeup part," he said. "I had to wear lipstick."

Adrienne Jones, who played a Baby Doll, said she was a pro now. "I got to speak," she said. "It was a speaking role. I want to see the video."

Bridger Kaiser was in the audience and said his favorite characters were the Toys and the Foxes.

Matty Lea really enjoyed her role. I was a Tot Soldier," she said. "I was great at marching. I saluted and marched."

Hannah Kaiser ran into a few problems. I played a Baby Doll," she said. "But, the pants were too long and the bonnet choked me. But, I'm happy except for the pants."

Sidney Wise, who played Pinocchio, said she was surprised to get the part. "I just tried out for the role and did my best," she said. "I had some experience in the past because I played Peach Fuzz a gay pirate in Blackbeard. What I like most about Pinocchio was being able to do all the falling on the stage. I also met some very amazing people. I was a little nervous, but when I heard the audience laughing and clapping it made it easy and fun."

A special thanks to Arnie Brokling who for the price of a beer, allowed me to use his photo of Pinocchio.

Click on this link for more pictures: Pinocchio Comes to Town (41 photos)
___________________________________________

For comments, corrections or to order hi-rez prints, please contact txpartisan@gmail.com.
---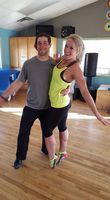 Team Jeff Biffle and Stacy Sluyter rehearse for the upcoming performance. Photo courtesy Children's Learning Center.

Tickets available for Dancing with the Sublette Stars (posted 4/17/18)
Performances April 28 & 29 in Marbleton to benefit the Children's Learning Center
Children's Learning Center
Dancing with the Sublette Stars, a fund-raiser for Children's Learning Center (CLC) in Sublette County, will take place Thursday and Friday on April 28 and 29, 2016 at Southwest Sublette County Pioneers Senior Center in Marbleton, Wyoming.

This is the 5th year of this successful event. The evening includes a live show with be seven local "star" couples who will perform a lively dance routine. All funds raised will directly benefit the Children's Learning Centers in Big Piney and Pinedale.

Since 1977, Children's Learning Center has been a leader in early childhood education in Sublette County. CLC provides therapy and special education services for children birth to 5 years as well as preschool programs for all children 3 through 5 years. Approximately 100 children are served annually through these programs with an additional 200 area children receiving free developmental, hearing and vision screenings.

Tickets available now at Children's Learning Center in Pinedale (307-367-6306), 191 South Franklin, or in Big Piney (307-276-5415), 650 Piney Drive. Join us for a night of food and fun while watching Sublette County's Stars dance for a good cause.

Click on this link to see a video of Dancing with the Sublette Stars: https://vimeo.com/162999129

Click on this link for more information about this year's event: http://www.SubletteStars.com

---
Fishing Report – April, 2016 (posted 4/17/16)
Mike Kaul, Two Rivers Emporium
Most streams around Pinedale have shucked off their ice cover and in the lower parts of our valleys there is a lot of open water. Fishable stream water will increase daily, but most of the lakes are still solid blocks of ice. Sections of the Green and New Fork Rivers present good fishing opportunities. This may be one of those seasons where we get some excellent pre-runoff fishing. Even with low water temperatures the fish will move on big streamer patterns. It is a good idea to trail a weighted dark nymph behind the streamer to get your offering deep into the water column where a lot of the lethargic trout will be holding. We have very little accumulated snow in the lower valleys, but there is a good snow pack high in the Wyoming Range and the Wind River Mountains. If the projected weather patterns hold for the next several weeks, we should see good fishing opportunities in late April and early May. After a traditional runoff in June, we will have some excellent fly fishing beginning in early July and continuing through September.

One thing is certain, the weather and water conditions will change periodically throughout the next several weeks. Please feel free to contact us for current fishing and water projections. (307-367-4131 or e-mail 2rivers@wyoming.com)

Related Links:
www.2rivers.net Two Rivers Emporium, Pinedale, Wyoming

---
Local Services:
Abortion Alternatives
Accounting & CPA
Arts & Entertainment
Attorneys & Legal
Automotive
Banks & Financial
Bars
Beauty Salons
Bed & Breakfasts
Boating
Bookkeeping
Builders & Contractors
Building Material
Business Services
Cabins
Cellular
Child Care
Churches
Cleaning Services
Clothing
Commercial Art
Computer Supplies
Condos
Consultants
Convenience Stores/Fuel
Convention/Meeting
Dentists
Dining
Dry Cleaning
Events
Fabric & Crafts
Fencing
Fishing
Flooring
Food & Drink
Funeral Homes
Furniture
Gifts/Western
Government
Graphic Design
Grocery & Market
Guest Ranches & Lodges
Handyman Services
Hardware & Feed
Heating
Health Care & Medical
Horseback Adventures
Insurance
Interior Design
Internet/Web/Advertising
Landscaping
Laundry
Liquor Stores
Lodging
Log Homes
Massage Therapy
Modular Homes
Motels
Mountain Biking
Movie Theaters
Museums
Nails
Newspapers
Office Supplies
Oil Field Services
Optometrists
Organizations
Outdoor Equipment
Outfitters & Guides
Packaging & Shipping
Painters
Pet Stores
Pharmacies
Photography
Plumbing
Professional Services
Radio
Real Estate Agencies
Real Estate-FSBO
Remodeling
Retirement
Retreats
RV Camping
Schools
Scrapbooking
Septic Services
Skiing
Snowmobiling
Snow Plowing
Storage and Storage Units
Tanning
Tattoos & Body Art
Tax Preparation Services
Taxidermy
Transportation/Shuttle
Trash Services
Trucking
Veterinarians
Visitor Services