Funeral Mass for Derek Meisner Feb. 3rd (posted 1/31/15)
Covill Funeral Home
A funeral mass for Derek Meisner (pron. my-sner) will be held Tuesday, February 3rd at 10:00 AM at St. Anne's Catholic Church in Big Piney. The Rosary will take place Monday evening at 6:00 PM at the church. Interment will be in the Plainview Cemetery.

---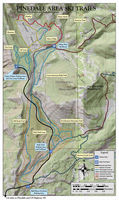 Nordic Ski Trail map courtesy Sublette County Recreation Board.

Nordic ski trail grooming report – January 31, 2015 (posted 1/31/15)
Report courtesy of Mike Looney, Groomer
Saturday, January 31, 9:15AM report: All trails above freshly groomed this morning except Heart Attack and Flatline. 20 degrees, sun is shining, pretty clear. Road is dry. Golf Course and CCC trails were groomed yesterday. Thank you for picking up after your pets. This Nordic Ski Trail grooming report is courtesy of the Sublette County Recreation Board. For more information, call or text Mike Looney, 307-360-8488.

Related Links:
X-C Ski Trail Map - (356K PDF)
Road and Weather links
www.visitpinedale.org Pinedale tourism website (lodging, dining, area information)
www.whitepineski.com White Pine Resort
www.greatoutdoorshop.com The Great Outdoor Shop

---
Death Notice: Derek Meisner (posted 1/30/15)
Sublette County Sheriff's Office
Sublette County, Wyoming
January 30, 2015

The Sublette County Sheriff's Office and the County Coroner's Office have issued a joint statement concerning the death of 26-year-old Derek Meisner. Meisner was found deceased in his vehicle at an address on Reservoir Road, north of Marbleton, at approximately 3:50 p.m. on January 29, 2015.

Preliminary investigation by SCSO detectives and Coroner Curt Covill indicate that the cause of death as a self-inflicted gunshot wound.

The Sublette County Sheriff's Office extends its condolences to the family of Mr. Meisner.

---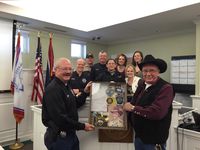 Sheriff Stephen R. Haskell (front left) presents a shadow-box full of mementos to Deputy Gene Bryson as a "thank you" for 40 years of Wyoming law enforcement service. Photo courtesy Sublette County Sheriff's Office.

Veteran deputy retires (posted 1/30/15)
Deputy Gene Bryson, 40 years of Wyoming law enforcement service
Sublette County Sheriff's Office
After this morning (Friday, January 30, 2015), the Sublette County Sheriff's Office in Pinedale will have one less veteran peace officer on the job as it says goodbye to Deputy Gene Bryson on January 31. Deputy Bryson will be exchanging his gun and badge with fishing poles and hunting gear when he retires after 40 years of Wyoming law enforcement service.

Whether they have just met him or have known him for years, people who speak with Gene Bryson, with his weathered face and raspy voice, can't help but see in him the toughness and the grit that made the Old West what it was - no wonder Pinedale was voted one of the last true "Western" towns.

Bryson was raised in Kalispell, Montana, and dreamed of ranching and running cows. It was this dream that led him to Niobrara County, in east-central Wyoming. After sustaining a knee injury that prevented him from riding horses for a few years, in 1974 he walked into the county seat, Douglas, and joined the Niobrara County Sheriff's Office.

In 1979, after the resignation of his predecessor, Deputy Bryson was appointed as Sheriff of Niobrara County. He ran for the office two more times, winning both races, before resigning in 1984 to move to Sublette County.

Over his years of service with Sublette County, his positions have included patrol deputy, investigator, and working in court security, working for a total of seven different sheriffs.

Recently asked what he would miss most after four decades in law enforcement, Bryson pointed to the courthouse doors in Pinedale and said, "The people that come in here. I know a lot of them, and I'll miss seeing them so often."

Gene Bryson won't be going far in retirement, though. He has run a gun shop in Marbleton on a part-time basis for many years, and now he's looking forward to committing his time fully to running his business.

Asked what his advice would be to anyone thinking about a career in law enforcement, his reply was this: "It's a hell of a ride. You will see things you won't believe and things you don't want to see at all. We don't see them as much as they do in Salt Lake, but when we do see them, they are just as real."

Sheriff Steve Haskell joined all the men and women of the Sublette County Sheriff's Office in thanking Gene for his 40 years of service, devotion to duty, and the sacrifices he and his family have made in serving their community.

---
Sublette Commissioners agenda – Feb. 3, 2015 (posted 1/30/15)
Mary Lankford, Sublette County Clerk
BOARD OF COUNTY COMMISSIONERS
SUBLETTE COUNTY, WYOMING
AGENDA
COMMISSIONERS MEETING ROOM
PINEDALE, WYOMING
TUESDAY, FEBRUARY 3, 2015

(Tentative Agenda, Subject to Change Up To 9 a.m. the Day of the Meeting)
9:00 a.m. Call to Order
Pledge of Allegiance
Butch Penton, Road & Bridge
9:30 a.m. Ron Gordon, Waste Management
10:00 a.m. Shad Cooper, County Fire Warden, FEMA Grant Working Group
11:00 a.m. Old Business
1:15 p.m. Planning & Zoning
2:00 p.m. Todd Hurd, Forsgren & Associates, Project Updates

Click on this link for a printable version of this agenda.

Related Links:
www.sublettewyo.com Sublette County website

---
Sweetheart (or not) dance classes at the Big Piney Library in February (posted 1/29/15)
The Big Piney Library is offering free dance classes in February on Wednesday evenings. Classes will be held at the Library, 106 Fish Street, on Feb. 4, 11, 18 & 25th from 5:30 – 7:00PM. Bring your sweetheart (or not) and learn the rumba, waltz, salsa and more. Couples and singles are welcome: fathers and daughters, mothers and sons, etc. Refreshments provided. For more information contact the Big Piney library, 307-276-3515, BPBranch@sublettecountylibrary.org.

---
St. Andrew's in the Pines Pancake Supper Feb. 17 (posted 1/29/15)
St. Andrew's in the Pines Episcopal Church will host a Pancake Supper on Shrove Tuesday, February 17th from 5:30-7:30PM. They will have pancakes, sausage and eggs. Donations for the supper go to support their youth groups. 524 W Pine Street, Pinedale, Wyoming, www.standrewsinthepines.org

---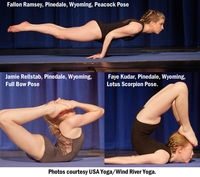 Top: Fallon Ramsey, Pinedale, Wyoming, Peacock Pose. Bottom left: Jamie Rellstab, Pinedale, Wyoming, Full Bow Pose. Bottom right: Faye Kudar, Pinedale, Wyoming, Lotus Scorpion Pose. Photo courtesy USA Yoga/Wind River Yoga.

2015 USA Yoga Wyoming / Utah Regional Championship in Pinedale Jan. 31 (posted 1/29/15)
The 2015 USA Yoga Wyoming / Utah Regional Championship will be held in Pinedale on Saturday, January 31st starting at 1PM in the Pinedale Auditorium. Spectators welcome. There is a $10 admission donation asked at the door to help winners travel to the 2015 National USA Yoga Asana Championship May 1-3, 2015 in Binghamton, New York.

Youth Champions participating from Wind River Yoga of Pinedale are:

Pinedale Elementary:
Kirsten Klaren

Pinedale Middle School:
Fabienne Kudar Tilar Brannon
Kinley Boulter
Sofia Smith-Cuprill
Sadie Siefkes

Pinedale High School:
Jamie Rellstab
Alondra Grover
Katie Wyckoff
Tayler Davis
Sonya Legerski
Fallon Ramsey

For more information contact Darcie Peck, Wind River Yoga Youth Champions, a 501 (c) 3 Organization, P.O. Box 1008, Pinedale, WY 82941, 307-231-1958, windriverchamps@gmail.com.

Photos courtesy USA Yoga/Wind River Yoga

---
Public Notice of Sale March 2, 2015: Town of Pinedale real property (posted 1/28/15)
Town of Pinedale
Notice of Sale: The Town of Pinedale will sell the real property described as Lots One (1), Two (2) and Three (3) of the Cooley Fourth Addition to the Town of Pinedale, Sublette County, Wyoming, at public auction on the following terms:

A. The auction date and time shall be March 2, 2015 at 10:00 A.M. at the Pinedale Town Hall. The Mayor shall oversee the auction. Bidding shall proceed in intervals of $100.00. The minimum sale price shall be $100.00.

B. Conveyance shall be by Quitclaim Deed without warranty of title.

Related Links:
www.townofpinedale.us Town of Pinedale

---
Wyoming Legislature update: January 25 & 27, 2015 (posted 1/28/15)
Albert Sommers, House District #20 Representative
Tuesday, January 27, 2015:
Hello Sublette County, this is Intern Casey Terrell reporting on the behalf of Representative Sommers who is in committee. Tuesday saw another long working day for the Wyoming House of Representatives, with over 20 bills on general file to be discussed.

One bill that passed narrowly by a single vote was HB-99, which requires all statutes to be written in gender neutral terms. This bill was sponsored by Representative Connolly, out of House District 13 in Laramie. Although some of the Representatives believed the language to be traditional, others like Representative Sommers believed that the bill respected women and removed archaic language.

Some other highlights of the discussion today focused on bills that directly affect Sublette County. One such bill was HB-62, which provides tax exemptions for faith based camps as long as they are primarily not for profit. This bill applies locally as Sublette County has such a camp, and with the aye vote of Representative Sommers the bill passed committee of the whole.

Also potentially affecting Sublette County was HB-102, Property tax sales-highest bidder. This bill would have given County Treasurers the option to engage in an online auction of which some of the proceeds would be returned to the County. This bill experienced controversy however as most of the County Treasures throughout the state did not support it, and this led to Representative Sommers along with the body not passing the bill.

Sunday, January 25, 2015:
Hello Sublette County, this is Albert Sommers reporting from Cheyenne on Monday the 26th. Today, in Committee of the Whole we will debate two bills, HB75 and HJ4, which would include Wyoming in a growing list of states determined to force a Balanced Budget Amendment to the US Constitution by the threat of Constitutional Convention. I support the concept of a Balanced Budget Amendment to the Constitution, because Congress is dysfunctional and our nation's debt is spinning out of control. However, I remain concerned about the prospect of a Constitutional Convention, and I fear that no matter how well formed it could lead to a runaway convention. We have the best Constitution ever constructed, and I would hate to open that document to the tinkering of a few delegates. I realize the threat of a convention has led to previous changes in the constitution, but I remain reluctant to support this effort and those bills. Please let me know what you think of this issue, and any other issue presented to the legislature.

I can be contacted at albert@albertsommers.com.
---
Share the Love Food Drive pick-up February 23 (posted 1/28/15)
Sublette County 4-H is gearing up for Share the Love Food Drive. For the past several years, Sublette County 4-H has placed boxes in locations all over Big Piney, La Barge, and Pinedale for people to donate food. We are asking the community to help us again this year in collecting food for our local food closets. This year's goal is 1,000 pounds of food! The pickup date for the boxes is February 23rd, so please donate early. Please help us meet our goal. If you have any questions, call William Shafer at 307-276-3526 or email mathmagician@afo.net.
---
'The Big Bang That Didn't Happen' talk Feb. 5th (posted 1/27/15)
Talk by Ann Noble on the Wagon Wheel Project
Sublette County Library
The Sublette County Library in Pinedale invites you to come listen to local historian and author, Ann Chambers Noble talk about The Wagon Wheel Project - "The Big Bang That Didn't Happen" on Thursday, February 5th at noon and again that evening at 6:30 pm.

In 1968, an area 10 miles south of Boulder and 9,220 feet underground was proposed to be exploded by five nuclear bombs to release natural gas trapped in layers of sandstone. It was estimated that the five bombs would create a blast 25 times greater than the explosion that destroyed Hiroshima. Citizens from Sublette County and surrounding areas formed a local committee to research the effects of the project on residents and to bring their concerns to area lawmakers and eventually the nation's capital.

Don't miss the chance to learn details about this fascinating piece of local history and its grassroots success story.

---
Free Beekeeping 101 Workshop Feb. 16 (posted 1/27/15)
A free workshop on Beekeeping will be held on Monday, February 16 from 6 – 8 pm in the Lovatt Room at the Pinedale Library. Buzz on over to learn about how to get started with beekeeping, and other beekeeping basics. Tina Russell, UW Extension Educator, will go through beekeeping basics during this free workshop. Tina has several years of experience working with bees in Wyoming and abroad. For more information, contact Windy Kelley at 307-367-4380 or email wkelley1@uwyo.edu. Program sponsored by University of Wyoming Extension.


---
Upcoming event dates for Daniel Community Center (posted 1/27/15)
Mark your calendar for their 2015 events
March 21: Aniel Daniel Chili Cookoff and Dessert Auction
May 9: Mother's Day Tea
July 18: Yard Sale
July 19: Old Timers' Community Picnic
December 13: Christmas Party

All events held at the historic 1920 Daniel Schoolhouse, 18 Schoolhouse Lane, County Road 208, Daniel, WY 83115. For more information, see Facebook page or call 307-859-8606.

---
Notice of Green River Valley Cattlewomen's Beef Ambassador Contest (posted 1/26/15)
Beef Ambassador Program for youth age 16-20
Green River Valley Cattewomen
The Green River Valley Cattewomen (GRVC) are sponsoring a student from each Big Piney and Pinedale to attend the Wyoming Cattle Women Beef Ambassador contest in Casper during March, 2015. The student from each community chosen will receive $300. The student needs to let the GRVC know if they are competing by February 20, 2015 and then present to the GRVC at the Annual Meeting on March 7. For more information, contact Kailey Barlow at 307-260-6409 or Jonita Sommers at 307-360-8023. Below is more information about the contest:
MISSION STATEMENT: The Wyoming Beef Ambassador Program provides an opportunity for youth to become spokespersons and future leaders for the beef industry.

OVERALL GOAL: Utilize the Wyoming Beef Ambassadors to provide information about beef's nutrition, safety and convenience to consumers. Provide producers with industry information, including facts about the Beef Checkoff Program.

PROGRAM SPONSORS: Wyoming Beef Council and the Wyoming CattleWomen, Inc.

ELIGIBILITY: Contestants must be at least 16 years of age by September 1, 2014, but not over the age of 20 by September 1, 2014.

AWARDS: Cash awards are presented to the top three places. The awards are based upon fulfillment of requirements and are subject to change. The top scorer will be eligible to attend the National Beef Ambassador Competition in Denver, CO in Sept of 2014 (In the event there is only one competitor at the Wyoming competition, it will be at the judge's discretion as to whether the winner will attend the national competition.)
1ST PLACE $500.00
2ND PLACE $400.00
3RD PLACE $300.00

The title Wyoming Beef Ambassador Team will refer to the competitors placing first, second, and third at the Wyoming Beef Ambassador Competition as determined by the judge's scores. The Wyoming Beef Ambassador Team will be the official youth representatives of the Wyoming CattleWomen, Inc. [WCW]. The term of the Wyoming Beef Ambassador Team will be for one year beginning April 5, 2014 and ending March 31, 2015. The Wyoming Beef Ambassador Team is expected to conduct themselves in a professional, mature manner and to represent WCW in a positive light.

STATEMENT OF REQUIREMENTS
1. Attend the Wyoming Stock Growers/Wyoming Cattlewomen's summer or winter conference.
2. Assist with the booth at State Fair.
3. Take the Masters of Beef Advocacy (MBA) program through the National Cattleman's Beef Association (NCBA).
4. 2 educational events
5. 2 consumer events
6. 2 media events – ie media interview, letter to the editor or post on blogs

State competition will consist of 3 requirements:
1. - Issues Response - Upon receipt of entry forms, contestants will be mailed a recently published news article regarding the beef industry. Each contestant will write a brief (250 words or less) editorial response to the article which will be turned in on the day of the competition. Each contestant will bring 6 copies of the response with them. Judges will score the contestants on their ability to respond to an industry article by thoughtfully answering questions, identifying misinformation and listing positive consumer information.

2. - Media Interview - The contestant will participate in a mock media interview. The interviewer will have pre-determined questions to ask each contestant with the option to ask follow-up questions in order to extrapolate additional knowledge or clarify a point. A panel of judges will observe the interaction for: knowledge, articulation, poise and the contestant's ability to "Tell the Beef Production Story" and present the industry in a positive light. Scoring will be done by the judges only. The contestants should be well versed in all areas of beef production and the beef industry relating to consumers. Special attention should be paid to all current industry issues.

3. - Quiz – This will test your knowledge of the beef industry. Check out the websites www.explorebeef.org or www.beef.org for factual information concerning the beef industry.
---
Pinedale Middle School 2015 Science Fair winners (posted 1/24/15)
Best Project in Fair: The Fowl Scoop Katelyn Hayward

Principals Award: Ignition Impossible Toby Covill & Sammy White

Best Visual Display: Hearty Hoofbeats Megan Anspach

People's Choice Award: Into the Future: Hoverboard Quade Saxton, Teagan Pennock

Category Winners
Microbiology
3 Fishy Solution Leo Allison
2 Sodium Chlorite To The Rescue! Cady Eaton
1 Preservatives vs. Bacteria Dana Ramsberg

Animal Science
3 Shoo Dog Ethan Williamson
3 Touchitivity Inez O'Connor
2 Family Fingerprints Maggie Majhanovich
2 Hearty Hoofbeats Megan Anspach
1 Swirlogy Molly Sullivan

Behavioral & Social Science
3 Nosce Te Ipsum Isabel Mitchelson
2 DAF-initely cool! Jorja Warembourg
2 Tattoo Taboo Nora Legerski
1 Music Megamind Mariana Mata, Brooke Hultquist

Energy & Tranportation
3 Fruity Electricity Taylor Jones
2 Dented dynamics Jack Rellstab
1 That Blows Delaney Qualls

Environmental Management
3 Heating Up Chance Stevie
2 Use it Or Lose It Kade Williams
1 The Fowl Scoop Katelyn Hayward

Environmental Science
3 Production Destruction Allison Staten
2 Good bye Dragonfly Thomas Harnack
1 Waves of Worry Tanner Toussaint

Earth and Planetary Sciences
2 Shake Rattle and Roll Jackie Nutt
1 How Much H2O in your Snow Nicole Fluckiger

Biochemistry
3 Brownie Fat Attacks Kamber Luster & Kyra Luster
2 Future Feast Ryan Goodrich
1 BPA-Big Packaging Abuse Madison Friend & Teegan Johnson

Cellular and Molecular Biology
1 GMOhhh! Madeline Hemenway & Amanda Adams

Chemistry
3 Crystallized Charles Nichelson
2 Vehicular A-Salt Jasmine Saenz
1 Ignition Impossible Toby Covill & Sammy White

Engineering: Electrical and Mechanical
3 Earthquake Equillibrium Danner Tabler
2 Into the Future: Hoverboard Quade Saxton, Teagan Pennock
1 Power of Bridges Kolten Hansen

Engineering: Materials and Bioengineering
3 A Fraction of Friction Riley Wilson
3 Diaper Dilemma Maddie Deeds
2 A Suit for the Future Liam Fallon
1 Sea Assault Nile Debebe & Trevor Moller

Mathematical Sciences
1 Moon and Your Money McKayla Eaton

Physics and Astronomy
3 Where the Heat Flows Rayne Anderson
3 Magnetism Mix Up Nikki Grover
2 Icy Edges Sydney Ruckman
1 The Perfect Slapshot Clayton Roadifer

Plant Sciences
1 Human Breath Lettuce Death Haleigh Buckendorf

Medicine & Health
3 Pinnochio's Arm Jocelyn David
3 Caffeine Causatum Ashley Staten
2 Rethink Your Drink Natalie Hunt
2 Dominant vs. Non dominant Ashleigh Hultquist
1 Misery Needs Company Kodi Egle & Hannah LaBuda

---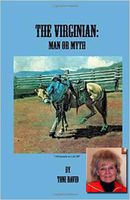 Toni David has just published her new book about The Virginian. Booksigning on January 31st at the Big Piney Library.

The Virginian: Man or Myth? (posted 1/22/15)
New book by Toni David
Sublette County author, Toni David has just had her first book published. It is entitled, "The Virginian: Man or Myth". There will be a talk and book signing on Saturday, January 31st at 1:00PM at the Big Piney Library.

Owen Wister immortalized the American Cowboy in his novel The Virginian: A Horseman of the Plains. The Virginian became the standard by which future western heroes would be modeled.

Did the author actually know a man that inspired his western hero? This is the question that has been debated since the book was first published in1902. What if there was such a man; who was he and why did Owen Wister not acknowledge the man that had influenced one of the most renowned characters of the twentieth century?

Toni David believes there was such a man and endeavors to answer these questions. "I had assumed as many had, that Owen Wister had fabricated his main character, but it took only one sentence from the book The Virginian at Medicine Bow by Glen Barrett to change my mind. Barrett stated that Owen Wister had ridden with the Ora Haley's Two-Bar Outfit. That one sentence cinched it for me."
"I believe the events in the Virginian were a composite, but Owen Wister's hero was not. No, Wister didn't need to build his hero from a mixture of cowboys; because he had found it all in one man."

Books will be available for purchase and autographing at the book signing, $9.95. Books are also available at the Pinedale and Big Piney Office Outlet stores and on Amazon.com.
---
Local Services:
Abortion Alternatives
Accounting & CPA
Arts & Entertainment
Attorneys & Legal
Automotive
Banks & Financial
Bars
Beauty Salons
Bed & Breakfasts
Boating
Bookkeeping
Builders & Contractors
Building Material
Business Services
Cabins
Cellular
Child Care
Churches
Cleaning Services
Clothing
Commercial Art
Computer Supplies
Consultants
Convenience Stores/Fuel
Convention/Meeting
Dentists
Dining
Dry Cleaning
Events
Fabric & Crafts
Fencing
Fishing
Flooring
Food & Drink
Funeral Homes
Furniture
Gifts/Western
Government
Graphic Design
Grocery & Market
Guest Ranches & Lodges
Handyman Services
Hardware & Feed
Heating
Health Care & Medical
Horseback Adventures
Insurance
Interior Design
Internet/Web/Advertising
Landscaping
Laundry
Liquor Stores
Lodging
Log Homes
Massage Therapy
Modular Homes
Motels
Mountain Biking
Movie Theaters
Museums
Nails
Newspapers
Office Supplies
Oil Field Services
Optometrists
Organizations
Outdoor Equipment
Outfitters & Guides
Packaging & Shipping
Painters
Pet Stores
Pharmacies
Photography
Plumbing
Professional Services
Radio
Real Estate Agencies
Real Estate-FSBO
Remodeling
Retirement
Retreats
RV Camping
Schools
Scrapbooking
Septic Services
Skiing
Snowmobiling
Snow Plowing
Storage and Storage Units
Tanning
Tattoos & Body Art
Tax Preparation Services
Taxidermy
Transportation/Shuttle
Trash Services
Trucking
Veterinarians
Visitor Services