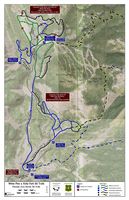 Map courtesy Sublette County Recreation Board

Nordic ski trail grooming report – March 21, 2019 (posted 3/21/19)
Mike Looney, Groomer, Sublette County Recreation Board
Thursday, March 21, 8:50AM report:
Most trails above groomed last night. Expect firm conditions this morning, softening conditions as the day goes on. The best skiing likely between 10AM to 1PM today. It will certainly be soft as the afternoon goes on. Predicted for temperatures to be above 50F degrees up above today. Because of the warm afternoon temperatures, do not recommend trail use after 2PM. If we stay off the trails in the afternoon, it will help preserve them for the next day.

This Nordic Ski Trail grooming report is courtesy of the Sublette County Recreation Board.

Related Links:
White Pine-Kelly Park Ski Trail Map - (10.3MB PDF)
CCC Ponds Ski Trail Map - (1.84MB PDF)
Road and Weather links
www.visitpinedale.org Pinedale tourism website (links to lodging, dining, area information)
www.whitepineski.com White Pine Resort, 307-367-6606, (Nearby alpine skiing, food services, restroom)
www.greatoutdoorshop.com The Great Outdoor Shop, 307-367-2440
www.sublettechamber.com Local businesses & services, 307-367-2242
www.golfpinedale.com Rendezvous Meadows Golf Course (Additional Nordic ski trails, food services, restroom)

---
PAC Closure Notice (posted 3/20/19)
Wednesday, March 20, 2019: Due to no heat (including no hot water), the Pinedale Aquatic Center will be closed on Thursday, March 21. They will reopen as soon as possible after repairs to boilers are made and heat is restored. However, there is no current timeline for reopening. PAC apologizes for the inconvenience. PAC and SCSD #1 staff are working hard to remedy this situation. Stay tuned for updates or call 307-367-2832 ext. 3. www.pinedaleaquatic.com

---
Ozone Action Day issued for Thursday, March 21, 2019 (posted 3/20/19)
Wyoming DEQ
The Air Quality Division (AQD) of Wyoming's Department of Environmental Quality (DEQ) is designating Thursday, March 21, 2019, as an Ozone Action Day for the Upper Green River Basin Ozone Nonattainment Area.

An Ozone Action Day is issued when forecasted weather conditions are favorable for the formation of ozone. Ozone appears to be elevated in the Basin when there is a presence of ozone-forming precursor emissions including oxides of nitrogen and volatile organic compounds coupled with meteorological conditions such as strong temperature inversions, low winds, snow cover, and sunlight.

During the Winter Ozone season (January-March), everyone should take actions to reduce ozone precursor emissions and ground-level ozone formation.

Forecasted meteorological conditions conducive to ozone formation are forecasted to persist through several more days in the UGRB Ozone Nonattainment Area. The AQD will continue forecasting daily to determine if an Ozone Action Day should be issued to implement Ozone Contingency Plans.

Ozone is an air pollutant that can cause respiratory health effects especially to children, the elderly and people with existing respiratory conditions. People in these sensitive groups should limit strenuous or extended outdoor activities, especially in the afternoon and evening. More information on ozone and the health effects of ozone are available at the Wyoming Department of Health website, https://health.wyo.gov/publichealth/infectious-disease-epidemiology-unit/disease/ozone/.

Current information on ozone levels at the Air Quality Division's monitoring stations at Daniel South, Pinedale, Boulder, Big Piney, and Juel Spring can be found at www.wyvisnet.com.

---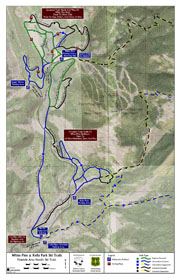 Map courtesy Sublette County Recreation Board

Nordic ski trail grooming report – March 20, 2019 (posted 3/20/19)
Mike Looney, Groomer, Sublette County Recreation Board
Wednesday, March 20, 10:05AM report:
Haven't groomed for a couple of days up above, but the trails are still holding up pretty good. Expect firm conditions in the morning, then softening as the day goes on. Best time to ski today probably between 11AM and 2PM. 26F degrees up above this morning.

This Nordic Ski Trail grooming report is courtesy of the Sublette County Recreation Board.

Related Links:
White Pine-Kelly Park Ski Trail Map - (10.3MB PDF)
CCC Ponds Ski Trail Map - (1.84MB PDF)
Road and Weather links
www.visitpinedale.org Pinedale tourism website (links to lodging, dining, area information)
www.whitepineski.com White Pine Resort, 307-367-6606, (Nearby alpine skiing, food services, restroom)
www.greatoutdoorshop.com The Great Outdoor Shop, 307-367-2440
www.sublettechamber.com Local businesses & services, 307-367-2242
www.golfpinedale.com Rendezvous Meadows Golf Course (Additional Nordic ski trails, food services, restroom)
---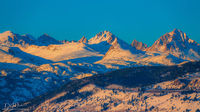 Wind River Mountain Range in early March. Photo by Dave Bell.

Still winter on the first day of spring (posted 3/10/19)
Early March photos by Dave Bell
Wednesday March 20th is officially the first day of spring according to the calendar, but Pinedale is still under feet of snow. Daylight is getting longer and we've had some gorgeous days with beautiful blue skies.

Hikers, we're still months away from the high country snow melting off. Jackass Pass to the Cirque of the Towers in the Wind River Mountains usually doesn't open up until around the 4th of July. Saw some geese flying over last week and heard rumors yesterday that someone in town said they heard a robin – all signs that our migratory birds are starting to return. (Let us know if you hear/see a bluebird, sandhill crane, or hummingbird support@pinedaleonline.com.)

Click on this link to see more of Dave Bell's scenic photos of the area: First Part of March Photo Gallery

Related Links:
Dave Bell Photo Gallery

---
Funeral Service for David Sanders March 23 (posted 3/20/19)
Covill Funeral Home
David M. Sanders, 78, of Big Piney, Wyoming passed away Thursday, March 14, 2019 at St. Vincent's Hospital in Billings, Montana. A funeral service will be held Saturday, March 23, 2019 at 11:00 AM at the Marbleton Senior Center. Graveside and interment will follow in the Plainview Cemetery in Big Piney. Family and friends will gather for a reception following the services at the 1st Southern Baptist Church in Big Piney.

Related Links:
Obituary: David Morgan Sanders of Big Piney, Wyoming | 1941 - 2019 Covill Funeral Home

---
Report on National Association of Counties (NACO) Legislative Conference (posted 3/18/19)
Washington, DC - March 1-March 7, 2019
Joel Bousman, Commissioner, member NACO Board of Directors and Public Lands Steering Committee
Sublette County Commissioner Joel Bousman attended the National Association of Counties (NACO) Legislative Conference March 1-7th in Washington DC. He has written a report on the meetings he attended during the week. Topics covered included public lands issues, grazing, NEPA process, wildland fire suppression, economic growth, disaster mitigation, threatened and endangered species, wildlife corridors, sage grouse, Payment in Lieu of Taxes (PILT), Secure Rural Schools (SRS), active management on federal lands, and other topics.

Click on this link to read Commissioner Bousman's full report from the conference: 2019 NACO Legislative Conference

---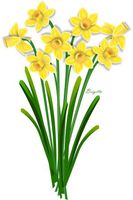 Daffodil fundraiser for Kickin' Cancer in Sublette County

Daffodil fundraiser for Kickin' Cancer (posted 3/17/19)
Orders due by April 3, 2019
Sage and Snow Garden Club and Ridley's Family Market are partnering to conduct a daffodil fundraiser for "Kickin' Cancer in Sublette County."

Order bunches (10 stems) of daffodils and proceeds from the sales will go to "Kickin' Cancer in Sublette County". Order & payment deadline is Wednesday, April 3, 2019.

Delivery Day is Friday, April 12, 2019.

Please fill out the daffodil order form and send with total payment to:
Sage and Snow Garden Club
P.O. Box 2280
Pinedale, WY 82941

For more information call 307-859-8606, or email bat1969@icloud.com or sageandsnow@gmail.com.
Related Links:
Sage and Snow Garden Club

---
Keep your bleeders on (posted 3/17/19)
To keep water lines from freezing
Town of Pinedale
The Town of Pinedale would like to remind our residents, especially those leaving for Spring Break, to keep bleeding their lines. As Spring begins to approach, warmer air temperatures do not necessarily mean that the ground is beginning to thaw. Even though top layers of the soil will begin to thaw, the deeper layers underneath will remain cold and frozen. The thawed top soil layers combined with warmer air temperatures, causes the frozen ground to permeate more profoundly, which acts as an insulator and prevents the frozen ground to thaw. This also adds to the risk of freezing pipes during these next few months.

The Town of Pinedale recommends that there be a dedicated bleeder line in the home to prevent any plumbing fixtures, used for bleeding purposes, to unintentionally be turned off. If your plumbing does freeze, please contact a plumber, immediately. Thawing of lines is not a service that the Town of Pinedale offers. However, we will need to be contacted in order to temporarily turn off the water until the repairs are made.

Once again, continue bleeding your lines. If you have any concerns about water billing and bleeding, we would love to chat with you. Please come to Town Hall, which is located at 69 Pinedale South Road, or call (307) 367-4136.

Related Links:
www.townofpinedale.us Town of Pinedale

---
Women's History Month luncheon March 28 (posted 3/17/19)
The Gender Wage Gap
Is the gender wage gap real or a myth? Women's issues and social justice expert Jen Simon will discuss the reality of gender wage gap in Wyoming at this free luncheon which will be on Thursday, March 28th in the Lovatt Room of the Pinedale Library. Lunch is provided. RSVP to the Sublette County Chamber of Commerce at (307) 367-2242. This is part of the Wyoming Women: Then & Now series, a variety of upcoming events during focusing on the history and current issues of women in the Equality state. Supported in part by a grant from thinkWY | Wyoming Humanities.

Related Links:
Sublette County Library

---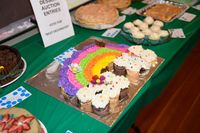 Dessert auction entries. Photo by Arnold Brokling.

Aniel Daniel Chili Cookoff (posted 3/13/19)
Pinedale Online!
The Daniel Community Club held their 37th Aniel Daniel Chili Cookoff and Dessert Auction on Saturday, March 9th at the historic Daniel Schoolhouse. There were 17 entries for red chili and eight in the green chili category. Judges for the red chili were Dianna Brokling, Tom Goddard, and Dave Stephens. Judges for the green chili category were Mack Rawhouser, Jen Adam, and Bob Beiermann. There was also a silent auction. There was a contest for best decorated dessert, and then the beautifully decorated dessert items were auctioned off. Dave Stephens served as auctioneer for the event.

Red Category:
1st: Jana Early
2nd: Sue Eversull
3rd: Jennifer Rees

Green Category:
1st: Mike Looney
2nd: Jana Early
3rd: Shannon McCormick

Jana Early won the top overall prize for her red chili.

Click on this link for more pictures: Aniel Daniel Chili Cookoff

Photos by Arnold Brokling

---
PAC Summer Expo May 1st (posted 3/10/19)
Find out more about youth and family focused happenings in Sublette County
The Pinedale Aquatic Center will host their annual Summer Expo on Wednesday, May 1st from 3:30 to 6:00PM.

This is a free opportunity for local organizations to showcase their activities, gather registrations, and promote their youth and family focused happenings for the summer in Sublette County. Table space is available at no charge. Vendors are encouraged, although not required, to donate an item for a door prize raffle.

Table space will be available for set-up the day of Expo, beginning at 2pm. PAC will provide tables and chairs.

There will be free food, raffle prizes, and information about all of Sublette County happenings. The event typically averages around 200 visits.

Vendor application forms can be found here. Form is due by noon on Tuesday, April 30th. Tables will be available for set up by 2PM on May 1st. For more information contact Deanna Fildey, at 367-2832, ext. 6244, or email dfildey@pinedaleaquatic.com.

---
Local Services:
Abortion Alternatives
Accounting & CPA
Apartments/Townhomes
Arts & Entertainment
Attorneys & Legal
Auction Services
Automotive
Aviation Services
Banks & Financial
Bars
Beauty Salons
Bed & Breakfasts
Boating
Bookkeeping
Builders & Contractors
Building Material
Business Services
Cabins
Cellular
Child Care
Churches
Cleaning Services
Clothing
Commercial Art
Computer Supplies
Condos
Consultants
Convenience Stores/Fuel
Convention/Meeting
Dentists
Dining
Dry Cleaning
Events
Fabric & Crafts
Fencing
Fishing
Flooring
Food & Drink
Funeral Homes
Furniture
Gifts/Western
Government
Graphic Design
Grocery & Market
Guest Ranches & Lodges
Handyman Services
Hardware & Feed
Heating
Health Care & Medical
Horseback Adventures
Insurance
Interior Design
Internet/Web/Advertising
Landscaping
Laundry
Liquor Stores
Lodging
Log Homes
Marketing
Massage Therapy
Modular Homes
Motels
Mountain Biking
Movie Theaters
Museums
Nails
Newspapers
Office Supplies
Oil Field Services
Optometrists
Organizations
Outdoor Equipment
Outfitters & Guides
Packaging & Shipping
Painters
Pet Stores
Pharmacies
Photography
Plumbing
Professional Services
Radio
Real Estate Agencies
Real Estate-FSBO
Remodeling
Retirement
Retreats
RV Camping
Schools
Scrapbooking
Septic Services
Skiing
Snowmobiling
Snow Plowing
Storage and Storage Units
Tanning
Tattoos & Body Art
Tax Preparation Services
Taxidermy
Transportation/Shuttle
Trash Services
Trucking
Veterinarians
Visitor Services