Suicide Awareness Walks & Candlelight Vigils August 9 & 10 (posted 7/21/16)
In Big Piney and Pinedale
The third-annual Mountains of Hope Suicide Prevention and Awareness candlelight vigil and walk will be held on August 9th and August 10th in Sublette County.

The walks begin at 8 p.m. on both days.

The August 9th walk will begin at the Big Piney Recreation Center parking lot, and end at the corner of U.S. Highway 189. The August 10th walk will begin at the Pinedale High School parking lot and end at the American Legion Park. A candlelight vigil will be held following both walks to commemorate those Wyoming residents who were lost to suicide.

This events are free and anyone is welcome to attend. Participants are encouraged to carry pictures of loved ones they lost by suicide

Southwest Counseling Service is hosting this event, along with the Prevention Management Organization of Wyoming.

For more information, contact Ranae Pape, Community Prevention Specialist with the Prevention Management Organization of Wyoming at 307-360-6382 or by email at
rpape@pmowyo.org or call Allison Clemmer at SWCS at 307-367-6445.

Hope begins with you. For more information on suicide prevention efforts in Wyoming – and how to become part of the solution - visit the Prevention Management Organization of Wyoming's website at www.pmowyo.org or www.sublettepmo.org

---
Funeral Service for Allan Reed July 25 (posted 7/20/16)
Covill Funeral Home
Allan Kenneth Reed, 86, of Pinedale, Wyoming passed away Tuesday evening, July 19, 2016 at St. John's Hospital in Jackson. A funeral service will be held Monday, July 25 at 11:00 A.M. at Covill Funeral Home in Pinedale. Interment and military honors will follow the service in the Pinedale Cemetery.

---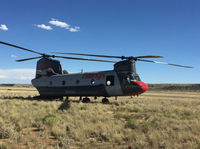 Photo by Dave Bell

The Boeing Chinook (posted 7/20/16)
Dave Bell
Was fortunate to get up close and personal with the Boeing Chinook CH 47D ship recently (currently based for the next week at Ralph Wenz Field in Pinedale). This beautiful airship weighs 24,156 pounds empty. It is powered by twin GE-T Turbines of 5,069 horsepower EACH. The ship can lift up to 50,000 pounds dead weight, however, each fully loaded water bucket of 2,500 gallons weighs 24,000--a relatively light lift for this baby, even at our altitude. The ship is 99' 11" from tip to tail. It is a twin rotor counter cyclical operating system. Each rotor has a 60' circumference. Each rotor blade is 32" wide and weighs 350 pounds and is made of fiberglass with a titanium leading edge. It has a maximum operating ceiling of 24,000 feet. It requires a crew of three to operate in flight, three ground crew/mechanics and two drivers/fuelers to support its operation. It burns 350 gallons of fuel per hour and generally operates on two hour cycles returning to base for fueling and maintenance. Truly a masterpiece in aeronautical engineering and a major asset in our efforts to beat down the Cliff Creek Fire. This beautiful ship is owned by Billings Flying Service who was gracious to invite me inside for a tour.

Related Links:
Dave Bell Photo Gallery

---
Kendall Valley Fire 10th Annual BBQ Aug. 13 (posted 7/20/16)
Kendall Valley Fire will hold their 10th Annual BBQ on Saturday, August 13th at the firehall, 2470 Hwy 352, north of Cora, starting at noon. They will have fire engine rides for the kids, a 50/50 raffle, dessert auction, burgers, beverages and sides. They will accept free-will donations. Thank you to the community for your support of the firefighters. "You come to our BBQ, we'll come to your fire!"

---
Candidate Meet & Greet July 26 in Marbleton (posted 7/20/16)
For Sublette County Commissioner, State Senator District 14, State Representative District 20
Come meet the candidates and talk to them one on one! All candidates running for Sublette County Commissioner, State Senator District 14, or State Representative District 20 have been invited to participate in a Meet & Greet on Tuesday, July 26, at the Senior Center in Marbleton, from 6-8 pm. Sponsored by the Southwest Sublette County Pioneers Senior Citizen Center.

---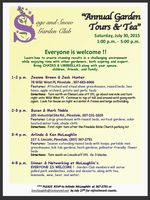 Garden Club Tea July 30

Annual Garden Tours & Tea July 30 (posted 7/20/16)
The Sage & Snow Garden Club will host their Annual Garden Tours & Tea on Saturday, July 30. Learn how to create stunning results in a challenging environment while enjoying time with other gardeners, both aspiring and expert. Bring chairs and umbrellas. Everyone welcome.

Tour schedule:
1-2PM: Jeanne Brown & Jack Hunter, 78 Wild West Place, Pinedale
2-3PM: Susan & Mark Noble, 205 Industrial Site Road, Pinedale
3-4PM: Arlinda & Ken McLaughlin, 217 S Lincoln, Pinedale
4-5PM: Dinner and networking at McLaughlin's, everyone welcome. Garden Club members will serve pulled pork sandwiches, sides and desserts along with tea, lemonade, wine, beer and water.

Please RSVP by Wednesday, July 27th to Arlinda McLaughlin at 307-367-2791 or email kmclaughlin@centurytel.net for refreshment counts.

---
Meet and Greets for David Burnett for County Commissioner in July (posted 7/20/16)
Laurie Latta
Meet and Greet events for Dr. David Burnett, Republican Candidate for County Commissioner are scheduled on the following dates:

Tuesday, July 26 in Marbleton: 6:00-8:00 pm at the Senior Citizens Center in Marbleton and Thursday,
Thursday, July 28: Pinedale from 4:30-6:00 pm at the Sublette County Library in Pinedale.

These gatherings will provide voters an opportunity to visit with Dr. Burnett about issues important to them. Burnett's platform includes:

The importance of establishing priorities for spending in preparation for impending decreased revenues
Maintaining services according to those priorities
Working in a collaborative process with a strong leadership team to establish a vision for the future of Sublette County

Dr. Burnett looks forward to hearing from Sublette County.

---
Public Meetings in Bondurant, Hoback Junction and Pinedale for Cliff Creek Fire (posted 7/18/16)
There will be three community meetings for the Cliff Creek Fire. These meetings will provide the opportunity to meet the Great Basin Team 7, Incident Commander Tony DeMasters and receive current fire information updates. The Cliff Creek Fire was at 6,700 acres as of 10:30AM today (Tuesday, July 19).

Community Meetings for updates on the Cliff Creek Fire:
Wednesday, July 20, 2016: Bondurant School, Bondurant WY. Time 6:00 pm
Thursday, July 21, 2016: Hoback Fire Station # 3, Hoback Junction, WY. Time 6:00 pm
Friday, July 22, 2016: Pinedale Administration Building (Sublette BOCES bldg), in the library of the "Old Elementary School", Tyler Avenue, Pinedale WY, Time 6:00 pm.

See the Cliff Creek Fire page on Inciweb for photos, maps, updates and announcements http://inciweb.nwcg.gov/incident/4865/. More information and updates on the Bridger-Teton National Forest Facebook page.
---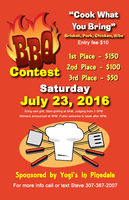 BBQ Contest at Yogi's July 23

BBQ Contest at Yogis in Pinedale July 23 (posted 7/18/16)
"Cook What You Bring" - Brisket, Pork, Chicken or Ribs. Entry fee $10. Bring your own grill, start cooking at 8AM, judging from 1-3PM, winners announced at 4PM. Public welcome to taste after 4PM. 1st Place $150, 2nd Place $100, 3rd Place $50. For more information call or text Steve at 307-367-2007.

---
Beatles and Beer at White Pine Sept. 3 (posted 7/18/16)
Fundraiser for the Sublette County Ski and Snowboard Association
White Pine Resort is hosting a special event on Saturday, September 3rd. They've invited one of the best Beatles tribute bands, Imagine, to come and play live at White Pine as a fundraiser for the Sublette County Ski and Snowboard Association. They sound and even look like "the Fab Four". This is a great family event with games to entertain the kids. Bring your grandparents; dance or simply sing along to all those old favorites. Music from 1-7PM.

It's a Brewfest - sample 15 different beers from local breweries, and it's a Wine Tasting - sample White Pine's 2016/17 selection. White Pine Grill will be serving British favorite food or bring your own picnic. Cost is $25 for a carload. Tickets can be purchased online at www.whitepineski.com or at the gate. Gates open 12 noon. For VIP Tables, tents and RV sites call 307-367-6606.

---
Wyoming Legislature update: Joint Education Committee report (posted 7/18/16)
Albert Sommers, House District #20 Representative
July 11, 2016
Hello Sublette County, on June 13-14 in Casper I participated in a meeting of the Joint Education Committee. During this meeting three important issues rose to the top of the discussions, and they are the Hathaway Scholarship, medically necessary placements, and K12 school finance.

The Hathaway Scholarship Fund has been hugely successful, and has helped a lot of Wyoming students with their college education. The program has not been without its critics. The Hathaway has course completion and GPA requirements, and these requirements push students to seek certain courses, at the expense of others. In my opinion this creates winners and losers within academic programs, the committee will continue to monitor the requirements for the Hathaway. The Hathaway Scholarship program is funded through the Hathaway Scholarship Endowment Fund. This fund was created during the height of the natural gas boom, and based upon what I have been able to ascertain, the bulk of the Fund came from sweeps of excess money in the K12 School funding flows starting in 2005. Like most endowments, only the earnings or a specified percentage of the fund can be spent in any one year. We all thought the Hathaway was monetarily sound, and past reports have shown that income has surpassed scholarship needs by a great deal. However, a report from the Wyoming Treasurer's office states "At the current rate of income and spending, the State will be able to make payments through June 2018. Given the current spending rate of approximately $16 million per year, there will not be enough residual funds to make a full payment for the first quarter of FY 19. "Our investment income is heavily tied to the bond market, and because bond rates are low we are facing some capital losses this year, instead of capital gains on investments like the past few years. I believe the income from investments will perk up again, but we must continue to monitor this account. We had hoped to increase the scholarship amounts to keep up with rising tuition costs, but that will likely not happen now.

During last winter's legislative session we passed Senate File 94, which helped institutions deal with medically necessary student placements, court ordered placements. The issue is very complex, and the funding of these students is not well understood by lawmakers or the public. Last session's fix was just a first step, and more will need to be done to create some equity in the funding process. Doris Woodbury, former Sublette #1 superintendent and retiring BOCES V region executive director, gave us a good presentation on the mission of the BOCES V program, one of several programs around the state supporting these students. The mission is to provide a public education to severely emotionally dysregulated students from across Wyoming. Most of these students are coping with the effects of abuse, neglect, sexual misconduct and childhood trauma. The program cares for them in a therapeutic and healing environment. The BOCES V program children live at a facility in Jackson called the C-V Ranch school, and I had the good fortune last year to tour this facility. BOCES V is paid for by fees from the participating student's home district and by taxes generated from BOCES V districts. Not all districts pay evenly, and because of testimony at the meeting, the committee asked WDE to put together a task force to provide us with recommendations. These are the neediest of students, and hopefully we can improve the current funding structure.

K12 school finance was placed on the Education Committee's agenda by the Legislature's Management Council, with the task of finding further savings in the K12 funding system. Last session, the Legislature reduced funding to districts by 1%, despite the recommendations of the Select Committee on School Finance Recalibration, of which I was a member. I fought these cuts, because the current reduction in state revenues is tied to a shrinking economy, which is resulting in a shrinking student population. Wyoming's K12 funding model is tied to enrollment, and when enrollment drops so does the dollars generated by the School Foundation Program funding model. This may be the only self-regulated funding system in state government. I lost the argument, and districts like Big Piney, which had seen a substantial reduction in student numbers, were hit with a double whammy. At the meeting, districts asked the Education Committee to restore the cuts made last session, and reminded us of Wyoming's constitutional mandate to adequately fund education. K12 education, in my opinion, is the most important function of state government. Well educated children are less likely to go to prison or end up on state supported programs. I view education as an economic development tool. In order to attract new businesses to Wyoming, we need to prove to businesses that their employee's children will receive a good education in Wyoming. Our national ratings prove that Wyoming provides a good education. Now is not the time to take the foot off the pedal in funding education, if we want to attract new businesses to this state. K12 education dollars come primarily from property taxes. I have been told, in Sublette County property taxes have declined 40%, with another 50% reduction on the horizon. We know that the primary funding source for K12 school construction has evaporated, when coal lease bonus money dried up. We will have to find another funding source for K12 school construction, and likely shift money within accounts to shore up K12 school operations dollars. I will remain a strong supporter of K12 education funding during our committee deliberations.

---
Town of LaBarge Community Picnic Aug. 20 (posted 7/17/16)
Town of LaBarge Community Picnic will be at the town park on Saturday, August 20th, starting at 11 a.m. Hamburgers, hot dogs, chips, and drinks will be provided. Please bring a potluck salad or dessert to share. There will be a Waterslide for the kids, tournaments for volleyball, basketball, and cornhole. There will be prizes and a door prize. For more information, please call Diane at 307-386-2504 or Jenny at 307-388-0198.

---
4th annual Fly-In and Car Show August 20 (posted 7/17/16)
The 4th annual Fly-In and Car Show will be held on Saturday, August 20th. Everyone is welcome. It will be from 7:00 am until 12:00 noon. A pancake breakfast will be served. Donations always welcome. 56 Airport Road, Big Piney, Wyoming. For more information call 307-276-4022 or visit the Big Piney Airport Facebook page.

---
Memorial Funeral Service for Phillip Engler July 23 (posted 7/15/16)
Covill Funeral Home
Phillip Engler, 62, of Pinedale passed away at his home July 10, 2016. A memorial funeral service will be held Saturday, July 23, 2016 at 1:00 P.M. at the Daniel School House.

---
Town of Pinedale update: Water system flushing (posted 7/11/16)
Town of Pinedale
The Town of Pinedale staff will begin the annual water distribution system flushing program on Tuesday, July 12th. The program typically takes around 10 days to complete. During this time you will see hydrants around town open and flowing water. This annual maintenance is critical to our effort to deliver the safest and highest quality water possible.

The purposes behind the hydrant flushing include:
- Flushing sediment from the mainline pipes to enhance your water quality.
- Checking for closed valves and weak flows in main lines.
- Helping find weaknesses in the system.
- Ensuring the hydrants and valves are working properly and able to sustain firefighting capabilities.

We will begin flushing the main lines first, from the top of the distribution system, then move our way down the system to the South end of Town. This flushing route is carefully planned to force any sediment to the end of the distribution system to be flushed out.

If you see a crew flushing the hydrant on your street, please avoid running tap water and using the washing machine or dishwasher until you see the flushing is done. When you see the crews in the area, please slow down and drive carefully.

After the flushing is over you may see temporary incidences of discolored water while the fine sediments that have been disturbed are flushed out. There is no health hazard associated with the discolored water. Shut off your water or just allow a few hours for the discoloration to dissipate. If your water pressure seems low, you may want to check the screens on your faucets or appliance supply lines to remove any trapped particles.

Don't forget this weekend the Pinedale Fine Arts Council is at it again with another free concert in the American Legion Park. Saturday night come check out The Barefoot Movement with special guests -- Screen Door Porch! As always, refreshments are available to purchase at the event.

Related Links:
www.townofpinedale.us Town of Pinedale

---
Extended summer hours for the Pinedale Ranger District (posted 7/11/16)
Open Saturdays through August
Bridger-Teton National Forest
Beginning July 9, 2016 the Pinedale Ranger District Forest Service office will be open on Saturdays to accommodate Forest visitors and the local community. On Saturdays through August 27, 2016 the Forest Service office in Pinedale will be open from 9:00 a.m. to 4 p.m. Regular work week office hours remain the same, Monday through Friday from 8:00 a.m. to 5 p.m.

Please stop in and see our new items from the Grand Teton Association store. We have lots of new children's toys and books that just came in last week, along with new adult books and maps.

Firewood permits are also available during office hours if you want to head out on Saturdays to collect your wood for the winter.

With the start of backpacking and horse packing season here in the Wind River Mountains, the Pinedale District does have bear resistant canisters available on a donation basis. We have both the hiking canisters and horse panniers available for use.

Give us a call or stop in to see us regarding all our forest product sales, new books and toys and bear resistant canister program. Enjoy our Forest this summer!

---
Sublette County Conservation District Budget Hearing July 21 (posted 7/6/16)
Rescheduled from July 12th
Public Notice: The regularly scheduled July 12, 2016 meeting for the Sublette County Conservation District Budget Hearing has been rescheduled to
July 21, 2016 at 6:00 PM in the USDA-NRCS Conference Room, 1625 West Pine Street Pinedale. For more information call 307-367-2257 or go online to www.Sublettecd.com.

---
Snow Explorers/Altitude Off Road Inc schedule of events (posted 7/6/16)
The Pinedale Snow Explorers club has recently changed its name, but remains a Sublette County snowmobile and ORV club. Here is the schedule of their upcoming events:

July 7: Snow Explorers/Altitude Off Road Inc. Cookout and Election of Officers Meeting is at 6 pm at Tom Orcutt Memorial Park in Shelter Park. Visit www.pinedalesnowexplorers.com or call Patrick Ingram 307-231-6161 for more information.

July 23: ORV Summer Ride hosted by Snow Explorers/Altitude Off Road Inc. Call Bucky's Outdoors 307-367-4561 for more information.

August 26-28: Camping Trip and Steak Fry on the Upper Green hosted by Snow Explorers/Altitude Off Road Inc. Visit www.pinedalesnowexplorers.com for more information.

August 27: ORV Fun Run on the Upper Green Pick up poker hands at 9 am at Kendall Valley Lodge. Call Gary at Bucky's Outdoors 307-367-4561 for more information.
---
Local Services:
Abortion Alternatives
Accounting & CPA
Arts & Entertainment
Attorneys & Legal
Automotive
Banks & Financial
Bars
Beauty Salons
Bed & Breakfasts
Boating
Bookkeeping
Builders & Contractors
Building Material
Business Services
Cabins
Cellular
Child Care
Churches
Cleaning Services
Clothing
Commercial Art
Computer Supplies
Condos
Consultants
Convenience Stores/Fuel
Convention/Meeting
Dentists
Dining
Dry Cleaning
Events
Fabric & Crafts
Fencing
Fishing
Flooring
Food & Drink
Funeral Homes
Furniture
Gifts/Western
Government
Graphic Design
Grocery & Market
Guest Ranches & Lodges
Handyman Services
Hardware & Feed
Heating
Health Care & Medical
Horseback Adventures
Insurance
Interior Design
Internet/Web/Advertising
Landscaping
Laundry
Liquor Stores
Lodging
Log Homes
Massage Therapy
Modular Homes
Motels
Mountain Biking
Movie Theaters
Museums
Nails
Newspapers
Office Supplies
Oil Field Services
Optometrists
Organizations
Outdoor Equipment
Outfitters & Guides
Packaging & Shipping
Painters
Pet Stores
Pharmacies
Photography
Plumbing
Professional Services
Radio
Real Estate Agencies
Real Estate-FSBO
Remodeling
Retirement
Retreats
RV Camping
Schools
Scrapbooking
Septic Services
Skiing
Snowmobiling
Snow Plowing
Storage and Storage Units
Tanning
Tattoos & Body Art
Tax Preparation Services
Taxidermy
Transportation/Shuttle
Trash Services
Trucking
Veterinarians
Visitor Services