Open House for Battalion 1 Pinedale Oct. 8 (posted 9/29/16)
On Saturday, October 8, 2016, Sublette County Unified Fire's Battalion 1 in Pinedale will host an Open House from 11:00 am to 2:00 pm. Raffle Tickets are available for sale to benefit Keith Raney, a veteran volunteer Fire Fighter, to assist with his medical expenses. Fire truck rides will be available for the children throughout the day. Lunch will be served starting at 11:00 am. At 12:30 PM there will be a Home Fire Sprinkler Live Fire Demonstration at the Charles Street parking lot. The winning raffle tickets for the Keith Raney Benefit will be drawn at 2:00 pm. There will be information to share regarding fire safety, and becoming a firefighter.
---
Community Choir begins rehearsals (posted 9/29/16)
The Community Choir is about to kick off their 2016 season. Rehearsals will start on Sunday, October 2nd at 5:30 p.m. at Pinedale Community Church. This is a non-audition choir made up of community members high school age through adult. If you love to sing and make a joyful noise, please come join us at 113 S. Maybell right next to the skate park. The performance will be Sunday, December 11th at 3:00 pm.
---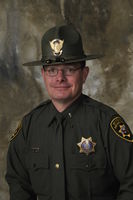 WHP Captain Jason Green. Photo courtesy Wyoming Highway Patrol.

WHP Jason Green promoted to District Four Captain (posted 9/29/16)
Wyoming Highway Patrol
Wyoming Highway Patrol Lieutenant Jason Green, the Pinedale area Division Supervisor, was promoted to the rank of District Four Captain on Monday, September 26th by Colonel Kebin Haller. District Four covers northeast Wyoming including Campbell, Crook, Johnson, Sheridan, and Weston Counties.

Captain Green began his career with the Patrol in January of 2000 and was initially stationed in Rawlins. As a Trooper, Captain Green was a longtime K-9 handler and continued to be a K-9 handler until he promoted to the rank of Lieutenant as the Pinedale area Division Supervisor in March of 2011. Captain Green has also been active with the WHP Special Services Squad including his current role with the squad as co-commander.

Captain Green is replacing retired Captain Carl Clements.

Captain Green's experience and knowledge will continue to benefit the Patrol as he assumes his new duties as the District Four Commander. Please join us in congratulating Captain Green.

---
Wyoming State Legislature update – Education meetings (posted 9/29/16)
Albert Sommers, House District #20 Representative
Hello Sublette County, this is Albert Sommers reporting after three days of education meetings in Casper on September 19, 20, and 21.

On the 19th and 20th, the Joint Education Committee met and discussed the University of Wyoming College of Education's Education Initiative, K12 school finance, the Hathaway Scholarship, medically necessary student placements, distance education, alignment of public education, and student digital information privacy. On the 21st, the Select Committee on Education Accountability met with the Joint Education Committee to discuss a new accountability system for alternative schools, teacher and leader accountability, the federal Every Student Succeeds Act, the development of a new state assessment, and a report on the progress of schools with respect to the accountability model. I will touch upon only a few of these topics.

Funding for K12 education is expected to take a severe hit with the economic downturn in Wyoming. Most of the operations portion of K12 education is paid for through a state wide mill levy on property, and then is equalized between all 48 school districts through a complex funding model. When the state of Wyoming went through a series of lawsuits several years ago, the Wyoming Supreme Court ruled Wyoming's Constitution mandates education funding be equal and adequate throughout Wyoming. Every five years, the Legislature hires a consultant who develops a school funding model that meets the constitutional mandate of the court. I participated in that effort last year, and the Legislature decided to continue with our current funding model, which provides more dollars than the consultant's constitutional model. The legislative model is projected to supply about $40 million dollars more to K12 education in 2016/17 than the consultant's model would have. This seems like a lot of money, until you realize that the entire projected expenditure for K12 education is a little over $1.5 billion dollars a year. The difference between what the Legislature provides for K12 operations and our constitutional mandate is less than 3% of the budget.

The school funding model allows for an annual inflationary adjustment, if the legislature deems that cost pressures exist in K12 education. Two years ago, the Legislature provided an inflationary adjustment called an External Cost Adjustment (ECA), but last session it was pared back, when the Legislature mandated a 1% cut to education in 2016/17, and a 1.4% cut in 2017/18. At this meeting we received preliminary information from districts that their enrollment had stagnated, and had actually dropped a few hundred students across the state. This drop in enrollment will result in decreased K12 funding from projections made last session, because last session's expenditure projections were based upon a 1% increase in enrollment. Based upon this scenario, our committee chose to recommend reducing the 1.4% cut to 1%, through an adjustment to the ECA. I have fought hard to preserve education funding in Wyoming, because I believe it is the most essential service government provides its citizens. Without a quality K12 educational structure we cannot attract new business, create good workers, or produce good citizens. As we see updated revenue projections in October, the debate over school funding will only intensify.

Not only are we seeing decreased revenue from traditional sources like oil, natural gas, and coal, but our state savings accounts are generating less revenue. Wyoming Treasurer Mark Gordon explained to the committee that by 2019, Hathaway Scholarship Fund expenses could exceed its income, which would result in an erosion of the Fund's corpus. This is a scenario that we cannot allow to happen. Treasurer Gordon believes that a combination of tightening our scholarship expenses, coupled with a change in our investment strategy, will make the popular scholarship fund sound once again. The committee will continue to look at revisions to the Hathaway Scholarship at our next meeting in November. Changes could include raising ACT requirements, creating different scholarship levels, and indexing the rigor of classes across the state. In my opinion, we must be very careful how we change scholarship requirements because they play a significant role in determining what course work is provided to high school students.

On the 21st, the Select Accountability Committee heard an update from Superintendent of Public Instruction Jillian Balow about the recently enacted federal Every Student Succeeds Act. Wyoming will have to change its school accountability model to comply with this act. The biggest change is that Wyoming will have to add an element to its model that will gauge how well schools are educating English Language Learners, which typically come from the nation's immigrant population. The other proposed change to the accountability model would add career readiness to the Readiness Indicator, which currently looks only at college readiness. A substantial number of Wyoming students do not seek a four year degree, but it is important that high schools prepare these students for successful careers. We need a strong career technical education program in this state, and we need to reward schools for providing these programs.

If you have any questions or comments, I can be reached at albert@albertsommers.com
---




Weather forecast for end of September around Pinedale. Graphic courtesy National Weather Service.

Mixed bag of weather in forecast (posted 9/29/16)
Sunshine, thunderstorms, rain, possible overnight snow showers
More periods of rain are forecast to move into western Wyoming over the next week or so with possible overnight snow showers starting early next week. There will still be windows of nice weather (in the 60Fs) to get some of that last-minute painting and leaf raking done, but don't wait too long because it's the end of September and wetter weather and cooler temperatures are on the way. Friday and Saturday are forecast to be mostly sunny in the mornings with possible thunderstorms building up in the afternoons. Nigh-time temperatures will hover around 40F. Those recreating outside should be prepared for mixed weather conditions through the weekend including possible heavy rain at times from storms and even some snow at higher elevations.

Detailed Forecast for Pinedale:
Thursday, September 29: Isolated showers, with thunderstorms also possible after noon. Some of the storms could produce small hail and gusty winds. Mostly cloudy, with a high near 68. East wind 6 to 11 mph becoming south in the afternoon. Chance of precipitation is 20%.
Thursday Night: Scattered showers and thunderstorms before midnight, then isolated showers. Some of the storms could produce small hail and gusty winds. Mostly cloudy, with a low around 41. South southwest wind 6 to 11 mph becoming light and variable after midnight. Chance of precipitation is 30%.

Friday, September 30: Mostly sunny, with a high near 68. North northeast wind 5 to 8 mph becoming south southwest in the morning.
Friday Night: Partly cloudy, with a low around 41. West northwest wind 5 to 7 mph becoming northeast after midnight.

Saturday, October 1: Isolated showers and thunderstorms after noon. Some of the storms could produce small hail and gusty winds. Mostly sunny, with a high near 65. Light and variable wind becoming south southwest 5 to 8 mph in the afternoon. Chance of precipitation is 20%.
Saturday Night: Isolated showers and thunderstorms before midnight. Some of the storms could produce small hail, gusty winds, and heavy rain. Partly cloudy, with a low around 40. West wind 5 to 7 mph becoming northeast after midnight. Chance of precipitation is 20%.

Sunday, October 2: Isolated showers, with thunderstorms also possible after noon. Mostly sunny, with a high near 61. Light and variable wind becoming south 5 to 7 mph in the afternoon. Chance of precipitation is 20%.
Sunday Night: Isolated showers and thunderstorms. Mostly cloudy, with a low around 38. Chance of precipitation is 20%.

Monday, October 3: Scattered showers and thunderstorms. Mostly cloudy, with a high near 54. Chance of precipitation is 40%.
Monday Night: Scattered rain showers before midnight, then scattered rain and snow showers. Some thunder is also possible. Mostly cloudy, with a low around 33. Chance of precipitation is 40%.

Tuesday, October 4: A slight chance of rain and snow showers. Mostly cloudy, with a high near 45.
Tuesday Night: A slight chance of rain and snow showers. Mostly cloudy, with a low around 27. Blustery.

Wednesday, October 5: Mostly sunny, with a high near 49.

Source: National Weather Service – Riverton, Wyoming office

---
Sublette County Extension Office Open Houses Oct. 4 & 5 (posted 9/28/16)
In Pinedale and Big Piney
The University of Wyoming Sublette County Extension Office will be showcasing their new office space during National 4-H Week. They will be hosting an open house at the new UW Sublette County Extension Office at 9660 Highway 191 (just south of the QEP office south of town) on Tuesday, October 4th from 4:00-7:00pm. We will also host an open house in Big Piney at the library on Wednesday October 5th from 4-7:00pm. We will be highlighting all of UW Extension in conjunction with our annual 4-H enrollment! Prospective new members can join us to learn more about the 4-H program and what is offered in Sublette County. 4-H is open to any youth ages 8-18 (as of Jan 1, 2017). The 4-H Cloverbud program is available to youth ages 5-8 (as of Jan 1, 2017). To learn more about UW Extension go to: http://www.uwyo.edu/uwe/ or to learn about Sublette County 4-H go to: http://www.wyoming4h.org/4hsublette/.

---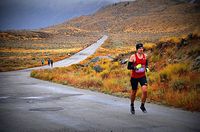 Pinedale Half Marathon. Photo by Terry Allen.

Pinedale Half Marathon (posted 9/27/16)
Held Sept. 24, 2016 in Pinedale
Terry Allen
Exercise and diet for heart health was the theme for this year's race.

"I eat shrimp," Adrien Messal said. "I just like shrimp. That's my racing diet. I eat shrimp a lot and sometimes I eat beets because we grow them. I also eat garlic. Geez, it's hot!" With that, Cowboy hat wearing Adrien dropped to the floor and knocked off a few pushups for the camera. Not to be left out, his brother Deano Carlo Massal showed me his summersault. In the background Katie Belka did burpee's.

Outside in the lightly falling rain, athletes jogged down to the Food Basket and back, and then came back to the Rendezvous Pointe dining room for the fresh muffins Bonnie Billig had set out.

Ranae Pape had steak, a lot of veggies and her homemade sweet potato chips the night before. She hit the sack at 9:00PM and was up at 6:15 drinking straight black Folgers coffee. At 7:15 she ate a handful of nuts and that was it till after the race.

Mae Orm told me she just loooved the chicken and white sauce wraps at Boondocks, washed down with a mango margarita.

The half marathon started in front of Rendezvous Pointe with 82 athletes. They charged off through town, up to Fremont Lake, down the Sylvan Bay road and then back down for another run through town before finishing right back where they started. High wind, rain and cold up at the lake made life difficult for cameras, but I didn't hear any runners complain.

About the time the lead half marathoners made the turn at the Y for Sylvan Bay, a starter fired a pistol and turned the 147 gathered 10K'ers loose for a run along the lake, a meander around the CCC ponds and then a dive down into town.

I made my way down the mountain looking for "art" shots. I found one on a beautiful autumn leaf covered lane. I sat and waited for the lead runner to enter my set. There he was...everything was working perfectly. Then came a news competitors Toyota car into my shot. "Scream"! Might have been a cuss. Oh well, I get in my truck and leave...and would you believe it...I find myself right on the heels of the runner in my competitors shot! You can see how well I photoshopped his Toyota out of my shot. We'll see how good my competitors photoshop skills are...

Monte Skinner and his medal ceremony friends at the finish line stood at the ready to loop medals around necks, but about the time we saw Steve Vrska appear down the street headed for us, we got an idea. Here came Steve across the line and Monte planted a French Finish on both checks of the surprised runner and I took the shot. Denise got a French Finish and then Ken, and then Monte turned into the Mad Kisser…no one was safe, but everyone was smiling. Except for the young lady that brought him to the dance who called a halt to our escapades…for a bit. But, boys gotta be boys…

Nathan from Casper and Washington came across the line a little confused and refused his medal saying he was a 10K runner who had been directed the wrong way somewhere out in the wind and the rain. Everyone looked around for a ladder to refer the problem up to. Jayne from Jackson and Casper also got a little confused but said it was okay.

Brendan McDermott who finished 3rd in the Half was already laying on the massage table and didn't care about anything else.

Eli peeked out of Mollies jacket for his runner.

Camille and Tyrney had their puppy, Honey in a sack and ran the mile race together.

At 11:00 all the 1 mile Fun Runners took off for a quick jaunt around town and back. This is the event all the little kids ran in and they loved it.

Races all done, Dana and Kayle Sluyter stood guard over jars of peanuts next to the Wind River Brewing beer booth and wouldn't let me have any. "They are for runners and you're not a runner," said one of the Peanut Police. The other one looked at me and said: "Nah nah nah, nah nah, nah." Yep, just like that…in a snappy little rhythm like she did it a lot. I decided to distract them somehow and just take some peanuts but then Tamra offered me a Pale Ale and I forgot all about it. Next year…

The following comments are from participants and volunteers and organizers:

Denise Tegeler: "Although the weather wasn't ideal for the events surrounding the race it was a great temperature for running and once again the community amazes me with the support every year. This is always such a fun event, come rain or shine, and the smiles on everyone's face is a great way to tell the success of any race. As for the French Finish - it is by far the BEST finish to any race! It's a great addition and Hopefully, this becomes a staple for years to come!"

Steve Vrska: "I live in Utah and run at about 4500 elevation. This race went from about 7200 feet in town to around 7500 feet at the lake. I wasn't sure how I would perform with the hills thrown in, but I felt fine. My wife is a vegetarian so that influences my eating habits. For 10 years I've been eating a lot of fresh fruits and vegetables. Three times a week I eat meat, mostly chicken. I rarely drink a soda or have candy. My morning diet is a couple pieces of toast with butter and honey. If I'm racing I'll add in some carbs. I drink coconut water for a few days ahead of a race. During the race I only take water. Gatorade is too sugary for me. I was a little conservative on the start. Kris Holmes went ahead early, but I was worried about the hills. Eventually, I got comfortable and ran with Chris for a while. He's a friendly guy and was helpful on sharing course info as we ran. I really love the course. It's nice that my family could follow along in the van. It made it more personal for us. Offering athletes a massage is a great idea. The Lion's and Rendezvous Pointe had great pre-race and after race food. The muffins were great. It is a great event for the family and I'll definitely be back next year. All three of my brothers live here, so it makes for a nice family event."

Sue Holz: "The race was awesome," she said. "We lucked out on the weather. It wasn't pouring and it was great running because it was cool. We loved having so many out of town competitors. My favorite part is to see the kid's faces as they cross the finish line. We go to the schools each year and give a presentation on heart and diet fitness and encourage the kids to enter the race. This year we had about 60 or 70 kids. The highlight for me was having cardiologist Ellen Gallant talk to us Friday evening about the impact of a good diet on a healthy heart. This event has evolved the way it has because of Cally. Because Cally was so dear to us all, we have naturally moved in the direction of prevention for the community."

Karen Olsen: "Encana and now Jonah Energy has been a major sponsor every year. Cally McKee hired me when I went to Encana. She was one of the founders of this event and was a real go-getter. I always remember that she loved the Bob Marley quote: Love the life you live and live the life you love."

Friday afternoon:
A whole crew of volunteers manned diagnostic machines at Rendezvous Pointe with the intention of testing the fitness of any runner or citizen who could brave the results.

Josh gave me a health screening for the fun of it; and Ken Konicek tested right after me so we could give you folks a comparison.

We are both about 6 feet tall and the same age.
I'm 204 pounds clothed and Ken has got to be 50 pounds less.
My Body Mass Index is: 27.1 and Ken: 22.1 (Lower is better)
My body fat: 21.7%, Ken: 7.2%
My visceral fat (around internal organs) is: 11%, Ken: 5%
My skeletal muscle: 34.7, Ken: 42.4
Josh pronounced me to be in good shape for an "overweight" guy. Ken: "Fantastic shape."

Steve Kipp from Public Health took my blood pressure and said he'd never taken a perfect one before, but I had a perfect 120/80.

Colleen from Colorado was testing the grip strength of hands. Presumably our ability to twist off beer caps and use a cigar cutter decreases with age. Turns out I'm a superman. Average grip for a person of my age and condition is a reading of 100 and I got 125 in both hands.

Marcy was in charge of a device that looked like a foot bath. It measured bone density. Her assistant, Claire giggled when I jerked as she smeared a cold grease on my ankles. I inserted my foot, the machine wheezed to life and squeezed both ankle bones. Marcy looked apologetically at me as she delivered the bad news that I produced a slightly geezerly reading of negative .09. "But," she told me brightly, "You can exercise and be on the plus side without too much trouble."

Over at the eye examination machine, Mindi Crabb was getting tested. I asked Mindi if I could share the info and she was fine with it, but Shari the examiner was having none of the sharing HIPA stuff. "I'm a feeling examiner," she said. "Mindi seems like a wonderful person." Okay, points to Shari. I can't trump a blocking maneuver if I don't even understand what she said. It is possible it was my ears…

At about 6:00 PM, cardiologist and Everest mountaineer Ellen Gallant gave a slide show of her two attempts to climb the highest mountain in the world. Both attempts ended due to natural disasters. 16 men were buried in 2014 and last year an earthquake hit the area which ended the attempt. Although Ellen was also caught in the avalanche and earthquake, she survived in good enough condition to join with the other physician's on the climbs to attend to the many wounded. Ellen says she suffered from sleeplessness, bad dreams and other lasting symptoms from her close calls.

During her recovery, she recognized that balance and proper diet is important when one chooses to live a life of extremes. She talked about the peoples who live in the Blue Zone. Many of these people live to be over 100 years of age, have family connections and lead an active lifestyle. They also have a diet based primarily on fruits and vegetables. Dr. Gallant told us that 1 in 3 American women die from heart disease and suggested 2 ½ hours a week of physical activity and following a diet similar to the Blue Zone people would lead to healthy heart fitness.

She suggested going to the website www.cvriskcalculator.com and check your own risk.

Finally, Dr. Gallant is going to leave next April 12th to try another ascent on Everest. But, tomorrow morning she was climbing Teewinot up Jackson way.

Results:
Half Marathon: https://www.sportstats.ca/display-results.xhtml?raceid=41011
10K: https://www.sportstats.ca/display-results.xhtml?raceid=41012

A huge thank you goes out to my sponsors who paid me to take pictures and write these words about the event.

Thank you: Pinedale Half Marathon, 10K and Fun Run! Thanks for giving me access to everyone and everywhere and taking my calls, emails and visits for endless details.

Thank you: Dawn at Pinedale Online for telling me to just do whatever I want to do…and paying me for it! It is so great to have a place to put my community stories and photos.

Thank you: Patty at Boondocks! She serves great pizza, fantastic old fashioned milk shakes…you know…where you also get the metal can. She also hosts my Pape Ranch Branding exhibit.

The photos may be shared among you all. If you want high resolution prints, I make those for a reasonable, family friendly charge.

Terry Allen: txpartisan@gmail.com

Click on this link for more pictures: Pinedale Half Marathon

Related Links:
www.pinedalehalfmarathon.com Pinedale Half Marathon

---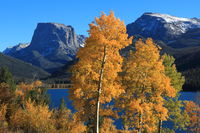 Photo by Fred Pflughoft

Fall colors at Green River Lakes (posted 9/26/16)
Fred Pflughoft went up to Green River Lakes on Sunday afternoon and got pictures of the beautiful fall colors. Fred will be putting out a new line of note cards that will be available soon. Click on this link for more of Fred's scenic photos: Fred Pflughoft Photo Gallery
---
Candidate Meet & Greet in Marbleton Oct. 12 (posted 9/26/16)
Come meet the candidates and talk to them one on one. All candidates running for the Rural Health Care District board and Sublette School District #9 board have been invited to participate in a Meet & Greet, Wednesday, October 12, from 6-8 pm at the senior center in Marbleton. Hosted by the Southwest Sublette County Pioneers Senior Citizen Center.

---
Graveside Funeral Service for Jack Clark Sept. 30 (posted 9/25/16)
Covill Funeral Home
Jack Clark, 73, of Big Piney passed away Friday, September 23, 2016 in Idaho Falls, Idaho. A graveside funeral service will be held Friday, September 30th at 11:00 A.M. at the Plainview Cemetery in Big Piney.

---
Kittens available for adoption (posted 9/24/16)
Town of Pinedale
The Town of Pinedale Animal Control has some wonderful kittens and a young dog available for adoption.

There are three male kittens, two are orange, one of which is a manx or has a short tail, and the third male is a seal point with blue eyes.

There is a younger female cat, who has a loving disposition, is a grey tabby and is on the small side with a little bit of growing left to do.

The young dog is a male, brindle and white, boxer mix. He has a lot of energy and would love a home. He came to Animal Control as a stray.

All animals available for adoption from the Town of Pinedale are up-to-date on all shots and have been spayed or neutered.

In addition to the Town animals, Happy Endings Animal Rescue (H.E.A.R.) has dogs and cats of various ages available for adoption, many of which are being housed at the Town of Pinedale Animal Control Facility. H.E.A.R. animals are spayed, neutered, up-to-date on shots, and are microchipped. H.E.A.R. currently has a reduced adoption fee for cats. Please consider opening your home to a new family pet whether it is for adoption purposes or if you cannot make a long-term commitment, fosters are always needed. The animals are safe in the Town of Pinedale Animal Control Facility, but will always benefit from a home, even if it isn't permanent.

If you are interested in adopting or fostering an animal, please come by the Town of Pinedale Animal Control Facility located at 69 Pinedale South Road which Tyler Ave turns into and is one mile south of Pine Street.

---
Local Services:
Abortion Alternatives
Accounting & CPA
Arts & Entertainment
Attorneys & Legal
Automotive
Banks & Financial
Bars
Beauty Salons
Bed & Breakfasts
Boating
Bookkeeping
Builders & Contractors
Building Material
Business Services
Cabins
Cellular
Child Care
Churches
Cleaning Services
Clothing
Commercial Art
Computer Supplies
Condos
Consultants
Convenience Stores/Fuel
Convention/Meeting
Dentists
Dining
Dry Cleaning
Events
Fabric & Crafts
Fencing
Fishing
Flooring
Food & Drink
Funeral Homes
Furniture
Gifts/Western
Government
Graphic Design
Grocery & Market
Guest Ranches & Lodges
Handyman Services
Hardware & Feed
Heating
Health Care & Medical
Horseback Adventures
Insurance
Interior Design
Internet/Web/Advertising
Landscaping
Laundry
Liquor Stores
Lodging
Log Homes
Massage Therapy
Modular Homes
Motels
Mountain Biking
Movie Theaters
Museums
Nails
Newspapers
Office Supplies
Oil Field Services
Optometrists
Organizations
Outdoor Equipment
Outfitters & Guides
Packaging & Shipping
Painters
Pet Stores
Pharmacies
Photography
Plumbing
Professional Services
Radio
Real Estate Agencies
Real Estate-FSBO
Remodeling
Retirement
Retreats
RV Camping
Schools
Scrapbooking
Septic Services
Skiing
Snowmobiling
Snow Plowing
Storage and Storage Units
Tanning
Tattoos & Body Art
Tax Preparation Services
Taxidermy
Transportation/Shuttle
Trash Services
Trucking
Veterinarians
Visitor Services