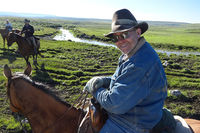 Albert Sommers, Wyoming House District 20 Representative.

Wyoming Legislature update (posted 2/6/16)
Albert Sommers, House District 20 Representative
Saturday, Feb. 6, 2016:
Hello Sublette County, this is Albert Sommers reporting to you from Cheyenne on the eve of the 2016 Budget Session of the 63rd legislature. The session officially convenes on Monday, February 8, and will end in approximately 20 working days. Wyoming's economy hinges on our mineral industry, which has seen major price declines. As a result, estimated revenues for the State of Wyoming, during fiscal years 2016, 2017, and 2018, have declined by over 700 million dollars since January 2015. Due to these declines, portions of the state budget will likely be reduced significantly.

There will be a great debate on what programs should be cut, and regarding how much capital construction the State should fund.

Governor Mead's budget has been drastically changed by the Joint Appropriations Committee. The Governor included Medicaid Expansion, but the JAC cut that program. Medicaid Expansion has been a hotly debated topic. The Affordable Care Act allowed states to apply for Medicaid Expansion, but Wyoming has refused to participate. Medicaid Expansion covers what is often referred to as "the working poor," and much of this population gets its health care through the emergency room, which has resulted in increasing uncompensated care from health providers. There is a need to cover this population, but the economic effects of Medicaid Expansion upon the State of Wyoming have not been easy to follow. I remain concerned for this population who are stuck in a donut hole created by Obama Care, but I need more consistent program cost information before I can support expansion. Medicaid Expansion will likely resurfacethis session, and I would be interested in what the citizens of Sublette County think about this issue.

The Appropriations Committee has made other cuts to the Governor's budget that will be hotly contested, including cuts to K12 education, family literacy programs, property tax relief for low income seniors, and early childhood education grants. We will also debate how much capital construction should be conducted with state dollars, when other budgets are seeing significant declines.

I am working on three or four bills of my own. One bill would allow electronic notification of assessment schedules, if a property owner chooses to participate. A second bill will make some revisions in Title 25 (involuntary hospitalization for those who are a threat to themselves or others), to help local authorities in the early detention process. The third bill is a joint resolution asking Congress to seek delisting of grizzly bears and gray wolves from Endangered Species Act designation.

This session, I hope to provide daily updates on KPIN Radio (101.1 FM) and Pinedale Online, while providing the same updates to the Roundup and the Examiner for printing. My updates will also be posted to my website, albertsommers.com, and to my facebook page. If you have questions or concerns, I can be reached at albert@albertsommers.com.
---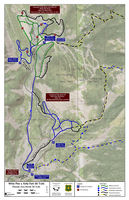 Nordic Ski Trail map courtesy Sublette County Recreation Board.

Nordic ski trail grooming report – February 6, 2016 (posted 2/6/16)
Report courtesy of Mike Looney, Groomer
Saturday, February 6, 2016, 9:30AM report: Old Road Trail, Upper and Lower Surveyor, Kelly Tie-in, Kelly Park, Half Moon Tie-in all groomed this morning. Rest of the trails should be in good shape. Going to the Golf Course now – blew in last night. Will have that done before lunch. CCC trails in pretty good shape – probably will do that tomorrow morning. Still have moose around up above. Thank you to those folks who are taking care of the pet poop problem. I really appreciate it – helps a lot to keep the trails nice and clean.

This Nordic Ski Trail grooming report is courtesy of the Sublette County Recreation Board. For more information, call or text Mike Looney, groomer, 307-360-8488. Permission granted for other outlets to redistribute this Nordic ski trail grooming report.

Related Links:
X-C Ski Trail Map (PDF)
Road and Weather links
www.visitpinedale.org Pinedale tourism website (lodging, dining, area information)
www.whitepineski.com White Pine Ski Resort, nearby food services
---
White Pine Snow and Grooming Update - 2/6/16 (posted 2/5/16)
White Pine Resort
Snow since Friday: None

Forecast for Saturday: Mostly cloudy, with a high near 27. West northwest wind 7 to 15 mph, with gusts as high as 21 mph.

Overall conditions: White Pine now has fantastic snow coverage over the whole mountain.

Activities: Lifts open 9am-4pm. All runs open.
Final day of the Pinedale High School Alpine Meet.
Fremont closed today for the event.

LIFTS:
Little Spirit, RUNNING
Great Spirit, RUNNING
Sally's Tow (tubing), CLOSED THURSDAYS

RUNS:
Lynx, Green, Groomed
Porcupine, Green, Groomed
Quail, Green, Groomed
Coyote, Green, Groomed
Competition, Green, Groomed

Bonneville, Blue, Groomed
Upper Fremont, Blue, CLOSED
Lower Fremont, Blue, CLOSED
Wind River, Blue, Groomed
Lander Cut off, Blue, Groomed
Great Basin, Blue, Groomed
Sunny's, Blue, Groomed
Sweetwater Gap, Blue, Groomed
Lower Pipestone, Blue, Groomed
Washakie Traverse, Blue, Groomed

Temple, Black, Packed Powder
Steve's, Black, Packed Powder
Upper Sky Pilot, Black, Groomed
Lower Sky Pilot, Black, Groomed
Upper Pipestone, Black, Packed Powder
Warbonnet, Black, Groomed
White Rock, Black, Packed Powder
Lost Eagle, Black, Packed Powder

TERRAIN PARK: Open

White Pine Lodge:
Rental Shop: Open, get your skis/snowboards waxed at White Pine for $15 or $20 for a premium wax.
Ski School: Avoid disappointment. Call ahead and book 307-367-6606. 90 minute lesson – Private $85.00, Group $35.00. Beginner Package including equipment rental, lift ticket and 90 minute lesson from $100.00.
Grill: Open from 8:30am til 5pm
Bar: Open from noon til 7pm
Birthday Parties: Call White Pine 307-367-6606

For further information on skiing and lodging packages visit www.whitepineski.com

---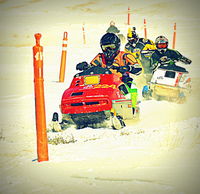 Lunger Vintage Snow Machine Race 2016. Photo by Terry Allen.

One Lunger (posted 2/1/16)
The Pinedale Snow Explorers annual One Lunger vintage Snow Machine Race was held on Saturday, January 30th at Sagebrush Downs snowmobile race track in Cora. The race is for vintage snowmachines age 1977 or earlier. Click on this link for pictures of the fun: One Lunger Vintage Snow Machine Race 2016 (55 photos)
---
Avalanche Awareness Clinic Feb. 13 (posted 2/5/16)
Free clinic offered in Pinedale
Tip Top Search and Rescue (TTSAR) is sponsoring a free Avalanche Awareness Clinic on Saturday, Feb. 13th in Pinedale. The clinic begins in the Search & Rescue classroom at 138 N. Bridger Ave and ends at the Green River parking lot. No snowmachines needed. Learn about the destructive power of avalanches, when/why they happen, and how to have fun in the mountains while avoiding avalanche areas. TTSAR will demonstrate self-rescue and buddy-rescue techniques and hands-on training with beacon and tips for better shoveling and proper probing. Come prepared to be in the snow and bring your personal equipment if you have it. They will also have plenty to share. Ages 16 and under must be accompanied by a parent. For more information call TTSAR 307-367-2849. This event is FREE to the public. 8AM until Noon.

---
ASK FLORA – Herbs for Winter Health (posted 2/5/16)
Sage & Snow Garden Club February newsletter
Sage & Snow Garden Club
Dear Flora,
I have heard that herbs are important – can you explain why?
Signed: Harried Herb.

Dear Herb,
As well as flavor enhancers for any meal, fresh herbs with fruits and vegetables have long been known to have tremendous ethnobotanical properties and should be ingested every day to enhance overall wellbeing and vitality.

Dear Flora,
Can you provide some suggestions on easy to obtain herbs and how they could be used?
Signed: Greta Ginseng.

Dear Greta,
Start by using herbs that you like and then begin to explore some options using those herbs. Mint and orange make a wonderful infusion when soaked in a pitcher of water with ice. In the winter try pouring boiling water over shaved ginger root and lemon for a warming and satisfying drink. Ginseng is best known to provide energy; hawthorne is helpful to the heart; oranges provide vitamin C and improve overall harmony; rosehips, roots crops such as carrots and beets, elderberries and pomegranates provide Vitamin A and C and bioflavonoids.

Dear Flora,
Are there any perennial herbs that I can grow in my garden which will overwinter? And how do I use these herbs?
Signed: Perry Rose

Dear Perry,
More and more herbs are being discovered that will overwinter in Sublette County gardens. Most need very little care as they are hardy and have adapted well to our harsh conditions. Try growing chives, garlic, sprouting onions, mint, wild rose, balsam root, thyme, tarragon, oregano and lovage. Local gardeners are finding that Munstead Lavendar will also overwinter in Sublette County. Once you have established your own culinary collection, the best advice is to do some online research to discover the wonderful healing aspects your herbs have to offer. Join the local garden club to raise questions or share ideas.

Dear Flora,
Can you make suggestions on a tea that might improve my circulation and vitality?
Signed: Barry Sage.

Dear Barry,
If you have collected herbs in the Fall, now would be a great time to make an infusion which would not only improve help your heart but also your circulation and vitality. Use a combination of hawthorn berry, rosehips, rosemary, apple pieces, sage, Siberian ginseng, anise, orange peel, elberberry, burdock root, astragalus, hibiscus, ashwaganda or elderberry.

Dear Flora,
If I don't have all the herbs for a tea infusion, where should I look for them?
Signed: Rosemary Brown

Dear Rosemary,
Try a local herb shop or they can certainly be sourced online. Mountain Rose Herbs, in Oregon, is a wonderful place to get all things herbal. Remember that fresh usually trumps dried in terms of nutritional value.

Dear Flora,
Often during the winter I feel lethargic and seem to lack a zest for life. Can herbs help?
Signed: Zippy Warren.

Dear Zippy,
Herbs are very beneficial to help fight off winter ailments. You can make herbal teas, tinctures or infusions. A very easy winter tonic to make is Fire Cider. Start by chopping up fresh garlic, onions, lemon, ginger, a pinch of cayenne pepper, serrano chili (if you like a little heat) and a pinch of turmeric. Place in a pint size jar and cover with an organic and unfiltered Apple Cider Vinegar, such as Braggs. Screw on an airtight lid, store jar in a cool dark place, and shake daily for 7 days. Take ½ teaspoon up to 5 times a day for a great rejuvenating tonic. The tonic acts as a great preventative to getting sick. Strain the liquid off and store in a clean tincture bottle with a dropper for increased portability. The recipe and more can be found on http://mountainroseblog.com/fire-cider.

Dear Flora,
Rather than a tea, can I make a herbal infusion that might last a little longer?
Signed: Brandy Little.

Dear Brandy,
A tincture is an oil or alcohol infusion producing an herbal extract using vodka, brandy or rum. For example, pop a few cloves of garlic in the alcohol, shake daily for at least a week to allow the alcohol to extract the goodness from the herb.

Dear Flora,
What is a good combination of herbs to assist with respiratory issues?
Signed: Kold Cure

Dear Kold,
Select any or all of the following to suit your own taste preferences– comfrey, peppermint, chamomile, lemon grass, ginger, cinnamon, orange peel – mix with hot water to help extract the vitality from the herbs.

Dear Flora,
How do I know what herbs to use?
Signed: Info May Shun

Dear Info,
Talk with a local herbalist or do some reading. Great resources are Michael Moore's "Medical Plants of the Mountain West" or "Art and Science of Herbalism" by Rosemary Gladstar.

Dear Flora,
Are there some local resources where I might learn more about herbs and how to collect herbs in the mountains?
Signed: Mike Mountain

Dear Mike,
The Sage and Snow Garden Club meets monthly. The next meeting will be Tuesday, February 23rd at 5pm at the County Weed and Pest Office. There are plans during the summer for the garden club to take a walk and learn more about identifying and wildcrafting herbs. Become a member so you will be notified when the plant walks occur. Also, look for books, videos or blogs from Rosemary Gladstar as she is a great starting point, a trusted resource and enthusiastic teacher.

---
Pinedale Travel and Tourism Request for Qualifications (posted 2/5/16)
The Pinedale Travel and Tourism Commission (PTTC) is accepting proposals from professional tourism marketers to be the Agency of Record for the purpose of increasing tourism to Pinedale and its partners. Interested parties should email their qualifications, requirements, and fees to the Town Clerk by 5 PM February 12th, 2016.

Considerations for selection are available at townofpinedale.us.

Proposals will be reviewed by the PTTC selection committee February 17th, 2016.

Select interviews will be conducted in person at 9 AM February 19th.

Commencement of work is March 1st, 2016.

Prior to February 19th, there shall be no contact between applicants, and any Town of Pinedale staff, or Travel and Tourism Commission members with the exception of the Town Clerk.

Proposals and questions must be emailed to PatSchwab@townofpinedale.us.

---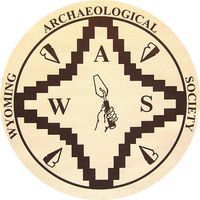 Wyoming Archaeological Society

Archaeology talk in Pinedale Feb. 16 (posted 2/6/16)
'Wyoming's Other Mammoth Kill: The La Prele Mammoth Site, Converse County, Wyoming'
The Upper Green River Basin Chapter of the Wyoming Archaeological Society will hold their next meeting on Tuesday, February 16 at the Museum of the Mountain Man in Pinedale. There will be a short business meeting starting at 6:30PM and then the talk should start around 7PM. Everyone is welcome to come listen.

Special guest speaker for the evening is Todd Surovell, a Professor of Anthropology and Director of the Frison Institute at the University of Wyoming. He is an expert in Paleoindian archaeology, New World colonization, lithic technology, and geoarchaeology. He has worked throughout the Rocky Mountain west and Great Plains.

Surovell's talk will be: 'Wyoming's Other Mammoth Kill: The La Prele Mammoth Site, Converse County, Wyoming.' The La Prele Mammoth site was discovered in 1986 in cutbank on La Prele Creek northwest of Douglas, Wyoming. In the spring of 1987, George Frison and a small crew tested the site and recovered more than 80 skeletal elements of a young Columbian mammoth, one flake tool, and fourteen flakes. This initial work suggested human interaction with mammoth, but due to a dispute with the landowner, investigations at the site were halted abruptly. No work was done at the site for the next 26 years. In 2014 and 2015, we returned to the site with the University of Wyoming Archaeological Field School to determine whether the site was indeed a mammoth kill and to investigate how much of the site remained. After two seasons of work, we are now confident that the La Prele Mammoth site is a Clovis-aged mammoth site and almost certainly a kill site. Additionally, we have expanded the boundaries of the site and discovered a secondary work area 12 m away from the mammoth that contains some unique and unexpected features for a mammoth kill in North America.
Related Links:
www.sublette.com/was Upper Green River Basin Chapter, Wyoming Archaeological Society

---
Man found unresponsive near local park in Pinedale (posted 2/6/16)
Sublette County Sheriff's Office
(Pinedale, Wyo. – Feb. 5, 2016) At approximately 7:00 a.m. on Feb. 5, 2016, a passerby found an unresponsive man lying in the middle of West Charles Street, near Boyd Skinner Park in Pinedale. Sublette County Sheriff's Office deputies and EMS immediately responded to the area and the man was taken to the Pinedale clinic for care. The man, whose identity is not being released, was then flown out for additional medical treatment. The case is being investigated by SCSO detectives at this time. Anyone who may have information regarding this case is asked to contact Detective Al Kaderavek at 307-367-4378.

---
Girls Freeride Ski Clinic February 12th and 13th (posted 2/5/16)
With Big Mountain Skier Amy David
A Girls Freeride Ski Clinic is being offered Friday and Saturday, February 12th and 13 2ith Big Mountain Skier Amy David . This is for girls who want to rip up the slopes while building self confidence through outdoor sports. It is open to girls of all ages - must be able to ski all trails at White Pine.

February 12th Pinedale Library 5pm- 8pm Interactive presentation
February 13th White Pine Ski Resort 10am-3pm On-Hill Skills

Cost is $25 or free with a Sublette County Ski and Snowboard Association ski club members card. Lift ticket and lunch are not included. Membership cards can be purchased at the Great Outdoor Shop, Big Piney Recreation and on Friday evening. Membership card is $25. All participants must sign a ski club waiver.

Please RSVP to scssaclub@gmail.com by February 10, 2016
---
Sublette County Rural Health Care District Board of Trustees Special Meeting Feb. 8 (posted 2/5/16)
The Sublette County Rural Health Care District Board of Trustees will hold a Special Meeting on Monday, February 8, 2016 at 6:00 pm at the Marbleton Town Hall. Agenda: Executive Session – Legal & Personnel.

---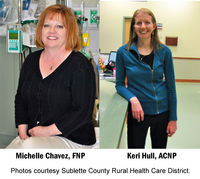 New providers Michelle Chavez, FNP and Keri Hull, ACNP. Photos courtesy Sublette County Rural Health Care District.

New providers welcomed to Sublette County (posted 2/4/16)
Sublette County Rural Health Care District
February 4, 2016: The Sublette County Rural Health Care District is pleased to announce two new additions to its healthcare team and the community! Keri Hull, ACNP and Michelle Chavez, FNP are both taking on new patients in your local clinics. Keri, who is dually certified as an acute care and family nurse practitioner, and Michelle, a family nurse practitioner, each bring a unique set of medical skills and experience to Sublette County, as well as a passion for rural medicine.

Keri, who joined the District last October, spent the last 6 years in Alaska working as a critical care and ICU nurse in Anchorage and Sitka. She says, "In rural medicine, weather and time create huge challenges and you are not always able to provide the care that is needed. But I enjoy the trouble-shooting and problem-solving that comes with not having everything at my fingertips." Keri has brought her husband and baby girl along with her to Sublette County and they are excited to spend some time enjoying the Winds and Wyoming Ranges. Keri is currently seeing patients at the Pinedale Medical Clinic.

Michelle is the newest addition to the Marbleton-Big Piney Clinic. After 30 years working as an RN, she received her Nurse Practitioner license in 2013. She, too, has experience working in the rural setting and brings with her the critical ER and trauma experience that are necessary in Sublette County. "I love rural medicine, especially pediatrics. And I really enjoy the mountains and seeing all the wildlife here". Michelle moved here with her husband and 2 dogs and is currently working towards getting her private pilot's license.

The addition of Keri and Michelle are consistent with the District's mission to provide accessible, patient-focused care. With the growing complexity of health care and the diminishing availability of primary care physicians, the role of the nurse practitioner in primary care has soared. Nurse practitioners are registered nurses with advanced training. With the exception of surgery, nurse practitioners are allowed under state regulations to provide many of the same services performed by physicians. These services include diagnosing and treating health problems, either routinely, urgently or emergently; performing well-child and adult care checkups; prescribing medications; and teaching health promotion and disease prevention to patients. Additionally, Keri and Michelle both meet the District's strict provider requirements of having ER experience and being certified in Advanced Cardiac Life Support, Pediatric Life Support, Advanced Trauma Life Support and Management of Difficult Airway. These certifications are rigorous and require ongoing recertification. All of which are not typically required in non-rural practices.

"Family nurse practitioners have a long history of providing exceptional patient care to the residents of Sublette County. The Health District has utilized numerous nurse practitioners and physician assistants in the past including RCHD Board of Trustee Kris Roork and Leslie Hagenstein, DNP, APRN, FNP-BC. Leslie has been and continues to be an integral member of our medical provider team providing clinic and emergency room care at both the Marbleton-Big Piney Clinic and Pinedale Clinic. She along with others have paved the way for the RHCD to expand the role of the NP especially in light of the District's effort to decrease expenditures while maintaining exceptional patient care. The expense of salary is nearly cut in half with a NP. Average salary ranges for a nurse practitioner in rural areas with a call commitment ranges from $92,000- $124,000 while physician salaries range from $205,000 to $270,000.00. It is not the intent of the RHCD to replace our physicians but to move to a complement of the two that fits both our community needs and the budget. This will occur by attrition. Another factor playing into the transition to Nurse Practitioners is the District's strategic plan to transition the clinics to Provider Based Rural Health Clinics to benefit from the cost based reimbursement. One of the criteria is utilization of mid-level providers 50% of the time the clinic is open," states Malenda Hoelscher, Health Care Administrator.

While the District is thrilled to welcome Keri and Michelle, they are also sad to announce that Dr. Debbie Brackett is no longer seeing patients at the Marbleton-Big Piney Clinic. Dr. Brackett has transitioned her patients to other providers at the clinic as of Monday, February 1st to assure seamless transition of care including outstanding blood work and other diagnostic tests. Additionally, the District will be saying "Aloha!" to Dr. Shannon Evans in April. Dr. Evans has been a highly-regarded member of the Marbleton-Big Piney Clinic team since August 2011. She will be trading in her snow boots for flip flops as she heads to Hawaii to start the next chapter in her career. The District would like to thank Dr. Brackett and Dr. Evans for their service and dedication to their patients in Sublette County and wish them well as they move forward.

With the vacancy being left by Dr. Evans, the District has retained the services of Merritt Hawkins to recruit a family practice physician. Merritt Hawkins is the nation's leading permanent physician and allied health care professional placement service. They have successfully recruited numerous providers to Sublette County in the past including Dr Evans, Michelle Chavez, FNP, Dr. Dave Kappenman and Dr. Eliz Albritton.

Click here for pictures
_________________________________________________

Pinedale Online Editor's note: In response to our inquiry about the status of Dr. Shannon Evans, Dr. Debbie Brackett and Dr. David Burnett at the Marbleton Clinic, the SCRHCD answered: "Dr. Evans is moving to Hawaii. She submitted her resignation on December 22, 2015. We are currently recruiting a physician to take her place. Dr. Brackett has opted not to renew her contract and is no longer seeing patients. The care of her patients is being transferred to Michelle Chavez, FNP. Dr. Burnett is currently negotiating his contract with the RHCD board." Anyone with questions or concerns is always welcome to contact the Sublette County Rural Health Care District, 307-276-4451, or come to one of their regular monthly Board meetings, which alternate between Pinedale and Marbleton. The next board meeting will be on Wednesday, February 17, 2016 at 6:00PM at the Marbleton Town Hall. www.sublettehealthcare.com.

Related Links:
Sublette County Rural Health Care District Facebook page
---
Court rules in favor of County Clerk in civil lawsuit brought by Sheriff (posted 2/4/16)
Sheriff Stephen Haskell vs. County Clerk Mary Lankford
Pinedale Online!
Judge Jeffrey Donnell, for Sublette County District Court, issued a ruling in favor of Sublette County Clerk Mary Lankford in a civil matter filed against her by Sublette County Sheriff Stephen Haskell. Lankford filed a Motion of Summary Judgment in response to a Petition for a Writ of Mandamus Sheriff Haskell filed against her in August, 2015. The ruling, dated Feb. 1, 2016, said Clerk Lankford was operating within her statutory parameters when she made discretionary changes to budget spending and personnel changes. The order stated that Sheriff Haskell's Petition for Writ of Mandamus is denied and dismissed.

Sheriff Haskell said in a media release, "It is disappointing, but I respect the decision of the court."

County Clerk Lankford had no comment.

In the Analysis, the Court ruling stated:
- "An attack on discretionary functions, as opposed to clear ministerial duties, does not warrant the issuance of a writ of mandamus."
- "…nothing in Wyoming law expressly requires and/or or prevents the complained-of acts and omissions."
- "…Lankford, as the 'budget officer," has significant statutory duties vis-à-vis preparing the budget and accounting for expenditures, including the transfer of balances between departments or accounts."
- "Haskell did not establish, or even suggest, that Lankford's postings were inaccurate, only that they were not in accordance with his requests."
- "…Lankford did not affect or deny the hiring decision, she cannot be said to have done anything more than exercise her First Amendment right to free speech."
- "…the Court finds that there is no clear statutory duty obligating Lankford to relinquish all authority and responsibility to administer and account for County grants to Haskell where Sublette County was listed as a grant recipient."
- "Lankford, as County Clerk, has the authority to record County expenditures and administer County grants. And, nothing prevents her from vocalizing her concerns or doubts as to payroll decisions."
- "Her exercise of her discretion and judgment, whether good or bad, is just that – discretion. Accordingly, this Court has no authority to issue a writ of mandamus. Where "a duty as involves the exercise of discretion in the manner of its performance, then it is clear that the court cannot interfere to control that discretion." "Once it is concluded that the County Commissioners had authority to withhold the disbursements in this case, the precise manner in which they do so must be decided based on policy and economics. Courts exist solely to declare and enforce the law, and are without authority as to matters of mere governmental policy."

Related Links:
Order Granting Summary Judgment Civil No. 8361, Stephen R. Haskell, in his official capacity as Sheriff for the County of Sublette, State of Wyoming vs. Mary Lankford, in her official capacity as County Clerk of Sublette, State of Wyoming

---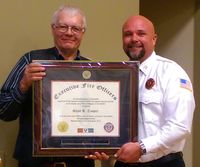 (L to R): Sublette County Commissioner Joel Bousman with Sublette County Unified Fire Chief, Shad Cooper. Photo courtesy Sublette County Unified Fire.

Fire Chief Cooper completes Executive Fire Officer Program (posted 2/4/16)
Sublette County Unified Fire
PINEDALE, WY - The Sublette County Unified Fire Chief, Shad Cooper recently completed the Executive Fire Officer Program through the National Fire Academy in Emmitsburg, MD. The Executive Fire Officer Program is a professional development series of ACE accredited, graduate degree courses taken over a four-year period. The courses and accompanying applied research projects provide senior fire officials with a broad perspective on various facets of fire and emergency services administration. The executive level curriculum focuses on how to exercise leadership when dealing with difficult or unique problems within communities. The curriculum prepares fire service leaders to transform their organizations from being reactive to proactive in nature.

EFOP graduates are acknowledged as having demonstrated a commitment to reduce the nation's loss of life and property from fire and related emergencies by pursuing professional development through completion of the National Fire Academy sponsored courses. Each of the four courses require writing extensive written research projects with an emphasis on leadership development, community risk reduction, and emergency incident prevention. It is also important the students must apply what they have learned in the classroom to existing situations in their own community. Each project is peer reviewed, evaluated, and published through a formal process. The Executive Fire Officer Program takes over 2,000 hours of self-study and formal classroom training to complete.

Cooper explained, "It was truly a challenging and rewarding experience to complete this program. The EFO program is the preeminent executive level fire training program in the United States. During my time in the program, I was able to meet and study with Fire Chiefs from large metropolitan cities, small communities, and even some Fire Chiefs from other countries."

---
WLCI Local Project Development Teams hold February meetings (posted 2/4/16)
Meeting in Pinedale on Feb. 11
WLCI
The Local Project Development Teams (LPDTs) for the Wyoming Landscape Conservation Initiative (WLCI) will meet at various locations in southwest Wyoming during the second week of February.

Land owners, project proponents and the public are invited to attend the LPDT meetings which will include updates on existing conservation projects, the introduction of potential projects, an overview of budget and project funding, and a determination of the project prioritization process.

The LPDT meetings are scheduled for:

Lincoln/Uinta Counties - Kemmerer
Tuesday, Feb. 9, 10 a.m.
Bureau of Land Management, Kemmerer Field Office
430 North Highway 189, Kemmerer, Wyo.

Carbon County - Rawlins
Wednesday, Feb. 10, 10 a.m.
Bureau of Land Management, Rawlins Field Office
1300 N. Third St., Rawlins, Wyo.

Sublette County - Pinedale
Thursday, Feb. 11, 10 a.m.
Bureau of Land Management, Pinedale Field Office
1625 W. Pine St., Pinedale, Wyo.

Sweetwater County – Green River
Friday, Feb. 12, 9 a.m.
Wyoming Game and Fish Department, Green River Regional Office
351 Astle Ave., Green River, Wyo.

For more information, please call Stephanie Anderson at 307-352-0227 or visit www.wlci.gov.

WLCI is a long-term, science-based effort to assess and enhance aquatic and terrestrial habitats at a landscape scale in southwest Wyoming, while facilitating responsible development of the region's valuable energy resources. The WLCI Executive Committee is comprised of representatives from the Bureau of Land Management, U.S. Fish & Wildlife Service, U.S. Forest Service, U.S. Geological Survey, National Park Service, Natural Resource Conservation Service, Wyoming Department of Agriculture, Wyoming Game and Fish Department, conservation districts and county commissioners.

---
BLM holds combined Pinedale Anticline Annual Planning meetings Feb. 18 (posted 2/4/16)
Bureau of Land Management
The Bureau of Land Management will hold Pinedale Anticline Project Area wildlife, air, water and operator planning meetings on Thursday, Feb. 18, at the BLM Pinedale Field Office, 1625 W. Pine St., Pinedale, Wyoming from 8:00 a.m. – 5:30 p.m. There will be a lunch break for about an hour, but lunch will not be provided.

Like last year, all the topics are being covered on the same day (Feb. 18) in two sessions (morning and afternoon)

The morning session (8:00 – 11:30 a.m.) is the annual wildlife planning meeting. Topics include: required wildlife monitoring, proposed adaptive management that may reduce the costs of required wildlife monitoring and an update relating to the Sublette Mule Deer Mitigation project.

The afternoon session (1:00 – 5:30 p.m.) is the annual air, water and operator meeting(s). Topics include: socioeconomics, air quality, water quality/monitoring and operator development projections and reports.

The two session meetings are open to the public who will have opportunities for questions and comments.

For a complete agenda or for more information, please visit: http://www.wy.blm.gov/jio-papo/ or contact Eric Decker at 307-431-9831 or Tim Zebulske at 307-367-5336.

---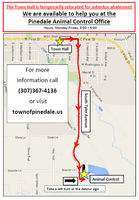 Pinedale Town Hall staff moves to temporary offices at Town Shop (posted 2/3/16)
Town of Pinedale
The offices and employees of Pinedale Town Hall have been moved to the Town Shop and Animal Control at 61 S County Road 123. Town Hall, 210 W. Pine Street, is closed completely for abatement of asbestos, until further notice. All Town business will be conducted from the Shop or Animal Control. Phone and fax numbers will remain the same. Town Council meetings, Board meetings, and Commission meetings will be held at the Sublette County Library at their normally scheduled times. For directions or information please call, 307-367-4136.

Related Link:
www.townofpinedale.us Town of Pinedale

---
Movie 'Unbranded' to be shown in Pinedale Feb. 26 (posted 2/3/16)
Mountain Man Back Country Horsemen will be showing the movie 'Unbranded' on Friday, February 26 at 6pm in the Lovatt Room at the Pinedale Library. 'Unbranded' is a documentary following four friends on a 3,000 mile journey on recently trained wild mustangs across the great American West. This is free to the public.

---
Local Services:
Abortion Alternatives
Accounting & CPA
Arts & Entertainment
Attorneys & Legal
Automotive
Banks & Financial
Bars
Beauty Salons
Bed & Breakfasts
Boating
Bookkeeping
Builders & Contractors
Building Material
Business Services
Cabins
Cellular
Child Care
Churches
Cleaning Services
Clothing
Commercial Art
Computer Supplies
Condos
Consultants
Convenience Stores/Fuel
Convention/Meeting
Dentists
Dining
Dry Cleaning
Events
Fabric & Crafts
Fencing
Fishing
Flooring
Food & Drink
Funeral Homes
Furniture
Gifts/Western
Government
Graphic Design
Grocery & Market
Guest Ranches & Lodges
Handyman Services
Hardware & Feed
Heating
Health Care & Medical
Horseback Adventures
Insurance
Interior Design
Internet/Web/Advertising
Landscaping
Laundry
Liquor Stores
Lodging
Log Homes
Massage Therapy
Modular Homes
Motels
Mountain Biking
Movie Theaters
Museums
Nails
Newspapers
Office Supplies
Oil Field Services
Optometrists
Organizations
Outdoor Equipment
Outfitters & Guides
Packaging & Shipping
Painters
Pet Stores
Pharmacies
Photography
Plumbing
Professional Services
Radio
Real Estate Agencies
Real Estate-FSBO
Remodeling
Retirement
Retreats
RV Camping
Schools
Scrapbooking
Septic Services
Skiing
Snowmobiling
Snow Plowing
Storage and Storage Units
Tanning
Tattoos & Body Art
Tax Preparation Services
Taxidermy
Transportation/Shuttle
Trash Services
Trucking
Veterinarians
Visitor Services