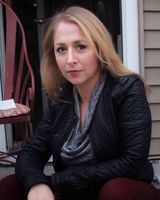 Anne Mason

PTC presents 'The Music Man' in fall of 2023 (posted 2/8/2023)
Pinedale Theatre Company
Pinedale Theatre Company (PTC) enthusiastically announces their production of Meredith Willson's 'The Music Man' coming fall of 2023. With spectacular music and relatable characters, The Music Man is a popular stage production that has entertained audiences for decades. The show will begin with auditions in early August and premiere in October.

PTC is thrilled to introduce Anne Mason as the director of the upcoming production. Anne Mason is the Founder and Producing Artistic Director of Relative Theatrics, where she has acted in, directed, designed, and produced over 40 productions. She is passionate about transforming skills and lessons from within the theatre sphere into tools for all facets of community, industry, and humanity. A Laramie native, Anne holds a BFA in Theatre Performance from the University of Wyoming. She has worked professionally with Capital Stage Company, Sacramento Music Circus, Missoula Children's Theatre, Snowy Range Summer Theatre Festival, and the University of Wyoming. Anne was named one of Laramie's 2016 20-Under-40 Young Professionals, a Wyoming Women of Influence Nominee in 2020 and 2022, a 2021 University of Wyoming Rising Alumni, a 2020/21 Performing Arts Fellow with the Wyoming Arts Council, and the 2022 recipient of the Wyoming Governor's Arts Award. Anne is a graduate of the Leadership Wyoming class of 2022.

To stay in the loop and receive the most up-to-date information about The Music Man, follow Pinedale Theatre Company on Facebook and Instagram @ Pinedale Theatre Company.

---
Sublette County Public Health offers monthly health fair blood draws (posted 2/8/2023)
Next one is February 15th
Sublette County Public Health, in partnership with Wyoming Health Fairs, is adding a monthly health fair blood draw at their Pinedale Office. This draw will be held the 3rd Wednesday morning every month from 7AM to 10AM. The next monthly draw is scheduled for Wednesday, February 15th at the Sublette County Public Health Office, 380 Faler Avenue in Pinedale.

Appointments are appreciated—walk-ins welcome. Please schedule your appointment at https://wyominghealthfairs.com/appointments (Click on yellow Pinedale dot). Call Public Health at 307-367-2157 for assistance with registration.

Continued Services with Wyoming Health Fairs:
- Expanded list of blood screenings available—see flyers for tests & pricing (flyers available at the Public Health Office).
- Wyoming Health Fairs is a preferred provider for Blue Cross/Blue Shield. WHF will submit the claim for you (you will be responsible for any claims not paid by your insurance plan).
- Wyoming Health Fairs accepts all forms of payment—check, credit/debit cards, HSA. WHF will prepare an itemized bill for you to submit to insurance for reimbursement (if requested).
- WHF cannot bill Medicare (or your Medicare supplement insurance plan).
- Online results within 3—5 days, mailed results within 10—14 days.

Ongoing Benefits:
- Low-cost blood screenings
- Public Health will continue to host large community blood draw events in both Pinedale & Marbleton.
- Watch for more information for our Spring Event in Marbleton—April, 2023.
- Proceeds benefit local community programs through Public Health Nursing.

Please call Public Health Nursing at 307-367-2157 for more information.

---
CDL license class offered in Pinedale (posted 2/7/2023)
Sublette BOCES is offering a CDL class in April/May. The class will be from April 17, 2023 through May 5, 2023, Monday through Friday from 8:00 am - 5:00 pm in the Sublette BOCES building in Pinedale, 665 N. Tyler Ave.

Before students can enroll they must take a written exam with DOT and have their permit and MVID # (Motor Vehicle ID Number). Students must also complete a DOT physical and provide documentation. Cost for the class is $3,995. To register call Sublette BOCES at 307-367-6873.


---
Hardhats & Stetsons Feb. 18th (posted 2/7/2023)
Fundraiser for the Green River Valley Museum
The Green River Valley Museum will host their Hardhats & Stetsons fundraising event on Saturday, February 18th at Waterhole #3 in Marbleton. There will be a live auction with auctioneer Dave Stephens. There will also be a silent auction. Funds raised will be used to support the restoration of the Texaco building for the Museum expansion. Hors D'oeuvres, non-alcoholic drinks provided, cash bar available.
---
Green River Valley Cattlemen's Association Annual Banquet Feb. 25 in Marbleton (posted 2/7/2023)
The Green River Valley Cattlemen's Association will hold their Annual Banquet on Saturday, February 25th at the Southwest Sublette County Pioneer's Senior Center in Marbleton. Social hour starts at 5:30PM (cash bar). The banquet begins at 6:00PM. There will be a door prizes, kid prizes, music, and a drawing for a gun. Prime rib dinner, adults $40 each. Kids dinner, hamburger, $10 each. Tickets will not be sold at the door. Tickets are available at the Cowboy Shop, Office Outlet (Pinedale & Big Piney), or to reserve tickets contact Andrea (307-760-5737) or Jeannie Lockwood (307-260-8378.)

---
Wyoming Legislature update – Feb. 7, 2023 (posted 2/7/2023)
Albert Sommers, House District #20 Representative
2/7/2023
Hello Sublette County and LaBarge, this is Albert Sommers reporting to you on Tuesday, February 7, the 20th day of the General Session of the 67th Legislature. We spent most of the day working through bills on 2nd Reading.

I will highlight four bills that were discussed today that all passed 2nd Reading.

HJ0002 Constitutional Amendment-Residential Property Class On the campaign trail, I heard from many of you the concern over rising property taxes. There's no easy fix to this issue. The problem is that residential property tax is combined with other property tax in the Wyoming Constitution, and our Constitution doesn't allow for the creation of subclasses. Without subclasses we cannot develop property tax solutions like other states have. To solve this issue, I brought this joint resolution that would separate residential real property into its own class of property for purposes of property tax assessments, and allow subclasses to be created.

HB0098 - Property tax-homeowner's exemption This bill doesn't solve the property tax problem, but it is another attempt to bring some relief. The bill provides a property tax exemption of up to $50,000 in value for a homeowner, which works out to $600 a year. This would apply for all residential property, not to exceed 25 percent of the total fair market value. To apply for the exemption, people must also be Wyoming residents for at least five years. There would be a 2-year sunset for this exemption and the bill sets aside $40 million to defray the lost revenue that local government would incur. Still, there are concerns that this bill is not targeted enough relief and therefore would strain our local counties that rely on property tax income to provide the services to their county residents. I look forward to hearing more debate on 3rd Reading.

HB0222 Colorado River Advisory Committee This bill creates an advisory committee for the water users in the Colorado River Basin and helps give a voice and a seat at the decision-making table to Wyoming's water users. The committee would advise the state engineer's office, the Colorado River Commissioner and the Governor on the development and protection of water from the Green and Little Snake rivers relative to Wyoming's rights and obligations under the Colorado River Compact and the Upper Colorado River Basin Compact. I am the prime sponsor of this bill.

HB152 - Life is a Human Right Act This bill had three amendments on 2nd Reading today, and all three failed. Each amendment aimed to tackle some of the constitutionality concerns expressed during yesterday's debate. I remain concerned about the constitutionality of this bill, and I am not sure that I will vote for the bill in 3rd Reading. Last session, I supported the trigger bill that banned abortion, and I think HB152 jeopardizes Wyoming's position in the court system. The bill moves on to 3rd Reading tomorrow.

I can be reached at albert@albertsommers.com with questions or comments. Thank you.

---
Wyoming Legislature update – Feb. 6, 2023 (posted 2/7/2023)
Albert Sommers, House District #20 Representative
2/6/2023
Hello Sublette County and LaBarge, this is Albert Sommers reporting to you on February 6, the 19th day of the General Session of the 67th Legislature. We spent most of the day working through bills in Committee of the Whole, because today was the last day to hear bills in Committee of the Whole, in the house of origin.

I will highlight four bills that were discussed today:
HB0108 - Sale of THC vaping devices and edibles to minors-prohibited I drafted and sponsored this bill. It was brought to me by the Sublette County Suicide and Substance abuse work group. Years ago, when the Legislature passed a hemp farming bill, it legalized THC of less than .3 percent to be used in CBD oil and other products. What wasn't envisioned at that time was that the THC would be concentrated into forms that would be given to our youth. This bill makes it illegal to sell edibles and vapes with any THC to anyone under the age of 21. There are penalties associated with this bill that would be placed on the seller. A parent or guardian can still make a purchase of these products for their children if they deem it appropriate. This bill passed the Committee of the Whole.

HB0116 - Prohibiting foreign property ownership in Wyoming This bill would restrict foreign ownership of land and other interests in Wyoming. Foreign ownership was defined in the bill as Russia, China, or any country designated as a state sponsor of terrorism under federal law. While I understand the intent of the bill, there are significant Constitutional concerns related to taking provisions of the 5th Amendment to the U.S. Constitution. This bill failed the Committee of the Whole, and I voted against it. I support the spirit of this bill, but it clearly violated Article 1, Section 29 of the Wyoming Constitution, which states, "No distinction shall ever be made by law between resident aliens and citizens as to the possession, taxation, enjoyment and descent of property."

HB0152 - Life is a Human Right Act This bill would ban all abortions in Wyoming except in cases of death or severe injury risks. Last year, the Legislature passed the abortion trigger ban, which effectively bans abortion in Wyoming with some exceptions. I supported that bill and that law is currently working through the courts. HB152 aims to address some of the questions the courts have raised. Today's House floor debate focused on various provisions of the bill and whether they are constitutional. Several significant constitutional concerns arose, including a separation of powers issue between the legislative and judicial branches by authorizing legislators to intervene in court challenges against the law. Another concern is the reliance on the religious clauses of our state constitution to ban abortion. This bill would repeal the existing trigger ban law and I worry this bill may have the unintended effect of prolonging pending litigation. This bill passed the Committee of the Whole and will likely have more debate.

HB0004 - Medicaid twelve month postpartum coverage This bill extends existing coverage for postpartum mothers who qualify for Medicaid from 60 days to 12 months. Children born on Medicaid already have one year of coverage, and this bill gives the mother the same length of coverage. Twelve-hundred Wyoming mothers are eligible for this program, and this coverage number would remain the same. The federal government matches this program 50/50 with the State. The federal match dollars would expire in 2027, and in this current bill draft, this extension would end at that time. Those mothers eligible for this Medicaid extension make less than $16,000 a year. Providing this extended coverage helps create a safety net and stable home environment for these families. I voted in support of this bill, and I look forward to continued debate.

I can be reached at albert@albertsommers.com with questions or comments. Thank you.

---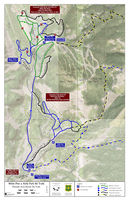 See links for higher resolution versions of ski trail maps

Nordic Ski Trail Grooming Report – 2/6/2023 (posted 2/6/2023)
Mike Looney, Groomer
Monday, February 6, 2023, 9:30AM: All trails above groomed this morning including Elkhart Park Road. 1-2 inches of fluffy fresh snow above. Warming up nicely, 23F degrees.
This Nordic ski trail grooming report is courtesy of the Sublette County Recreation Board.

Related Links:
www.sublettetrails.org Additional information on winter and summer trail recreation in Sublette County, including maps and requested trail etiquette
White Pine-Kelly Park Ski Trail Map - (10.3MB PDF)
CCC Ponds Ski Trail Map - (1.84MB PDF)
Road and Weather links
www.visitpinedale.org Pinedale tourism website (links to lodging, dining, area information)
www.whitepinewyoming.com White Pine Resort, 307-367-6606, (Nearby alpine skiing, food services, restroom)
www.greatoutdoorshop.com The Great Outdoor Shop, 307-367-2440
www.sublettechamber.com Local businesses & services, 307-367-2242
www.golfpinedale.com Rendezvous Meadows Golf Course (Additional Nordic ski trails, food services, restroom)

---
'It's Boot Check Time' February 15th (posted 1/25/2023)
Sublette BOCES in Pinedale is presenting a program, "It's Boot Check Time With Jason Vickrey" on Wednesday, February 15th. This is a free inspirational presentation on how the community can become a positive change in mental health awareness and suicide prevention through the work of the Jae Foundation. It will be at 6:30PM in the Sublette BOCES large meeting room in Pinedale. Free food and refreshments.

---
OES Valentine Bingo Fundraiser Feb. 12 (posted 1/25/2023)
The Order of Eastern Star will be sponsoring a Valentine Bingo Fundraiser on Sunday, February 12th at noon at the Pinedale VFW. Cost is $20 for 17 games - first 5 games are for kids only. A chili lunch will be served and prizes awarded. Everyone is invited!
---
Sublette BOCES Community Grant applications available (posted 1/14/2023)
Sublette BOCES
2023-24 Sublette BOCES Community Grants Applications are now available. Application forms can be found on the BOCES website at: https://subletteboces.com/forms

The primary purpose of the Sublette BOCES community grant program is to open avenues for reaching the three goals of Sublette BOCES through the efforts of other community organizations.

The goals are:
• Impact education through enrichment activities for children and adults.
• Make Pinedale a leader in early childhood education.
• Provide adult education opportunities for a wide range of residents.

For questions regarding Community grants through Sublette BOCES please call 307-367-6873 or email sboces@sub1.org.


---
Local Services:
Abortion Alternatives
Accounting & CPA
Apartments/Townhomes
Arts & Entertainment
Attorneys & Legal
Auction Services
Automotive
Aviation Services
Banks & Financial
Bars
Beauty Salons
Bed & Breakfasts
Boating
Bookkeeping
Builders & Contractors
Building Material
Business Services
Cabins
Cellular
Child Care
Churches
Cleaning Services
Clothing
Commercial Art
Computer Supplies
Condos
Consultants
Convenience Stores/Fuel
Convention/Meeting
Dentists
Dining
Dry Cleaning
Events
Fabric & Crafts
Fencing
Fishing
Flooring
Food & Drink
Funeral Homes
Furniture
Gifts/Western
Government
Graphic Design
Grocery & Market
Guest Ranches & Lodges
Handyman Services
Hardware & Feed
Heating
Health Care & Medical
Horseback Adventures
Insurance
Interior Design
Internet/Web/Advertising
Landscaping
Laundry
Liquor Stores
Lodging
Log Homes
Marketing
Massage Therapy
Modular Homes
Motels
Mountain Biking
Movie Theaters
Museums
Nails
Newspapers
Office Supplies
Oil Field Services
Optometrists
Organizations
Outdoor Equipment
Outfitters & Guides
Packaging & Shipping
Painters
Pet Stores
Pharmacies
Photography
Plumbing
Professional Services
Radio
Real Estate Agencies
Real Estate-FSBO
Remodeling
Retirement
Retreats
RV Camping
Schools
Scrapbooking
Septic Services
Skiing
Snowmobiling
Snow Plowing
Storage and Storage Units
Tanning
Tattoos & Body Art
Tax Preparation Services
Taxidermy
Transportation/Shuttle
Trash Services
Trucking
Veterinarians
Visitor Services
Wagon Rides
Well Drilling