Information sought on Boulder area elk poaching (posted 10/20/16)
Wyoming Game & Fish
The Wyoming Game and Fish Department is seeking any information regarding a cow elk that was shot and left on the morning of 10/18/2016 in Elk Hunt Area 97 on the sagebrush flat between Boulder and Burnt Lakes, just off of the Horseshoe Lake Trail. A second elk was shot nearby and packed out with livestock, possibly a mule. It appeared the hunter had entered the area from the Boulder Lake Canyon Campground and may have been driving a white truck pulling a smaller-sized horse trailer. South Pinedale Game Warden Jordan Kraft is requesting the hunter, or anyone with possible information regarding this incident, contact him at 307-367-2470, the Pinedale Game and Fish office at 1-800-452-9107 or the STOP POACHING hotline at 1-877-WGFD-TIP (1-877-943-3847). Callers can remain anonymous.

---
Rendezvous Pointe 13th Annual Holiday and Craft Fair Nov. 4 & 5 (posted 10/20/16)
Rendezvous Pointe Senior Center in Pinedale will host their 13th annual Holiday and Craft Fair on Friday, November 4 from 5 PM to 8 PM and Saturday, November 5 from 10 AM to 3 PM. There will be a variety of gift items to choose from as well as a silent auction and raffle. The Rendezvous Café will be open and serving up Walking Tacos, Corn Chowder and more. For more information please call 307-367-2881.

---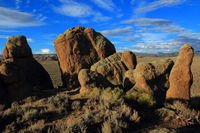 Photo by Fred Pflughoft

Boulder Lake Fall Album (posted 10/18/16)
Photos by Fred Pflughoft
Photographer Fred Pflughoft posted a new album of scenes from a trek he took to the Boulder Lake area a couple of weeks ago seeing bald eagles, moose, beautiful scenery, and incredible light due to a storm. Click on this link for Fred's latest album: Boulder Lake Fall Album

---
Sublette Center seeks donations for Halloween (posted 10/18/16)
The Sublette Center in Pinedale is seeking donations for their 25th Annual Safe Trick or Treat Nite in Pinedale, 333 Bridger Avenue. Help is needed and greatly appreciated. The Sublette Center is a non-profit organization. Stop or call by 307-367-4161 to donate.

---
Heavy snow causes SCSD #9 bus barn roof to collapse (posted 10/17/16)
The heavy wet snow that fell Sunday night caused the Sublette County School District #9 bus barn roof in Big Piney to collapse. The school district was not able to send out the buses to LaBarge. They asked parents to get their children to school some other way. If unable to do so, children were allowed an excused absence. All other buses and suburbans were able to run, but some were running late.

According to Sublette County Sheriff KC Lehr, the bus barn roof collapse was the only significant damage reported from the snow storm. There were also some vehicles that slid off the road.

---
Town of Pinedale proposed water/sewer rate scenarios (posted 10/17/16)
The Town of Pinedale held a workshop on Friday, October 14th to discuss Town water and sewer rate increases. During the workshop the Town had a three-page handout outlining the proposed rate scenarios, achieving reserve objectives, applicable Wyoming statutes governing water and sewer funds, the 2017 Town budget, and more. Click on this link for this handout: Town of Pinedale proposed water/sewer rate scenarios (3 page PDF)

---
Graveside Funeral Service for Betty Jo Heydt Oct. 21st (posted 10/17/16)
Covill Funeral Home
Betty Jo Heydt, 94, former resident of Pinedale passed away peacefully Saturday, October 15th at the St. John's Living Center in Jackson. A graveside funeral service will be held Friday, October 21st at 11:30 A.M. at the Pinedale Cemetery. Family and friends will gather at Moose Creek Catering (1220 Wilson St. Pinedale, WY) following the service.

---
Wyoming Legislature update: Minerals, Business, Economic Development (posted 10/17/16)
Albert Sommers, House District #20 Representative
October 17, 2016
Hello Sublette County, on October 10-11 in Rock Springs, I participated in a meeting of the Joint Minerals, Business, and Economic Development Committee. Our committee heard reports and proposed legislation from the Wyoming Department of Environmental Quality (WDEQ). We also heard presentations on the Bitter Creek Abandoned Mine Land project, the President's Clean Power Plan litigation, the wind power industry, the trona industry, and the bentonite industry. In addition, Wyoming State Banking Commissioner, Albert Forkner, presented legislation on bank service corporations, and helped the committee understand Bitcoin.

WDEQ brought forth five bills for our consideration on the first day of the meeting, and we passed all of these bills out of committee to be considered in the next General Session of the Legislature. The first bill dealt with fuel storage tanks used for commercial purposes, with updates to statute that would conform to federal regulations, such as clearly defining fuel storage tank licensure requirements.

The next two bills updated community priority lists for municipal waste Cease and Transfer and Landfill Remediation programs. In another bill, we further revised our Nuclear Regulatory Commission agreement state statutes to conform with federal regulators, allowing Wyoming to be the lead regulator in uranium mining.

The last bill updates old statutes which authorize a process for Wyoming to site a temporary nuclear waste facility. The bill brings fees to today's standards, and eliminates language referencing the failed Yucca Mountain permanent nuclear waste depository. This bill does NOT authorize nuclear waste in Wyoming, and in fact the statute details a process which would require legislative approval of any proposed temporary nuclear waste facility in Wyoming. The federal government would have to create a permanent nuclear waste depository somewhere in the US before Wyoming could consider siting a temporary facility. I think it is highly unlikely that temporary storage will be needed if the federal government ever develops a permanent depository, because nuclear waste is being temporarily stored at nuclear power plants. It seems more likely that the Feds would set up a temporary waste site adjacent to where they create a permanent depository, to reduce double shipping the waste, but this is conjecture on my part.

We passed another banking bill out of committee, giving the Wyoming Banking Commissioner the authority to regulate bank service corporations. Currently, banks farm out some of their technical operations to service corporations, which had not been under state oversight. It is important that these service corporations have oversight to ensure that customers' information is secure. On the topic of Bitcoin, a type of digital currency, the banking commissioner felt this currency was too unsecure to even consider for regulation, and will remain a buyer beware market.

We heard reports on both the Industrial Siting Council and the Environmental Quality Council (EQC) to see if these departments could be improved. They have very different missions, so combining is not an option. The Industrial Siting Council reviews very large industrial projects, such as large wind energy projects, to determine community impacts, and then assesses a community impact fee. Large scale oil and gas development is exempt from this statute, which is why Sublette County municipalities did not receive impact assistance under this program during the last boom. This makes it difficult for communities experiencing an oil and gas boom, because ad valorem tax generated by mineral development does not reach communities for nearly two years. The lag time makes it difficult to enhance infrastructure at the beginning of a boom.

Industry is questioning the appeals process to the EQC, for permitting of projects under the Wyoming Department of Environmental Quality. They believe an appeal through the EQC slows down the permitting process, and they would rather see appeals go directly to district court. The Environmental Quality Council serves as an independent entity that reviews matters concerning the prevention, reduction and elimination of pollution, including preservation of Wyoming's water, air and land quality. I believe the EQC appeals process provides a valuable forum for individuals and landowners who cannot afford an attorney to go to court. Most appeals to the EQC are resolved before going to court, and I think resolution outside of a courtroom is more productive for the citizens of Wyoming. Very large permits maybe better served by skipping the EQC appeals process, as both industry and an environmental organization advocated for that. We will investigate that scenario next summer.

We received an update on the litigation of the President's Clean Power Plan. The plan was issued in October 2015, and was litigated by several states and corporations. A three-judge panel denied a stay by the states in January 2016, followed by an unprecedented stay of the Clean Power Plan by the US Supreme Court. An oral argument before the DC Circuit Court of Appeals was heard in September 2016 to determine the legality of the Clean Power Plan. Much of the legal debate focused on the EPA's existing rule-making authority under the Clean Air Act to implement the "best system of emissions reduction," and whether Congress meant the word "system" to apply only to the machinery inside power plants or more broadly to the various ways that electricity can be generated. Wyoming and others contend the EPA is mandating how a state can generate its electricity, which they believe is outside the scope of EPA's authority. Six of ten justices are Democratic appointees, which does not bode well for Wyoming's appeal.

The Clean Power Plan's goal is to reduce CO2 emissions 32 percent, from 2005 levels, by 2030. EPA's final rule would require coal-fired power plants to reduce CO2 emissions to 1305 lbs/megawatt hour, which is unfeasible with current technology. The Rhodium Group forecasted a decline in Wyoming coal production by 31 percent to 49 percent, comparing 2020]2030 to 2014 production. In my lifetime, the climate of Sublette County has certainly warmed, but I believe the nation should retain a diverse portfolio of power generation, including coal, natural gas, hydro-electric, wind, solar, and nuclear. It is believed that we will not reach the targets in the Clean Power Plan, but we could improve our technologies and diversify our generation without putting Wyoming and other states out of business. Wyoming is capable of producing energy in many forms, including renewable sources. Some population centers in the US like the idea of renewable energy (wind and solar farms), as long as they are eating up other's landscapes, not their own. We need a diverse portfolio of power generation, new technologies, and not a one-size-fits-all approach.

---
Commissioner Candidate Forum in Pinedale Oct. 27 (posted 10/17/16)
There will be a forum for Sublette County Commissioner candidates on Thursday, October 27th at 7PM in the Pinedale Auditorium. There will be a candidate Meet & Greet from 6-7PM. The forum is sponsored by the Sublette County Chamber of Commerce, Wyoming Newspapers, KPIN 101.1 FM Radio, and Pinedale Online.

---
Local Services:
Abortion Alternatives
Accounting & CPA
Arts & Entertainment
Attorneys & Legal
Automotive
Banks & Financial
Bars
Beauty Salons
Bed & Breakfasts
Boating
Bookkeeping
Builders & Contractors
Building Material
Business Services
Cabins
Cellular
Child Care
Churches
Cleaning Services
Clothing
Commercial Art
Computer Supplies
Condos
Consultants
Convenience Stores/Fuel
Convention/Meeting
Dentists
Dining
Dry Cleaning
Events
Fabric & Crafts
Fencing
Fishing
Flooring
Food & Drink
Funeral Homes
Furniture
Gifts/Western
Government
Graphic Design
Grocery & Market
Guest Ranches & Lodges
Handyman Services
Hardware & Feed
Heating
Health Care & Medical
Horseback Adventures
Insurance
Interior Design
Internet/Web/Advertising
Landscaping
Laundry
Liquor Stores
Lodging
Log Homes
Massage Therapy
Modular Homes
Motels
Mountain Biking
Movie Theaters
Museums
Nails
Newspapers
Office Supplies
Oil Field Services
Optometrists
Organizations
Outdoor Equipment
Outfitters & Guides
Packaging & Shipping
Painters
Pet Stores
Pharmacies
Photography
Plumbing
Professional Services
Radio
Real Estate Agencies
Real Estate-FSBO
Remodeling
Retirement
Retreats
RV Camping
Schools
Scrapbooking
Septic Services
Skiing
Snowmobiling
Snow Plowing
Storage and Storage Units
Tanning
Tattoos & Body Art
Tax Preparation Services
Taxidermy
Transportation/Shuttle
Trash Services
Trucking
Veterinarians
Visitor Services