JIO and PAPO request public comment on Oil and Gas projects for 2015 funding (posted 4/1/15)
Public has 9 days to submit comments, deadline April 9th
Bureau of Land Management
The Jonah Interagency Office (JIO) and Pinedale Anticline Project (PAPO) request public comment on eight oil & gas mitigation projects that have been submitted for potential 2015 funding.

The proposed eight projects collectively improve sage-grouse, mule deer and pronghorn habitat; reduce sage-grouse mortality and provide planning for improved recreational access on the New Fork River.

The JIO/PAPO would like your comments on any of the projects by 4:30 p.m. Thursday, April 9, 2015.

Paper copies of the projects are available at the BLM Pinedale Field Office at 1625 West Pine Street, Pinedale, WY or you can email Eric Decker, JIO/PAPO Project Coordinator at egdecker@blm.gov and have him email you copies of the projects and/or submit your comments.

After public comments have been received, JIO/PAPO staff will review the comments and use the information to help them determine priority projects for the JIO/PAPO Board of Directors consideration at the Directors May 21, 2015 meeting. This meeting will be held in Pinedale at the Pinedale Field Office and will be public noticed in early May.

The JIO/PAPO would like to thank you for your interest in what may be potentially funded to help mitigate the effects of oil and gas developments in the Jonah and Pinedale Anticline Project Areas.

For more information, please contact: Eric Decker at (307) 367-5386 or egdecker@blm.gov.

Related Links:
Pinedale Field Office Bureau of Land Management

---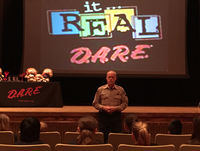 Colonel Mark Farrell addresses the students during their DARE ceremony. Photo courtesy Sublette County Sheriff's Office.

Big Piney celebrates DARE culmination (posted 3/31/15)
Teaching students good decision making skills to help them lead safe and healthy lives
Sublette County Sheriff's Office
BIG PINEY - The fifth grade classes in Big Piney celebrated the culmination of their DARE program at the Fine Arts Center on Friday, March 27, 2015. Over the course of their program, the students learned the health effects and facts about alcohol and tobacco, how to deal with stressful situations, bullying, helping others, dealing with peer pressure, and a number of other essential lessons that they will be able to carry with them as they move into the Middle School next year. Each student received some special gifts for their efforts, including a goodie-bag, t-shirt, and Certificate of Completion. Awards were also given to those students who excelled in the essay competition.

This was the last class for Sgt. Katherine Peterson (a.k.a. "Officer Kam") as she accepted a new position with the Sheriff's Office last January. "I have had the profound opportunity to work with our community's youth for three years," she said. "It can be difficult to remember why you chose a profession like law enforcement… until you get attacked by a bunch of happy kids who want nothing more than to give you a hug. It's overwhelmingly rewarding." Sgt. Peterson turns the reins of the program over to Deputy Mason Zeiger. "He'll be great. He doesn't mind being silly with the kids, and that's incredibly important." Deputy Zeiger has been assisting with the Big Piney classes since January, and will take over completely with the Pinedale fifth graders after Spring Break.

Click here for more pictures (3 photos)

Related Links:
www.dare.org DARE America
DARE: Drug Abuse Resistance Education Wikipedia

---
Sublette BOCES offers classes about gardening in Sublette County (posted 3/31/15)
Sublette BOCES is offering a series of classes on gardening. The classes will be held at the Sublette BOCES Education Center in Pinedale on Tuesdays and Thursdays, starting Tuesday, April 7 from 6:00-7:30PM. This class will teach participants how to garden at 7,000 feet elevation, including vegetables, herbs, annual and perennial flowers, lawns and trees. Instructor is Arlinda McLaughlin, a Sublette County Master Gardener with 39 years experience gardening in Pinedale. Arlinda will teach the same classes earlier the same day at the Big Piney Library on the same days at 12:00–1:30PM. Cost for the class is $20.

Schedule:
Tuesday, April 7 – Gardening Resources
Thursday, April 9 – Soil and Fertilizers
Tuesday, April 14 – Garden Beds and Irrigation
Thursday, April 16 – Seed and Planting Recommendations
Tuesday, April 21 – Container Gardening and Extending the Season
Thursday, April 23 – Pests, Diseases, and Pollinators

To enroll, go to www.subletteboces.com or call the BOCES office, 307-367-6873, or call the Big Piney Library to attend classes in Big Piney, 307-276-3515. For more information, please call Arlinda at 307-367-2791.

---
M.E.S.A. Volunteer training offered in April (posted 3/30/15)
M.E.S.A. Therapeutic Horsemanship, a non-profit program aimed at providing equine-related therapy activities to individuals with disabilities within Sublette County, is offering volunteer training in April. M.E.S.A. asks all lesson volunteers to attend one training each year to freshen up on safety and procedures during their lessons. Dress warmly and wear covered shoes and plan to get dirty as they will be working with the horses. The two upcoming sessions will be:

Tuesday, April 7th at 6:00PM at Sullivan Arena
Thursday, April 9th at 6:00PM at the Sublette County Fairgrounds in Big Piney

For more information contact Carla Sullivan, Executive Director, 307-749-3979, subletterides@gmail.com, www.mesarides.org.

---
Wyoming Construction Lien/Notice Class in Pinedale April 22 (posted 3/30/15)
In 2010 the Wyoming legislature made significant changes to Wyoming construction lien statutes. Specifically, contractors, subcontractors and suppliers must now send a document called a "Notice to Owner" at the beginning of a construction project. If the notice is not sent, then one cannot assert a lien. A class is being offered on Wednesday, April 22nd in Pinedale to explain who, when, how and why this notice is sent. There will also be more information about other changes and important dates and processes to lien a construction site. The class cost is $75/person and there are only 35 seats available. Realtors can earn 3 hours CE credit. Others who would find this seminar useful are contractors, suppliers, bankers, title insurers, clerks and recorders. To reserve a seat and for more information, call Carl Schweitzer, Northwest Notice Service in Helena, Montana, 406-431-2176, e-mail carl@mt.net. Checks or credit cards accepted.

---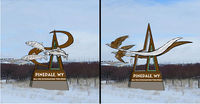 Do you like one, both or none for the proposed Pinedale gateway signs? Cast your vote!

Cast your vote for the Pinedale Gateway Project (posted 3/27/15)
Pinedale Fine Arts Council
The Pinedale Gateway Project committees would like to your help in deciding to move forward with signage on both sides of Pinedale. Please visit the Pinedale Fine Arts Council website at www.pinedalefinearts.com and scroll down on the home page for the survey link.

The Pinedale Gateway Project set out to combine art, signage, and landscaping to create a welcoming entrance into Pinedale to attract visitors to stop, look around and shop our local businesses. The two committees involved (Main Street Pinedale and In|Site:Ex|Site Public Art) wanted something simple that matched the wayfinding signs and reflected some aspect of Pinedale. The committees chose not to focus on big game or bronzes simply because it was too cost prohibitive, with the average bronze costing $130,000 each. The committees secured two grants from the Wyoming Office of Tourism and Wyoming Main Street. Next the committee selected Nationally Acclaimed artist Don Rambadt and his concepts (above). While the committees pursued local artists, they were invited to apply, but none felt able to complete the project.

---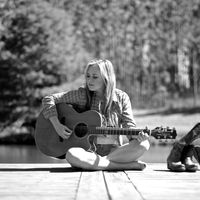 Cary Laine hopes to record her first album.

Cary Laine asks fans to go to Kickstarter campaign to help fund her first album (posted 3/27/15)
Aspiring singer has ties to Pinedale
Country/Americana artist Cary Laine is set to record her first ever full-length album, "Miss America." She is asking her fans to go to Kickstarter. Laine, who lived in Pinedale for a time, appeared on the 6th Season of NBC's Emmy Award Winning Show 'The Voice,' getting a 4-chair turn.

After making music for years, and living on the Gulf Coast, Cary Laine and her family headed out West for a new adventure. Little did she know, moving across the country to Wyoming would lead to a 4-chair turn on 'The Voice' and a battle between the coaches over her and her infamous red leather boots.

Since her feature on 'The Voice' in 2014, she has moved back to the Gulf Coast, written newmusic, traveled across the country playing shows, and is now gearing up to let the world hear just what's she's been up to.

Teaming up with producer, multi-instrumentalist, and long-time friend, Anthony Crawford (Neil Young, Steve Winwood, Dwight Yoakam) from groups Willie Sugarcapps and Sugarcane Jane, Cary Laine has begun recording her debut album, Miss Alabama, at Admiral Bean Studio in Loxley, Alabama. Her album is set to be released Summer 2015.

In order to finish her dream album, she is asking for help from her fans. Supporters can go online to
https://www.kickstarter.com/projects/carylaine/first-full-album-miss-alabama and help fund the project. The goal is $15,000 and will pay for recording, packaging, distributing, and promotion of the album. Rewards for helping make this dream a reality include early digital downloads from the new album, Miss Alabama, hand-written lyrics, signed CDs, a house concert with Cary Laine, and even some of her attire from the blind auditions of The Voice including her red boots.

The Kickstarter campaign runs until April 8th to raise the $15,000.

Related Links:
www.carylaine.com
Cary Laine Facebook page
Pinedale's Cary Laine appears on 'The Voice' Pinedale Online, February 27, 2014

---
Prenatal Classes begin April 8th in Pinedale (posted 3/27/15)
The Sublette County Public Health office in Pinedale is offering Prenatal Classes beginning April 8 from 6-8pm. They will be held every Wednesday for three weeks. Classes will take place at the Public Health office in Pinedale. Classes will cover pregnancy, labor and delivery and postpartum care. They will be taught by Janna Lee, BSN, Public Health Nurse. Please call for more information. 307-367-2157 or 307-276-3575.

---
Easter Egg Hunt in Big Piney April 4th (posted 3/27/15)
Hell Hole Archery Club, the Big Piney 4-H Archery Club and community members in Big Piney will host an Easter Egg Hunt on Saturday, April 4th at the Events Center of the Sublette County Fairgrounds. It starts at 9AM. The hunt is free and is for kids age 2-12.

---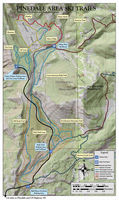 Nordic Ski Trail map courtesy Sublette County Recreation Board

Nordic ski trail grooming report – March 27, 2015 (posted 3/27/15)
Report courtesy of Mike Looney, Groomer
Friday, March 27, 8:45AM report: Groomed up from Nordic building to Kelly Park, Kelly Park, Kelly Tie-In, Lower and Upper Surveyor and Old Road Trail. 36 degrees at Nordic Building, 30 degrees at White Pine before sunup. Expect soft, slushy conditions today. May be better skiing on un-groomed portions of the trail. Use caution on southern slopes of Kelly Park, very thin coverage and some bare spots. Trail bare in Lower Surveyor where it loops around up by White Pine Ski Area. This will be the last grooming report of the season. Thank you to everyone who used the trails, particularly to those who cleaned up after their pets. It was a huge help. This Nordic Ski Trail grooming report is courtesy of the Sublette County Recreation Board. For more information, call or text Mike Looney, 307-360-8488. Permission granted for other outlets to redistribute this Nordic ski trail grooming report.

Related Links:
X-C Ski Trail Map - (356K PDF)
Road and Weather links
www.visitpinedale.org Pinedale tourism website (lodging, dining, area information)
www.whitepineski.com White Pine Resort
www.greatoutdoorshop.com The Great Outdoor Shop
---
Kenneth Becker exhibit opening reception at the Library April 2nd (posted 3/26/15)
Sublette County Library
During the month of April, view the works of Kenneth Becker (1913-1972) in the Sublette County Library's gallery at 155 S Tyler Ave in Pinedale. Kenneth is the father of Pinedale's Kenny Becker and was an accomplished lithographer, though he most enjoyed creating oil paintings and watercolors. Originally from Illinois, he had a passionate love of painting the western and southwestern landscapes, working from both memory and from photographs. Four of Kenneth's watercolors are part of the permanent collection of the Art Institute of Chicago. Enjoy an opening reception on Thursday, April 2nd at 6:30 pm.

For more information visit the library website: sublettecountylibrary.org or call the library at 307-367-4114.

---
Road construction starting April 6th on Spruce Street in Pinedale (posted 3/26/15)
Town of Pinedale
Notice to Residents of Spruce Street: Road construction will commence the week of April 6th to repair the damage on the east portion of the roadway. This will NOT just be a patch. The damaged portion of the street will be completely removed and re-paved from north curb to south curb. If you have any questions and/or concerns please, contact Pinedale Town Hall, 307-367-4136.

Related Link
www.townofpinedale.us Town of Pinedale

---
Town of Pinedale update: Spring Indoor Soccer (posted 3/25/15)
Town of Pinedale Mayor Bob Jones
Hello Sublette County. This is Bob Jones and I would like to introduce Spring indoor soccer. As you know, Spring in Wyoming with its highly variable weather makes our county a tough place to plan outdoor sports. In a partnership with QEP, Sublette County, Pinedale Soccer Association, PAC and The Town of Pinedale, I am happy to announce the start of an indoor soccer program that is open to all Sublette county kids. The season starts April 20th and will be at the Pinedale ice arena. The program will be run by Pinedale High School soccer coach John Mivshek. John will be supported by several other highly qualified coaches. The goal of this program is to make sure our kids learn the necessary skills at a young age from qualified Coaches. We are also hoping we can get some parents who may not understand soccer to participate and receive training that would help make them feel comfortable participating as coaches in the Fall outdoor soccer program. Along with skills training, the kids will spend a lot of time playing small sided 3 v 3 games. We will do our best to make sure your child plays with kids that are at the same skill level. This will help to ensure that every kid is part of the game and ensure as many touches on the ball as possible.

The cost will be $25 per child and scholarships are available if needed. The season starts April 20th and ends May 28th. Practices and games will be held in the evenings Monday through Thursday. Your child's practice days will be announced as soon as registration is complete. Please register online at www.pinedalesoccer.com and go to Spring Soccer Registration. If you have any questions, contact John Mivshek at John@townofpinedale.us or call town hall at 307-367-4136.

Please sign up as soon as you can. I hope to see you on the field.
 

---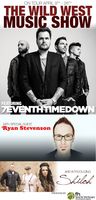 The Wild West Music Show in Pinedale April 11th

The Wild West Music Show April 11th (posted 3/25/15)
The Wild West Music Show, featuring 7Eventhtimedown, a mainstream American Christian rock band listed on the top 20 charts, and special guest Ryan Stevenson and Shiloh, will be appearing at the Pinedale Wrangler Gym on Saturday, April 11th at 7PM. Advance tickets are $5.50, available online (www.7eventhtimedown.com and click on the "Tour" link) and at Office Outlet in Pinedale. Tickets will also be available at the door for $7.00.

Related Links:
www.7eventhtimedown.com

---
Mountain Man Back Country Horseman meeting April 6th (posted 3/25/15)
Mountain Man Back Country Horseman will meet on Monday, April 6th at the Marbleton Town Hall at 6PM. Veterinarian Bob Beiermann D.V.M will present a program on horse nutrition and first aid kits. All members and interested parties are welcome to attend.

---
Bar J Wranglers Benefit Concert April 17 (posted 3.23.15)
Benefit for the Pregnancy Resource Center
The Bar J Wranglers in be performing in concert in Pinedale on Friday, April 17th. The concert is a benefit for the Pregnancy Resource Center of Sublette County. Seating will begin at 6:30PM, the concert starts at 7PM at the Pinedale High School Auditorium. Tickets go on sale starting March 26th, $20/person, available at the Cowboy Shop, Office Outlet in Pinedale and Big Piney, and the Pregnancy Resource Center. For more information call 307-367-7707.

---
Lions Club Easter Egg Hunt April 4th in Pinedale (posted 3/23/15)
The Pinedale Lions Club will host its annual Easter Egg Hunt in Boyd Skinner Town Park on Saturday, April 4th at 10:00 AM sharp! Children from toddler through 5th grade are welcome to come and join in the fun. Don't be late; you can't hold back hundreds of kids from all those eggs –toddler stampedes have been known to happen! The Easter Bunny will make an appearance again this year, so be sure to bring your camera. The Pinedale Lions Club has been putting this fun event on for the children of Pinedale for over 20 years.

---
Local Services:
Abortion Alternatives
Accounting & CPA
Arts & Entertainment
Attorneys & Legal
Automotive
Banks & Financial
Bars
Beauty Salons
Bed & Breakfasts
Boating
Bookkeeping
Builders & Contractors
Building Material
Business Services
Cabins
Cellular
Child Care
Churches
Cleaning Services
Clothing
Commercial Art
Computer Supplies
Consultants
Convenience Stores/Fuel
Convention/Meeting
Dentists
Dining
Dry Cleaning
Events
Fabric & Crafts
Fencing
Fishing
Flooring
Food & Drink
Funeral Homes
Furniture
Gifts/Western
Government
Graphic Design
Grocery & Market
Guest Ranches & Lodges
Handyman Services
Hardware & Feed
Heating
Health Care & Medical
Horseback Adventures
Insurance
Interior Design
Internet/Web/Advertising
Landscaping
Laundry
Liquor Stores
Lodging
Log Homes
Massage Therapy
Modular Homes
Motels
Mountain Biking
Movie Theaters
Museums
Nails
Newspapers
Office Supplies
Oil Field Services
Optometrists
Organizations
Outdoor Equipment
Outfitters & Guides
Packaging & Shipping
Painters
Pet Stores
Pharmacies
Photography
Plumbing
Professional Services
Radio
Real Estate Agencies
Real Estate-FSBO
Remodeling
Retirement
Retreats
RV Camping
Schools
Scrapbooking
Septic Services
Skiing
Snowmobiling
Snow Plowing
Storage and Storage Units
Tanning
Tattoos & Body Art
Tax Preparation Services
Taxidermy
Transportation/Shuttle
Trash Services
Trucking
Veterinarians
Visitor Services