Pinedale Community Cleanup June 3 (posted 6/2/2023)
Everyone is encouraged to come out on Saturday, June 3rd to participate in the Pinedale Community Cleanup day. This event is sponsored by Main Street Pinedale, Town of Pinedale, and M&M Transfer Inc. Meet at the Courthouse Lawn in Pinedale at 9:30AM for your map and garbage bag. Make sure to pick up your game card. Go to your location and pick up all the trash. Meet back at the Courthouse lawn for the free BBQ by the Pinedale Lions Club. Volunteer groups welcome.

---
Death Notice: Dave Dailey (posted 6/2/2023)
David Gerald Dailey, age 72, died peacefully at his home in Pinedale, Wyoming on Tuesday, May 23, 2023 after a long and courageous battle with back, heart, and lung issues.


Related Links:
Obituary – David Gerald Dailey, March 29, 1951 - May 23, 2023 Covill Funeral Home, Pinedale, Wyoming


---
Pinedale Community Trail Charrette June 9 & 10 (posted 6/2/2023)
A community discussion about area trails will take place Friday and Saturday, June 9 & 10. This event is open to the public. On Friday, June 9th, meet at the White Pine Parking lot at 3:00PM for a field site visit. Saturday will be from 10AM to 2PM at the Pinedale Library. Free pizza provided. Sponsored by UW Ruckelhaus Institute, Wyoming Pathways, Sublette Trails Association, and Friends of the Bridger-Teton. Opportunity to help identify needs and brainstorm goals for Pinedale front country trail systems. The charrette is an intensive design activity that will result in community generated recommendations for land management agencies and decision makers.
---
SCUF Catfish Fry in Marbleton June 17 (posted 6/2/2023)
Sublette County Unified Fire will host their annual Catfish Fry at Fire Station 2 in Marbleton on Saturday, June 17th from 11:00am until they run out of catfish! Come support your local firefighters! Fried catfish, corndogs, hushpuppies, fries and more. Meal is by donation. Donations go toward the local Volunteer Support Fund.
---
Graveside Services for Darlene Penton June 23 (posted 6/2/2023)
Graveside Services for Darlene Penton June 23
Darlene Pryde Penton, 86, passed away on February 16, 2023. She was surrounded by her family.

Darlene was born to William Pryde and Elsie Snow on January 24, 1937 in Rock Springs, WY. She was preceded in death by her half-brother Bill Sours and half-sisters Mary Clark and Hannah Snow. Her mother passed away when Darlene was 3 years old, and Darlene was raised in part by her half-sister Hannah and grandmother Anna Snow. She spent her early years living in Bondurant, WY before moving to Pinedale.

She married Sid Roberts in 1953 with whom she has two sons, Jack and Shane. They later divorced in 1967, and she married Bob Penton in 1968. The two were married 55 years until she departed. Darlene left behind 6 grandchildren and 14 great grandchildren.

Dalene was known as a tenacious worker but also for her generous and light-hearted character. She worked at Faler's for a number of years. She also managed the VFW in Pinedale, until she was 83, where she was much loved by locals and visitors alike.

Darlene didn't know a stranger, and treated all those she knew like family. As such, she had many friends with whom she enjoyed traveling and bowling.

By her family, she will be remembered as a beloved matriarch who sacrificed for all those she loved. She will be greatly missed.

Graveside services will be held June 23, 2023 at 11:00 a.m. at the Pinedale cemetery, followed by a luncheon at 12:00 at the VFW in Pinedale.

Condolences can be offered at www.covillfuneralhome.com.

---
Celebration of Life for Kathryn Singey July 22 (posted 6/2/2023)
Kathryn D. (Hout) Singey, 68, passed away September 12, 2022. Kathryn grew up in Pinedale and attended the University of Wyoming. She came back to Pinedale and taught elementary school and married her childhood sweetheart, Donald P. Hansen. They later divorced and she moved to Colorado. A Celebration of Life will be held July 22, 2023 at the home of Ken & Arlinda McLaughlin at 1pm. Please come to visit and honor her. Please click on the following link to view full obituary.
---
Meadowlark Award – Mark Mickelson (posted 6/1/2023)
The Wyoming Community Foundation honored Mark Mickelson of Big Piney on Thursday, June 1st. Mickelson will be presented with the Spirit of the Meadowlark Award for his years of community service. "His commitment to strengthening communities and supporting the nonprofits in our state is exemplary of the organization's mission to build a better Wyoming and ensure Wyoming communities have the resources they need to thrive."

Click on this link for more on this story: History of service earns Mark Mickelson Spirit of the Meadowlark Award May 23, 2023

---
Memorial Day 2023 in Pinedale (posted 5/31/2023)
Dawn Ballou, Pinedale Online!
The Sublette County Veterans Mounted Cavalry (SCVMC) performed a ceremony at the Veterans Memorial in Legion Park in Pinedale on Memorial Day, Monday, May 29th. They had a riderless horse to represent the fallen. Taps was played by Bryson Vrska, followed by a moment of silence in respect to those who have sacrificed their lives in the line of duty

Afterwards, there was a Memorial Day Service with the VFW and American Legion at the Pinedale Cemetery. Hank Ruland gave a special presentation talk, Memorial wreaths were laid, and there was a three-volley salute from the Honor Guard. The US flag was raised to full staff at noon. A luncheon followed at the VFW in Pinedale following the ceremonies.

Memorial Day Speech 2023 - Veterans Memorial, Pinedale,
Wyoming
Speaker: Michael Edison, Commander
Sublette County Veterans Mounted Cavalry

Soldiers and Patriots,

Today, we honor and remember those who have fallen. Those that have made the ultimate sacrifice so that we may live FREE.

We also remember ALL those who have served in our US Armed Forces, both past and present.

We MUST remember what they stood for, and WHY they gave us their all.

Behind me is this beautiful Memorial. The names of those that have served both past and present are forever engraved upon this granite stone. These are the glorious Sons and Daughters of our beloved County. They fought for us, for our values, culture and way of life. They fought so that we may remain a free and sovereign people.

Shortly after Pinedale was founded, World War I erupted over in Europe. Over 70 men from Pinedale and the Upper Green answered the call and volunteered to serve. A machine gun company was formed and headquartered out of Pinedale. It was commanded by C.F. Patterson. They eventually were sent to France. Two of the members were killed there. Clifford Phillips was shot by an enemy sniper and Sydney Edwards was killed in a hospital when an airplane shelled the building.

In World War II, there were over 400 men and women that served from Sublette County. Two young men from Pinedale lost their lives in this war. S.Sgt. Ralph Wenz was killed in the line of duty when his bomber crashed in the wilds of Alaska. Ralph Wenz Field, Pinedale's Municipal Airport is named in his honor.

S.Sgt. Boyd Skinner was killed in action at the battle of Iwo Jima. The town park at the South end of Franklin Avenue is dedicated to him.

In Vietnam, Michael Wilson of Boulder, Wyoming, made the ultimate sacrifice when a booby trap detonated in a battle trying to take another hill. Marc Vandervelde of Pinedale, fought complications throughout his life that arose from his exposure to Agent Orange, a chemical defoliant used in that war. Marc passed away in the Spring of 2020.

Today, we also want to remember those Veterans who have succumbed to the invisible wounds of war and taken their own lives or put themselves in dangerous situations caused by post-traumatic stress disorder, traumatic brain injury or other service-connected conditions.

Currently, the suicide rate among Veterans is at 23 lives a day. Post 911, less than 1% of the general population serve in the military. Of this number, 80% have served overseas in a combat zone. Memorial Day is also for them.

A riderless horse symbolizes the fallen soldier. The boots of its former rider are reversed in the stirrups, to represent a fallen soldier looking back at his troops for the last time.

To many of us who have served, remembering the fallen, is to remember our brothers in arms.

This past April, Charles Cundy, of Pinedale had passed away. Chuck served during the Vietnam War as a Military Policeman and Dog Trainer. He was also a local private pilot and Alaskan Bush pilot. His wife, Betty, has asked us if we could properly fold an American flag for her. We agreed.

Taps to be played in honor of ALL of the Fallen.

Moment of silence to remember all those who sacrificed and gave us their all, so that we may remain FREE.

Click on this link formore pictures

---
Fontenelle Creek and Warren Bridge Campgrounds open for summer (posted 5/26/2023)
Bureau of Land Management
The Bureau of Land Management (BLM) Kemmerer Field Office and Pinedale Field Office have opened the Fontenelle Creek and Warren Bridge Campgrounds for the 2023 summer season. Drinking water is available and fees are being charged at both campgrounds.

The Fontenelle Creek Recreation area is approximately 35 miles north of Kemmerer, Wyoming and 10 miles south of La Barge, Wyoming. The area's facilities include 55 campsites, paved access roads, three vault toilets, three flush toilets, and a boat ramp. Designated campsite fees are $7 per night. A dump station is available for a $3 fee.

The Warren Bridge Campground is approximately 20 miles west of Pinedale, Wyoming. The site's facilities include 16 pull-through sites, three vault toilets, trash service, a day use area, and a dump station. Designated campsite fees are $10 per night and the dump station fee is $5.

Scab Creek Campground is also open to the public, but drinking water is not currently available. The BLM expects to turn on the campground's water system in mid-June.

For additional information about Fontenelle Creek Campground, contact the Kemmerer Field Office at 307-828-4500. For questions regarding the Scab Creek and Warren Bridge Campgrounds, contact the Pinedale Field Office at 307-367-5300.

---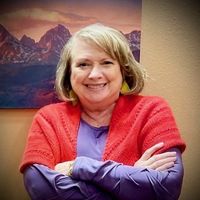 Celebration of Life for Dorothy Selman June 17 in Pinedale (posted 5/23/2023)
Dorothy Selman passed away on Saturday, April 15th in Pinedale. There will be a Celebration of Life on Saturday, June 17, 2023 at 3:00PM at Rendezvous Pointe, 425 East Magnolia Street, in Pinedale, Wyoming.

Obituary
Dorothy Selman
May 11, 1952 - April 15, 2023
Our beloved wife and mother, Dorothy (Tousain) Selman, fell asleep in death on April 15, 2023 in Pinedale, WY.

Dorothy fought stage 4 cancer, but didn't allow it to stifle her loving spirit or sense of humor. She died peacefully at home, surrounded by love. She was grateful she was able to spend her final months enjoying time with her friends and family members - many of whom traveled long distances to be with her one last time.

Dorothy was born on May 11, 1952 to Carl and Arlene Tousain of Petoskey, MI. She was baptized on March 9, 1968 as one of Jehovah's Witnesses and her faith was her anchor all her life. She graduated from Petoskey High School in 1970 and went on to marry the love of her life, Russell Selman, on Feb 12, 1972. They remained married for over 51 years! Together they had 4 children and 8 grandchildren and family life was one of Dorothy's greatest joys.

Dorothy was very creative and talented, especially as a watercolor artist. Her favorite subject was flowers. More than anything, she loved people - she made friends wherever she went and was known for her compassionate nature. Being able to laugh with others during difficult times was her special gift and she retained it until her final hours.

She is survived by her husband Russell Selman, her children Andrea Harrison, Jesse Selman, Christopher Selman, & Renee Ewart, and their spouses and children. Also her siblings: Carlene Babcock, Susan Kautza, and Steven Tousain, their spouses, children, grandchildren and great grandchildren. She was preceded in death by her parents. She will be greatly missed by all who knew her.

We warmly invite you to join us for a celebration of her life on Saturday, June 17, 2023 at 3:00 in the afternoon at Rendezvous Pointe 425 East Magnolia Street, Pinedale, Wyoming 82941.

---
Sublette County to host Wyoming Artists' Association Convention June 9-11 (posted 5/23/2023)
The Wyoming Artists' Association (WAA) has held its annual convention, uninterrupted since 1955, until Covid put a halt to things in 2020. WAA is a nonprofit organization that promotes Wyoming artists and provides an opportunity for its members to gather once a year to display their works, learn, inspire, and have fun. Traditionally, a three-day convention is held the first weekend in May, hosted by the current president, usually in their community. The convention hosts a judged exhibition for its members; two to three workshops with locally renown instructors; a Friday evening quick draw as its fundraiser; and a Saturday evening banquet. Historically, it has proven to be an incredibly fun weekend, and a great way for artists across the state to stay connected.

Covid played havoc with WAA's traditions, as the 2020 president had to cancel their convention, and the 2021 president resigned due to stress caused by covid-related issues. Since there is currently not an acting president, a group of past presidents met recently to organize a convention for 2023 and get the ball rolling again. This convention will follow WAA's past traditions, with a few minor exceptions. The dates for this convention are June 9-11, 2023, which is one of the exceptions, due to facility availability. The location will be in the events center at the Sublette County Fair Grounds in Big Piney, Wyoming. This convention will provide the traditional judged exhibition, workshops, quick draw, and banquet. Artists from across the state will be participating in the festivities.

The judge for this year's art show will be Tammy Christel, a writer, journalist, and arts blogger from Jackson, Wyoming. Tammy is a freelance writer and editor. She consults on the arts for collectors, filmmakers, and non-profit organizations.

We are offering two workshops for the participating artists. One will be instructed by Heather McCullough of Venice, Florida (heathermcculloughartworks.com), a watercolor artist extraordinaire. The second will be instructed by Tammy Callens of Jackson, Wyoming (tammycallens.com), who is proficient in portraits & landscapes done in oil. Both workshops will be excellent opportunities to soak up good tips and information and both are open to all levels of artists.

The theme this year will be a tribute to three artists: Leonardo De Vinci, Claude Monet, and Pablo Picasso, all of whom resided in France at one time or another during their lifetime. Therefore, the weekend will be like a trip to France, full of French cuisine and décor. The weekend will be a treat for all who attend, whether you are an artist participating in the entire weekend, or an art lover looking for that special piece of art at either the Art Show or the Friday evening Quick Draw. The Art Show and Quick Draw are both open to the public.

Please come and enjoy the Art Show and Quick Draw Friday evening, June 9th, starting at 7pm, with a live auction to follow at 8:30pm. The Art Show will be open to the public on Saturday, June 10th from 2-5pm, and Sunday, June 11th from 9am – noon.

---
Public Meeting Notice for Town of Pinedale Shallow Main Waterline Replacement Project June 12 (posted 5/22/2023)
Wyoming Department of Environmental Quality
NOTICE OF PUBLIC MEETING
The Town of Pinedale, Wyoming, will conduct a public meeting at 5:00 PM, local time, on June 12, 2023, in the Lovatt Room of the Sublette County Library, 155 S Tyler Ave, Pinedale, WY. The purpose of the meeting is to allow citizens to review and comment on the Pinedale Shallow Main Waterline Replacement project, which consists of removal of existing water mains and services beneath Quartz Avenue, Shanley Avenue, and Jade Street and replacement with approximately 2800 linear feet of six and eight-inch diameter pipe intended to reduce the risk of freezing and conserve water currently used for winter bleeding. This area of Town has common freezing issues resulting in: 1) costly repairs passed on to the residents, and 2) a waste of Town resources. Work includes the completion of necessary street repairs due to the location of the underground infrastructure and is anticipated to be constructed in 2024.

At the meeting, the Town of Pinedale will present the preliminary design of the proposed project and will discuss the estimated cost of the improvements and the plan for funding the improvements. A preliminary plan of improvements, cost estimates, and the funding plan can also be obtained for review by contacting the office of Nelson Engineering, 430 S Cache St, Jackson, WY. Contact Matt Bowers at (307) 733-2087, or mbowers@nelsonengineering.net.

Based on current cost estimates, the Town of Pinedale plans to borrow $1,258,000 from the Wyoming Drinking Water State Revolving Loan Fund administered by the Wyoming Office of State Lands and Investments. Increased user fees and reserves from the water enterprise fund will repay the loan. The average rate increase is estimated to be $2.10/month per user to repay the loan. Loan terms will be, at maximum, 2.5% interest rate and 20 years.

Written comments are also welcome. Send written comments to Nelson Engineering, Attn: Suzanne Lagerman, P.O. Box 1599, Jackson, WY 83001, or slagerman@nelsonengineering.net by 2:00 P.M. local time on June 12, 2023.

Para español, visite deq.wyoming.gov.

---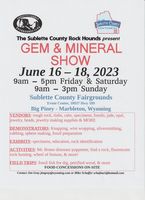 Gem & Mineral Show June 16-18 (posted 5/22/23)
The 2023 Gem & Mineral Show will be June 16-18 in the Sublette County Fairgrounds Event Center in Big Piney, Wyoming. The event is hosted by the Sublette County Rock Hounds. Hours will be Friday and Saturday 9AM-5PM; Sunday 9AM-3PM. There will be vendors, demonstrators, exhibits, activities, and field trips. Food concessions will be onsite. There will be demonstrations on knapping, wire wrapping, silversmithing, cabbing, sphere making, and fossil preparation. Vendors will have jewelry making supplies, rough rock, slabs, cabs, specimens, fossils, jade, opal, beads and more. For additional information, contact Jim Gray, jimgray@wyoming.com, or Mike Schaffer, schafma1@hotmail.com.
---
Pinedale Travel & Tourism Grant Proposals being accepted (posted 5/17/2023)
Town of Pinedale
Pinedale Travel & Tourism (PTTC) offers grants to qualified applicants. To be considered, applicants will host events that may bolster local participation, but more importantly, will bring in travelers and visitors to our area. Such events to be considered are for trade show space, projects, visitor friendly events, sporting events, and similar events.

The events must take place July 1, 2023 to June 30, 2024 to be qualified for the 2023 grant cycle. Applications must be received no later than 4 p.m. on June 5, 2023. A complete proposal must be submitted by email to maureenrudnick@townofpinedale.us by the deadline to be considered. Grant requirements may be found at: https://www.townofpinedale.us/documents


---
Free Dump Days June 7, 8 & 9 (posted 5/11/2023)
Sublette County is offering Free Dump Days for Sublette County residents Wednesday, Thursday and Friday, June 7, 8 and 9th. Trash must be dumped at the Big Piney landfill to be free. If dumped at the Pinedale Transfer Station, there will be a charge.

No commercial haulers.
Dump trucks or larger will be charged.
Oil and antifreeze free up to the first five gallons.
Tires will be charged.
No dead animals or hazardous materials.

---
Local Services:
Abortion Alternatives
Accounting & CPA
Apartments/Townhomes
Arts & Entertainment
Attorneys & Legal
Auction Services
Automotive
Aviation Services
Banks & Financial
Bars
Beauty Salons
Bed & Breakfasts
Boating
Bookkeeping
Builders & Contractors
Building Material
Business Services
Cabins
Cellular
Child Care
Churches
Cleaning Services
Clothing
Commercial Art
Computer Supplies
Condos
Consultants
Convenience Stores/Fuel
Convention/Meeting
Dentists
Dining
Dry Cleaning
Events
Fabric & Crafts
Fencing
Fishing
Flooring
Food & Drink
Funeral Homes
Furniture
Gifts/Western
Government
Graphic Design
Grocery & Market
Guest Ranches & Lodges
Handyman Services
Hardware & Feed
Heating
Health Care & Medical
Horseback Adventures
Insurance
Interior Design
Internet/Web/Advertising
Landscaping
Laundry
Liquor Stores
Lodging
Log Homes
Marketing
Massage Therapy
Modular Homes
Motels
Mountain Biking
Movie Theaters
Museums
Nails
Newspapers
Office Supplies
Oil Field Services
Optometrists
Organizations
Outdoor Equipment
Outfitters & Guides
Packaging & Shipping
Painters
Pet Stores
Pharmacies
Photography
Plumbing
Professional Services
Radio
Real Estate Agencies
Real Estate-FSBO
Remodeling
Retirement
Retreats
RV Camping
Schools
Scrapbooking
Septic Services
Skiing
Snowmobiling
Snow Plowing
Storage and Storage Units
Tanning
Tattoos & Body Art
Tax Preparation Services
Taxidermy
Transportation/Shuttle
Trash Services
Trucking
Veterinarians
Visitor Services
Wagon Rides
Well Drilling