Wyoming Legislature Update (posted 5/24/16)
Albert Sommers, House District #20 Representative
Tuesday, May 24, 2016
Hello Sublette County, this is Albert Sommers reporting from the rain soaked meadows of the Green River Valley. On May 9 and 10, I attended the Select Committee on Statewide Education Accountability in Casper. During this meeting we discussed development of Wyoming's new statewide assessment, the newly passed federal Every Student Succeeds Act (ESSA), the state's Teacher and Leader (Phase II) Accountability, and development of an accountability system for alternative schools.

Since I was first elected to this office, I have consistently tried to push accountability for K12 education back to local school boards where it belongs. There are differences in student populations among all Wyoming districts, and local school boards are best suited to provide accountability to the parents and citizens who elected them. At the same time, Wyoming's Constitution mandates an equal and quality education to all students in the state. This means we must have statewide educational standards to ensure all Wyoming graduates have a comparable skill set. The idea of a comparable skill set for students was a major factor that drove educational reform around the nation, and helped produced No Child Left Behind (NCLB).The implementation of this Act, with its unachievable objectives, should have proven that one-size-fits-all models of education don't work. However, at a state level we must comply with our constitution and try to provide an equal education to all students. Wyoming's Supreme Court has demanded more than just equity in funding, and that "more" is heavily debated at the state level.

During the meetings, we heard a report on the Wyoming Department of Education's (WDE) efforts to develop a Request For Proposal (RFP) for Wyoming's next generation statewide student assessment, and updates on implementation of ESSA.A task force of educators provided sideboards for a new assessment, and made recommendations to the Legislature this last session. We in turn tweaked the recommendations, and passed legislation which defines what the next assessment should address. Among these sideboards are that the test can take up only 1% of a student's instructional time and that it must provide data in a responsive amount of time. We have heard consistently from parents that children are over-tested, and that test results return from the vendor too late to affect instruction.

Every Student Succeeds Act, the replacement for the failed NCLB Act, appears to include more state and local control of K12 education and federal education dollars. The new act has fewer requirements for statewide education accountability, but does require instituting some new accountability items like school climate (a nebulous concept). Having just spent over $800,000 in consultant fees for Wyoming's current Phase I accountability model, it is a little hard to stomach spending even more money to update our model to fit this new federal act. I voted against the Legislature hiring this out-of-state consultant, who is paid $2000/day, and recommended that WDE and the State Board of Education do the work or hire it done. My little revolution failed, but not by a lot. It is time the Legislature stepped back from micromanaging K12 education, including use of highly paid consultants.

Phase II was the major battleground of the May 9-10 meeting, and Phase II is development of teacher and leader accountability models. The committee unanimously agreed to draft legislation to eliminate teacher accountability, believing that teacher accountability is without question the responsibility of local school boards. The battle in committee revolved around leader accountability, specifically how much role the state should have in assessing the performance of principals and superintendents. We already require certain assessment standards for these positions. Why do we need to go further? The state would never, I hope, have the audacity to fire a principal or superintendent from a district, so why would we want to create more reams of paperwork for districts by developing an elaborate accountability system? The only one who benefits from this effort is the $2000/day consultant, who continues to be hired for refinement of the model. A majority of committee members agree that there should be a review of principal and superintendents' credentialing standards, and some action on that front if necessary. But the committee is split on this issue of leader accountability, so we kicked the issue down the road to see what our Advisory Committee, made up of educators, brings back to us.

This past session, I co-sponsored a bill that raised the speed limit on highways from 65 mph to 70 mph. However, I have received multiple comments about the effect this higher speed limit could have on migrating big game in Sublette County. I have contacted the Wyoming Department of Transportation and the Wyoming Game and Fish Department about this issue, and we have organized a public meeting to be held June 9 at 7 pm in the conference room of the Sublette County Weed and Pest office. This will be the public's chance to express opinions on speed limits and migration corridors. The primary stretch to be discussed is Highway 191 from Pinedale to the East Fork River, but any stretch of highway can be brought up.

Thanks
Albert
---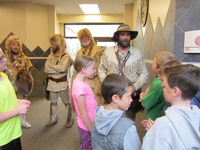 Photo courtesy Green River Rendezvous Pageant Association

Rendezvous cast visits with 4th graders (posted 5/29/16)
Rendezvous cast visits with 4th graders
Members of the Green River Rendezvous cast visiting fourth graders recently and talked about historic fur-trade characters such as Kit Carson, Jim Bridger, Captain Bonneville, Jed Smith, and Joe Meeks as well as a brief talk about Rendezvous in general. Afterwards the kids got a chance to ask questions and look at different furs. Click on this link for more pictures:

---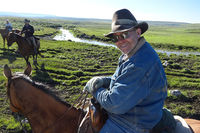 Albert Sommers

Albert Sommers announces intent to run for re-election to House District 20 (posted 5/29/16)
Albert Sommers media release
Hello Sublette County, I intend to run for re-election to House District 20, and am asking for your support. I have had the pleasure of serving Sublette County in the Wyoming House of Representatives for two terms (four years). Though HD 20 does not encompass all of Sublette County, I certainly look forward to input from all residents.

During my time in the Legislature I have served on the same two standing committees: Minerals, Business, and Economic Development; and Education. I have also served on multiple select committees dealing with educational issues, and one on digital privacy. The Minerals and Education committees address issues that affect nearly everyone in this county. I have steadfastly supported K12 education, and more local control of education. Education is the most important gift society provides to the people. Education is a great equalizer, and can help children from any background succeed in realizing the American dream. Wyoming has great educators and educational systems, and I hope to continue work on empowering local school boards and educators.

Wyoming's state budget is heavily dependent upon the minerals industry. Declining state revenues generated from a battered minerals industry is going to be the greatest challenge to the Wyoming Legislature over the next two years. A combination of oversupply and federal policy shifts has created a toxic environment for the engines that run this state. The state budget was cut this last session, and the Governor has requested additional agency cuts of 8%. Cuts may increase to as much as 12% next session, depending upon commodity price projectionsover the next two years. These cuts will affect people across Wyoming, and hard decisions will have to be made. K12 education will likely not be immune from budget cuts, due to lower enrollment and fewer tax dollars, but there is a mandate in Wyoming's Constitution to provide an equal and quality education. Because K12 education lost its primary capital construction funding source with the evaporation of coal lease bonus money, the Legislature will likely have to replace that funding source in order to comply with this constitutional mandate, and additional revenues sources are being looked at. Wyoming will need to combine budget cuts and savings drawdowns to weather this storm, while providing essential services toits citizens. Four years of experience with the state budget will help guide me through the shifting sands of our economic reality. Wyoming must continue to seek economic diversificationin all regions of the state, while realizing that our state engine still runs on coal, oil, and natural gas.

I have successfully passed bills in each of my four legislative sessions, as a prime sponsor, and have been a co-sponsor on many successful pieces of legislation. I try to bring a short list of personal bills to the sessions, because I believe legislators should self-regulate the workload they put on staff and fellow legislators. I do believe in these times of financial challenge that the House should refine its rules on number of bills each legislator can sponsor, by limiting each House member to three bills. I continue to examine issues brought forth by you folks, and try to direct pertinent issues to the appropriate committee or draft a bill in response. I have had the good fortune to be able to help county citizens navigate the bureaucracies of state agencies on several occasions.

Issues facing our county and state will change over time, and if elected I will continue to seek and articulate solutions to these challenges. I believe politicians at all levels need to maintain civility and work together to find solutions to the issues facing government and the people. By bringing common sense, hard work and integrity to the state legislature, I have gained support for issues of importance to Sublette County. I see the best government as that closest to the people. If elected I will continue to look for guidance from the leaders and elected bodies of Sublette County, but I will value the opinions of all county citizens.

---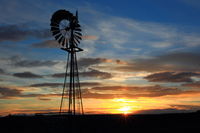 Soda Lake windmill. Photo by Fred Pflughoft.

Transitional weather (posted 5/28/16)
Fred Pflughoft has posted a new photo album in his gallery. "The wild transitional weather we have been having the last several weeks has made for some fantastic photo opportunities throughout Sublette County. One my favorite drives this time of year when the weather is like this is the Dell Creek-Jack Creek Loop in Bondurant." Click on this link to see his new photos: A Sublette Spring Album

---
HEAR Paws For a Poker Run Dog Walk benefit June 5 (posted 5/28/16)
Happy Endings Animal Rescue (H.E.A.R.) will hold their Paws For a Poker Run Dog Walk benefit on Sunday, June 5th. The event starts at 301 S Fremont Ave. (the yellow garage) and will go about three miles around Pinedale. Participants do not need to walk, nor need a dog to participate. Registration is from 11am to 1pm. The walk starts at 1pm. Cost is $30 per hand, and can buy as many hands as you want. Cash payout for winning hands. All proceeds to go help shelter animals. For more information call 307-360-6000, Happy Endings Animal Rescue.

---
75th Annual Bondurant Bar-B-Que June 26th (posted 5/28/16)
Bondurant will host their 75th Annual Bondurant Bar-B-Que on Sunday, June 26th. There will be a Kids Corner with lots of games, fun. Music will be provided by Legends band. The Little Jennie Ranch and Alice Brown Trust are again donating the beeves. Volunteers are wanted for the workday on Friday, June 25th.

---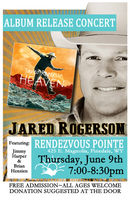 Release Concert Thursday, June 9th at Rendezvous Pointe in Pinedale.

Jared Rogerson 4th album Release Concert June 9th (posted 5/28/16)
'Heaven'
Jared Rogerson is proud to announce the release of his 4th album, "Heaven." Everyone is invited to a free Release Concert on Thursday, June 9th at Rendezvous Pointe in Pinedale, from 7:00-8:30pm. All ages are welcome and admission is free (donation suggested at the door). Also playing with Jared will be Jim Halsey of Casper and Brian Hensien of Lander. Come hear the songs and the stories behind them, and get your "pre-release" copy of the CD! The album will be released world-wide (iTunes, etc.) on June 14. Youtube link for the promo video, featuring some of the local landscape.


---
Death Notice: Martin 'Sprout' Wardell Jr. (posted 5/28/16)
Martin "Sprout" Wardell Jr, 83, of Big Piney, Wyoming passed away peacefully at home May 18, 2016. Memorial service are pending. Click here for his obituary.

---
Rivera Lodge Bed and Breakfast Open House June 10 (posted 5/28/16)
Rivera Lodge Bed and Breakfast will be hosting an open house on Friday, June 10th from 11am-3pm. Stop by for a coffee tasting, enjoy light refreshments, and door prizes. We are proud to be partnering with several Wyoming small businesses and are now selling honey, whole bean coffee, and other local goods to guests and locals.

Currently, we are working with three coffee roasters from across the state: Cody Coffee Roasters, Cheyenne Coffee Company, and H & S Coffee out of Laramie. We have honey from the Cheyenne Honey Co. Local artists Zudie Zink and Betty Boehm will have pieces on display.

If you are unable to attend the open house, we invite you to stop by anytime! The office is open seven days a week from 8am-8pm. For more information call (307) 367-2424, or email reservations@riveralodge.com, or see their website at www.riveralodge.com.

---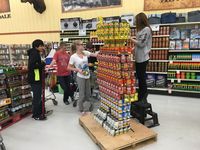 Pictured are Ryley Huston, Zoe Schoenfelder, Madeline Hemenway, Ed Gudino, Trevor Moller, and Tanner Toussaint. Photo courtesy Natalie Collins, Pinedale High School.

Pinedale High School students create CANstruction at Ridley's (posted 5/17/16)
The Pinedale High School STEM Introduction to Engineering Design class worked at Ridley's grocery store in Pinedale on a large class project. They spent approximately 20 hours to develop CANstruction and about 15 hours to construct and build their final LegoMan CANstruction. It was a total class effort, with six students taking part in the final build day in Ridley's. LegoMan has approximately 620 cans and is 3' wide, 2' deep and 6' tall. Click here for more pictures: CANstruction
---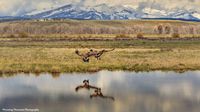 May is a month when the Upper Green River Valley is caught between the struggle of winter finally yielding to spring. Some days winter wins, other days spring pushes through. For about five months winter will be pushed away, but always returns.

Weekend Weather Extremes--May 21-22, 2016 (posted 5/25/16)
Photos by Dave Bell
Dave Bell was out and about this past weekend enjoying the extremes of Wyoming spring weather. "We pretty much saw it all this weekend! Rain, Snow, Hail, Sun (a little), and more in the forecast. But, it was a fun weekend to be out and about with a camera. There were some great sights to photograph in our beautiful county." Click on this link for photos from Dave's late May outing: Weekend Weather Extremes-May 21-22, 2016

Related Links:
www.wyomingmountainphotography.com Dave Bell Photo Gallery

---
Town of Pinedale Special Town Council Budget Meeting June 2 (posted 5/25/16)
The Town of Pinedale will hold a Special Town Council Budget Meeting on Thursday, June 2, 2016 at 9AM in the Lovatt Room at the Sublette County Library in Pinedale.
---
Local Services:
Abortion Alternatives
Accounting & CPA
Arts & Entertainment
Attorneys & Legal
Automotive
Banks & Financial
Bars
Beauty Salons
Bed & Breakfasts
Boating
Bookkeeping
Builders & Contractors
Building Material
Business Services
Cabins
Cellular
Child Care
Churches
Cleaning Services
Clothing
Commercial Art
Computer Supplies
Condos
Consultants
Convenience Stores/Fuel
Convention/Meeting
Dentists
Dining
Dry Cleaning
Events
Fabric & Crafts
Fencing
Fishing
Flooring
Food & Drink
Funeral Homes
Furniture
Gifts/Western
Government
Graphic Design
Grocery & Market
Guest Ranches & Lodges
Handyman Services
Hardware & Feed
Heating
Health Care & Medical
Horseback Adventures
Insurance
Interior Design
Internet/Web/Advertising
Landscaping
Laundry
Liquor Stores
Lodging
Log Homes
Massage Therapy
Modular Homes
Motels
Mountain Biking
Movie Theaters
Museums
Nails
Newspapers
Office Supplies
Oil Field Services
Optometrists
Organizations
Outdoor Equipment
Outfitters & Guides
Packaging & Shipping
Painters
Pet Stores
Pharmacies
Photography
Plumbing
Professional Services
Radio
Real Estate Agencies
Real Estate-FSBO
Remodeling
Retirement
Retreats
RV Camping
Schools
Scrapbooking
Septic Services
Skiing
Snowmobiling
Snow Plowing
Storage and Storage Units
Tanning
Tattoos & Body Art
Tax Preparation Services
Taxidermy
Transportation/Shuttle
Trash Services
Trucking
Veterinarians
Visitor Services