BINGO in LaBarge Oct. 16 (posted 10/9/15)
LaBarge Activities' Committee will be having BINGO Friday, October 16th at 6 p.m. at the LaBarge Elementary School. The LaBarge PTO will be selling concessions at this time also.
---
A Service of Comfort and Healing Oct. 12 (posted 10/8/15)
St. Andrew's in the Pines Episcopal Church in Pinedale will hold A Service of Comfort and Healing on Monday, October 12th at 7:00PM. The service is for anyone struggling and needing healing help, hope and prayers. Anointing of the sick will be offered.

Related Links:
www.standrewsinthepines.org St. Andrew's in the Pines Episcopal Church

---
Smoke alarm safety message (posted 10/8/15)
SCUF can provide installation assistance
Sublette County Unified Fire (SCUF)
PINEDALE, WYOMING - When it comes to smoke alarms, it's about "location, location, location". Smoke alarms should be installed in every bedroom of the home, outside each separate sleeping area, and on every level of the home, including the basement.

The importance of having working smoke alarms in your home cannot be overstated. Three out of five home fire deaths in the U.S. occur in homes without working smoke alarms. The risk of dying in a home fire is reduced by half in homes with properly working smoke alarms (source NFPA).

If fire broke out tonight while you were sleeping, would you and your family get out alive? How much time do you have to get out of a fire? Not as much as you think. Real fires are hot, smoky and dark. You may have only a very few minutes to safely escape from fire. If you're ever in a fire, don't spend time getting dressed or trying to gather valuables. Know ahead of time what to do if there's a fire. Develop an escape plan with two ways out of every room. You'll need a second way out in case your primary exit is blocked by smoke or flames. And make sure every exit is accessible, including windows. Getting out is your first priority in a fire. Then call 911 from a neighbor's telephone. Remember, if there's a fire, GET OUT and STAY OUT!

Smoke alarms are the first line of defense against deadly fire. But they can't protect us if they don't work. Smoke alarm failures usually result from missing, disconnected, or dead batteries. And smoke alarms won't last forever. Test your alarms at least once a month and replace the batteries every year. If your alarm is more than 10 years old, install a new one. Sublette County Unified Fire recommends installing photo-electric type smoke alarms at our elevation. There are many types of these alarms available for purchase in a wide variety of options. The photo-electric/carbon monoxide combination units can provide the additional benefit of testing for the presence of carbon monoxide as well.

Finally, if you need assistance with installation of your smoke alarm, Sublette County Unified Fire is delighted to be able to offer a free Smoke Alarm Installation program for approximately 50 homes per year in our county. We are targeting the following groups: elderly, low-income families, families with small children, people with disabilities, and others that may be at high risk. We also provide installation assistance for anyone who may have questions or need additional help. This program has been sponsored free of charge by the Sublette County Commissioners and Sublette County Unified Fire in conjunction with grant support from Federal and State Agencies. If anyone would like to take advantage of this program, please contact the Sublette County Fire Prevention Officer, Jim Albritton-McDonald at 307-367-4550.

Related Links:
Sublette County Firefighters

---
Wyoming Business Council informational presentation in Pinedale Oct. 12 (posted 10/8/15)
Wyoming Business Council will give an informational presentation to the Pinedale Town Council on Monday, October 12th, at 6:00 PM at the Pinedale Town Hall. The public is invited to come and learn more about the Wyoming Business Council. Elaina Zempel, with the Wyoming Business Council, will be presenting about community development grant and loan opportunities as well as the application process. The Pinedale Town Council regular meeting will follow the presentation.

---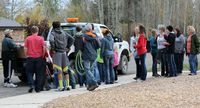 Photo courtesy Town of Pinedale.

Town of Pinedale thanks park cleanup volunteers (posted 10/8/15)
Town of Pinedale
The Town of Pinedale would like to thank the youth of the two LDS wards, located in Pinedale, for their community service. The youth of the two wards, with more than 35 participants, assembled together on September 30th at Boyd Skinner Park. Their goal was to clean up within the park and along the pathways. Ann Kaiser, the youth group spokesperson, stated that the theme for the year was Embark, and that their group wanted to embark upon service to the community. Ann stated, "I feel that we are really blessed to live in a community like Pinedale." The Town of Pinedale appreciates your group's participation in community pride!

Click here for more pictures

Related Links:
www.townofpinedale.us Town of Pinedale
---
Wind River Yoga offers classes (posted 10/7/15)
Wind River Yoga is offering yoga classes in October. The classes are at 220 South Cole Ave. in Pinedale. For more information call (307)-367-3156.

October 10th, Saturday- Yoga with Essential Oils. This is a flow class with the use of essential oils throughout. Learn about holistic health regimens. Cost is $14.00.

October 20th, Tuesday; 7-8:15PM, Candle Light Yin. This is a slow-paced class intended to stretch the myofascia and muscle tissue. This class is great for anyone who needs to relax. Cost is $14.00.

October 31st, Halloween Yoga! Come to yoga in your costumes, everyone is invited to this fun class. Kids free!

Related Links:
www.windriveryoga.com
www.facebook.com/windriveryoga
---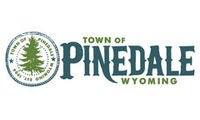 Town of Pinedale, Wyoming

Town of Pinedale update Oct. 7, 2015 (posted 19/7/15)
Parris Crooks, Town of Pinedale Animal Control and Code Enforcement
Fall is upon us and what a wonderful time of year it is! We have seen moose in town, trees shedding their leaves, and hunters dressed, ready to go into the wilderness. This is also the time of year when 2016 dog licenses become available. They will be available for purchase Monday, November 2, 2015 at Town Hall, located at 210 W. Pine Street. All methods of payment are accepted. All dogs residing within town limits must be licensed. Dogs must be up-to-date on their rabies vaccinations and proof of this must be brought in when you come to pick up your dog's license. The fees for licensing your dog, spayed or neutered is $7.50 and $15.00 if they are not.

The Town of Pinedale Animal Control Facility staff would like to thank Happy Endings Animal Rescue, also known as H.E.A.R. Their efforts have enabled Animal Control to have a very low kill rate. Town ordinances mandate that animals must either be adopted or euthanized five days after they are taken in. Staff members have been transferring animals to H.E.A.R. and they take them without hesitation. This is a great relief to Animal Control staff because good, healthy animals are given the opportunity to find a new or their first home. The board members, animal fosters, and volunteers have all helped immensely in their efforts to offer the animals a higher quality of life. The town and H.E.A.R. work together to house the animals and find them homes or foster homes. We are extremely grateful for the work they have done. The adoption fees they charge allow the animals to receive the medical care required and to help new animals coming into the rescue. We also appreciate the donations made by the community to H.E.A.R. and Animal Control; whether it is a monetary donation, donation of time, or a donation of animal products. It all goes to serve the animals. With that being said, there are animals available for adoption or to be fostered. Currently, there are nearly 30 kittens, sub-adult cats, and adult cats available. There are also dogs available for adoption, some of which are viewable at Animal Control. If you aren't able to adopt, please consider becoming a foster home. Many dogs have a difficult time being at the Animal Control Facility for long periods of time. Fostering allows the dogs to have a normal home life until they are adopted.

If you would like to adopt, foster, or have any other questions regarding animals in the Town of Pinedale, please call us! The number to the Animal Control Facility is 307-367-3892. We may not answer, but you can leave us a message and we will call you back at your request, or you can contact us via the information on our message. You can also visit www.townofpinedale.us for more information. Enjoy this fall season! Winter isn't here yet!

---
A Woman's Work Annual Lip Sync Fundraiser Oct. 9 (posted 10/7/15)
A Woman's Work, a non-profit organization that provides help to women, children and families in need in Big Piney, Marbleton & LaBarge, is hosting their annual Lip Sync Fundraiser on Friday, October 9th. Cocktail hour starts at 6PM at the Sublette County Fairgrounds. VIP Table bidding starts at 7PM. The Show starts at 7:30PM. Winner picked by audience votes. Whatever act has the most money in their voting buckets takes home the trophy. Free admission. Adults only please. Donations welcome at the door. Appetizers provided. Cash Bar. Call 307-231-0261 for more details. AWW helps women, children and families in need in SCSD#9 areas of Big Piney, Marbleton & LaBarge.
---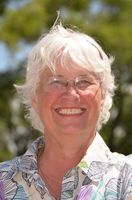 Judi Myers

Obituary - Judith Aileen Mirgain Myers (posted 10/7/15)
Judith Aileen Mirgain Myers was born Aug. 12, 1945, in New Brunswick, N.J., and grew up in Fargo, N.D.

Her parents were Frank and Velma (Chase) Mirgain. Judi graduated from Fargo Central High School, attended Cottey College in Nevada, Mo., and earned her bachelor's and master's degrees in elementary education from Moorhead State College in Moorhead, Minn.

She married Rollin "Rollie" Myers on Jan. 2, 1964, in Sisseton, S.D. The couple lived in Milwaukee, Wis., for one year, Glyndon, Minn., for 10 years and Pinedale, Wyo., for 40 years. They wintered near Prescott, Ariz., for 15 years and Mesquite, Nev., for four years.

Judi is past member of PEO and Sublette County Artist Guild. She attended Pinedale Community Church in Pinedale and Valley Presbyterian in Mesquite. She devoted many years to her children, husband and home as a stay-at-home mom, where she also took up many hobbies. She made and sold clay dough figurines, did creative bead work and crocheted potholders. She was director of Pinedale Area Chamber of Commerce for four years and taught first grade in Arizona for 15 years, where she impacted the lives of many young children with her enthusiasm for life and learning.

She indexed the 1904-1999 Pinedale Roundup newspapers, wrote numerous interviews and historical articles, including the histories of Big Sandy, DC Bar, Z Bar U & Pines End Ranches. She wrote the original Walking Tour of Pinedale. She collaborated with Lynn Thompson to publish "Writings in the Sheep Shed." Some of her lesser known, yet deeply cherished, writings include hundreds of weekly letters she wrote to each of her nine grandchildren over the past two decades. While in Arizona, she and Rollie were Site Stewards for archeological sites. Always exploring beyond the "beaten path," she compiled a dozen books of maps of their hikes and adventures in Arizona, Wyoming, Nevada and other states. After retirement, she took up sketchbook journaling and line dancing. She also became an avid blogger, which she faithfully updated every morning for her friends and family.

Judi, known as "Jammi" to her grandchildren and nicknamed "Maggie" by her husband, was an adventurous, playful woman with energy and the heart of a child. She carried the joy of the Lord with her each day into whatever activity she was doing. She will be remembered as a fun-loving, kind, generous, adventurous, Christian woman.

Judi is survived by her husband of 51 years Rollie, their children Rance (Marcy) of California, Darin (Ginni) of Casper, Wyo., Shara (Tom) Martin of Ohio, and Chase (Jessica) of Texas; nine grandchildren Brittani, Skylin, Kathleen, Bridger, Mikayla, Haley, Cadence, Katy, Elliana and one on the way.

Judi died in Pinedale on Sept. 29, 2015, of pancreatic cancer.

---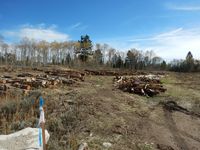 Firewood available along Skyline Drive near Pinedale (with USFS firewood permit).

Firewood available near Pinedale (posted 10/7/15)
Skyline Drive/Fremont Lake Road Construction Update and Decked Firewood Available for Public
Bridger-Teton National Forest
Hooker Creek Construction, Inc. is preparing to end construction activity for the winter on the Skyline Drive Reconstruction Project (Forest Road #37-740), located on the Bridger-Teton National Forest, three miles north of Pinedale, Wyoming.

This 7-mile long construction project was initiated in July of 2015 and is scheduled to be completed in the fall of 2016. The contractor has completed work scheduled for 2015, and is now implementing erosion control measures necessary for winter shutdown, including hydro mulching and seeding on disturbed slopes. The contractor plans to resume construction activities in early May of 2016.

As a result of construction activities, approximately 30 cords of timber cleared by the contractor from the road right-of-way are currently piled alongside Skyline Drive on the east side of road, approximately 9 miles north of Pinedale. Beginning Thursday, October 8, 2015, this wood will be made available for removal by the public with a 2015 Bridger-Teton National Forest Firewood Permit. The piled wood consists primarily of quaking aspen, intermixed with Douglas fir and lodgepole pine. Some of this wood is still green, which is not recommended for burning this winter. All firewood must be cut into a maximum of 8 foot lengths and properly tagged before leaving the decked site, per firewood permit requirements. Mechanized equipment is not authorized for loading firewood at this site.

The Skyline Drive Reconstruction Project will improve the safety, usability, and longevity of the first 7 miles of Skyline Drive (FS Road 370-740). This is a cooperative project involving the Central Federal Lands Highway Division, Sublette County Roads & Bridges, Bridger-Teton National Forest, and Bureau of Land Management.

Please contact the Pinedale Ranger District at (307) 367-4326 if you have any questions regarding this road reconstruction project or to obtain a firewood cutting permit.

---
PTSD Support & Educational Group begins in October (posted 10/5/15)
Help for Veterans with post-traumatic stress syndrome
Veterans are invited to attend an educational and support group to learn how to cope with symptoms of post-traumatic stress syndrome (PTSD) and meet fellow Veterans. The group is facilitated by Mary SimBarcelos, MS, LPC, who works as a mental health therapist at High Country Behavioral Health. Mary has been working with trauma survivors for over 25 years. Ken Murphy, MC, LPC, will be co-facilitating the group and also works as a therapist at High Country Behavioral Health. The workshops will be on Thursdays in October from 4:00PM—5:00PM in the Sublette County Public Health department in Pinedale. For more information, call: 307-367-2111.
---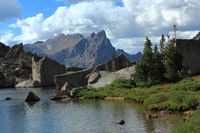 Miller Lake in the Wind River Mountains. Photo by Fred Pflughoft.

Miller Lake hike (posted 10/5/15)
Photos by Fred Pflughoft
Fred Pflughoft posted photos from his hike in August to Miller Lake in the Wind River Mountains. Pictured here is War Bonnet Peak from Miller Lake. Click on this link to see Fred's photo gallery.
---
Annual Holiday and Craft Fair Nov. 6 & 7th (posted 10/5/15)
Rendezvous Pointe in Pinedale will host their Annual Holiday and Craft Fair November 6 & 7th. There will be over 30 vendors attending. There will also be a raffle and silent auction. There will be walking tacos, corn chowder and more at the Rendezvous Café. The Craft Fair will be on Friday, November 6th from 5-8PM and Saturday, November 7th from 10AM-3PM. For more information please call Beth at 307-367-2881.

---
Pinedale Fire Station Open House Oct. 10 (posted 10/1/15)
Sublette County Unified Fire will host an Open House at the Pinedale Fire Station on Saturday, October 10th from 11AM to 2PM. There will be fire truck rides for the kids and they will serve hamburgers and hotdogs.

---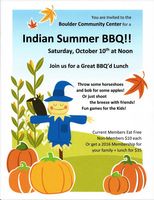 BBQ Oct. 10th at the Boulder Community Center

Boulder Community Center Indian Summer BBQ Oct. 10th (posted 9/29/15)
The Boulder Community Center (BCC) will host an Indian Summer BBQ on Saturday, October 10th. A BBQ lunch will be served at noon. Entertainment will be horseshoes, corn-hole, 3-legged race and bobbing for apples for the kids. Current members of the BCC get lunch for free as a thank you for their continued support. If you're not currently a BCC member, lunch with a 2016 membership is $35 for a family or $10 a meal. The Boulder Community Center is easy to find! Turn onto Hwy 353 at the Boulder Store, take the 2nd right (Jackson St) and look for the big white building with the blue roof.

---
Local Services:
Abortion Alternatives
Accounting & CPA
Arts & Entertainment
Attorneys & Legal
Automotive
Banks & Financial
Bars
Beauty Salons
Bed & Breakfasts
Boating
Bookkeeping
Builders & Contractors
Building Material
Business Services
Cabins
Cellular
Child Care
Churches
Cleaning Services
Clothing
Commercial Art
Computer Supplies
Consultants
Convenience Stores/Fuel
Convention/Meeting
Dentists
Dining
Dry Cleaning
Events
Fabric & Crafts
Fencing
Fishing
Flooring
Food & Drink
Funeral Homes
Furniture
Gifts/Western
Government
Graphic Design
Grocery & Market
Guest Ranches & Lodges
Handyman Services
Hardware & Feed
Heating
Health Care & Medical
Horseback Adventures
Insurance
Interior Design
Internet/Web/Advertising
Landscaping
Laundry
Liquor Stores
Lodging
Log Homes
Massage Therapy
Modular Homes
Motels
Mountain Biking
Movie Theaters
Museums
Nails
Newspapers
Office Supplies
Oil Field Services
Optometrists
Organizations
Outdoor Equipment
Outfitters & Guides
Packaging & Shipping
Painters
Pet Stores
Pharmacies
Photography
Plumbing
Professional Services
Radio
Real Estate Agencies
Real Estate-FSBO
Remodeling
Retirement
Retreats
RV Camping
Schools
Scrapbooking
Septic Services
Skiing
Snowmobiling
Snow Plowing
Storage and Storage Units
Tanning
Tattoos & Body Art
Tax Preparation Services
Taxidermy
Transportation/Shuttle
Trash Services
Trucking
Veterinarians
Visitor Services