Sublette Commissioners meeting agenda for May 22 (posted 5/20/19)
Wednesday meeting in Pinedale
Carrie Long, Sublette County Clerk
BOARD OF COUNTY COMMISSIONERS
SUBLETTE COUNTY, WYOMING
AGENDA
COMMISSIONERS MEETING ROOM
SUBLETTE COUNTY COURTHOUSE
PINEDALE, WYOMING
WEDNESDAY, May 22, 2019

9:00 A.M. Call to Order
• Pledge of Allegiance – Chairman David Burnett will call the meeting to order, and lead the Pledge of Allegiance.
• Request approval of the prior meeting minutes.
• Request approval of the agenda.

9:05 A.M. Mike Henn, Caleb Hiner - Provide an update to the Board on the resolution of appeal on the EA to authorize Temporary Non-Renewable A.U.M.S. to grazing permittees.

9:15 A.M. Billy Pape, Road and Bridge Supervisor, Report on department activities.
Rio Verde – Road & Bridge Projects

9:30 A.M. Jeremy Silcox, Director, Van Vleck House – Budget request proposal

9:45 A.M. Janet Montgomery, Clerk of District Court – Annual Cooperative Agreement

10:00 A.M. Broadband discussion

10:30 A.M. Monthly Reports / Old Business
• Accounts Payable audited with motion to approve for payment.
• Sign Resolution No. 19-100359B (approved 5/7/19)
• Engagement Letter – Leo Riley & Co.
• Jeness Saxton, Assessor (State Assessed Notice of Valuation Changes)

11:00 A.M. Shad Cooper, Fire Warden – Award bid for type VI Apparatus

12:00 P.M. Lunch – Old Stones Pizzeria

1:00 P.M Dennis Fornstrom, Planning and Zoning Administrator – Conditional Use Permit

1:30 P.M. Sublette County Rural Health Care / Sublette Center – Information / announcement regarding merger

2:00 P.M. Tracey Hoover, Deputy County Clerk,
• Renewal of Liquor Licenses

Click on this link for a printable version of this agenda

Related Links:
www.sublettewyo.com Sublette County website

---
Wyoming Legislature update (posted 5/19/19)
Albert Sommers, House District #20 Representative
5-17-2019
Hello Sublette County, this is Albert Sommers reporting from the Legislative Interim. After a couple months off the Legislature is back to work doing interim studies through its various committees. Management Council is comprised of the Leadership of both parties, and is responsible for operating the legislature and establishing study priorities for the interim. Management Council considered recommendations from legislative committees for interim work, and then made decisions on each committee's study topics and priorities. As legislators we often submit interim topics to committees for consideration, in an attempt to have constituent issues studied and hopefully addressed.

Occasionally, Management Council will not agree with a committee's priorities, and will assign it a topic that Leadership feels is important. One of those rare occasions when Management Council overrode a committee's priorities occurred this year when they assigned the Joint Revenue Committee the teen vaping epidemic issue that has hit Wyoming's school age children. The vaping epidemic was an issue brought to me by several sources in Sublette County, most notably the county prevention specialist. I worked on this issue during session, but the bill I helped create was presented late in the session, and was unsuccessful. As a member of Management Council, I got the opportunity to make the case that a the vape epidemic was an important issue. On May 2 in Riverton, the Revenue Committee held its first hearing on vapes, and Wyoming's State Health Officer Dr. Alexia Harrist gave an excellent presentation on how quickly teen use of vapes has increased, and about negative effects on the developing brain from nicotine use. Several folks from Sublette County attended this meeting to support efforts to curb teen vape use, including the School Resource Officers from Sublette School Districts #1 and #9. An administrator and teacher from Sublette #1 also testified, as well as the county health officer and prevention specialist. I also testified on the need to curb internet sales of vapes to underage youth. A big thank you to all of those from Sublette County who made the trek to Riverton to testify. Citizen testimony is very powerful! The Committee asked for several bills to be drafted for debate. These included a bill to increase the fine for underage use of nicotine, a bill to increase the fine for selling nicotine to an underage teen, a bill to increase the legal age for purchase of nicotine, a bill to ban online sales of nicotine products, and a bill to tax vapes. Vapes are often touted as a safer alternative to cigarettes, which could be the case, when related to second-hand smoke. Vape products are new, so long-term studies have not been completed on them. We do know that nicotine is not caffeine, and that nicotine has a proven negative affect on brain development in youth up to the mid-twenties, and is highly addictive. We spent decades decreasing social acceptance and use of tobacco products among youth, and we are now on the verge of addicting another generation to nicotine through the use of vapes.

On May 15th, I attended the Joint Transportation Committee meeting in Gillette to support an issue I helped place on the Committee's agenda, which was development/improvement of wildlife crossings on Wyoming highways. In 2016, I attended the Wyoming Wildlife and Roadway Summit in Pinedale that was sponsored by the Wyoming Game and Fish Department, Wyoming Department of Transportation, University of Wyoming and several NGOs whose mission centers around wildlife. The Summit discussed wildlife migration and the impacts of vehicle collisions on both wildlife and humans. During this summit we broke into groups and helped prioritize stretches of highway that had the most wildlife collisions or impact to wildlife. Through this summit, and further efforts by the Wyoming Wildlife Roadway Initiative Implementation Team, a prioritized list was created, with the intent to put projects on the ground to minimize wildlife/vehicle collisions. The prioritization used a combination of the number of wildlife/vehicle collisions and the importance of the migration route that was impacted.

Sublette County's Trapper's Point project, with high fencing, multiple underpasses, and two impressive overpasses, is likely the best example in Wyoming of a successful project. Projects like Trapper's Point can reduce collisions by as much as ninety percent, which is a huge benefit to humans and animals. It was mentioned in Gillette that the Trapper's Point project could pay for itself in 17 years through reduced collisions. However, these projects are incredibly expensive up front, with the top ten projects estimated to cost a total of nearly $200 million. There lies the challenge. Representative Stan Blake of Green River brought a bill two years ago to create a wildlife license plate, with the proceeds going to these projects. So far, the license plate has generated over $100,000 in five months of sales.

Last year, prior to the legislative session, Sublette County Commissioner Mack Rawhouser expressed his concern to me about deer deaths on the Big Piney to LaBarge stretch of US Highway 189. During the session, I helped sponsor House Bill 228 to partially fund wildlife crossings projects, and I put the same bill language in the State Capital Construction bill. Both efforts passed the House, but died in the Senate. House Bill 228 was designed to utilize a little state money to leverage dollars from the Wyoming Game and Fish department, Wyoming Department of Transportation, and NGOs.

While the bill failed, the idea picked up steam. In the past few months the Wyoming Game and Fish Commission committed over $1 million to help support collision projects, thanks in large part to Sublette County's rep on the Commission, Mike Schmid. WYDOT has stepped up and is applying for a federal Build Grant in hopes of building out the Highway 189 project. NGOs are also fundraising for this effort. On May 18th, I attended a Muley Fanatic fundraiser at the Sublette County fairgrounds, and the momentum continued as both the WGFD and WYDOT spoke about finding a way to fund the project on Highway 189 from Big Piney to LaBarge.

At the May 15nd meeting, I testified to the Legislature's Joint Transportation Committee on the need for more funding for wildlife crossings. However, the committee was reluctant to support a bill that committed General Fund dollars to wildlife crossing projects, as the motion died by one vote. However, the committee is looking at a couple of bills that would give citizens more options to donate to these worthy projects. I was pleased with the Committee's work, and will continue seeking dollars for this effort. It seems that insurance companies would benefit from fewer collisions, and it would be nice to see them help with this effort. I can be reached at albert@albertsommers.com

---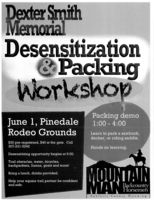 Dexter Smith Memorial Desensitization and Packing Workshop June 1st

Dexter Smith Memorial Desensitization and Packing Workshop June 1st (posted 5/19/19)
The Sublette County Chapter of Mountain Man Backcountry Horsemen is sponsoring the Dexter Smith Memorial Desensitization and Packing Workshop on Saturday, June 1st at the Pinedale Rodeo Grounds. This is a hands-on learning workshop. Learn how to pack a sawbuck, decker, or riding saddle. Work on desensitizing your pack animal to trail obstacles, water, bicycles, backpackers, llamas, goats and more. Cost is $30 preregistered, $40 at the gate. Desensitizing opportunity begins at 9AM. Packing demo is from 1-4PM. Bring a lunch, drinks provided. For more information call 307-231-5242.

---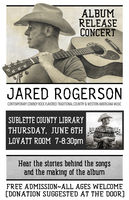 Album Release Concert for Jared Rogerson June 6th in Pinedale

Album Release Concert for Jared Rogerson's new album June 6th (posted 5/19/19)
Jared Rogerson will be holding a FREE album release concert on Thursday, June 6th from 7:00 to 8:30pm in the Lovatt Room of the Sublette County Library in Pinedale. "Branch of the Tree" is Jared's fifth album and his first self-produced studio recording. The new album will be on sale at the concert, but will not be available elsewhere until the official release date on July 2nd. Light refreshments will be available. Donation suggested at the door.

---
Funeral Service for Melba Jaskolski May 25 (posted 5/18/19)
Covill Funeral Home
Melba Jean Jaskolski, (pron: Jus-call-ski) 88, of Pinedale passed away peacefully at her home May 8, 2019. A funeral service will be held Saturday, May 25th at 11:00 AM at Our Lady of Peace Catholic Church in Pinedale. Family and friends will gather for a reception following the service at Rendezvous Pointe.

---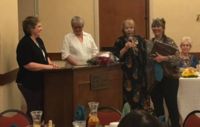 Mixed Media Artists bring home awards

Sublette County Artists bring home awards (posted 5/15/19)
Five Sublette County artists returned from Cheyenne in early May after having attended a three-day long convention and art show for the Wyoming Artists' Association. The convention was held at the new Botanical Gardens, with the theme being, of course, "Botanical". Artists from throughout Wyoming gather and enjoy 3 days of camaraderie, dining & receptions, workshops, quick draws & fundraising, and a judged art show. The group had a very successful showing and proudly represented our county. They are returning with a pile of awards.

Ann Anspach entered the most categories of the five artists, returning with the most ribbons. She received awards in the following categories: Honorable Mention (HM) in oil, 1st in Watercolor, 1st in Other (mixed media), 2nd in Acrylic, HM in Pastel, 3rd in Graphic, 3rd in Sculpture, & 1st in Pottery.

Laurie LaMere's awards are as follows: 2nd in Oil, 2nd in Pastel, 2nd in Miniature, 3rd in Abstract, & HM in Theme. She was also honored by being named the 2019 WAA Grand Wyoming Artist. Her name will be engraved on a traveling trophy, which she will have possession of until the 2020 convention.

Mckenzi Davison received: 3rd in Theme, HM in Other, & HM in Graphic.

Ruth Rawhouser was awarded: 2nd in the Governor's category, 1st in Acrylic, & 3rd in Oil.

Sharon Schell came home with ribbons for the following categories: 2nd in Theme, 2nd in Other, 2nd in Pottery, 1st in Sculpture.

It was a lot of miles to travel for the convention, but the venue was lovely and the group was rewarded for their efforts. It's always fun reuniting with old friends and experiencing other Wyoming communities. Next year's convention will be held the first weekend in May in Schell, Wyoming, for anyone who might be interested in joining the organization. Info for the next convention will be updated on the Wyoming Artists' Assn Facebook page. The president for 2020 will be Pat Weiner of Greybull, Wyoming, and she can be contacted at pmspatty@gmail.com.

---
Local Services:
Abortion Alternatives
Accounting & CPA
Apartments/Townhomes
Arts & Entertainment
Attorneys & Legal
Auction Services
Automotive
Aviation Services
Banks & Financial
Bars
Beauty Salons
Bed & Breakfasts
Boating
Bookkeeping
Builders & Contractors
Building Material
Business Services
Cabins
Cellular
Child Care
Churches
Cleaning Services
Clothing
Commercial Art
Computer Supplies
Condos
Consultants
Convenience Stores/Fuel
Convention/Meeting
Dentists
Dining
Dry Cleaning
Events
Fabric & Crafts
Fencing
Fishing
Flooring
Food & Drink
Funeral Homes
Furniture
Gifts/Western
Government
Graphic Design
Grocery & Market
Guest Ranches & Lodges
Handyman Services
Hardware & Feed
Heating
Health Care & Medical
Horseback Adventures
Insurance
Interior Design
Internet/Web/Advertising
Landscaping
Laundry
Liquor Stores
Lodging
Log Homes
Marketing
Massage Therapy
Modular Homes
Motels
Mountain Biking
Movie Theaters
Museums
Nails
Newspapers
Office Supplies
Oil Field Services
Optometrists
Organizations
Outdoor Equipment
Outfitters & Guides
Packaging & Shipping
Painters
Pet Stores
Pharmacies
Photography
Plumbing
Professional Services
Radio
Real Estate Agencies
Real Estate-FSBO
Remodeling
Retirement
Retreats
RV Camping
Schools
Scrapbooking
Septic Services
Skiing
Snowmobiling
Snow Plowing
Storage and Storage Units
Tanning
Tattoos & Body Art
Tax Preparation Services
Taxidermy
Transportation/Shuttle
Trash Services
Trucking
Veterinarians
Visitor Services