Rebuttal: Microbreweries (posted 5/19/15)
Sean Watts, Owner, Wind River Brewing Co.
Editor's Note: On May 15th, we posted a Town of Pinedale Update by Mayor Bob Jones on the topic of microbreweries in Pinedale. The discussion is happening because a local microbrewery wishes to expand its operations in town. In order to have both sides of this debate be fairly presented, we are posting a response sent in by the owner of the microbrewery making the request.
_________________________________________________

I would like to clear up a few items that Mayor Bob Jones has been saying about Wind River Brewing Company and the pending expansion of our brewery operation.

1. He claims we want to expand our brewery into a "FACTORY". This is totally incorrect. We simply want to expand our brewing operations into a larger facility in order to accommodate the demand for our product.

2. He claims we requested the town allow microbreweries as a permitted use in C-1 and that this means we DO NOT NEED PERMISSION. We have requested microbreweries be added to C-1 as a permitted use. However, we still have to ask permission in the way of a building permit. This permit process is very well defined in the town ordinances. So, what this means is the town has already set requirements for parking, set-backs, building height, etc. If we don't meet those requirements, the town will not issue a building permit.

3. He rightfully points out that an ordinance drafted by the Town Attorney to include microbreweries as a permitted use in C-1 was presented to Planning and Zoning. Planning and Zoning voted unanimously to make a recommendation to the town council to include microbreweries as a permitted use in C-1. What the mayor fails to disclose is that he refused to have that P&Z recommendation included on the agenda of the town council meeting. So, the council never heard the recommendation or had the opportunity to vote on it.

4. He claims that he cannot support this project in C-1 unless it is permitted under a special use permit otherwise known as conditional use. This basically means that the mayor and town council have 100% total control over which property we purchase and what we can put on that property. Under this scenario, there are no clear cut rules. The mayor can make up the rules as we go and potentially bankrupt a growing business by imposing whatever restrictions he sees fit. This is an unacceptable way to promote growth in our town. The rules are already in place why are we suddenly trying to change them?

5. He says we want to build a "FACTORY"(please see above) that will be able to produce 50,000 BBLS a year, employ 30 employees and have a 90 seat tasting room. He also references this volume of 1,550,000 gallons of beer or 200 tanker trucks. In my mind, creating 30 plus sustainable jobs in Pinedale is a great thing. The tasting room is primarily for people who want to take tours of our brewery(creating tourism, also a good thing). The negative connotation of 200 tanker trucks has no relevance in this equation. I don't know of a single brewery in the entire world who uses tanker trucks to transport their product. This is simply thrown out there as a negative idea to promote his Light Industrial argument.

6. He claims allowing microbreweries in C-1 means that if you have a house next to or in C-1, we would have the right to put a "FACTORY"(please see above) right next to your house and you would have no recourse. As I understand the process, Planning and Zoning meetings have to publish their agenda the same as any other government entity. So, if this is an issue for anyone, they have the right to come to the P&Z meeting and voice any concerns they may have.

7. He feels conditional use is very fair and appropriate. Conditional use opens us up to any and every rule that he decides to hold us to, not to mention the amount of money this could potentially cost us.

8. In the mind of the mayor this is a "factory" and should be located in industrial zoned land that is located for this type of project. Currently in the town of Pinedale, there are eight light industrial zoned properties. Every single light industrial property in the town borders residential property so, his primary argument for keeping us out of C-1 doesn't really hold water.

9. He claims we have accused him of not wanting business in town because he won't roll over and give us what we want. This is absolutely false. I have never made that accusation, however I am beginning to warm up to that way of thinking.

10. He says he will not be bullied into doing something he knows is wrong. We have never bullied anyone in this process, we are only trying to do what we think is right and let the democratic process play out as it may. The only bullying going on in this situation is from the side of the mayor.

I encourage all citizens and business owners to start attending all Pinedale Town Council meetings so you can see for yourselves how our town is being run and participate in the democracy we all love.

Related Links:
Town of Pinedale update: Microbreweries May 15, 2015

---
Wyoming Free Fishing Day is June 6 (posted 5/19/15)
Wyoming Game & Fish
Both residents and nonresidents alike can fish for free with no license required all day in Wyoming on June 6. The free fishing day was authorized in 2003 by the Wyoming State Legislature.

Free Fishing Day applies to all waters in Wyoming with the exception that fishing licenses are required in Yellowstone National Park and the Wind River Indian Reservation. All fishing regulations such as creel and size limits, gear restrictions, fishing hours and stream closures still apply.

Free Fishing Day is held in conjunction with National Fishing and Boating Week and is designed to provide an opportunity for people to get reacquainted with fishing and enjoy Wyoming's outstanding fishing opportunities.

Free Fishing Day Activities:
June 6
Afton—Kids' Fishing Day, Golf Course Pond, 8 a.m. Casper—Kids' Fishing Derby, Yesness Pond, 9 a.m.
Cody—Optimists' Kids' Fishing Derby, Beck Lake, 8:30 a.m.
Cheyenne—Family Fishing Day, Granite Reservoir, Curt Gowdy State Park, 10 a.m.
Jackson—Kids' Fishing Day, Jackson National Fish Hatchery, 10:30 a.m. Lander—Kids' Fishing Day, Luckey Pond, 9a.m.
Powell— Annual Kids' Fishing Day, Homesteader Park Pond, 6 a.m.
Pinedale—Kids' Fishing, Day CCC Ponds, 10 a.m.
Riverton—Kids' Fishing Day, Big Bend Ponds, 8 a.m.
Saratoga—Kids' Fishing Day, Saratoga Resort Pond, 7:30 a.m.

Other Kids' Fishing Days throughout the summer:

June 13
Dubois—Kids' Fishing Day, Scout's Pond, 9 a.m.
Kemmerer—Youth Fishing Derby, Kemmerer City Pond, 8 a.m.

June 20
Rock Springs—Take a Kid Fishing Day, Wataha Park Pond, 9 a.m.

June 27
Evanston—Kids/Family Fishing Day' UP Ice Ponds, 8 a.m.
For more information about Free Fishing Day and upcoming events, contact the nearest Game and Fish regional office.
---
'New Invaders – Emerging Threats' talk June 11th (posted 5/18/15)
Sublette County Weed & Pest is offering a special program about weeds on Thursday, June 11th. Presenter Brian Mealor, UW Weed Specialist will discuss baby's breath and dames rocket. Everyone welcome, 6PM, Sublette County Weed & Pest Office, 12 South Bench Road south of Pinedale. Dinner will be provided.

---
WYDEQ to host 2015 Post Winter Ozone Season Update and Open House in Pinedale May 19 (posted 5/18/15)
The Wyoming Department of Environmental Quality (DEQ) will meet with the public on Tuesday, May 19, 2015 for a 2015 Post Winter Ozone Season Update.

The meeting will be an open house format with multiple stations to provide maximum opportunity to answer questions and exchange information. The topics to be represented include the 2015 Winter Ozone Season activities, the DEQ UGRB Ozone Strategy, emissions reductions and permitting, and the AQD produced water studies. In addition, DEQ invited industry representatives and CURED representatives to participate at stations to help answer individual questions.

This meeting is being facilitated by DEQ at the Sublette BOCES Building, located on North Tyler in Pinedale, WY. The open house is slated to start May 19, 2015 at 6:00 pm until 8:00 pm.

On April 28, 2015, the Wyoming Department of Environmental Quality (DEQ) released the updated Ozone Strategy for the Upper Green River Basin (UGRB). The Air Quality Division (AQD) considered how the strategy should evolve after March 2015 to describe the overall ozone strategy for the UGRB ozone nonattainment area that will continue through September 2015.

Elements completed under the October 21, 2014 Ozone Strategy largely focused on winter ozone season work such as daily forecasting and winter ozone updates, ozone contingency plans, and Upper Green Winter Ozone Study monitoring in addition to continuation of work on elements from the April 22, 2014 Ozone Strategy. The completion of elements from the Ozone Strategy are all important in continuing to build the foundation to help bring the UGRB back into ozone attainment.

"We have gone four winters (2012, 2013, 2014, 2015) without an ozone exceedance," said Todd Parfitt, DEQ Director.

Cara Keslar, Monitoring Section Supervisor, added that "AQD monitoring during Upper Green Winter Ozone Studies has aided in understanding the benefits of ozone precursor emission reductions on ozone formation."

The UGRB Ozone Strategy is available on DEQ's website at http://deq.wyoming.gov/aqd/winter-ozone/resources/technical-documents/
---
Artist Reception for 'Quartz, Mica, Feldspar' sculpture May 21st (posted 5/18/15)
By artist Isabel Rucker
Artist Reception for new public art, "Quartz, Mica, Feldspar" by Isabel Rucker on Thursday, May 21, 5-7PM at the intersection of Pine St. and Maybell Ave. in downtown Pinedale, Wyoming.

"Quartz, Mica, Feldspar" is part of the In|Site:Ex|Site program of Pinedale Fine Arts Council. In|Site:Ex|Site is a comprehensive public arts program placing temporary and permanent works of art throughout the community of Pinedale, Wyoming. The program is funded through a partnership between the Pinedale Fine Arts Council and the Town of Pinedale.

"Quartz, Mica, Feldspar" illustrates the main minerals of granite: quartz, mica, and feldspar. Rucker focused on granite's three component minerals, and arranged them in the manner of rock piles that make up the mammoth mountain peaks. To illustrate these thoughts she carved the faceted sculpture from polystyrene, reinforced it with layers of fiberglass and smooth and textured epoxy.

Finally, "Quartz, Mica, Feldspar" was painted with lustrous pearlescent and metallic auto body enamel. The grouping of mineral shapes reaches about eight feet in height and rests on a five by five foot concrete pad.

The work was installed this week on Pinedale's main street at the southwest corner of the intersection of Pine St. and Maybell Ave. The reception will take place in front of the newly installed piece.

Contacts:

Pinedale Fine Arts Council, 307-367-7322
Kari Dewitt, Executive Director: kari@pinedalefinearts.com
Tim Ruland, Marketing/Outreach Director: tim@pinedalefinearts.com,
www.pinedalefinearts.com

Isabel Rucker, Artist: (307) 231-0515, isabel@isabeljewelry.com,
www.isabelrucker.com

In|Site:Ex|Site website including all past works installed:
www.pinedalefinearts.com/public_art.html

---



Charmian McLellan's oil painting, "Frosty Morning", placed first in Oils.

Mixed Media Artists shine at State Art Convention (posted 5/18/15)
Mixed Media Artists
The 60th anniversary of the Wyoming Artists' Association was celebrated the first weekend of May in Gillette. Artists from across the state participated in four workshops, the art exhibit, Quick Draw and art auction, luncheon business meeting, and costume banquet and returned home enthusiastic and inspired for yet another year.

Local Mixed Media artists attending were Debbie Despain and Sharon Schell, Big Piney; Laurie and Devan LaMere, Jackson; Kay Meeks, Daniel; and Charmian McLellan, Boulder. The artists reaped several awards. Laurie LaMere received "President's Choice" for "Grand Opening" and third place in Oils for "Misty Morning". Sharon Schell placed first in Sculpture with "Melony". Kay Meeks's oil painting, "Meadow Trysting", is on its way to Wyoming's Congressional offices in Washington, D. C. She also received second place in Oils for "Fall's Recompense". Charmian McLellan's oil painting, "Grande Dame", was selected "People's Choice" and her oil painting, "Frosty Morning", placed first in Oils.

The 2016 WAA convention will be held in Dubois at the Headwaters Conference Center. Well-known artist, Tom Lucas, is president. Sharon Schell was elected vice president/secretary and will host the convention in 2017.

Artists interested in joining WAA are encouraged to contact Kay Meeks, 307-859-8828 or Charmian McLellan, 307-537-5488.

---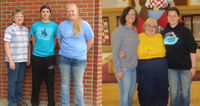 (L to R) Sherri Bohleen, Fallon Ramsay, Shayla Wright (Pinedale). Matazie Thoman, Jonita Sommers, Katie Haseltine (Big Piney)

Green River Valley Cattlewomen's scholarship recipients for 2015 (posted 5/17/15)
Green River Valley Cattlewomen
The Green River Valley Cattlewomen give a scholarship each year to a senior from Pinedale and Big Piney High Schools. This year Pinedale High School had 10 applicants with Shayla Wright receiving the scholarship and Fallon Ramsey as alternate. Shayla is the daughter of Justin and Sandy Wright. She will be attending Northwestern Wyoming Community College in Sheridan. Fallon is the daughter of Scott and Sherry Ramsey. She will be attending the University of Wyoming and majoring in veterinary medicine.
Big Piney High School had 4 applicants. Matazie Thoman will receive the scholarship for Big Piney High School and Katherine Heseltine is alternate. Matazie is the daughter of Clayton and Abrianne Thoman. She will be attending Northwestern Wyoming Community College in Sheridan. She will be majoring in agriculture business and science. Katie is the daughter of Liz Wardell and her stepfather is Eddie Wardell. Katie will be majoring in music performance and education.

---
Pinedale Band dinner fundraiser May 21st (posted 5/15/15)
The Pinedale High School band is hosting a Dinner Fundraiser to help 20 band students participating in the Wyoming All-State Marching Band attend the Rose Bowl Parade in Pasedena, California on New Year's. Each student needs to raise $1900 to go. The gourmet dinner will start at 6PM in the Pinedale Wrangler cafeteria. The dinner will be prepared by Chef Joshua Smith from Denver, Colorado. Live music will be performed by the Pinedale High School Jazz Band & Choir. Child care will be available. Tickets are $30/person or $50/couple in advance, $40 at the door. For reservations, please contact Tara Barnes, taraleighb30@gmail.com or Katie Smith, 307-221-6025.

---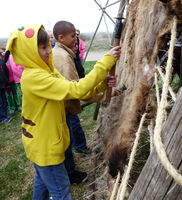 Pinedale Elementary school students get a chance to see what it takes to scrape the fur off an elk hide. "It's not as easy as it looks," one boy said.

Living History Days at the Museum of the Mountain Man (posted 5/15/15)
With the American Mountain Men
Scraping an elk hide Students from Pinedale Elemenaty School went to the Museum of the Mountain Man to experience living history demonstrations and talks by members of the American Mountain Man Association about fur trapping in the early 1800s. Nearly 1,000 school children came to learn from the American Mountain Men during the three-day event. Click here for more photos.

---
Town of Pinedale update: Microbreweries (posted 5/15/15)
Bob Jones, Mayor, Town of Pinedale
As many of you have heard, the brew pub is looking to expand their business in Pinedale. They are looking to build a much larger production facility and tasting area in another part of town. This is great news for our town and we look forward to working with the owners to accomplish their goal of expanding the business. Unfortunately, we have a zoning problem. The town code does not allow for the by right construction of a microbrewery. The owners of the Brew Pub have requested that the town amend the zoning ordinance to allow micro breweries to be built by right in commercial C-1 Zoned areas. That means they do not need to have permission. On the surface, this may seem reasonable. It should be pointed out that the owners presented their case to the zoning board and the board voted to allow a microbrewery by right in C-1.

Please keep in mind I want this project for our town. However, I cannot support this project in our limited commercial area without knowing precisely what is going to be built. I have recommended to the owners and the town council that if it seems reasonable to allow microbrewery's in C-1 it should be only permitted under a special use permit. This means they must ask for permission. This would allow the town to review the project and allow it to impose restrictions that would protect the town, its businesses, and citizens from unintended consequences such as parking problems and heavy truck traffic.

There are a few other things that you should know. This change would allow other microbrewers to build in town. The brew pub is not requesting to build a larger brew pub as we know it. They are requesting permission to build a factory that will be able to produce up to 50,000 barrels a year that will have 30 employees, and a 90 seat tasting room. That is 1,550,000 gallons a year or about 200 tanker trucks. They said they are currently producing around 2,000 barrels a year. They have asked for the building to be 45 feet tall, which is 10 feet taller than currently allowed. C-1 allows for construction up to the lot line. This means that if you have a house next to or in C-1 they would have the right to put a factory next to your house and not even have to notify you the owner. If they did notify you, you would have no recourse because there would be not be required public hearings. I find this unacceptable. If a factory is going into a commercial area, the people need to know about it and have public meetings to discuss the project that directly impacts them. There may be a piece of commercial property in town that would be appropriate but most properties are not. I feel a conditional use is very fair and appropriate. In my mind this is a factory and it should be located in industrial zoned land that is located for this type of project.

The owners of the brew pub have accused me of not wanting business in town because I am not willing to roll over and give them what they want. I am more than willing to figure out a way to work through this situation but I will NOT put the best interest of a person or a business ahead of what's in the town's best interest. I am trying to protect other businesses and citizens, not hurt a business that wants to expand. There is plenty of appropriate land available in town. When you elected me I promised to do what is in the town's best interest, not what is in the best interest of an individual. Rest assured I aim to keep my promise and I will not be bullied into doing something I know is wrong. I realize I only have one vote on the council and I may lose. If that happens than the will of the people has spoken and we will move on. Please make your feelings known and participate in the public hearings to come.

Related Links:
www.townofpinedale.us Town of Pinedale

---
Marketing on Facebook – What Really Works? (posted 5/15/15)
Seminar Thursday, May 28th in Pinedale
The Sublette County Chamber of Commerce is sponsoring two seminars entitled, "Marketing on Facebook – What Really Works?" at the Sublette County Library in Pinedale on Thursday, May 28th.

Feeling overwhelmed with social media in today's world? These seminars will give valuable insight and tips & tricks for Facebook and how to grow an online community to help your business grow.

Two free seminars are being offered and each will be different. Participants are welcome to attend one or both session. The noon session will include lunch. Light nibbles and drink will be offered for the evening session. The first session will be from noon to 1:30PM. The second session from 5:30-7:30PM.

For more information contact the Sublette County Chamber of Commerce, 307-367-2242, director@sublettechamber.com.

---
Memorial Day program in Big Piney May 25th (posted 5/14/15)
There will be a Memorial Day program at Plainview Cemetery in Big Piney on Monday, May 25th at 11:00AM. Guest speaker will be State Senator Stan Cooper. The ceremonial is by American Legion Post #78 and Boy Scouts of America, followed by a free BBQ.

---
Town of Pinedale Planning & Zoning meetings (posted 5/14/15)
The Town of Pinedale Planning and Zoning Commission will now be holding meetings every first Monday of the month. Also, they are still looking for Commissioners for P&Z. There are now 3 open spots. Anyone interested can contact Pinedale Town Hall.

Related Links:
www.townofpinedale.us Town of Pinedale

---
Mainstreet Pinedale to host Pinedale Farmers Market (posted 5/12/15)
Mainstreet Pinedale
The Sublette Local Food Alliance is pleased to announce that Main Street Pinedale will carry on management of the Pinedale Farmers Market now in its eighth season.

The prior Market founder and manager, Maggie McAllister, has been a pioneer in creating awareness about local food movements through creation of the Pinedale Farmers Market and the annual LocalFest. The Market has given local vendors and customers a regular venue to exchange local and regional goods.

Main Street feels the Farmers Market is a perfect fit with their mission and goals to attract people downtown and highlight local products. Details are still being worked out. Main Street is interested in promoting adult and children's activities, music, ready to eat food and beverages, as well as local products. If you are interested in being a vendor, a volunteer, or have ideas, please contact the new Farmers Market Manager Tara Bing at market@mainstreetpinedale.com.

---
Weather Spotter Training set for Pinedale May 20 (posted 5/12/15)
National Weather Service
Meteorologists from the National Weather Service in Riverton will teach a Severe Weather Spotter training class in the Board Room of the Sublette County Library in Pinedale at 6 p.m. Wednesday, May 20. The free, 90-minute training class is open to the public.

The training session details how thunderstorms develop, outlines appropriate safety actions, and uses video and digital images from across Wyoming to help volunteers learn to identify and report severe weather. All course materials are provided and completion cards will be given to all volunteers. Current weather spotters are encouraged to attend this session as a refresher.

"These volunteers serve as our eyes and ears, and are especially important in our sparsely populated state," said Chris Jones, warning coordination meteorologist at the Riverton NWS office. "Spotter reports supplement what we see on radar and help us paint a more complete picture of what is happening."

Additional information on storm spotting is available on the local National Weather Service website at http://www.weather.gov/riverton or by calling the Riverton office toll-free at 1-800-211-1448.

---
Found keybox (posted 5/9/15)
A keybox was found in Rocky Mountain Bank parking lot in Pinedale on Wednesday, May 6th. It is somewhat squished, but the contents are still intact. If you are a RMB customer and did banking business that day, you might check underneath your vehicle to make sure your keybox is still in place. If you think it might be yours, call or text Pinedale Online to identify color and contents, 307-360-7689 (anytime) or stop by Office Outlet in Pinedale (M-F 8:30AM-5:30PM).

---
Free Emergency Preparedness class May 30th in Pinedale (posted 5/9/15)
Are you ready for an emergency? You can be. A free all-day emergency preparedness course is being offered on Saturday, May 30th in Pinedale. The class "The Road to Preparedness – 72 Hours and Beyond (Train the Trainer)" is being provided by the Wyoming Homeland Security Training Program and the Wyoming All Hazards Association. The class will be from 8AM to 5PM in the Sublette County Public Health building, 619 East Hennick (next to the Pinedale Medical Clinic). If you want to become more prepared, or help others in the community become more prepared, this free course is for you.

This course will cover:
- The Need to Prepare
- Natural Disasters
- Terrorism
- Basic Preparedness and Essentials for Survival
- Thinking Outside the Box
- How to teach these concepts

For more information or to enroll, please call Jim Mitchell, 307-367-2284.

---
Half Moon Lake Lodge opening weekend May 22-24 (posted 5/9/15)
Half Moon Lake Lodge will have their annual opening weekend celebration Friday through Sunday May 22-24. There will be live music Friday and Saturday. Admission is $25 for music and all-you-can-eat buffet. Friday buffet 5-9PM, live music by Terry Hill from 6-9:30PM. Saturday buffet from 5-9PM, live music by Hilary Murray from 5:30-10PM. New lunch menu available beginning Sunday at 11AM, dinner 4PM. Summer hours open for lunch on Saturdays & Sundays and dinner Tuesday through Sunday. Call the lodge to make your reservation, 307-367-6373. They are located on the shore of scenic Half Moon Lake, approximately nine miles from Pinedale. www.halfmoonlakelodge.com

---
Local Services:
Abortion Alternatives
Accounting & CPA
Arts & Entertainment
Attorneys & Legal
Automotive
Banks & Financial
Bars
Beauty Salons
Bed & Breakfasts
Boating
Bookkeeping
Builders & Contractors
Building Material
Business Services
Cabins
Cellular
Child Care
Churches
Cleaning Services
Clothing
Commercial Art
Computer Supplies
Consultants
Convenience Stores/Fuel
Convention/Meeting
Dentists
Dining
Dry Cleaning
Events
Fabric & Crafts
Fencing
Fishing
Flooring
Food & Drink
Funeral Homes
Furniture
Gifts/Western
Government
Graphic Design
Grocery & Market
Guest Ranches & Lodges
Handyman Services
Hardware & Feed
Heating
Health Care & Medical
Horseback Adventures
Insurance
Interior Design
Internet/Web/Advertising
Landscaping
Laundry
Liquor Stores
Lodging
Log Homes
Massage Therapy
Modular Homes
Motels
Mountain Biking
Movie Theaters
Museums
Nails
Newspapers
Office Supplies
Oil Field Services
Optometrists
Organizations
Outdoor Equipment
Outfitters & Guides
Packaging & Shipping
Painters
Pet Stores
Pharmacies
Photography
Plumbing
Professional Services
Radio
Real Estate Agencies
Real Estate-FSBO
Remodeling
Retirement
Retreats
RV Camping
Schools
Scrapbooking
Septic Services
Skiing
Snowmobiling
Snow Plowing
Storage and Storage Units
Tanning
Tattoos & Body Art
Tax Preparation Services
Taxidermy
Transportation/Shuttle
Trash Services
Trucking
Veterinarians
Visitor Services