Final Public Hearing on Sublette County proposed 2014-2015 budget July 21 (posted 7/21/14)
A final public hearing on the proposed budget for Sublette County for fiscal year ending June 20, 2015 will be held in the County Commissioners meeting room in Pinedale on Monday, July 21 at 8:00PM. Any and all interested persons may appear and be heard respecting this budget. Click here for the proposed budget (PDF).

---
Sublette County Commissioners agenda for July 22 (posted 7/20/14)
Mary Lankford, Sublette County Clerk
BOARD OF COUNTY COMMISSIONERS
SUBLETTE COUNTY, WYOMING
AGENDA
COMMISSIONERS MEETING ROOM
PINEDALE, WYOMING
TUESDAY, JULY 22, 2014

(Tentative Agenda, Subject to Change Up To 9 a.m. the Day of the Meeting)

9:00 a.m. Call to Order
Pledge of Allegiance
Approval of the Minutes
Adopt the FY15 Budget and Resolutions
Butch Penton, Road & Bridge
9:30 a.m. Waste Management
10:00 a.m. Ken Konicek, Health Insurance Renewal
11:00 a.m. Old Business

1:00 p.m. Renee Seidler, Wildlife Overpass Interpretive Site Funding
1:15 p.m. Forsgren & Associates, Project Updates
2:00 p.m. Sara Sanchez and Maree Delgado, Ultra Resources Taxes

Click here for a printable version of this agenda

Related Links:
2014-2015 proposed budget (PDF)
2013-2014 Final Budget Summary
www.sublettewyo.com Sublette County website

---
Republican Meet & Greets July 30 & 31st (posted 7/20/14)
The Sublette County Republican Party will be holding two Meet and Greets in July. The first will be Wednesday, July 30th at the Marbleton Senior Center, 111 Rakestraw Ave., in Marbleton from 4:30 to 7:00 pm. The second will be Thursday, July 31st in the Lovett Room at the Sublette County Library, 155 S. Tyler Ave., in Pinedale from 4:30 to 7:00 pm. All state and local Republican candidates have been invited. These are opportunities for the community to meet and visit with the candidates.

---
Sublette County Fair Art Show & Sale July 19-26th (posted 7/20/14)
Mixed Media art group will hold a reception on Tuesday, July 22nd as part of the Sublette County Fair Lynn Thomas Memorial Art Show & Sale. The reception will be at the Sublette County Fairgrounds Community Hall at 5:00PM. The public is cordially invited.

The Art Show is open to participants 16 years of age and up. The Art Show opened to the public on Saturday, July 19th as part of the Sublette County Fair festivities. There are no entry or show fees and no donations are asked of the artists. All ales go entirely to the artists. The Art Show & Sale will hang from July 19 through July 26th in the Community Hall at the Fairgrounds. Hours are 10AM to 7PM.

There will be a "Paint Out Auction" on Thursday, July 24th at 4PM.

For more information contact Charmian McLellan at 307-537-5488 or email aspens@wyoming.com.

---
White Pine season lift passes on sale (posted 7/20/14)
White Pine Resort
Lift passes for winter 2014/15 at White Pine Resort are now on sale. Priced at $245 for an adult (18-69 years old), pre-season lift purchases in July represent a 45% saving on the price of a season pass on opening day. The early discount continues through to July 31st. Student (13-18) and Senior (70+) season passes are $195.00, Junior (6-12) are $145.00 and child (5 and under) is $40.00.

To help promote the early discounts, White Pine Resort will be holding "Funday Sundays" on July 27th and August 24 at the resort, offering complimentary hamburgers and hot dogs with live musical entertainment. Additionally the lifts will be operating for mountain bike enthusiasts and hikers wanting to enjoy a free ride up to the top of Fortification Mountain and make their own way down. "We are looking forward to meeting our local skiing population and we wanted to tempt them with some great pre-season prices. Purchase early and enjoy the savings" says new co-owner Roy DeWitt.

New for 2014/15 is a cancellation waiver priced at $10.00. "Purchase your season pass now and if for any reason, you are unable to ski this season, we will provide a full refund. People get transferred, injured or simply change their mind. If a season-pass holder buys the waiver and contacts White Pine before November 30, 2014 requesting a refund, they will receive their money back, no questions asked" says co-owner Alan Blackburn.

White Pine Resort will also be offering ski rental season packages. "As parents of young children, we know how quickly our children outgrow their shoes and at White Pine we want to cater to that need by making equipment changes available throughout the winter with seasonal equipment packages" says DeWitt. "We will have a shipment of skis and snowboards arriving in the fall and we will have skis and snowboards available for rent for all age groups" promises DeWitt. Ski rental season packages start at $99.00.

And for those who are tired of lugging gear up to the mountain, White Pine will be offering a number of 6' ski lockers available for rent. Priced at $110 for the winter, it will mean somewhere to pick up or leave skis and poles close to the lifts.

Full details on pricing can be found on the "White Pine Season Passes 2014-15" mail-in form available at Rock Rabbit and Office Outlet in Pinedale. Phone 307-367-6606 or email skiinfo@whitepineski.com to request a copy of the mail-in form.

Discounted lift tickets will be available up to opening day, however the pre-season price increases at the beginning of each month.

For more information contact Robyn Blackburn, 307-360-6272, robyn@goark.com.

Related Links:
www.whitepineski.com

---
BLM sets PAPA annual planning meeting for air, water and socioeconomics Aug. 5th (posted 7/14/14)
Bureau of Land Management
The Bureau of Land Management (BLM) Pinedale Field Office will host the annual planning meeting (APM) for air, water and socioeconomic topics at 8 a.m. on August 5 at 1625 W. Pine St. in Pinedale, Wyoming.

Air topics will include a U.S. Forest Service discussion on the IMPROVE air monitoring station, the National Atmospheric Deposition Program, lake chemistry and tri-state air quality; a BLM update on general conformity, the Ozone Compliance Plan and other air quality issues; a Department of Environmental Quality presentation on air quality rule making and proposed changes to nonattainment rules; and an operator report on air quality in the Anticline.

Water topics will include a Sublette County Conservation District presentation on 2012 surface and groundwater sampling; an operator report on water use; and a BLM update on the Final Groundwater Monitoring Plan.

Socioeconomic topics will include operator development forecasts and planned operations based on current commodities.

The meeting is open to the public who will have opportunities to comment. An agenda is available at www.blm.gov/wy/st/en/field_offices/Pinedale/anticline/airwatermtg.html. Agenda items and times are subject to change.

An APM is required by the 2008 Supplemental Environmental Impact Statement Record of Decision for the Pinedale Anticline Project Area (PAPA). To more fully address topics of community interest, the PFO has subdivided the original APM into three annual meetings focused on development, wildlife, and air, water and socioeconomics. This is the fourth APM for air, water and socioeconomics.

For more information, please contact Janet Bellis at 307-367-5316.

---
Suspect charged with five counts related to 2010 attack on Pinedale woman (posted 7/14/14)
Sublette County Sheriff's Office
The suspect arrested last Thursday in connection with the July 2010 assault in Pinedale had his first appearance this afternoon in Sublette County Circuit Court. Thirty six year old Brian James McDonald of Pinedale was charged with five counts from the 2010 attack on Jacie Beth Rose. The charges presented to the court by Sublette County Attorney Neal Stelting are as follows:

Count One: Attempted murder in the first degree.
Count Two: Attempted murder in the second degree.
Count Three: Aggravated assault and battery.
Count Four: Possession of a deadly weapon with unlawful intent.
Count Five: Aggravated burglary.

Circuit Court judge Curt Haws set bond at one million dollars (cash only) and has scheduled a preliminary hearing in the case for Tuesday July 22nd. Mr. McDonald has requested a public defender be appointed to represent him.

The Sublette County Sheriff's Office continues to investigate similar assaults that occurred in 2012 and in May of this year. The Sublette County Attorney's Office expects other charges to be filed against Mr. McDonald in the coming weeks.

Authority: Sheriff Dave Lankford
Stephen Smith, Public Information Officer
---
Arrest made in 2010 assault case (posted 7/11/14)
Sublette County Sheriff's Office media release
On Thursday evening, July 10, 2014, Sublette County Sheriff's deputies arrested a suspect in connection with the unsolved assault case that occurred in Pinedale in July of 2010. Charging documents will be prepared and presented to the court early next week.

The Sublette County Sheriff's Office continues the investigation process with the other unsolved cases as evidence unfolds. More information will be released as it becomes available.

Authority: Sheriff Dave Lankford
Stephen Smith, Public Information Officer

---
Porcupine Trail impassable due to avalanche (posted 7/8/14)
Bridger-Teton National Forest
Porcupine Trail on the Pinedale Ranger District, located on the Bridger-Teton National Forest (BTNF), is obstructed by an avalanche of snow and debris. The affected area is three miles south of the Shirley Lake Trail junction (T38N R108W S31).

The avalanche consists of a mixture of debris, heavily compacted snow, with Porcupine Creek running underneath. Porcupine Trail is impassable for three fourths of a mile going south. Travel by foot or stock is not advised due to hazardous conditions. There is signage warning visitors of conditions at the Green River Lakes and New Fork trailheads. Recommended alternate routes for those interested in recreating in the area include Highline Trail, New Fork Trail or Clark Creek Trail.

Pinedale Ranger District advises wilderness visitors to be particularly cautious this season to lingering snow pack and very high water levels, making river crossings very dangerous. Prior to backcountry travel always notify someone of your itinerary and expected time of return.

Further information regarding the Porcupine Trail and backcountry conditions is available at the Pinedale Ranger District, 29 E. Fremont Lake Road, 307-367-4326 and online at www.fs.usda.gov/btnf under "Alerts & Notices."

---
Fremont Lake Campground & Upper Boat Site reconstruction update (posted 7/4/14)
Bridger-Teton National Forest
The Fremont Lake Campground, located on the Bridger-Teton National Forest (BTNF) five miles north of Pinedale, Wyoming, is anticipated to be completed in mid to late summer of this year. The Fremont Lake Upper Boat Ramp reconstruction project is currently out for bid and will remain closed until construction is completed.

Fremont Campground improvements include new restrooms, new tables and fire rings, reconstructed parking spurs, an overflow parking lot, a new group site, and two-way access to the boat site.

The Lower Fremont boat ramp, located on the southwest shore of Fremont Lake, will remain open to boaters throughout the summer and fall. The Forest Service and Wyoming Game and Fish are working in partnership to reconstruct the Upper Fremont boat ramp and dock.

"The Fremont Campground reconstruction project is really starting to come together," John Moore, Pinedale District Ranger said. "We recognize the campground closure is inconvenient for the public and are as eager as the public to see this campground completed and open".

Reservations will not be accepted for the Fremont Campground until the reconstruction project is completed. Campers will be redirected to other available sites on the Pinedale Ranger District, including campgrounds at Half Moon Lake, Elkhart Park, New Fork Lake, and Boulder Lake.

Further information regarding construction plans and progress updates regarding these two projects is available at the Pinedale Ranger District, 29 E. Fremont Lake Road, 307-367-4326.

---
SERC works to develop county-wide strategic plan (posted 7/1/14)
To address economic development needs
Sublette County, in partnership with Sublette Economic Resource Council (SERC), is developing a countywide strategic plan that will address the economic development needs of Pinedale, Big Piney, Marbleton and the unincorporated areas of Sublette County. This plan will help identify effective ways to strengthen, stabilize, and grow the county's economy, including specific projects and programs for each community in the county.

SERC has retained Community Builders, Inc. (CBI), a Wyoming consulting firm, to assist with development of the strategic plan. As part of the planning process, the team is conducting an online survey of stakeholders in Sublette County.

This survey is a first step in the planning process. As a stakeholder, your input on this survey is very important. (There is another survey being circulated for the general public). We ask that you please click on the following link and take this survey: Community Member Survey

The survey will close on August 1, 2014. CBI will then compile all results and present them to the Sublette County Commissioners, SERC and the municipalities in Sublette County. The planning team will then begin evaluating specific development projects, facilities, and scenarios for each community in Sublette County. The completed economic development strategy and implementation plan should be completed by early 2015.

---
Music in the Courtyard in July (posted 7/1/14)
The Sublette County Library will be hosting Music in the Courtyard, an hour of family entertainment on Thursday evenings in July at 6:30 pm.

Performers:
July 10: Michelle Humber and Samantha Rise - guitar & vocals
July 17: Chandra Stough and Bob McCarty - fiddle and guitar
July 24: Karin Loya - Cello
July 31: Mary Simbarcelos – drums

Related Links:
www.pinedalelibrary.org Sublette County Library



---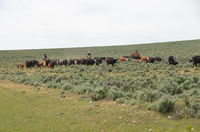 Cowboys move cattle along the Drift to the forest grazing allotments. Photo by Terry Allen.

Dedication held for Green River Drift listing on National Register (posted 6/26/14)
On Friday, June 20 a dedication was held to celebrate the century-plus-old Green River Drift cattle trail, a 58-mile-long stock driveway from the desert to the mountains for summer grazing in the Upper Green River Valley of western Wyoming. The Green River Drift's first recorded use was in 1896 by the Upper Green River Cattle Association. Its members gathered their cattle in the spring on dry desert pastures and slowly moved them north. The route follows the Upper Green River north, with splits and spurs helping cowboys move herds to summer pastures along the eastern Gros Ventre Range. In fall, cattle will "drift" back south leaving the mountains with cooler weather. Ranchers and cowboys still work their cattle out along the stock driveway and send them on their way to the home ranches. A morning tour took 80 people from the sorting grounds at Trappers Point (by Highway 191 west of Pinedale) north to Cora and on up to Bridger-Teton National Forest (BTNF) along the Drift's route. The next day, a group of 30 traveled the southern portion. The Green River Drift was listed as the nation's first-ever ranching-related "Traditional Cultural Property" on the National Register.

Click here for more pictures and to read the full article: Dedication held for Green River Drift listing on National Register 12 photos

---
Local Services:
Abortion Alternatives
Accounting & CPA
Arts & Entertainment
Attorneys & Legal
Automotive
Banks & Financial
Bars
Beauty Salons
Bed & Breakfasts
Boating
Bookkeeping
Builders & Contractors
Building Material
Business Services
Cabins
Cellular
Child Care
Churches
Cleaning Services
Clothing
Commercial Art
Computer Supplies
Consultants
Convenience Stores/Fuel
Convention/Meeting
Dentists
Dining
Dry Cleaning
Events
Fabric & Crafts
Fencing
Fishing
Flooring
Food & Drink
Funeral Homes
Furniture
Gifts/Western
Government
Graphic Design
Grocery & Market
Guest Ranches & Lodges
Handyman Services
Hardware & Feed
Heating
Health Care & Medical
Horseback Adventures
Insurance
Interior Design
Internet/Web/Advertising
Landscaping
Laundry
Liquor Stores
Lodging
Log Homes
Massage Therapy
Modular Homes
Motels
Mountain Biking
Movie Theaters
Museums
Nails
Newspapers
Office Supplies
Oil Field Services
Optometrists
Organizations
Outdoor Equipment
Outfitters & Guides
Packaging & Shipping
Painters
Pet Stores
Pharmacies
Photography
Plumbing
Professional Services
Radio
Real Estate Agencies
Real Estate-FSBO
Remodeling
Retirement
Retreats
RV Camping
Schools
Scrapbooking
Septic Services
Skiing
Snowmobiling
Snow Plowing
Storage and Storage Units
Tanning
Tattoos & Body Art
Tax Preparation Services
Taxidermy
Transportation/Shuttle
Trash Services
Trucking
Veterinarians
Visitor Services