Sublette County Canvassing Board meeting Aug. 21 (posted 8/21/14)
Mary Lankford, Sublette County Clerk
The Sublette County Canvassing Board will meet on Thursday, August 21, 2014, at 4:30 p.m. in the Commissioners Meeting Room of the Sublette County Courthouse. All election results are unofficial until the Canvassing Board has certified the election. The County Canvass Board will be Walt Bousman, representing the Republican Party, Jeanne Brown, representing the Democratic Party, and County Clerk Mary Lankford. This meeting is open to the public.

---
Funday Sunday at White Pine Resort Aug. 24 (posted 8/21/14)
White Pine Resort will be hosting "Funday Sunday" at the ski area on Sunday, August 24th from noon to 4PM. There will be a free BBQ on the deck with hamburgers and hot dogs. Enjoy the view and live musical entertainment. The lifts will be operating for mountain bike enthusiasts and hikers wanting to enjoy a free ride up to the top of Fortification Mountain and make their own way down. This is also a chance to buy season passes at a discounted rate.For more information call 307-367-6606 or email skiinfo@whitepineski.com.

Related Links:
www.whitepineski.com

---
Pinedale Water Meter Ordinance to have 3rd Reading Aug. 25th (posted 8/21/14)
Relating to removing meters to avoid risk of freezing
Pinedale Online!
The Pinedale Town Council will have the 3rd Reading of proposed Ordinance 521 (460-31) on their regular Town Council meeting at 5:30PM on Monday, August 25th The proposed Ordinance addresses giving the Town the authority to temporarily remove any water meter they deem may be at risk of freezing and being damaged. Below is the text of that proposed Ordinance.

ORDINANCE NO. _______________

AN ORDINANCE OF THE TOWN OF PINEDALE, WYOMING CREATING ORDINANCE 460-31 OF THE PINEDALE MUNICIPAL CODE TO ADDRESS THE TEMPORARY REMOVAL OF WATER METERS TO AVOID RISK OF FREEZING.

NOW, THEREFORE BE IT HEREBY ORDAINED BY THE TOWN COUNCIL OF THE TOWN OF PINEDALE, WYOMING, THAT ORDINANCE 460-31 OF ARTICLE III, CHAPTER 460 OF THE PINEDALE MUNICIPAL CODE IS HEREBY CREATED TO READ AS FOLLOWS:

460-31. Removal of water meters at risk of freezing.

A. The Town may remove a water meter from an outside pit location that it deems at risk of freezing and reinstall such meter when the risk of freezing has reasonably passed. Such removal and reinstallation shall be at the expense of the Town and conditioned on the property owner allowing access to such meter.

B. The Town may remove a water meter from an inside location when notified by the landowner that heat will not be provided to the location during a period of time when the water meter may be subject to freezing temperatures and the property is going to be otherwise winterized. The meter will be reinstalled when the risk of freezing has reasonably passed. Such removal and reinstallation shall be at the expense of the Town and conditioned on the property owner allowing access to such meter.

C. Any water meter damaged due to freezing where heat is not provided by a landowner and where the landowner has not given the notice required under Sub-Section B above shall be repaired at the cost of the landowner and the Town shall not have any responsibility or liability for any damage therefrom.

This Ordinance shall be in full force and effect from and after passage on three readings and publication according to law.

PASSED ON FIRST READING ON _______________________, 2014.

PASSED ON SECOND READING ON ________________________, 2014.

PASSED, APPROVED AND ADOPTED ON THIRD READING ON ____________________, 2014.

ATTEST: TOWN OF PINEDALE, WYOMING:


_______________________________ BY: ______________________________
TOWN CLERK ROBERT M. JONES, MAYOR


ATTESTATION BY TOWN CLERK

STATE OF WYOMING )
COUNTY OF SUBLETTE ) ss.
TOWN OF PINEDALE )

I hereby certify that the foregoing Ordinance No. ____________ was duly published in the __________________________________, a newspaper of general circulation published in the Town of Pinedale, Wyoming, on the ______ day of _________________, 20_____.

I further certify that the foregoing Ordinance was duly recorded on Page _______ of Book ______ of Ordinances of the Town of Pinedale, Wyoming.
_________________________________
Town Clerk

Related Links:
Text of Ordinance 521 (460-31)
Pinedale Town Council meeting agenda for Monday, August 25, 2014
www.townofpinedale.us

---
Town of Pinedale makes staff changes (posted 8/21/14)
Dawn Ballou, Pinedale Online!
The Town of Pinedale is making changes to their administrative staff as part of newly-elected Mayor Bob Jones' commitment and campaign promise to provide the required and necessary Town services in the most efficient way possible. Jones said he wanted to wait three months after getting into office to get a feeling for how things operated before making any changes.

The Planning & Zoning Department has been eliminated due to a decrease in workload and the duties of that area combined into a Zoning & Engineering Department under Eugene Ninnie. The Zoning Administrator position held by Kate Grimes has been eliminated. According to Jones, "We don't plan to recreate the Planning & Zoning Department. Basically what little work there is now can easily be handled by Eugene."

The Municipal Officer position was eliminated and code enforcement was combined with Animal Control under supervisor Julie Early. Municipal Officer Jennifer Gocke was let go for cause. A position will be advertised for the new Animal Control/Code Enforcement department.

The Town Clerk/Treasurer is a political-appointed position. Every four years the Mayor, with the approval of the Town Council, appoints positions. These positions are not normally advertised. Mayor Jones said he offered long-time Clerk Patty Racich a new administrative position with the Town, however she declined. Jones has recommended Mayor's Assistant Pat Schwab as the new Clerk/Treasurer, which he expects to be approved at the next Town Council meeting. He said there will be a considerable pay decrease in the Clerk/Treasurer position, around $30,000/year less, with a 6-month review. "Patty was very dedicated to the Town and put in a lot of work and was greatly appreciated," he said.

In addition to these changes, Mayor Jones got approval from the Town Council to add two new entry-level positions in the Public Works Department, of which one has been filled. Public Works has three departments, each with a supervisor: Sewer/Water, Maintenance, and Parks. Employees will shift work as needed under the supervisors in all the departments. An existing employee will be trained as a safety officer to help improve the Town's safety record.

Jones said the intent is to put more labor in getting work done and not add to the administrative layers of the Town government. He wants to move away from creating new projects to taking care of what the Town already has. "My vision is to see the administrative end drop off and not be so top heavy and have the level of services increase," Jones explained. "The Town Council has been totally involved in all the personnel decisions."

Jones said he wants to save money, have staff cross-trained to be knowledgeable about each other's positions, and have Town employees provide fabulous customer service.

Related Links:
www.townofpinedale.us
---
Pinedale Community Blood Drive Aug. 25th (posted 8/19/14)
Sublette County Rural Health Care EMS is sponsoring a Blood Drive in Pinedale on Monday, August 25th from 2:00-6:30PM in the Pinedale EMS Building Training Room, 635 E. Hennick St.

To make appointments, go online to www.bloodhero.com and use sponsor code: Pinedale. Or contact Jerry Kirchhoff at 307-367-2315.

Save time by going online to www.unitedbloodservices.org and complete the Health History questionnaire on the day of your donation, print the ticket and bring it to the blood drive.

Please bring your photo ID and donor card. Free cholesterol teting with every donation!

---
Volunteers sought for work day at New Fork River recreation site Sept. 6 (posted 8/18/14)
BLM early celebration of National Public Lands Day
Bureau of Land Management
The Bureau of Land Management (BLM) Pinedale Field Office invites families, individuals, clubs and organizations to help remove old fencing, construct new wildlife friendly fencing and install bird nesting boxes at a day-use recreation site on the New Fork River on Sept. 6 in an early celebration of National Public Lands Day (NPLD).

Volunteer check-in will begin at 8 a.m. with activities ending at noon. Children and youths ages 9 to 17 must be part of an organized group or family and have written parental consent. Activities will be provided for children eight and under. Proper work attire such as gloves, hat, long pants, sturdy shoes and safety glasses should be worn. Gloves and safety glasses will also be available. Sunscreen and insect repellant are highly recommended. Water, snacks and lunch will be provided as well as NPLD t-shirts, participation certificates and national park access passes.

To get to this NPLD event, turn right off Highway 191 onto Sublette County Road 144 (Ehman Lane) and travel 3.75 miles. When the road turns left, do not turn; instead, continue straight to the small, grassy parking area across a small cattle guard.

NPLD began in 1994 with 700 volunteers and three sites. In 2013, more than 175,000 volunteers worked at 2,237 sites in every state, the District of Columbia, Guam and Puerto Rico. Volunteers collected an estimated 23,000 pounds of invasive plants, built and maintained an estimated 1,500 miles of trails, planted an estimated 100,000 trees, shrubs and other native plants, removed an estimated 500 tons of trash from trails and other places and contributed an estimated $18 million through volunteer services to improve public lands across the country. Seven federal agencies as well as nonprofit organizations and state, regional and local governments participate in the annual day of learning about, serving, playing and working in our public lands.

For more information, please visit www.publiclandsday.org or www.facebook.com/nationalpubliclandsday or contact Martin Hudson at 307-367-5315.

Tweet about your NPLD experience on Twitter with the hashtag #NPLD or @PublicLandsDay.

---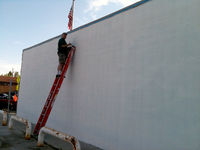 David Klaren gets the wall prepared for the new mural.

Starting anew (posted 8/17/14)
Pinedale Online!
Artist David Klaren has begun work on a new mural for the east wall of the Pinedale Post Office. Klaren painted the original mural, "The Winds," while he was still in college in 1986. Although he has a tang of regret to be removing the mural that has graced the building for 28 years, he is also excited about the opportunity to put up a new piece of artwork. "I do have to admit that it is a little bitter sweet to see this mural's life come to an end. It essentially represents the span of my professional art career up this point in my life," Klaren said. The new design, "Point of Compromise," is commissioned by the Rodger's Family Trust, in partnership with the Pinedale Fine Arts Council's In|Site:Ex|Site Public Art Program. (Spoiler alert) For more details see David's Facebook page.
---
Sublette County Rural Health Clinic Open Houses Aug. 28 (posted 8/15/14)
The Sublette County Rural Health Care District will be hosting an Open House at their two clinics on Thursday, August 28th. Learn more about the new affiliation between Sublette County Rural Health and the University of Utah. Come join in the conversation and learn what this new affiliation means for you, your family and the community. A panel of speakers from the University of Utah and SCRHCD medical staff and Board of Trustees will be present to answer questions.

There will be Open Houses in both the Pinedale and Marbleton/Big Piney Clinics that day. The Pinedale Open House is from 8:30AM to 10AM with the Informational Presentations and Q&A at 9AM. The Marbleton Clinic Open House is from 11:30AM to 1PM with Informational Presentations/Q&A starting at Noon.

More info at www.sublettehealthcare.com.

---
Predator Board meeting Aug. 25 (posted 8/13/14)
Sublette County Predator Board
The Sublette County Predator Management District Board will hold a special meeting on Monday, August 25 at 9 a.m. in the commissioner's room of the Sublette County Courthouse in Pinedale. The purpose of the meeting is to discuss the budget and annual plan of work.

---
Book Signing for Pam Houston August 25 (posted 8/13/14)
The Sublette County Library invites you to welcome award-winning short story and novel writer Pam Houston on Monday, August 25th. There will a reception at 6 pm with a reading and book signing to follow at 6:30 pm. Books will be available for purchase the evening of the event.

She is best known for her collection of short stories, "Cowboys Are My Weakness." Her most recent book is "Contents May Have Shifted." She is also the author of "Waltzing the Cat" short stories, the novel "Sight Hound", and a collection of essays, "A Little More About Me."

Her stories have been selected for Best American Short Stories, The O. Henry Awards, The 2013 Pushcart Prize, and Best American Short Stories of the Century. She is the winner of the Western States Book Award, the WILLA award for contemporary fiction, The Evil Companions Literary Award and multiple teaching awards.

The library is located at 155 S Tyler Ave in Pinedale. For more information visit the library's website: www.sublettecountylibrary.org or call 307-367-4114.

---
Late Summer Fishing Report for Pinedale area (2014) (posted 8/12/14)
Mike Kaul, Two Rivers Emporium
Due to our heavy snow pack and late run-off, most of our rivers and streams are now in prime condition and will remain so late into the fall. August is our monsoon month, so we are receiving some good surface moisture which adds to the above-average flows in our streams.
All the water in our area is clear and very fishable. Both the Green and New Fork Rivers present good drift boat fishing opportunities. The water temperatures are stable and the fish are actively feeding.

We are getting good surface action on all or streams to include the New Fork and Green Rivers when the temperature, cloud cover and wind conditions are right. The trout are still very interested in large terrestrial patterns like hoppers, bugmeisters and PMX's. It is always a good idea to trail these surface flies with a nymph pattern, sizes 14-16. If the fish are not feeding in the upper part of the water column, work the deeper water with various colored woolly buggers and other large streamer patterns. On warm afternoons we experience a BWO and Caddis hatch. This brings feeding trout up in the water column and presents good surface action.

All indications point to the fact that this could be one of the best late summer/early fall fly fishing seasons we have experienced in a long time.

Please feel free to contact us for current fishing conditions. (307-367-4131 or 1-800-329-4353) or visit our web site www.2rivers.net.

Related Links"
Fishing Report archive 2001-2014

---
Ducks Unlimited Annual Banquet and Auction August 23rd (posted 8/12/14)
The Sublette County Frozen Mallard Chapter of Ducks Unlimited will hold this year's Annual Banquet and Auction on Saturday, August 23rd at Rendezvous Pointe, 425 E. Magnolia Street in Pinedale. Doors open at 4:30PM with cocktails, appetizers, and games. The Dinner starts at 6:00PM. There will be a Live Auction immediately following the Dinner.

Ticket prices:
Single $45
Couple $80
Youth $25
Corporate Gun Table is $800 which includes 8 memberships, 8 meals, a gun, and more.
Sponsor $295
Sponsor Couple $330

Space is limited so reserve your ticket(s) today. Contact Bryan and Katie Lane for tickets and information at 307-537-5841 or go to www.WY.ducks.org and click on Local Events for information on the local Frozen Mallard Dinner.

---
MESA Horseback Poker Ride & BBQ September 6th (posted 8/12/14)
MESA will host a Horseback Poker Ride & Community BBQ on Saturday, Sept. 6th. The fun starts with a horseback poker ride at 11AM, followed by a community barbecue at 2PM.

The event will be held at Mountain Springs Ranch in Boulder, Wyoming at Camp GROW, up the Scab Creek Road. The poker ride starts at 11AM and the BBQ starts at 2PM. Jared Rogerson will be live entertainment during the barbecue.

This is a public awareness and fundraising event for MESA to help provide funding for the lesson programs and activities for riders. Cost for Adults is $25 each for poker hand and $25 for dinner. Children 10-17 cost $15 for prize ride and $15 for dinner. Children 9 & under eat free. Children under 10 are asked to not ride on the prize ride.

For more information contact Carla Sullivan, 307-749-3979, subletterides@gmail.com, www.mesarides.org.

M.E.S.A. Therapeutic Horsemanship, Inc. is a non-profit program aimed at providing equine-related therapy activities to individuals with disabilities within Sublette County, Wyoming. The mission of M.E.S.A. is to promote self-esteem, self-confidence, physical independence, and social interaction through equine-related activities. The philosophy of M.E.S.A. is to establish an atmosphere of support, cooperation and respect in an equestrian environment in order to improve self-esteem, confidence, and an appreciation for individuals with disabling challenges within the community. Our equestrian services will strengthen the Mind, Energy, Spirit, and Attitude of each participant, their families, and our community. This will be accomplished through certified riding instructors, allied health care providers, educators, and community volunteers. We adhere to the values of teamwork, integrity, respect, empathy, and joyfulness in all that we do.

---
Local Services:
Abortion Alternatives
Accounting & CPA
Arts & Entertainment
Attorneys & Legal
Automotive
Banks & Financial
Bars
Beauty Salons
Bed & Breakfasts
Boating
Bookkeeping
Builders & Contractors
Building Material
Business Services
Cabins
Cellular
Child Care
Churches
Cleaning Services
Clothing
Commercial Art
Computer Supplies
Consultants
Convenience Stores/Fuel
Convention/Meeting
Dentists
Dining
Dry Cleaning
Events
Fabric & Crafts
Fencing
Fishing
Flooring
Food & Drink
Funeral Homes
Furniture
Gifts/Western
Government
Graphic Design
Grocery & Market
Guest Ranches & Lodges
Handyman Services
Hardware & Feed
Heating
Health Care & Medical
Horseback Adventures
Insurance
Interior Design
Internet/Web/Advertising
Landscaping
Laundry
Liquor Stores
Lodging
Log Homes
Massage Therapy
Modular Homes
Motels
Mountain Biking
Movie Theaters
Museums
Nails
Newspapers
Office Supplies
Oil Field Services
Optometrists
Organizations
Outdoor Equipment
Outfitters & Guides
Packaging & Shipping
Painters
Pet Stores
Pharmacies
Photography
Plumbing
Professional Services
Radio
Real Estate Agencies
Real Estate-FSBO
Remodeling
Retirement
Retreats
RV Camping
Schools
Scrapbooking
Septic Services
Skiing
Snowmobiling
Snow Plowing
Storage and Storage Units
Tanning
Tattoos & Body Art
Tax Preparation Services
Taxidermy
Transportation/Shuttle
Trash Services
Trucking
Veterinarians
Visitor Services