SCSD #1 names new Principal for Pinedale High School (posted 5/17/13)
Ben Smith will be new Pinedale High School Principal beginning 2013-2014 school year
Sublette County School District #1
The Sublette County School District #1 Board of Trustees and Superintendent Jay Harnack are pleased to announce the appointment of Ben Smith as the new principal for Pinedale High School beginning with the 2013-2014 school year.

"I'm very excited to announce Ben as the new principal at Pinedale High School," Mr. Harnack said. "This is the result of a tremendous team effort and I cannot imagine a better outcome for Pinedale High School. The members of our interview committees did an outstanding job. I'm really looking forward to having Ben join the district. "

A native of Greybull, Wyoming, Ben received his B.S. from BYU and his M.S. from the University of Wyoming. Ben spent 15 years at Big Horn County School District #1 in Byron and Cowley where he served as a teacher, coach, and principal of Rocky Mountain Elementary School. During his tenure as a teacher and coach at Rocky Mountain High School, Ben directed the Grizzlies football team to four state championships and ten conference championships.

For the last ten years Ben has been the principal at Ben Lomond High School in Ogden, Utah. During this time Ben has instituted programs that have significantly improved the student achievement and graduation rates at Ben Lomond.

Ben's first day on the job will be August 1st. "Alice and I are thrilled to be coming to the Pinedale area", Ben said. "We're excited to get involved and be a part of such a great family centered community. We love the outdoors and have heard nothing but great things about all that Pinedale has to offer. I'm really excited to join the PHS staff and look forward to supporting the great programs that are already in place and seeing what we can do to further develop those that need some additional support. I have fond memories of bringing my football team to Pinedale for some great battles through the years while I was coaching at Rocky Mountain High School. We were always treated so well by the coaches, administration, and community. We're really excited to be coming your way!"

Related Links:
www.pinedaleschools.org Sublette County School District #1
---
SCSD #1 School Board member resigns (posted 5/17/13)
Doris Woodbury to take new position with Jackson BOCES
Sublette County School District #1
Sublette County School District #1 Board of Trustees member Doris Woodbury has submitted her resignation from the board effective June 1, 2013. In her resignation letter, Mrs. Woodbury indicated she was stepping down because she has been appointed as the new Executive Director of the Region 5 BOCES in Jackson and will be assuming those duties July 1, 2013. The Sublette County School District #1 Board of Trustees would like to thank Mrs. Woodbury for her service and wishes her well in her new position.

The Board of Trustees will post a notice for the vacancy in a local newspaper and on Pinedale Online during the week of May 20th. The notice will include information on how to apply for the position and the Board's process for appointing a replacement. Mrs. Woodbury's seat is At-Large and the successful candidate will serve the remainder of Mrs. Woodbury's term. Applications for the position will be accepted from May 28, 2013 to noon on June 14, 2013. If you would like additional information on the application process, please contact Sharron Ziegler at the SCSD #1 district office at 307-367-2139.

Related Links:
www.pinedaleschools.org Sublette County School District #1
---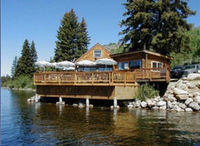 Half Moon Lake Lodge

Half Moon Lake Lodge opens for summer season Memorial Day weekend (posted 5/17/13)
Cabin rentals, restaurant, marina, horseback riding, fishing, hiking and more at Half Moon Lake
Half Moon Lake Lodge will be open for the summer season. They are planning on four days of fun including live music, great food, BBQ and lots to do over the Memorial Day weekend, May 24-27th. Half Moon Lake Lodge is located just nine miles from Pinedale, on the shore of Half Moon Lake. They operate under a permit from the Bridger-Teton National Forest. They offer a restaurant with casual fine dining, the all new Half Moon Saloon, cabin rentals, marina, boat slip rentals, horseback riding, fishing, wedding & special event catering, hunting and more. For more information call 307-367-6373 or go to www.halfmoonlakelodge.com.

Here is the line-up for their Memorial Day Weekend celebration:

Friday, May 24th:
Bar Opens 4:00PM
Live Music: Terry Hill 5-8 PM, Bruce Hauser 8:30-11:30PM

Saturday, May 25th:
BBQ at Noon
Live Music: Michelle Humber & Nate Curry 1-4 PM; Jared Rogerson 4:30-7:30PM, Bruce Hauser 8-11:30 PM.

Sunday, May 26th:
Breakfast 8:00AM
Bar Menu 1:00PM-Close

Memorial Day Monday, May 27th:
Bar & Deck Party starts at 11AM, Veterans -1st drink is FREE.
---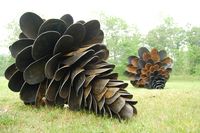 PFAC needs 300 shovels for an art project.

PFAC needs your old shovels! (posted 5/17/13)
Pinedale Fine Arts Council
The Pinedale Fine Arts Council's (PFAC) Visual Arts Committee (VAC) needs 300 old shovels! We are honored and thrilled to be bringing in the artist Patrick Plourde, who will be building pinecones out of old metal shovel heads for the Ex|Site: 3D Project. VAC is asking Sublette County to donate any old rusty shovels to be used in for the project at various locations through early August.

Shovels can be dropped off at receptacles located at The Sublette County Visitor's Center, Rock Rabbit, the Sublette County Library, The Pinedale Fine Arts Council office, the Town of Pinedale and the Sublette County Landfill. As well as at the following events:

Community Clean Up Day at Rendezvous Pointe (Saturday, May 18, 2013)
PFAC Summer Events at American Legion Park (June 29, Thursday, July 18, Friday, August 16)

For more information call 307-367-7322.

Related Links:
www.pinedalefinearts.com Pinedale Fine Arts Council
---
SCAG writing workshop rescheduled to June 15th (posted 5/16/13)
Sublette County Artists' Guild
The Sublette County Artists' Guild has rescheduled and selected a new location for the writing workshop with Wyoming author Tina Welling, originally planned for Saturday, June 1, to Saturday, June 15. The workshop will take place from 10 am to 3 pm in the basement meeting room of St. Andrew's in the Pines Episcopal Church. The church is located at 524 W. Pine Street in Pinedale, near the Pine Creek bridge.

This workshop is free and open to adults and young adults, ages 14 and up. The purpose is to encourage a more spontaneous writing process to allow your ideas to flow.
Interested participants are asked to RSVP to dbprice@wildblue.net or call 307-367-2342 to ensure a place. Please bring writing materials. Refreshments and lunch will be provided so that work can continue through the lunch hour.

The mission of the Sublette County Artists' Guild is to promote the arts and the creation of original work in this region. For more information about Tina Welling, please visit www.tinawelling.com.

---
Local Services:
Abortion Alternatives
Accounting & CPA
Arts & Entertainment
Attorneys & Legal
Automotive
Banks & Financial
Beauty Salons
Bed & Breakfasts
Boating
Bookkeeping
Builders & Contractors
Building Material
Business Services
Cabins
Cellular
Churches
Cleaning Services
Clothing
Commercial Art
Computer Supplies
Consultants
Convenience Stores/Fuel
Convention/Meeting
Dentists
Dining
Dry Cleaning
Events
Fabric & Crafts
Fencing
Fishing
Flooring
Food & Drink
Funeral Homes
Furniture
Gifts/Western
Government
Grocery & Market
Guest Ranches & Lodges
Handyman Services
Hardware & Feed
Heating
Health Care & Medical
Horseback Adventures
Insurance
Interior Design
Internet/Web/Advertising
Landscaping
Laundry
Lodging
Log Homes
Massage Therapy
Modular Homes
Motels
Mountain Biking
Movie Theaters
Museums
Nails
Newspapers
Office Supplies
Oil Field Services
Optometrists
Organizations
Outdoor Equipment
Outfitters & Guides
Packaging & Shipping
Painters
Pet Stores
Pharmacies
Photography
Plumbing
Professional Services
Radio
Real Estate Agencies
Real Estate-FSBO
Remodeling
Retirement
Retreats
RV Camping
Schools
Septic Services
Skiing
Snowmobiling
Snow Plowing
Storage and Storage Units
Tanning
Tattoos & Body Art
Tax Preparation Services
Taxidermy
Transportation/Shuttle
Trash Services
Trucking
Veterinarians
Visitor Services