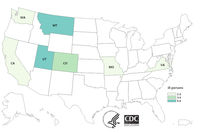 Map courtesy Centers for Disease Control (CDC)

Consumers alerted to celery recall related to E. coli outbreak (posted 11/30/15)
Variety of food products also sold in Wyoming
Pinedale Online
A multi-state E. coli outbreak has been traced back to celery distributed by Taylor Farms in California. Consumers, restaurants, and retailers should not eat, serve, or sell any of the recalled products containing celery produced by Taylor Farms Pacific, Inc. dated on or before November 20, 2015. Customers who have any recalled products are urged to discard the affected products immediately.

Multistate Outbreak of E. coli infections linked to Costco Rotisserie Chicken Salad Centers for Disease Control (CDC), Friday, November 27, 2015.

As of November 23, 2015, 19 people infected with the outbreak strain of STEC O157:H7 have been reported from 7 states (Montana, Utah, Colorado, California, Washington, Missouri and Virginia, (http://www.cdc.gov/ecoli/2015/o157h7-11-15/map.html). The majority of illnesses have been reported from states in the western United States. 5 ill people have been hospitalized, and 2 have developed hemolytic uremic syndrome, a type of kidney failure. No deaths have been reported. CDC and state and local public health partners are continuing laboratory surveillance through PulseNet to identify any additional ill persons and to interview them.

Montana reports the most sicknesses traced to a rotisserie chicken salad from Costco eaten by several people who became ill.

States with reported sickness:
California, 1 sick
Colorado, 4 sick
Missouri, 1 sick
Montana, 6 sick
Utah, 5 sick
Virginia, 1 sick
Washington, 1 sick

To date, there have been no reported sickness in Wyoming, although products from the company have been sold in the state. Jackson Whole Grocer in Jackson, Wyoming is listed as having received some of the product included in this recall. None of the products listed in the recall are carried by the Ridley's chain, which has a grocery store in Pinedale.

Taylor Farms Pacific, Inc. of Tracy, California, is recalling the products listed because they may include celery which could potentially contain E. coli 0157:H7. The products listed are being recalled out of an abundance of caution due to a Celery and Onion Diced Blend testing positive for E. coli 0157:H7 in a sample taken by the Montana Department of Health. The Celery and Onion Diced Blend tested by the state of Montana was used in a Costco Rotisserie Chicken Salad that has been linked to a multi-state E. coli 0157:H7 outbreak.

Escherichia coli O157:H7 is a bacterium that causes a diarrheal illness often with bloody stools. Most people infected with Shiga toxin-producing E. coli (STEC) develop diarrhea (often bloody) and abdominal cramps an average of 3-4 days after swallowing the germ. Although most healthy adults can recover completely within a week, some people can develop a form of kidney failure called Hemolytic Uremic Syndrome (HUS). HUS is most likely to occur in young children and the elderly. The condition can lead to serious kidney damage and even death.

The celery was sold in multiple products in states including: Alaska, Arizona, California, Colorado, Georgia, Hawaii, Idaho, Missouri, Montana, Nebraska, Nevada, New Mexico, North Dakota, Oregon, South Dakota, Utah, Virginia, Washington, and Wyoming.

Stores receiving products from the company include 7-Eleven, Albertsons, Costco, King Sooper, Pantry, Raleys, Safeway, Sams Club, Savemart, Starbucks, Target, Tony's, Vons, and Walmart.

Products are things like snack food trays, celery dice bags, celery stick bags, chicken salad, Waldorf salad mix, tuna salad, pasta toss salad, potato and bacon salad, potato salad, macaroni salad, veggi salad kit, Mandarin Orange Chinese W/Chicken Kit, seafood salad, cornbread stuffing, vegetable and Ranch dip, chopped salad, bulk salads, premade salads, Buffalo chicken wrap, celery & carrot slims.

Use dates are around November 20th and range to December 6th. Check the complete list for specific stores, their products, and the lot numbers that will be stamped on the product.

The following retailers are the only stores that are known to have received affected products are (where a town/state was given, we have included that in this list):
Allens SPR Save 1, Provo, Utah
Bowmans
Fresh Market, Richfield, Utah
Fresh Market, Park City, Utah
Clark's Market, Aspen
Dick's, Centerville, Utah
Dick's, Bountiful, Utah
Lee's Marketplace, Logan
Macey's, Providence, Utah
Macey's, Spanish Fork, Utah
Payson Food Corp
Peterson's Fresh Market
Reams, Springville, Utah
Dan's, Foothill, Utah
Stewarts Roosevelt B.W.W.
The Market at Park City, Utah
Town & Country Foods, Bozeman, Montana
Fresh Market, Holladay, Utah
Fresh Market 21st South
Harmons 7th Street grocery
Harmons at the Brickyard
Harmons at City Creek
Orange Street Market
Missoula Fresh Market, Missoula, Montana
Van's Thriftway Inc
Jackson Whole Grocer, Jackson, Wyoming
Broulims Market, Rigby, Idaho
Saveway Market
Broulims Market, Driggs, Idaho
Broulims Market, Rexburg, Idaho
Atkinsons, Ketchum, Idaho

Click here to see the complete list of states, stores and recalled food products: http://www.fda.gov/Safety/Recalls/ucm474601.htm

Only the products listed are subject to this recall. This recall is being conducted in coordination with the U.S. Food and Drug Administration (FDA). CDC and state and local public health partners are continuing laboratory surveillance through PulseNet to identify any additional ill persons and to interview them.

Consumer advice from the CDC: http://www.cdc.gov/ecoli/2015/o157h7-11-15/advice-consumers.html

Consumers may call 209-830-3141 for any further information Monday to Friday, exclusive of holidays, between the hours of 8am-5pm (PST). Consumers with concerns about an illness from consumption of any of the recalled products should contact a health care provider.

Taylor Farms Pacific, Inc. contact phone: (209) 830-3141
---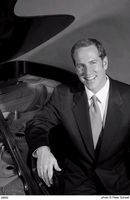 Pianist Richard Dowling Dec. 8th in Pinedale

Pianist Richard Dowling Dec. 8th in Pinedale (posted 11/30/15)
PFAC presents free show at the Library
Pinedale Fine Arts Council
The Pinedale Fine Arts Council (PFAC) is proud to present internationally acclaimed classical and ragtime pianist Richard Dowling live in Pinedale, Wyoming on Tuesday, Dec.8 at 7:00 p.m. in the Sublette County Library Lovatt Room. This free concert is sponsored by the The Piatigorsky Foundation and the Muriel & Seymour Thickman Family Charitable Foundation. Free wine and apps will be served!

Hailed by The New York Times as "an especially impressive fine young pianist," Richard Dowling appears regularly across the United States in solo recitals, at chamber music and jazz/ragtime festivals, and as a guest soloist in concerto performances with orchestras. He has been acclaimed by audiences for his elegant and exciting style of playing which earns him frequent return engagements. An artist of international stature, Mr. Dowling has presented solo recitals in South America, the Far East, Australia, Africa, and Europe. Career highlights include a sold-out New York orchestral debut at Lincoln Center's Alice Tully Hall, a solo recital at Carnegie's Weill Recital Hall in New York, and a special award from the National Federation of Music Clubs recognizing his outstanding performances of American music. In the United States he has received nationwide attention for recitals seen on the PBS television program Debut, and heard on the NPR radio program Performance Today. In New York Mr. Dowling has performed in Central Park with orchestra, and in recitals at Lincoln Center's Damrosch Park, the 92nd Street Y, Steinway Hall, The Kosciuszko Foundation, The Liederkranz Foundation, Trinity Church, St. Bartholomew's Church, The Metropolitan Museum of Art, The Metropolitan Club, The Dahesh Museum, The Tenri Cultural Institute, Christie's, 54 Below, The Rainbow Room at Rockefeller Center, The Brooklyn Conservatory, and Concordia College. Works of Chopin, Debussy, Ravel, Gershwin, and American ragtime figure prominently in his repertoire.

For more information please visit www.pinedalefinearts.com or www.sublettecountylibrary.org

---
Wolf delisting proposed in Senate (posted 11/30/15)
Cat Urbigkit, Pinedale Online!
Sen. Ron Johnson (R-Wis.) and Sen. John Barrasso (R-Wyo.) introduced legislation in November that directs the Secretary of the Interior to reissue final rules related to the listing of the gray wolf in Wisconsin, Michigan, Minnesota and Wyoming under the Endangered Species Act of 1973. The bill serves as the Senate companion to the bipartisan House bill introduced by Reps. Reid Ribble (R-Wis.) and Cynthia Lummis (R-Wyo.) earlier this year.

"After over 30 years of needed protection and professional pack population management, the wolf has made its comeback," Johnson said. "In 2011, the administration's Department of the Interior determined the number of wolves in the western Great Lakes states to be sufficient and growing and made the correct decision to delist them as an endangered species. President Obama's own Interior secretary applauded the decision, saying, 'Thanks to the work of our scientists, wildlife managers, and our state, tribal, and stakeholder partners, gray wolves in the western Great Lakes region are now fully recovered and healthy.'

"Unfortunately, in late 2014, a liberal judge in Washington, D.C. overruled the administration's wildlife experts in the field and returned the gray wolves to the Endangered Species List. It's obvious the U.S. Fish and Wildlife Service judges its past delisting decision to have been correct, and the ongoing efforts in Wisconsin and elsewhere to properly manage the wolf levels are working well. Simply put, wolves in these four states are no longer endangered and do not need the protections the ESA afforded them in the past.

"Our bill's language does not modify the Endangered Species Act, nor does it prevent the Fish and Wildlife Service from ever returning the wolf to the endangered list if it determines the population is again threatened and in need of federal protection. I strongly agree with Wisconsin's farmers, ranchers, loggers and sportsmen that future gray wolf listing decisions should come from the experts, and not from judges.

"Several important strides have been taken this year to once and for all give the final say on the gray wolf's status to our expert researchers inside the state Department of Natural Resources and the Department of the Interior. I'm glad to be a part of this important effort, and it is my hope that all senators from these four affected states will join Sen. Barrasso and me in this effort. "

"Wyoming has honored its commitment and put together a solid and working plan to protect the state's wolf population. Even the U.S. Fish and Wildlife Service agrees that wolves should be delisted in Wyoming," said Barrasso. "This is just one of many legislative opportunities we'll continue to pursue until Wyoming's wolf management plan is protected and fully implemented."

Related Links:
Senate File 2281 - Read the delisting bill here
Wolf Watch! - By Cat Urbigkit, Pinedale Online!

---
WYDOT reminds drivers of WAT program (posted 11/30/15)
WYDOT's Authorized Travel (WAT)
Wyoming Department of Transportation
The onset of winter weather in Wyoming brings with it a reminder of Wyoming Department of Transportation's (WYDOT) Authorized Travel (WAT) program, which provides a means for motorists to be approved to legally travel on a closed road. WAT is designed to help people who have the need to travel between home and work, school, medical appointments and agricultural property.

WAT follows provisions in state law that grant WYDOT and the Highway Patrol formal authority to allow local travel on the passable portion of an otherwise closed road when it is judged safe to do so.

Road closures are necessary to ensure the safety of travelers, but the closure points are limited to where WYDOT has gates to block traffic. That means portions of a closed highway may be passable when the closure is due to a traffic crash or storm miles from the nearest road closure gate.

It should be remembered that WAT does not give permission to travel on every closed road or to travel during every road closure. Permission to travel is unique to each storm event.

Driving on a closed road without permission carries a maximum possible penalty of a $750 fine and 30 days in jail.

The WAT application process requires drivers to answer questions about vehicles, the road sections they need to use, justification for travel and their driver license number. When a closure occurs, drivers who are pre-approved will be notified of which roadways are authorized for local travel.

Applications can be made by individual drivers or by businesses on behalf of their employees.

For details and to access an online application form, go to WYDOT's 511 Travel Information website, wyoroad.info.

---
Forest Service extends Food Storage Order (posted 11/30/15)
For human and bear safety
Bridger Teton National Forest
Food storage order has been temporarily expanded on the Bridger Teton National Forest in order to promote a safer environment for humans and bears. Forest visitors in the Blackrock, Jackson, and Pinedale Ranger Districts will see a wider regulatory boundary where the proper storing, processing, transporting, and camping with food or attractants, will be enforced. The order will be in effect from December 1, 2015 until January 15, 2016.

Extending the food order plays a key role in helping to alleviate possible negative interactions between humans and bears. It helps keep Forest visitor safe by mitigating encounters where a bear might be attracted to campgrounds, trailheads, picnic sites, and other areas frequented by people.

All food and other attractants (anything with an odor) that might invite the curiosity of bear to an area must be stored safely; making sure it is kept away from the reach of a bear during the night and daytime when the area is left unattended. Attended attractants means that a person is physically present within 100-feet and in direct sight of the food or carcass.

Human food (including canned food, soft drinks and alcoholic beverages), harvested game animals and parts, pet food, processed livestock feed and grains and personal hygiene items such as soap, toothpaste and deodorants must be stored in a manner unavailable to bears. This also includes garbage and empty food and beverage containers. Proper storage methods include placing food and other items in bear resistant containers or hard-sided vehicles or suspending them at least 10 feet above the ground and 4 feet from any vertical support.

Copy of the temporary Food Storage Order with map of the area affected is available online www.fs.usda.gov/detail/btnf/alerts-notices/?cid=stelprdb5295878.
---
White Pine Ski Area opens Dec. 3 for the 2015/2016 Winter Season (posted 11/25/15)
White Pine Ski Area has announced Thursday, December 3 as their opening day for the 2015/2016 winter season. They will be open Thursday through Sundays with lifts operating from 9am-4pm. Call 307-367-6606 or go online to www.whitepineski.com for updates and more info.

Related Links:
White Pine Ski Area opening soon - Nov. 22, 2015

---
4th graders can get free 2015 Christmas Tree permits (posted 11/24/15)
Bureau of Land Management
The Bureau of Land Management in Wyoming is excited to announce that all fourth graders are eligible for a free Christmas tree permit through the new White House initiative Every Kid in a Park (Every Kid).

Every Kid is a nationwide call to action to build the next generation of conservationists. All fourth graders are eligible to receive a fourth grade pass that allows free access to federal lands and waters across the country for a full year. The goal is to connect youth and their families to the outdoors. In support of this initiative, the BLM will make available a free holiday tree permit to every interested fourth-grader with a 4th Grade Pass or paper voucher.

In order for 4th grade students to receive a free Christmas tree permit, they must present a valid paper voucher printed from the Every Kid in a Park website at: https://www.everykidinapark.gov/

Visit the website and follow the instructions on the website to obtain the paper voucher. Print out the paper voucher. Bring the paper voucher with you to any BLM office in Wyoming, except Newcastle, to claim the free permit. The Christmas tree permits will be valid through Dec. 24, 2015.

For more information, contact the nearest BLM office or Every Kid Coordinator Lesly Smith at (307) 775-6031.
---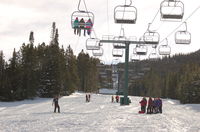 White Pine Ski Area held lift evacuation training for emergency crews recently. Photo courtesy White Pine.

White Pine Ski Area opening soon (posted 11/22/15)
White Pine Ski Resort hopes to open soon, with their tentative opening day on Friday, November 27, the day after Thanksgiving. The final decision will be made on Monday, November 23rd. White Pine's General Manager Tim Scott indicated the storm at the end of last week brought 14" of snowfall and another storm is fast moving in from the Pacific to add to their base. They will begin with running Little Spirit lift. Great Spirit lift will open as soon as they have sufficient snow cover.

Fall mowing and clean up by community volunteers in early November allowed for great snow cover on the lower mountain. Early grooming and packing immediately following the recent storm has provided a solid base ready for the next snowfall. "Another 6 inches and we'll fire up Little Spirit lift," said Scott. The decision on opening the rest of the mountain will be made in conjunction with White Pine lead ski patroller Gary Wilson with safety and adequate snow cover the primary considerations.

White Pine held lift evacuation training over the weekend of Nov. 21 & 22. Over 40 emergency response personnel from EMS, Search and Rescue, Ski Patrol volunteers and employees met at White Pine to attend the annual training/refresher course on how to evacuate skiers caught on the chair lift in the unlikely event of a major power shutdown.

"In the event of a malfunction or breakdown with skiers on both lifts, we would involve all Sublette County emergency response personnel, so it was crucial that they attended the refresher," said Gary Wilson. "White Pine has returning staff and a lot of new faces – everyone would be called upon to assist if there was an emergency – so all employees learn how to belay and perform the rescue. We went through the evacuation numbers of times, so every person had the opportunity to be familiarized with all aspects of the evacuation." Fortunately it has been a number of seasons since anyone needed to be evacuated. Lift evacuation is just one of the many functions that Wilson and his ski patrol team assist guests with on the mountain.

White Pine's new Tubing Hill scheduled to open mid-December. The tubing run is on the west of the Great Spirit on Competition run. The Tubing Hill opening is still awaiting a little more snow to create a safe run out at the base.

White Pine is located 10 miles northeast of Pinedale, Wyoming in the Bridger-Teton National Forest. It has 25 runs for downhill skiing and snowboarding and is adjacent to 35K of looping Nordic ski trails for all skill levels. Two lifts service groomed downhill runs and the terrain park offers jumps and slides. Fortification Mountain rises to an elevation of 9,500 feet and offers spectacular views of the Continental Divide, Wind River Mountains, the Bridger-Teton National Forest, Fremont Lake, as well as the nearby Wyoming Mountain Range.

Once they begin their regular Winter hours, they will be open Thursday through Sunday from 9AM to 4PM. White Pine is open all of Christmas break and most holidays. Adult full day lift tickets are $48/day, half day adult lift ticket is $36/day. Junior/Student/Senior full day lift tickets are $35/day, half day $28. Child (5 and under) lift ticket for full and half day is $6. Discount rates are available for schools and groups. There is no charge to cross-country ski on the nearby Nordic trails.

White Pine offers several large slope-side condo cabins for rent that can accommodate up to six people. The cabins typically have 2 bedrooms and 2 baths (one with a jetted tub), well-equipped kitchens with stainless steel appliances, a large walk-around deck, washer/dryer, living room with fireplace, and a BBQ on the deck. Cabins are non-smoking and pets are not allowed, except for service animals. White Pine Lodge offers food services and a bar.

Additional lodging and dining services are available in nearby Pinedale, a small community with a population around 2,000. Jackson Hole is located 88 miles to the north, and Rock Springs is 110 miles to the south. For more information about Pinedale visit www.visitpinedale.org.

For more information about White Pine Ski Resort call 307-367-6606, or go online to www.whitepineski.com.
---
PAPO seeks public comments on 2015 Pronghorn Annual Report (posted 11/20/15)
Pinedale Anticline Project Office
The Pinedale Anticline Project Office (PAPO) is seeking public comments on the Pinedale Anticline Project Area (PAPA) 2015 "Pronghorn Monitoring in the Pinedale Anticline Project Area – 2015 Annual Report." The report has been posted on the PAPO web page at http://www.wy.blm.gov/jio-papo/index.htm.

This report was prepared in fulfillment of requirements in the Record of Decision (ROD) for the Pinedale Anticline Project Area, which is located just outside of Pinedale, Wyoming.

A key component of the ROD is a Wildlife Monitoring and Mitigation Matrix (Mitigation Matrix) that specifies required mitigation for a variety of species (e.g., pronghorn, mule deer, sage-grouse, pygmy rabbit and white-tailed prairie dog). Under the Mitigation Matrix, requirements are triggered when a species-specific "change requiring mitigation" is reached. For pronghorn (Antilocapra Americana), the Mitigation Matrix specifies that mitigation measures are required if there is a 15 percent decline in pronghorn abundance in the PAPA detected in any year, or a cumulative change over all years beginning in the winter of 2009-2010, relative to changes to a reference area which is the larger Sublette pronghorn herd.

A summary of monitoring results in the report for the winter of 2014-2015 compared to the winter of 2009-2010 indicates an increase in average abundance of pronghorn numbers in the PAPA from 1,533 to 5,347. However, the report also indicates that the proportion of time pronghorn spend on the PAPA has decreased over time. The monitoring methods utilized and other information are described in the report.

Public comments on the report will be accepted until 4:30 p.m. on Dec. 1, 2015. Mail or deliver written comments to: Pinedale Field Office, 1625 W. Pine St., P.O. Box 768, Pinedale, WY 82941. Comments can also be emailed to egdecker@blm.gov or faxed to 307-367-5329. It should be noted that while all public comments will potentially be considered as the basis for inclusion into a revised report, the PAPO will not be responding to individual comments.

Before including your address, phone number, e-mail address, or other personal identifying information in your comment, you should be aware that your entire comment – including your personal identifying information – may be made publicly available at any time. While you can ask us in your comment to withhold your personal identifying information from public review, we cannot guarantee that we will be able to do so.

For more information, please contact PAPO Coordinator Eric Decker at 307-367-5386.

---
BTNF seeks public comment on Middle Piney Dam Project (posted 11/20/15)
Bridger-Teton National Forest
BIG PINEY – The Big Piney Ranger District of the Bridger-Teton National Forest is looking for comments on a proposed Middle Piney dam reconstruction project.

Currently the Middle Piney dam is rated as a high hazard structure and does not meet State and Federal safety standards. The proposed project would bring the existing Middle Piney dam into compliance with Federal and State safety standards and this project would be done in partnership with the Wyoming Water Development Commission. "Right now, the dam isn't holding the full permitted water right and we would all benefit from addressing some of the broader control structures that would be incorporated into a refurbished dam for overall safety of the structure and the protection of downstream infrastructure which includes a road, campground, and summer home area," said Big Piney District Ranger Mike Thom. "Additionally, the recreational benefits this project can bring to the Forest will be a real asset to the community and those who have discovered the opportunities the Middle Piney Reservoir affords," he said. The Middle Piney Reservoir is near the Sacagawea campground, as well as several summer recreational residences on the Forest. "If we don't address the issues with this old dam, there is a potential that the road leading to the campground could be washed out," said Thom.

Part of the proposed work to go along with refurbishing the dam would be to install a new and improved boat ramp for the Middle Piney Lake. "This is the only boat ramp in the Wyoming Range and the improved access will be a great benefit to fisherman and those who paddle this scenic lake," Thom said.

The Forest would have to limit vehicle access on the road to the dam while the construction is occurring and close the day-use area at the lake. "If the project goes forward, we will be able to have the work done on the dam and boat ramp without closing the Sacagawea campground," Thom said. The project would be analyzed through May 2016 and a contract could be awarded as early as the fall of 2016. "The work is expected to take at least two summers and while the area itself would be closed, and that is indeed an inconvenience, the benefits to recreationists would be worth the wait" he said.

Comments should be sent to District Ranger Mike Thom at PO Box 218, Big Piney, WY 83113 or electronically to comments-intermtn-Bridger-teton-big-piney@fs.fed.us. For additional information on this proposed project visit http://www.fs.usda.gov/goto/btnf/projects or contact hydrologist Trevlyn Robertson at 307-886-5317.

---
Christmas Tree permits available from BLM (posted 11/20/15)
Bureau of Land Management
The Bureau of Land Management (BLM) is now offering Christmas tree permits for sale. Permits may be purchased between 7:45 a.m. and 4:30 p.m., Monday - Friday from any BLM Wyoming field office. The cost for a permit ranges from $5 to $25 per tree depending on the location and the size of tree. Up to a maximum of five Christmas trees can be purchased by an individual for personal use on BLM-administered lands.

A BLM permit is valid for trees located on BLM lands only. Permits for trees on U.S. Forest Service-administered land can be obtained at your local Forest Service office and at some BLM offices.

Tree cutters must have a valid permit with them while cutting a tree. Trees may not be cut within a wilderness area, wilderness study area, timber sale area, or administrative sites such as developed campgrounds.

Although the Christmas tree permits are for any tree species, the BLM recommends Engelmann spruce, sub-alpine fir, Douglas fir and lodgepole pine as the best species to cut for your Christmas tree. Christmas trees harvested from aspen stands and riparian areas will contribute to forest health and improve wildlife habitat.

It is the purchaser's responsibility to not trespass on private land and to make sure you're cutting the tree in the correct area. Be prepared for winter weather and high country conditions.

For more information call your local BLM office:
Buffalo Field Office (307) 684-1100
Casper Field Office (307) 261-7600
Cody Field Office (307) 578-5900
Kemmerer Field Office (307) 828-4500
Lander Field Office (307) 332-8400
Newcastle Field Office (307) 746-6600
Pinedale Field Office (307) 367-5300
Rawlins Field Office (307) 328-4200
Rock Springs Field Office (307) 352-0256
Worland Field Office (307) 345-5100
Wyoming State Office (307) 775-6314

---
Business Directory
Click here for
Advertising Information