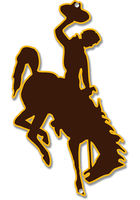 Wyoming Cowboys invited to the 2019 Arizona Bowl

Wyoming Cowboys invited to Arizona Bowl (posted 12/14/19)
Game to be played on Dec. 31st
University of Wyoming
For the third time in the last four seasons, the Wyoming Cowboys have earned a bowl bid and their destination this year is Tucson, Arizona The Nova Home Loans Arizona Bowl Committee formally invited the Cowboys on Sunday (Dec. 8th). The game will be played on Tuesday, Dec. 31, 2019 and will kick off at 2:30 p.m., Mountain Time from Arizona Stadium in Tucson on CBS Sports Network.

The opponent for the Cowboys will be the Georgia State Panthers from the Sun Belt Conference. Wyoming will enter the game with a 7-5 overall record and a 4-4 record in the Mountain West Conference. Georgia State is 7-5 on the season and posted a 4-4 record in the Sun Belt. The Cowboys and Panthers will be meeting for the first time in the two schools' histories.

"This is a great achievement for a very young football team that has a bright future," University of Wyoming Director of Athletics Tom Burman said. "We are thrilled to be playing in the Arizona Bowl. Bowl games present an opportunity for celebration and enjoyment, but it also allows us vital practices to prepare for next season."

"The Arizona Bowl Committee came and presented to the Mountain West members and I was very impressed, Wyoming head coach Craig Bohl said. "The community really rallies around this event and all the colleagues I have talked to have said nothing but great things. This is an up and coming Bowl Game and we are excited to participate."

This will be Wyoming's 16th bowl appearance and the third under head coach Craig Bohl in his six season at the helm of the Cowboy Football program. "This game is a great way to support our athletic department," Bohl said. "We have always been noted for our fans traveling. I have always been heart warmed by the number of fans who come out and support the University of Wyoming."

Tickets to the 2019 Nova Home Loans Arizona Bowl featuring the Wyoming Cowboys and Georgia State are available now. Fans are encouraged to purchase through the WYO Athletics Ticket Office to sit in the Wyoming section & support UW. Buying tickets through the WYO Athletic ticket Office helps your alma mater financially and future bowl appearances. Fans are encouraged to order by Dec. 13 at 5pm to be a part of the first seating allocation and get the best seats available.

Purchase here: GoWyo.com/tickets. (Editor's note: The Wyoming ticket allotment for the NOVA Home Loans Arizona Bowl in sections 2-9 is SOLD OUT. However, tickets are still available at: NovaArizonaBowl.com/game-2019/tickets. Ticket prices range from $15 to $225 depending on seating location in the stadium.)

Bowl game tickets are $50. Additional information can be found at GoWyo.com/tickets or by calling 307-766-7220 (M-F 8:00 am - 5:00 pm).

Additional information on bowl activities will be released as it becomes available. Fans may also find the most recent information on this year's bowl game at GoWyo.com and on the official UW Athletics social media feeds.
---
Geminid Meteor Shower peak Dec. 13-15 (posted 12/12/19)
Skywatchers are in for a treat this weekend with the annual peak of the Geminid Meteor Shower December 14th. Viewers could see as many as 20 or so Geminids per hour, despite the full moonlight. The peak morning is likely to be Saturday, December 14, 2019, although some might be seen late Friday night and early Sunday morning. Even though you can see some meteors in the late evening, the best viewing is typically around 2AM. On a dark night, free of moonlight, viewers typically can easily spot 50 or more meteors per hour. On an optimum night for the Geminids, it's possible to see 150 meteors per hour, but that won't happen this year with the bright moonlight. More info

---
Yellowstone National Park winter season starts December 15, 2019 (posted 12/12/19)
Roads in Yellowstone National Park will open to the public for travel by snowcoaches and snowmobiles at 8:00AM on Sunday, December 15th.

Visitors will be able to travel the park's interior roads on commercially-guided snowmobiles and snowcoaches from the North, West, and South Entrances. Visitors who have proper permits can also take non-commercially guided snowmobile trips.

The East Entrance Road over Sylvan Pass will open for oversnow travel on Sunday, December 22.

The road from the park's North Entrance at Gardiner, Montana, through Mammoth Hot Springs to Cooke City, Montana, is plowed and open to wheeled-vehicle travel all year.

Plan ahead for your winter adventure. In addition to unique winter travel opportunities, Yellowstone also offers a variety of activities such as ranger-led programs, cross-country skiing, and snowshoeing.

Weather is extremely unpredictable and road closures or delays can occur with little or no warning. Please come prepared. Carry personal emergency survival equipment and dress appropriately for outside activities in extremely cold weather.

Lodging and services are limited during winter. The following list highlights what winter visitor services are available and when they will open:

Old Faithful
• December 15 - Old Faithful Visitor Education Center, Geyser Grill, and Bear Den Gift Shop and Ski Shop
• December 16 - Old Faithful Snow Lodge and Cabins and Obsidian Dining Room

Mammoth Hot Springs
• December 15 - Mammoth Hotel, Mammoth Hotel Map Room Barista/Bar, Dining Room, Terrace Grill, Mammoth Gift Shop and Ski Shop
• Open Year-round - Albright Visitor Center, Mammoth General Store, medical clinic, campground, and post office

Service Stations
• Open Year-round - 24-hour gasoline pumps are available at Mammoth Hot Springs, Tower Junction, Canyon Village, Fishing Bridge, Grant Village, and Old Faithful

Additionally, warming huts at Canyon, Fishing Bridge, Indian Creek, Madison, Mammoth Hot Springs, Old Faithful, and West Thumb provide shelter. Some huts are staffed during business hours. Food, restrooms, and water are available at some huts. All warming huts, except Mammoth Hot Springs, will open on December 15. Mammoth Hot Springs will open on December 16.
---
BTNF releases Draft Environmental Assessment for Grazing near Pinedale (posted 12/12/19)
Bridger-Teton National Forest
The Pinedale Ranger District of the Bridger-Teton National Forest is releasing a Draft Environmental Assessment that discloses the expected environmental effects of reauthorizing grazing for Sweetwater, Blucher Creek, and East Squaw Creek Cattle and Horse Allotments Project. This additional Opportunity to Comment is offered under a multi-decision court settlement, and will be followed by the standard process of providing a draft Decision Notice with an Opportunity to Object. The allotments are located in Sublette and Fremont Counties, Wyoming, along the southwest edge of the Wind River Mountain Range. The principle drainages include East Sweetwater, Little Sweetwater, Blucher Creek, Little Sandy, Chicken Creek and the East and Middle Forks of Squaw Creek, southeast of the Dutch Joe guard station and approximately 40-miles southeast of Boulder, Wyoming.

The Draft Environmental Assessment describes the proposed action to authorize grazing, as well as a no grazing alternative. The Pinedale Ranger District is proposing to continue to authorize 593 cow/calf pairs of cattle, or equivalent, on the three allotments and would provide an average of 1,240 animal unit months (AUMs) annually with a maximum of 1,655 AUMs in any years where all three allotments are grazed by livestock. Generally, the season of use would occur between July 10 and October 1. The season of use would be variables a result of managing livestock in conjunction with adjacent Bureau of Land Management allotments.

This proposed action would manage livestock grazing in compliance with the 1990 Bridger-Teton Land and Resource Management Plan and other applicable laws, treaties, regulations and policies.

The Draft Environmental Assessment reviewed existing monitoring data, compared existing conditions to desired conditions, and evaluated/disclosed environmental effects associated with current domestic livestock grazing and alternatives for management of livestock in the Sweetwater, Blucher Creek, and East Squaw Creek Allotments.
The Draft Environmental Assessment is available at https://www.fs.usda.gov/project/?project=43343 This action is subject to the objection process pursuant to 36 CFR 218 Subparts A and B. A final decision will not be made until after the objection process. Only those who submit timely and specific written comments regarding the proposed project during a public comment period are eligible to file an objection under §218. Public comment periods on which eligibility to object is determined include the comment period initiated by this notice, and a prior scoping period that began on March 21, 2014. Comments may be submitted, within 30 days following the publication date of this legal notice in the Casper Star-Tribune, by clicking the comment box at the webpage above.

A copy of this notice with publication date will be available at that webpage as well. Written comments, including any attachments, may also be submitted (regular mail, hand-delivery, or express delivery) to the District Ranger, Pinedale Ranger District, P.O. Box 220, 29 East Fremont Lake Rd, Pinedale, Wyoming, 82941; or faxed to 307-367-5750. The office business hours for those submitting hand-delivered comments are: 8:00 am to 4:30 pm Monday through Friday, excluding holidays.

The publication date in the Casper Star-Tribune is the exclusive means for calculating the 30-day timeframe to submit comments to this project. Those wishing to comment should not rely upon dates from any other source.

Currently the Bridger-Teton National Forest authorizes permittees to graze their livestock for approximately 181,600 animal unit months or about 70 percent of the 260,000 animal unit month Forest objective. There is a need to authorize livestock grazing on the Bridger-Teton National Forest to meet Forest Resource Management Plan objectives, which directs the Forest to support community prosperity and specifically, Objective 1.1(h) to provide forage for approximately 260,000 animal unit months (AUMs) of livestock grazing annually (U.S. Forest Service 1990, p. 112-113).

Questions about this project can be addressed to David Booth, Natural Resource Specialist, Pinedale Ranger District, P.O. Box 220, Pinedale, Wyoming, 82941, dave.booth@usda.gov or (307)367-4326. The Responsible Official who will issue a final decision on this project is Rob Hoelscher, District Ranger.
---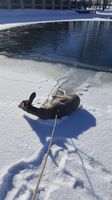 Two Sublette County Sheriff's Office deputies use their cowboy lasso skills to rescue a stranded doe from a pond near Daniel. Photo by Deputy Justin Hays, SCSO.

SCSO Deputies rescue stranded deer in local pond (posted 12/10/19)
Sublette County Sheriff's Office
Update to original media release:
SCSO Deputies rescue stranded deer in local pond, update 2pm. On December 10th, 2019, Sublette County Sheriff's Deputy Justin Hays was travelling to Pinedale for training. As he was passing through the town of Daniel, he observed a deer struggling to free itself from a pond that had partially iced over. He radioed to dispatch that he was on scene and was soon joined by Sublette County Sheriff's Deputy Josh Peterson who was on duty at the time and Deputy Peterson activated his body worn camera.

Deputy Hays, along with a select few other deputies carry ranch ropes, team ropes or lariats in their patrol vehicles which they use to help get livestock off the roadways. Deputy Hays had two ropes with him at the time. He tied one end of the rope off to a tree so he could test the stability of the ice to ensure it would support his weight as well as Deputy Peterson. The deer attempted to swim away from Deputy Hays as he approached it so Deputy Peterson gathered the first rope and went to the opposite end of the open water. Deputy Hays lassoed the deer and was able to drag it up on to the ice. Deputy Hays stated he wanted to have a large enough loop for the deer to get a leg through so the rope wouldn't be around the deer's neck.

The deer was exhausted and cold so Deputy Hays carried it over to the asphalt black top so it would help warm the deer up. Deputy Hays drove back by the area after his training that afternoon and the deer was gone.

Click on this link for a video of the rescue: Deer rescue
_____________________________

Original release 12/11/19:
On Tuesday, December 10th, at approximately 12:45pm, Sublette County Dispatch received a call of a deer who had fallen through the ice into a pond near Daniel. Once on scene, Deputies found the ice to be too thin to reach the stranded animal directly in a safe manner. Deputy Hays and Deputy Peterson then worked together and lassoed the deer and were able to bring the animal back into shore safely.

The deer was then taken to the landowner's blacktop driveway to warm up. A few hours later Deputy Hays stopped to check if the deer was able to warm up and leave the area and found the deer to have moved out of the area on its own.

---
WYDOT receives $100,000 for the Dry Piney wildlife crossing project (posted 12/10/19)
Wyoming Department of Transportation
The Greater Yellowstone Coalition donated $100,000 to the Wyoming Department of Transportation for a wildlife crossing project north of La Barge in southwest Wyoming.

The money the Greater Yellowstone Coalition donated will be used for the Dry Piney wildlife crossing project. The project calls for installing underpasses, fencing and related improvements along a 28-mile stretch of US 189 between La Barge and Big Piney.

"We want to thank the Greater Yellowstone Coalition for their generous donation," said WYDOT Director K. Luke Reiner. "Dry Piney is one of our top priority projects. This project and others like it will help us with our vital mission of reducing crashes and improving highway safety for all."

Greater Yellowstone Coalition officials said they're pleased they can provide additional funding for the project. The Coalition, which has offices in Jackson, Cody and Lander, Wyoming along with Montana and Idaho, works to protect the lands, waters and wildlife of the Greater Yellowstone Ecosystem through highway crossing projects like Dry Piney that allow animals to move across our roadways safely.

"Not only will this project save thousands of deer over its lifetime in the struggling Wyoming Range herd, it's also going to keep families safe on this stretch of road by reducing collisions," said Chris Colligan, Greater Yellowstone Coalition wildlife program coordinator. "The Greater Yellowstone Coalition is pleased to support this project by helping secure local match dollars that leverage state and federal funds."

The Dry Piney project will help the Wyoming Range mule deer herd as well as pronghorn, elk and moose movement. Wyoming Game and Fish Department (WGFD) estimates that this section of highway would be used by about 3,000 mule deer, 300 to 500 pronghorn, 100 to 150 elk and 50 to 100 moose, annually. Dry Piney is one area that WYDOT, WGFD and other stakeholders have identified as needing mitigation work to reduce crashes.

"Projects like Dry Piney help us reduce wildlife-vehicle crashes in Wyoming," said WYDOT Chief Engineer Shelby Carlson. "We've seen major improvements with the work done so far with other wildlife-vehicle collision mitigation projects. The Dry Piney project will provide safe passage for wildlife to cross under US 189 while traversing their historic migratory routes."

Besides Greater Yellowstone Coalition, a Casper-area family recently donated $25,000 to the fund.

Additionally, WYDOT received a $14.5 million Better Utilizing Investments to Leverage Development (BUILD) grant for the Dry Piney wildlife crossing project. The Wyoming Transportation Commission and the Wyoming Game and Fish Commission also both contributed $1.25 million for a total of $2.5 million for Dry Piney.

People interested in making a donation for wildlife-vehicle crash mitigation can send their donation to WYDOT at the following address:
WYDOT Financial Services
ATTN: Wildlife Crossing Donation
5300 Bishop Blvd.
Cheyenne, WY 82009

---
Wolf News Roundup 12/08/2019 (posted 12/8/19)
Cat Urbigkit, Pinedale Online!
Wyoming Wolf Hunt
With the Sept. 1 opening of the wolf hunting season in many of western Wyoming's trophy wolf hunt areas, quotas have been reached in six hunt areas, so those areas are now closed.

This includes: the quota of four wolves has been reached in the Clarks Fork Hunt Area 1; Hunt Area 2's six-wolf quota has been reached' the quota of two wolves has been reached in Area 3, the South Fork; the Wind River Hunt Area 5 quota of one wolf has been reached; the three-wolf quota in Hunt Area 6 & 7 Pacific Creek/Targhee; and the two-wolf quota at The Rim (Hunt Area 10); have also been reached.

Of the total quota of 35 wolves available for legal harvest in the state's wolf trophy zone, 26 wolves have been killed by hunters as of Dec. 6. An additional 22 wolves have been killed so far this year in the remainder of Wyoming, where wolves are classified as predators.

Washington
Earlier this fall, Washington Governor Jay Inslee sent a letter to Washington Department of Fish & Wildlife Director (WDFW) Kelly Susewind requesting that the wildlife department "significantly reduce" the number of wolves killed in control actions in response to livestock depredations.

Susewind recently replied to Inslee's letter, detailing efforts to implement proactive, non-lethal tools to prevent wolf-livestock conflicts. The letter noted: "Your request was to increase our reliance on non-lethal tools and significantly reduce the need for lethal removal of wolves, and we sincerely believe the best way to do that is to develop willing, collaborative, and lasting partnerships at the community level with livestock producers in the heart of what is now core wolf habitat. Plans recommended at any level of government are only true solutions if they are perceived to be beneficial to the recipients, and if they are based on our shared, common goals intended to bring Washington together around wolf issues."

It's not the first time the governor and the wildlife department director have differed on wolves. After WDFW Director Susewind sent a letter of support for the federal delisting of wolves, Inslee sent a follow-up letter clarifying that the state's position was opposed to the removal of wolf protections.

Washington has been embroiled in controversy over wolves, with many wolf advocates from the western side of the state (where there are few wolves) decrying lethal control of wolves in the eastern region (where the majority of the wolf population resides). Things got so heated that WDFW cancelled a series of public meetings to discuss revisions to the state wolf management plan because of fears of violence. Reporting by the Inlander reveal that the "multiple violent social media threats" came from wolf supporters, not anti-wolf extremists.

Germany
Germany now has more than 100 wolf packs, 25 wolf pairs, and more than a dozen lone wolves. In addition to increasing in numbers, the wolf population has expanded its range in the European nation.

Check out the links below for details on these stories.

Related Links:
Wyoming hunt - Wyoming Game & Fish Department
Washington - Spokesman Review
Washington threats - Inlander.com
Germany - Dw.com
Wolf Watch - by Cat Urbigkit, Pinedale Online!

---
Pinedale airport to receive $5 million for improvements (posted 12/7/19)
Wyoming Department of Transportation
A Pinedale public-use airport will receive $5 million in supplemental federal funding to make improvements to the aircraft parking apron and fuel farm.

The Ralph Wenz Field in Pinedale will receive the funding as part of a $485 million nationwide award announced by U.S. Secretary of Transportation Elaine L. Chao recently. The work includes expanding the apron and relocating and replacing the existing fuel farm with two, 15,000 gallon above ground tanks.

Airports like the Ralph Wenz Field in Pinedale and others throughout the United States will receive the funding as part of the supplemental amount of $500 million for discretionary grants under the Airport Improvement Program (AIP) statute.

"The robust economy is enabling more passengers to travel by air so this Administration is investing billions of dollars in America's airports which will address safer airport operations, fewer airport delays and greater ease of travel for air travelers," Chao said in a release on Nov. 22.

In this recent round of awards, Pinedale was one of 108 airports to receive the supplemental funding.

"Projects like these help the state provide a safe, efficient transportation system for the traveling public," said Brian Olsen, WYDOT Aeronautics administrator. "We are pleased the Ralph Wenz Field will get this supplemental funding to make those improvements, which will only enhance aviation in that part of Wyoming."

According to WYDOT's most recent economic analysis, 35 public use airports in the Wyoming Aviation System account for $1.4 billion in total economic activity and support more than 12,000 jobs annually.

---
LIEAP applications now available (posted 12/5/19)
Energy bills assistance for low income families in Wyoming
Wyoming Department of Family Services
The Wyoming Low Income Energy Assistance Program (LIEAP), administered by the Wyoming Department of Family Services, is accepting applications.

LIEAP is a federally funded program designed to help eligible Wyoming residents pay their residential heating bills during the winter months; November through May. LIEAP approval may also result in approval to get eligible homes weatherized, which can significantly lower the energy costs and improve the comfort, health, and safety of qualified Wyoming homes.

Applications may be requested by calling the LIEAP office at 1-800-246-4221, or by sending an email request to lieapinfo@thealignteam.org. Applications are also available at all local Department of Family Services (DFS) offices and senior centers. Applicants may apply online at https://www.lieapwyo.org/forms-and-application.html.

Applicants should mail completed applications and supporting documents to:
P.O. Box 827, Cheyenne, WY 82003; fax them to 307-778-3943; submit online at https://www.lieapwyo.org/forms-and-application.html; or, email them to lieapinfo@thealignteam.org.

---
BLM offers Christmas tree permits for sale (posted 11/29/19)
Bureau of Land Management
The Bureau of Land Management (BLM) will offer Christmas tree permits for sale.

Permits may be purchased between 7:45 a.m. and 4:30 p.m., Mon.-Fri. from any BLM Wyoming field office. The cost for a permit is $5 to $10 per tree, depending on location. Up to a maximum of five Christmas trees can be purchased by an individual for personal use on BLM-administered lands.

A BLM permit is valid for trees located on BLM-administered lands only. Permits for trees on U.S. Forest Service-administered land can be obtained at your local Forest Service office and at some BLM offices.

Tree cutters must have a valid permit with them while cutting a tree. Trees may not be cut within a wilderness area, wilderness study area, timber sale area, or administrative sites such as developed campgrounds.

Although the Christmas tree permits are for any tree species, the BLM recommends Engelmann spruce, sub-alpine fir, Douglas fir, Ponderosa pine and lodgepole pine as the best species to cut for your Christmas tree. Christmas trees harvested from aspen stands and dense young stands will contribute to forest health and improve wildlife habitat.

It is the purchaser's responsibility to not trespass on private land and to make sure you're cutting the tree in the correct area. Be prepared for winter weather and high country conditions.

For more information, visit this website: www.blm.gov/wyoming-christmas-trees. Or please call your local BLM office:

Buffalo Field Office (307) 684-1100
Casper Field Office (307) 261-7600
Cody Field Office (307) 578-5900
Kemmerer Field Office (307) 828-4500
Lander Field Office (307) 332-8400
Newcastle Field Office (307) 746-6600
Pinedale Field Office (307) 367-5300
Rawlins Field Office (307) 328-4200
Rock Springs Field Office (307) 352-0256
Worland Field Office (307) 347-5100
Wyoming State Office (307) 775-6314

---
Pinedale Ranger District extends office open hours for holiday season (posted 11/25/19)
Christmas tree permits on sale in Pinedale (4th graders get a permit for free)
Bridger-Teton National Forest
The Bridger-Teton National Forest's Pinedale Ranger District will be open three Saturdays in December to better accommodate Christmas tree permit sales. On Saturday, December 7, December 14, and December 21, 2019 the office will be open from 9:00 a.m. to 4:00 p.m. All Christmas tree permits are $15 for any tree less than 20-feet. Payment may be made with cash, check or credit card for the Christmas tree permits.

Christmas Tree permits are also available during regular hours at the Pinedale Ranger District on Monday through Friday from 8:00 a.m. until 5:00 p.m.

The Grand Teton Association (GTA) has provided the District with a whole new supply of books and toys for kids and adults for the holiday season, so families, teachers and area residents are encouraged to come in and see the new inventory. Products are relevant to the local natural history of the Forest and the entire Greater Yellowstone Ecosystem. On Friday, November 29, 2019 GTA will be offering a Black Friday sale! All merchandise will be 25% off.

If you have a 4th grader in your household, bring them in for their FREE Christmas tree permit. As part of the Every Kid Outdoors initiative, every fourth grader is eligible to receive a free Christmas tree permit for the student's household. Fourth graders must present a valid fourth grade pass from the Every Kid Outdoors website. For additional information about the initiative and how to obtain a pass, visit https://www.everykidoutdoors.gov/. Fourth graders must be accompanied by a parent or guardian and be present to claim their family's free Christmas tree permit. They need to print off a voucher on line or bring their pass to the Forest Service office to get their free tree.
-USFS-

---
BLM hiring for seasonal wildland fire jobs (posted 11/19/19)
Bureau of Land Management
The Bureau of Land Management is now accepting applications for seasonal fire jobs for the summer of 2020.

"We're looking for people from all walks of life who enjoy the outdoors, have a sense of adventure and are interested in joining our workforce. These positions include firefighters assigned to engines, hand crews or helicopters, prescribed fire and dispatch. It is a great opportunity to see not only Wyoming but other parts of the country doing an extremely rewarding job" said Assistant State Fire Management Officer Richard Putnam.

Individuals who would like to be seasonal wildland firefighters need to apply early as most job announcements open in December and first consideration for hiring may begin in January despite crews not starting work until summer.

Applications are only accepted online at USAJOBS, www.usajobs.gov. Enter the keyword BLM-FIRE-2020 and Wyoming in the search boxes on the top of the page. Additional hiring information and application guidance can be found at Wildland Fire Jobs U.S. Department of the Interior, https://www.firejobs.doi.gov/index.php?action=home. Local contact information and additional information about the duty stations can also be found at the above website.

Applicants must be U.S. citizens, be at least 18 years old and pass a work capacity test (pack test) on the first day, excluding dispatch. Some positions may require a valid state driver's license. Those who are hired will receive training and previous firefighting experience is not a requirement for entry level positions. Base hourly pay can range from $12.95-$16.27 per hour. Seasonal positions provide employment for a limited period normally six months or less.

---
Christmas tree permits on sale (posted 11/11/19)
Bridger-Teton National Forest
This season's Bridger-Teton National Forest Christmas tree permits are available for purchase from Forest Service offices and local vendors in communities surrounding Moran, Jackson, Alpine, Afton, Kemmerer, Big Piney, and Pinedale, Wyoming.

A permit is required to cut Christmas trees from Bridger-Teton National Forest lands. Each Christmas tree permit costs $15.00 and allows for the harvest of one tree up to 20 feet in height. Harvesters are encouraged to cut trees close to the ground, trim branches away from the tree stump, and scatter any boughs that aren't collected. Bough collection is popular this time of year, and permits for cutting evergreen boughs can be purchased for $0.20 per pound at a $20.00 minimum.

With a permit in hand, it is also important to understand the rules that come with harvesting a forest product. As a reminder, cutting trees or removing products is prohibited in campgrounds, summer home sites, administrative sites, guard stations, ski areas, Cache Creek Canyon near Jackson, the Snake River Canyon, designated Wilderness or Wilderness Study Areas, and elk feed grounds. As seasons change, please check kiosks for current local information. Please follow all travel restrictions shown on Motor Vehicle Use Maps or, starting December 1st, the North Zone Winter Travel Map for the north half of the forest. These free maps are available at Forest Service offices and on the Bridger-Teton National Forest website. These maps can also be downloaded using the Avenza Maps app.

Any 4th grader presenting an Every Kid Outdoors federal lands pass will be given a free Christmas tree tag. Every Kid Outdoors federal lands passes are valid for 4th graders September 1st to August 30th each year. To obtain a pass, fourth grade students can visit the bilingual Every Kid Outdoors website, participate in a short educational activity, and then download a paper voucher to print and bring along to any federal land management office. Vouchers are traded in for an Every Kid Outdoors pass.

---
Business Directory
Click here for
Advertising Information