Grand Teton National Park begins removal of mountain goats (posted 2/21/2020)
Grand Teton National Park
MOOSE, WYOMING - Grand Teton National Park will implement a temporary area closure for public and operational safety during nonnative mountain goat removal activities beginning Friday, February 21, 2020. The temporary closure may be in effect for up to one week.

The closure area is bounded on the south by South, Middle and Grand Tetons, Mount Owen and Teewinot Mountain peaks; bounded on the west by the park boundary; bounded on the east by the western shores of Jackson, Leigh, String and Jenny Lakes; and bounded on the north by Rolling Thunder Mountain and Eagle Rest Peaks. No public access will be allowed in the area during this time. Signs will be posted at main access locations and a map of the temporary closure area can be viewed at https://www.nps.gov/grte/learn/management/temporary-closures-and-compendium-amendments.htm.

In order to aid in the conservation of a native and vulnerable population of Rocky Mountain bighorn sheep in the Teton Range, the National Park Service is implementing a recently finalized management plan to remove nonnative mountain goats from the park via lethal and nonlethal means.

The National Park Service has a responsibility to protect native species and reduce the potential for local extinction of a native species and therefore intends to reduce the number of nonnative mountain goats in the park as quickly as possible. Mountain goats are not native to Grand Teton National Park. Mountain goats threaten the native Teton Range bighorn sheep herd through increased risk of pathogen transmission and the potential for competition. Aerially-based lethal activities are the most efficient and effective methods to remove nonnative mountain goats.

Beginning Friday, February 21, helicopter-based lethal removal efforts will be initiated, as weather conditions and mountain goat distribution allow. Removal activities will be performed by a qualified contractor. Timing of the activities is planned when park visitation is low, and will be concentrated in the area between Cascade and Snowshoe Canyons where the majority of the mountain goats are located.

Without swift and active management, the mountain goat population is expected to continue to grow and expand its distribution within the park. The mountain goat population is currently at a size where complete removal is achievable in a short time, however, the growth rate of this population suggest that complete removal in the near future may become unattainable.

The Teton Range is home to a small herd of native bighorn sheep currently estimated at approximately 100 animals. This herd is one of the smaller and most isolated in Wyoming, and has never been extirpated or augmented. The Teton Range herd of native bighorn sheep is of high conservation value to the park, adjacent land and wildlife managers, and visitors.

Currently the nonnative mountain goat population within the park is estimated at approximately 100 animals. Resident mountain goats within the park are likely descended from a population that was introduced outside the park.

---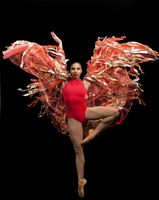 Hiplet Ballerinas perform in Pinedale Feb. 27th. PFAC presentation.

Hiplet Ballerinas bring On Pointe Hip Hop Moves to Pinedale Feb. 27 (posted 2/20/2020)
Pinedale Fine Arts Council
The Pinedale Fine Arts Council (PFAC) is proud to present Chicago-based dance company The Hiplet Ballerinas on Thursday, February 27 at 7:00 p.m. in the Sheppard (Pinedale) Auditorium.

The Hiplet Ballerinas fuse classical pointe technique with African, Latin, Hip-Hop and urban dance styles that are rooted in communities of color. The company formed to make ballet accessible to all, by mixing it with current popular songs that will be familiar to audiences who don't normally attend ballet performances. Performances may incorporate the rhythms of African drums with Tchaikovsky, arabesques and beat-boxing or even Tango en point';/e - all while showcasing Hiplet's trademark sass, hip movements, and struts against popular music audiences will recognize from Black Violin to Beyonce.

After features on Good Morning America, Buzzfeed, and The Huffington Post the new art form went viral in spring 2016 and has now amassed over a BILLION views. Since then partnerships with Mercedes Benz, Vogue's Anna Wintour, New York and Paris Fashion Week, W Magazine, Versace, and Old Navy to name a few, have culminated in an incredible worldwide demand for a live show featuring Homer Bryant's innovative technique. Featuring 10 dancers, CMDC is excited to partner with ECE Touring to bring its touring show to audiences everywhere.

According to the New York Times: "If ballet aims for the ethereal, hiplet, generally danced to pop music, is more concerned with earthiness. It has soulfulness, too; while the lower half of the body can be sharp and percussive, the upper half — how the arms connect with the back — conveys a natural flow."

Tickets for The Hiplet Ballerinas are available online at pinedalefinearts.com and locally at Pine Coffee Supply, The Cowboy Shop, Office Outlets, The Big Piney Library and at the door the night of the performance. Ticket prices are $20 adults / $7 students / $2 extra at the door.

Discounted Lodging:
PFAC is excited to be teaming with local hotels that will offer discounted rates for those travelling out-of-county to see the show. Use discount code: PFAC when booking lodging at (Must call in to take advantage of discounted rates):
Hampton Inn & Suites Pinedale: (307) 367-6700
Baymont Inn: (307) 367-8300
Pinedale's Cozy-Cabins: (307) 367-3401
Best Western Pinedale: (307) 367-6869
Chambers House B&B: (307) 367-2168
High Country Suites: (307) 367-5770
Sundance Motel: (307) 367-4789
The Lodge at Pinedale (307) 367-8800
The Log Cabin (307) 367-4579

This event is presented by the Pinedale Fine Arts Council with support in part from the Wyoming Arts Council through funding from the Wyoming Legislature and the National Endowment for the Arts which believes a great nation deserves great art, Sublette BOCES #1, Western Sublette BOCES #9, the Sublette County Recreation Board, Pinedale Travel & Tourism, the Wyoming Community Foundation - Sublette, Tegeler & Associates, Ultra, Andeavor, The Western States Arts Federation (WESTAF) & The Rocky Mountain Power Foundation.

For more information, please visit www.pinedalefinearts.com or call 307-367-7322. And be sure to find us on Facebook and Instagram.

---
BLM releases Draft SEIS on sage-grouse plans (posted 2/20/2020)
Public comment accepted through April 6, 2020
Bureau of Land Management
The Bureau of Land Management will publish six draft supplemental environmental impact statements (SEISs) on Friday for management of Greater Sage-Grouse habitat on public lands in seven Western states, highlighting the collaborative process undergone in 2019 to develop plans that reflected the needs of Western communities and Greater Sage Grouse habitat.

The draft SEISs address issues identified in an October 16, 2019, order issued by the U.S. District Court for the District of Idaho, which placed a preliminary injunction on the implementation of 2019 BLM sage-grouse plans in Idaho, Wyoming, Colorado, Utah, Nevada/northeastern California and Oregon.

"In March of last year, the Greater Sage-Grouse conservation plans were adopted with strong bipartisan support by the Western states, as the plans made important modifications that matched the input provided by the states and Western communities," said Assistant Secretary for Land and Minerals Management Casey Hammond. "The draft SEISs illustrate the hard look and robust analysis we performed in this collaborative process to balance our habitat conservation and enhancement goals in response to recent litigation."

The draft SEISs explain how the range of alternatives analyzed in the 2019 EISs was developed, the incorporation by reference of the effects analysis from the 2015 EISs, and how best available science was used. Reports by the National Technical Team and Conservation Objective Team were critical in developing the plans. The current draft SEISs also clarify the BLM's approach to compensatory mitigation in authorizing various uses of lands that also provide habitat for the sage-grouse.

Suspending implementation of the 2019 plans has affected programs and projects across the BLM and in Western states from authorizations of renewable energy projects and oil and gas leases to grazing permit renewals and wildfire management. For example, in northeastern California, adaptive management measures to respond to changes in sage-grouse populations cannot currently be used because the data-model used in the 2015 plan is no longer the best available information.

In Wyoming, a land exchange that would increase public access and improve resource management cannot proceed and in Utah, court-ordered travel management planning has been slowed while routes are re-evaluated for conformance with the earlier sage-grouse plans. The impact to the states goes on, but the BLM is complying with the court's order by conforming its actions to the 2015 plans while the draft SEISs undergo public review and comment.

States primarily manage wildlife species, and federal agencies like the BLM manage wildlife habitat. The 2019 plans were adopted after months of close coordination and cooperation with state governments in the affected states. The goal was to better align BLM plans for managing habitat with state plans for conserving the species, including state plans for compensatory mitigation, while addressing the circumstances and needs of each individual state.

The 2019 plans received bipartisan support from the governors who sought changes to the 2015 plans for their respective states.

The draft SEISs are now available online. The BLM will accept comments on the documents starting Friday, February 21, 2020, through April 6, 2020.

---
Wolf News Roundup 2/17/2020 (posted 2/17/2020)
Cat Urbigkit, Pinedale Online!
February 17, 2020
Wyoming wolf compensation
Proposed legislation that would have provided a compensation program for wolf depredation on livestock in Wyoming's predator zone for wolves has died. The bill failed to get the needed votes for introduction in this budget session of the Wyoming Legislature.

Colorado wolf genetics
Colorado Parks and Wildlife (CPW) biologists have received notification back from a genetics lab confirming that four scat samples collected near a scavenged elk carcass in Moffat County in early January came from wolves. This is the first official documentation of a pack of wolves in the state since the 1940s.

Of the four samples, DNA results indicate three are female and one is male. The testing was also able to determine that all the wolves were related, likely as full siblings.

"The DNA doesn't tell us the age," said CPW Species Conservation Program Manager Eric Odell. "We don't know where or when they were born. We can't say. But that there are closely related wolves is a pretty significant finding."

Odell also noted that "although previous reports had mentioned sightings of up to six wolves, this doesn't do anything to alter that estimate. Just because we only collected four scat samples doesn't mean there were only four animals."

CPW is still waiting to receive results back from scat samples collected at a potential wolf sighting in Moffat County on January 19.

CPW would like to remind the public that wolves are a federally endangered species and fall under the jurisdiction of the U.S. Fish and Wildlife Service. According to the US Fish and Wildlife Service, killing a wolf can result in federal charges, including a $100,000 fine and a year in prison, per offense.

Oregon compensation
Oregon officials are struggling with the state's wolf depredation compensation program, according to the Baker City Herald. The payments are not enough to cover the losses.

Red wolves
The News & Observer has an article about trying to track endangered red wolves at the Alligator National Wildlife Refuge in North Carolina. Even the wolves wearing radio collars for tracking are hard to find, and the wolves have learned how to evade foothold traps set out to capture them. There are an estimated 20 red wolves in the area.

Minnesota berries
Remote cameras in northern Minnesota's Voyageur's National Park have documented gray wolves eating blueberries. The researchers observed that a female wolf regurgitated blueberries to her five pups.

Canada
Plans call for up to 80 percent of the wolf population to be culled in an effort to ease pressure on two dwindling caribou herds in the Northwest Territories of Canada. The plan calls for killing up to 300 wolves on the winter ranges of the caribou herds.

Check out the links below for details on these stories.

Related Links:
Wyoming - Oil City News
Colorado - Colorado Parks & Wildlife
Oregon - Baker City Herald
Red wolves - The News & Observer
Minnesota - KARE
Canada - Yahoo News
Wolf Watch - by Cat Urbigkit, Pinedale Online!


---
County seeks volunteers for Centennial Exploratory Committee (posted 2/18/2020)
Sublette County media release
In anticipation of the Centennial Celebration for Sublette County during 2021 & 2022, the Sublette County Commission is seeking applicants to serve on an Exploratory Committee. The purpose of this Exploratory Committee is to define the role of and hire a Centennial Coordinator and to select a Centennial Committee, which will be tasked with organizing and planning a Centennial Celebration, and help other organizations plan their own centennial projects and events. The Exploratory Committee may also make recommendations to the Centennial Committee regarding any Centennial related activities. It is anticipated that the Exploratory Committee will exist and meet several times for a short period in the March-May 2020 timeframe, and that members of the Exploratory Committee may also transition to the Centennial Committee.

The Unorganized County of Sublette was formed by the Wyoming legislature on Feb 15, 1921, approved by the residents on June 28, 1921, first commissioners elected on November 7, 1922, and elected officers sworn in on January 2nd, 1923 formally becoming Sublette County.

Anyone interested in applying to the Exploratory Committee should submit a letter of interest to Matt Gaffney, Sublette County Administrator at matthew.gaffney@sublettewyo.com or by mail at P.O. Box 250, Pinedale, Wyoming 82941. All letters of interest must be submitted by March 13, 2020. The Sublette County Commission will consider all letters submitted at its March 24, 2020 meeting and make appointments to the Exploratory Committee at that meeting. If you have any questions about the Exploratory Committee, please contact Matt Gaffney at 307-367-2300 or at the email address listed above.

---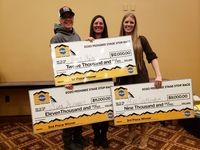 2020 Pedigree Stage Stop Race winners Anny Malo, from Quebec, Canada, is the champion of the 25th edition of the Pedigree Stage Stop Sled Dog Race. Second Place winner was Lina Streeper. Alix Crittenden of Bondurant, took 3rd place. Photo courtesy Pedigree Stage Stop Race.

Anny Malo wins 2020 Pedigree Stage Stop Race (posted 2/9/2020)
Anny Malo, from Quebec, Canada, is the champion of the 25th edition of the Pedigree Stage Stop Sled Dog Race. She was also the winner of the 2019 race. Second Place winner was Lina Streeper, herself a two-time champion of the race. Malo six of the seven stages in this year's race. Alix Crittenden of Bondurant, took 3rd place. Crittenden also won 3rd place last year. She has been running dogs out of race founder Frank Teasley's Jackson Hole Iditarod Kennel in Hoback Canyon. Click on this link for more details of the final results of the 2020 Pedigree Stage Stop Race

Related Links:
www.wyomingstagestop.org Pedigree Stage Stop Race
2020 Finishing Banquet Feb. 8, 2020 at the Jackson Conference Centre
Pinedale Stage Stop
Big Piney/Marbleton Stage Stop

---
White Pine Ski Area put up for sale (posted 2/7/2020)
Alan and Robyn Blackburn, majority owners of Citizens to Save White Pine LLC, which owns the assets of White Pine Ski Area and Resort, announced on Thursday, February 6th that they have decided to put the resort up for sale. In a press release, Alan Blackburn cited health issues and the devastating fire last summer that destroyed the lodge as some of the contributing factors in the decision. Blackburn said, "Any investor/purchaser of White Pine has a turn-key operation with experienced managers and employees willing and wanting to continue - we hope that this will happen."

Click on this link to read: the full media release from White Pine

---
Wolf News Roundup 2/07/2020 (posted 2/7/2020)
Cat Urbigkit, Pinedale Online!
Mandating radio collars
Legislation introduced in the Washington state legislature this week seeks to maximize nonlethal methods of dealing with problem wolves by doing a better job of tracking wolf packs that have been in conflict.

"We've invested a lot of time and money in our nonlethal methods," said Rep. Joel Kretz, R-Wauconda. "But we need the right strategy in place with active communication in order for it to work. We need to be less reactionary and more proactive.

"Ultimately, my bill is about focusing on the problem wolf packs, knowing where they are and having that information communicated to those who need to know," said Kretz. "If we want nonlethal solutions to work, we have to know where the wolves are."

His proposal, House Bill 2906, directs the state Department of Fish and Wildlife (WDFW) to prioritize the use of radio collars as a tool to monitor wolves that have been in conflict with livestock and humans.

His bill states:
"The department must radio collar at least two wolves in every pack in conflict. The department is encouraged, but not required, to radio collar at least one wolf in every pack in the state that has been confirmed by the department."

"There's a lot of talk about nonlethal measures, but how can we have an effective nonlethal plan when we don't know where the wolves are?" said Kretz. "There used to be a functioning system where certain wolf locations were known and that information could be relayed to range riders or ranchers. But nonlethal and lethal measures only work when the department has a strategy in place and communicates with ranchers. Right now, they don't and they aren't."

Kretz's bill has significant bipartisan support with half of the twelve representatives signing onto the bill being Democrats.

Theft Charges
Range riders working under a $352,000 contract from the Washington Department of Fish & Wildlife to deter wolves from cattle in northeastern Washington are now facing charges. The state has filed theft charges against two of the range riders, alleging that while their time sheets showed they were on the job, their phone records indicate they were more than 100 miles away.

Environmental groups charge that wolves killed cattle while the range riders were away, leading to a decision by state officials to kill more wolves. Read the details of the allegations in an article by Eli Francovich from The Spokesman Review.

California wolf dead
OR-54, a female dispersing wolf approximately 3-4 years old, was found dead in Shasta County, California on February 5, 2020.

OR-54 was born into Oregon's Rogue Pack most likely in 2016. She was the fourth Rogue Pack wolf known to have spent time in California. OR-54 weighed 83 pounds when collared by ODFW biologists in October 2017. On January 24, 2018, she crossed the state line into eastern Siskiyou County. Since then, she spent much of her time in California, although she made two trips back to Oregon. She covered more than 7,646 miles after leaving the Rogue Pack. OR-54 traveled widely in northeastern California, through portions of Butte, Lassen, Modoc, Nevada, Plumas, Shasta, Sierra, Siskiyou and Tehama counties. In late September 2019, she crossed to the south side of Interstate 80 and briefly entered Nevada before returning to California and crossing back to the north side of the highway the following day. Her travels represent the southernmost known wolf locations in the state since wolves returned to California in 2011.

Gray wolves are covered under both the Federal Endangered Species Act as well as the California Endangered Species Act. CDFW takes very seriously any threats to this recovering wolf population. We are currently investigating the circumstances surrounding OR-54's death. We remind the public that killing a wolf is a potential crime and subject to serious penalties including imprisonment.

Check out the links below for details on these stories.

Related Links:
Radio collars - WA Representative Joel Kretz
Theft charges - The Spokesman Review
Dead wolf - California Department of Fish & Wildlife
Wolf Watch - by Cat Urbigkit, Pinedale Online!
---
Yellowstone recruits for 2020 Youth Conservation Corps program (posted 2/6/2020)
Applications due by March 1, 2020
Yellowstone National Park
YELLOWSTONE NATIONAL PARK - How would you like to work, learn, play, and serve in the world's first national park? Yellowstone is currently recruiting for the 2020 Youth Conservation Corps (YCC), a residential work-based education program for young men and women between the ages of 15 and 18. Visit the YCC program to apply. Completed application materials must be received by March 1, 2020.

Two, month-long YCC sessions will be offered June 7-July 8 and July 12-August 12. Sixty youth will be randomly selected from across the country to participate in the program. Applicants must be citizens of the United States and 15 years of age by June 7, but not over 18 years of age by August 12. Yellowstone recruits youth from all social, economic, ethnic, and racial backgrounds for the program.

No previous wilderness experience is required. Applicants should possess a positive attitude, a willingness and ability to work in a physically active outdoor program, and get along well with others.

Participants will be required to live in the park. Room and board will be provided at a minimal cost. Wages will be set at the federal minimum wage of $7.25 per hour.

YCC is designed to develop an appreciation for the nation's natural resources and heritage through unique educational, recreational, and work experiences. Corps members work together with National Park Service (NPS) staff to complete conservation projects such as trail rehabilitation, campground restoration, and a wide variety of resource management, visitor support services, and maintenance projects.

Participants develop their job and leadership skills while exploring personal values, gaining self-esteem, expanding their awareness of work ethics, and learning firsthand about environmental and conservation issues. Corps members also participate in evening and weekend recreational activities and discover the many options for careers in the NPS and other land management agencies.

Questions may be directed to Yell_YCC_Office@nps.gov.

The Yellowstone YCC Program is funded by park entrance fees and generous donations to Yellowstone Forever, the park's official nonprofit partner.

---




Letters of Interest sought for open Pinedale Town Council seat (posted 1/28/2020)
Notice of Vacancy
Town of Pinedale
A vacancy in the office of The Pinedale Town Council has been created by the resignation of Councilman John Paravicini. This vacancy shall be filled by appointment by the Town Council. Parties interested in filling the vacancy are invited to submit a letter of interest and a list of their qualifications therefor. All letters of interests and lists of qualifications must be received no later than 4:00 PM on Monday, March 2, 2020, by the Town Clerk, located at 69 Pinedale South Road, Pinedale, Wyoming. Letters of interests and lists of qualifications may be mailed to Town of Pinedale, P.O. Box 709, Pinedale, WY 82941. Sufficient time should be allowed to allow receipt by the Town Clerk by the cutoff date above. Interested parties must reside within the Town limits and be a registered voter of the Town of Pinedale and the State of Wyoming to be considered eligible.

The starting time of the regularly scheduled Town Council meeting has been changed to 4:00 PM, Monday, March 9, 2020 at the Commissioner's Room of the Sublette County Courthouse; 21 South Tyler Avenue, Pinedale, Wyoming. It is anticipated that the meeting will commence with a short executive session. Following the executive session, a public hearing will be held to interview each candidate as deemed necessary and review their qualifications. An executive session may follow the interviews. If a majority of the Council is able to agree upon a particular candidate, it shall then by resolution appoint that candidate to fill the office. Appointment shall be until the seating of officers after the next general Town election.

Related Links:
www.townofpinedale.us Town of Pinedale

---
Business Directory
Click here for
Advertising Information