March begins with bitter cold temperatures across Wyoming (posted 3/4/15)
In wake of a winter storm Monday and Tuesday (March 2 & 3), an arctic air mass settled across the Cowboy State. Mostly clear skies, light winds and a fresh blanket of snow in many areas allowed temperatures to plunge to well below zero.

Below are overnight low temperatures by county for Tuesday night (March 3) for temperatures of zero or colder from National Weather Service. Observations are collected from a variety of sources with varying equipment and exposure, and not all data listed are considered official.

Data shows location, temperature, time/date, first for Sublette County in western Wyoming, then for the rest of the state.

SUBLETTE COUNTY
BONDURANT (6650 FT) -21 F 0400 AM 03/04
10 E BIG SANDY (9080 FT) -17 F 0400 AM 03/04
8 SE BONDURANT (7797 FT) -15 F 0141 AM 03/04
10 NNW DANIEL (7470 FT) -14 F 0400 AM 03/04
14 E BONDURANT (8240 FT) -13 F 0300 AM 03/04
PINEDALE AIRPORT (7085 FT) -13 F 0515 AM 03/04
17 NW SOUTH PASS CITY -12 F 0400 AM 03/04
2 NW BONDURANT (6726 FT) -12 F 0451 AM 03/04
16 E BOULDER (9360 FT) -10 F 0400 AM 03/04
20 E BONDURANT (7740 FT) -10 F 0400 AM 03/04
7 NE PINEDALE (8530 FT) -10 F 0426 AM 03/04
NEW FORK LAKE (8340 FT) -9 F 0400 AM 03/04
6 WNW CORA (7462 FT) -9 F 0503 AM 03/04
N WIND RIVER MTS (9820 FT) -6 F 0400 AM 03/04
PINEDALE (7195 FT) -6 F 0300 AM 03/04
3 SW BOULDER (7113 FT) -4 F 0300 AM 03/04
21 W BIG PINEY (8200 FT) -4 F 0509 AM 03/04
BOULDER LAKE (7350 FT) -4 F 0415 AM 03/04
15 N PINEDALE (9400 FT) -1 F 0400 AM 03/04
9 E BIG PINEY (6803 FT) -1 F 0500 AM 03/04
19 NNW FARSON (6614 FT) 0 F 0200 AM 03/04

BIG HORN COUNTY
13 NE TEN SLEEP (8038 FT) -19 F 0955 PM 03/03
17 E SHELL (9580 FT) -12 F 0900 PM 03/03
BALD MTN. (9380 FT) -12 F 1200 AM 03/04
MEDICINE LODGE CREEK 4845 FT -9 F 1245 AM 03/04
30 E GREYBULL (8898 FT) -9 F 0658 PM 03/03
5 NW GRANITE PASS (9350 FT) -9 F 0800 PM 03/03
BASIN (3897 FT) -2 F 0520 AM 03/04
5 ENE HYATTVILLE (5670 FT) -2 F 0352 AM 03/04
3 W MANDERSON (4073 FT) -1 F 0300 AM 03/04
GREYBULL AIRPORT (3935 FT) 0 F 0353 AM 03/04

FREMONT COUNTY
JEFFREY CITY (6374 FT) -25 F 0512 AM 03/04
17 NE DUBOIS (8400 FT) -21 F 0200 AM 03/04
12 SW LANDER (8700 FT) -20 F 0400 AM 03/04
2 S RIVERTON (4901 FT) -19 F 0515 AM 03/04
DUBOIS (6980 FT) -16 F 0459 AM 03/04
2 W SOUTH PASS CITY (8185 FT -16 F 0346 AM 03/04
13 W FORT WASHAKIE (8620 FT) -15 F 0400 AM 03/04
10 N DUBOIS (8085 FT) -15 F 0257 AM 03/04
10 NW SOUTH PASS CITY -14 F 0200 AM 03/04
BEAVER RIM (6784 FT) -14 F 0316 AM 03/04
18 W LANDER (10100 FT) -12 F 0200 AM 03/04
SOUTH PASS (9040 FT) -12 F 0300 AM 03/04
6 NW DUBOIS (7189 FT) -10 F 0515 AM 03/04
10 W DUBOIS (8432 FT) -10 F 0524 AM 03/04
8 W SOUTH PASS CITY (8120 FT -9 F 0250 AM 03/04
11 NE RIVERTON (5016 FT) -9 F 0433 AM 03/04
11 N DUBOIS (8750 FT) -8 F 0400 AM 03/04
3 S TOGWOTEE PASS (10430 FT) -8 F 0345 AM 03/04
CROWHEART (6099 FT) -8 F 0910 PM 03/03
SOUTH PASS CITY (8540 FT) -7 F 1200 AM 03/04
10 W FORT WASHAKIE (9235 FT) -7 F 0101 AM 03/04
RIVERTON AIRPORT (5525 FT) -7 F 0453 AM 03/04
N. FORK LITTLE WIND RIVER -7 F 0945 PM 03/03
BOYSEN RESERVOIR (4710 FT) -6 F 0400 AM 03/04
SOUTH PASS (8556 FT) -6 F 1155 PM 03/03
13 W CROWHEART (9630 FT) -6 F 0400 AM 03/04
11 W CROWHEART (6520 FT) -6 F 1015 PM 03/03
9 SW LANDER (7085 FT) -5 F 0315 AM 03/04
2 N ATLANTIC CITY (8292 FT) -4 F 0100 AM 03/04
7 SW MUDDY GAP (7380 FT) -4 F 0150 AM 03/04
10 SE CROWHEART (5654 FT) -4 F 0515 AM 03/04
LANDER AIRPORT (5586 FT) -3 F 0453 AM 03/04
5 WSW DUBOIS (9370 FT) -3 F 0200 AM 03/04
7 WNW RIVERTON (5407 FT) -3 F 0223 AM 03/04
7 NW LANDER (5797 FT) -2 F 1023 PM 03/03
RED CANYON (6768 FT) -1 F 0455 AM 03/04
4 SW LANDER (5807 FT) 0 F 1041 PM 03/03

HOT SPRINGS COUNTY
39 W THERMOPOLIS (8975 FT) -9 F 0200 AM 03/04
THERMOPOLIS 9 NE (4280 FT) -8 F 0500 AM 03/04
1 WSW THERMOPOLIS (4426 FT) -7 F 0245 AM 03/04
10 S MEETEETSE (7127 FT) -4 F 0242 AM 03/04

JOHNSON COUNTY
18 WNW BUFFALO (8580 FT) -14 F 0700 PM 03/03
15 WSW BUFFALO (8360 FT) -14 F 1200 AM 03/04
POWDER RIVER PASS (9480 FT) -10 F 0800 PM 03/03
15 W BUFFALO (8720 FT) -10 F 0700 PM 03/03
18 NW BUFFALO (8604 FT) -9 F 0747 PM 03/03
5 ESE STORY (4673 FT) -8 F 0831 PM 03/03
14 WSW STORY (8870 FT) -8 F 0100 AM 03/04
CLOUD PEAK (9860 FT) -8 F 1000 PM 03/03
20 SW ECHETA (4068 FT) -6 F 0425 AM 03/04
14 WNW MAYOWORTH (8200 FT) -5 F 0300 AM 03/04
10 SW KAYCEE (4900 FT) -4 F 1030 PM 03/03
7 NE BUFFALO (4370 FT) -4 F 0146 AM 03/04
12 N KAYCEE (5287 FT) -3 F 0356 AM 03/04
1 E BUFFALO (4727 FT) -3 F 0915 PM 03/03
13 NNW BUFFALO (4737 FT) -3 F 0800 PM 03/03
7 SW BARNUM (6440 FT) -1 F 0146 AM 03/04
BUFFALO AIRPORT (4970 FT) 0 F 1053 PM 03/03
KAYCEE (4681 FT) 0 F 0105 AM 03/04

LINCOLN COUNTY
13 E COKEVILLE (7460 FT) -7 F 1100 PM 03/03
DEADMAN MTN (10350 FT) -4 F 0800 PM 03/03
MT COFFIN (10870 FT) -3 F 0645 PM 03/03

NATRONA COUNTY
21 W ALCOVA (5920 FT) -15 F 0445 AM 03/04
CASPER AIRPORT (5320 FT) -13 F 1053 PM 03/03
2 SE HILAND (6134 FT) -13 F 0155 AM 03/04
20 N CASPER (5677 FT) -10 F 0245 AM 03/04
22 SE CASPER (8500 FT) -9 F 0400 AM 03/04
8 S CASPER (7740 FT) -9 F 0452 AM 03/04
CASPER MTN (7850 FT) -8 F 0400 AM 03/04
MILLS (5150 FT) -8 F 0445 AM 03/04
28 N WALTMAN (8550 FT) -8 F 0200 AM 03/04
7 W ALCOVA (6342 FT) -8 F 0315 AM 03/04
PATHFINDER RESERVOIR (5858 F -5 F 0430 AM 03/04
1 E CASPER (5334 FT) -5 F 0434 AM 03/04
MIDWEST (4865 FT) -5 F 0152 AM 03/04
16 S HILAND (6380 FT) -3 F 1210 AM 03/04
1 SW CASPER (5222 FT) -2 F 0100 AM 03/04
CASPER - N PLATTE RIVER 0 F 0800 PM 03/03

PARK COUNTY
BEARTOOTH LAKE (9275 FT) -15 F 0300 AM 03/04
17 SW MEETEETSE (7950 FT) -12 F 0300 AM 03/04
19 SSW WAPITI (6200 FT) -11 F 0500 AM 03/04
KIRWIN SNOTEL (9550 FT) -10 F 0400 AM 03/04
20 SW CODY (5860 FT) -8 F 0430 AM 03/04
CHIEF JOSEPH HWY MILE 9 -7 F 0312 AM 03/04
10 WNW CODY (8401 FT) -7 F 0940 PM 03/03
CHIEF JOSEPH HWY (8136 FT) -6 F 0550 PM 03/03
12 SE PAHASKA (9780 FT) -6 F 0400 AM 03/04
MEETEETSE (5797 FT) -6 F 0334 AM 03/04
BUFFALO BILL RESERVOIR -4 F 1000 PM 03/03
WAPITI (5400 FT) -3 F 0330 AM 03/04
14 NE PAHASKA (9200 FT) -3 F 0400 AM 03/04
8 N MEETEETSE (5926 FT) -2 F 0431 AM 03/04
PAHASKA (6800 FT) 0 F 0500 AM 03/04
18 SW CODY (8760 FT) 0 F 0100 AM 03/04
CODY AIRPORT (5100 FT) 0 F 0315 AM 03/04
1 W CLARK (4270 FT) 0 F 0325 AM 03/04

SWEETWATER COUNTY
I 80 - MILE MARKER 131 -18 F 0145 AM 03/04
5 SSE POINT OF ROCKS 6568 FT -18 F 1200 AM 03/04
23 W WAMSUTTER (6804 FT) -17 F 0200 AM 03/04
1 E RED DESERT (6722 FT) -15 F 0300 AM 03/04
I 80 - MILE MARKER 157 -13 F 0410 AM 03/04
10 E WAMSUTTER (7062 FT) -9 F 0200 AM 03/04
16 W RED DESERT (6805 FT) -9 F 0400 AM 03/04
I 80 - MILE MARKER 184 -8 F 0211 AM 03/04
FARSON (6594 FT) -7 F 1250 AM 03/04
I 80 - MILE MARKER 142 -6 F 0455 AM 03/04
I 80 - MILE MARKER 124 -6 F 0256 AM 03/04
8 E ROCK SPRINGS (6339 FT) -4 F 1100 PM 03/03
13 E WAMSUTTER (7052 FT) -3 F 0300 AM 03/04
ROCK SPRINGS AIRPORT 6760 FT -3 F 0454 AM 03/04
2 W WAMSUTTER (6729 FT) -2 F 0100 AM 03/04
5 E ROCK SPRINGS (6369 FT) -2 F 0120 AM 03/04
15 SE ROCK SPRINGS (7550 FT) -1 F 0344 AM 03/04

TETON COUNTY
5 S OF SOUTH ENTRANCE YNP -15 F 0445 AM 03/04
8 W SOUTH ENTRANCE YNP -13 F 0300 AM 03/04
32 ESE JACKSON (8750 FT) -12 F 0200 AM 03/04
8 NNE MORAN JUNCTION (7030 F -10 F 0400 AM 03/04
15 SE MORAN JCT (10380 FT) -9 F 0330 AM 03/04
SNAKE RIVER AT JACKSON LAKE -8 F 0445 AM 03/04
23 E MORAN JUNCTION (9576 FT -8 F 0400 AM 03/04
WY MOOSE 1 NNE (6466 FT) -7 F 0505 AM 03/04
SUMMIT - JACKSON RESORT -7 F 0415 AM 03/04
TOGWOTEE PASS (9850 FT) -6 F 0400 AM 03/04
7 E MORAN JCT (7251 FT) -6 F 0452 AM 03/04
4 N MOOSE (6730 FT) -5 F 0458 AM 03/04
3 SW MOOSE (6440 FT) -4 F 0518 AM 03/04
RAYMER - JACKSON RESORT -4 F 0430 AM 03/04
GRAND TARGHEE (9260 FT) -3 F 0400 AM 03/04
15 NNE GRAND TARGHEE (6830 F -1 F 0503 AM 03/04
JACKSON HOLE AIRPORT (6445 F 0 F 0455 AM 03/04

WASHAKIE COUNTY
TEN SLEEP (4470 FT) -15 F 0408 AM 03/04
30 SE TEN SLEEP (7760 FT) -5 F 0100 AM 03/04
S. BIGHORN MTS (6554 FT) -2 F 1140 PM 03/03
WORLAND AIRPORT (4245 FT) -1 F 0453 AM 03/04
WORLAND (4042 FT) -1 F 0459 AM 03/04

YELLOWSTONE NATIONAL PARK
1 W GRANT VILLAGE (7874 FT) -28 F 0430 AM 03/04
4 W SOUTH ENTRANCE YNP -22 F 0445 AM 03/04
OLD FAITHFUL (7320 FT) -20 F 0415 AM 03/04
2 S GRANT VILLAGE (7980 FT) -20 F 0400 AM 03/04
YELLOWSTONE LAKE (7835 FT) -20 F 0456 AM 03/04
1 SW CANYON (7900 FT) -18 F 0349 AM 03/04
OLD FAITHFUL (7350 FT) -15 F 0500 AM 03/04
EXTREME SW YELLOWSTONE -14 F 0449 AM 03/04
SOUTH ENTRANCE YNP (6900 FT) -13 F 0400 AM 03/04
SYLVAN LAKE (8420 FT) -13 F 0400 AM 03/04
1 NNE LAKE (7875 FT) -13 F 0430 AM 03/04
SOUTH ENTRANCE YNP (6920 FT) -13 F 0400 AM 03/04
SE YELLOWSTONE (9240 FT) -11 F 0400 AM 03/04
4 W PAHASKA (7120 FT) -9 F 0300 AM 03/04
HOYT PEAK (9800 FT) -8 F 0315 AM 03/04
PARKER PEAK (E. YNP) (9400 F -8 F 0300 AM 03/04
TOWER FALLS (6266 FT) -7 F 0330 AM 03/04
14 S SYLVAN PASS (8650 FT) -5 F 0508 AM 03/04
6 S LEWIS LAKE IN YNP -3 F 0300 AM 03/04
14 WSW MAMMOTH (7900 FT) -2 F 1149 PM 03/03
MAMMOTH (6300 FT) -1 F 0415 AM 03/04

---
Rocky Mountain Power requests rate hike for Wyoming customers (posted 3/3/15)
If approved, would go into effect in January 2016
Rocky Mountain Power
Rocky Mountain Power is requesting a price change to occur in January 2016 to support the growing costs of serving its Wyoming customers. If approved by the Wyoming Public Service Commission later this year, prices would increase by an overall average of 4.53 percent beginning next year.

Proposed price changes vary for different types of customers, and the increase would differ based on individual electricity use. An average residential customer using 768 kilowatt hours per month would see an increase of about $4.64 on their monthly bill.

"This requested price increase includes the completion of a number of large projects and reflects the rising cost of providing electric service to customers," said Rita Meyer, Rocky Mountain Power vice president. "Our electricity prices will remain a good value. Dependable, reasonably priced electric service is essential to homes and businesses in Wyoming and to help our state and local economies grow."

The latest ranking by Edison Electric Institute shows Rocky Mountain Power prices are in the lowest third of all electricity providers nationally.

Included in this rate request are the final installment on the Sigurd-Red Butte transmission line, installation of environmental controls on the Jim Bridger power plant, a new substation in Natrona County, the new Standpipe substation in central Wyoming, an additional distribution transformer at the Casper substation, the 115-kilovolt loop system around Casper, more work on the Southwest Wyoming to Silver Creek transmission line and other operations and maintenance to improve system reliability within Wyoming. In addition, the request asks that 2016 rates reflect the costs of service for customers in 2016.

"We are committed to remaining a low-cost electricity provider, controlling expenses and helping customers save money by using electricity efficiently," Meyer said. "We understand that any price increase can be difficult for customers and we work hard to make sure every dollar we spend aligns with what our customers truly need and expect."

Earlier this year new energy-savings programs for Rocky Mountain Power's Wyoming customers were approved by regulators. For full details on the company's wattsmart energy-efficiency programs and incentives, visit www.wattsmart.com. Information regarding programs to help qualifying low-income customers is available on the company's website at www.rockymountainpower.net.

---
Wyoming 2015 nonresident elk draw completed (posted 3/3/15)
Results now available
Wyoming Game & Fish
One of the most anticipated drawings of the year for nonresident hunters was conducted last week with 7,250 hunters receiving full price elk licenses. Another 1,932 reduced price cow/calf elk licenses were also issued.

The numbers of licenses issued this year were similar to previous years, but applications were up by more than 1,900 from 2014. A total of 20,446 hunters applied this year as opposed to 18,548 in 2014.

Nonresidents can find if they were successful in the drawing by accessing the Wyoming Game and Fish Department website wgfd.wyo.gov or by calling (307) 777-4600. Mailing of licenses for those who drew and refund warrants for those unsuccessful in the drawings will begin the second week of March.

Nonresidents who did not draw or get into the drawing this year will still have another opportunity to get a license this summer. Full price licenses left over after the resident drawing will be sold beginning July 8 and reduced price cow/calf licenses will go on sale July 15. At that time, licenses will be sold online at the Game and Fish website wgfd.wyo.gov, at Game and Fish offices and automated license agents.

---
Shed antler gathering prohibited on lands west of Continental Divide until May 1 (posted 3/3/15)
Wyoming Game & Fish
Shed horn and antler gathering is prohibited on public lands west of the Continental Divide from January 1 through April 30. State lands are also off-limits to shed antler or horn gathering. Public lands in the Great Divide Basin are excluded from the regulation. The regulation has been in effect since 2009.

Public lands are defined as federal lands and lands owned or administered by the Wyoming Game and Fish Commission.

In addition, the Wyoming Board of Land Commissioners has approved an annual restriction prohibiting the collection of antlers from Jan. 1 through April 30 on all parcels of land under jurisdiction of the Board of Land Commissioners west of the Continental Divide.

These lands are often referred to as "state lands" and are usually blue on land status maps.

The purpose of the regulation is to minimize harassment or disturbance of big game animals on their winter and spring ranges when animals are most vulnerable to stress, as well as potential displacement to less productive habitats. Colorado and Utah have similar regulations.

The regulation was made possible by legislation (W.S. 23-1-302) passed by the 2009 Wyoming Legislature that gave the Game and Fish Commission authority to regulate and control the collection of shed antlers and horns of big game animals west of the Continental Divide.

---
Follow Wyoming big game research through social media (posted 3/3/15)
Research on moose, elk, mule deer and bighorn sheep
Wyoming Game & Fish
Seeking insights to help moose, elk, mule deer and bighorn sheep populations, researchers from the University of Wyoming, the Wyoming Game and Fish Department, the U.S. Geological Survey and other partners will spend much of March capturing animals on their winter ranges in western and southern Wyoming.

Members of the public will have an opportunity to closely follow the work.

As scientists did during deer captures earlier this winter, researchers with the UW-headquartered Wyoming Migration Initiative (WMI) and personnel from Game and Fish plan to live-tweet the approximately three weeks of research activity and provide Facebook posts about the animal captures multiple times a day.

The tweets will be by WMI Director Matt Kauffman, a UW professor and U.S. Geological Survey scientist. Game and Fish biologists and wardens collaborating on these studies also will tweet from @wgfd. All updates will use the hashtags #wyodeer, #wyomoose, #wyoelk and #wyosheep. Included in the tweets will be maps and data graphics from the forthcoming "Atlas of Wildlife Migration," a partnership effort with the University of Oregon InfoGraphics Lab cartographers. The USGS, tweeting from @USGS and @USGSCoopUnits, will help promote the discussion to a broader national audience.

WMI's Facebook page is at www.facebook.com/migrationinitiative. Game and Fish is at www.facebook.com/WyoGFD. The photos, videos, updates and Twitter feed will be posted to a dedicated WMI webpage, www.migrationinitiative.org/capturelivetweetmarch2015.

"Capture and GPS-collar efforts are the primary tools researchers use to study these iconic animals and their movements," Kauffman says. "Wyomingites care deeply about these herds and the habitats they occupy, so it's a great opportunity for us to give them, and people beyond Wyoming, a closer view of how and why we are doing this research."

"Many of these studies have been ongoing for several years in remote and hard-to-access areas of Wyoming. They are used to make important decisions about wildlife management," says Game and Fish Communications Director Renny MacKay. "Social media allow us to give the public a new look at this valuable research."

The eight studies that are part of this month's field work and the scheduled capture dates, weather permitting, are:

-- Elk migrations into and out of Yellowstone National Park have been of interest for decades, and new GPS radio collar technology has advanced the mapping of these routes. The Wiggins Fork herd near Dubois is the last gap in a detailed ecosystem-wide map of Yellowstone's elk migrations. To fill that gap, researchers will capture and collar elk north of Dubois starting the week of March 2.

-- Nutrition and behavioral response of moose to beetle-killed forest in the Snowy Mountains. The mountain pine beetle epidemic has transformed forested habitats in this range, with uncertain consequences for one of Wyoming's newest moose herds. Moose will be captured and collared March 5-9 between Centennial and Saratoga to assess nutrition and population growth, and to compare current moose movements to those from a pre-beetle kill study conducted in 2004-05.

-- Researchers will capture deer March 10 near Pinedale to evaluate how habitat conditions and human disturbance affect fat levels of deer wintering on and near the Pinedale Anticline, one of the largest natural gas fields in Wyoming.

-- The nutritional dynamics of the famous Wyoming Range mule deer herd. The March 11 deer capture near Big Piney will continue to look at how many deer this range can support. The next step will be to track fawns to measure survival and cause of mortality.

-- It is unknown how drought affects mule deer as they migrate -- and forage -- from low-elevation winter ranges to mountain summer ranges. This March 12-13 capture between Kemmerer, Cokeville and Evanston will help shed light on whether warming influences summer forage quality, and ultimately the survival and reproduction of migrants.

-- The March 14-15 capture near Rock Springs aims to help advance the understanding of the benefits of migration and guide management and conservation of a spectacular 150-mile deer migration from the Red Desert north of Rock Springs to summer ranges in northwest Wyoming.

-- The March 18 capture of elk between Baggs and Saratoga in the Sierra Madre Mountains is part of an assessment of elk movements before, during and after massive tree fall caused by mountain pine beetles.

-- The interaction of nutrition and disease in bighorn sheep. Pneumonia in bighorn sheep continues to affect their population dynamics, yet it is unknown how ecological conditions affect susceptibility to disease. The March 19-21 capture of bighorns from three herds near Jackson, Dubois and Cody will investigate how nutrition interacts with disease to affect bighorn populations.

Kauffman says the WMI research team -- which also includes UW's big game nutrition expert, Kevin Monteith; Western EcoSystems Inc. researcher Hall Sawyer; and Yale University biologist Arthur Middleton -- will provide information on the objectives of each study, and what has been learned from ongoing research, through photos, short video interviews, maps and graphics. They'll also tweet links to existing papers, reports, news articles, interviews, YouTube videos and other information relevant to each study.

Funding for these projects is made possible through extensive collaborations among state and federal managers, sportsmen's groups, nongovernmental organizations and private foundations. Additional partner details will be shared through Twitter and Facebook as the work progresses.

The public -- and other groups interested in the research -- are encouraged to add comments via Twitter or Facebook throughout the roughly three-week research effort.

---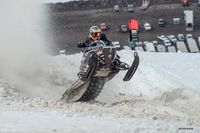 Erin Beukelman #13x, of Pinedale will be competing. Photo courtesy RLT Photos.

White Pine Snowmobile Hillclimb March 7 & 8th (posted 2/26/15)
Rocky Mountain Snowmobile Hillclimb Association (RMSHA) event
White Pine Ski Resort
An expected 600 snowmobiles will take on the hill at White Pine Ski Resort on Saturday, March 7th in an attempt to qualify for the final run-offs in one of six classes on Sunday. The 1,000' climb is predicted to take around 60 seconds for the leaders in each class; the best skiers at White Pine can probably get from the top to the base in around a similar time increment.

"Poor snowfall levels in late January and early February put a question mark on this year's hillclimb, but a decent snowfall over last weekend confirmed the 2015 Rocky Mountain Snowmobile Hillclimb Association (RMSHA) event at White Pine," stated RMSHA vice president Hal Tittensor. "We are expecting to attract riders from around the intermountain region and as far away as Oregon."

The White Pine Snowmobile Hillclimb provides competitors with one of the last of the qualifying opportunities prior to the World Championship Hillclimb which will be held on Saturday, March 28th at Jackson Hole, Wyoming.

Races commence each day at 8am with competitors roaring up the mountain passing between a series of mandatory gates. To miss a gate is instant disqualification. To keep the day exciting, snowmobiles will leave the start two at a time but follow different trails to the top. Saturday's 30 participants in each category will be reduced down to 12 for Sunday's finals.

Spectators can view the event from the base area or ride Little Spirit Lift up for mid-mountain viewing.

Following the crowning of Queens and Kings in Junior, Amateur, Stock, Improved Stock, Mod and Semi Pro classes, is a crowd favorite, the Locals Race. The class is open to all with the invitation to "Ride What YaBrung." The $65 entry fee for the race includes compulsory insurance costs and RMSHA fees. The winner will be presented with a trophy. Entry forms for the Locals Race can be downloaded at www.whitepineski.com with reservations accepted on Sunday just prior to the race.

For the youngsters, there will be a fun flat course adjacent to the mountain for 120 snowmobile riders. The kids' circuit will be open all weekend with all riders receiving a commemorative medal.

For spectators, entry into White Pine Ski Resort is $20 per car load. "Pack 'em, Stack 'em or Tack 'em onto your vehicle," encourage the organizers. Parking is limited as the professional's huge snowmobile trailers command a good percentage of the parking lot. "It's our way of encouraging carpooling," says White Pine owner Kari DeWitt. "It's the same price for a truck with one driver or that same truck packed full with friends and family."

White Pine will be serving a $12.00 All-You-Can-Eat Buffet Breakfast on both Saturday and Sunday mornings from 8am-11am. The Lodge Grill Restaurant will be open for lunch for those wishing to dine in the warmth with Pinedale High School students serving from an outdoor food concessionaire to raise funds for their end-of-year Senior Class Party.

For further information contact Robyn Blackburn, robyn@whitepineski.com, 307 367 6606.

Photos of Erin Beukelman #13x and Aaron Sterck #285, both from Pinedale, courtesy RLT Photos.

Related Links:
www.rmsha.net Rocky Mountain Snowmobile Hillclimb Association
https://www.facebook.com/racermsha Rocky Mountain Snowmobile Hillclimb Association Facebook page

---
Winter Elk counts begin (posted 2/26/15)
Wyoming Game & Fish
Wildlife biologists and game wardens count big game animals at different times of year based on when they are most visible and they can be classified as males, females and juveniles to get a picture of not only how many animals there are, but how the population is trending: increasing, stable or decreasing. This information helps managers design hunting seasons that will keep the population at the established population objective.

Winter is the best time to count and classify elk since most of the elk in the Pinedale and Jackson regions attend feedgrounds, making them relatively easy to count. All of the game wardens, biologists and several other regional personnel chip in to count the elk as it is a big job.

While all the numbers are still being tabulated, managers are expecting numbers to be somewhat higher due to the relatively light harvest this past hunting season.

Managers will present all the current big game numbers along with their proposed hunting seasons at a round of public meetings to be held later this spring. In the Pinedale region, public meetings are scheduled for the evening of March 24th in Marbleton and March 25th in Pinedale. More info

---
Elk research continues (posted 2/26/15)
Wyoming Game & Fish
Pinedale personnel in the Game and Fish Department's Brucellosis-Feedgrounds Habitat (BFH) program spent much of January capturing elk using both corral traps and chemical immobilization at several area elk feedgrounds.

Adult cow elk were fitted with GPS collars to document finescale movements and also Vaginal Implant Transmitters to identify elk parturition, or calving areas.

Approximately 250 elk have been trapped at Fall Creek, Dell Creek and Alpine feedgrounds, and an additional 30 elk were darted from a haysled at 10 different feedgrounds this winter. Data were downloaded and will be used to continue multi-agency studies on feedground elk ecology.

The collars will be refurbished with new batteries and drop-off mechanisms and redeployed this winter to continue to collect GPS data on elk. The Game and Fish Department's BFH program personnel, with collaborators from Iowa State University and the University of Wyoming, have collected over 500 years worth of GPS collar data from elk captured on 20 feedgrounds and seven native winter range sites adjacent to feedgrounds from 2007 to 2015.

---
Senators introduce bipartisan bill to protect knife owners (posted 2/26/15)
Pocket knives are banned by some local and state laws
Washington, D.C. ¨C Today (Wednesday, February 25, 2015) U.S. Senators Mike Enzi, R-Wyo., and Ron Wyden, D-Ore., introduced legislation to ensure that those traveling with a properly secured knife are not prosecuted under local or state laws which ban certain knives.

¡°Americans who are transporting a pocket knife shouldn¡¯t have to worry that they will be arrested for just passing through,¡± said Enzi. ¡°This is not theoretical, but a real problem. It is almost impossible for a citizen to be fully aware of the thousands of knife laws across the country. This bill would solve this issue.¡±

¡°This is a common-sense bill that respects state laws, ensures public safety and protects the rights of knife owners,¡± Wyden said. ¡°It provides protections that don¡¯t currently exist for knife owners traveling between places where knives are legal--as long as they keep that knife inaccessible on the trip.¡±

The Knife Owners Protection Act would provide safe harbor to Americans travelling with a knife where it is lawful for the knife to be possessed at both the points of origin and destination, so long as the knife is transported in a closed container. This legislation is based on the Firearms Owner Protection Act of 1986 which provides the same protection to law©\abiding gun owners.

---
Public meetings scheduled for 2015 proposed hunting seasons & regulations (posted 2/23/15)
Meeting in Marbleton May 24th and in Pinedale May 25th
The Wyoming Game and Fish Department will be holding their annual public information gathering meetings in March on proposed big game, wild turkey, upland game bird, small game, wild bison, early migratory game birds and Light Goose Conservation Order seasons and regulations.

Late migratory waterfowl seasons will be discussed for future consideration. Regulations governing uses of lands and waters acquired or administered by the Game and Fish Commission will also be discussed at the public meetings.

All interested parties are encouraged to attend one of these public meetings held across the state discussing all the 2015 hunting season proposals:

March 19: Evanston, 6:30 p.m. Uinta County Library
March 19: Greybull, 6 p.m. Town Hall
March 19: Riverton, 6 p.m. Fire Hall
March 19: Powell, 6:30 p.m. Park County Fairgrounds
March 19: Thermopolis, 6 p.m. Historical Museum
March 23: Afton, 6 p.m. Civic Center
March 23: Hulett, 7 p.m. Community Center
March 23: Meeteetse, 6 p.m. Senior Center
March 23: Mountain View, 6:30 p.m. School Board Room
March 23: Saratoga, 6 p.m. Town Hall
March 23: Sheridan, 4 p.m. Game and Fish Office
March 23: Sundance, 4 p.m. Crook County Courthouse
March 23: Wheatland, 6 p.m. Platte County Library
March 24: Baggs, 6 p.m. Valley Community Center
March 24: Buffalo, 4 p.m. Johnson County Library
March 24: Dubois, 6 p.m. Headwaters Arts and Conference Center
March 24: Gillette, 4 p.m. Campbell County Library
March 24: Jeffrey City, 6 p.m. Fire Hall
March 24: Kemmerer, 6:30 p.m. Lincoln County Library
March 24: Marbleton, 6 p.m. Town Hall
March 24: Newcastle, 7 p.m. U.S. Forest Service Office
March 24: Torrington, 6 p.m. Platte Valley Bank
March 24: Worland, 6 p.m. Washakie County Fairgrounds
March 25: Cheyenne, 6 p.m. Game and Fish Office
March 25: Cokeville, 6:30 p.m. Town Hall
March 25: Douglas, 6 p.m. Converse County Courthouse
March 25: Lovell, 6 p.m. Fire Hall
March 25: Lusk, 5 p.m. Niobrara County Courthouse
March 25: Pinedale, 6 p.m. Game and Fish Office
March 25: Rawlins, 6 p.m. Jeffrey Center
March 26: Green River, 7 p.m. Game and Fish Office
March 26: Jackson, 6 p.m. Game and Fish Office
March 26: Lander, 6 p.m. Game and Fish Office
March 26: Laramie, 6 p.m. University of Wyoming Berry Center
March 26: Sheridan, 7 p.m. Game and Fish Office
March 30: Casper, 6 p.m. Game and Fish Office

Written comments are also welcome through 5 p.m. March 31 at public meetings, or by mailing the Wyoming Game and Fish Department, Regulations, 3030 Energy Lane, Casper, WY 82604 or online at http://wgfd.wyo.gov. Copies of the proposed regulations are available at the same address in accordance with Chapter 1 Regulation Governing Access to Public Records.

Signed written comments will be presented to the Game and Fish Commission prior to the public hearing at their April 22-23 meeting in Casper at the Wyoming Contractors Association Regional Training Center, 2220 North Bryan Stock Trail.

The Game and Fish Department supports the Americans with Disabilities Act. Every effort will be made for reasonable accommodations by contacting the nearest Game and Fish office.

---
Game and Fish surveys show increase in mule deer and antelope fawn numbers (posted 2/19/15)
Wyoming Game and Fish
The Wyoming Game and Fish Department's annual surveys of pronghorn antelope and mule deer herds this fall and winter show higher than average numbers of fawns. This is significant because population growth is driven by the number of fawns that are born and survive to their first birthday. Game and Fish attributes some of the increases to improved moisture conditions.

For mule deer herds, Game and Fish's statewide surveys show positive results, with the number of fawns per 100 does well above recent averages. Several herds had more than 80 fawns per 100 does. Research shows at least 66 fawns per 100 does are needed to support population growth.

"Survey results from this fall and winter are encouraging. Drought conditions, which began in earnest in 2000, coupled with disease outbreaks and predation have been hard on antelope and mule deer throughout the state. To see a spike in fawns across Wyoming shows how important moisture and habitat are to antelope and mule deer. This is why we have put such an emphasis on improving habitat for wildlife with partners like the Governor's Big Game License Coalition and the Wyoming Wildlife and Natural Resource Trust," said Scott Smith, deputy chief of the Game and Fish's Wildlife Division.

This fall, Game and Fish surveyed pronghorn antelope herds across the state. Overall, many herds showed an increase in fawns per 100 does. Some examples include, the Cheyenne River Herd covering parts of Converse, Weston and Niobrara Counties with 91 fawns per 100 does. The average from 2009-2013 was 63 per 100. In Washakie and Hot Springs Counties the Copper Mountain Herd had 89 fawns per 100 does, while the 2009-2013 average was 58.

Pronghorn antelope and mule deer are the two most populous big game animals in Wyoming. Both species have been in decline across western North America over the last two decades.
---
Wyoming Range mule deer being studied (posted 2/18/15)
Providing info on habitat, migration patterns, winter and summer ranges
Wyoming Game & Fish
LA BARGE, WYOMING – A study involving the Wyoming Range mule deer herd in western Wyoming is yielding important information that is helping biologists learn more about the needs of the deer that inhabit the area.

The Wyoming Game and Fish Department has been collaring mule deer in the winter ranges near LaBarge, Kemmerer and Evanston with the goal to fit radio collars on 70 does in these areas to determine habitats preferred by the deer. Once habitat usage is documented, wildlife managers will be able to assess the nutritional carrying capacity of the population to better determine how many deer the landscape can support in a given year. Also important are migration routes and stopover areas the deer use as they depart winter ranges on their annual migration to summer ranges.

To date, wildlife managers have identified important migration corridors from critical winter ranges in the LaBarage area to summer ranges in the Greys River and Wyoming Range and Salt Ranges. There has also been a substantial migration documented for deer that spend the winter by Evanston and travel into the Greys River and Salt Ranges as well—a distance of at least 150-160 miles.

Gary Fralick, Game and Fish biologist whose responsibilities include the Wyoming Range deer herd said, "Stopover areas are those areas deer pass through during their annual migration to summer ranges. These stopover areas are essential habitat components for the animals to refuel and begin to replenish fat reserves after spending six months on sagebrush winter ranges. Migrations are very energetically demanding and it is important for the does to be in good physical condition prior to the parturition period."

Fralick said that stopover areas allow the pregnant does to maximize the green succulent grasses and forbs that provide necessary nutrition to allow does to produce viable and healthy fawns during the June birthing period.

"The body condition of the does is ultimately going to dictate how many fawns are recruited into the population," Fralick said. "This recruitment will determine the numbers of animals available for wildlife enthusiasts to view and what kind of hunting seasons can be expected in future years."

A positive indicator of the age group variety of the Wyoming range herd over the last three years has been provided by hunter harvest data.

"We've seen quite a variation in the number of age classes of bucks being harvested," Fralick said. "This indicates that the age classes of these animals when they were fawns, come through the winter in good shape."

Fralick said the winter so far is shaping up to be another good year for deer but cautioned there are still several months of winter left that could affect the population.

"But, unless the severity of the winter is substantial in the next few months, the deer now on the winter ranges should have a high survival rate. To finish off the winter, we will be hoping for spring precipitation with the resulting plant growth the deer need during the annual migration from their winter to summer ranges," Fralick said.

---
Business Directory
Click here for
Advertising Information