Alphabet's Wing gets FAA approval to become first drone airline (posted 4/23/19)
Clears the way to begin testing for paid consumer deliveries by drone
Bloomberg posted an article saying an offshoot of Alphabet Inc.'s Wing has become the first drone operator to receive FAA approval as an airline. This gives the company the certification it needs to begin routine deliveries of small consumer items by drone. The article says the company plans to begin testing in two rural communities in Virginia within the next few months.

Because of current regulations, in order for Wing to operate over long ranges out of sight of an operator and actually charge for service, it needed to work with the FAA to become a full-fledged air carrier. Drone regulations still don't permit most flights over crowds and urban areas, limiting where Wing can operate, but the approvals give the company the ability to begin charging for deliveries of clients' goods and to apply for permission to expand to other regions. Wing's new status also clears the way for other companies seeking to delve into drone commerce.

Alphabet Inc. is an American multinational conglomerate headquartered in Mountain View, California. It was created through a corporate restructuring of Google on October 2, 2015, and became the parent company of Google and several former Google subsidiaries.

Click on this link to read the full article: Alphabet's Wing becomes first drone airline By Alan Levin, Bloomberg.com, April 23, 2019

---
Wyoming property tax refund available (posted 4/21/19)
The State of Wyoming offers several property tax refund programs. There is a low income program and there is a veteran's property tax exemption. Residents may qualify if:

- You own your own home.
- You have paid your 2018 property taxes on that home in a timely manner and have a receipt for the same
- You have been a Wyoming resident for the past five years
- Your total personal assets do not exceed $120,339 per adult household member.
- Your household income is equal to or less than the greater of three fourths of the median household income for the state or county in which you reside ($59,325 for Sublette County)

The due date for the Veteran's Property Tax Exemption is the fourth Monday in May.

The due date for the Wyoming Property Tax Refund is the first Monday in June.

Application forms are available from the local County Treasurer or Wyoming Department of Revenue, 122 W 25th Street, 3-East, Cheyenne, Wyoming. For more information contact your county treasurer or call the Department of Revenue at 307-777-7320.

Wyoming Property Tax Refund brochure

Click on this link for more information: http://revenue.wyo.gov/administrative-services/property-tax-refund-program

---
Antler hunting season begins May 1st (posted 4/21/19)
Wyoming Game & Fish
PINEDALE - The Wyoming Game and Fish Department reminds antler hunters there is a season in place which prohibits the gathering of horns or shed antlers from January 1 through April 30 on public lands west of the Continental Divide in Wyoming. This regulation has been in effect since 2009 and includes all state-owned lands as well as federal lands.

In addition, many big game winter ranges in both Teton and Sublette counties have further restrictions to either human presence or motor vehicles during the winter months. However, the shed antler regulation does apply to all other federal or public lands not covered under such winter range closures.

Similarly, Wildlife Habitat Management Areas (WHMAs) managed by the Wyoming Game and Fish Department in the Jackson and Pinedale Regions are closed to human presence December 1 through April 30. For more information on Game & Fish WHMAs, you may visit the website at: https://wgfd.wyo.gov/Public-Access/WHMA

According to the Wyoming Game and Fish Commission regulation, "collection" is defined as: to search for, locate, stockpile, or possess shed antlers and horns of big game animals on public land or attempt to search for, locate, stockpile, or possess shed antlers and horns of big game animals on public land.

The purpose of the seasonal closure is to minimize harassment or disturbance of big game animals on their winter and spring ranges when animals are most vulnerable to stress and displacement to less productive habitats. This winter has been particularly hard on many big game herds in western Wyoming, so it is especially important that these animals not have to endure any unnecessary stress at this most critical time of year.

In addition, any antlers or horns found in Wyoming that are still attached to the skull need to be tagged with an Interstate Game Tag by a Wyoming Game and Fish law enforcement officer. Individuals need to contact a game warden prior to removing the head from the field. There is an $8.00 fee for the tag.

Many animals are now beginning their annual migration toward their summer ranges. Many animals will be crossing roadways, so motorists are asked to slow down and keep a close watch for animals, especially during dawn and dusk hours. Additionally, landowners are asked to open any gates they can to make it easier for animals to move across the landscape.

With the continued increase in popularity for shed antler hunting, and a corresponding increase in public complaints of violations, Wyoming Game and Fish wardens continues to increase enforcement efforts to make sure everyone is playing by the rules. Each winter, the Wyoming Game and Fish Department details additional game wardens from across the state to increase the enforcement presence on key winter ranges, both to deter the poaching of big game during early winter and enforce the antler hunting regulation after animals have shed their antlers.

Each winter, antler hunting citations are issued to individuals who violate shed antler regulations. "We hope these citations and the resulting sentences send a strong message that we are taking these violations seriously," said Pinedale Wildlife Supervisor John Lund.

As with other laws and regulations, enforcement and public cooperation are key to effectiveness. Anyone witnessing a wildlife violation may call the Stop Poaching hotline at 1-877-WGFD-TIP. Tips are most helpful when they are reported promptly and include information such as the date, time, location and specific details about the suspected violation. Also important is a physical description of the suspected violator as well as a license plate number and description of any vehicles involved in the incident. Stop Poaching tips can also be reported online at: https://wgfd.wyo.gov/law-enforcement/stop-poaching. Tips may result in a reward and informants can choose to remain anonymous.
---
Wolf News Roundup 4/21/19 (posted 4/21/19)
Cat Urbigkit, Pinedale Online!
Oregon Plan Released
The Oregon Department of Fish & Wildlife has released a revised wolf conservation and management plan and is accepting public comment on the document through June 7. The plan provides for more flexibility in lethal control of wolves that repeatedly prey on livestock. The document can be downloaded at the link below.

More Wolves For Isle Royale
Seven Canadian wolves, 3 females and 4 males, were translocated to Isle Royale National Park over the weekend by the Ontario Ministry of Natural Resources and Forestry (OMNRF) and the National Park Service (NPS). Fundraising by the National Parks of Lake Superior Foundation (NPLSF) and International Wolf Center (IWC) allowed the agencies to move six wolves from Michipicoten Island Provincial Park where they have run out of caribou, their only large prey, before ice and wolf health deteriorated such that successful translocation would not be possible. Additionally, a black wolf was translocated from the Ontario mainland.

Donor funds allowed this operation to continue after bad weather exhausted planned funding. This added time allowed both agencies to better achieve their objectives. For the NPS, the first year's objective was to translocate 8–10 wolves from the Lake Superior region to the remote island park, to increase the population and restore predation, while providing for genetic diversity.

With this latest translocation effort, the population of wolves on Isle Royale is now 15. "This successful effort resulted in exceeding our first-year population goal while providing a buffer for potential losses." Superintendent Green said. "Importantly, we were able to maintain a balance of males and females." The lack of an adequate food source and a hard winter caused the Michipicoten wolves to be in poor body condition, which we expect will improve due to the burgeoning moose population in their new home on Isle Royale. The black wolf was in the best condition of the seven released.

"All the GPS collars have sent location data from this past weekend. The wolves are adjusting to their new environment and finding food on the island, visiting carcass provisioning and old predation sites," said Mark Romanski. "The farthest movement so far was about 4 miles, by the black wolf who traveled southeast from the release site. The scent of the Michipicoten Island wolves may have motivated him to make this journey to avoid conflict."

Related Links:
Oregon Plan - Oregon Department of Fish & Wildlife
Isle Royale - National Park Service
Wolf Watch - by Cat Urbigkit, Pinedale Online!

---
WY Wolf Population Drops 18% (posted 4/21/19)
Cat Urbigkit, Pinedale Online!
Despite the deaths of 177 wolves in Wyoming in 2018, the state¡¯s wolf population tallies at least 286 (an 18% drop from a year ago), and agencies spent at least $1.5 million on wolf management and monitoring.

Wyoming is required to maintain at least 150 wolves and 15 breeding pairs in order to comply with federal delisting standards. More specifically, under a deal negotiated between the U.S. Fish & Wildlife Service (FWS) and the State of Wyoming, state officials are responsible for maintaining at least 100 wolves and 10 breeding pairs within the state¡¯s jurisdiction, while Yellowstone National Park and the Wind River Indian Reservation are expected to contribute the remaining 50 wolves and 5 breeding pairs to meet the 150 wolves/15 breeding pair requirement.

The Wyoming Game & Fish Department¡¯s recently released annual report on wolf monitoring breaks down the existing population in this way:
Wyoming Wolves: 196 wolves/13 breeding pairs
Yellowstone National Park: 80 wolves/7 breeding pairs
Wind River Indian Reservation: 10 wolves/no breeding pairs

WG&F is responsible for managing wolves in northwestern Wyoming¡¯s wolf trophy game area, while in the remainder of the state, wolves are treated as predators and can be killed at any time.

WG&F had hoped that the 2018 wolf hunting season in the trophy zone would result in a reduction of the population to 160 wolves, but the result was that the wolf population within that zone dropped even more than anticipated, to 152 wolves in that zone, and 11 breeding pairs. Still, for the 17th consecutive year, Wyoming has exceeded the numerical, distribution, and temporal delisting criteria established by FWS. Wyoming¡¯s wolf population had an average of 13% growth despite 34% human-caused mortality from 2000-2018, according to WG&F.

There are currently 90 wolves in 31 packs wearing radio-collars in Wyoming, according to WG&F.

The report noted decreases in the number of wolves, wolf packs, breeding pairs, and average pack size, "primarily through human-caused mortality, but natural processes driven by density-dependent mechanisms also contributed to these reductions.

"Density-dependent mechanisms are factors that increase mortality and/or reduce pup recruitment when wildlife populations are at high density, causing a resultant limitation or reduction of population growth," according to the report. Evidence for density-dependent limitations of the wolf population include increasing disease prevalence, reduced reproduction and pup recruitment, and increased intraspecific aggression between wolf packs (i.e., wolves killing other wolves.

"For example, intraspecific aggression increased as wolf density increased in the northern range wolf population in Yellowstone National Park, contributing to reduced population growth at high density/ Similarly, documentation of much higher intraspecific aggression between wolves in WYO in 2018 suggests density-dependence was a factor influencing wolf population growth.

"Reproduction and recruitment of pups was markedly low in 2018, providing further evidence of density-dependent factors within the WYO wolf population."

Yellowstone Park:
There were ¡Ý80 wolves in ¡Ý9 packs, including 7 breeding pairs, living primarily in Yellowstone National Park at the end of 2018 (Figure 8, Table 3). Overall, wolf numbers fluctuated little from 2009 to 2017 (83-108 wolves) but dropped slightly in 2018, particularly in the interior of Yellowstone after the Snake River pack shifted into WYO

This is the first year since 1995 there was no intraspecific-caused mortality in Yellowstone National Park, which is usually the leading cause of natural mortality in the park.

To read the entire annual report, click on the link below.

Related Links:
- Wyoming Game & Fish Department
Wolf Watch - by Cat Urbigkit, Pinedale Online!

---
Mexican wolves kill dozens of livestock (posted 4/21/19)
Cat Urbigkit, Pinedale Online!
The White Mountain Independent put up an article detailing the debate about county government cooperation in Mexican wolf recovery, in a post linked below. Mexican wolves were released along the New Mexico/Arizona border in 1998, and the population has grown to about 130 animals.

A reading of the monthly Mexican wolf update from the Arizona Game & Fish Department (AZGFD) gives an overview of the struggles experienced by livestock producers, with Mexican wolves confirmed as killing cattle on nearly a daily basis during the month of March.

AZGFD reports:
"During the month of March, there were 20 confirmed wolf depredation incidents on livestock and one confirmed wolf depredation on a dog. There was one nuisance incident investigated in March. From January 1, 2019 to March 31, 2019 there have been a total of 42 confirmed and three probable wolf depredation incidents in New Mexico and five confirmed depredation incidents in Arizona.

On March 3, Wildlife Services investigated a dead calf in Catron County, NM. The investigation determined the calf was a confirmed wolf depredation.

On March 5, Wildlife Services investigated a dead calf in Catron County, NM. The investigation determined the calf was a confirmed wolf depredation.

On March 6, Wildlife Services investigated a dead dog in Catron County, NM. The investigation determined the dog was a confirmed wolf depredation.

On March 9, Wildlife Services investigated a dead calf and two dead cows in Catron County, NM. The investigations determined that the calf and one cow were confirmed wolf depredations. The cause of death for the second cow was unknown.

On March 11, Wildlife Services investigated a dead cow in Catron County, NM. The investigation determined the cow was a confirmed wolf depredation.

On March 12, Wildlife Services investigated a dead calf in Catron County, NM. The investigation determined the calf was a confirmed wolf depredation.

On March 14, Wildlife Services investigated two dead cows in Catron County, NM. The investigation determined both cows were confirmed wolf depredations.

On March 19, Wildlife Services investigated four dead cows in Catron County, NM. The investigations determined three cows were confirmed wolf depredations, one cow died from unknown cause.

On March 21, Wildlife Services investigated a dead cow in Catron County, NM. The investigation determined the cow was a confirmed wolf depredation.

On March 22, the IFT took a report of an elk killed by wolves next to a house near Alpine, AZ. The IFT investigated the report and determined wolves from the Hoodoo Pack had killed a cow elk overnight within 50 feet of the residence. The carcass was removed to eliminate any attractant to wolves returning to the area.

On March 23, Wildlife Services investigated an injured horse that later died from injuries in Catron County, NM. The investigation determined the horse was a confirmed wolf depredation.

On March 24, Wildlife Services investigated a dead calf in Catron County, NM. The investigation determined the calf was a confirmed wolf depredation.

On March 25, Wildlife Services investigated a dead bull and a dead calf in Catron County, NM. The investigations determined the bull and calf were both confirmed wolf depredations.

On March 27, Wildlife Services investigated a dead cow in Catron County, NM. The investigation determined the cow was a probable wolf depredation.

On March 27, Wildlife Services investigated a dead cow and calf in Greenlee County, AZ. The investigation determined the two animals were confirmed as having been killed by wolves and classified as one depredation incident.

On March 28, Wildlife Services investigated three dead cows in Catron County, NM. The investigation determined one cow was a confirmed wolf depredation and two were probable wolf depredations.

On March 28, Wildlife Services investigated a colt that was injured and later euthanized in Apache County, AZ. The investigation determined the colt was a confirmed wolf depredation.

On March 30, Wildlife Services investigated a dead cow in Catron County, NM. The investigation determined the cow was a confirmed wolf depredation.

On March 30, Wildlife Services investigated a dead calf in Apache County, AZ. The investigation determined the calf was a confirmed wolf depredation."

Related Links:
Mexican wolf cooperation - White Mountain Independent
Wolf depredations - Arizona Game & Fish Department
Wolf Watch - by Cat Urbigkit, Pinedale Online!
---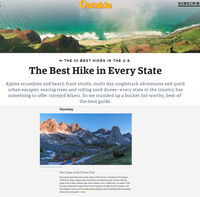 50 Best Hikes in the U.S.

Cirque of the Towers Trail named Wyoming's Best Hike by Outside magazine (posted 4/16/19)
Great Outdoor Shop mentioned as place to stock up on gear
Outside magazine posted an article online on April 15th listing "The 50 Best Hikes in the U.S.," calling it a bucket-list-worthy, best-of-the-best guide. The magazine polled their writers and editors to come up with what they feel are the very best hike in each of the states of the nation.

Here is what they had to say about Wyoming:
The Cirque of the Towers Trail
The granite spires that make up the Cirque of the Towers, in the heart of Wyoming's Wind River range, contain some of the finest rock climbing in the country. But the range is also a hiker's dream: lake, rivers, fishing, views, wildflowers, you name it. The 18-mile out and back Cirque of the Towers Trail gets you right into the business. And don't forget to stock up at the Great Outdoor Shop in nearby Pinedale before launching off into the backcountry.

Click on this link to read the full article: THE 50 BEST HIKES IN THE U.S.

---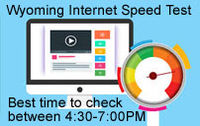 Wyoming internet speed test

Wyomingites: Please check your internet speed (posted 4/16/19)
Broadband enhancement study underway, public comment accepted until April 26
The State of Wyoming is in the process of mapping broadband connectivity and speeds across the state as a part of its efforts to enhance broadband in the State. The mapping exercise asks a few questions, including your address. The speeds will be attached to your address in the data base. Information will be used by the Wyoming Business Council to focus Broadband enhancement efforts. Big Piney, Pinedale, Marbleton, and Sublette County have been working towards obtaining grants to help fund broadband infrastructure in the County and towns.

The best time to test your internet speed is between 4:30pm and 7:00pm, when the most usage occurs. Please click on the speed test map to help provide information so Wyoming can get faster, more reliable broadband access statewide. http://wyobbmap.org/

The Wyoming Business Council Board of Directors will consider proposed amendments to the Wyoming Broadband Enhancement Plan on May 16, 2019 in Riverton. Those amendments can be found here:
http://www.wyomingbusiness.org/Uploads/DocumentLibrary/Broadband%20Summit/BBPlan%20Amendments%20as%20adoptted%20by%20Board%204-12-19%20-for%20comment.pdf

Public comment will be accepted on the amendments until April 26. Please email comments to Russ Elliott, russ.elliott@wyo.gov.

Access to high-quality business and residential broadband is essential to developing, growing and attracting businesses, improving academic performance, supporting healthcare, promoting innovation and entrepreneurship, attracting investment, educating the workforce of the future, quality of life, and improving Wyoming's position as a global competitor.

The Federal Communications Commission has established that "advanced telecommunications capability" requires access to download speeds of at least 25 Mbps and upload speeds of at least 3 Mbps. Residents of rural Wyoming areas are limited by access, with an average download speed of just 17 Mbps.

During the 2018 legislative session, Gov. Matt Mead signed into law SEA No. 0036, which handed the Business Council new tools to fulfill that mission. The law provided $10 million to establish a broadband infrastructure grant fund and $350,000 to establish a broadband coordinator position at the Business Council and a Broadband Advisory Council to oversee the agency's efforts.

The Business Council, in conjunction with the ENDOW Executive Council, Governor and the Broadband Advisory Council, has built a Broadband Enhancement Plan and will develop and adopt a broadband funding program.

The State of Wyoming has built a tool that will measure connectivity at any location throughout the state. By taking the speed test, you are participating in the State's data-collection efforts and giving the State the information they need to determine location and service levels. This data will be shared with providers throughout the state so they can see where Wyoming could use their support and infrastructure.

Please read these instructions before taking the speed test and completing the survey:
• Your location must be in the state of Wyoming.
• It is best if you can take the test in the evening hours, between 4:30PM to 7:00PM.
• If you are on a desktop computer connected to your home or business internet service, continue to the speed test and survey.
• If you are on a mobile device (i.e. smart phone, tablet, laptop, etc.), please ensure that you are connected to the internet via your home or business wireless internet (wifi) before taking the speed test and survey

Click on the speed test map before May 16th to help provide data for this study. http://wyobbmap.org/

---
SCSD1 seeking applications for a vacant Pinedale-At-Large Trustee seat (posted 4/14/19)
Sublette County School Dist #1
NOTICE TO THE PUBLIC
The Board of Trustees of Sublette County School District #1 is accepting applications for a vacant Pinedale At-Large Trustee Seat.

This vacancy is for an At-Large Trustee seat and the appointment will be to fill the vacancy with the term ending November 30, 2022. Residency within the Pinedale Trustee Area may be verified with the County Clerk's Office.

Candidates must obtain an application packet from the Superintendent's Office beginning on April 8, 2019. Completed applications will be due to the Superintendent's Office by Noon on April 22, 2019. Only completed applications will be considered for the interview process. A date for interviews with the Board of Trustees is to be determined.

Based on the number of candidates, interviews with the Board of Trustees will be scheduled with the times to be determined. We anticipate these will be held the week of April 22 - 26, 2019. The appointment will be made at a Special Meeting to follow.

Regular school board meetings are held on the second Thursday of each month. Other Special Meetings are held as needed. Board member trainings are provided. For more information, please contact the Superintendent's Office at 307-367-2139 ext. #5224.
---
Soda Lake Wetland Renovation public meeting April 24 (posted 4/12/19)
Wyoming Game & Fish
The Wyoming Game and Fish Department will hold a public meeting to discuss potential renovations to existing wetlands at the Soda Lake Wildlife Habitat Management Area five miles north of Pinedale. The meeting is scheduled for Wednesday, April 24, from 6-8 pm at the Game and Fish office in Pinedale.

Wetlands are the most productive and biologically diverse habitat type found in Wyoming. The Game and Fish, in partnership with Ducks Unlimited, is considering a plan to restore an existing wetland complex that has lost most of its open water habitat and become largely non-functioning for waterfowl and other wildlife that depend on wetland habitat.

The wetlands were first created in 1988 as an enhancement of naturally-existing wetlands. The additional open water created served as valuable habitat to a great variety of waterfowl and shorebirds and provided quality waterfowl hunting opportunities for several years. However, over time, the water impoundment structures degraded, silt filled in existing ponds and the ability to manage and maintain the wetlands to their full potential for wildlife has been lost.

A wetlands restoration plan primarily developed by Ducks Unlimited, with input from local Game and Fish managers, is being considered and will be presented to the public for their input. The current plan would restore and create a series of six ponds, each with its own water control structure. An associated water management plan would allow for better water control and flexibility. Some ponds would provide breeding and stop-over habitat, while other ponds would be periodically drained, allowing for vegetation to grow up and then be flooded again, providing and abundance of feed for waterfowl and other wildlife. It is also planned to include a renovated viewing blind and interpretive nature trail to compliment the area. The restored wetland complex would again be available for waterfowl hunting in the fall.

The water source for the series of ponds is a small spring creek that ultimately also provides water to nearby Soda Lake. Gretchen Hurley, an independent hydrologist based out of Cody, Wyoming, has been contracted to determine what overall effect the wetland restoration project might have on water (both surface and sub-surface) in the area, and specifically on Soda Lake. Hurley's investigations found that there would not be detrimental effects to water levels in Soda Lake or the associated water table in the vicinity. Local Game and Fish habitat area managers and fish biologists, along with Ducks Unlimited biologists and Hydrologist Gretchen Hurley all will be on hand to present their findings at the meeting. Ducks Unlimited and Game and Fish are seeking to raise funds for the project.

---




Rocky Mountain Power

Scam Alert: Beware phone calls about utility bills (posted 4/11/19)
Rocky Mountain Power warning customers about latest phone scams
Rocky Mountain Power
A number of customers have reported receiving fraudulent calls from scammers posing as utility representatives. The caller insists that the customer is behind on their bill and then threatens that, without an immediate payment, service will be disconnected.

This week the reported scam calls have primarily been targeted to business customers. Some insist on the victim obtain a prepaid card and share the code while one customer was even asked to meet the scammer at a specific location.

Customers can protect themselves from these types of schemes by being aware of the following tips:

If the caller asks for your credit card number or advises you to purchase a pre-paid card from a store and to call back with the code. Rocky Mountain Power will never ask for payment via prepaid credit card. We offer a variety of ways to pay a bill, including accepting payments online or by phone. However, payment via prepaid card will never be demanded

If the caller claims your electric service will be disconnected if you don't make a payment immediately, particularly if you haven't received any prior notice about late payments or a potential disconnection. We don't threaten our customers and work with customers who are behind on their payments to help them get back on track. Generally, notices about past due bills are sent to customers in the mail or delivered to their home, or they receive an automated phone message.

If the caller says he is with the "Rocky Mountain Power Disconnection Department." No such department exists.

If you receive one of these calls, ask the caller to state your account number and compare it with the number listed on your bill. Rocky Mountain Power customer service employees will always have your account number.

Remember, if you still have concerns about the legitimacy of a call, you can always call back at our published customer service number, 1-888-221-7070. Rocky Mountain Power is asking customers to report any scam calls received, including the phone number the person is calling from and any information that may help to track down the crooks.

About Rocky Mountain Power
Rocky Mountain Power provides safe and reliable electric service to more than a million customers in Utah, Wyoming and Idaho. The company works to meet customers' growing electricity needs while protecting and enhancing the environment. Rocky Mountain Power is part of PacifiCorp, one of the lowest-cost electricity providers in the United States. More information at www.rockymountainpower.net.

---
Construction underway on US 191 north of Daniel Junction (posted 4/11/19)
Expect delays
Wyoming Department of Transportation
PINEDALE, WYOMING - The Wyoming Department of Transportation have begun working on several bridges on US 189/191 north of Daniel Junction. WYDOT, along with contract crews from Lewis & Lewis, Inc. have set up traffic control at two bridge locations at Warren Bridge (milepost 120.20) and North Beaver Creek Bridge (milepost 127.45). Traffic will be reduced to a single lane and controlled by a timed traffic light. WYDOT is asking that drivers to expect delays and plan their travel accordingly.

The work will include pavement surfacing, bridge rehabilitation and miscellaneous work on 8.5 miles of US 189/191 beginning at milepost 120. Paving and work on an additional bridge will take place in June. The completion date for this work is Oct. 1, 2019.

All work schedules are subject to change. WYDOT would like to remind drivers to slow down in work zones and be alert and cautious of roadside workers. For more information on road construction, closures and weather conditions, please visit http://www.wyoroad.info.
---
UW study questions effects of reintroducing top predators (posted 4/10/19)
University of Wyoming press release
For years, scientists have assumed that when top predators are reintroduced to an ecosystem, the effects are predictable: The ecosystem will return to how it was before the predators were wiped out.

Now, University of Wyoming researchers have published a study showing that there's little evidence for such claims. This has big implications for wildlife conservation in places such as Yellowstone National Park.

Most people are probably familiar with the story of Yellowstone's wolves. Wolves were wiped out in Yellowstone in the 1920s and, in their absence, elk became much more common and ate so much vegetation that it degraded the ecosystem.

Wolves were reintroduced to Yellowstone in the mid-1990s and over the next two decades brought profound change to the ecosystem. The number of elk decreased, while the number of aspen, willow and cottonwoods increased. Biologists observed positive responses by other animals, from songbirds to beavers. Scientists assumed that Yellowstone's ecosystem is on its way to being restored to historical conditions.

But this new study questions that assumption: Do we really know what those historical conditions were? And, does reintroducing apex predators alter ecosystems with any predictability at all?

The team of researchers from UW, Yale University and the University of British Columbia-Okanagan set out to find the answer. The results were published in the journal Biological Conservation earlier this week.

Ecosystem restoration via large carnivore reintroduction relies on two critical assumptions. First, large carnivore reintroduction has to initiate a predictable trophic cascade -- that is, where carnivores reduce the abundance of herbivores, which, in turn, increases the abundance of the plants they feed on. Second, the magnitude of that trophic cascade has to push an ecosystem back to a previous state.

But lots of other things can happen, too. Reintroduction of large carnivores might not affect the ecosystem much at all. Or the ecosystem might veer off in a new, unpredictable direction due to changes to the ecosystem or biological communities that occurred when large carnivores were absent. This is particularly likely in today's era of climate change and invasive species, the researchers say.

There aren't many studies on this topic, so the researchers collected studies that included data on the reintroduction of native apex predators or removal of invasive ones. These events are two sides of the same coin: Reintroductions and removals should work the same way, but in opposite directions.

They found that trophic cascades brought on by these events don't appear to be predictable -- sometimes you get them, sometimes you don't. In fact, they found only one consistent result: When invasive apex predators were removed, smaller predators such as coyotes, foxes and rats become more common.

Jesse Alston, the lead author on this study, says there are two take-home messages to this work.

"We need more studies," he says. "More tests of this 'assumption of reciprocity,' as we call it -- particularly via rigorous experimental studies -- would be really helpful. This is hard data to get, but we really do need it before we can credibly claim that large carnivores restore ecosystems. They might not."

"We also think that large carnivore reintroduction should be pursued for its own sake," Alston adds. "Large carnivores are great, but using their effects on ecosystems to justify reintroduction might not hold up to scrutiny and could be counterproductive in the long term.

"We hope we set up a nice framework for thinking about large carnivore introduction and invasive species removal that others can run with. We want to raise an important question, but it's going to take lots of folks to provide a definitive answer. This is an unfinished story."

Related Links:
Reciprocity in restoration ecology paper - Biological Conservation
Wolf Watch - by Cat Urbigkit, Pinedale Online!
---
Washington wolf count up (posted 4/10/19)
Washington Department of Fish & Wildlife
The recovery of Washington's wolf population continued in 2018 as numbers of individual wolves, packs, and successful breeding pairs reached their highest levels since wolves were virtually eliminated from the state in the 1930s.

The Washington Department of Fish and Wildlife (WDFW) published its annual year-end report, which shows the state has a minimum of 126 individual wolves, 27 packs, and 15 successful breeding pairs – male and female adults who have raised at least two pups that survived through the end of the year. A year ago, those numbers were 122, 22, and 14, respectively.

In 2018, for the first time, WDFW documented the presence of a pack west of the Cascade Crest. A single male wolf in Skagit County, captured in 2017 and fitted with a radio collar, has been traveling with another wolf through the winter, thereby achieving pack status. Biologists chose the pack's name – Diobsud Creek.

"We're pleased to see our state's wolf population continue to grow and begin to expand to the west side of the Cascades," said WDFW Director Kelly Susewind. "We will continue to work with the public to chart the future management of this important native species."

Information and survey findings are compiled from state, tribal, and federal wildlife specialists based on aerial surveys, remote cameras, wolf tracks, and signals from radio-collared wolves. As in past years, the annual count provides estimates of the minimum numbers of wolves in the state, because it is not possible to count every wolf.

Virtually eliminated from the state by the 1930s, Washington's gray wolf population has rebounded since 2008, when WDFW wildlife managers documented a resident pack in Okanogan County. Most packs occupy land in Ferry, Stevens, and Pend Oreille counties in the northeast corner of the state, but the survey revealed increasing numbers in Washington's southeast corner and the north-central region.

Although the 2018 annual count showed a modest increase in individual wolves, the upturn in new packs and breeding pairs in those areas set the stage for more growth this year, said Donny Martorello, WDFW wolf policy lead. "Packs and breeding pairs are the building blocks of population growth," Martorello said. 'It's reassuring to see our wolf population occupying more areas of the landscape."

State management of wolves is guided by the department's 2011 Wolf Conservation and Management Plan, which establishes standards for wolf-management actions.

Since 1980, gray wolves have been listed under state law as endangered throughout Washington. In the western two-thirds of the state, they are classified as endangered under the federal Endangered Species Act.

As required for all state-listed species, WDFW is currently conducting a periodic status review of the state's gray wolf population to evaluate the species' listing status, Martorello said.

"The state's wolf management plan lays out a variety of recovery objectives, but the ultimate determination of a species' listing status is whether it remains at risk of failing or declining," Martorello said.

The 2018 annual count reflects the net one-year change in Washington's wolf population after accounting for births, deaths, and wolves that have traveled into or out of Washington to form new packs or join existing ones. In 2018, two wolves dispersed with one forming the Butte Creek pack in southeastern Washington while the other wolf traveled through Oregon down to Idaho.

WDFW also recorded 12 wolf deaths during 2018. Six (6) were legally killed by tribal hunters; four (4) were killed by WDFW in response to repeated wolf-caused livestock deaths; and two (2) other mortalities apparently were caused by humans and remained under investigation at year's end.

Ben Maletzke, WDFW statewide wolf specialist, said the 2018 annual report reinforces the profile of wolves as a highly resilient, adaptable species whose members are well-suited to Washington's rugged, expansive landscape. He said their numbers in Washington have increased by an average of 28 percent per year since 2008.

"Wolves routinely face threats to their survival – from humans, other animals, and nature itself," he said. "But despite each year's ups and downs, the population in Washington has grown steadily and probably will keep increasing by expanding their range in the north and south Cascades of Washington."

Maletzke said the 2018 survey documented six packs formed in 2018 – Butte Creek, Nason, OPT, Sherman, Diobsud Creek and Nanuem – while one pack, Five Sisters, disbanded due to unknown causes.

With funding support from state lawmakers, WDFW has steadily increased its efforts to collaborate with livestock producers, conservation groups, and local residents to minimize conflict between wolves and livestock and other domestic animals, Maletzke said.

WDFW used several strategies last year to prevent and minimize conflicts, including cost-sharing agreements with 31 ranchers who worked with WDFW to protect their livestock. State financial and technical assistance helped to support the use of conflict prevention measures which included range riders to check on livestock, guard dogs, lighting, flagging for fences, and data sharing on wolf movements.

Maletzke said five of the 27 packs known to exist in Washington last year were involved in at least one livestock mortality. WDFW investigators confirmed wolves killed at least 11 cattle and one sheep and injured another 19 cattle and two sheep.

WDFW processed five livestock damage claims totaling $7,536 to compensate producers for direct wolf-caused livestock losses and one indirect claim for $5,950, which compensates the producer for reduced weight gains and other factors associated with wolf-livestock interaction.

Consistent with the Wolf Plan and the department's Wolf-Livestock Interaction Protocol, WDFW used lethal measures to remove individual wolves from three packs after non-lethal measures failed to deter them from preying on livestock. WDFW euthanized two members of the OPT pack, and one member apiece from the Togo and Smackout packs.

Contributors to WDFW's annual report include the U.S. Fish and Wildlife Service, the U.S. Department of Agriculture's Wildlife Services program, the Confederated Colville Tribes and the Spokane Tribe of Indians.

Related Links:
Annual wolf report - Washington DFW
Wolf Watch - by Cat Urbigkit, Pinedale Online!
---
Business Directory
Click here for
Advertising Information