Rocky Mountain Power extends help for customers behind on bills (posted 7/31/2020)
Rocky Mountain Power
With many Rocky Mountain Power customers experiencing difficulties paying bills in the wake of the economic downturn caused by COVID-19, the company is extending its suspension of late fees and service disconnections to customers who set up payment plans and stay on track. Customer care representatives can also connect customers with energy assistance programs and other payment arrangements. The company also matches donations to the energy assistance programs 2-to-1 for those looking to help others in the community.

While regular billing cycles and disconnections for nonpayment have resumed, Rocky Mountain Power will continue an ongoing customer outreach campaign to inform customers about expanded, flexible payment plan options and energy assistance. Outreach methods include the following:
• Information for energy assistance is provided on the bill and on customer accounts online
• Customers with past due balances receive calls, emails and/or letters encouraging them to contact the company for payment arrangements
• Residential customers can elect to participate in a 12-month payment plan with a lower monthly payment for the first four months or an equal payment plan with the current bill and any past due balances rolled into a fixed payment amount each month
• Commercial customers can have up to six months to pay any past due bills
• Payment plans may be renegotiated or extended recognizing the income fluctuations customers may experience as the economy recovers

Rocky Mountain Power encourages customers to speak with a Rocky Mountain Power customer care representative who can help provide peace of mind and assistance. Helping customers through this difficult time as we provide safe, reliable power is our number one priority.

Customers can visit www.rockymountainpower.net/billhelp or call us toll free at 1-888-221-7070. Customer care representatives are always available and ready to help.

As a reminder, scammers are actively targeting energy customers in our region. If you receive a call, text or email threatening to shut off your power unless you pay immediately, it's a scam. Stay aware and be safe.

---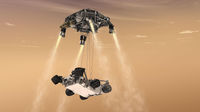 Mars Rover. Image courtesy NASA

NASA launches new Mars rover (posted 7/30/2020)
To search for ancient life on Mars
On Thursday morning, July 30th, NASA launched its new Mars rover, Perseverance, on a six-month journey to the red planet. The car-sized rover was boosted into space atop a United Launch Alliance Atlas V rocket that departed from the Kennedy Space Center in Florida. It is NASA's fifth Mars rover.

This was the third and final Mars mission to depart Earth this summer. Earlier in July, China and the United Arab Emirates also launched their first Martian explorers.

The primary mission of Perseverance is to find possible signs of ancient life hidden in the Martian soil. It will be the first rover to collect return samples of Mars dirt. Perseverance will collect samples so they can be returned to Earth by another robotic mission later this decade.

For more information, click on this link: NASA Mars 2020

---
Wyoming Public Health Orders extended through August 15 (posted 7/28/2020)
Wyoming has had 26 deaths to date due to COVID-19
Governor Mark Gordon has announced that Wyoming's current public health orders will remain in place through August 15 as cases of COVID-19 continue to rise in the state.

"It is important for all of us to remain vigilant as we continue to see case numbers increase statewide," Governor Gordon said. "We are approaching a critical time for our state's economy. So far, Wyoming has been able to keep our businesses open and our citizens safe. That's good for our economy and good for the health of our people."

"As we look towards the fall, we must remember that continued business expansion is a fragile thing and depends on each citizen doing their best to keep our economy flourishing," the Governor continued. "I sincerely thank those Wyoming citizens who are taking action to keep our businesses open by voluntarily wearing a mask when you can't socially distance."

Public Health Order No. 1 has been updated to provide more specific guidelines for school operations. This includes a continuation of the existing requirement that students wear face coverings in situations where 6 feet of separation cannot be maintained. Specific exemptions are listed in the orders. The Wyoming Office of Homeland Security and Wyoming Department of Education have partnered to distribute 500,000 cloth face coverings to school districts around the state. School districts have until Aug. 3 to submit their Smart Start reopening plans to the Department of Education.

Over the past 14 days, Wyoming has averaged 37 lab-confirmed cases of COVID-19 per day, with 523 new cases confirmed since July 12. From June 28-July 12, Wyoming averaged 28 new cases per day and there were 385 lab-confirmed cases reported. On July 28, the state reported 64 lab-confirmed cases, the highest single-day total since the pandemic began.

The Wyoming Department of Health and the Governor continue to strongly recommend the use of face coverings in public settings where it is not possible or reasonable to stay physically apart. On Wyoming's COVID-19 dashboard the categories of number of new cases and new hospitalizations continue to be rated, "Concerning."

The continuing orders allow gatherings up to 50 persons in a confined space to occur without restrictions and permit events of up to 250 persons with social distancing and increased sanitization measures in place. Faith-based gatherings such as church services and funeral homes will continue to be permitted to operate without restrictions, with appropriate social distancing encouraged. The public health restrictions that apply to restaurants, bars, gyms and performance spaces will remain in place.

As of July 28, Wyoming has recorded 2,136 lab-confirmed positive cases of COVID-19, 453 probable cases and 26 deaths.

The updated public health orders can be found on Wyoming's COVID-19 website.

---
Uinta County man tallied as coronavirus-related death (posted 7/28/2020)
Wyoming Department of Health
A Uinta County man who died recently in another state has been added to Wyoming's total number of deaths related to coronavirus disease 2019 (COVID-19), according to the Wyoming Department of Health (WDH).

The adult man had health conditions recognized as putting patients at higher risk of serious illness related to COVID-19. He had been previously included in Wyoming's case count and was hospitalized in another state when he died.

Among Wyoming residents, there have now been 26 coronavirus-related deaths, 2,136 lab-confirmed cases and 453 probable cases reported.

Deaths among Wyoming residents are added to the state's coronavirus-related death total regardless of where the person died. Based on official death certificate information, if the disease did not cause or contribute to the person's death, that person's death is not reflected in Wyoming's count of coronavirus-related deaths even if the person is known to be positive for the virus.

For more information about COVID-19, visit: https://health.wyo.gov/publichealth/infectious-disease-epidemiology-unit/disease/novel-coronavirus/.

---
Wyoming school districts to get face coverings (posted 7/27/2020)
State of Wyoming
The Wyoming Office of Homeland Security (WOHS), the Wyoming Department of Health (WDH), and the Wyoming Department of Education (WDE) have announced a joint effort to deliver 500,000 face coverings to school districts around the state. The cloth face coverings are washable, and will help school districts meet safety needs for reopening schools this fall. According to current state public health orders, face coverings are required in schools when six feet of physical distancing is not practical.

"This pandemic has required state and local collaboration between public and private entities at a level that has not existed in the past," said State Superintendent of Public Instruction Jillian Balow. "As a result, we're seeing incredible partnerships formed that will hopefully remain permanent. The delivery of these face coverings is one of many accomplishments arising out of these strong state and private partnerships."

WDH/WOHS identified these face coverings as a potential resource for schools. This resource was obtained by WDH/WOHS through FEMA. Ongoing procurement activities are a joint effort between these agencies as they continue to pursue critical supplies to support Wyoming's communities. This needed resource is being distributed in early August to school districts across the state through the partnership between WDH/WOHS and county emergency management.

"We are grateful for this opportunity to assist WDE in its efforts to reopen schools in a safe and timely manner," said WOHS Director Lynn Budd. "The Wyoming Office of Homeland Security, the Wyoming Department of Health and other state and local agencies are coordinating efforts to distribute the face coverings to each county emergency manager. Each emergency manager will in turn coordinate with their local school districts to arrange for distribution of the face coverings."

WDH recommends people wear cloth face coverings in public settings where it is not possible or reasonable to stay physically apart.

"We know some individuals can transmit the virus to others before they feel or show any symptoms. It's also becoming increasingly clear the virus spreads mainly between people when they are close to each other. Cloth face coverings have been effective in helping to block the spread of the virus," said Dr. Alexia Harrist, state health officer and state epidemiologist with WDH.

---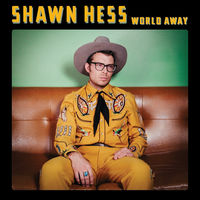 Shawn Hess and the Country Skillet perform in Pinedale Aug. 1 (posted 7/24/2020)
PFAC Soundcheck series
Pinedale Fine Arts Council
Pinedale's Soundcheck Summer Music Series continues Saturday, August 1 with Laramie-based country six-piece Shawn Hess and the Country Skillet. Special guests Jenna & Martin, a Kansas City based cosmic-country duo will open things up. Music starts at 5:30 p.m.

All Soundcheck shows are presented by the Pinedale Fine Arts Council (PFAC) and take place at the American Legion Park in downtown Pinedale. All shows are free to the public.

Due to COVID-19, all performances will be scaled down for safety with enforced social distancing, attendance caps and other measures in place.

Based in Laramie, Shawn Hess and the Country Skillet will bring their modern takes on country, folk, and Americana as a full six-piece band.

Kansas City country songwriting duo Jenna & Martin come together to deliver heartfelt harmonies through modern day saloon songs. Unique interpretations of classic country, bluegrass, rock and gospel hymns combine to form a genre they call "Cosmic Western." Their live performances contain signature storytelling and hot guitar pickin' that will rope in audiences with lucid imagery and standout melodies.

For the full Soundcheck lineup, COVID-19 details and more info please visit pinedalefinearts.com.

---
Hazardous fuels reduction continues along Skyline Drive (posted 7/24/2020)
Bridger-Teton National Forest
The Bridger-Teton National Forest, Pinedale Ranger District is continuing progress with the Skyline Wildland Urban Interface (WUI) Hazardous Fuels Reduction Project this summer.

The project is a 2,247-acre project, designed to reduce and remove hazardous fuel loading along Skyline Drive including the Sylvan Bay Summer Homes, Fremont Lake Campground, Elkhart Park, Kelly Park, and White Pine Resort. Contract and Forest Service crews are thinning trees and piling the debris to be burned at a later date.

Firewood and timber products are one of the outcomes of this project. The project objective is reducing the risk of a high intensity wildfire in these high use areas while increasing the safety of the public and firefighters in the event of a wildfire occurrence. The project also enhances wildlife habitat, recreation, timber product (timber sales), forest health, and site visibility along roadways.

Currently two timber sales are occurring near the White Pine Ski Area along Skyline Drive. These areas are posted with signs. Motorist and recreationalist are asked to stay out of these areas and allow crews to work safely.

The tree thinning piles along roadways can be found along Skyline Drive from Kelly Park to Elkhart Park. Larger firewood diameter material was left un-piled within 40-feet of the roadway to allow the public the opportunity to gather firewood.

Firewood permits are $7.00 per cord and may be obtained by calling the Pinedale Ranger District at 307-367-4326.

Other areas of firewood are currently being felled and mechanically piled in several different areas. These areas are otherwise inaccessible to the public due to no legal routes for vehicles and/or steep or rocky terrain. Forest Service crews are working in the area presently and will have several cords of firewood made available to the public when the crews are finished. Social media will be utilized to broadcast the location and times of firewood area availability. These areas will be gated and will have Forest Service personnel at the entrances to offer guidance and maps along with checking wood permit tags. Please stay tuned to the Bridger-Teton National Forest Facebook (https://www.facebook.com/BridgerTetonNF) and Twitter (@BridgerTetonNF) pages. Some firewood areas will be made available by mid-August. As other locations are completed, more areas will be made available through the fall months.

This project has been supported and funded by multiple partnerships with the US Forest Service including Rocky Mountain Elk Foundation, Wyoming Wildlife Natural Resource Trust, Mule Deer Initiative, Wyoming Game and Fish Commission, and the Forest Service and NRCS Joint Chiefs' Landscape Restoration Partnership supported through the Sublette County Forest Collaborative.
---
Wolf News Roundup 7/21/2020 (posted 7/21/2020)
Cat Urbigkit, Pinedale Online!
Colorado
Writer Cally Carswell, writing for 5280 Denver's Mile High Magazine, takes a look the origin of the Colorado wolf reintroduction proposal, interviewing advocates associated with the Rocky Mountain Wolf Action Fund. Mike Phillips of the Turner Endangered Species Fund explains his key role in pushing for the ballot initiative, and the article provides a glimpse into the players bankrolling the initiative.

Oregon
George Plaven, writing for the Capital Press, takes a detailed look at the problem with livestock depredations in Oregon, and the problem of getting depredations confirmed as wolf kills.

California pack
California's Lassen wolf pack has eight pups, according to state wildlife officials. This pack has a minimum of six adults and yearlings, in addition the pups, and is the only documented wolf pack in the state.

Washington
The Washington Department of Fish & Wildlife reports:
"On July 11, a group of livestock producers and ranch staff discovered multiple injured calves while gathering cattle in a U.S. Forest Service grazing allotment in Stevens County. WDFW staff investigated eight total injured calves the day they were reported. This incident occurred within the Wedge pack territory.

The investigations of seven of the eight injured calves revealed bite wounds and lacerations consistent with wolf depredation. The injuries to three of the calves were estimated to have occurred 1-2 days prior to the investigation; wounds on another calf were estimated to be 2-3 days old; wounds on another calf were estimated to be 3-4 days old; and injuries to the two remaining calves were estimated to have occurred 5-7 days prior to the investigation. Based on the estimated ages of the injuries, WDFW staff considered these depredations as four separate events.

When range riders observe a group of cattle that are bedded and appear to be relaxed and calm, riders do not make them stand, attempt to move them, or harass them; as such, injured calves are not always readily discernible and easily observed. The livestock producers removed the most severely injured calves from the range back to the ranch headquarters for medical attention and monitoring.

An additional injured calf was reported to and investigated by WDFW staff on July 13, and was confirmed as a wolf depredation.

The combination of bite wounds and lacerations with associated swelling consistent with hemorrhaging on all of the calves and recent wolf locations in the area provide evidence consistent with confirmed wolf depredations.

The affected livestock producer had the following proactive, nonlethal deterrents in place at the time of the depredation: removing or treating sick or injured livestock when discovered, carcass sanitation, calving away from areas occupied by wolves, delaying the turnout of livestock until wild ungulates are born, human presence around livestock, and using range riders.

This livestock producer used Cattle Producers of Washington range riders for six full days and eight partial days from May 21 through mid-June mainly on an 800- acre private pasture. Range riders transitioned with the livestock to larger summer grazing allotments. Following the depredation confirmed on June 17, range riding and livestock monitoring efforts were intensified. Range riding has been occurring four days a week, with the largest gap in coverage being two days. In addition to this increase in range riding, the producer, family members, or ranch staff have checked the cattle on the grazing allotment near the Wedge territory on a daily basis since the depredation confirmed on June 17.

WDFW has documented nine depredation incidents since May 11, 2020 attributed to the Wedge pack. WDFW staff are discussing how to most effectively address this situation; Director Susewind will also assess this situation and consider what action to take.

Mexican wolves
The Eastern Arizona Counties Organization (ECO) has made a contribution of $35,000 to support the Range Rider Program managed by the Interagency Field Team (IFT) of the Mexican Wolf Recovery Project.

Created in 1993, the ECO includes Apache, Cochise, Gila, Graham, Greenlee and Navajo counties. The ECO counties have developed a leading role in natural resources and public lands management issues in eastern Arizona, including forest and watershed restoration, travel management and public land access, threatened and endangered species management, rural economic development, and recreation issues.

"The Arizona Game and Fish Department and its conservation partners are grateful to the ECO for their support of the Range Rider Program," said Jim deVos, AZGFD assistant director for wildlife management. "One of the key activities the department is engaged in is reducing depredations on livestock in the wolf recovery area. This monetary contribution will go a long way toward increasing staff availability to livestock producers and the IFT to haze wolves from areas with active depredation activities."

"ECO is pleased to provide this funding to AZGFD and the IFT," said Jason Whiting, ECO chair. "Over the past two years, the number of depredations has increased as the wolf population increased, and this is impacting the region's ranchers. Wolf depredations usually peak in early summer and continue into the fall, so this funding for the Range Rider Program will be put on the ground now."

AZGFD's deVos notes that Mexican wolf recovery has seen growth over the last decade, with the 2019 wolf count being 163, nearly a 24% increase from the prior year.

According to the Arizona Game & Fish Department: "During the month of June, there were 21 confirmed wolf depredation incidents on livestock and two livestock injured by wolves.

There were five nuisance incidents investigated in June. From January 1, 2020 to June 30, 2020, there have been a total of 75 depredation incidents in New Mexico and a total of 27 depredation incidents in Arizona."

Check out the links below for more details on these stories.

---
Montana sheriffs say they cannot enforce Governor's face mask order (posted 7/21/2020)
Thirty-eight Montana sheriffs signed a joint opinion editorial letter on July 17th basically saying they cannot enforce the Governor's statewide face covering mandate. It appeared as a guest column on the Gallatin Sheriff's Office Facebook page. It said in part, "The statewide face covering mandate is a public health directive. "The directive is not a mandate for law enforcement to issue citations and arrest violators." The letter urged people to take personal responsibility and make public health safety decisions based on peoples own personal circumstances and exposure to and interaction with vulnerable populations.

Related Links:
https://www.facebook.com/gallatincountysheriffsoffice/ Gallatin Sheriff's Office Facebook page
Montana Sheriffs: Mask Mandate Is Not Enforceable KBUL Newstalk, Billings, Montana

---



Western Wyoming Community College

Western Wyoming Community College plans to reopen in Fall (posted 7/20/2020)
WWCC
ROCK SPRINGS, WYOMING – Western Wyoming Community College is offering in-person classes this Fall. After much deliberation, Western felt it best to facilitate the opportunity to utilize Western's campus to provide in-person curriculum to ensure the success of its students.

Campus tours will begin July 20 for prospective Mustangs along with Chat with Admissions via Zoom is all summer long to assist students in registering. To register for fall classes, call Mustang Success at 307-382-1660.

A Fall Operational Plan was created to mitigate the spread of the coronavirus and outline extra precautions recommended by health officials. This reopening plan and a revised Fall 2020 Academic Calendar were approved by the Board of Trustees. Highlights from the plan include mandatory face coverings for people on campus, outlines social distancing spacing in classrooms and campus amenities, and lists new housing limitations.

Starting August 24, the College will offer 475 in-person courses in 76 socially distanced classrooms. Students who are not comfortable coming on campus still have the option of 175 online courses to keep their educational goals moving forward. Western will move from in-person to virtual delivery following the Thanksgiving holiday, as many people travel during that time, to mitigate the risk of coronavirus spread. The semester will end virtually, on December 11.

"I am excited to welcome our students, employees, and community members back to campus. While the Fall 2020 semester will look a little different than previous years, Western believes it's important to provide our students with the best possible options to meet learning outcomes. For some, it may mean utilizing our award-winning distance education opportunities, or in-person classes with social distancing practices, or hybrid in-person and virtual courses," stated Dr. Kim Dale, President of Western.

Mustang Athletics will continue to compete but without fans. With the elimination of sports at Sheridan and Gillette Colleges and directives from the NJCAA, Western's Athletics Department along with other Wyoming Colleges are rescheduling all athletic events to the Spring semester. Updated calendars of contests are being created and will be posted on the Mustang Athletics website page.

Housing will not be open to full capacity but will accommodate 295 residents versus the standard 558. Those living in the residence halls will each be assigned to a private bedroom and will be based on the date the student paid their housing deposit. For more information contact housing@westernwyoming.edu.

The College will continue to follow indoor and outdoor maximum requirements for group gatherings set by the state. Western is committed to finding creative ways to still provide a fun College experience in a safe way for its students. Public use of amenities will start on August 24 with a few exceptions opening sooner. Please visit individual amenity website pages for access dates and mitigation guidelines for each facility.

For more information regarding Western's COVID-19 response, please visit westernwyoming.edu/C19 for the latest information. For more detailed questions visit westernwyoning.edu/C19FAQ page or call 307-382-1600. Please note the plan and calendars are subject to change based on local, state, and national health directives.

---
Sweetwater County Sheriff's Office to host civilian firearms training (posted 7/16/2020)
The Sweetwater County Sheriff's Office will be hosting civilian firearms training classes on the following dates:
Saturday, July 25, 2020
Saturday, September 19, 2020

Each class comprises a combination of classroom instruction and shooting exercises. The training emphasizes firearms familiarization and safety, and training topics include grip, stance trigger control, holster considerations, home firearms storage and more.

Both classes satisfy the state's training requirement for a concealed carry permit.

There is a $30 registration fee for each class. In addition to a personal firearm, participants must supply a suitable belt or paddle holster for their firearm, proper eye and ear protection, and a minimum of 100 rounds of ammunition.

To register or for more information, please call the Sweetwater County Sheriff's Office at (307) 352-4901.

---
Wyoming has 5 cases of Colorado tick fever (posted 7/16/2020)
4 in Sublette County
Wyoming Department of Health
The Wyoming Department of Health (WDH) is alerting state residents of a recent increase in reported Colorado tick fever cases.

Five cases of Colorado tick fever have been identified in Wyoming so far this year, with four in Sublette County and one in Park County. WDH typically sees an average of two cases annually with no reported cases in some years.

Courtney Tillman, an infectious disease epidemiologist with WDH, said Colorado tick fever spreads to people through bites of infected Rocky Mountain wood ticks.

The best way to prevent Colorado tick fever is to avoid tick bites. Recommended actions include:
- Use insect repellent, such as DEET, when outdoors
- Wear long sleeves and pants when outdoors
- Treat outdoor clothing, such as hiking clothing, with permethrin
- Avoid wooded and brushy areas with high grass
- Do tick checks after spending time outdoors
- Apply pesticides outdoors to reduce ticks in yards
- Clear brush, tall grass, and leaf litter from yards to reduce the number of ticks
- Prevent tick bites for pets by using prevention products recommended by veterinarians and performing tick checks after spending time outdoors

"If you find a tick embedded on yourself or your pet, do not jerk or twist the tick to remove it," Tillman said. "Instead, use fine-tipped tweezers to grab the tick as close to the surface as possible and steadily pull the tick upward. You'll also want to clean the bite area and your hands with rubbing alcohol or soap and water." Tillman also advises disposing of ticks by putting in alcohol, placing in sealed containers, wrapping in tape or flushing down the toilet.

Symptoms develop 1-14 days after the bite and may include fever, chills, headache, body aches and feeling tired. Some people may experience a "biphasic" fever in which they have fever for a few days, feel better for several days, and then have another period of fever. While symptoms can last for several weeks, most people do not experience severe illness. There is no specific treatment for Colorado tick fever.

Tillman encouraged anyone concerned they may have Colorado tick fever to contact a healthcare provider. Many of the symptoms are shared by other illnesses, including COVID-19, so discussing potential exposure to ticks with medical professionals is recommended.

---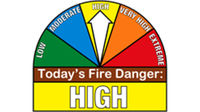 Fire Danger High

Fire Danger raised to HIGH (posted 7/15/2020)
The fire danger rating has been elevated to High for the Bridger-Teton National Forest, Grand Teton National Park, Yellowstone National Park, the National Elk Refuge, and remaining portions of the Teton Interagency Dispatch area. The potential for fire activity has increased due to summer curing of vegetation combined with hot temperatures and dry, windy conditions.

There are currently no fire restrictions in place. There are no active wildland fires in the parks or on Bridger-Teton National Forest land. All campfires must be cold to the touch before being left.

Visit the Teton Interagency Fire web site at TetonFires.com to learn what fire regulations may be in place. To report a fire or smoke in the immediate area, call the Teton Interagency Fire Dispatch Center at 307-739-3630.

---
Yellowstone visitation statistics for June 2020 (posted 7/14/2020)
Yellowstone National Park
The park hosted 534,155 visits in June 2020. This is a 32% decrease from June 2019. Although the numbers were down, visitation substantially increased over the month. In the last ten days of June, traffic counts ranged from 90%-116% of 2019 numbers.

So far in 2020, the park has hosted 667,290 visits, down 49% from the same period last year. The park was closed due to health and safety reasons related to COVID-19 beginning March 24, 2020. Two Wyoming entrances opened on May 18 and three Montana entrances opened on June 1, 2020. All five entrances were open for the entire month.

The list below shows the year-to-date trend for recreational visits over the last several years (through June):

2020 – 667,290
2019 – 1,358,629
2018 – 1,381,708
2017 – 1,354,137
2016 – 1,432,071
2015 – 1,298,855

There were no commercial bus visits during June 2020. In June 2019, bus passengers made up 70,461 visits. Yellowstone encourages visitors to #RecreateResponsibly and reduce the spread of COVID-19. Stay informed about changes to park operations. Download Yellowstone's App, and visit www.nps.gov/yell and the park's social media channels.

---
Governor Gordon cuts State budget by more than $250 million (posted 7/14/2020)
Wyoming Governor Mark Gordon has announced deep budget cuts for the current two-year budget cycle totaling more than $250 million, or nearly 10% of the state's general fund budget. This comes after revenue projections showed an almost $1 billion shortfall for the general fund and another $500 million for school funding. The budget reductions will include state employees losing their jobs, as well as mandatory furloughs, a reduction in major maintenance spending and the consolidation of human resources personnel across state agencies.

"This is an incredibly difficult task but we must respond to the financial circumstances the state is facing," Governor Gordon said. "These cuts will impact families across the state, will affect the services we provide and will have an effect on dollars that flow into the private sector."

The Governor approved 10% cuts for most state agencies, boards and commissions. The Department of Health, with the state's largest budget, will see a 9% cut totaling approximately $90 million. He stressed that the impacts of the budget cuts will be felt outside of state government as well. The budget cuts include significant general fund dollars that enter the private sector in the form of contracts, and also mean some services available to the state's seniors, disabled and low-income residents won't be available or will be reduced.

"The repercussions to our communities and the businesses of our state are significant," Governor Gordon added. "While they are necessary, these cuts weaken our ability to deliver the critical services and functions of our state government that Wyomingites depend on."

To help create additional budget savings, the Governor has instituted a mandatory furlough day for six months beginning in August for those executive branch employees on the higher end of the pay scale. As an additional cost-saving measure, Governor Gordon signed an Executive Order on Friday directing the Director of the Department of Administration and Information (A&I) to coordinate the immediate consolidation of all human resources personnel to be housed under the Department. The process is expected to take several months and will eventually lead to a reduction in state human resources personnel.

The budget cuts still leave a forecasted budget shortfall of more than $600 million. The Governor has directed agencies to prepare preliminary proposals to cut an additional 10% from their budgets and submit those concepts to him. He has previously stated that he will be considering a range of options to fund an appropriate level of government services, since merely cutting services will not be enough to address the scope of the shortfall.

---
Current Wyoming Public Health Orders extended through July 31 (posted 7/14/2020)
Governor Mark Gordon announced on July 13th that Wyoming's current public health orders will be extended through July 31 as the state continues to see increasing numbers of positive COVID-19 cases.

Over the past 14 days, Wyoming has averaged 27 lab-confirmed cases of COVID-19 per day, with 342 new cases confirmed since July 1. From June 15-30, there were 328 lab-confirmed cases reported. On July 13, the number of COVID-19 hospitalizations reported by Wyoming hospitals was 17, the most hospitalizations reported since April 22. The percentage of tests that come back positive for COVID-19 has remained steady with a cumulative total average of 2.9%. The Wyoming Department of Health and the Governor continue to strongly recommend the use of face coverings in public settings where it is not possible or reasonable to stay physically apart.

Wyoming's population is 578,759 (2019). To date, Wyoming Public Health Laboratories have tested 29,527 sick people and private labs have tested 27,466 sick people for COVID-19. Of those, as of July 13 Wyoming has had 1,545 lab-confirmed positive cases of COVID-19. There have been 21 deaths in the state due to coronavirus (.003% death rate among general population).

Rounds of testing of over 1,700 asymptomatic people in both Teton County (1346 people) and of Yellowstone National Park employees (387 people in 3 rounds of testing) have detected zero positive cases of COVID-19 among people showing no signs of illness.

There have been no deaths in Sublette County to date due to COVID-19. For risk perspective, there have been more than 25 deaths so far this year in Sublette County due to car crashes, illness, natural causes, firearm accidents, recreational vehicle accidents, and suicide.

The continuing orders that take effect July 16 allow gatherings up to 50 persons in a confined space to occur without restrictions and permit events of up to 250 persons with social distancing and increased sanitization measures in place. Faith-based gatherings such as church services and funeral homes will continue to be permitted to operate without restrictions, with appropriate social distancing encouraged.

The section of Order No. 1 addressing restaurant operations has been simplified, with the removal of some specific provisions to provide business owners additional flexibility and maintain an emphasis on spacing and face coverings. The public health restrictions that apply to bars, gyms and performance spaces will remain in place.

The updated public health orders are attached and can be found on Wyoming's COVID-19 website. Sublette County COVID-19 information can be found at https://www.sublettewycovid.com/.
---
Business Directory
Click here for
Advertising Information