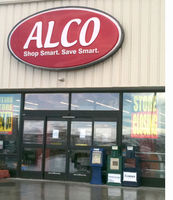 Pinedale ALCO has gone out of business. A new store, Bomgaars, will take its place, opening in early summer.

Pinedale says goodbye to ALCO (posted 1/30/15)
National retail store closes doors citing economic downturn
Dawn Ballou, Pinedale Online!
Friday, January 30th was the last day open for the Pinedale ALCO store. All merchandise that was still left after weeks of deep discounts was slashed to 90-95% off, with additional discount at the cash register making the final prices insanely cheap. A large crowd flocked to the store for last minute great deals. The store closed its doors for good at 8:00PM. Anything left over will be given to local charities. The Pinedale ALCO opened in May 2012. The company, ALCO Stores Inc, filed for Chapter 11 Bankruptcy on October 12, 2014. The company operated 198 stores in 23 states throughout the U.S., including four in Wyoming. They employed about 3,000 employees. The company's stores are located in smaller markets not served by other regional or national broad line retail chains. The nation-wide store closed citing a drop in consumer spending on a lingering economic slowdown.

The good news for the local store is that most of the ALCO staff will be able to have new jobs in the new store that will be moving into the location. The store will be closed for about six months for cleaning and transitioning to the new owner, Bomgaars.

According to their website, Bomgaars is a family-owned and operated supplier with 69 stores in Iowa, Colorado, Nebraska, Minnesota, South Dakota and Wyoming, employing approximately 1800 people. The corporate office and distribution center are located in Sioux City, Iowa, where the company began in 1952. They stock over 50,000 items in 13 major departments, including Lawn and Garden plus Nursery, Clothing and Footwear, Farm, Pet and Automotive supplies, Paint, Hardware, Tools, Housewares, and Toys.

"Our mission is to have what you need, when you need it, at the right price. Our product mix reflects that goal, taking "One-Stop" convenience a step further by including a pronounced seasonal emphasis. In order to have what you need year round, every Bomgaars store restocks to suit the season. Most other stores look pretty much the same year round, but Bomgaars rebuilds half the store and more every Spring and Fall.

Springtime at Bomgaars means fencing, field seed, sprayers and pumps, grass seed, mowers and tillers, and stacks of fertilizer, herbicides and insecticides. The greenhouse fills with flowers, vegetables and herbs. Shrubs and trees arrive by the truckload in all the popular varieties. Grills and lawn furniture come out with the landscaping supplies. When the days get warmer, you'll find water hoses, bug sprays, dehumidifiers, fans and air conditioners.

When Autumn approaches we move in supplies for weatherizing your home and car plus insulated clothing to keep you warm, and we stock an arsenal of tools for winning the battle over winter, like heaters, shovels, ice scrapers and snowthrowers. Then, holiday decorations and Toyland take over center stage. With One Stop at Bomgaars, you can do your Christmas shopping for the whole family and pick up everything you need to deal with cold weather.

Bomgaars has an excellent reputation throughout the region for high quality merchandise, first-rate service, and competitive pricing on products chosen for reliability and value. Having what you need, when you need it is a promise we keep year round at Bomgaars, your 4-season store!"

Click on this link for more pictures.

Photos by Bob Rule-KPIN 101.1 FM Radio and Dawn Ballou-Pinedale Online!

Related Links:
www.alcostores.com
Pinedale ALCO Facebook page
Duckwall-Alco stores sales up for February 2012 March 8, 2012
ALCO store Grand Opening May 26 May 8, 2012
ALCO works with Food Basket for shampoo donations December 10, 2012
Pinedale schools to get percentage of ALCO purchases Dec. 20 & 21 December 19, 2013
Court decision expected soon on ALCO bankruptcy November 18, 2014
ALCO to liquidate assets November 19, 2014
www.bomgaars.com

---
Groups seek to downlist wolves (posted 1/27/15)
Alternative to Congressional Delisting
Center for Biological Diversity
Animal protection and conservation organizations petitioned the U.S. Fish and Wildlife Service today to reclassify gray wolves under the Endangered Species Act as threatened throughout the contiguous United States, with the exception of the Mexican gray wolf, which remains listed as endangered. If adopted the proposal would continue federal oversight and funding of wolf recovery efforts and encourage development of a national recovery plan for the species, but would also give the Fish and Wildlife Service regulatory flexibility to permit state and local wildlife managers to address specific wolf conflicts.

Gray wolves are currently protected as endangered throughout their range in the lower 48 states, except in Minnesota, where they are listed as threatened, and Montana, Idaho, eastern Oregon and Washington, where they have no Endangered Species Act protections. Some members of Congress are advocating for legislation to remove all protections for wolves under federal law by delisting the animal under the Endangered Species Act. Today's petition proposes an alternative path to finalizing wolf recovery based on the best available science, rather than politics and fear, and would help to find a balanced middle ground on a controversial issue that has been battled out in the courts and in states with diverse views among stakeholders on wolf conservation.

Wayne Pacelle, president and CEO of The Humane Society of the United States, said: "Several states have badly failed in their management of wolves, and their brand of reckless trapping, trophy hunting, and even hound hunting just has not been supported by the courts or by the American people. We do, however, understand the fears that some ranchers have about wolves, and we believe that maintaining federal protections while allowing more active management of human-wolf conflicts achieves the right balance for all key stakeholders and is consistent with the law."

Wolf populations are still recovering from decades of persecution. Government-sponsored bounty programs resulted in mass extermination of wolves at the beginning of the last century, and the species was nearly eliminated from the landscape of the lower 48 states. Wolf numbers have increased substantially where the Endangered Species Act has been implemented, but recovery is still not complete. The species only occupies as little as 5 percent of its historic range, and human-caused mortality continues to constitute the majority of documented wolf deaths.

"A congressional end run around science and the Endangered Species Act will create more controversy and put wolves and the law itself in jeopardy," said Kierán Suckling, executive director of the Center for Biological Diversity. "The better path is to downlist wolves to threatened, replace the failed piecemeal efforts of the past with a new science-based national recovery strategy, and bring communities together to determine how wolves will be returned to and managed in places where they once lived, like the Adirondacks, southern Rocky Mountains, Cascades and Sierra Nevada."

The Fish and Wildlife Service's piecemeal efforts to delist gray wolves in the northern Rockies and western Great Lakes have been roundly criticized by scientists and repeatedly rejected by multiple federal courts. In addition to denouncing the Service's fragmented approach to wolf recovery, courts have recognized that several states have recklessly attempted to quickly and dramatically reduce wolf numbers through unnecessary and cruel hunting and trapping programs. The public does not support recreational and commercial killing of wolves, as evidenced by the recent decision by Michigan voters in the November 2014 election to reject sport hunting of wolves.

"Complex conservation problems require sophisticated solutions," said Adam M. Roberts, CEO of Born Free USA. "The history of wolf protection in America is riddled with vitriolic conflict and shortsightedness and it is time for a coordinated, forward-thinking approach that removes the most barbaric treatment of this iconic species and focuses on the long-term viability of wolf populations throughout the country."

The threatened listing proposed by the petition would promote continued recovery of the species at a national level so that it is not left perpetually at the doorstep of extinction. A threatened listing would also permit the Fish and Wildlife Service some regulatory flexibility to work with state and local wildlife managers to appropriately address wolf conflicts, including depredation of livestock.

Groups filing the petition include national organizations and those based in wolf range states:

Born Free USA
Center for Biological Diversity
Detroit Audubon Society
Detroit Zoological Society
The Fund for Animals
Friends of Animals and Their Environment
Friends of the Wisconsin Wolf
Help Our Wolves Live
Howling for Wolves
The Humane Society of the United States
Justice for Wolves
Midwest Environmental Advocates
Minnesota Humane Society
Minnesota Voters for Animal Protection
National Wolfwatcher Coalition
Northwoods Alliance
Predator Defense
Sault Sainte Marie Tribe of Chippewa Indians
Wildlife Public Trust and Coexistence
Wildwoods (Minnesota)
Wisconsin Federated Humane Societies
Wolves of Douglas County Wisconsin

Related Links:
The downlisting petition - Read the petition here.
Wolf Watch - By Cat Urbigkit, Pinedale Online!

---
March 2 is deadline for moose, bighorn sheep, mountain goat and wild bison applications (posted 1/27/15)
Wyoming Game & Fish
The nonresident elk deadline for this year will end on February 2 and the next upcoming deadline for both resident and nonresident hunters is March 2 when applications must be in for moose, bighorn sheep, mountain goat and wild bison.

The deadline is March 2 this year because February 28 is on a weekend. When deadlines fall on weekend dates the Wyoming Game and Fish Department accepts applications through midnight on the next business day.

Bison hunters are reminded that as with last year, applicants are required to submit the full license fee at the time of application as is required for all other species. The license fees for a Wyoming resident are $263 for a female/ calf wild bison license and $413 for the any wild bison license. The nonresident license fees are $1,022 for a female/calf wild bison license and $2,522 for the any wild bison license.

Hunters can only apply online through the Game and Fish website wgfd.wyo.gov. The paper application process has been phased out as the online application process has proven to be much more efficient and accurate than paper applications and is easier for hunters to ensure their applications are received in advance of the deadline date. It has contributed to a substantial cost savings over the old process.

Drawing odds vary depending on species and hunt area. Preference points have been available for both moose and bighorn sheep for 19 years and 75 percent of the quotas for each species are issued in the preference point drawing. The remaining 25 percent is issued in a random drawing without regard for preference point totals. Preference points are not available for mountain goat licenses, but goat licenses are limited to one in a lifetime.

Hunters can research drawing odds from previous years for the various species and hunt areas on the Game and Fish website wgfd.wyo.gov. Hunters who choose not to apply this year can still purchase a preference point online from July 1 – September 30.
---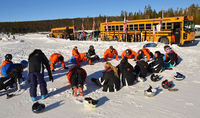 Tyler Marley leads athletes in warm-up exercises before they hit the slopes. Photo by Terry Allen.

A Special Olympic Day at White Pine (posted 1/25/15)
Terry Allen
A smiling Rubin Gutierriz of Jackson, accepted the Olympic Torch from Sublette County sheriff's deputy Logan Gehlhausen, and held it high in the Opening Ceremonies of the Area II Winter Games of the 2015 Wyoming Special Olympics at White Pine ski area on Thursday, January 22nd.

From out of the cheering crowd, Mona Sobieski stepped to the microphone and led the assembled competitors in a rousing recitation of the Athlete Oath: "Let me win, but if I cannot win, let me be brave in the attempt."

The huge crowd of athletes, athlete advisors, volunteers and resort staff then scattered like a covey of quail, only to re-form into smaller groups, as they set about making last minute preparations and checking their game plans.

From some huddles came whispered speed secrets. "I'm thinking of trying my mom's green slime, but I haven't worked up the courage to drink it yet," said Kelby Woolf. "I've a got a lot of quarters in my pocket," said Kallon Hawkes of Star Valley, who appears to have studied the science of speed, but not cracked the rule book, yet.

Sublette County EMS personnel Alex Sain and Blaine Meyers stood at the ready surveying the activities. "We're hoping for a fun day," said Sain. "We wanted to volunteer with our ambulance, but we hope we aren't necessary," added Meyers.
While most of Sublette County slept, Amy Linn, sister of John Linn, said she had been up in the pre-dawn darkness double-checking her gear and packing her bags. "I've been competing in these games for about seventeen years straight and I'd hate to break my streak by forgetting something important," she said.

Jennifer Holmes, mother of veteran Special Olympian Melanie Holmes emphasized the value of participation to both the community and the individual.

"The events do wonders for their self-confidence and self-esteem. These athletes are so encouraging and supportive of each other. They come home from these gatherings with happy memories of good times spent with fun people, and that's what the Special Olympics is all about," She added. "I think all teens, as athletes or volunteers, should participate in the Games at least once. They'll learn empathy, patience and understanding, have fun and make new friends."

Holmes also has high praise for the organizations and volunteers that make the Games possible. "The Special Olympics is a wonderful organization and without the event planners and team coaches, it wouldn't be as successful as it is. I'll always be grateful that my daughter has been able to be a part of the Sublette County team."

Don Carr, who has been the national USA coach for 30 years, feels voluntarism has been essential to making the event a success for so many years. "Working with people who come together in a spirit of goodwill toward others, has made this a truly rewarding and worthwhile endeavor," Carr said. "This year in particular, the beyond the call of duty help given by Lat Straley and John Linn was critical. We couldn't have done it without them."

The legendary Courtney Skinner flew low and quiet around the mountain as he kept busy setting gates, podium, national, state and Olympic flags; in between taking graceful runs down the mountain. "Oh, you should talk to my wife," he said. "She's the one in the family who does all the work; but I'll be at the state champs, too," he said. "You can count on that."

Regan Diller, Director of Field Services for Special Olympics Wyoming says there is room in his organization for every athlete who wants to compete and every volunteer who would like to help. "We have 85 athletes competing today at three different skill and ability levels," he said. "It takes a lot of work and a lot of caring involvement to make each event a success."

Kassi Knudson has been competing as an Alpine Sit-Skier for several years and this event is the high point of each winter season. "I like competing first," she said. "But, seeing all my old friends is a real close second."

Annalee Neary is Kassi's Direct Support Professional and her assistance is necessary to Kassi's participation. "It is a special sled built just for Kassi," she said. It's very flexible, so it is sensitive to slight input from the athlete. I'm just sort of there as a guide."

The always busy, Robyn Blackburn, partner of White Pine Ski Resort was pleased with the day's activities and results. "It is exciting to see the capabilities that these athletes possess. We are proud to have invited one of the athletes to help us out on the grill floor at White Pine. He is proving to be an asset."

So, while many of us thought we better not risk turning a knee or catching a cold, 85 athletes and several times that number of support and volunteer staff, challenged the mountain and themselves, and all went home winners. Alex and Blaine drove the EMS ambulance back to the barn, empty.

Click on this link for more pictures from the event.

Photo by Terry Allen
_____________________________________

Editor's Note: Athletes who placed will go on to the 2015 Winter Games in Jackson, Wyoming February 3-5.

Related Links:
www.specialolympicswy.org Wyoming Special Olympics


---
Enzi: Obamacare forcing Wyoming employers to cut hours (posted 1/22/15)
Cites Rock Springs School District as example
Senator Enzi media release
Washington, D.C. – Employers are cutting employees hours and are hesitant to create new jobs in order to avoid Obamacare mandates. During a Senate Health, Education, Labor and Pensions Committee hearing today (Thursday, January 22), U.S. Senator Mike Enzi, R-Wyoming, spoke about how the strict Obamacare requirements that force employers to provide healthcare to their employees are hurting more than they are helping.

By defining a 30-hour work week as "full-time", Enzi explained how Obamacare is forcing business to cut employees' hours in order to stay in business. This, according to Enzi, forces individuals to get two jobs to make up the difference. The senator discussed how a school district in Rock Springs has had to cut bus drivers and coaches in order to avoid hitting the Obamacare requirement.

"I did a tele-town hall meeting last night and the very first call was from Rock Springs, Wyoming," said Enzi. "And it was from a person working for the school district and they wanted me to know the difficulties they were having with bus drivers and coaches who are kind of volunteer or contract workers, but not really part of the school district, never expected to get any health insurance out of it, but are now placing the district in a situation where they are going to have to expend that or eliminate the service."

Enzi also noted how businesses are not expanding and creating new jobs out of fear they will trigger the Obamacare mandate.

"One of the problems I am seeing in Wyoming with the health insurance requirements is that when businesses have 50 employees that are working over 30 hours or more, then they come under this law," said Enzi. "For a start-up business, it is a particularly big problem. I have run into a number of people that said 'Man, I got this great location in the next town over and a good price on the building. What do you think about me moving over there and starting it?' My first questions is 'how many employees do you have?' and 'How many is it going to take?'. And there answer is usually 45 at the current place, and they will need (another) 45 at the new place. They so far have all decided against expanding their business, so there are a lot of jobs going lacking out there."

---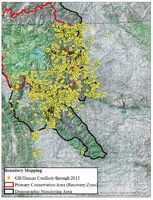 Grizzly bear conflicts in the Upper Green during 2013.

Anti-Grazers threaten Grizzly lawsuit (posted 1/22/15)
Cat Urbigkit
Earthjustice attorneys, representing the Sierra Club and Western Watersheds Project, sent an official Notice of Intent to Sue the U.S. Fish and Wildlife Service (FWS) and U.S. Forest Service over grizzly bear mortalities in the Upper Green River region of Sublette County. The notice is dated Jan. 14, 2015, and is a legal precursor to filing a lawsuit in federal district court.

The center of controversy is the recent FWS "No Jeopardy" determination that the potential "take" of 11 grizzly bears in a three-year period in connection with livestock grazing in the Upper Green River region of the Bridger-Teton National Forest does not jeopardize the continued existence of the species. Grizzly bears are classified as a threatened species under the Endangered Species Act.

The letter notes that all nine Upper Green River grazing allotments occur within occupied grizzly bear habitat, and adds that this area "has been considered a grizzly bear conflict hotspot for several years." The groups stated that in 2013, more than a third of the grizzly bear mortalities in the Greater Yellowstone region occurred in the Upper Green, despite the fact that these allotments represent only 1.7 percent of the occupied grizzly bear habitat in the ecosystem.

The Upper Green allotments are located 25-miles outside the official grizzly bear recovery zone, which is now called the primary conservation area.

Indeed, as the grizzly bear population has expanded over the last few decades, conflicts in the region have increased – despite aggressive measures to keep conflicts to a minimum.

The Wyoming Game and Fish Department has prepared maps demonstrating the increase in conflicts throughout the Yellowstone ecosystem as the grizzly bear population has expanded in the region. Once only seen in Yellowstone National Park, current trends in conflicts in Wyoming include roadside grizzlies, and family groups of bears in subdivisions and developed areas.

According to the state wildlife agency, with successful recovery comes increased opportunities for interactions and conflicts. Removal of grizzly bears involved in conflict situations target offending animals.

The complete 36-page Notice of Intent is linked below.

Related Links:
Notice Of Intent To Sue - Earthjustice (36 page, 1.74MB PDF)

---
Wolf News Roundup (posted 1/22/15)
Cat Urbigkit, Pinedale Online!
Congressional members from the Great Lakes region have teamed up with U.S. Representative Cynthia Lummis to draft a bill that would have Congress delist wolves in Michigan, Minnesota, Wisconsin, and Wyoming. Since wolves have been granted federal protection under the Endangered Species Act, only to be delisted and then relisted again due to litigation – repeatedly – a congressional fix that would preclude any further legal wrangling is being pushed by states dealing with thriving wolf populations.

Montana and Idaho are the only two states in the Lower 48 where wolves have been removed from ESA protection – and that took an act of Congress. The wolf reintroduction project that placed Canadian wolves into Yellowstone National Park and Central Idaho celebrated its 20-year anniversary this month.

In other wolf news, the controversy over Mexican wolves continues, as the U.S. Fish & Wildlife Service has revised the "nonessential experimental" status of wolves in the Arizona and New Mexico, while revising the Mexican wolf's listing from that connected to the general wolf listing to its new status as an "endangered" subspecies.

The new Mexican wolf regulations provide for a fourfold expansion of the area where wolves are expected to occur, and a tenfold increase in the range where wolves can be released from captivity.

FWS notes, "The Mexican wolf is the rarest, southern-most occurring, and most genetically distinct subspecies of all the North American gray wolves." It's also the smallest existing subspecies.

The current Mexican wolf recovery program is based on captive breeding from a founding population of seven wolves, with only about 75 wolves currently living in the wild.

Related Links:
Milwaukee-Wisconsin Journal Sentinel - Read about Congressional action.
Mexican Wolf Recovery - Read about Mexican Wolf recovery actions here.
Wolf Watch - by Pinedale Online!

---
Sublette County Conservation District expresses concerns over proposed changes in groundwater monitoring for PAPA (posted 1/20/15)
Dawn Ballou, Pinedale Online!
The Sublette County Conservation District were asked to meet with the Sublette County Commissioners on Tuesday, January 20th. They expressed concern about proposed changes to the BLM's groundwater monitoring plan for the Pinedale Anticline Project Area (PAPA) natural gas field. The new plan recommends doing away with a number of the groundwater well sampling sites that the District has been monitoring and doing water quality analysis on for nearly a decade on the operator's behalf.

Eric Peterson, District Manager; Delsa Allen, Groundwater Program Manager; and Darrell Walker, Board Chairman all appeared before the Commissioners to voice their concerns. Peterson explained that the new monitoring program proposes to abandon the sampling of most of the 80+ industrial wells and 100+ domestic and stock water wells near and within the PAPA. The proposal states that those wells would be replaced with a network of 41 wells, including 20 new ones. Peterson said to drop all but 17 of the wells they have been sampling for nearly a decade and have great baseline data for in exchange for 20 new ones with no baseline data history, was not a Best Management Practice and seemed odd. The consultant who worked on the new monitoring program apparently feels the wells that are proposed to be dropped aren't needed and the new monitoring well grid would be adequate to catch potential contaminant plume spread based on their groundwater flow models.

The Commissioners wondered why the Sublette County Conservation District staff that has been doing the operator's groundwater quality monitoring on the PAPA for nearly ten years wasn't included in the development process of drafting the proposed new groundwater monitoring plan? The Conservation District didn't know the answer to that and said they were baffled by it as well. Peterson said, "Abandonment of the existing water quality data set is alarming from our point of view." Commissioner Jim Latta said based on earlier conversations that day, he believed it wasn't intentional that the Conservation District was excluded and that things could be cleared up with some dialog with the BLM, gasfield operators, and their environmental consultant-NewFields Mining, Energy, and Environmental Services LLC (NewFields).

Besides the proposed changes in the actual monitoring program, the Conservation District was also concerned that the public had not been given adequate notification by the BLM of the open public comment period. The BLM apparently issued a media release on December 23, 2014. However, for unknown reasons the press release was not received by the two local newspapers or Pinedale Online and the notice wasn't advertised. The Conservation District asked Pinedale Online on January 8th if media had received the notice in response to the rapidly approaching January 23rd comment period deadline. Pinedale Online got the notice posted on January 8th. Public notices were published in the Pinedale Roundup on January 16th and in the Sublette Examiner on January 20th. After raising concerns with the Bureau of Land Management that the public wasn't given enough notice to review the document and submit comments, the BLM agreed and on January 20th extended the comment period to February 6th.

The Commissioners expressed concern over about casting away all the data that has been gathered for so many years and starting over with a bunch of new monitoring wells with no baseline data history. The Commissioners said they strongly supported the Conservation District's efforts to stay on top of water quality. The Commissioners recommended the Conservation District staff talk with the PAPA natural gas operators, their water quality program contractor, and the BLM about these concerns and determine what the threats are if groundwater monitoring wells are dropped from the program into the future. They asked to be kept informed on the matter.

The Pinedale Anticline Project Area (PAPA) Draft Groundwater Pollution Prevention, Monitoring and Response Action Plan can be found at: http://www.blm.gov/wy/st/en/field_offices/Pinedale/anticline/water.html. A hardcopy of the complete document can be viewed at the BLM offices at 1625 W. Pine St. in Pinedale and a copy of the text without appendices can be found at the Pinedale Public Library.

Public comments will now be accepted until 4:30 p.m. on February 6, 2015. Written comments may be mailed or delivered to the BLM Pinedale Field Office, 1625 W. Pine St., P.O. Box 768, Pinedale, WY 82941; or emailed to jbellis@blm.gov. If you have any questions, please contact Janet Bellis at 307-367-5316 or jbellis@blm.gov.

Related Links:
Comment deadline extended for PAPA Groundwater Monitoring Plan Pinedale Online, Jan. 20, 2015
Public comment sought on Draft Groundwater Pollution Prevention, Monitoring, and Response Action Plan for PAPA gas field Pinedale Online, Jan. 8, 2015
Sublette County Conservation District Water Quality Monitoring Program

---
Comment deadline extended for PAPA Groundwater Monitoring Plan (posted 1/20/15)
Extended to Feb. 6, 2015
Bureau of Land Management
The BLM Pinedale Field Office is extending the comment period on the draft Groundwater Pollution Prevention, Monitoring, and Response Action Plan for the Pinedale Anticline natural gas field from Friday, January 23rd to Friday, February 6, 2015. Due to circumstances beyond our control, the public notice did not make the newspapers as intended. Public notices were published on Pinedale Online on January 8, 2015 and in the Pinedale Roundup on January 16, 2015 and the Sublette Examiner on January 20, 2015. The deadline has been extended to give the public adequate time to review this plan.

The plan can be found at: http://www.blm.gov/wy/st/en/field_offices/Pinedale/anticline/water.html. A hardcopy of the complete document can be viewed at the BLM offices at 1625 W. Pine St. in Pinedale and a copy of the text without appendices can be found at the Pinedale Public Library.

Public comments will now be accepted until 4:30 p.m. on February 6, 2015. Written comments may be mailed or delivered to the BLM Pinedale Field Office, 1625 W. Pine St., P.O. Box 768, Pinedale, WY 82941; or emailed to jbellis@blm.gov. If you have any questions, please contact Janet Bellis at 307-367-5316 or jbellis@blm.gov.

Related Links:
Public comment sought on Draft Groundwater Pollution Prevention, Monitoring, and Response Action Plan for PAPA gas field Pinedale Online, Jan. 8, 2015

---
Business Directory
Click here for
Advertising Information