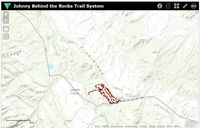 Johnny Behind the Rocks mountain biking area south of Lander.

BLM offers online interactive mountain bike maps (posted 10/10/15)
The Bureau of Land Management (BLM) has launched a new online tool for mountain bike trail riders. Developed by the BLM in partnership with the International Mountain Biking Association (IMBA) and the MTB Project, the mobile-friendly online tool features interactive maps for 20 of the nation's most popular trails on public lands. The maps can be accessed at www.blm.gov/mountainbike.

The online maps provide helpful information of mountain biking recreation sites and trails. Through the BLM website, riders can also access more detailed trail data from IMBA and the MTB Project.

In Wyoming, the map gives information about the Johnny Behind the Rocks area south of Lander. (more info

The BLM is working hand-in-hand with local partners and volunteers in hundreds of communities around the country to build and maintain trails and to develop other recreational opportunities through its Connecting with Communities strategy. The BLM plans to develop additional online tools that will help the public get information to additional recreational opportunities on federal public lands.

---
Beware scams (posted 10/10/15)
Sweetwater County Sheriff's Office
ROCK SPRINGS - The Sweetwater County Sheriff's Office issued a consumer alert on Thursday (Oct. 8, 2015) warning residents of two scams currently making the rounds.

The first involves telephone calls from people claiming to represent an organization called "NRA," who says their company represents another organization called "WTJ Capital." The caller goes on to say that the person owes money on a delinquent payday loan and must pay it off at once - the figure is usually around $775.

"In the instances we've had reported to us," said Detective Dick Blust, "there were no payday loans and the entire contact is a fraud. Like the somewhat similar IRS / delinquent back taxes scam, the callers are aggressive and hope to intimidate their victims into paying quickly. If you receive a call like this and have no outstanding payday loan, just hang up."

Blust said the Publisher's Clearing House / Sweepstakes Winner swindle is also making the rounds. Prospective victims are contacted and told they have won a large amount of money, sometimes in the millions. They are informed by the caller that they must send a thousand dollars or so to cover "taxes" or "processing fees," at which time they will receive their winnings. In another variation, the victim receives a very official-looking check made out to them, which they are instructed to deposit. They are also instructed to mail or wire a considerable sum to cover the bogus "taxes" or "processing fees."

"The whole thing is a scam; there are no winnings, and the victim is out the funds sent," Blust said.

Authorities recommend the Federal Bureau of Investigation's website at www.fbi.gov/scams-safety/fraud as an excellent source of information to help people protect themselves against fraud and scams of all kinds.

---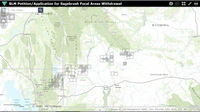 Sagebrush Focal Area withdrawal areas in Wyoming

Notice of Proposed Withdrawal; Sagebrush Focal Areas; Idaho, Montana, Nevada, Oregon, Utah, and Wyoming and Notice of Intent to prepare an Environmental Impact Statement (posted 10/9/15)
Bureau of Land Management
The Assistant Secretary of the Interior for Land and Minerals Management has approved an application to withdraw approximately 10 million acres of public and National Forest System lands identified as Sagebrush Focal Areas in Idaho, Montana, Nevada, Oregon, Utah, and Wyoming from location and entry under the United States mining laws to protect the Greater Sage-Grouse and its habitat from adverse effects of locatable mineral exploration and mining, subject to valid existing rights. This notice temporarily segregates the lands for up to 2 years while the application is processed. This notice also provides the public with an opportunity to comment on the proposed withdrawal application. In addition, this notice initiates the public scoping process for an Environmental Impact Statement (EIS) to analyze and disclose impacts of the proposed withdrawal.

The Bureau of Land Management (BLM) filed an application requesting the Assistant Secretary of the Interior for Land and Minerals Management to withdraw, subject to valid existing rights, approximately 10 million acres of public and National Forest System lands located in the States of Idaho, Montana, Nevada, Oregon, Utah and Wyoming from location and entry under the United States mining laws, but not from leasing under the mineral or geothermal leasing or mineral materials laws. Copies of the map entitled "BLM Petition/Application for Sagebrush Focal Areas Withdrawal" depicting the lands proposed for withdrawal are posted on the BLM Web site at http://www.blm.gov/wo/st/en/prog/more/sagegrouse.html and are also available from the BLM offices listed below:
Idaho State Office, 1387 S. Vinnell Way, Boise, Idaho 83709.
Montana State Office, 5001 Southgate Drive, Billings, Montana 59101-4669.
Nevada State Office, 1340 Financial Boulevard, Reno, Nevada 89502.
Oregon State Office, 1220 SW 3rd Avenue, Portland, Oregon 97204.
Utah State Office, 440 West 200 South, Suite 500, Salt Lake City, Utah 84101.
Wyoming State Office, 5353 Yellowstone Road, Cheyenne, Wyoming 82009.

This document has a comment period that ends in 75 days (December 23, 2015).

Click here for more information on this story

---
Enzi comments on court decision halting WOTUS (posted 10/9/15)
Senator Enzi media release
Washington, D.C. – Today (Friday, Oct. 9, 2015) U.S. Senator Mike Enzi, R-Wyo., issued the following statement after the U.S. Court of Appeals for the Sixth Circuit halted enforcement of the "waters of the United States" regulations issued by the Environmental Protection Agency (EPA) and the Army Corps of Engineers.

"Today's court ruling is a relief for people across the country worried about the Environmental Protection Agency's attempt to regulate every creek and pond," Enzi said. "Just as the court recognized the massive scope and potential damage this rule could cause, it is time for the EPA to recognize that they don't have the authority to circumvent Congress. What the EPA is doing is more about control than protection. For the sake of farmers, ranchers, manufacturers and small businesses it is time to end this outrageous regulation and create a more commonsense approach."

---
Barrasso applauds Court decision blocking WOTUS (posted 10/9/15)
Senator Barrasso media release
Barrasso applauds Court decision blocking WOTUS
Senator Barrasso media release

WASHINGTON, D.C. – Today (Oct. 9, 2015), U.S. Senator John Barrasso (R-Wyo.) released the following statement after the United States Sixth Circuit Court of Appeals halted action on the Environmental Protection Agency's (EPA) "waters of the United States" (WOTUS) rule.

"Today's ruling is a welcome reprieve for farmers, ranchers and small-business owners across the country," said Barrasso. "The court's decision confirms that the EPA does not have the authority to completely circumvent Congress and the American people to further its radical regulatory agenda.

"The EPA is fixated on unilaterally imposing impractical, ideology-based rules. It's time for the agency to go back to the drawing board and work with Congress to write a reasonable rule that truly protects America's waterways while also safeguarding the rights of citizens."
---
Senator Enzi accepting applications for nominees to military academies (posted 10/8/15)
Senator Enzi media release
Washington, D.C. – U.S. Senator Mike Enzi, R-Wyo., is encouraging Wyoming youths interested in a military career to apple for a nomination to the military service academies for the 2016 school year. Candidates who are interested can apply through Enzi's office for nominations to the Air Force Academy, the Merchant Marine Academy, the Military Academy at West Point and the Naval Academy.

"Military service academies provide outstanding opportunities to our nation's youth through education and training. Attending one of these academies is a great way for our young men and women to serve our country, develop leadership skills and begin a career in military service," Enzi said.

For every vacancy available at each academy, Enzi is allowed to nominate 10 people. Nominations are based on an evaluation of leadership, extracurricular activities, applicants' personal statement of interest, SAT/ACT test scores and letters of recommendation. Based on the applicant's interview with Enzi's selection committee, applicants are recommended to Enzi for final approval. Following Enzi's nomination, final selection for an appointment will be made by each academy.

All applicants for service academies require a Congressional nomination. Applications for nomination are due to Enzi's Cheyenne office by November 10. Address: 2120 Capitol Ave. Ste. 2007 Cheyenne, WY 82007

Applicants will be interviewed in Senator Enzi's Casper office on December 5th and final nominees will be announced in late December.

The application, procedures and specific applicant criteria are available at enzi.senate.gov in "Academy Nominations" under the "Students" tab. For additional application information, contact Karen McCreery at (307)527-9444 Karen_McCreery@enzi.senate.gov.
---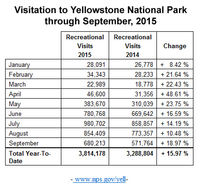 Visitation to Yellowstone National Park

Visitation to Yellowstone Park surpasses previous record set in 2010 (posted 10/8/15)
Over 3.8 million visitors to date in 2015
Yellowstone National Park
With three months left to go, visitation to Yellowstone National Park this year has now surpassed the previous record for total annual visitation set in 2010. The park has thus far seen more than 3.8 million visits in 2015, which exceeds the total visits recorded in the previous busiest year of 2010, when the park tallied just over 3.6 million visits.

Yellowstone hosted a total of 680,213 recreational visits in September, an increase of 18.97 % compared to September 2014 numbers. This month's numbers bring the total up to 3, 814,178 recreational visits in the first nine months of 2015, which is 15.97% over 2014 levels. Each of the park's five entrances showed an increase in vehicles for the month of September compared to 2014 levels. The west entrance recorded the largest increase in September visits, at 16,384 more than September 2014.

"This is certainly a noteworthy event," said Dan Wenk, Yellowstone National Park Superintendent. "We are delighted to see that more and more visitors are making their way to Yellowstone to experience the park. However, it creates additional challenges for our staff who work hard to protect this amazing place while providing top-notch services for visitors. We want to do everything we can to make sure that park visitors have a safe and enjoyable trip, while at the same time protecting the special resources that Yellowstone was set aside to preserve."

While many factors are at play, park managers point to the National Park Service's "Find Your Park" public awareness campaign, marketing and tourism promotions by the states of Montana and Wyoming, and lower gas prices as possible influences in the record number of visits to Yellowstone this year.

Detailed park visitation information and additional information on how these statistics are calculated is available online at
www.irma.nps.gov/Stats/Reports/Park/YELL.

---
WINhealth chooses not to participate in 2016 individual market (posted 10/8/15)
Wyoming provider cites too much uncertainty and risk in the individual health care insurance market
WINhealth media release
CHEYENNE, WYO – As of October 8, 2015, WINhealth has chosen not to participate in the individual market, to include the federal exchange, for the 2016 plan year. The decision not to participate stems from a recent announcement from the federal government regarding the risk corridor program.

According to the Centers for Medicare and Medicaid Services (CMS), "The goal of the risk corridor program is to support the Marketplaces by providing insurers with additional protection against uncertainty in claims costs during the first three years of the Marketplace. The temporary risk corridor program provides payments to insurance companies depending on how closely the premiums they charge cover their consumers' medical costs. Issuers whose premiums exceed claims and other costs by more than a certain amount pay into the program, and insurers whose claims exceed premiums by a certain amount receive payments for their shortfall."

This recent development from CMS came as a surprise to WINhealth. The financial impact of the federal government's decision on WINhealth amounts to approximately $4.4M. The ambiguity of federal government repayments, both in timeline and amount, have created an environment of uncertainty and increased risk in the individual environment. For this reason, WINhealth has chosen not to participate in the individual market for 2016.

WINhealth's President & Chief Executive Officer, Stephen Goldstone, stated "The federal government's decision to significantly reduce the reimbursement we would receive under the risk corridor program came as a complete surprise to WINhealth. This combined with the continuous delays in repayment has caught WINhealth flat-footed with no choice but to turn down participating in the exchange for 2016."

Current WINhealth individual members will continue to have coverage through December 31, 2015, so long as they continue to pay their monthly premiums. Open Enrollment begins November 1, 2015. All individual members will need to choose a plan through a new insurance carrier between November 1, 2015 and December 15, 2015 for a plan that starts on January 1, 2016. Current WINhealth individual members can look at their options through the federal exchange by visiting healthcare.gov. Should WINhealth members have any questions about their current plan, they should contact WINhealth directly or their broker/agent. Should members have any questions regarding Open Enrollment, they should contact healthcare.gov or Enroll Wyoming.
_________________________________________________

Editor's note: WINhealth is a not-for-profit managed-care company founded by Cheyenne Regional Medical Center (CRMC) and Southeast Wyoming Preferred Physicians in 1996 to provide healthcare plan options for Wyoming individuals and groups. They are based in Cheyenne, Wyoming. In June, 2015, CRMC announced they were interested in selling their interest in WINhealth to get out of the insurance business. (Cheyenne Regional Medical Center seeks to sell interest in WINhealth). At the end of 2014, according to a news article in Wyoming Tribune Eagle, the federal government owed WINhealth over $14 million dollars. CRMC loaned WINhealth $6 million to help cover its expenses. WINhealth is one of two insurance companies in Wyoming that sell insurance on the federally-created marketplace exchange.
---
Encana reaches agreement to sell its DJ Basin assets (posted 10/8/15)
Natural gas and oil investments in Denver Julesburg (DJ) Basin in Colorado
Encana Corporation media release
CALGARY, AB --(Marketwired - October 08, 2015) - Encana Corporation (Encana) (TSX: ECA)(NYSE: ECA) announced today (Thursday, Oct. 8, 2015) that its wholly-owned subsidiary, Encana Oil & Gas (USA) Inc., has reached an agreement to sell its Denver Julesburg (DJ) Basin assets in Colorado to a new entity 95 percent owned by Canada Pension Plan Investment Board and 5 percent by The Broe Group. Total consideration to Encana under the transaction is approximately $900 million.

Encana will use the cash proceeds to further strengthen its balance sheet and create greater flexibility in this market environment. When combined with net proceeds from previously announced asset sales, cash proceeds from divestitures in 2015 will total approximately $2.7 billion. The company expects to have reduced its net debt in 2015 by approximately $3 billion by year-end.

"As we advance our strategy we continue to focus our portfolio and capital on our four most strategic assets, the Permian, Eagle Ford, Duvernay and Montney," said Doug Suttles, Encana President & CEO. "Our efforts to transform our portfolio, improve efficiency and grow margins are increasing returns and strengthening our balance sheet, positioning Encana for success throughout the commodity cycle. The new entity is acquiring a quality asset along with a highly talented team."

The transaction includes all of Encana's DJ Basin acreage comprising 51,000 net acres. During the first half of 2015, Encana's DJ Basin assets produced an average of 52 million cubic feet per day (MMcf/d) of natural gas and 14,800 barrels per day of crude oil and natural gas liquids. Based on Encana's development plan at year-end 2014, estimated proved reserves were 96.8 million barrels of oil equivalent (over 40 percent natural gas).

The sale of Encana's DJ Basin assets is subject to satisfaction of normal closing conditions, regulatory approvals and post-closing and other adjustments. The transaction is expected to close in the fourth quarter of 2015, with an effective date of April 1, 2015.

Click on this link for the full media release and investment cautionary statements.

---
Wyoming project will connect snowplows, trucks, fleet management centers (posted 10/7/15)
Wyoming Department of Transportation
WYDOT's project under the U.S. Department of Transportation's Connected Vehicle Pilot Deployment Program will connect snowplows, trucks, fleet management centers and roadside equipment to provide enhanced advisories to trucks and personal vehicles on the Interstate 80 corridor in Wyoming.

The pilot will develop applications that use vehicle-to-infrastructure and vehicle-to-vehicle connectivity to support a flexible range of services from advisories, roadside alerts, parking notifications and dynamic travel guidance.

The goal is to improve the safety of the traveling public and reduce the incidents associated with adverse weather conditions frequently encountered on the corridor.

I-80, which reaches its highest elevation at 8,640 feet between Cheyenne and Laramie, is a major corridor for east-west freight movement in the northwest part of the country.

Through this pilot, WYDOT hopes to improve safety and freight mobility along the corridor through a reduction in the number of truck blowover incidents, secondary incidents, and road closures.

Since 2011, more than 200 blowovers were reported related to high wind events. On Jan. 5 of this year alone, there were 18 crashes attributed to the wind. From October 2007 to April 2012, there were 86 road closures along the Wyoming I-80 corridor, and the average duration for these closures was more than eight hours.

"We've made several process changes to WYDOT's operations over the course of several years, such as closing roads to light, high profile vehicles during strong wind events and implementing variable speed limits to harmonize traffic flows. But it's clear that the increased traffic on Interstate 80 will demand an even greater focus on safety, and we think the connected vehicle technologies will help us reach our goal of improving safety while increasing mobility," Vince Garcia, WYDOT's GIS/ITS program manager said.

WYDOT will conduct the pilot in three phases as directed by the federal contract. In the first phase, which elaborates the deployment concepts, WYDOT will be supported by a multidisciplinary team including ICF International, University of Wyoming, National Center for Atmospheric Research, TriHydro, University of Maryland Center for Advanced Transportation Technologies, and McFarland Management. Additional partners and stakeholders will be engaged in the development and deployment phases of the pilot.

The USDOT is providing about $730,000 for the first phase of the project, and the combined cost of all three phases is projected to be about $5.2 million.

The I-80 corridor in Wyoming is one of only three locations around the nation the USDOT selected to participate in the Connected Vehicle Pilot Deployment Program.

"We're very excited to have this opportunity to explore using this innovative technology to improve safety and traffic flow on I-80 in Wyoming," WYDOT Director John Cox said. "Much of the freight moving from West Coast ports to the Midwest uses that highway, which can experience rapidly changing and extreme weather conditions. Anything we can do to help get road and traffic condition information to the drivers on the highway will improve safety for travelers in commercial and private vehicles."

WYDOT expects to work closely with federal partners to define the program requirements and deliver a scalable and replicable pilot that is a model for rural states to take advantage of vehicle and infrastructure connectivity.

For additional information regarding the pilot project in Wyoming, please contact Ali Ragan, WYDOT's project manager, at ali.ragan@wyo.gov.
---
Western Caucus Chairmen Barrasso, Lummis statements on new Ozone Rule (posted 10/1/15)
New EPA rule sets levels from 75 to 70 parts per billion for ozone
Barrasso, Lummis media release
WASHINGTON, D.C. – Today (Oct. 1, 2015), the Environmental Protection Agency (EPA) released its final rule for surface-level ozone. Senate Western Caucus Chairman John Barrasso (R-WY) and Congressional Western Caucus Chairman Cynthia Lummis (R-WY) released the following statements:

"Once again, the Obama administration is unleashing a new rule that costs too much while providing very little benefit," said Senate Western Caucus Chairman John Barrasso. "Wyoming and other states have spoken out against this inflexible and unrealistic approach. They know these regulations will cost billions of dollars, curb energy production, limit manufacturing and smother economic opportunity for middle-class families. Instead of pushing ahead with even stricter standards, EPA should focus on the worst areas of air quality first. This will ensure that we continue to improve air quality without further burdening our rural economies who have the most to lose under this misguided rule."

"The EPA's new rule released today is sorely misguided and will punish western communities in particular for naturally occurring emissions and those blown across the Pacific from countries like China," said Congressional Western Caucus Chairman Cynthia Lummis. "Pristine environments like some of our national parks could be in violation of this rule. This regulation sets up the American people to fail and the costs will be unbearably high. Instead of putting the cart before the horse, the EPA should focus on getting the country in compliance with existing standards."

Background:
Ozone regulations finalized in 2008 set surface-level standards at 75 parts per billion and many counties across the nation are making progress but still have a long way to go to meet these standards. The rule released today sets the level at 70 parts per billion.

EPA guidance on ways for communities to work to meet the standards set in 2008 came out just this year (http://www.gpo.gov/fdsys/pkg/FR-2015-03-06/pdf/2015-04012.pdf)

---
BLM seeks comment on Draft Update to Measurement Standards for Oil Produced on Public Lands (posted 9/29/15)
Updates to measurement technology and standards & practices to ensure royalties to government
Bureau of Land Management
The Bureau of Land Management (BLM) announced a proposed rule today to update and replace its regulations governing the measurement of oil produced from onshore Federal and Indian leases. The requirements contained in the proposed rule reflect advances in measurement technology and critical updates in standards and practices. It also responds directly to concerns from the Government Accountability Office (GAO), the Department of the Interior's Office of Inspector General, and Secretary's Subcommittee on Royalty Management, that the BLM's existing rules do not provide adequate assurance that oil production on public and Indian lands is being accounted for in a way that ensures that all royalties are accurately tracked and paid. These concerns have contributed to the Department's inclusion on the GAO's High Risk List.

Public comment on the rule is being sought for 60 days, through November 30, 2015.

"The proposed rule represents yet another important step in the BLM's modernization of its oil and gas regulations," said Assistant Secretary for Land and Minerals Management Janice M. Schneider. "These updates address longstanding concerns about the adequacy of existing regulations and will help ensure that the oil produced from Federal and Indian leases is properly measured and accounted for -- a critical component of ensuring that American taxpayers, Indian tribes and allottees, and States and local governments receive the full royalties they are due."

The proposed rule would replace Onshore Oil and Gas Order Number 4 (Order 4), which sets minimum standards for the measurement of oil. Order 4 has not been updated since 1989, and does not reflect modern industry practices or standards.

"It's been almost 30 years since the standards in Onshore Order 4 have been revised," said BLM Director Neil Kornze. "The industry has taken major strides in recent decades and this update reflects those changes in addition to making our regulations more adaptable for the future."
Specifically, the proposed rule would:
• Incorporate proven industry standards developed by oil measurement experts from industry and the BLM.
• Formally authorize the use of Coriolis Measurement Systems (CMSs). Even though CMSs have been proven reliable and accurate, Order 4 currently only expressly allows oil to be measured by manual tank gauging or with a positive displacement meter, which means operators wanting to use CMSs must seek a variance. The proposed rule would eliminate the need for industry to submit, and for the BLM to process, such variance requests.
• Establish a process to recognize and approve the use of new measurement technology and methods, without the BLM having to amend its regulations.
• Increase the accountability of high-volume production wells by requiring operators to verify the accuracy of the meters on those wells more frequently.
• Make changes to improve the BLM's ability to verify and audit production records in order to ensure that production is being properly tracked.

The proposed rule is the next step in a process that the BLM began in 2011 with tribal consultation meetings and continued in 2013 with public listening sessions. The public listening sessions included representatives from Indian lands, the oil and gas industry, environmental groups, and Federal agencies. Input from the listening sessions, stakeholder outreach, and tribal consultation meetings helped inform the development of the proposed rule.

The BLM's oil and gas management program is one of the most important mineral leasing programs in the Federal government. The total value of annual production is over $33 billion, which generates more than $3 billion in royalty revenue each year from oil and gas leasing activities on federal lands (most of which is shared with state and local governments) and more than $1 billion in royalty revenue from activities on tribal lands (all of which goes to tribes or individual allotees).

The proposed rule may be viewed online at www.regulations.gov.

The BLM encourages the public to participate in the rulemaking process by submitting comments on the proposed rule by November 30, 2015 through one of the following methods:

• Federal eRulemaking Portal: http://www.regulations.gov. Follow the instructions at this Web site.

• Mail: U.S. Department of the Interior, Director (630), Bureau of Land Management, Mail Stop 2134 LM, 1849 C Street NW, Washington, DC 20240 Attention: Regulatory Affairs.

• Personal/messenger delivery: Bureau of Land Management, 20 M. Street SE, Room 2134 LM, Attention: Regulatory Affairs, Washington, DC 20003.
---
Business Directory
Click here for
Advertising Information