Wyoming Supreme Court dismisses Rock/Kawa/Quirk appeal (posted 5/18/13)
Case of the 2012 '5 to 3 Sublette County Commissioners' special election
Pinedale Online!
The Wyoming Supreme Court issued their ruling on an appeal case filed by Sublette County residents Paul Rock, Dari Quirk and Ernie Kawa against Sublette County Clerk Mary Lankford in a case involving contesting the results of the May 2012 special election to determine whether the Sublette County Board of County Commissioners should be decreased from five to three commissioners.

The Supreme Court dismissed the appeal by Rock, Quirk and Kawa based on technicalities in the way they filed their claims as an election contest. They said the three did not file their appeal within the required 15 days and it was not brought by the required five electors.

In 2011, Paul Rock successfully spearheaded a signature petition campaign to get a special election to raise the number of seats on the Sublette County Commission from three to five. The special election was held in August 2011 and passed. Subsequently, other citizens dissatisfied with that outcome initiated their own petition signature campaign calling for another special election on the issue, arguing that the low voter turnout (28.67%) indicated that was not the true wishes of the community on the question. As a result of their efforts to gather enough signatures, a second special election was held in May, 2012 asking the voters if the number of commissioner seats should be reduced from five to three seats. The second special election generated a 45.88% voter turnout, passing the proposition. That resulted in only one commissioner seat open for election in the 2012 primary and general election to fill a three-seat board, rather than three open seats to fill a five-seat commission. Rock and Kawa both ran campaigns for county commissioner, but were unsuccessful. Part of their appeal argument was they personally suffered additional injury because they could not both be elected in 2012 because the two additional seats in the August 2011 ballot proposition were overturned by the second special election in May 2012. The three filed an appeal with District Court saying the commissioner seats should have first had an opportunity to have been filled in an election cycle before being allowed to be reduced again. The District Court ruled the May 2012 special election was proper and upheld the results returning to a three-seat county commission board.

The Supreme Court did not address the merits of the arguments by Paul Rock, Dari Quirk and Ernie Kawa, only that their appeal was not filed in a timely fashion and did not have the proper number of electors, and that the District Court lacked jurisdiction to consider the claims. The Supreme Court upheld the results of the 2012 election returning the size of the commission to three seats.

Click on this link to read the Supreme Court decision on the appeal cases: S-12-0216, S-12-0217

Related Links:
The cost of adding more County Commissioners Pinedale Online, March 29, 2011
Sublette County Commissioners: Stay at 3? Go to 5? Pinedale Online, August 15, 2011
Sublette County to go from 3 to 5 Commissioners Pinedale Online, August 16, 2011
Petition seeks return to three-member commission Sublette Examiner, November 15, 2011
Sublette County Attorney responds to legality of 5 to 3 petition Pinedale Online, November 17, 2011
5 to 3 petition deadline draws near for signatures Pinedale Online, February 17, 2012
Sheriff's Office responds to 5 to 3 complaint Pinedale Online, April 16, 2012
Citizens vote to decrease the board of county commissioners from 5 to 3 members Pinedale Online, May 8, 2012
Rock and Kawa file Petition for Writ of Review for 5 to 3 Pinedale Online, May 25, 2012
8 vie for Sublette County Commission seat Pinedale Online, June 3, 2012
5 to 3 lawsuit dismissed Pinedale Online, June 8, 2012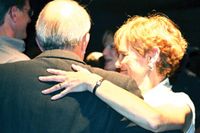 Last Saturday, the stars of Sublette County put on their dancing shoes for the annual fundraiser for the Children's Learning Centers. Dancing with the Sublette Stars drew scores to the Lovatt Room to watch others dance and do a little themselves. Here, Laurie Latta gets a turn around the floor with her husband and contestant Jim Latta. Photo by Kathy Carlson, Pinedale Roundup.

Pinedale Roundup – May 17, 2013 (posted 5/18/13)
If you want this old world on a string
Feds talk fracking
Pinedale looks at vacant buildings
No change after Marbelton election
Big Piney gets new mayor
---
Group wants wolf protection in parkway (posted 5/17/13)
National Parks Conservation Association
The National Parks Conservation Association (NPCA) today (May 17, 2013) filed a petition that asks the National Park Service (NPS) to start a rulemaking process that will eliminate the possibility of a hunt of gray wolves inside the John D. Rockefeller, Jr. Memorial Parkway. The Parkway, a unit of the National Park System, connects Yellowstone and Grand Teton National Parks, providing what Congress called the "spiritual and physical connection" between them. It also serves as the connection for the wolf packs inhabiting those parks. The petition was filed for NPCA by Robert D. Rosenbaum and others at the law firm of Arnold & Porter LLP.

"Wolves in Wyoming were recently removed from the endangered species list, and the state of Wyoming controls wolf management outside our national parks,"¯ said NPCA Grand Teton Program Manager Sharon Mader. "The state of Wyoming has claimed, however, that it also has that authority in the Parkway and has stated that it has 'assumed control' of such hunting there."

While the state has not yet attempted to permit such hunting, it says it will review that issue annually.

"Last season's state-authorized wolf hunt outside the parks had a significant impact on park wolves," Mader added. "Only the Park Service has the authority and overall park management expertise to make the final decisions on wolf hunting and other management issues in these special places."¯

"Federal law clearly gives the National Park Service, not the state, the primary wildlife management role in the National Park System, such as in the Parkway," said Rosenbaum. "The Park Service has expressed serious concerns about wolf hunting in the Parkway, but they have the responsibility as guardian of these special places to make sure no such hunt occurs, whether now or in the future. Granting NPCA's petition would provide that assurance."¯

The removal of wolves from the endangered species list in Wyoming last year should have triggered an NPS rulemaking process, which would have led to a hunting ban inside the Parkway, a place set aside to preserve wildlife and other unique resources.

"But with eight months passed and still no formal action, NPS needs to act now to protect this species' role in the ecosystem, including Yellowstone and Grand Teton National Parks, and the connecting Parkway," Mader said. "The Park Service has said it should have the final say in this matter. We are simply asking that it now act on that authority in the Parkway. After being eradicated and after seven decades finally returned to their native home, don't these wolves deserve sanctuary inside our national parks?"¯

Related Links:
National Parks Conservation Association - Read the petition here.
Wolf Watch - by Cat Urbigkit
---
Wolf and grizzly trapping in Pinedale region (posted 5/17/13)
Wyoming Game and Fish Department
As part of ongoing efforts to monitor the population of gray wolves in northwest Wyoming, the Wyoming Game and Fish Department will conduct scientific trapping operations in the northern Wind River Mountains and Gros Ventre Mountains north of Pinedale and east of Bondurant. Trapping will begin after May 19, 2013 and may continue through August 31, 2013.

Also, as part of ongoing efforts to monitor the population of grizzly bears in the Yellowstone Ecosystem, WG&F will conduct research trapping operations north and west of Pinedale beginning after May 19 and may continue through September 31, 2013.

All major access points where trapping is being conducted for monitoring purposes will be marked with warning signs. It is critical that all members of the public heed these signs and not venture into posted areas.

Monitoring the number, distribution and other activities of gray wolves and grizzly bears are vital to the ongoing recovery of these large carnivores in the Yellowstone ecosystem and is required under the terms of delisting. Trapped animals are immobilized, processed, released on site, and monitored in accordance with standard capture and handling techniques.

Related Links:
Wyoming Game and Fish Department - Official website.
Wolf Watch - by Cat Urbigkit
---
Department of the Interior releases updated Draft Rule for Hydraulic Fracturing (posted 5/16/13)
Open for public comment
Bureau of Land Management
WASHINGTON, D.C. – As part of the Obama Administration's all-of-the-above strategy to support safe and responsible domestic energy production, the Department of the Interior today (May 16) announced the release of an updated draft proposal that would establish commonsense safety standards for hydraulic fracturing on public and Indian lands. Following the release of an initial draft proposal in 2012, Interior received extensive feedback, including over 177,000 public comments that helped inform today's updated draft proposal. The new proposal maintains important safety standards, improves integration with existing state and tribal standards, and increases flexibility for oil and gas developers. The updated draft proposal will be subject to a new 30-day public comment period.

"As the President has made clear, this administration's priority is to continue to expand safe and responsible domestic energy production. In line with that goal, we are proposing some commonsense updates that increase safety while also providing flexibility and facilitating coordination with states and tribes," said Secretary of the Interior Sally Jewell. "As we continue to offer millions of acres of America's public lands for oil and gas development, it is important that the public has full confidence that the right safety and environmental protections are in place."

Approximately 90 percent of wells drilled on Federal and Indian lands use hydraulic fracturing, but the Bureau of Land Management's (BLM) current regulations governing hydraulic fracturing operations on public lands are more than 30 years old and were not written to address modern hydraulic fracturing activities. The revised proposed rule will modernize BLM's management of hydraulic fracturing operations, and help to establish baseline environmental safeguards for these operations across all public and Indian lands.

The updated draft proposal maintains the three main components of the initial proposal: requiring operators to disclose the chemicals they use in fracturing activities on public lands; improving assurances of well-bore integrity to verify that fluids used during fracturing operations are not contaminating groundwater; and confirming that oil and gas operators have a water management plan in place for handling fluids that flow back to the surface.

Building on preliminary input from key stakeholders and recommendations from the Secretary of Energy's Advisory Board in 2011, the BLM proposed a draft rule in 2012 that took into account technologies already in use by companies to protect water resources, and existing methods for improving transparency through disclosure of the chemicals used in fracturing fluids.

The updated draft proposal addresses many of the more than 177,000 public comments that the BLM received during the initial 120-day public comment period that ended last fall, as well as other feedback received during eight forums and other meetings held with representatives of American Indian tribes.

"We know from experience that hydraulic fracturing and horizontal drilling methods can be used safely and effectively, employing many of the best management practices reflected in this draft rule," said BLM Principal Deputy Director Neil Kornze. "Our thorough review of all the comments convinced us that we could maintain a strong level of protection of health, safety, and the environment while allowing for increased flexibility and reduced regulatory duplication."

The supplemental proposal being released today revises the array of tools operators may use to show that water is being protected, and provides more guidance on trade secret disclosure, while providing additional flexibility for meeting these objectives.

While the revised draft seeks to establish baseline environmental safeguards across all public and Indian lands, it also complements efforts of several states that are regulating hydraulic fracturing, including Colorado, Wyoming, North Dakota, and Texas. The proposal includes a variance process that allows for deferring to states and tribes that already have standards in place that meet or exceed those proposed by this rule.

Although the BLM is not proposing a material change in the provision that allows hydraulic fracturing flowback fluids to be stored either in tanks or in lined pits, the BLM is seeking comments on the costs and benefits of requiring flowback fluids to only be stored in closed tanks.

The Obama Administration has made expansion of domestic oil and gas production a priority, while ensuring that it takes place safely and responsibly. Domestic production from more than 92,000 oil and gas wells on public lands accounts for about 13 percent of the nation's natural gas production and 5 percent of its oil production. The BLM administers approximately 700 million acres of onshore mineral estate owned by the Federal government and has trust responsibilities for about 56 million acres of Indian lands.

Once comments on the updated draft have been collected and analyzed, the BLM expects to issue a final rule that will ensure that operators apply proven cost-effective safety and environmental protection processes when engaging in hydraulic fracturing on public and Indian lands.

To view the updated draft proposal, click here.

---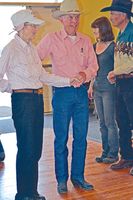 Swing your partner: The Mountain Man Back Country Horsemen second annual square dance fundraiser was held on Saturday night at the Daniel Schoolhouse. This couple dances along with the music. Photo by Kathy Carlson, Sublette Examiner.

Sublette Examiner – May 14, 2013 (posted 5/14/13)
Swing your partner
WGFD looking ahead to more cuts
Wyo. named No. 4 state for small businesses
WGFD proposing 26-wolf hunting seasoncom
---
Gros Ventre wolves targeted for monitoring (posted 5/10/13)
Wyoming Game and Fish Department
As part of ongoing efforts to monitor the population of gray wolves in northwest Wyoming, the Wyoming Game and Fish Department will conduct scientific trapping operations in the Gros Ventre mountain range southeast of Jackson. Trapping will begin May 14, 2013 and may continue through June 15, 2013.

All major access points where trapping is being conducted for monitoring purposes will be marked with warning signs. It is critical that members of the public heed these signs and do not venture into posted areas.

Monitoring the number, distribution, and other activities of gray wolves is vital to the ongoing recovery of gray wolves in the Yellowstone ecosystem and is required under the terms of delisting. Trapped animals are immobilized, processed, released on-site, and monitored in accordance with standard wolf capture and handling techniques.

For more information regarding gray wolf trapping efforts, call the Game and Fish Cody regional office at 307-527-7125 or your local Game and Fish biologist or game warden.

Related Links:
Wolf Watch - by Cat Urbigkit
---
Elk Foundation intervenes in wolf case (posted 5/10/13)
Cat Urbigkit, Pinedale Online!
The Rocky Mountain Elk Foundation has been granted intervenor status in the federal lawsuit over delisting wolves in Wyoming that is currently pending in a federal court in Washington, D.C. The National Rifle Association and Safari Club International are also intervenors in that case.

The RMEF is also intervening in the federal lawsuit over wolf delisting in the Great Lakes area, and is awaiting word from the federal court in Wyoming whether it will be permitted to intervene in a wolf lawsuit here as well.

Related Links:
Wolf Watch - by Cat Urbigkit

---
Montana proposes expanded wolf hunt (posted 5/10/13)
Cat Urbigkit, Pinedale Online!
While Wyoming works to reduce the number of wolves allowed for harvest by hunters this fall, Montana is working to increase the limit from one to five animals in that state's hunt.

For details, click on the link below.

Related Links:
Associated Press article - Read the details here.
Wolf Watch - by Cat Urbigkit

---
Willcox joins Center for Biological Diversity (posted 5/10/13)
CBD press release
The Center for Biological Diversity announced today (May 10, 2013) the opening of a northern Rockies office to be headed by renowned conservationist Louisa Willcox, who has been working for bears and other wildlife in the region for 30 years. With the addition of Willcox, the Center will expand its advocacy for endangered species and habitats in the region, including work to protect grizzlies, wolves, lynx, bison, grayling, sage grouse and fishers.

"The Center's increased commitment to the region is great news for our unique plants and animals, which are under continuous threat from sprawl, energy development, climate change and a host of other forces," said Willcox. "With vast expanses of mountains and prairie and pristine waters, the northern Rockies are a last bastion of wilderness for species like grizzly bears and wolves and fish that have been wiped out across the rest of the lower 48 states."

The Center has gained protection for a variety of species and habitats in the northern Rockies. American wolverines were recently proposed for protection through an ambitious settlement agreement between the Center and the U.S. Fish and Wildlife Service that requires the agency to make protection decisions for 757 species; under that agreement the Fish and Wildlife Service will make a decision about protection for Montana grayling in the Big Hole River next year. The Center was also part of litigation to obtain or retain Endangered Species Act protections for wolves, grizzlies and lynx.

In the coming years, the Center will continue to increase the scope of its program to protect rare and endangered species in the region.

"The northern Rockies are a refuge for an incredible range of plants and animals," Willcox said. "And losing any of these species not only impoverishes the wild places they live but hurts the rest of us who call the northern Rockies home."
___________________________________________________

Editor's note: Louisa Willcox formerly worked for the Natural Resources Defense Council, and prior to that, Sierra Club and Greater Yellowstone Coalition.

Related Links:
Center for Biological Diversity - Official website

---
Public meetings on proposed changes for Wolf/Lion Management/Seasons, Fishing Regulations (posted 5/6/13)
Meetings in Pinedale Wednesday, May 8th & 9th
The Wyoming Game and Fish Department will be holding a series of public meetings in May to discuss proposed changes to wolf management and wolf seasons for 2013. They will also discuss mountain lion quotas for the next three years along with expanded regulations regarding computer-automated license agents, and liberalizing the number of bison licenses a hunter can receive in a lifetime.

Additional information on proposed changes in 2014-2015 fishing regulations and regulations on disabled hunter and companion permits, game bird farms, license issuance, and central visual acuity disability permits will also be covered.

The Pinedale wolf/lion meeting will be held on Wednesday, May 8th at the Pinedale Wyoming Game & Fish Regional Office starting at 6:00PM.

The following night, Thursday, May 9th, there will be a public meeting in Pinedale on proposed 2014-2015 fishing regulations. That meeting will be in the Pinedale Game and Fish office starting at 7:00PM.

Click here for meeting locations and dates in other towns around the state. Wyoming Game & Fish website.

Draft regulations are available from the following sources:
• the Game and Fish website at wgfd.wyo.gov.

• Game and Fish Casper Regional Office, 3030 Energy Lane, Casper, WY 82604, 307-473-3400

• Copies of draft regulations may be obtained from the address listed above in accordance with Wyoming Game and Fish Commission Regulation Chapter 1, Regulation Governing Access to Records.

Comments can be mailed to Wyoming Game and Fish Department, Casper Regional Office, ATTN: Wildlife Division, Regulations, 3030 Energy Lane, Casper, WY 82604 or online at: wgfd.wyo.gov.

The Wyoming Game and Fish Commission hearing to take action on these regulations will be July 9-10 in Saratoga. In order for written comments to be reviewed by the Wyoming Game and Fish Commission, they must be received by 5 p.m. June 12.

The State of Wyoming supports the Americans with Disabilities Act. Anyone needing auxiliary aids should contact the Wyoming Game and Fish Department at 307-777-4501. Every effort will be made for reasonable accommodations.

For more information, contact: Eric Keszler, 307-777-4594.
---
Forest Service sells firewood permits on the Bridger-Teton National Forest (posted 5/5/13)
Bridger-Teton National Forest
The Bridger-Teton National Forest will sell firewood permits for private use beginning Wednesday, May 15, 2012 at many of our District offices.

Firewood permits are a service offered by the U.S. Forest Service and cost four dollars per cord with a minimum purchase of five cords for twenty dollars. The Forest also offers permits for sale via postal mail. Details can be obtained through one of our Forest Offices or from the website at http://www.fs.usda.gov/main/btnf/passes-permits/forestproducts

When gathering firewood, permits allow for the harvest of down or standing dead wood only. All wood gathered must be kept to a length of 8-feet or less. All Forest users are encouraged to check with the local ranger stations for information about the areas trails and roads.

In the Jackson area, Interagency partners at the Jackson Hole / Greater Yellowstone Visitor Center are again selling firewood permits on behalf of the Bridger-Teton National Forest. The Visitor Center is open daily from 8:00 am to 7:00 pm, including weekends and holidays. The visitor center is the sod-roofed building located at 532 N. Cache in Jackson. Firewood permits can be obtained at the visitor center any time during their regular business hours. (In Sublette County) Permits are offered at the following Forest offices.

Big Piney Ranger District
10418 S. US HWY 189
(307) 276-3375

Pinedale Ranger District
29 East Fremont Lake Road
Pinedale, WY 82941
(307) 367-4326

For more information, contact the Bridger-Teton at 307-739-5500.
---
Business Directory
Click here for
Advertising Information