Three selected for Wyoming Secretary of State replacement (posted 2/25/18)
Position left vacant due to resignation of Ed Murray
Wyoming Republican Party
CHEYENNE, WYOMING - February 24, 2018
The Wyoming Republican Party State Central Committee has nominated three people to fill the vacant Secretary of State office. As part of its statutory responsibility, the State Central Committee met in Cheyenne on February 24 and considered applications from eight people.

The committee, which consists of the chairman, committeeman and committeewoman from each of Wyoming's 23 counties, voted to send the following three names to Governor Matt Mead:

Ed Buchanan from Torrington
Darin Smith from Cheyenne
Richard George from Cody

The Governor will appoint one person to fill the remaining term of recently-resigned Secretary of State Ed Murray.

Questions and comments should be directed to Wyoming Republican Party Executive Director Kristi Wallin at (307) 760-3898 or execdir@wyoming.gop.

Related Links:
Eight vie for Wyoming Secretary of State appointment Wyoming Republican Party, Feb. 22, 2018
Wyoming Secretary of State Ed Murray resigns Feb. 10, 2018

---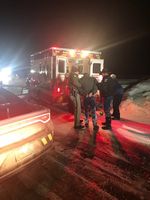 There were tense hours in Bondurant Friday night as law enforcement officers hunted for an armed fugitive on the loose near Hoback Canyon. Residents were advised to shelter in place. The man was ultimately taken into custody without incident after about three hours hiding out in the frigid weather. Photo by Sgt. Bingham Sublette County Sheriff's Office.

Manhunt ends with capture of Idaho man in Bondurant (posted 2/24/18)
Suspect leads Sheriff's Deputies on high-speed chase
Sublette County Sheriff's Office
PINEDALE, WYOMING – February 24th, 2018

Late last night on February 23rd, Sublette County Dispatch was contacted by the Lincoln County Sheriff's Office in regard to an attempt to locate on a subject out of Idaho. Lincoln County informed us that Bonneville County Idaho had contacted them about a male subject they were looking for in reference to a warrant. The suspect, 51-year-old Robert Richey from Idaho Falls, had an active warrant out of Bonneville County for sexual assault involving a minor.

Lincoln County Sheriff's Office was able to ping the suspects cell phone and get GPS coordinates. The cell phone was located near a cell tower in the Bondurant area. Two Sublette County Deputies were notified and responded to Bondurant where the phone was last located. At approximately 10pm a Sublette County Deputy located the described vehicle parked at the Branding Iron Grill in Bondurant. He attempted to make contact with the suspect while other Deputies were responding. The suspect saw the Deputy and sped off initiating a high-speed pursuit. At approximately 10:10pm the suspect crashed his vehicle near the entrance to the Hoback Canyon. He jumped out of the vehicle and ran on foot holding a handgun.

Wyoming Highway Patrol Troopers arrived on scene along with other Sublette County Deputies and immediately set up a perimeter. Sublette County Sheriff's Office activated the Reverse 9-1-1 alert system in the Bondurant area for residents to shelter in place while the search to find the suspect commenced.

Members of the Sublette County Sheriff's Office were staging with night vision equipment to aid in locating the fugitive. And trackers were on hand to follow the suspects footprints in the snow. At approximately 1:40am the suspect walked out into the pull out at the mouth of the Hoback Canyon and was taken into custody. The suspect was very cold and had been exposed in the snow and elements for approximately 3 hours. Temperatures in the area at the time were between -12 and -16 degrees Fahrenheit. Sublette County EMS checked out the suspect and transported him to St Johns Medical Center in Jackson from the scene.

Early this morning the suspect was discharged from St Johns Medical Center and transported to the Sublette County Jail for booking. Along with the Warrant from Idaho, he has been charged locally with Fugitive from Justice, Driving under the influence, reckless driving, open container, attempting to elude a Peace Officer, and speeding. Bond has not been set as of the time of this release.

The Sublette County Sheriff's Office would like to thank the Lincoln County Sheriff's Office, Wyoming Highway Patrol, Bonneville County Sheriff's Office and Sublette County EMS on the joint effort that led to this arrest.

Related Links:
ALERT: Armed Fugitive in the Bondurant area! Pinedale Online! Feb. 23, 2018

---
ALERT: Armed Fugitive in the Bondurant area! (posted 2/23/18)
Bondurant residents advised to shelter in place
Pinedale Online!
UPDATE, SATURDAY, FEB. 24, 1:40AM: Suspect is in custody.

UPDATE, SATURDAY, FEB. 24, 12:30AM: Photo released of wanted suspect. He is Robert John Richey. Subject has an active warrant for sexual assault out of Idaho. He is a White Male 6 feet tall, 190 lbs. Brown hair and Hazel eyes. 51 years old. We do not have a clothing description. Please be on the lookout for this subject. Call 9-1-1 if seen or if have any information. Bondurant residents advised to shelter in place.

UPDATE 11:30PM: Description: Subject is a White Male 6 feet tall, 190 lbs. Brown hair and Hazel eyes. 51 years old. We do not have a clothing description. Please be on the lookout for this subject.

Friday, Feb. 23, 11:00PM ALERT: ARMED FUGITIVE IN THE BONDURANT AREA! Sublette County Emergency Management issued an alert to all residents in Bondurant from Post Office to the Black Powder: There is an armed fugitive in your area. The Sublette County Sheriff KC Lehr has advised TO SHELTER IN PLACE. The Sheriff's Office is actively searching for the subject. Do not call the Sheriff's Office unless there is a suspicious person outside your residence. Call 9-1-1 if you see something suspicious. More information will be posted here, on SCEM & SCSO Facebook pages, and broadcast on KPIN 101.1FM Radio as it becomes available.

---
Update on Pinedale Elementary School phone threat (posted 2/23/18)
Update #3 on threat called into Sublette County School District #1 on February 21st 2018
Sublette County Sheriff's Office
PINEDALE, WYOMING – February 22nd, 2018 3:15pm:

The Sublette County Sheriff's Office has continued to investigate the threatening telephone call received by the Pinedale Elementary School yesterday. Early in the investigation Detectives were able to ping the phone that placed the call. The GPS location of the phone was located outside the State of Wyoming. The location where the phone call was placed is not available for release at this time as this is an ongoing investigation. On the evening of Wednesday February 21st, Detectives discovered another Pinedale Elementary School. This school was in the same area that the cell phone had been located in. The Sheriff's Office believes that the intended target of the threatening phone call was not the local Pinedale Elementary School, but the Pinedale Elementary School where the call originated.

Detectives immediately made contact with Law Enforcement in the area where the other school is located and turned over information received up to this point.

At this time the Sublette County Sheriff's Office has not yet received any information back on the investigation from the outside agency. Sublette County Sheriff's Detectives will continue to investigate this case in cooperation with other Law Enforcement agencies, and we will release more information as it becomes available.

Related Links:
SCSD #1 receives telephone threat February 21, 2018

---
Eight vie for Wyoming Secretary of State appointment (posted 2/22/18)
Left vacant due to resignation of Ed Murray
Wyoming Republican Party
CHEYENNE, WYOMING February 22, 2018: Eight people have submitted applications to fill Wyoming's vacant Secretary of State position. Wyoming Republican Party Chairman W. Frank Eathorne said, "In accordance with Wyoming Statute §22-18-111, the State Central Committee will select three persons to fill the vacancy. Governor Matt Mead will appoint of one of the three persons to become Wyoming's next Secretary of State."

The applicants are:
Pete Illoway from Cheyenne
Darin Smith from Cheyenne
Ed Buchanan from Torrington
Richard George from Powell
Max Maxfield from Cheyenne
Cynthia Cloud from Cody
Robert Elwell from Cheyenne
Nina Webber from Thermopolis

The State Central Committee will meet on February 24, 2018, at 1 p.m. at Little America in Cheyenne to consider the applications. Applicants will have the opportunity to address the group and answer questions. The meeting is open to the public.

Questions and comments should be directed to Wyoming Republican Party Executive Director Kristi Wallin at (307) 760-3898 or execdir@wyoming.gop.

Related Links:


Wyoming Secretary of State Ed Murray resigns Pinedale Online! February 10, 2018

---
Dish Network phone scam circulating (posted 2/22/18)
Beware callers asking for your credit card for upgrading services
Sweetwater County Sheriff's Office
ROCK SPRINGS / GREEN RIVER, WYOMING - February 22, 2018: Sweetwater County Sheriff Mike Lowell issued a scam alert Thursday, Feb. 22, concerning swindlers posing as employees of Dish Network, the popular satellite television service.

Callers pretending to be Dish Network representatives are calling actual Dish Network users in Sweetwater County, using spoofed or masked caller identification numbers to make it appear the calls are genuine. They inform their intended victim their software needs to be updated and ask for credit card information to pay for the "service."

These callers have no connection to Dish Network; their sole objective is to obtain credit card information.

Lowell recommends that anyone receiving such a call hang up and call Dish Network (or whatever company the caller claims to be with) to determine if the call is genuine.

"And most important of all, never provide such a caller with any personal or financial information," he said. "We need to get the word out on this as far and as quickly as possible. To avoid anyone else being victimized, please help us get this warning out, especially via social media."

Lowell also said it's particularly important to make family members or friends who are seniors aware of the scam, as they are often especially targeted.

For more information on this and many other fraud schemes, law enforcement officials recommend the FBI website at http://www.fbi.gov/scams-safety/fraud

---
U.S. Senate pages wanted for summer 2018 (posted 2/22/18)
U.S. Senator Mike Enzi
Washington, D.C. – U.S. Senator Mike Enzi, R-Wyo., is encouraging Wyoming high school students to apply to be a Senate page for the summer sessions in Washington, D.C.

There are a total of 30 page positions in the United States Senate each session and Enzi is fortunate to have the opportunity to sponsor a young adult from Wyoming to serve in one of these positions. The deadline for summer applications is March 7.

"The page program allows students to have a front row seat during debates in the U.S. Senate," said Enzi. "The program will provide unique experiences that participants will carry with them forever."

Page duties consist primarily of delivering correspondence and legislative material at the Capitol. Other duties include preparing the Senate chamber for sessions and carrying bills and amendments to the appropriate people on the Senate floor.

Summer page eligibility is limited to rising high school juniors and seniors this summer who will be 16 or 17 years old on or before the date of the appointment. Applicants must have a minimum grade point average of 3.0.

Pages live in Webster Hall located near the Capitol and receive a stipend to cover the cost of the residence. Breakfast and dinner are provided each day.

The first summer session runs from June 11 to June 29, and the second summer session runs from July 9 to August 3. The application and additional information can be found by going to www.enzi.senate.gov. Further questions can be directed to Dianne Kirkbride in Senator Enzi's Cheyenne office at 307-772-2477 or Dianne_Kirkbride@enzi.senate.gov.

---
Route around Greys River Road landslide identified for recreationists (posted 2/22/18)
Bridger-Teton National Forest
Alpine, Wyo., February 21, 2018 – As the landslide continues to move on the Greys River Road, 17 miles from the parking lot in Alpine, Wyoming, the Bridger-Teton National Forest has identified a makeshift route around the slump that should allow access for snowmobilers with modest ability.

With help from the Star Valley Ridge Riders, Star Valley Search and Rescue, and outfitters from the Box Y Ranch, the Bridger Teton National Forest has identified a route skirting the dynamic hummocks and marked the temporary path with orange stakes and neon green flagging. Approximately half of the interim route is located where it can be groomed. There is nearly .8-mile of the reroute that will be ungroomed and will require at least an intermediate ability level on a snowmobile.

"Half of the route is on the Porcupine Road which can be satisfactorily groomed provided there is adequate snow," said Greys River District Ranger Justin Laycock. "The remaining portion of the reroute is going to continue to provide access until the snow melts," he said. "We will be looking at our long-term options once the hillside stops sliding and stabilizes," he stated.

While the cause of the landslide is unknown, specialists have noted that the epicenter of a 3.4 magnitude earthquake occurred in the vicinity of the now sliding hillside on February 1, 2018. "It is not unheard of to have geologic activity in this area of the District," said Laycock. "The landscape is ever-changing and because of that we won't be able to effectively assess all of our options until things stabilize, but access to this portion of the Forest will be our focus going forward," he said.

---



The Drift 100

The Drift 100 Adventure Race March 3rd (posted 2/21/18)
Deadline to enter is February 25th
Is a summer marathon not challenging enough for you? How about one in the middle of winter?! Adventure seekers are invited to test their endurance in the first-ever Drift 100 Adventure Race to be held on Saturday, March 3rd. Ski, bike or run 28 miles in the remote Upper Green and see if you have the endurance to survive a marathon in the snow and winter conditions.

The course takes participants into the Wind River Mountains of the scenic Upper Green on the Bridger-Teton National Forest. This is not a triathlon. This is strictly an individual, human-powered race. Contestants must choose to travel on foot, bike or ski. You must declare your division at the mandatory pre-race meeting Friday night before the race. This gives racers a chance to decide on or change their discipline based on current trail conditions.

Unlike the Surly Pika summer race, this is an individual race on a mapped race course. You do not need to gather punches, or find flags. Sorry, no dogs. Although your entourage may cheer you on out on the course, racers are not permitted to have pacers or anyone who follows or otherwise assists you. You may accept help from another racer, if needed, or provide help to another racer in need.

Participants should arrive in Pinedale by Friday evening to be ready for the race and attend the mandatory evening pre-race meeting, which will be from 6:30 to 8:00PM in the Lovatt Room of the Pinedale Library.

Saturday's race is in the Upper Green to Green River Lakes and comes back down the Moose-Gypsum Road finishing at Kendall Valley Lodge. There are mandatory checkpoints along the way to ensure the safety of the participants.

Racers are expected to be self-sufficient for safety, food, water and major medical needs. No motorized vehicles are allowed. Expect everything from ice, bare ground, hero snow and drifts, great or ugly weather, and plan accordingly. This race is on a groomed snowmobile trail, but there are hills and some sections may not be bikable depending on the conditions, so plan to have to do some fatbike pushing. Snowshoes might be helpful for the runners, or plan on the possibility of punching through the snow in some places. There will be other users on the trail. If you bring headphones, you can only use one earpiece. You must be able to hear snowmachines, other racers, and other trail traffic during the event. Note that we are over 7100 feet in elevation, so some folks coming from lower altitudes should be aware this is a high-elevation event.


The race is capped at 50 racers. Deadline to register is Sunday, February 25th.

There will be an after-party Saturday night at Wind River Brewing Company.

This event is being put on by the Great Outdoor Shop in Pinedale under a special use permit by the U.S. Forest Service with support from the Pinedale Travel and Tourism Commission.

For more information go to www.thedrift100.com, or call 307-367-2440, or contact Race Directors Laura & Josh Hattan at the Great Outdoor Shop in Pinedale, Wyoming, laura@greatoutdoorshop.com.

---
SCSD #1 receives telephone threat (posted 2/21/18)
Schools operating on normal schedule
Sublette County School District #1 and Sublette County Sheriff's Office joint press release
(Pinedale, Wyoming –February 21st, 2018, 11:58AM) Sublette County Sheriff's Office - Update on threat called into Sublette County School District #1 this morning.
The Sublette County Sheriff's Office continues to investigate a threat via phone call to Sublette County School District #1 early this morning. We want the public to know we take these types of threats very seriously. Our investigators have traced the number and were able to ping its location outside of Wyoming. We have contacted Federal and local authorities in the area of the phone's pinged location to assist in this investigation. The Sheriff's Office wants to ensure citizens we have no credible threat to any of the schools within Sublette County at this time. However, we have initiated extra security at all schools throughout the day as an added measure. Also, Sublette County School District #1 has implemented their safety protocols. The schools will operate business as usual today.
______________________________

Original release from SCSD#1: Shortly before 8 AM on Wednesday, February 21st, 2018, Sublette County School District 1 received a phone call at Pinedale Elementary School that included a generalized threat. The school district immediately contacted the Sublette County Sheriff's Office and enacted its crisis management plan.

After an initial investigation, the Sublette County Sheriff's Office determined the threat was not imminent, however they continue to investigate the call and will follow up. All Sublette County School District 1 schools will continue to operate on a normal schedule, although Sublette County School District 1 and the Sublette County Sheriff's Office will continue to implement heightened security measures throughout the day.

Related Links:
www.sub1.org Sublette County School District #1

---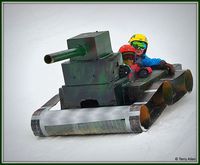 Tank and Crew in the Cardboard Classic at White Pine ski area. Photo by Terry Allen.

Pinedale Winter Carnival 2018 (posted 1/21/18)
3rd Annual
Terry Allen
The 3rd annual Pinedale Winter Carnival was held this past weekend, February 16, 17 & 18th. I went out to the Bloomfield property by the elementary school where the Harber family had donated use of land to construct a ski-joring course. John Haide was out there with working from Teletractors and Harber Construction. John competes on a ski-joring circuit in the winter so he knows a little about building jumps. Kate Dahl, the Main Street Pinedale program manager, told me they brought in 27 belly dumps of snow to build a good solid base for the horses, skiers and snowmobiles to run on.

Saturday started off with a hearty breakfast at Our Lady of Peace Catholic Church which consisted of pancakes, sausage, eggs, coffee and juices. You've got to have a hearty breakfast to ski behind a horse while going over jumps at 40 mph.

Bryanna Wackerman and her Dad Bernie were both going to ski behind a horse and rider. Bryanna said she woke up the night before from dreaming about the race. "I was weaving in and out and making good jumps," she said. "I was doing great, but then I dreamed I skied over to make a big jump on the big course and I woke up. But I'll be okay. Chewy is going to pull me and Dad is the rider."

Jared Sare raced off down the track pulling his daughter Evelyn and I saw her jerking her head up several times trying to get Jared to go faster.

John Haide rode his Dad's horse for the last time and then is retiring him. John asked if I'd take a picture or two of them together because his Dad is in the hospital and it might cheer him up a bit. No problem. It's a beautiful horse and those reasons are too.

Darren Hull who is putting together the Drift 100 winter adventure race in the Upper Green for this March, was skiing behind John and lost his grip. "I was a bit surprised at the pull," he said. "But now I've got these real grippy rubber gloves so I think I can hold on."

I went by the bar on wheels and asked the bartender where I could get a martini. "Not around here," he growled. "You can try New York City." I love it when people fall for my jokes.

Alexander Hatfield, a relative of the famous Hatfield's and McCoy's, was all splattered up with chocolate and I wondered if a McCoy had done that to him. "Nah, I was blowing bubbles and I guess I got on more than I could get off."

Klaire said hi and introduced me to her brother Karson who was wearing a fresh penguin hat. Klaire was wearing a fresh Sublette County coyote hat and was pleased that I had noticed.

Debbie Woicesjes (Wojo) said about 8 dozen volunteers had worked to get the whole weekend together.

Up at White Pine Ski Resort for the Cardboard Classic on Sunday, I found Grace and McKenzie in an odd looking green craft that looked a lot like a dill pickle. "No, said Grace. "It was supposed to be an eagle but it turned out to be a chicken." Sure enough, there was a beak on the pickle.

A six-pack of rather giddy folks dressed as bottles of Bud Lite beer said their craft was a joint effort between the Schambers, Blankenships and Swains. Let me know what you think of the shot I got of them coming down the ski hill.

I got a slight case of whiplash when caught sight of a bearded Daisy Duke out of the corner of my eye. "She" gave me a cute little Vanna White move and pointed at the boys in the big orange General Lee. One of the guys was twisting his moustache in a sinister manner so I decided to go talk to the 5 year olds flying a black helicopter.

I can't describe the race any better than my pictures can, so I'll leave you to it. I'm told the results of the various other competitions will also be up on the Main Street Pinedale website and Facebook soon.

Thanks to Dawn Ballou for sponsoring this story and thanks to all the folks who took the time to pose for photos and help embellish a few tall tales.

Terry Allen txpartisan@gmail.com

Related Links:
www.mainstreetpinedale.com Main Street Pinedale
Facebook page – Main Street Pinedale
www.whitepineski.com White Pine Ski Area

---
Spring 2018 Flood and Water Resources Outlook (posted 2/19/18)
National Weather Service - Riverton Wyoming
This Spring and early Summer 2018 flood outlook includes the Wind, Big Horn, Green, Powder, Sweetwater, Shoshone, and Upper Yellowstone River Basins. A small portion of the Snake and the Lower North Platte Basins is also used to make this runoff forecast. The outlook is from today through the end of June.

Many basins east of the continental divide receive up to 55 percent of their water year total for precipitation during the months of March through May. Accordingly, mountain snowpack can drastically change from late winter to late spring for basins east of the continental divide.

Wyoming generally does not see any significant mountain snowmelt runoff until early to middle May, with mountain snowmelt runoff peaking around early June. Therefore, at this time, it is way too early to make any long range prediction on & the magnitude of flooding due to mountain snowmelt runoff.

This outlook is based on various diverse hydrological factors such as snow water equivalents (SWEs) in the mountain snowpack, basin morphology (i.e. how basins respond to snowmelt), amount of biological factors (beetle kill, blight), low elevation snow depths, and likely temperature and precipitation trends into late spring/early summer.

Current water precipitation is averaging 90 to 100 percent of normal across Wyoming.

Mountain snowpack across Wyoming is 100 to 115 percent of average.

Wyoming carryover reservoir storages are 115 to 125 percent of average for February.

Above normal snowmelt streamflow volumes are expected across major drainages from central through northwestern Wyoming.

Additional information:

Other hydrological information for Wyoming can be found at the NOAA website: www.weather.gov/riw/local_hydrology

For the current Wyoming spring flood potential graphic, please refer to: www.weather.gov/images/riw/hydro/floodoutlook.png

For the current Wyoming water supply graphic, please refer to:
www.weather.gov/images/riw/hydro/watersupply.png

For the latest Wyoming average monthly precipitation by basin graphics, please refer to:
www.weather.gov/images/riw/hydro/wyomingprecip.png

For the latest monthly Wyoming hydrologic summary and graphics, please refer to: www.weather.gov/media/riw/hydro/hydro_report.pdf

For current and forecast Wyoming streamflows and/or river stages, please refer to: www.water.weather.gov/aphps2/index.php?wfo=riw
www.waterdata/usgs/gov/wy/nwis/rt

For Wyoming drought information, please refer to:
www.weather.gov/riw/drought

---
Business Directory
Click here for
Advertising Information