Draft version of 2015 STIP available on WYDOT website (posted 9/1/15)
Wyoming Department of Transportation
A draft of Wyoming Department of Transportation's "State Transportation Improvement Program" (STIP) for 2016 has been issued and is available for viewing and comment. The document is posted on the agency's website, www.dot.state.wy.us.

The STIP contains a listing of highway and bridge projects, and also airport improvement work, that WYDOT tentatively expects to let to contract during the upcoming fiscal year. The STIP is published annually and updates are issued quarterly.

The STIP document, in PDF format, can be accessed by clicking, in succession, the "Construction & Engineering" tab and then the line reading "STIP Project Listing."

Comments about the 2016 STIP should be directed to Tim McDowell, State Programming Engineer for WYDOT. Comments can be submitted by using the "Contact WYDOT" utility at the bottom of the website (select "Other" as topic) or via mail to 5300 Bishop Blvd., Cheyenne, WY 82009.

In addition to current year projects, the STIP includes a listing of planned transportation projects slated for future years, as well as a summary of pass-through funding for public transit programs throughout the state.

Highway projects are listed as either rural or urban, and are further broken down by functional classification; namely, Interstate, arterial, collector or local. The listings also note the general character of work, such as reconstruction, resurfacing, bridge replacement, etc.

WYDOT emphasizes that the STIP project listing is tentative and is revised in accordance with changes in funding levels and other issues which may arise during the advance project design phase.
---
Government launches 'Every Kid in a Park Pass' (posted 9/1/15)
Nation-wide free access pass for 4th graders and their families
Government launches 'Every Kid in a Park Pass'
As part of President Obama's commitment to protect our nation's unique outdoor spaces and ensure that every American has the opportunity to visit and enjoy them, the Obama Administration today (Tuesday, September 1, 2015) formally launched the new Every Kid in a Park program.

Starting today, fourth graders nationwide can visit the new Every Kid in a Park website to obtain a pass that provides free access to students and their families to all federally managed lands and waters – including national parks, forests, wildlife refuges and marine sanctuaries. The pass is valid for the 2015-2016 school year and grants free entry for fourth graders and three accompanying adults (or an entire car for drive-in parks) at more than 2,000 federally-managed sites.

"Every Kid in a Park is a chance for fourth graders from every background to be outside and get to know the lands and waters that belong to them, whether it's a national forest, a wildlife refuge, a marine sanctuary or a historic site in the center of a city," said Christy Goldfuss, Managing Director at the White House Council on Environmental Quality (CEQ). "By expanding their horizons and learning all the ways the outdoors can enrich their lives, this innovative program hopes to create greater awareness of the many benefits of our nation's public lands and waters."

Tomorrow, Goldfuss and U.S. Secretary of the Interior Sally Jewell will host the nation's first official 'Every Kid in a Park' event with fourth graders at Red Rock Canyon National Conservation Area outside Las Vegas, Nevada. Goldfuss and Jewell will hike with the students and distribute some of the first free passes to America's federal lands and waters.

Leading up to the 100th birthday of the National Park Service in 2016, President Obama announced the Every Kid in a Park initiative earlier this year as a call to action to get all children to experience America's unparalleled outdoors, rich history and culture. Today, more than 80 percent of American families live in urban areas, and many lack easy access to safe outdoor spaces. At the same time, youth spend more hours than ever in front of screens instead of outside.

By introducing fourth graders to public lands in their backyards and beyond at an early age, Every Kid in a Park is part of a multi-pronged approach to inspire the next generation to discover all that our nation's public lands and waters have to offer, including opportunities to be active, spend time with friends and family, and serve as living classrooms to build critical skills.

"America is blessed with the great outdoors, and through Every Kid in a Park, we're inviting every fourth grader and their families to enjoy our nation's unrivaled public lands and waters," said Secretary Jewell. "We want to make sure that every American has the opportunity to develop a lifelong connection to our nation's land, water and wildlife."

Fourth graders can log onto the website at www.everykidinapark.gov and complete a fun educational activity in order to obtain and print their paper pass. Students may also trade in their paper pass for a more durable pass at participating federal sites nationwide.

Educators and community leaders can access educational activities, field trip options, and the ability to print passes for their classrooms. Parents visiting the new website can find additional links for more information on planning trips to nearby public lands.

As an integral component of this effort, the National Park Foundation (NPF) – the congressionally chartered foundation of the National Park Service – will award Every Kid in a Park transportation grants, focusing on removing barriers for youth from underserved communities to get to their parks, public lands and waters. For more information, visit www.nationalparks.org.

The Every Kid in a Park program is designed to continue each year with the then-current group of fourth graders. After 12 years, every school-age child in America will have had an opportunity to visit their public lands and waters for free, inspiring the next generation to be stewards of our nation's shared natural and cultural heritage.

To further support getting youth outdoors, the President's 2016 Budget includes a total increased investment of $45 million for youth engagement programs throughout the Department of the Interior, with $20 million specifically provided to the National Park Service for youth activities, including bringing one million fourth-grade children from low-income areas to national parks. This increase will also fund dedicated youth coordinators to help enrich children and family learning experiences at parks and online.

The Every Kid in a Park program is an Administration-wide effort administered in partnership with the Department of the Interior, the Department of Agriculture, the Department of Education, U.S. Army Corps of Engineers, and the National Oceanic and Atmospheric Administration.

The program is part of an overall strategy by the Obama Administration to engage young people from all ages and all backgrounds with the great outdoors. This includes the 21st Century Conservation Service Corps, a bold national effort to put thousands of young people and veterans to work protecting, restoring and enhancing America's public lands and waters. In addition, First Lady Michelle Obama's Let's Move! Outside initiative is committed to getting millions of young people to play, learn, serve and work in America's great outdoors.

For more information, please visit www.everykidinapark.gov, and follow the program on Twitter @everykidinapark, on Facebook, on Instagram and Youtube.
---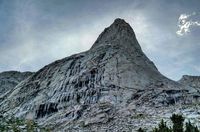 Pingora Peak, part of Cirque of the Tower in the southern Wind River Mountain Range, stands at 11,884 feet. Photo courtesy Andrew Masters.

2 Climbers killed in fall at Cirque of the Towers (posted 8/31/15)
Four rescue calls keep Tip Top Search and Rescue and Sheriff's Office deputies busy at end of August
Sublette County Sheriff's Office
(SUBLETTE COUNTY, WYOMING– Aug. 31) Sublette County Sheriff's Office deputies and members of Tip Top Search and Rescue were kept busy this past weekend with four calls coming in over a three-day period.

On (Thursday) August 27, TTSAR was contacted and asked to assist Fremont County with locating two missing teenage hikers who were overdue near the Little Sandy Lake trailhead. Both air and ground assets were requested to respond, but the missing hikers had returned before team members had left Pinedale.

On (Friday) August 28, multiple reports were called into SCSO Dispatch and the Pinedale B-T District office about an injured hiker around Island Lake needing assistance. The hiker was located by a B-T backcountry ranger and members of TTSAR responded and determined that the best evacuation would be by horse. Early on the morning of August 29, two members of the TTSAR horse team were able to meet up with the ranger and hiker and assist in getting him to the Pinedale Medical Clinic for evaluation.

Also on August 28, SCSO Dispatch received a call from a hiker in the Cirque of the Tower area who reported witnessing two climbers on Pingora Peak fall over 100 feet. TTSAR was requested to assist Fremont County with the incident, and a short-haul team, including an SCSO Deputy, was flown to the area where they were able to locate the reporting party and the climbers. Both climbers, identified as Jonathan Peter MacDonald, 23, of Lander and Scottsbluff, Neb., and Keith Murray Henderson, 57, of Cheyenne, were pronounced dead at the scene. Though the deaths are still under investigation, Fremont County Coroner Mark Stratmoen believes they are accidental. The Sublette County Sheriff's Office extends their condolences to the friends and families of Mr. MacDonald and Mr. Henderson.

On (Saturday) August 29, SCSO was notified of a 16-year-old who had been injured in a horse-related accident. The contract helicopter was used to evacuate the youth, who was then transported to the Pinedale Medical Clinic for further evaluation.

For more information on any of these incidents contact Sgt. Katherine A. Peterso, Administrative Assistant/ Public Information Office, Sublette County Sheriff's Office, PO Box 701, Pinedale, WY 82941, Phone 307-367-4378, kpeterson@subso.com.
---
Grizzly bear relocated from north of Pinedale for killing livestock (posted 9/1/15)
Wyoming Game & Fish
The Wyoming Game and Fish Department trapped and relocated an adult male grizzly bear (Saturday) August 29, 2015.

The bear was captured for killing livestock on a U.S. Forest Service grazing allotment north of Pinedale, Wyoming. In cooperation with the U.S. Fish and Wildlife Service and the Shoshone National Forest, the bear was relocated to the Five Mile Creek drainage approximately five miles from the east entrance of Yellowstone National Park within the North Fork of the Shoshone River drainage west of Cody. The release site is located in currently occupied grizzly bear habitat.

Grizzly bear relocation is a management tool afforded bear management personnel to minimize conflicts between humans and grizzlies. The decision to relocate and the selection of a relocation site is made taking into consideration the age, sex, and type of conflict the bear was involved in. Since grizzly bears are listed as "Threatened" under the Endangered Species Act, consultation with the U.S. Fish and Wildlife Service and the appropriate land management agency is also made to minimize the chance of future conflicts and maximize the survival potential of the relocated grizzlies. Bears are relocated in accordance with federal law and regulation. When selecting a relocation site, the department makes every consideration to minimize potential conflicts with livestock and people.

Bears can create conflicts after they have obtained food rewards. Game and Fish continues to stress the importance of keeping all attractants (food items, horse feeds, bird seed, and others) unavailable to bears. Reducing attractants reduces human-bear conflicts.
---
Yellowstone Park opens lottery for Non-commercially Guided Snowmobile Access Program (posted 9/1/15)
National Park Service – Yellowstone National Park
Applications will be accepted starting Tuesday, September 1, for those interested in obtaining a permit for a non-commercially guided snowmobile trip into Yellowstone National Park during the 2015-2016 winter season. A permit is required for all non-commercially guided snowmobile groups to enter the park.

Permits will be allocated through a lottery with applications being accepted online at www.recreation.gov through September 30, 2015. Successful lottery applicants will be notified in mid-October. After the conclusion of the lottery, any remaining or cancelled permits will be available on a first-come, first-serve basis through the same webpage starting in November and going through the end of the winter season. Trips can be up to three days in length, and permits cost $40 per day, with a $6 application fee.

The Non-commercially Guided Snowmobile Access Program was authorized in the 2013 final Winter Use Rule. The program allows one non-commercially guided group per day to enter Yellowstone from each of its four winter entrances. A maximum of five snowmobiles is permitted in each group and all snowmobiles must meet the park's New Best Available Technology (BAT) standard. A list of approved snowmobiles is available at www.nps.gov/yell/learn/management/newbatlist.htm.

Permit holders are considered non-commercial guides and must be at least 18 years old by the first day of the trip. All snowmobile operators in a non-commercially guided trip must possess a state-issued driver's license and have successfully completed the free online Yellowstone Snowmobile Education Certification program. Anyone can take the course to learn more about park rules and regulations that help visitors safely enjoy the unique experience of winter in Yellowstone while also protecting park resources. Go to www.provalenslearning.com/yellowstone-snowmobile-education-certificate.

The development of the Non-commercially Guided Snowmobile Access Program has had significant stakeholder involvement. In particular, the State of Wyoming, through the Governor's Office and the State Trails Program, has provided critical support for the development and maintenance of the required online snowmobile education course.

Additional details regarding the program, including specific rules and regulations in place for non-commercially guided trips, can be found at www.nps.gov/yell/parkmgmt/ngsap.htm or by contacting Alicia Murphy, Non-commercially Guided Snowmobile Access Program Coordinator, at alicia_murphy@nps.gov or 307-344-2627.

Related Links:
Yellowstone National Park
---
Hunters reminded to pick up stamps (posted 8/31/15)
Wyoming Game & Fish
Hunters are well aware of the necessity of having hunting licenses before going afield, but along with those licenses, certain stamps are also required. The following is a listing of the various stamps and permits applicable to Wyoming hunting:

Conservation Stamp - Required of all licensed hunters or anglers with several exceptions. It is not required of holders of daily fishing or hunting licenses. It is also not required of persons holding any Wyoming pioneer hunting or fishing license.

Pheasant Management Permit - Required of most pheasant hunters including youth who do not need a bird license and holders of the Pioneer Bird/Small Game license, who hunt areas wherever pheasants may be stocked from Wyoming Game and Fish Department bird farms. These areas include Game and Fish wildlife habitat management areas, numerous walk-in areas, Glendo State Park and all state lands in Sheridan and Johnson Counties. A complete listing or areas where the stamp is required is found on page 15 of the Upland Bird Regulations pamphlet. An exception is made for landowners and their immediate families who hunt pheasants on their lands enrolled in the walk-in program. An exception is also made for hunters who hunt walk-in areas in Bighorn, Fremont, Hot Springs, Park and Washakie counties where pheasants are not released by Game and Fish.

Elk Feedground Special Management Permit - This permit is required of all hunters who hunt elk in areas 70, 71, 75, and 77-98.

Archery License - Archers hunting in the archery preseason need an archery permit in most areas. The exception is for holders of Type 9 archery only licenses. Persons holding Type 9 licenses do not need a separate archery license.

Federal Migratory Bird Hunting Stamp (Duck Stamp) - Required of all waterfowl hunters 16-years-of-age and older to hunt ducks, geese and mergansers. (Not required for doves, sandhill cranes, coots, snipe, rails or crows)

Harvest Information Program Permit (HIP permit) - Required of all licensed hunters who hunt migratory game birds. The HIP permit is also applicable for holders of Pioneer and Lifetime hunting licenses. HIP permits are nontransferable to other states. A separate validation is required in each state where migratory birds are hunted.

ORV Permit - Must be displayed on ORV while operating ORVs on public lands and other designated roads, trails or areas. Permits may be obtained at Wyoming ORV dealers and the Wyoming State Trails Program at 307-777-6323. Additional information about Wyoming ORV use is found on the State Trails Program website http://wyotrails.state.wy.us/ORV/Permits.aspx.
---
Fall hunting seasons begin (posted 8/31/15)
Small game, mountain grouse, sharp-tailed grouse, dove seasons open Sept. 1
Wyoming Game & Fish
Even though many big game hunting seasons are still a few weeks to more than a month away, hunters can get the fall hunts started this week. Seasons open for a variety of small game and upland bird species on September 1.

Blue and ruffed grouse, often referred to as mountain grouse season opens Tuesday. Blue grouse are found in most mountain areas throughout the state on both Bureau of Land Management and national forest lands. Ruffed grouse are found in western Wyoming in the Shoshone, Bridger-Teton and Targhee National Forests. The season is long, ending November 30. Deer and elk hunters may want to make sure they have the correct licenses to take advantage of some ruffed grouse hunting while they are out in the field.

Sharptails may be hunted in the portion of Wyoming east of the Continental Divide. The lengthy season opens September 1 and runs through December 31. Best locations are Goshen, Platte and Laramie counties in the southeast portion of the state and Sheridan, Johnson, and Campbell counties in northeast Wyoming. Numerous walk-in areas are available for sharp-tailed grouse hunting and can be found on the Game and Fish website. https://wgfoapps.wyo.gov/plpwhmprogram/frmWalkinHuntingHome.aspx

Mourning doves are found throughout the state, and the quality of hunting is weather dependent. With the first cold snap, doves will head for warmer climes, but if the weather stays mild, dove hunters often have opportunities throughout much of September. Mourning dove hunters are reminded to have the federal Harvest Information Program permit (HIP permit) in their possession while hunting. The HIP permit is available free on the Game and Fish website -
https://wgfoapps.wyo.gov/HIPS/frmMenu.aspx. Dove hunters should be aware that Eurasian collared doves are common in much of Wyoming, especially in the eastern part of the state. Eurasian doves are an exotic species, are larger than mourning doves and can be identified by a black band on the neck and a squared tail. Since Eurasian doves are not listed as a Wyoming game bird, there is no closed season, no bag limit and no license is required.

Like mourning doves, small game animals are also found throughout much of the state. In Wyoming, animals legally classified as small game include cottontail rabbits, snowshoe hares and red, gray and fox squirrels. The small game season is long, opening September 1 and running through March 1.

License requirements for small game and birds vary with the age and residency of the hunters. Hunters 14 years and older are required to possess the proper small game or bird license. Resident youth under 14 do not need a license to hunt small game or birds and nonresident hunters under 14 years of age also do not need a license if hunting with a licensed adult and their bag limit is applied to and limited by the small game or game bird licenses held by the adult in his or her company. Youth under 14 can also hunt wild turkey, but a separate wild turkey license is required.
---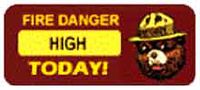 Fire Danger raised to HIGH

Fire Danger elevated to High (posted 8/26/15)
Bridger-Teton National Forest and Grand Teton National Park interagency news release
Teton Interagency fire managers have elevated the fire danger rating to High for the Bridger-Teton National Forest, Grand Teton National Park, and Teton Interagency Dispatch Area. The potential for fire activity has increased due to drying vegetation combined with higher temperatures, low humidity and brisk afternoon winds.

A high fire danger rating means that fires can start easily and spread quickly. When determining fire danger, fire managers use several indicators such as the moisture content of grasses, shrubs, and trees; projected weather conditions (including temperatures and possible wind events); the ability of fire to spread after ignition; and availability of firefighting resources across the country.

The regional fire preparedness level has been elevated to the highest level of five as of today, August 25, and the national preparedness level has been at five since August 13. There are five levels of preparedness typically used at a regional and national level. The National Multi-Agency Coordination Group establishes preparedness levels throughout the calendar year to help assure that firefighting resources are ready to respond to new fire incidents.

As the preparedness levels rise, more federal and state employees become available for fire mobilization if needed. However, higher preparedness levels also mean that nearly all fire resources are in use. The current level of fire preparedness has not occurred since 2007.

To help promote fire prevention efforts, campers and day users should never leave a fire unattended, and always have a shovel on hand and a water bucket ready for use. All campfires must be completely extinguished and cold to the touch before leaving a site.

Campers have abandoned 105 campfires on the Bridger-Teton National Forest and in Grand Teton National Park so far this summer. Campers should be mindful that they could be held liable for suppression costs if their campfire becomes a wildfire. Local residents and area visitors are reminded to "know the risks," exercise caution and practice heightened fire safety at all times.

To report a fire or smoke in Bridger-Teton National Forest or Grand Teton National Park, call the Teton Interagency Dispatch Center at 307-739-3630. For more fire information, please visit www.tetonfires.com.
---
Wolf News Roundup (posted 8/23/15)
Cat Urbigkit, Pinedale Online!
Washington
In northeastern Washington, a pack of wolves injured a 90-pound livestock guardian dog that was protecting its sheep flock, and state officials are struggling with the decision whether to classify the incident as a "depredation." The dog had severe injuries to its ears, neck and side. The dog is owned by a livestock producer who lost more than 200 sheep to wolves last year.

California Pups
The California Department of Fish & Wildlife (CDFW) has photographic evidence of five gray wolf pups and two adults in Northern California. After trail cameras recorded a lone canid in May and July, CDFW deployed additional cameras, one of which took multiple photos showing five pups, which appear to be a few months old and others showing individual adults. Because of the proximity to the original camera locations, it is likely the adult previously photographed in May and July is associated with the group of pups.

"This news is exciting for California," said Charlton H. Bonham, CDFW Director. "We knew wolves would eventually return home to the state and it appears now is the time." CDFW has designated this group (comprised of two adults and five pups) the Shasta Pack.

Wild wolves historically inhabited California, but were extirpated. Aside from these wolves and the famous wolf OR7 who entered California in December 2011, the last confirmed wolf in the state was in 1924. OR7 has not been in California for more than a year and is currently the breeding male of the Rogue Pack in southern Oregon. In June 2014, the California Fish and Game Commission voted to list gray wolves as endangered under the California Endangered Species Act. The gray wolf is also listed as endangered in California, under the Federal Endangered Species Act of 1973. Gray wolves that enter California are therefore protected by the ESA making it illegal to harass, harm, pursue, hunt, shoot, wound, kill, trap, capture or collect wolves, or to attempt to engage in any such conduct in California.

CDFW is completing a Draft Wolf Management Plan and will release it soon.

Black Hills
Two men driving in South Dakota's Black Hills were able to videotape a wolf roaming in the area, and although they've shared the video with state wildlife officials, they refuse to reveal the exact location where it was filmed.

Isle Royale
Isle Royale National Park's declining wolf population got a small boost with the recent confirmation of two wolf pups on the island. (Isle Royale is located in Michigan.) Even with the recent addition, the wolf population still numbers less than a dozen animals in this isolated population.

Wolves in Sweden
Sweden's population of about 400 wolves is subject to annual wolf hunts, with more than 40 wolves killed per year. That program is under scrutiny and criticism of the European Union, and rural residents are dealing with the same conflicts with wolves as residents in the Northern Rockies.

Switzerland
Meanwhile, officials in Switzerland have issued a kill order for one wolf that is blamed for the death of almost 40 sheep. Federal law in that country allows for the killing of any wolf that kills 25 sheep in one month, or 35 sheep in four consecutive months.

To learn more about any of these stories, check out the links below for full articles.

Related Links:
Washington Wolves Injure Guard Dog - Capital Press
California Pups - CDFW
Isle Royale wolves - Pups discovered
Black Hills - Rapid City Journal
Swedish Farmers & Wolves - New York Times
Switzerland Kill Order - Approval of order to kill wolf
Wolf Watch - by Cat Urbigkit

---
Non-native fish to be removed from Bare Creek in Wyoming Range (posted 8/18/15)
Bare Creek closed to all water activities from August 24 through August 28, 2015
Wyoming Game & Fish
Fish managers with the Wyoming Game and Fish Department will be removing non-native fish species from Bare Creek in the Wyoming Range west of Daniel August 24-28, 2015. As a result, managers are suggesting anglers and other outdoor enthusiasts help by planning to avoid Bare Creek during that week.

The Wyoming Game and Fish Department is in the first year of a project to restore the native Colorado River cutthroat trout in the Bare Creek watershed. Bare Creek is a tributary to South Cottonwood Creek in the upper Green River system that includes nine stream miles of currently occupied trout habitat.

Colorado River cutthroat trout populations will be restored within their historic range in Bare Creek, where they can persist and be managed without continual competition and hybridization from non-native fish species. The plan calls for the removal of non-native trout species within the upper headwaters of Bare Creek. Once non-natives have been removed, a self-sustaining Colorado River cutthroat trout population can be re-established through transplants from nearby sources.

Fish managers will be treating the entire length of Bare Creek at one time. This will be done using the piscicide rotenone. This chemical has been used successfully in many stream restoration efforts and has proven highly effective at removing unwanted fish species from aquatic systems with no harmful effects to other plants and animals.

The entire project will continue for the next year with plans to restock native Colorado River cutthroat trout, as well as other native fish species, by the year 2017.

As a reminder, Bare Creek should be considered closed to all water activities during the treatment period from August 24 through August 28. If you were planning to recreate in the Bare Creek watershed during this time, please consider an alternate location. A few suggestions would be to camp and fish in the nearby North Cottonwood or North Horse Creek drainages.

For more information about the Colorado River cutthroat trout restoration project on Bare Creek, or for suggestions of alternate recreational locations, please contact Wyoming Game and Fish Pinedale Fisheries Biologist Darren Rhea at 1-800-452-9107 or 307-367-4347.

---
Business Directory
Click here for
Advertising Information