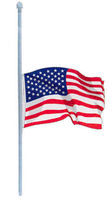 Flag half staff notice for May 30th, Memorial Day

Flag Half Staff notice: May, 30th for Memorial Day (posted 5/28/16)
Wyoming Governor Matthew Mead media release
Governor Matthew H. Mead, pursuant to his authority as Governor of Wyoming, has ordered both the U.S. and Wyoming flags be flown statewide at half-staff on Monday, May 30, 2016, until noon in honor of Memorial Day.

---
BLM firewood permits available (posted 5/28/16)
Bureau of Land Management
The Bureau of Land Management Kemmerer, Pinedale, Rawlins and Rock Springs field offices are offering firewood permits for purchase.

The Kemmerer Field Office (KFO) and Pinedale Field Office (PFO) began offering firewood permits on May 17, 2016. For both field offices, the cost is $5.00 per cord with a four-cord minimum and a 10-cord maximum. Permits are available for purchase at 430 North Highway 189, Kemmerer and 1625 West Pine Street, Pinedale, Wyoming. For more information, contact KFO at 307-828-4500 or PFO at 307-367-5300.

The Rawlins Field Office (RFO) will offer firewood permits beginning June 1, 2016. For RFO the permits cost $7.50 per cord with a two-cord minimum and a 10-cord maximum. RFO also has permits for the Lander Field Office Green Mountain area that cost $7.50 per cord with a three-cord minimum and a 10-cord maximum. Permits are available for purchase at 1300 North Third Street, Rawlins, Wyoming. Permits for Green Mountain are also available at the Lander Field Office at 1335 Main Street, Lander, Wyoming. For more information, contact RFO at 307-328-4200.

The Rock Springs Field Office (RSFO) began offering firewood permits on May 23, 2016 for designated wood cutting areas within the Wind River Front, Pine Mountain, Little Mountain and Prospect Mountain areas. The cost is $7.50 per cord with a two-cord minimum and a 10-cord maximum. Permits are available for purchase at 280 Highway 191 North, Rock Springs, Wyoming. For more information, contact RSFO at 307-352-0336.

At all four field offices, permits can be purchased between the hours of 7:45 a.m. and 4:30 p.m., Monday through Friday and maps of the designated cutting areas are available. Each field office will provide the expiration date for the permit.

Weather and road conditions may affect the start date of permit sales or the accessibility of some wood cutting areas.

Permits tags must be completed and attached to the load of wood before it is removed from the cutting areas.

---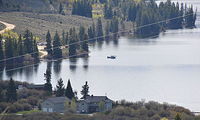 Sonar Search of Lake. Photo by Terry Allen.

After the Successful Manhunt (posted 5/23/16)
Terry Allen
May 18, 2016:
At the Incident Command Center set up at the Tip Top Search & Rescue building in Pinedale, Sgt. Katherine Petersen, the Sublette County Sheriff Office's Public Information Officer, allowed me into the Command Center to take a news photo as long as I agreed to crop out portions that had to remain confidential. Sgt. Petersen stated the search for the truck and weapons was concentrated in the Half Moon Lake area.

"Yesterday we concluded the visual inspection around the boat ramp areas of both Fremont and Half Moon Lakes," she said. "DCI (Department of Criminal Investigation) have several teams on foot in the Half Moon area looking for weapons. Finding the weapons is our top priority. There is presently no word on the gauge of weapons."

I took a drive up to Half Moon Lake and drove down the dirt road toward the lodge. I came upon a team of men who looked more like civilians. Some had more beard and longer hair than normal regulation. The clothes also looked very casual. They were bagging what looked like common roadside trash while one of them recorded what it was and the location on a recording device. I asked to take their picture and they were agreeable as long as a couple of them could turn their back to the camera. They referred all questions to DCI-Cheyenne. I asked if it was okay to drive to the boat dock for a photo and to the trail head for a photo and they agreed.

As I was coming back from the boat dock, Sgt. Petersen arrived and stated that with so many media arriving, it would be best if they closed access to eliminate the possibility of our presence compromising evidence collection.

I drove back to the Incident Command Center and spoke with Sgt. Petersen further. "There is no word on the gauge of the weapons we are looking for yet," Petersen said. "Utah Department of Public Safety is interested in sending their own equipment including a helicopter, a sonar boat and a dive team. At this point we don't know if there is a connection between the missing truck and the suspects."

At this point, I drove to all of the areas mentioned by law enforcement staff and took notes and photos.

At the end of the day I went back to Incident Command and spoke with Incident Commander, Colonel Mark Farrell.

"DCI is called anytime there is a death," he said. Right now, we don't have any evidence linking the two crimes. We have two specific goals at this point. 1. Finding the truck and a link to this area. 2. Finding the four weapons that were reported to be in Derek's possession. In all likelihood though, we'll never find the weapons. Some of the agencies involved in these searches are, The Lincoln County Sheriff's Office, The Centerville Police Department, The Utah Department of Public Safety, Utah Transit Authority Police, Wyoming Highway Patrol, The US Marshal's Service, The National Forest Service Law Enforcement, Bureau of Alcohol Tobacco and Firearms (ATF), The Federal Bureau of Investigations (FBI), Wyoming Division of Criminal Investigations (DCI), Sublette County Unified Fire, Sublette County EMS, Rock Springs Police Department, Green River Police Department, and the Sweetwater County Sheriff's Office."

May 19, 2016:
I arrived at the main entrance to Half Moon Lake. Way down below on the lake, the expected sonar boat from Utah had arrived and was searching in a grid pattern in the area of the boat dock. Wyoming Highway Patrol Trooper, J.B. Moeller was standing beside his vehicle just offside the pavement. "I'm just here to help with the roadblock and to make sure no one interferes," he said.

Sheriff Haskell and Sgt. Petersen arrived on the scene as did a number of Utah media vans full of cameramen, producers and commentators. I stood beside Sheriff Haskell and we spoke as he was fitted with his microphone for his interview. "We know the water is shallow and normally a truck wouldn't sink all the way," he said. "But, sometimes strange things happen. It could float out to deeper water and flip upside down. The bottom side of trucks is usually dark, so they would be hard to see from the surface." As we spoke, what looked like a civilian Beechcraft Bonanza began doing a circle around Half Moon Lake. "Yes, it is a civilian aircraft," Haskell said. "Right now, we don't see a need to block airspace."

The interview began. The producer asked the sheriff if he'd mind taking off his sunglasses, so he did, but squinted in the bright sun. Sgt. Petersen sat on the rail fence checking messages on her phone. The airplane moved about half a mile north and began a wide circle over the Kelly Park Nordic ski area.

Then the plane bank hard into a tight circle. About a minute later, Sgt. Petersen's phone rang. Coincidentally, the interview ended. Casually, Sgt. Petersen got down off the fence and thanked the news team and went to the side of the sheriff.

The sheriff then got in his vehicle rolled up his windows and got on the radio. Sgt. Petersen went to her vehicle and drove down the mountain. Trooper Moeller got into his patrol car and repositioned it on the highway leading uphill, where Kelly Park was located. I looked around at the four news teams and no one seemed to notice the activity. I walked over to Trooper Moeller asked if they had just found the truck. "I don't know," he said. "I've just been ordered to restrict traffic uphill."

Five or ten minutes later, vehicles loaded with men came up the dirt road out of Half Moon and roared up the mountain toward Kelly Park. A minute later, a truck pulling the sonar boat also drove up the hill. A few minutes after, a Utah DPS helicopter arrived over the Kelly Park area. I looked at Trooper Moeller and asked him if they found the truck. "I'm seeing the same things you see, and I don't know any more than you do," he said.

For a while we just baked in the sun. Eventually, the news teams began to get information from their stations and they shared it among themselves in quiet huddles. Finally, a KSL news helicopter flew into the Kelly Park air space. They hovered over one spot for quite some time. They then flew to a rocky area across from the road block. A young KSL man ran through the forest and collected the video tape. Another young KSL staff person tried to get it from him, but he dodged her and delivered it triumphantly to the van where it was uploaded and sent by satellite to Utah.

Now the word was out. KSL had put it on the air. We looked at it live on our phones. There was the truck in an Aspen grove. A tow truck roared uphill. A truck and flatbed followed. I expected they would load it quickly and we'd get the photo of the truck we all wanted.

Instead, we baked in the sun for hours. Trooper Call relieved Trooper Moeller and then Trooper Huffman relieved Trooper Call. In between, we talked hunting, fishing, high speed car chases, arrests, justice, horses, investigation procedures, bad cop stories and heroic cop stories.

Then on a ridge on the south side of Kelly Park a mile or two away, an old truck worked its way down a ridge toward us. It was an old wood cutter in an old pick up. I ran over to him as he came to the checkpoint and asked him if he was the one who spotted the truck. "Nope." Was all he said and drove on down the mountain.

3:30 PM:
All the vehicles that went up the hill started coming down the hill in a big convoy. Search and Rescue, mysterious looking men is stealthy looking vehicles, unofficial looking official vehicles, the truck pulling the sonar boat and finally, The Truck. It was almost fully covered in a tarp. It didn't slow down as it came through the checkpoint. An anonymous official said it was going into an FBI holding center.

Trooper Huffman got in his vehicle and drove back to town. The media people packed up and went back to town. I got in my truck and drove up the mountain to Kelly Park. No one was on guard. I know Kelly Park and I felt I had a good idea where that KSL helicopter had been hovering. The heavy tracks in the dirt and muddy road helped. I put it into four-wheel drive and drove right to the spot where all the tracks ended. I got out and took a few photos. I stayed on the wheel and traffic areas. I did no personal exploration. I stood in the aspens and a Wyoming Sage Grouse joined me and we looked at each other. I thought about the guys who had ditched the truck. The father had walked out and gave himself up and the son walked out and gave himself up about a day later.

I went down to the Incident Command and spoke with Wes Johnston. "No, we haven't found the weapons yet," he said. I asked him if the suspects were talking. "No," he said. "They aren't helping as much as we'd like. They have not been very forthcoming. They have lawyered up and we can only speak to them in the presence of their attorneys," he said. At that point, I asked him if he had turned the heat down in their cell to help persuade them. "Look," he said sternly. "We have something in this country called the Constitution. I just hate all that Hollywood kind of stuff. We don't like it when a few cops act badly. It reflects poorly on the whole profession. No, we don't mess with their heat. We just feed them."

As of this moment, the weapons have not been found. The suspects are in jail in Utah.

Sgt. Katherine Petersen: "We do not have an active search for weapons because it would be a bit like searching for a needle in a haystack at this point. Anyone who comes across anything suspicious in those areas around Fremont, Half Moon, or the CCC ponds are asked to call LE immediately and not touch anything. That's all we have for now. Since FBI, DCI and Lincoln County took over, we're pretty much back to business as usual."

Special note:
I am a big advocate of the public's right to know. However, I think the public would rather have a successful investigation than to risk not getting a conviction because me or someone else had a slip of the tongue. I have left out some names, places and conversations that took place. Once in a while I don't know if something is off the record or not, so if I think it better not to say something, I'm not going to. I stay a respectful distance away from officers when they are on the phone or having conversations with other officers. First, because it is just the right thing to do and second, because I think it helps the relationship. I'm not going to mention the owner of the plane. I'm not going to pin point the location of the truck just in case investigators need to go back for a further search. I appreciate the kindness and the access given to me by all the agencies I had contact with.

Click on this link for more pictures: After the Successful Manhunt (30 photos)

---
SCRHCD Board approves proposed budget, changes to services ahead (posted 5/22/16)
Suspending Saturday hours, closing after-hours ER in Marbleton, salary reductions
Sublette County Rural Health Care Board
Effective May 21, 2016, the Sublette County Rural Health Care District (RHCD) will begin initiatives to "right size" health care services provided in Sublette County. These initiatives come on the heels of an anticipated 46% reduction in tax revenue equating to an estimated $3.5 million for this coming budget year. Additional loss of tax revenue is anticipated for the 2017 budget year as well.

Over the past three years the RHCD has been successful in reducing a budgeted deficit of nearly $1.8 million to less than $300,000.00 for this past 2015-2016 fiscal year. The reductions in expenditures have consisted of adjustments to employee benefits including the employee share of contribution to the Wyoming Retirement System, a reduction of paid time off, position elimination per attrition, pay wage adjustments per attrition including significant wage adjustments to the health care administrator, lab director and EMS director salaries, changes in clinical and EMS schedules to prevent overtime and changes of purchasing group for supplies and equipment. At the same time, the RHCD has worked to increase revenue through additional services including a full array of lab tests, ultrasound services, and specialty providers renting clinic space.

"The employees of the District are to be commended not only for the excellent care they provide day in and day out, but for the work they have done in being fiscally responsible. Not only has the volume of patients using the clinics for routine and urgent care increased but we have done it without adding expenses. We were on track to balance our budget and then the bottom dropped out of the tax revenue that has supported the current system of care that includes two clinics and two after-hours Emergency Departments,"states Malenda Hoelscher, Health Care Administrator.

Over the past several months, the RHCD has solicited "best practice" for delivery of rural health care in our region from surrounding health care partners including Star Valley Medical Center- Afton WY, St John's Medical Center-Jackson WY, Eastern Idaho Regional Medical Center- Idaho Falls ID, Teton Valley Health Care- Driggs ID as well as the Wyoming Hospital Association. This information coupled with an extensive review of the RHCD's historical and current patient numbers, including where and when those patients visit the RHCD and the associated expenditure and revenue with the service provided, was the basis for the decision of upcoming changes. The goal of these changes is to assure the long term financial stability of the RHCD and ensure that the community has the highest quality of health care it can afford while providing a work environment that attracts and retains high caliber staff. In addition, a recent financial review of operations completed by Eide Bailly at the request of the County Commissioners affirms the direction of these changes. This report was released to the public earlier this week and is available on the County website.

One of the changes in service will be effective May 21, 2016. Saturday clinic hours in the Marbleton-Big Piney and Pinedale Clinics will be suspended. Both clinics will continue to operate their regular business hours of 8:00 AM – 5:00 PM, Monday through Friday.

Hoelscher indicates that "while the mission of the District is to provide accessible, progressive and patient-focused care… the current volume of urgent care patients seen on Saturday mornings and the cost related to provide that service simply don't add up. The suspension of the Saturday Clinics is indefinite. The District will continue to provide the community with an after-hours answering service for the management of urgent care while all emergent care should continue to utilize 911."

Another significant change to the delivery of health care in Sublette County comes with a reduction of approximately $1.1 million in expenditures primarily related to personnel and equipment costs associated with two 24/7/365 emergency departments less than 35 miles apart.

Effective June 1st, the SCRHCD will have one Emergency Department (ED) in the county located at the Pinedale Clinic responding to after-hours emergencies. Both clinics will continue to provide emergency care during clinic hours. Both clinics will continue to have full teams of EMS responders 24/7/365. The decision to suspend the after-hours ER Department in Marbleton was based on historical and current utilization of that service. The Pinedale Clinic ED generally sees twice the volume of patients as the Marbleton Clinic ED. In addition, the Pinedale Clinic also houses the RHCD's only CT scanner and fast scan ultrasound capability, both considered mainstays for diagnostics in rural settings. A paramedic-led rapid response system is in place in Marbleton to facilitate treatment and transport of critical and time sensitive cases of heart attack, stroke or trauma to the most appropriate facility as is the current protocol.

"The SCRHCD Board is keenly aware that health care in Sublette County cannot continue as it has and remain financially viable and sustainable. The decisions made have been difficult at best but have been done in a methodical manner taking into account numerous factors including patient volume, staffing models and best practices around us. It is the goal that the District continues to offer excellent patient care each and every day," states Laura Clark, Chairman of the Board.

With the strategic goal of reducing expenditures for the upcoming year, the RHCD will be making significant adjustments to the employee benefits of the Health Care Administrator as well as implementing an 11% salary reduction for the CFO. Additionally, the position of the IT Director will be reduced to a part time position. The RHCD will also be discontinuing retention bonuses and automatic annual salary adjustments for contracted employees. There will be a 10-12 position reduction in the work force between the two clinics and pay reductions reflective of the loss of call pay due to reduction of call hours. Other significant budgetary impacts include the RHCD electing to increase the rent fee of specialty providers and services that utilize clinic space as well as opting to not purchase a new CT scanner. These changes along with the previously stated changes to service will result in the RHCD moving from a more than $3 million deficit to just over a $1 million deficit for the coming year. The RHCD currently has approximately $9 million in reserves.

Hoelscher shares that "Unfortunately, as the RHCD continues to work at our bottom line, there are things that can't be changed… these include RHCD reimbursement from Medicare, Medicaid and commercial insurances, cost of service contracts to maintain critical equipment, cost of critical equipment replacement, cost of recruitment of medical providers, salaries to retain critical positions and cost of maintenance of an electronic medical record system which is mandated by the federal government. Every day we are reminded that nothing in or associated with health care is cheap."

A proposed overall budget of approximately $8.7 million was approved at the RHCD Board meeting on May 18, 2016 with a 3-1 vote. Scott Scherbel was absent due to a meeting in Cody in which he and Hoelscher met with Pat Davis, Lead Engineer, and Laura Hudspeth, Director of Licensing and Survey for the WY Department of Health. Hoelscher and Scherbel received confirmation that the predesign of the CAH and the functional program that outlines the operation of hospital services in both the Pinedale and Marbleton clinics is ready for final approval. This final approval by the Dept. of Health will occur once authorization to move forward and funding have been solidified and the final architectural drawing by an engineer have been completed.

The RHCD has been aggressively committed to seeking Critical Access Hospital designation since August 2014. This change of designation would enhance revenue substantially through cost-based reimbursement for not only current services being provided, but the additional services a small general hospital offers including in-patient care, swing bed care and observation care. Currently, about 30% of the transfers out of the RHCD emergency departments would be eligible for this level of care. The RHCD is currently awaiting a "green light" from the County Commissioners to make the required physical changes to the clinic structures. At this time, the County owns the buildings in which the RHCD operates clinic services with the RHCD paying $100,000.00 annually for rent. Per the financial proforma completed by Eide Bailly earlier this year it is anticipated that without the CAH designation, the RHCD is losing about $1 million each quarter in potential revenue from federal monies, specifically Medicare. Sixteen other communities in Wyoming have benefited from these monies but more importantly, have brought critical services to their rural communities while enhancing the economics of their "main streets".

Hoelscher adds that "In the ever-changing world of health care, it would be irresponsible to promise that health care in Sublette County will not change or that we will revert back to previous levels of service down the road. But with that said, it remains our goal that the CAH and the additional revenue will allow us to reinstate the ER services in the Marbleton Clinic."

Additional budget information can be found on the Rural Health Care District website at: www.sublettehealthcare.com/financial.

---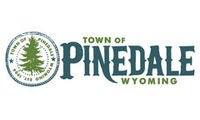 Town of Pinedale update: Summer (posted 5/21/16)
Construction season, mowing, chipseal, flower planting
town of Pinedale
Summer is upon us, nearly, and with it comes the construction season. We know that construction on roads and sidewalks is inconvenient. Please rest assured that we are doing the best we can to mitigate the impact on local residents and businesses. There is a weekly public meeting to discuss project timelines and details that everyone is welcome to attend. For more information on the meetings, or on the projects themselves, please visit www.townofpinedale.us. We know it is hard to appreciate the construction but having safe water, sewer, and sidewalks is important to the health and safety of Pinedale.

Town staff is geared up and ready to make our town as attractive as it can be, as well as making it safe. We are already mowing, pruning and planting. Soon, we will be doing chip seal and pothole filling on our streets. We will be doing a quadrant of chip seal as soon as we get some good hot weather.

That said, we need your help too. As residents and users of our public spaces, you see a lot of the town. You may see something in need of attention that we missed. So if you notice an area of parks that you think needs some maintenance, or even if you see a pothole you think should be filled, please let us know about it. It is easy to miss something, so we are counting on you to be on the lookout. When you do come upon something that needs attention, just call Town Hall at 307-367-4136 and we'll get a work order started.

Additionally, the Sage and Snow Garden Club will be setting out barrels of flowers soon. Please do your best to keep these lovely additions to Pine Street free of debris and trash. Last year most of the local businesses put out extra flowers and decorations. I think the whole town appreciates this extra effort—so thank you to do those who go the extra mile in making Pine Street so special!

With summer so short and so full of activities, it is up to all of us to keep our town as beautiful and safe as we can.
---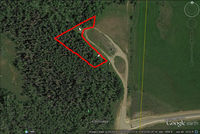 Horse Creek winter trailhead parking expansion planned

Big Piney Ranger District plans expanded parking area for winter recreationists (posted 5/21/16)
Horse Creek parking lot and winter trailhead in the Wyoming Range
Bridger-Teton National Forest
The Big Piney Ranger District, of the Bridger-Teton National Forest, was awarded a Wyoming Recreational Trails Program (RTP) Grant, from the Wyoming State Parks, Historic Sites and Trails (SPHST) Office, for the expansion and improvement of the Horse Creek parking lot and winter trailhead, located west of Daniel, Wyoming.

This project will expand the existing parking lot by approximately 1-acre and will reduce resource impacts by providing a hardened parking area that will reduce sediment run of and resource damage during the early winter and late spring. Additionally, new restroom and information facilities will be installed at the site.

Horse Creek winter trailhead is a premiere snowmobile destination and has been recognized in top-ranked winter sports publications. In addition to a tremendous amount of local use, the area sees visitors from across the United States in search of quality snow and technical terrain each winter. Use has rapidly outgrown the existing facility and as a result of the insufficient parking area, users have been forced to park on the highway shoulder off Forest Service land in the highway right of way, which results in access and safety issues.

The Big Piney Ranger District would like to thank "Without the partnership and support of the Wyoming State Trails Program, this project would not have been possible," said Big Piney District Ranger Don Kranendonk. "And truly, without the local community and snowmobile clubs lending their support and commitment to this project throughout the years, we would have never been successful in obtaining this grant," he said.

The Big Piney Ranger District is anticipating the project to be completed prior to December 2016. RTP Grants are administered through the Federal Highway Administration and are derived from federal gas taxes paid on fuel used in off-highway vehicles. Awards are based on an 80% federal share with a 20% local match required.

---
Pinedale Aquatic Center restructures due to reduction in revenue (posted 5/20/16)
Closing on Sundays, reducing services, staff layoffs, wage freezes, reducing employee benefits
Pinedale Aquatic Center media release
(May 19, 2016) - Prompted by a significant reduction in projected PAC revenues for fiscal year 2016-2017, the Joint Powers Board has directed a re-structuring of the Pinedale Aquatic Center. PAC is funded primarily via a Recreation Mill levied by SCSD#1. PAC anticipates a revenue shortfall of approximately $1 million dollars.

As a result of the re-structure, the following actions were taken:
- PAC will be CLOSED on Sundays, beginning June 19th.
- Sections of the facility will not be open for public use for periods of time, e.g., specific day-time pool closures, and/or only one pool open at a time, as well as belay staff available on a more limited basis for the climbing wall. This will begin July 1, 2016.
- All Staff salary and wage step schedules were frozen and decreased by 5%. Additionally, wages for most part-time positions were reduced significantly, up to 20%. This begins July 1, 2016.
- Employees eligible for health and dental benefits will have those benefits reduced from family rate coverage to single rate coverage. This begins July 1, 2016.
- Five full-time positions were eliminated at PAC, and departments were consolidated. This resulted in lay-offs, and employees moving from full-time status to part-time status without benefits. Lay-offs have taken place and status changes begin July 1, 2016.
- PAC will close one hour earlier Mon. - Fri. for the fall/winter/spring hours, beginning August 29th (8pm instead of 9pm). This will be in addition to the Sunday closure.

The summer 2016 schedule will be as anticipated, including great programs, activities and events for all ages. Remember that our summer hours are: Mon.-Fri. from 5am - 7pm, and Sat. from 10am - 6pm, beginning June 13th. To the best of our ability, the Staff at PAC will continue to provide this community with the recreational opportunities it has come to count on and enjoy. We ask for your continued support and utilization of PAC now and far into the future. Find our latest Activity Guide online at: www.pinedaleaquatic.com. We will post all of our updates on hours and activities there.

JJ HUNTLEY---PAC Director
---
Sublette County Sheriff's Office issue advisory in Harrison case (posted 5/20/16)
Sublette County Sheriff's Office
(Pinedale, Wyoming - May 20, 2016, 4:56PM) The Sublette County Sheriff's Office issued an advisory on Friday concerning weapons being searched for in the Harrison case near Half Moon Lake.

Flint Harrison, 51, and his son, 22-year-old Dereck James Harrison, were recently taken into custody in the Half Moon Lake area in Sublette County after an intensive manhunt stemming from a Utah case involving the kidnaping of a Centerville, Utah, woman and her four daughters.

On Thursday, in the mountainous Half Moon Lake area about 7 ½ miles northeast of Pinedale, law enforcement officials located the white Utah Transit Authority pickup used by UTA employee Kay Ricks, who was reported missing from the Salt Lake City, Utah, area on May 12.

The body of Ricks, 63, was found in neighboring Lincoln County on May 17. His death is being investigated as a homicide by the Lincoln County Sheriff's Office and Wyoming Division of Criminal Investigations.

Sublette County Sheriff Stephen Haskell said today that several firearms and knives believed to have been in the Harrisons' possession while they were at large in Sublette County remain unaccounted for and may still be in the area around Half Moon Lake.

"It is extremely important that if anyone encounters any firearms, knives or unattended camping equipment in the area that they not disturb or even touch them, but to note their location and notify the Sheriff's Office immediately," Haskell said. "Once we are called, we will have deputies secure the scene right away to collect them properly and preserve them as evidence."

The two Harrisons were transported to Davis County, Utah, on Thursday, to face charges in the Centerville case, as the investigation continues.

---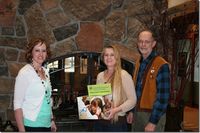 Pinedale Lion Dan Jones picks up recycled eye glasses from Rocky Mountain Bank. With him are RMB Market Manager, Bev Wright (center) and Tera Adams Customer Service Manager. Bev says that several eyeglass donations have been dropped off at Rocky Mountain Bank throughout the past year. "We would like to express our gratitude to those that made a donation and would encourage the community to continue to support the Pinedale Lions Club."

Vision not Sight that makes the difference (posted 5/18/16)
Pinedale Lions Club
Over the last few months, many will have heard of friends and acquaintances who have lost their jobs as work in the oil field began to up. When times are tough, and there doesn't seem to be sufficient funds to go around, it is often the local 501©3 organizations who can help with grants for requests which meet the mission of the organization. The Pinedale Lions Club has a vision program to assist the local needs.

Pinedale Lions Club encourages people in need of financial assistance for new eye glasses to contact the Department of Family Services DFS (111 N Sublette, Pinedale or Tel 307 367 4124). DFS assist in the screening before sending qualified applicants to local Lion Dan Jones to co-ordinate the financial side. "About 10% of our project funds go towards helping with vision requests" says Dan "but that figure can rise and fall with the demand". Recipients of a Lions Club vision grant are kept confidential and Lion Dan does not disclose names to even the club members.

As well as financial help, the Pinedale Lions Club has eye glass collection boxes in seven locations in Pinedale. Rather than allow unwanted eye glasses to sit in a drawer and gather dust, everyone can help by recycling old prescription, reading and sunglasses with plastic or metal frames. Children's glasses are especially needed. In Pinedale, Lions Recycle for Sight boxes can be found at Rocky Mountain Bank, Rendezvous Pointe, Bank of Sublette County, Public Health Nurse's Office (up next to the Medical Clinic), Rebel Auto, Clear Creek Vision (the local eye doctor) and The Food Basket. Any business willing to display a collection box should contact the Pinedale Lions Club Tel 307 360 6272.

Annually Lion Dan collects and sends up to 400 glasses from Sublette County to the regional Lions Eyeglass Recycling Centers (LERCs) in California. LERC volunteers clean, sort by prescription strength and package the glasses. Most of the recycled glasses are distributed to people in need in developing countries where they will have the greatest impact.

The Lions have gained worldwide recognition for their work to improve sight and prevent blindness. The vision program encompasses Lions Eye Banks that provide eye tissue for sight-saving surgeries for those at risk of losing their vision as well as surgical & research hospitals. The closest facilities are the Rocky Mountain Lions Eye Bank and Rocky Mountain Lions Eye Institute in Denver, CO with millions of dollars raised annually throughout the Lions Club volunteer organization to support their work.

For the visually impaired, the Lions of Wyoming own the Allen H. Stewart Lions Camp on Casper Mountain.Lions statewide support an annual week-long nationally certified School for the Blind each July which teaches children life skills in a fun outdoor environment.

Said Helen Keller "The only thing worse than being blind is having sight and no vision." The vision of the Pinedale Lions Club is to continue provide financial help for vision-related requests and to seek help from our community in the drive to change someone's life through a pair of recycled glasses.

Come out and help with the Pinedale community clean up this Saturday May 21. Volunteers should meet at Rendezvous Pointe at 8am and then return around 11:30am to enjoy a BBQ meal provided by the Pinedale Lions Club.
---
Business Directory
Click here for
Advertising Information