Ultra Petroleum files for bankruptcy (posted 5/2/16)
Ultra Petroleum, Wyoming's largest natural gas company, filed for bankruptcy late Friday in the Southern District of Texas. Ultra has long been one of the most productive drillers in the Pinedale Anticline. Click on this link for more on this story from the Casper Star-Tribune: Ultra Petroleum files for bankruptcy

---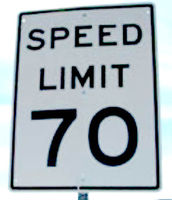 Many highways in Wyoming will have new 70mph speed limits.

Move to 70 mph speed limit proceeding ahead of schedule (posted 5/2/16)
Wyoming Department of Transportation
More than 2,700 miles of highway were signed for the new statutory 70 mph speed limit by the end of April, and WYDOT expects to have signs changed on another 700 miles of highway by the end of May.

Chief Engineer Gregg Fredrick said installing the 70 mph overlays on speed limit signs progressed faster than expected in April, with crews finishing work on more sections than originally planned for April and May combined.

The new speed limit set by the 2016 Legislature will go into effect on all non-interstate highways except those through urban and residential areas, school zones and anywhere special hazards exist.

WYDOT's 511 Travel Information Service map is being updated to show each new 70 mph highway section as sign installation is completed.

During the transition to the new limit, drivers are cautioned to continue to comply with the posted speed limit on all highways.

WYDOT Director Bill Panos emphasized the department is keeping safety in mind as it complies with the new law.

"We're confident that the segments that we are posting from 65 to 70 are safe, but we need to keep a close eye on them," Panos said. "If we find that for some reason the speed limit needs to be lowered back down we will do that. We will make sure that it's as safe as possible for the driving public."

Highway sections expected to move to the 70 mph limit in May include:
• WYO 130 Laramie to Centennial, 25 miles;
• WYO 230 Laramie to Woods Landing, 24 miles;
• WYO 13 from Rock River to Arlington, 17 miles;
• WYO 71 south of Rawlins, 9 miles;
• WYO 72 from Hanna to Elk Mountain, 10 miles;
• US 26 from the I-25 Dwyer Junction Interchange to the Nebraska border, 41 miles;
• US 85 between Lingle and Torrington, 4 miles;
• WYO 319 north of Glendo, 9 miles;
• WYO 95 between the I-25 Deer Creek Interchange and Glenrock, 1 mile;
• WYO 93 north of Douglas, 26 miles;
• US 20-26-87 between the I-25 East Glenrock Interchange and Casper, 20 miles;
• WYO 151 from US 85 to the Nebraska border, 9 miles;
• WYO 270 between Manville and US 85, 19 miles;
• WYO 313 from Chugwater to Hawk Springs, 30 miles;
• WYO 320 from Wheatland to US 26, 12 miles:
• I-80 BUS from Lyman east to I-80, 6 miles;
• I-80 Service Road between the Rock Springs Airport and Point of Rocks, 20 miles;
• WYO 89 from Evanston north to the Utah border, 18 miles;
• WYO 89 from Sage Junction to the Utah border, 4 miles;
• WYO 150 from Evanston south to the Utah border, 18 miles;
• WYO 232 northeast from Cokeville, 12 miles;
• WYO 235 from US 189 to Calpet, 4 miles;
• WYO 240 from Opal to US 189, 12 miles;
• WYO 351 between US 191 and US 189 northeast of Big Piney, 15 miles;
• WYO 352 north from US 191, 18 miles;
• WYO 370 from Airport Road to WYO 430, 5 miles;
• WYO 374 Cedar Mountain Road to US 30, and Little America to James Town, 23 miles;
• WYO 412 between the I-80 Carter-Mountain View Interchange and US 189, 22 miles;
• WYO 430 from Rock Springs to the Colorado border, 55 miles;
• US 87 between WYO 335 and Banner, 8 miles;
• WYO 336 between Sheridan to Wyarno, 10 miles;
• WYO 338 from Sheridan to the Montana border, 13 miles;
• WYO 345 from the Montana border to the I-90 Acme Interchange, 19 miles; and
• US 85 from about 3 miles north of Newcastle to Four Corners.

---
Wolf hunting reduces sightings (posted 4/30/16)
Is that a bad thing?
Cat Urbigkit, Pinedale Online!
Visitors to national parks are half as likely to see wolves in their natural habitat when wolf hunting is permitted just outside park boundaries. That's the main finding of a paper co-authored by the University of Washington appearing April 28 in the journal PLOS ONE. Its authors examined wolf harvest and sightings data from two national parks — Denali National Park and Preserve in Alaska and Yellowstone National Park that straddles Wyoming, Montana and Idaho — and found visitors were twice as likely to see a wolf when hunting wasn't permitted adjacent to the parks. The research was funded by the National Park Service.

The authors note: "The opportunity to view free ranging large carnivores is an important driver for wildlife tourism worldwide, and the National Park Service mission in particular emphasizes the preservation of wildlife resources in their natural condition for the non-consumptive benefit and enjoyment of the public. Thus, factors that influence sightings of iconic wildlife such as wolves are important to track and understand. Here, we have shown that consumptive use of a large carnivore reduces opportunities for non-consumptive use in protected areas. Limiting harvest of large carnivores along the boundaries of protected areas may provide a strategy to increase sighting opportunities for visitors to these areas and the associated economic benefits to adjacent communities."

It's expected that animal advocates will suggest that the paper provides reason to prohibit hunting near the borders of Yellowstone National Park. But consider these factors:

• "Although harvest of wolves in our study systems may not have occurred at rates generally considered sufficient to reduce population size, harvest may influence sightings through other mechanisms. Behavioral avoidance of humans by wolves following exposure to hunting or trapping could reduce sightings."

• "Selection for behavioral traits may be another method by which harvest of carnivores could decrease sightings. In our study systems, a small number of wolves may contribute to a large number of wolf sighting opportunities. Harvest can selectively target 'bold' individuals, thereby removing bold individuals and over time, the trait, from populations."

The reality is that some wolves become habituated to humans in Yellowstone National Park with its annual visitation nearing 4 million people, and where there are severe restrictions on human development and activities. It is inevitable that some of these habituated wolves will leave the protection of the park and enter the human-dominated world.

Yellowstone National Park has its own management plan for habituated wolves, with its first two objectives of maintaining a wild population of wolves, and to prevent the development of habituated wolves. The plan states: "Almost all of the wolves that have shown aggression towards humans have lost their wildness by being repeatedly exposed to humans and losing their fear as a consequence."

The plan also notes: "Second to habituation, humans who act in a non-threatening manner appear to be a key factor in wolf aggression towards people."

Wolf biologist Diane Boyd authored a compelling essay on the challenges of wolf habituation to humans, noting: "The common factor among nearly all reported wolf attacks was that wolves had become increasingly bold around humans (perhaps because of food scarcity, or possibly as a new strategy to exploit resources brought by humans into wilderness areas). North American wolves involved in recent attacks were repeatedly seen stealing articles of clothing, gear, exploring campsites, and sometimes obtaining food items—behaviors nearly identical to those reported by early frontiersmen. The wolves of Algonquin and Vargas Island exhibited bold behavior for weeks or months before the attacks occurred. Therefore, those injuries would probably have been preventable if humans had perceived the wolf as a wild predator rather than a thrilling campsite visitor."

The selected removal of "bold" predators has been a mainstay of modern large carnivore management within Yellowstone National Park and outside the park's boundaries. The human-habituation of both wolves and grizzly bears inside Yellowstone and Grand Teton national parks has caused controversy when these animals leave the park where the rules are different, as are land uses. Outside the park boundaries, state wildlife officials must deal with the variety of land uses and humans that share the same range with these wild predators – far outside park boundaries.

It's up to the reader to interpret whether the decrease in potential wolf viewing inside the park because of hunting that occurs outside the park is a positive or negative for humans and/or wolves. Perhaps the question can be framed in this way: Is the purpose of the park's wolf population to have a complete ecosystem, or to provide for human entertainment?

Related Links:
University of Washington Press release on study
PLOS ONE Read the paper here.
Wolf Habituation Essay by Diane Boyd
Yellowstone National Park Management of Habituated Wolves
Wolf Watch by Cat Urbigkit, Pinedale Online!

---
Washington considers wolf compensation (posted 4/30/16)
Cat Urbigkit, Pinedale Online!
The Capital Press reports that Washington wildlife officials are contemplating a policy on lethal control of depredating wolves. One idea is to provide higher compensation for ranchers who exhaust non-lethal preventative measures. That compensation could be as high as five times the market value of confirmed cattle killed by wolves.

The state's current policy is to authorize lethal control after four depredation events, but only when further depredations are anticipated, and when preventative measures have been exhausted. For ranchers undertaking preventative measures, lethal control of wolves could be approved after three depredations.

Although wolves in the eastern third of Washington were removed from federal protection of the Endangered Species Act, while wolves in the western two-thirds of the state remain under federal protection. But all wolves in the state are classified as an endangered species under state law.

Recognizing that all kills are often found when wolves kill livestock, Wyoming has instituted a compensation program that includes a formula to help compensate for these unconfirmed losses of livestock due to wolves. For areas determined to have terrain, topography and vegetative cover that influence the ability to find missing calves and sheep due to wolf depredation, and where wolf depredation has been confirmed, Wyoming will provide compensation for up to seven times the value of livestock lost to confirmed depredations by wolves when other livestock are missing. The state does not offer compensation for more than the total known death loss less the number of such losses known to be due to causes other than damage by wolves.

Agencies involved in Mexican wolf recovery efforts have taken a different approach. In addition to offering compensation for confirmed livestock kills to wolves, the Mexican Wolf/Livestock Coexistence Council offers a program to compensation ranchers for wolf presence on their properties or grazing allotments. Program payments are based on a formula involving scoring parameters for each ranch, and is restricted by funding availability.

Related Links:
Capital Press - Read the article here.
Wolf Watch - by Cat Urbigkit, Pinedale Online!

---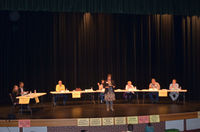 A Candidate Forum was held on April 21st for Town of Pinedale municipal election to select 3 town council seats. Photo by Terry Allen.

Candidate Forum – Pinedale Town Council (posted 4/22/16)
In case you missed it . . .
Pinedale Online!
Editor's note: We are re-posting this story on the Candidate forum that was held on April 21st so voters can have easy access to the audio and YouTube links to review the candidate's responses to the questions prior to election day. Pinedale citizens will be voting to fill three seats on the Pinedale Town Council on election day, Tuesday, May 3rd.
_________________________________________

A Candidate Forum was held in the Pinedale Auditorium on Thursday, April 21st, for candidates running for Pinedale Town Council seats up for election. The event was hosted by the Sublette County Chamber of Commerce-Government Affairs Committee, the Pinedale Roundup, the Sublette Examiner, KPIN 101.1 FM Radio, and Pinedale Online. Candidates who appeared were Jim Brost, John Fogerty, Nylla Kunard, Tim Lingle, and Tyler Swafford. Moderators were Stephen Crane and Loretta Welch. The forum was broadcast live on KPIN 101.1 FM radio and live streamed on the Sublette County Chamber of Commerce YouTube page.

Pinedale's Municipal Election will be held on Tuesday, May 3rd.

If you missed the forum, you can listen to an audio recording at this link: Pinedale Town Council Candidate Forum – April 21, 2016 (14.5 MB mp3 audio file, appx. 90 minutes) Courtesy KPIN 101.1FM Radio

Click on this link to see the Chamber live stream YouTube video of the forum. (Note that there is no sound for the first 8 minutes of the video due to a technical difficulty):
Pinedale Town Council Candidate Forum YouTube, 1-1/2 hours

Click on this link to read the Pinedale Online story about the candidate forum: Candidate Forum - April 21, 2016 (20 photos)
_________________________________________

For comments or corrections, please contact Pinedale Online, support@pinedaleonline.com. Photos by Terry Allen, Pinedale Online! For higher resolution prints, please contact txpartisan@gmail.com.
---
Winter Wildlife Closures Lifted on May 1st on the Bridger-Teton National Forest (posted 4/27/16)
Bridger-Teton National Forest
The Bridger-Teton National Forest begins opening Forest roads to wheeled motor vehicle travel May 1, however due to lingering snow, and the recent rains and wet conditions, some roads are still impassable. "Right now the road surface is good, but if we get any wet weather this week, it could get a bit sloppy," said Jackson District Ranger Dale Dieter.

The Gros Ventre and Curtis Canyon gates will open at midnight on April 30th, 2016. The road up Curtis Canyon is drivable up to just above the upper switchbacks, before the junction to the Goodwin lake trailhead. The Flat Creek Road will be open up to a barrier located at the Forest kiosk. In the Gros Ventre Road, visitors will be able to drive to the upper gate at Slate Creek and use non-motorized means of transport beyond that point.

The Fall Creek road will open on Sunday May 1st, 2016 in the morning. Other roads on the Jackson Ranger District will remain closed. The Granite Creek road still has ice patches and continuous snow on the road once you pass the Safari Club. The Shadow Mountain and Ditch Creek roads are still snow covered and have gates or barriers in place. The North Fork of Fall Creek Road is snow covered and has a barrier in place just past the Pine Glen subdivision. The Mosquito Creek Road is drivable to the gate which is scheduled to open June 1st 2016 as per the travel plan for the Forest.

The Bridger-Teton endeavors to open some lower elevation roads by Memorial Day weekend – but some years the wet conditions prevent that from happening. "When roads are wet, vehicle travel can cause considerable resource damage by creating deep ruts," said Dieter. Road widening can also occur when vehicles drive around deep pools of water. "The chances of getting stuck are higher earlier in the season also," he said.

Off-Highway-Vehicles (OHV) trails for motorized access and recreation will open June 1st or July 1st as indicated on the Motorized Vehicle Use Map. Visitors to the Bridger-Teton National Forest can obtain free copies of motor vehicle use map by visiting http://www.fs.usda.gov/main/btnf/maps-pubs. No wheeled motor vehicle travel is permitted off of designated roads. "The higher elevation roads take a long time to dry out after the winter. Even at lower elevations, pockets of wet areas can keep an entire road closed," Dieter said.

Many trails may also not be ready for mountain bikes and horseback riding. A mountain bike tread that leaves a rut creates a channel for water which can significantly erode a trail. Horse use on wet trails churns up the soil causing similar adverse effects. Hiking and walking is welcome on trails.

"Most Forest Service roads are not plowed during winter and the snow drifts are slow to melt especially on the north facing slopes and at higher elevations," said Dieter. "Spring saturation leaves travel routes vulnerable to damage by rutting and erosion, leading to expensive repairs," he said. Visitors are being asked to refrain from using soggy trails and roadways until they have dried out.

"It isn't just us that are itching to get out and moving on the Forest, but the bears are coming out too and we need to be responsible and remember to store our food and attractants in a manner that makes them unavailable to bears," said Dieter. "It is important that everyone keep a clean camp and put their food and coolers away before heading out for the day," he said.

With the chill in the morning area, many forest visitors like to have a warming fire before they begin their recreation, but the Forest reminds visitors that even though it isn't the heat of the summer, fires can still spread. Visitors must completely extinguish their fires before leaving the area.

"We also are encouraging people to be mindful of the high water in the streams and rivers," said Dieter. "We really want people to have a good time and enjoy their National Forest, but we urge visitors to recreate safely and responsibly," he said. For more information visit the Bridger-Teton National Forest webpage at www.fs.usda.gov/btnf.
---
Denmark may impose tax on red meat to fight 'ethical problem' of climate change (posted 4/27/16)
Regulating climate-damaging food to protect the global environment
The British independent.co.uk news website posted a story on April 27, 2016 saying that Denmark is considering proposals to introduce a tax on red meat after a government think tank came to the conclusion that "climate change is an ethical problem." According to the story, cattle account for some 10% of global greenhouse gas emissions. The tax might be extended to all red meat in the future in order for the country to live up to its Paris Agreement commitments regarding climate change. The Danish Council of Ethics says Danes are ethically obligated to change their eating habits and cut out beef from their diets, and the tax should apply to all foods at varying levels depending on climate impact. Click on this link to read the full story: Denmark ethics council calls for tax on red meat to fight 'ethical problem' of climate change

---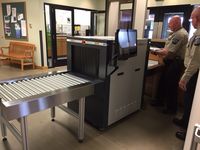 Deputy Michael Parker (left) demonstrates the new x-ray machine's capabilities to Sheriff Stephen R. Haskell. Photo courtesy Sublette County Sheriff's Office.

Courthouse security measures increased (posted 4/26/16)
Sublette County Sheriff's Office
A new security measure was installed last week at the Sublette County Courthouse in the form of a new x-ray machine for use with court security operations. The new equipment was purchased with grant funds provided by the Wyoming Office of Homeland Security, and can be moved around as needed to accommodate security needs in both Circuit and District courts.

The court security deputies, who underwent training on the machine after its installation, provided a demonstration of the detail that can be picked up through the device. "We've been trying out different the different settings to see how much detail we can pick up," Deputy Michael Parker said. "It's really amazing what we will be able to identify using this equipment."

"It is, unfortunately, the state of the world we live in," Sheriff Stephen Haskell said of the need for such a machine. "We have a duty to protect everyone who enters this building, and this takes our abilities to do so to the next step."

Click here for more pictures
_________________________________________

Editor's note: The new x-ray scanners are just for personal carry items such as handbags and brief cases. Individuals entering the building go through a walk-through scanner that detects metals and is not attached to the x-ray machine. People entering the Circuit Court building or the courtrooms should not bring pocketknives or cell phones, which will be stopped at the door (but returned). Any dangerous weapons will confiscated.

---
WLCI Local Project Development Teams hold meetings in May (posted 4/26/16)
The Local Project Development Teams (LPDTs) for the Wyoming Landscape Conservation Initiative (WLCI) will meet at various locations in southwest Wyoming in May.

Land owners, project proponents and the public are invited to attend the LPDT meetings which will include updates on existing conservation projects, presentations on and prioritization of potential projects for 2017, nominations for LPDT awards and a discussion of options for the summer field tour.

The LPDT meetings are scheduled for:

Carbon County
Wednesday, May 4, 10 a.m.
Bureau of Land Management, Rawlins Field Office
1300 N. Third St., Rawlins, Wyoming

Sweetwater County
Friday, May 6, 9 a.m.
Wyoming Game and Fish Department, Green River Regional Office
351 Astle Ave., Green River, Wyoming

Lincoln/Uinta Counties
Tuesday, May 10, 10 a.m.
Bureau of Land Management, Kemmerer Field Office
430 North Highway 189, Kemmerer, Wyoming

Sublette County
Thursday, May 12, 10 a.m.
Bureau of Land Management, Pinedale Field Office
1625 W. Pine St., Pinedale, Wyoming

For more information, please call Stephanie Anderson at 307-352-0227 or visit www.wlci.gov.

WLCI is a long-term, science-based effort to assess and enhance aquatic and terrestrial habitats at a landscape scale in southwest Wyoming, while facilitating responsible development of the region's valuable energy resources. The WLCI Executive Committee is comprised of representatives from the Bureau of Land Management, U.S. Fish & Wildlife Service, U.S. Forest Service, U.S. Geological Survey, National Park Service, Natural Resource Conservation Service, Wyoming Department of Agriculture, Wyoming Game and Fish Department, conservation districts and county commissioners.

---
PAPO and JIO Boards of Directors to meet May 6 in Pinedale (posted 4/25/16)
Review mitigation projects and discuss budgets
Bureau of Land Management
The Pinedale Anticline Project Office (PAPO) and Jonah Interagency Office (JIO) boards of directors will meet on May 6, at the Bureau of Land Management Pinedale Field Office, 1625 W. Pine St., Pinedale, Wyoming.

The PAPO Board will meet at 8 a.m. to review and make decisions on eight mitigation projects submitted by the public for potential 2016 funding. Public comments were received on the project proposals.

The eight projects include: Sage-Grouse habitat assessment, invasive species control, wildlife-friendly fence conversion within the Hoback to Red Desert mule deer migration corridor, wildlife-friendly fence conversion on the Murdock Ranch near Pinedale, a conservation easement for the Luman Ranch, New Fork streambank restoration/improved boat access, a proposed water well near Boulder and grant funding assistance to the Sublette County Conservation District for small "great conservation idea" projects. PAPO updates on funded projects, including on-going Sage-Grouse mitigation efforts, will also be presented.

The JIO Board will meet immediately after the PAPO meeting concludes at 10 a.m. (estimated time) to discuss funded mitigation projects.

Both boards will also review updated budgets that were approved at the last budget meeting held in Cheyenne on December 4, 2015. The PAPO Board will also be advised on how the downturn in the oil/gas industry may affect the PAPO budget in the next few years.

All PAPO and JIO board meetings are open to the public.

Additional information on the PAPO and JIO is available at www.wy.blm.gov/jio-papo/ including the projects that were posted for public comment.

For more information, please contact Eric Decker at egdecker@blm.gov or at 307-367-5386.
---
BTNF hosts public meetings for Oil and Gas leasing in the Wyoming Range in Pinedale and Daniel (posted 4/`9/16)
The Big Piney Ranger District of the Bridger-Teton National Forest will be hosting two public meetings in the towns of Pinedale and Daniel, Wyoming on April 29, and May 6, 2016, respectively. The meetings will cover information regarding the Draft Supplemental Environmental Impact Statement (DSEIS) of Oil and Gas operations in the Wyoming Range of the Bridger-Teton National Forest.

The first public meeting will be held on April 29, at the Sublette County Library located at 155 S. Tyler Ave. Pinedale, WY 82941, from 4:00-6:00pm. The second meeting will be held on May 6, at the Daniel Community Center located at 18 Schoolhouse Lane, County Road 208, Daniel, WY 83115, from 5:00-7:00pm. Both public meetings will have maps of the areas under analysis as well as the DEIS documents. The public is highly encouraged to attend and submit comments.

The DSEIS has four alternatives. The Forest Supervisor has identified Alternative 1, no leasing, as the preferred alternative. She will review comments received on the Draft SEIS, and prepare a draft Record of Decision to be released with the Final SEIS. The Final SEIS is expected in October 2016, and the decision is expected in January 2017, after any objections have been responded to by the Forest. The new decision will supersede previous decisions on these 30 lease parcels. Depending on the Forest Service's decision, the Bureau of Land Management will decide which parcels would be offered for lease with appropriate stipulations, which parcels will be deferred, which parcels are not available for leasing, and which parcels are canceled. These parcels under analysis were previously identified as suitable and available for oil and gas leasing in the Bridger-Teton National Forest Land and Resource Management Plan.

For those that cannot attend the public meetings but would like to comment on the proposal can do so by submitted in writing (either by letter or electronic). Letters should be sent to: Donald Kranendonk, District Ranger, Big Piney Ranger District, Bridger-Teton National Forest, 10418 South U.S. Highway 189, P.O. Box 218, Big Piney, WY 83113. Electronic comments can be submitted via: www.fs.usda.gov/project/?project=48737.

---
Wyoming water outlook – April, 2016 (posted 4/17/16)
Reservoir storages across Wyoming increased to 115 to 125% above average for April due to wet March
National Weather Service - Riverton WY
Synopsis:
Wyoming had its 13th wettest March in the last 122 years with a statewide average of 1.91 inches of precipitation. This was 153 percent of the 20th century average. Most of this precipitation fell across the lower North Platte, Wind River, Sweetwater and lower Green River basin, eliminating most of the abnormally dry /d0/ and moderate /d1/ conditions that developed through the first part of 2016. Severe /d2/ drought remain over the Bighorn Range with moderate /d1/ drought across the far north and eastern Bighorn Basin, and across the western Wind River Range on the April 12th release of the drought monitor.

Summary of Impacts
River and Streamflow Conditions:
Slightly below normal snowmelt streamflow volumes (90 to 95 percent) are expected across almost all major basins across Wyoming. Slightly above normal streamflow volumes are expected across a majority of the Wind River Basin and portions of the Shoshone and upper North Platte watersheds. The Sweetwater, Powder and Tongue River basins are forecasted to have below to much below normal streamflow volumes during this upcoming snowmelt season. Reservoir storages across Wyoming increased to 115 to 125 percent above average for April.

Fire Weather Impacts:
Though grasses were starting to green-up in the lower central basins, several agricultural burns have gotten out of control in early April where vegetation remains dry.

The significant wildland fire potential outlook through July 2016 shows a normal likelihood that significant wildland fires will occur. Significant wildland fires should be expected at typical times and intervals during normal significant wildland fire potential conditions.

Climate Summary:
Below are the cumulative precipitation amounts from selected locations across west and central Wyoming for the current water year.

Note: Basin-wide percent of averages are based on 20th century (1901-2000) averages. Specific locations percent of averages are based on 1981-2010 normals.

Location Precipitation % Average and Drought (Inches) Condition Oct 2015-Mar 2016
-----------------------------------------------
Yellowstone Basin Avg, 14.50 inches, 119%
Old Faithful, 11.02 inches, 82%

Snake Basin Avg, 20.04 inches, 98%
Afton, 7.49 inches, 91%
Moose, 14.11 inches, 110%

Green And Bear Basin Avg, 6.52 inches, 99%
Big Piney Airport, 2.23 inches, 104%
Evanston Airport, 1.56 inches, 33%
Fossil Butte N.M., 5.99 inches, 127%
Green River, 5.61 inches, 179%
Rock Springs Airport, 1.14 inches, 33%
Rock Springs, 4.28 inches, 116%

Bighorn Basin Avg, 5.76 inches, 100%
Cody, 3.76 inches, 129%
Greybull Airport, 0.97 inches, 49%
Powell Field Station, 1.43 inches, 95%
Thermopolis, 5.49 inches, 131%
Worland Airport, 2.29 inches, 107%

Powder/Tongue Basin Avg, 4.25 inches, 87%
Buffalo Airport, 2.49 inches, 70%
Kaycee, 2.28 inches, 69%
Sheridan Airport, 5.19 inches, 109%

Lower Platte Basin Avg, 6.75 inches, 152%
Casper Airport, 5.52 inches, 130%
Cheyenne Airport, 7.32 inches, 190%

Wind River Basin Avg, 6.44 inches, 107%
Dubois, 3.43 inches, 128%
Lander Airport, 8.07 inches, 165%
Riverton Airport, 4.22 inches, 152%
Riverton (Downtown), 4.84 inches, 183%

Upper Platte Basin Avg, 6.22 inches, 115%
Jeffrey City, 3.51 inches, 100%

Precipitation/Temperature Outlooks:
Both the 30 day (April) and 90 day (April-June) outlooks showed an elevated chance of above normal temperatures across Wyoming, with the greatest chance across western Wyoming. The 90 day precipitation outlooks showed an elevated chance of above normal precipitation across most of Wyoming, except the northeast corner where there was no clear climate signal.

The seasonal drought outlook showed either improvement or removal of drought conditions by the end of June across north central Wyoming and the western Wind River Range. There were no areas of new drought development forecast in Wyoming through the end of June.

Hydrologic Summary and Outlook:
Snowpack Data
Drainage Basin, Snow Water Equivalent (SWE) % Change % of Median on April 14th since March 19th
-----------------------------------------------
Snake River, 89%, - 9%
Madison, 81%, -10%
Yellowstone, 83%, - 5%
Wind River, 90%, +10%
Bighorn Basin, 73%, 0%
Shoshone River, 79%, -12%
Powder, 73%, + 5%
Tongue, 60%, + 6%
Upper Platte, 94%, - 3%
Sweetwater, 83%, +11%
Lower North Platte, 101%, +17%
Laramie , 106%, - 6%
South Platte, 125%, +10%
Little Snake River, 87%, -12%
Upper Green, 90%, -10%
Lower Green, 92 %, - 9%
Upper Bear, 79%, -18%
-----------------------------------------------

Reservoir Data for April 14, 2016:
Central Wyoming
Boysen Reservoir, 79.7% Full
Buffalo Bill Reservoir, 68.9% Full
Bull Lake Reservoir, 47.4% Full
Pathfinder Reservoir, 81.1% Full

Upper Green River Basin
Big Sandy Reservoir, 60.0% Full
Fontenelle Reservoir, 43.0% Full
Flaming Gorge Reservoir, 85.0% Full

Upper Snake River Basin
Grassy Lake Reservoir, 90.0% Full
Jackson Lake Reservoir, 69.0% Full

Additional information on current drought conditions may be found at the following web addresses:

To report effects of the drought in your area, please go to the drought impact reporter at: http://droughtreporter.unl.edu/ and click on submit a report.

Information for the media may be found at:
http://drought.unl.edu/newsoutreach/informationformedia.aspx

NWS Riverton Drought Page:
http://www.weather.gov/riw/drought

Wind River Indian Reservation and Surrounding Area Climate and Drought Summaries:
http://revampclimate.colostate.edu/revamp/project/wind-river

Drought-Preparedness - USGS Wyoming Drought Watch
http://wy.water.usgs.gov/projects/drought/

U.S. Drought Monitor
http://www.drought.gov

NOAA Drought Page
http://www.drought.noaa.gov

Climate Prediction Center (CPC)
http://www.cpc.ncep.noaa.gov

Additional River and Reservoir Information
NWS Advanced Hydrologic Prediction Service (AHPS)
http://www.water.gov/ahps2/index.php?wfo=riw

NRCS Wyoming
http://www.wy.nrcs.usda.gov

USGS
http://water.usgs.gov/

USBR
http://www.usbr.gov/

Water Resource Data System (WRDS)
http://www.wrds.uwyo.edu

Acknowledgments
The drought monitor is a multi-agency effort involving NOAA'S National Weather Service and National Climatic Data Center, the USDA, State and Regional Center Climatologists and the National Drought Mitigation Center. Information for this statement has been gathered from NWS and FAA observation sites, state cooperative extension services, the USDA, USACE and USGS.

Questions or Comments
For any questions or comments about this drought information statement, please contact:
Arthur Meunier
Climate/Drought Focal Point
National Weather Service
12744 West US Highway 26
Riverton, WY 82501
Telephone 307-857-3898
800-211-1448
arthur.meunier@noaa.gov

---
BTNF releases Draft Supplemental Environmental Impact Statement on Wyoming Range Oil and Gas leases (posted 4/10/16)
Bridger-Teton National Forest
The Bridger-Teton National Forest has released the Draft Supplemental Environmental Impact Statement (SEIS) for oil and gas leasing on National Forest System lands in the Wyoming Range.

The Draft SEIS for 30 parcels across 39,490 acres of National Forest land contains an analysis of four alternatives:

• Alternative 1 – No Action/No Leasing – Forest Service would withdraw consent to lease on the 30 parcels

• Alternative 2 – Allow leasing on all 30 parcels using current Forest Plan standards. The expected development is for 24 wells with direct development of pads and roads on 107 acres over a landscape of 10,405 acres

• Alternative 3 – Allow leasing on all 30 parcels, using current Forest Plan standards as well as additional stipulations that respond to enhanced resource protection, primarily for big game and aquatic habitat.. This alternative incorporates Wyoming Game and Fish Department recommendations. The expected development is for 13 wells because of No Surface Occupancy(NSO) on some parcels with direct development of pads and roads on 58 acres over a landscape of 5324 acres

• Alternative 4 – Allow leasing on all 30 parcels with NSO at all. The expected development is for less than 10 wells with very minimal direct development on lands adjacent to the project parcels.

In 2011, the Forest withdrew its decision for no leasing on these parcels. The Forest Service identified the need to supplement the air quality analysis and the wildlife analysis, as well as consider new information on issues such as protection of threatened animals, impacts on local air quality, other energy projects underway in the area, and public comments. The Draft SEIS discloses the new and updated information and anticipated environmental consequences.

The Forest Supervisor has identified Alternative 1 as the preferred alternative. She will review comments received on the Draft SEIS, and prepare a draft Record of Decision to be released with the Final SEIS. The Final SEIS is expected in October 2016, and the decision is expected in January 2017, after any objections have been resolved. The new decision will supersede previous decisions on these 30 lease parcels.

"I will be considering all the alternatives and the environmental impacts associated with each to determine the best course of action," said Bridger-Teton Forest Supervisor Tricia O'Connor. "No single factor will lead me to any decision. I am confident that by allowing the process to work, I will better be able to weigh the combination of the sensitivity and values of the area, the value of the project to communities, the magnitude of other activities currently underway or planned with potentially cumulative impacts, and the concerns of citizens, organizations and other agencies before making the final decision. I welcome public comments, especially those that are specific to benefits or impacts of this project on natural resource or social issues important to you"

The Draft SEIS can be found at www.fs.usda.gov/project/?project=48737 Previous comments were considered in the preparation of the Draft SEIS. In order for comments to be most useful and to ensure eligibility to participate prior to the final decision, specific written comments must be received within 45 days of the publication of the Notice of Availability of the Draft SEIS in the Federal Register. The anticipated publication date is April 8, 2016, which would result in a comment deadline of May 23, 2016. Please visit the project website for publication confirmation and additional comment requirements. Comments must be submitted in writing (either by letter or electronic). Letters should be sent to: Donald Kranendonk, District Ranger, Big Piney Ranger District, Bridger-Teton National Forest, 10418 South U.S. Highway 189, P.O. Box 218, Big Piney, WY 83113. Electronic comments can be submitted via: www.fs.usda.gov/project/?project=48737 (Select "Comment on Project" on right side of Web page). Comments will be accepted through May 23, 2016.

The draft Record of Decision will be released with the new Final SEIS, and will be subject to the Forest Service Pre-decisional Administrative Review (Objection) Process described in the Code of Federal Regulations, 36 CFR 218. Following those regulations, a draft of the decision will be made available with the Final SEIS. Those who have submitted timely, specific written comments regarding this project during any of the comment periods will be eligible to file an objection to that draft decision.

"A final decision will not be made until the Forest Service has responded to any objections," said O'Connor.

Background
The original leasing availability decision was made in the Bridger-Teton Forest Plan in 1990, which identified land with the National Forest where oil and gas leasing could be considered. More recently, in 2004 the Forest Service decided to authorize leasing of the 44,720 acres within the Bridger-Teton National Forest, a move that allowed the Bureau of Land Management to offer these lease parcels for oil and gas exploration and development. Leases were offered in several sales in 2005 and 2006. Those decisions were appealed to the Interior Board of Land Appeals, which found appellants were likely to succeed on the merits of their challenges of inadequate environmental analysis. After the Board's finding, BLM requested a remand to allow additional analysis focused on Canada lynx and air quality. Upon the remand, BLM suspended 12 issued leases and classified as "pending" action on 23 parcels were lease were sold but not issued. Upon the remand, BLM suspended 12 issued leases and classified as "pending" action on 23 parcels where leases were sold but not issued. After a determination that the environmental process was inadequate, the Forest Service completed a SEIS and decision in 2011. This was subsequently withdrawn, thus the need for this additional analysis and new decision. In 2014-2015 parcels were removed from further leasing consideration by the bidders, making the new project analysis for 39,490 acres on 30 lease parcels.

Public scoping conducted in February 2008 and a review of new information by the Forest Service identified several key issues warranting the supplemental analysis. These include designation of critical habitat for Canada lynx, potential cumulative effects of rapid and continually expanding energy development in the Upper Green River Basin, proposed designation of nonattainment areas for air quality standards, visibility impairment of Class I Air Sheds, decline in mule deer populations and increased recreation use. These issues and others form the basis for the Draft Supplemental environmental analysis.

---
Business Directory
Click here for
Advertising Information