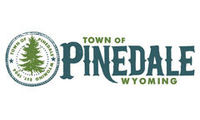 Town of Pinedale

Town of Pinedale statement on Ozone Action Days (posted 3/22/19)
Residents asked to minimize ozone precursor emissions
Town of Pinedale media release
Attention Pinedale Residents: We would like to call attention to the Ozone Action Days that have been recently instituted by the Air Quality Division of Wyoming's Department of Environmental Quality. The Town of Pinedale is doing our part by limiting vehicular activities such as plowing and grading to a minimum in order to reduce any precursor emissions. We apologize for the inconvenience this may cause and appreciate resident understanding and cooperation. Additionally, the Town of Pinedale will be more strongly enforcing the Wyoming no-idling law (§31-5-509) during Ozone Action Days, which states that no vehicle shall remain idling, while parked, for more than 20 minutes.

Ozone is a type of air pollutant created by dangerous levels of volatile organic particles and nitrogen oxide emissions in the air. These pollutants become compounded with weather conditions such as strong temperature inversions, low winds, high amounts of snow cover, and bright sunlight. It can cause many respiratory issues in vulnerable populations, specifically children, the elderly, and people with pre-existing respiratory issues. It is advised that activities involving long durations of outdoor exposure and/or strenuous activity be limited, particularly towards afternoon and evening.

We also ask that Pinedale residents do their part in decreasing these dangerous Ozone emissions where possible by consolidating trips in vehicles, limiting the idling of vehicles & machinery, and eliminating the unnecessary use of wood burning stoves.

Related Links:
www.townofpinedale.us Town of Pinedale website
Update on high ozone levels near Boulder Pinedale Online! March 22, 2019

---
Update on high ozone levels near Boulder (posted 3/22/19)
Declaration of emergency being considered
Pinedale Online!
We are being told that Wyoming Governor Gordon is in the process of declaring an emergency due to the high ozone levels at the Boulder monitor. The Wyoming Department of Environmental Quality (DEQ) is meeting today (Friday, March 22, 2019). Based on the Boulder monitor readings this afternoon, they expect to make a decision on declaring an emergency by 5PM. If declared, it goes into effect immediately. If that occurs, then the Environmental Quality Council (EQC) must have a hearing within 48 hours, most likely in Pinedale. Then EQC has two days to make a decision based in information provided at the hearing. If an emergency is declared, we can expect notification late today. Based on the fact that only the Boulder monitor seems to be affected, the air quality experts are looking for an isolated source that could be causing the high readings. The Environmental Quality Council will be coming to Pinedale in the next few days to have a hearing. Industry has or is being notified.

Related Links:
www.wyvisnet.com Current information on ozone levels at the Air Quality Division's monitoring stations at Daniel South, Pinedale, Boulder, Big Piney, and Juel Spring
Wyoming Department of Health Information on ozone and the health effects of ozone

---
Enzi, Barrasso statements on federal judge halting new oil and gas drilling in Wyoming (posted 3/22/19)
Wyoming Senate Delegation joint media release
Washington, D.C. – On March 19, a district court judge in Washington, D.C. blocked new oil and gas drilling across nearly 500 square miles in Wyoming. U.S. Senators Mike Enzi and John Barrasso, both R-Wyo., released the following statements:

"This short-sighted decision by a judge in Washington, D.C. will not only damage Wyoming's workforce and economy, it also sets a dangerous precedent for the future," Enzi said. "Leasing public lands is vital for our continued efforts to keep energy prices low and create energy independence for the nation. Instead of trying to manipulate our judicial system to stop energy development, we should be focused on innovative technological solutions to help ensure our energy development is affordable, reliable and cleaner."

"This bad decision will hurt workers in Wyoming, reduce revenue for the state and slow America's energy production," said Barrasso. "Wyoming is a leader of protecting our environment and responsibly developing our natural resources."

Related Links:
Judge blocks oil and gas drilling on Wyoming public land because US didn't consider climate impactBy Debra Cassens Weiss, American Bar Association Journal, March 21, 2019
Judge Blocks Oil and Gas Drilling on 300,000 Acres in Wyoming Until Government Considers Climate Impacts By Olivia Rosane, EcoWatch.com, March 21, 2019
US Judge Blocks Drilling Over Climate Change Hart Energy, March 20, 2019

---
Wolf News Roundup 3/21/2019 (posted 3/21/19)
Cat Urbigkit, Pinedale Online!
Resilient wolves
Matthew Brown and John Flesher of the Associated Press have put together a comprehensive article about the possible impact of the proposal to remove federal protection for gray wolves in the Lower 48 states. The article notes that in states where wolf hunting and trapping occur, wolves have proven their resilience, expanding their range into other states even while hunting restrictions have been eased. The Associated Press team included views of more than a half-dozen wolf managers across the nation. See the link to the article below.

Guardian pup killed
Oregon wildlife officials report that the Rogue wolf pack has struck again, this time killing a mastiff guardian pup in Jackson County. "At 9:00 am on 3/15/2019, a livestock owner found one of his 16-week-old mastiff-mix pups dead approximately 400 yards from his residence on the industrial timber and neighboring his property. He had last seen the dog alive at midnight that morning when he had gone outside to turn on Air Dancer wolf deterrent devices after being awakened by his dogs barking incessantly. The carcass was intact except for a section of spinal column missing from the lower back, missing tissue from the upper flank area, and missing abdominal organs."

Idaho kills wolves to help elk
Idaho Fish and Game has completed wolf control actions in northern Idaho's Lolo elk zone to improve elk survival in the area. Seven wolves were taken during the operation, which started in late February. The operation is consistent with Fish and Game's Elk Management Plan and Lolo Predation Management Plan.The control operation was paid for using Fish and Game license dollars transferred to the Idaho Wolf Depredation Control Board, created by the Idaho Legislature in 2014.

Fish and Game authorizes control actions where wolves are causing conflicts with people or domestic animals, or are a significant, measured factor in deer and elk population declines. Such control actions are consistent with Idaho's 2002 Wolf Conservation and Management Plan approved by the U.S. Fish and Wildlife Service and the Idaho Legislature.

Fish and Game prefers to manage wolf populations using hunters and trappers and only authorizes control actions where regulated harvest has been insufficient to meet management goals. The Lolo zone is steep, rugged country that is difficult to access, especially in winter. Since wolf control began in 2011, an average of 14 wolves were removed annually through control actions and an average of 21 wolves were taken annually by hunters and trappers. To date, hunters and trappers have reported 18 wolves taken in the Lolo zone during the 2018-19 season. The trapping season ends March 31 and the hunting season ends June 30.

The present day boundary of the Lolo elk Zone was established in 1992. That year, an estimated 10,120 elk inhabited the zone. Since then, this elk herd has decreased substantially because of declining vegetative quality, a catastrophic loss of elk during the 1996-1997 winter, and predation by mountain lions, black bears, and wolves. An estimated 1,893 elk were estimated in the Lolo Zone during the most recent survey in 2017.

The 1,137 cow elk and 425 bull elk estimated during 2017 were well below the long-term objectives for 6,100 to 9,100 cow elk and 1,300 to 1,900 bull elk. Short-term goals for the Lolo elk population outlined in the 2014 Elk Management Plan include stabilizing the population and helping it grow.

Fish and Game has worked with the U.S. Forest Service for over 40 years to improve habitat for elk in the Lolo zone and will continue to do so. Hunting in the zone has been extremely restricted since the late 1990s. Rifle bull hunting was reduced by half and all rifle cow hunts have been eliminated. Additional restrictions were placed on rifle and archery hunters in 2011.

Fish and Game stepped up predation management in the Lolo area through increased harvest opportunities of black bears and mountain lions. Restoring the Lolo elk population will require continued harvest of black bears, mountain lions, and wolves along with wolf control actions when needed and meaningful large-scale habitat improvements.

Related Links:
Resilient wolves - Associated Press article
Pup killed - Oregon Department of Fish & Wildlife
Idaho - Idaho Department of Fish & Game
Wolf Watch - by Cat Urbigkit, Pinedale Online!

---
Big Sandy Enlargement Meeting March 26th (posted 3/17/19)
Cat Urbigkit, Pinedale Online!
The US Bureau of Reclamation (BuRec) will hold a public meeting on Tuesday, March 26 to accept public comment on the proposed Big Sandy Reservoir Enlargement Project. The meeting will begin at 6 p.m. in the Eden Valley Community Center in Farson.

BuRec has issued its second draft environmental assessment (EA) for the Big Sandy Enlargement Project, and is accepting comments on that draft until April 15th. Click on the link below to read the EA.

The Big Sandy Reservoir, located about 10 miles north of Farson in both Sublette and Sweetwater counties, provides storage for irrigation, flood control, and recreation.

The Wyoming Water Development Commission is interested in increasing the storage capacity of the reservoir by raising the spillway crest by five feet, increasing total storage capacity (by 13,600 acre-feet) to 52,300 acre-feet. A toe drain and filter trench would be installed along the left abutment of the dam, a filter diaphragm would be installed around the outlet works, a cement-bentonite cutoff wall would be constructed through the crest of the dike, and since raising the reservoir would increase the water height on the existing dikes that are already experiencing erosion, additional riprap would be required. In addition, the project would replace the Big Sandy Feeder Canal headworks and six concrete drop structures.

BuRec is expected to issue of Finding of No Significant Impact and authorize the proposed project to begin this fall.

Related Links:
Enlargement Project - Bureau of Reclamation


---
Wolf delisting proposed (posted 3/17/19)
Cat Urbigkit, Pinedale Online!
The U.S. Fish & Wildlife Service (FWS) has issued proposed rules to remove gray wolves in the Lower 48 states from federal protection of the Endangered Species Act. The Trump-administration proposal is the latest in a string of similar proposals issued under the Bush, Obama and Clinton administrations that all ultimately failed after litigation by wolf advocates. With a variety of conservation organizations already pledging to sue to keep wolves protected, it can be expected that the new proposal will befall the same fate as its predecessors.

It's the ongoing cycle of delisting-lawsuits-relisting that has prompted Wyoming Senators John Barrasso and Mike Enzi to serve as co-sponsors of a bill that would order wolves delisted in the Western Great Lakes States and in Wyoming, and would prohibit judicial review of the decision. The bill has been proposed in numerous Congressional sessions, and was introduced again last week as Senate bill 831.

The gray wolf has already been delisted in the Northern Rocky Mountains, and are subject to regulated hunting in Wyoming, Idaho, and Montana. While wolf delisting in Idaho and Montana is protected from judicial oversight, Wyoming's delisting was negotiated with federal officials, and the FWS must be satisfied with Wyoming's management of wolves in this state or its wolves may once again be placed back under federal protection.

The FWS proposal to delist the gray wolf throughout the contiguous United States was published in the Federal Register on Friday, March 15th, and comments on the proposal will be accepted until May 14, 2019. See the link below for more information.

Related Links:
Delisting proposal - U.S. Fish & Wildlife Service
Wolf Watch - by Cat Urbigkit, Pinedale Online!

---
G&F invites the public to discuss proposed 2019 hunting seasons (posted 3/17/19)
Public meeting in Pinedale March 26th
Wyoming Game & Fish
The Wyoming Game and Fish Department is holding open public meetings and has opened a comment period to gather input on proposed big game, wild turkey, upland game bird, small game, wild bison, migratory game bird and light goose conservation order hunting seasons and the general hunting regulation.

All interested parties are encouraged to attend one of the upcoming public meetings to be held in western Wyoming to discuss the proposed 2019 hunt season proposals.

Afton: 6-8 p.m. Tuesday, March 19, Afton Civic Center (open house)
Jackson: 6-8 p.m. Wednesday, March 20, Jackson Game & Fish office (open house)
Pinedale: 6-8 p.m. Tuesday, March 26, Pinedale Game & Fish office

Written comments will be accepted through 5 p.m. on Monday, April 1, at public meetings or by mailing: Wyoming Game and Fish Department, Regulations, 3030 Energy Lane, Casper, WY 82604 or online at http://wgfd.wyo.gov.

Copies of the proposed regulations are available on the Game & Fish website and at the address above in accordance with Chapter 1 Regulation Governing Access to Public Records. Written comments will be presented to the Game and Fish Commission prior to the public hearing at their April 23-24 meeting in Riverton.

---
BLM offers new incentives to encourage more adoptions of wild horses and burros (posted 3/12/19)
Bureau of Land Management
WASHINGTON – As part of the Bureau of Land Management's effort to find good homes for wild horses and burros removed from public lands, the agency today (March 12, 2019) began offering new financial incentives to encourage qualified people to adopt one or more of the animals. The incentives are being implemented to step up placement efforts and confront the growing overpopulation of wild horses and burros on fragile rangelands and in off-range holding facilities, which cost taxpayers nearly $50 million every year to maintain.

"We understand that adopting a wild horse or burro represents a commitment. The incentive is designed to help the adopter cover all or most of the initial costs for training and providing humane care up to the time of receiving title," said BLM Deputy Director Brian Steed. "I urge anyone who has considered adopting a wild horse or burro to join the thousands of owners who have provided good homes to more than 245,000 wild horses or burros since 1971."

Through the new incentive program, qualified adopters are eligible to receive $500 within 60 days of the adoption date and an additional $500 within 60 days of titling for each animal, which normally occurs one year from the adoption date. The incentive is available for all animals that are eligible for adoption, including animals at BLM facilities, off-site events or on the agency's Online Corral website. Adopters will just pay a minimum $25 adoption fee per animal.

Potential adopters are required to complete an application proving they can feed and provide humane care to the animals and that they will adhere to the prohibited acts and titling requirements. In addition, potential adopters must authorize the incentive to be deposited via electronic funds transfers to their preferred account at their financial institution. Potential adopters should visit the BLM website or call 866-468-7826 to learn more about the guidelines and requirements for adopting a wild horse or burro.

The BLM manages and protects wild horses and burros under the authority of the 1971 Wild Free-Roaming Horses and Burros Act. The Act directs the BLM to address overpopulation by removing excess animals from over-populated herds and offering them to the public for adoption or purchase.

The wild horse and burro population on public lands is approximately 81,950 animals, which is more than triple the size the land can support along with other legally mandated uses, according to a March 2018 estimate. High costs and a growing number of unadopted and unsold animals in BLM holding facilities has hindered the agency's ability to reduce overpopulation in recent years. Chronic overpopulation increases the risk of damage to rangeland resources through overgrazing, and raises the chances of starvation and thirst for animals in overpopulated herds.

"Finding good homes for excess animals and reducing overpopulation on the range are top priorities for the BLM as we strive to protect the health of these animals while balancing other legal uses of our public rangelands, including allowing for other traditional land uses such as wildlife conservation and grazing," Steed added.

Owning a wild horse or burro is an extraordinary experience. They have reached national notoriety through disciplines such as dressage, endurance and therapeutic programs that help veterans fulfill a new mission. Wild horses and burros are routinely preferred by public officials for important tasks such as patrolling the border and local policing. Read stories from recent wild horse and burro adopters and purchasers on the BLM's Flickr page.

---
2019 civilian firearms training offered in Rock Springs (posted 3/12/19)
Classroom and range training
Sweetwater County Sheriff's Office
The Sweetwater County Sheriff's Office firearms training staff is pleased to announce our 2019 civilian firearms training course schedule. We are now offering basic, intermediate and special accommodations classes. The basic and special accommodations classes comprise a combination of classroom instruction and shooting exercises. The training emphasizes firearms familiarization and safety, and training topics include grip, stance, sight picture, trigger control, holster considerations, home firearms storage and more.

The special accommodations class offers a smaller class size with fewer students for more one-on-one instruction and hands-on time with firearms; it is designed specifically for those who have no previous firearms experience or who otherwise require special accommodation by virtue of a disability or other condition. The intermediate class consists of eight hours of range training and shooting exercises, and participants are required to complete the basic course as a prerequisite.

There is a $30 registration fee for each class. All classes satisfy the state's training requirement for a concealed carry permit. In addition to a personal firearm, participants are required to supply a suitable belt or paddle holster for their firearm as well as proper eye and ear protection. The basic and special accommodations classes require a minimum of 100 rounds of ammunition, while the intermediate class requires a minimum of 200 rounds.

Scheduled classes are as follows:
• Saturday, May 18 (Basic)
• Saturday, June 15 (Basic)
• Saturday, August 24 (Special accommodations)
• Saturday, September 7 (Intermediate)

Classroom and range training is in Rock Springs. To register, or for more information, please contact the Sweetwater County Sheriff's Office by phone at (307) 352-4901.

---
Governor signs temporary executive order to expedite propane deliveries (posted 3/12/19)
Governor signs temporary executive order to expedite propane deliveries
Buckrail posted a story reporting that Wyoming Governor Mark Gordon has signed an executive order putting in place temporary emergency rules for the Wyoming Department of Transportation (WYDOT) that allows drivers to make extra propane deliveries to heat homes and businesses for 20 days. The emergency rule suspends regulations on driving hours to allow drivers to meet the increased demand but still says drivers cannot be on the road when they are fatigued. Click on this link to read the full story: Governor signs temporary executive order for propane deliveries

---
Wolf News Roundup 3/11/2019 (posted 3/11/19)
Cat Urbigkit, Pinedale Online!
Delisting
A top Interior Department official announced intentions to remove wolves nationwide from the list of federally protected species. If the Trump-administration's proposal goes forward, it will follow the same path as similar proposals in the Bush, Clinton, and Obama administrations – efforts that ultimately failed when wolf advocates succeeded in convincing federal courts to keep the predators protected. Numerous wolf advocacy groups have already pledged their intention to sue, and have undertaken fundraising efforts to contest the government's proposal.

23 Sheep killed
The Oregon Department of Fish and Wildlife has determined that 23 dead sheep found in a private pasture in Curry County were probably killed by wolves. This Oregon county was not previously known to have one of the state's wolf packs.

More wolves to Isle Royale
Last week was a busy one on Isle Royale, with four more Canadian wolves captured and relocated into Isle Royale National Park. A 65-pound female wolf was released into the park, as well as three male wolves, each weighing around 90 pounds. The recent translocation brings the island's wolf population to 8 animals, as the National Park Service seeks to restore predation on moose as a major driver of the park's ecosystem.

Human attacks
Wolves in Tajikistan have been making the headlines after numerous attacks on humans. Radio Free Europe/Radio Liberty reports that wolves killed two women in eastern Tajikistan. There have been three other reported attacks on humans: one involving a young boy; one on a police officer; and another on a young boy. The attacks reportedly took place when wolves entered villages after heavy snowfall. After a wolf-hunting ban was imposed several years ago, rifles were confiscated, and villagers now resort to defending themselves with shovels and pitchforks.

For more on these stories, check out the links below.

Related Links:
Delisting - Superior Telegram
Sheep killed - Oregon Department of Fish & Wildlife
Isle Royale - National Park Service
Two women killed - RFE/RL
Additional attacks - Asia Plus
Wolf Watch - By Cat Urbigkit, Pinedale Online!

---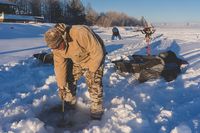 Scooping ice.

Big Fish Winter Derby pays out over $7,000 in prizes (posted 3/10/19)
Mindi Crabb
The Pinedale Lions Club hosted the 2019 Big Fish Winter Derby on Fremont Lake on Saturday and Sunday, March 2 & 3, 2019. The two-day fishing event featured over $7,000 in cash and prizes. 248 participants enjoyed their time on the lake, even if the catching was slow. Over 65% of registrants were from out of town, providing a nice little boost to the local economy.

Saturday's $1,000 Grand Prize, sponsored by Rocky Mountain Yeti, was won by Matt Letsinger with a 40" lake trout that weighed in at 21.6#.

First Bank donated the $400 2nd place prize which went to Daniel Racich with a 35" and 11# lake trout – he also received a $100 hourly prize due to the limited number of fish turned in. Mike Jackson's 20" rainbow trout weighed just 2.4 pounds, but earned him $200 for 3rd biggest fish, $200 for largest rainbow and a $100 hourly prize for a total of $500! Fourth place honors went to Javier Reyes and his 18-1/2", 2.4# rainbow. Shane Cooper turned in the largest brown trout, an 18-½" and 2.0 pound entry.

Hourly prizes of $100 were also won by Terry Eaton and Gary Ondrisko.

In the Youth division, Mason Kleeman reeled in a 25" 3.2# fish for the Grand Prize of $100 and Jayce Borghi turned in a 21 ¼" 1.8# fish to win a rod donated by A to Z Hardware.

Because Wyoming Game & Fish regulations limit the number of big fish in possession at any one time, the Pinedale Lions Club provided a fish cleaning and cooking station, complete with warm running water and heated with a wood stove. Saturday's two largest fish were happily consumed by around 35 participants, allowing those lucky anglers to participate again the next day.

Sunday's action wasn't any faster, but there was a bigger fish. Cory White's 21.8 pound, 39-½" lake trout was the largest of the weekend and earned him the $1,000 Grand Prize donated by Enviremedial Services Inc. Charlie Kleeman brought in a 32-¼" and 10.6# lake trout for 2nd place's $400 sponsored by Bighorn Construction. Rebel Auto donated the 3rd place prizes both days – Sunday's $200 was won by Joey Majhanovich and his 6.6# 29.75# fish. Dave Pape rounded out the prize list with his 24" and 2.8# trout, good enough for $150 from Rider Property Management.

Those fishermen and women who stuck around for the awards presentation on Sunday afternoon were rewarded with numerous door prizes, including cash from the hourly slots when no fish were turned in. Youth prizes were in abundance, and there was even a special award for the oldest fisherman (who shall remain nameless, but was in his 7th decade…). A big shout out to youth participant Jayce Borghi for being the only fisherman to turn in fish both days of the derby!

Saturday Results:
Grand Prize $1,000 Rocky Mtn Yeti Matt Letsinger 21.6# 40" Lake

2nd $400 First Bank Daniel Racich 11# 35" Lake

3rd $200 Rebel Auto Mike Jackson 2.4# 20" Rainbow

4th $150 Bucky's Javier Reyes 2.4# 18 ½" Rainbow
Brown $200 Best of the West Outfitters Shane Cooper 2.0# 18 ½" Brown
Rainbow $200 Green River ValleyProgram of JHLT Mike Jackson 2.4# 20" Rainbow
Youth Grand $100 Gannett Sports Mason Kleeman 3.2# 25"
Youth 2nd Rod A to Z Hardware Jayce Borghi 1.8# 21 ¼"

Sunday Results:
Grand Prize $1,000 Enviremedial Services Inc. Cory White 21.8# 39.5" Lake

2nd $400 Bighorn Construction Charlee Kleeman 10.6# 32.1/4"
Lake
3rd $200 Rebel Auto Joey Majhanovich 6.6# 29.75" Lake
4th $150 Rider Property Management David Pape 2.8# 24" Lake
Brown $200 Benchmark Plumbing
Rainbow $200 Bridger Speed n Sport
Youth Grand $100 Square Top Consulting Jayce Borghi 2.4# 21 ¾"
Youth 2nd Rod Bridger Smith 1.8# 19"

A portion of proceeds from this year's event will be donated to Fishing for the Fight in memory of Lion Charles Stough, to benefit cancer patients in our community.

The Lions would like to thank Lakeside Lodge and J.M. Horn's at Lakeside for allowing us to take over their beautiful facility, the Town of Pinedale for all their plowing and support, the Pinedale Travel & Tourism Commission for advertising dollars, JuLieta from Overland Diaries for the fabulous photography, special volunteers Terri & Bruce Bartley, and Joseph and Chauncey from Fishing for the Fight.

Cash and Prizes were generously donated by Rocky Mountain Yeti, Enviremedial Services Inc., First Bank, Rebel Auto, A to Z Hardware, Benchmark Plumbing, Best of the West Outfitters, Bighorn Construction, Bridger Speed 'n' Sport, Bucky's Outdoors, Clayton Wallace Construction, Country Lane Gas & Groceries, Country Lane Liquor, Cowboy Shop, Dave's Last Stand, Design Electric, Doug Vickrey, Elevation Tax & Accounting, FlowRight Plumbing, Gannett Sports, Green River Gear, Green River Valley Program of JHLT, Hampton Inn & Suites, High Country Suites, John & Jackie Godfrey, Lakeside Lodge, Mason Law, Office Outlet, Pinedale Properties, Richard & Sheila Duginski, Rider Property Management, Ridley's Ace Hardware, Specialty Sheetrock, Square Top Consulting, Sublette Communications, VFW Post 4801 and Winsupply.

This event was based out of Lakeside Lodge, four miles north of Pinedale and operates under a special use permit with the Bridger-Teton National Forest, Pinedale Ranger District.

Click on this link for more pictures: 2019 Big Fish Winter Derby

Related Links:
Pinedale Lions Club
Pinedale Lions Club Facebook page
www.lakesidelodge.com Lakeside Lodge, on Fremont Lake, Pinedale, Wyoming
www.VisitPinedale.org Pinedale area lodging and visitor information
Fishing for the Fight

---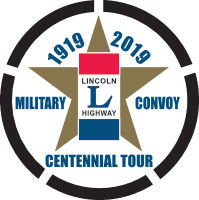 2019 Military Convoy Centennial Tour

100 Year Anniversary of Military Convoy and Lincoln Highway to be commemorated (posted 3/10/19)
Annual conference in Rock Springs June 18-21
Sweetwater County Historical Museum
SWEETWATER COUNTY — The U.S. Army's groundbreaking 1919 Transcontinental Motor Convoy that crossed the United States from Washington, DC to San Francisco — ultimately a source of inspiration for the Interstate Highway System — passed through Sweetwater County.

The convoy's mission was multi-faceted, but its basic goal was to test equipment and determine the feasibility of motorized cross-country travel. Eighty-one vehicles and trailers, including heavy cargo trucks, light trucks, water tankers, mobile machine shops, an "artillery wheeled tractor," cars, and motorcycles, manned by 24 officers and 258 enlisted men, covered the 3,200-plus miles from Washington to San Francisco in 62 days, sometimes at little better than a jogging pace.

Among the convoy's officers was a future President of the United States; 29-year-old Lieutenant Colonel Dwight D. Eisenhower.

A century ago, road conditions west of the Mississippi were primitive. What would become the Lincoln Highway (U.S. Highway 30) and Interstate 80 in the west was often little more than series of dirt roads, rutted wagon trails, and abandoned railbeds. Breakdowns were constant, and bridges (14 in Wyoming alone) frequently had to be strengthened or repaired.

The convoy left Washington on July 7, 1919, and entered Wyoming a month later, on August 8. (In Cheyenne, the men were treated to a rodeo at Frontier Park.)

On August 13, the convoy reached Sweetwater County. As noted in its official log:
"At Creston Station a Class B truck slipped off the road and was helped back by another Class B… near Latham Station, [about 5 ½ miles west of present-day Creston Junction], Class B water tanker #80216 ran off road on abandoned railroad grade and rolled over 270 degrees, resting on left side. It was righted by 2 Class B's, and proceeded under its own power in 20 min."

At Wamsutter, the convoy made numerous repairs and, three miles from Tipton, a mobile blacksmith vehicle sheared through a bridge's floor planks and "narrowly averted dropping into 12′ ravine." That night the party "Camped on Red Desert, on barren, sandy plain, no inhabitants or buildings other than railroad personnel and property. Nearest natural water supply 16 miles."
The next day, the convoy "stopped for lunch at Point of Rocks," and proceeded from there to Rock Springs. The log noted that "The intensely dry air, absence of trees and green vegetation, and parched appearance of the landscape exerted depressing influence on personnel."

The night of August 14 was spent in Green River. At Granger, "a doubtful bridge about 60′ long was successfully passed by using great care." The convoy's next stop was Fort Bridger. Three weeks later, it reached Oakland and was ferried across the Golden Gate to San Francisco.

Nearly 40 years later, as president, Eisenhower championed successful passage of the Federal Aid Highway Act of 1956, which created the Interstate Highway System – officially titled the "Dwight D. Eisenhower National System of Interstate and Defense Highways." Today the system features some 50,000 miles of interstate roadways nationwide. There is little doubt that Eisenhower's participation in the 1919 convoy was a powerful influence in shaping his views on long-distance motorized travel and transport.

This year the Lincoln Highway Association is hosting a cross-country tour to commemorate the convoy's 100th anniversary from August 31 to September 16. In addition, the Association will hold its annual conference in Rock Springs June 18-21. For more information, go to the Association's website at www.lincolnhighwayassoc.org.

An excellent article about the 1919 convoy by Lori Van Pelt can be found on the Wyoming State Historical Society's website, WyoHistory.org, at
www.wyohistory.org/encyclopedia/eisenhowers-1919-road-trip-and-interstate-highway-system.

---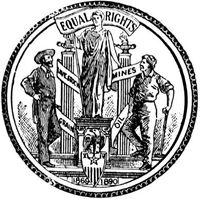 Wyoming State Seal

Wyoming led the way for women's rights (posted 3/8/19)
Dick Blust, Jr., Sweetwater County Historical Museum
SWEETWATER COUNTY - March 8 is International Women's Day, which has been "celebrating the social, economic, cultural and political achievements of women" since 1975.

From its early days as a territory, and later, as a state, Wyoming led the way in pioneering women's rights.

The Sweetwater County Historical Museum in Green River is commemorating the following the following Wyoming firsts in a special timeline:

1869- Wyoming Territory becomes the first government on the planet to permanently grant women the right to vote. (The 19th Amendment granting national women's suffrage will not be passed for another 50 years, in 1919.)

1870- Esther Hobart Morris of South Pass City (then part of Sweetwater County) is appointed the first female Justice of the Peace in the United States. In Laramie, six women become the first to serve on a jury. Martha Symons Boies Atkinson of Albany County is appointed the first woman court bailiff in the world.

1894- Estelle Reel is elected Wyoming Superintendent of Public Instruction; she is the first woman ever elected to statewide office.

1920- Jackson becomes the first town in America to be governed solely by women, with a female mayor, town council, and town marshal.

1925- Nellie Tayloe Ross takes office as Governor of Wyoming, the first woman in the United States to be elected governor. Later she is appointed the first female Director of the United States Mint, a post she fills from 1933 to 1953.

1959- Harriet Elizabeth "Liz" Byrd of Cheyenne becomes the first full-time, certified African-American teacher in Wyoming when she is hired by the Laramie County School District. In 1980, she is elected and serves in the Wyoming State Legislature through 1988, and goes on to be elected to the Wyoming State Senate, where she serves until 1992, the first female African-American to achieve both offices.

Today, the statues of Esther Hobart Morris at the entrance of the Wyoming State Capitol in Cheyenne and the Hall of Columns in the U.S. Capitol in Washington, DC commemorate not only her, but all Wyoming's pioneer women and the motto that dominates Wyoming's State Seal: "Equal Rights."

Click on this link for more pictures: Wyoming led the way for women's rights

Related Links:
www.sweetwatermuseum.org/ Sweetwater County Historical Museum

---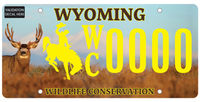 Conservation plate. Photo courtesy WYDOT.

WY Conservation license plates available (posted 3/9/19)
Wyoming Department of Transportation
The new wildlife conservation plates are off to a strong start, with the public acquiring more than 500 since the Jan. 1 unveiling.

The new plate features a mule deer design as a way to raise awareness about wildlife conservation and to help protect wildlife migration routes. The state Legislature passed a statute last year creating the new plate. The Wyoming Transportation Commission then approved the design in consultation with stakeholders.

As of Feb. 27, WYDOT has issued 503 of the new plates. Out of Wyoming's 23 counties, Laramie issued the most so far at 75, figures from the Wyoming Department of Transportation's Motor Vehicle Services program showed for Feb. 27. The other counties topping the list included Sweetwater and Fremont at 65 each, Natrona at 47, Teton at 40 and Lincoln at 35.

"The public indicated they wanted a specialty plate that supports wildlife conservation efforts," said Taylor Rossetti, WYDOT Support Services administrator. "The state Legislature then approved the new plate and WYDOT worked to get it ready and available for the public. The proceeds from the sale of this plate will go toward supporting wildlife conservation projects related to the transportation system."

Some of those projects include signage, animal crossings, fences and other related work.

The initial application fee is $180, of which $150 goes to the conservation fund and $30 toward the specialty plate fee. Then, motorists will pay $50 each year as an annual fee for the plate. For those who want an embossed plate, there is an additional $50 charge.

WYDOT issues the plates in the order received and they are issued based on demand, with no limit to the amount of plates.

However, per state statute, WYDOT will have to issue at least 1,000 plates from 2019 until Dec. 31, 2023 in order to continue to offer them after 2023.

The plate applications are available on WYDOT's website.

"After a customer applies for the wildlife plate, WYDOT will send the license plate to the county treasurer," said Debbie Lopez, Motor Vehicle Services manager. "The county treasurer will then contact the customer and let them know it's in. They can then come in and trade out the plate they have on their vehicle for the wildlife plate."

The wildlife conservation plate is one of 13 specialty plates offered by WYDOT. For a complete listing of plates, visit WYDOT's website.

The conservation plate is also an outgrowth of the cooperation between WYDOT and the Wyoming Game and Fish Department. Over the years, both agencies have worked together to address wildlife connectivity issues. WYDOT also has an immense amount of data on wildlife and connectivity information it uses when considering highway projects.
---
Calling All Musicians - URA seeking original music by Wyoming bands (posted 3/8/18)
Wyoming Roots Music Festival
Wyoming Roots Music Festival
ROCK SPRINGS — This could be the opportunity Wyoming bands have been waiting for all their lives.

The Rock Springs Main Street/Urban Renewal Agency wants to showcase the amazing talent that exists in Wyoming at the first annual Wyoming Roots Music Festival. The event takes place at the Broadway Theater on September 14.

If selected, the band will play a 30-minute set. The band will have access to the house sound system only; any additional sound requirements must be provided by the entertainers, and it will be covered with a $300 stipend.

The festival will feature five bands.

Musicians need to send a sample of their music in digital format, CD or link, a current resume of any music performance history and references and any support materials, such as copies of show programs, reviews, newspaper/magazine articles.

Wyoming Roots Music Festival will be a part of Downtown Rock Springs ARTember event.
More information can be found on downtownrs.com or broadwayrs.com. Applicants may call the Rock Springs Main Street/Urban Renewal Agency at 307-352-1434.

---
BLM issues Record of Decision for the Riley Ridge to Natrona Pipeline (posted 3/4/19)
The BLM's selected alternative is the Agency Preferred Alternative as described in the Final EIS
Bureau of Land Management
ROCK SPRINGS, WYOMING – In support of the Department's goal to promote responsible energy development and create jobs, the Bureau of Land Management (BLM) High Desert District Office has released a Record of Decision (ROD) on three right-of-way applications submitted by Denbury Resources. The BLM assessed feedback received during the 30-day availability period of the Final Environmental Impact Statement prior to issuing the ROD.

The proposed project by Denbury Resources could create approximately 490 jobs during the two-year construction period while generating a combined $2.5 million in state and local taxes during the construction and operation of the project.

Under the ROD, the project will include construction of a pipeline system within two 243-mile long rights-of-way through Fremont, Sublette, Sweetwater, and Natrona counties in Wyoming. Rights-of-way of varying width will be granted for both construction and operation of the pipelines. These rights-of-way typically will be larger during the construction phase and shrink down for the permanent operation phase. The project also will include construction and operation of the Riley Ridge Sweetening Plant, access roads, power lines, injection wells, and other small facilities associated with the project.

Documents and maps are available for the public to view online at: https://go.usa.gov/xPfkk.

For additional project information, please contact Mark Mackiewicz at 435-636-3616. Persons who use a telecommunications device for the deaf (TDD) may call the Federal Relay Service (FRS) at 1-800-877-8339 to contact the individual listed below during normal business hours. The FRS is available 24 hours a day, 7 days a week, to leave a message or question with the above individual. You will receive a reply during normal business hours.

Related Links:
BLM Record of Decision February 2019

---
Business Directory
Click here for
Advertising Information