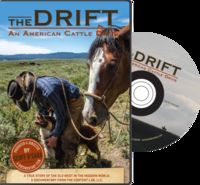 'The Drift' - The true story of a 100 year, 100-mile long cattle drive in western Wyoming.

Copies of 'The Drift' video available to order (posted 12/3/16)
The true story of a 100 year, 100-mile long cattle drive in western Wyoming
Those who would like to get a personal copy of the new video "The Drift" can now order them now and get them in time for Christmas. DVDs are $19.99 each plus shipping. Click on this link to get to the order page: http://www.contentlabmedia.com/the-drift.html

"The Drift" is a documentary from The Content Lab, LLC out of Lander, Wyoming. It is described as "A true story of the Old West in the modern world." From the pasture and mesas along the Green River to the alpine meadows near the Continental Divide, "The Drift" tells a story embedded in the history and culture of Wyoming: a cattle drive, and the people who ride it. For over a century, ranchers along the Green River have driven their cattle long distances to high pastures in the mountains of Wyoming. Now they must find their way past drilling rigs, vacation homes, grizzly bears... and an uncertain future.

In the midst of a monumental landscape, the documentary focuses in on authentic, unforgettable characters: Bob Beard and his grand-daughter Sara riding among the snorting, pluming cattle in the Counting Gate chute, shouting out and counting brands; grizzly bears picking off straggling calves at "the Bend" as biologist Zach Turnbull tries to trap and collar the bad actors; old Bobby Gilbank riding out in a lightning storm along Fish Creek to doctor a sick calf. Our cameras capture the grit and grime, the calving and winter storms, the personal stories of loss and love. And hovering over the extraordinary mountain landscapes, a foreboding cloud: the Drift itself is endangered by the encroaching modern world.

The documentary will air again on Wyoming PBS on Wednesday, December 7th at 7:00PM (Pinedale Online Editor's comment: note new date and time from our earlier postings).

There will be an additional screening at the Wyoming Stock Growers meeting on Monday, December 5th at 7:45PM at the Parkway Plaza, American Room in Casper, Wyoming.

For more information about the documentary, contact:
Geoffrey O'Gara
The Content Lab
PO Box 973
Lander, WY 82520
307-349-2892

---
EPA proposes financial responsibility requirements for hardrock mining industry (posted 12/2/16)
Companies must prove financial ability to pay for response and cleanup of environment around mineral mining sites – EPA proposes similar rules for chemical manufacturing; electric power generation, transmission and distribution, and petroleum and coal products manufacturing industries
Environmental Protection Agency
WASHINGTON – Following a court order and Congressional directive under the Comprehensive Environmental Response, Compensation, and Liability Act (CERCLA), the U.S. Environmental Protection Agency (EPA) today (Friday, Dec. 2, 2016) is taking action to protect American taxpayers by proposing financial responsibility requirements for the hardrock mining industry.

This proposal would require that owners and operators of certain classes of hardrock mines and mineral processing facilities show financial ability to address risks from hazardous substances. Since the 1980s, EPA has spent considerable resources cleaning up contamination from hardrock mines. The most recent analysis, from 2010 to 2014, shows that the Agency spent nearly $1.1 billion on response and cleanup actions on hardrock mining and mineral processing sites.

"Far too often the American people bear the costs of expensive environmental cleanups stemming from hardrock mining and mineral processing," said Mathy Stanislaus, Assistant Administrator for the agency's Office of Land and Emergency Management. "This proposed rule, once finalized, would move the financial burden from taxpayers, and ensure that industry assumes responsibility for these cleanups. The proposed rule would also give companies an economic incentive to use environmentally protective practices that can help prevent future releases."

This proposal is the result of many years of incremental steps since the Agency identified hard rock mining as the first sector for development of these regulations. The Agency extensively consulted with stakeholders, including small businesses, industry groups, environmental groups, and state and tribal governments.

These proposed requirements complement existing financial responsibility requirements. Facilities that apply environmentally protective practices—including those required by other regulations—may be able to reduce their required amount of financial responsibility under the proposed rule.

In addition, as requested by Congress, EPA published a market capacity study to examine the availability of financial responsibility instruments for this proposal. The study illustrated the likely probability of sufficient providers and capacity to meet requirements of a future CERCLA 108(b) regulation for hardrock mining.

In a separate action, the EPA Administrator also signed a Regulatory Determination Notice stating the agency's determination to issue notices of proposed rulemaking on similar financial responsibility requirements for three additional industries: chemical manufacturing; electric power generation, transmission and distribution; and petroleum and coal products manufacturing.

This notice is not a determination that regulatory financial assurance requirements are necessary for any of these three industries. The notice explains that EPA intends to move forward with the regulatory process, which will determine what, if any, financial responsibility requirements are necessary for these industries.

The hardrock mining proposal and the notice on determination for additional classes of industries will be published in the Federal Register in the coming weeks. The proposal will be available for public comment for 60 days following publication in the Federal Register. EPA invites stakeholders and the public to share their expertise by providing comments on the proposed rule for the hard rock mining industry during the public comment period. EPA is not establishing a public comment period on the Regulatory Determination Notice.

A pre-publication version of the rule is available for review at: https://www.epa.gov/superfund/superfund-financial-responsibility.

A pre-publication version of the Regulatory Determination Notice for additional industries may be viewed at: https://www.epa.gov/superfund/superfund-financial-responsibility.

---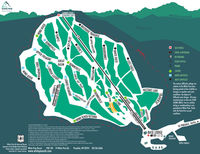 White Pine Ski Area trail map

White Pine Ski Area opens Dec. 2 (posted 12/1/16)
White Pine Ski Area near Pinedale will have their opening day on Friday, December 2nd. They will begin the season with opening Little Spirit lift first, Great Spirit lift will open as soon as snow conditions allow. Updates will be posted on their website, www.whitepineski.com, and via social media.

White Pine will operate Friday through Monday this winter with lifts running from 9AM to 4PM. White Pine will be open for all the Federal holidays as well as Teacher Training days which mostly occur on Mondays. White Pine will open daily through the school Christmas break, including Christmas Day, from Friday December 16 to Monday January 2. For more information call 307-367-6606.

---
Energy Share of Wyoming kicks off for 2016-17 (posted 12/1/16)
Funding is available to pay energy bills when all other resources and assistance have been exhausted
Rocky Mountain Power
Raising more than $100,000 and assisting more than 350 families statewide are among goals of Energy Share of Wyoming, which kicks-off its 2016-17 season Thursday, December 1.

Numerous Wyoming businesses, organizations and communities sponsor the program that assists individuals with energy-related emergencies when unusual circumstances create financial needs not met through existing assistance programs. Funding comes from voluntary contributions for the program that runs through spring 2017.

During its 28th season last year, Energy Share raised nearly $64,000 in private and corporate donations to assist 191 households throughout the state. Recipients of funding resided in 13 of Wyoming's counties, with an average bill being paid of $268.

According to Leslie Blythe, Energy Share past president from Rocky Mountain Power, "We are very fortunate in Wyoming to have so many generous people who want to help their neighbors through the rough times. Over the years, our program has been very successful and been able to assist thousands of families in need."

A nonprofit organization, Energy Share of Wyoming is a partnership of numerous organizations, utilities and businesses. Sponsoring groups include The Salvation Army; Montana-Dakota Utilities; Rocky Mountain Power and Rocky Mountain Power Foundation; Black Hills Energy and Black Hills Corporation Foundation; Townsquare Media Group; City of Gillette; Wyoming Rural Electric Association; Town of Lusk; Dominion-Questar; City of Powell; Powder River Energy Corp.; Kelly Rizley Advertising & PR; and Align.

Energy Share funding is available to pay energy bills when all other resources and assistance have been exhausted. First priority goes to individuals and families at or above 185 percent of the Federal Poverty Level. Special consideration is given to senior citizens and the disabled. Energy Share provides for a one-time expenditure of up to $400 per household, and all applicants must be Wyoming residents.

Funding decisions are made by The Salvation Army, which reviews applications and assesses eligibility based on need, lack of other resources and available Energy Share funds. Individuals interested in applying for funds should contact their local Salvation Army, or call toll-free 1-877-461-5719, to determine your local Salvation Army field representative.

For those wishing to make a tax-deductible contribution, sponsoring utilities include instructions in their fall and winter billing statements. In areas without a sponsoring utility, individuals may send their tax-deductible donations to Energy Share of Wyoming, c/o Align, 1401 Airport Parkway Suite 300, Cheyenne, WY 82001-1543.

---
Wyoming will host Mountain West Football Championship Dec. 3 (posted 12/1/16)
Play against San Diego State
University of Wyoming
For the first time in school history, the Wyoming Cowboys will host the Mountain West Football Championship Saturday, Dec. 3 at War Memorial Stadium. The Cowboys will face the San Diego State Aztecs in the first ever postseason game at the War. Kick-off is at 5:45 p.m. Gates to the stadium will open at 3:30 p.m.

Wyoming earned hosting rights based upon its higher composite computer average. It's the first conference championship game appearance for UW since the inaugural Western Athletic Conference title game in 1996. San Diego State won the 2015 MW Championship with a victory over Air Force, 27-24, last December. Both teams finished 6-2 in league play. The Cowboys are 8-4 on the season, while the Aztecs are 9-3.

Tickets went on sale at noon on Sunday, Nov. 27 and are available through the University of Wyoming Athletics Ticket Office. You can visit gowyo.com/tickets or stop by the ticket office in-person, open noon-to-6 p.m. Sunday or by calling 307-766-7220.

Ticket prices range from $21 to $38 for adults. Youth tickets are $17. Since the Championship is operated by the Mountain West, parking must be purchased. Cowboy Joe Club members can purchase in their regular-season designated lots for $15 by Friday, Dec. 2. Non-members can buy a parking pass in select lots for $20. A limited number of game day passes will be available for $20.

The University of Wyoming will also host a men's basketball game against Northern Iowa Saturday, Dec. 3. The start time for the game was already moved to 1 p.m. in an effort to avoid a conflict with MW Championship football game.

---
Wyoming roads ready for increase in traffic for UW championship football game Dec. 3 (posted 12/1/16)
Wyoming Department of Transportation
The Wyoming Department of Transportation (WYDOT) is ready for the increase in traffic going to Saturday's (Dec. 3) University of Wyoming vs San Diego State football game for the Mountain West Conference championship.

No delays are anticipated for motorists due to construction or maintenance on I-80, WYO 287, WYO 487, WYO 34 and US 30, which are the routes drivers can use to get to Laramie.

WYDOT is partnering with the University of Wyoming to ensure travelers can get to the game with no issues. Weather would be the only thing that could impact travel, but conditions are expected to be decent and WYDOT is ready just in case.

"If we do have weather we're prepared, as always," said Tom DeHoff, district engineer out of Laramie. "We'll have workers on standby just in case and we'll be able to take care of anything that happens."

WYDOT's partnership with UW and the work it does on its roads on a daily basis is in line with the department's goals of improving safety on the state transportation system, serving its customers and taking care of all physical aspects of the state transportation system.

"We want to make sure everyone gets to the game safely and gets home safely," DeHoff said.

For more information about this news release, contact Aimee Inama, WYDOT Public Affairs specialist, at (307) 777-4013.

Related Links:
www.wyoroads.info Wyoming Road Condition Reports (WYDOT)
Weather weather.gov

---
BTNF roads to close Dec. 1 for winter season (posted 11/28/16)
Most become impassable by conventional vehicles due to snow
Bridger-Teton National Forest
JACKSON, Wyo., November 28, 2016 – The Jackson Ranger District of the Bridger-Teton National Forest announced that the Granite Creek road and the Mosquito Creek road, south of Jackson, and the Shadow Mountain road, north of Jackson have been intermittently passable by vehicle over the last several days. With more snow predicted this week, the Forest is cautioning visitors to check conditions before heading out, especially those who might be tempted to drive these roads in search of Christmas trees.

All forest roads will be closed on Thursday, December 1, 2016 when the winter travel restrictions go into effect on the Forest. "Oftentimes, visitors forget that there is no snow removal on forest roadways," said Public Affairs Officer Mary Cernicek. "As winter progresses, the mountain roads become drifted with snow and unpassable. If not careful, an unsuspecting motorist could get caught on a drifted road or slide off into a ditch and the vehicle cold be stuck there until snowmelt in the spring," she said.

Winter weather conditions may change rapidly on the forest, especially with forest roads and highways. "Visitors are encouraged to contact their forest district office for the most up-to-date information," she said. Most Forest Service roads are impassable to conventional vehicles during the winter due to deep snow. Forest Service roads are not maintained or plowed for winter travel by conventional vehicles.

"We ask our visitors to take all precautions as weather and road conditions can change," Cernicek said. "Be prepared for winter driving, limited sight distance and bumpy driving on all Forest Service roads." Bring extra clothing, food, water, blankets, first aid kit, shovel, tire chains and let someone know your destination and expected day/time of return.

It is a good idea to check the Bridger-Teton National Forest avalanche forecast at www.jhavalanche.org. Road and trail condition reports are updated regularly with help from forest visitors, trail crews and engineering reports. Please call the Bridger-Teton National Forest at 307-739-5500 or send an email to fs-r4b-tinfo@fs.fed.us to give a report after your hike of the conditions during your visit. "We can't be everywhere at once and appreciate your help."

---
2016 / 2017 Winter Programs to begin on the National Elk Refuge (posted 11/28/16)
Elk feedground sleigh rides begin Dec. 17
U.S. Fish & Wildlife Service
The National Elk Refuge is pleased to announce the 2016 / 2017 winter program schedule for the Jackson Hole & Greater Yellowstone Visitor Center. The visitor center, located at 532 N. Cache Street in Jackson, is open from 9:00 am to 5:00 pm daily this season, except for Christmas Day.

The Refuge's most popular educational program takes place from the unique setting of a horse-drawn sleigh. Sleigh rides begin for the season on Saturday, December 17 and operate daily from 10:00 am to 4:00 pm, except for Christmas Day. The rides are an exciting way to observe and photograph wildlife on the Refuge. In addition to elk, passengers routinely see coyotes, bald eagles, trumpeter swans, ravens, and other wildlife.

Participants purchase sleigh ride tickets at the visitor center and are transported on a free shuttle bus to the sleigh boarding area three miles north of Jackson. Sleighs depart three to four times each hour throughout the day, with rides typically lasting an hour. The sleigh rides are operated under contract by Double H Bar, Inc. Rates are $21 for adults and $15 for children ages 5 through 12, with children under age 5 riding for free. Reservations are required for private tours and groups of 20 people or more; smaller groups or families may make reservations, but advanced booking is not necessary. Additional information on sleigh rides, including group rates, reservations, and gift certificate purchases, is available by visiting http://1.usa.gov/1hwpEXj or by calling (307) 733-0277.

The National Elk Refuge is again partnering with the Teton Raptor Center this winter to present a series of "Feathered Fridays" visits this season at the Jackson Hole & Greater Yellowstone Visitor Center. The programs, offered each Friday from 12:00-2:00 pm, will run weekly from December 23, 2016 through March 31, 2017. The "Feathered Fridays" series was implemented last season as a pilot program and quickly became a popular success. Over 2,000 people attended one of the free programs, prompting the partnering organizations to continue the raptor program at the visitor center this winter. New this year is the opportunity for school and non-profit groups to sign up for a private Friday group raptor lesson from 11:30 am-12:00 pm. To schedule an educational program, please call (307) 739-9322.

Please visit the National Elk Refuge's web site at www.fws.gov/refuge/National_Elk_Refuge throughout the winter season for announcements on special events, including wildlife tours, full moon walks, craft days, guest speakers, and other programming.

---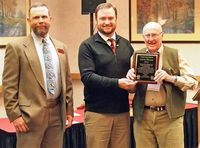 Monte Skinner (right) being presented the Archi Lauer Award by Sublette County Weed and Pest District. Supervisor Andy Currah (center) and Wyoming Weed and Pest Council President Adrian Hunolt (left). Photo courtesy Sublette County Weed and Pest.

Monte Skinner presented Archie Lauer Award (posted 11/23/16)
For Outstanding Contribution to a Weed and Pest program within a District
At the annual Wyoming Weed and Pest Council's Fall Conference awards banquet held on November 2nd in Cody, Wyoming, Monte Skinner was presented with the "Archie Lauer Award".

This award is presented in honor of Archie Lauer, a former Weed and Pest District Supervisor from Niobrara County. The award is given to one Weed and Pest Board Member in Wyoming to recognize their outstanding contribution to a weed and pest program within a District.

Monte was nominated by the employees of Sublette County Weed and Pest District. He was awarded a plaque along with a photo titled "Awe Inspiring View" from local photographer Dave Bell's "Middle Fork Expedition" Album.

Below is an excerpt from the Sublette County Weed & Pest nomination:

Monte Skinner has served the Sublette County Weed and Pest District for 25 years. Prior to his service as a Weed and Pest board member, he served as a Sublette County Commissioner for 8 years. Being involved and serving the communities of Sublette County have been a big part of this man's life and he has done so with great passion and dedication. Serving as a Commissioner and as a Weed and Pest board member are just two of the many examples of his involvement and service to our County.

This individual has a love of the outdoors. For 49 years he was co-owner/operator of Skinner Brothers Outfitting and the Wyoming Outdoors Wilderness Camp based in Pinedale. This Wilderness camp taught not only wilderness survival and outdoor education, but also included problem-solving and instilling personal strength and values in youth as young as 8 years old. Having spent so many years in our backcountry, he understands the importance of managing invasive species and the impact they can have on our native environment.

Every year our District will hear from landowners who were referred to us by this Board Member, inquiring about weeds they have on their property and what control options are available. He has always understood the importance of education and has always supported our efforts as a District in educating landowners.

In the 25 years he has served as a board member it is a rare occasion for him to miss a board meeting, which shows his dedication to our District and its programs. He has been a huge supporter of District employees and has helped make our District what it is today. He has attended many Council meetings and on many occasions shouted from the back for everyone to speak up! He is always the first to support and attend any educational event that the supervisors of the District hold. He strongly believes in the education of the public, but also in the continuing education of Weed and Pest employees. Whenever we as employees ask the board to consider allowing us to upgrade any portion of our program and to use the best practices available, he supports us, and has on more than one occasion, referred back to the employees of the district to make the best management decision for our projects and weed management.

He is a veteran of WWII, an outdoor enthusiast, and still at his youthful age loves to ski in the winter, plant his garden in the spring and summer, and hunt in the fall. He is a great attribute to our District and supporter of the Wyoming Weed and Pest Council.

On behalf of all the employees of Sublette County Weed and Pest, it is my great pleasure to be able to present this year's Archie Lauer Award to Monte Skinner. Board Member, Sublette County Weed and Pest.

--Andy Currah, Supervisor Sublette County Weed and Pest

Click on this link for more photos: Monte Skinner presented Archie Lauer Award

---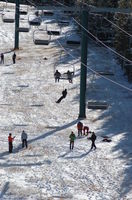 Lift evacuation exercise at White Pine. Photo courtesy White Pine Resort.

White Pine to open Tubing Hill after Thanksgiving (posted 11/23/16)
White Pine Resort
White Pine Ski Resort has announced it will open the tubing operation this Friday and Saturday November 25th and 26th. A $20 opening special is on offer for unlimited rides on the tubing hill from noon to 4pm on both days. Family ticket is $50. "After Thanksgiving the kids are looking for something to run off their energy and have some winter fun" said Tim Scott, White Pine's General Manager, "we receive so many calls each day from people wanting information on opening. Now we have something to offer."

The decision to open follows a busy week of completing all the last minute projects on the mountain, the annual pre-opening lift inspection by key members of the United States Forest Service and insurance company personnel, as well as a full day of training for incoming and returning staff for the 2016/17season. Part of the pre-opening exercises is a lift evacuation, held last Saturday. White Pine Ski Patrol plus local emergency services, Tip Top Search and Rescue (TTSR), United Fire Department and EMS all come and take part so they are prepared if called upon to assist in the unlikely event of a malfunction or breakdown with skiers on both lifts.

As to predictions for a mountain opening, "we keep an eye on the NOAA website each day," stated Scott "this week looks promising with a storm approaching from the Pacific, and Winter Weather Advisories in effect for the Western Mountains in the early part of the week. Snowfall in mid-October, with over 15" on the top of the mountain, had our expectations high for an early season opening, however an unseasonably warm November has meant it is too early to predict". White Pine relies on "snowfall from Heaven" and has no snow making facilities.

This winter, White Pine has shifted the 4 day weekly operation to Friday through Monday. There are a number of Federal holidays and school 'in-service teacher training days' on Mondays, leading White Pine owner Alan Blackburn to make the change for this season. "We had so many calls last winter from parents wanting to send children skiing on Mondays, that we felt it was a logical move in response to customer requests," said Blackburn. "We will continue our tradition to open daily for 18 days through the school Christmas break from Friday December 16th to Monday January 2nd".

As well as the tubing hill opening this Friday, Saturday, White Pine will open the Grill on the main floor and Waggon & Horses Bar on the upper floor.

Following snowfall Monday, the owners of White Pine have decided to open Little Spirit lift for the season on Friday December 2nd from 9am-4pm.

Related Links:
www.whitepineski.com

---
Elk hunting opportunities remain at National Elk Refuge (posted 11/23/16)
Wyoming Game & Fish
Hunters who have not yet filled their 2016 Wyoming elk license still have an opportunity to hunt elk on the National Elk Refuge (Hunt Area 77). Three additional hunt periods remain through the end of the season, which is scheduled to conclude on December 16.

The application process for National Elk Refuge elk hunting permits is conducted in cooperation with the Wyoming Game & Fish Department. Applications are made through the Wyoming Game & Fish Department's Access Yes Program web site at http://bit.ly/1jjpFQL.

Many hunters receive a Refuge elk hunt permit via a computerized drawing in September. However, once the season is underway, alternate permits also become available to hunters on a weekly basis. The alternate permits are issued online on Mondays. In order to disperse hunters over the hunt period, half of the alternate permits issued are valid for Tuesday-Friday of the respective week, with the remaining half valid for Saturday-Tuesday of the same hunt period.

Hunters apply for an alternate permit between Friday at 9:00 am and Sunday at 11:59 pm MST for the upcoming hunt period. During the application process, hunters designate if they want to be considered for the Tuesday-Friday or the Saturday-Tuesday option for the upcoming hunt period. The results of the weekly computerized random draw are then posted on the application web site by 11:00 am on the following Monday. Currently, three alternate draws remain for the 2016 Refuge elk hunting season: November 28, December 5, and December 12.

The number of alternate permits issued will vary, depending on hunter harvest rates and participation. Individuals who were already successful in obtaining an elk permit for another hunt period may still apply for an alternate permit.

Beginning in late November, Refuge daily field permits may also be available on a first-come, first-served basis. This allows wildlife managers from both the U.S. Fish and Wildlife Service and Wyoming Game & Fish Department to provide additional late season hunting opportunities to achieve population objectives. Hunters can call a recorded message at (307) 201-5437 to be notified if field permits are available. The daily field permits are the only permits issued on location; when available, they are distributed on the Refuge Road near the 90° turn at Twin Creek, approximately 3.5 miles on the Refuge Road. Daily field permits are valid for the day of issuance only and give licensed hunters immediate access to the Refuge hunt once their permit is signed.

Daily field permits will be based on the number of current hunters and the safe dispersal of hunters and animals. There is no guarantee these permits will be available.

Refuge hunting regulations, including access, a map, retrieval of harvested animals, and other information, can be found on the National Elk Refuge web site at http://bit.ly/2gexVFl.

Printed copies of the regulations are also available at the following locations:
Jackson Hole & Greater Yellowstone Visitor Center, 532 N. Cache Street
Wyoming Game & Fish Department Jackson office, 420 N. Cache Street
National Elk Refuge Administrative Offices, 675 E. Broadway Avenue

---
Forest Service seeks public comment on two Elk feedground permits (posted 11/23/16)
Bridger-Teton National Forest
Greys River and Big Piney Ranger Districts are seeking comments on issuing permits for two elk feedgrounds on National Forest System lands. The proposed two special use permits, one each for the use of Forest Park feedground and Dell Creek feedground, would be issued to the Wyoming Game and Fish Commission for the purpose of continuing their elk management activities and associated facilities for one year period. The permits would expire on December 31, 2017.

These feedgrounds are two of 22 state operated feedgrounds located in Wyoming. The current 20-year permits authorizing use of the Forest Park and Dell Creek feedgrounds will expire on December 31, 2016. The one-year re-authorization of the existing special use permits allows for the continued management of the elk feedgrounds on a temporary basis while the Forest Service and Commission conduct environmental analyses for longer term use. "We intend to complete an environmental assessment to provide sufficient analysis for determining whether to prepare an environmental impact statement or a finding of no significant pursuant to the National Environmental Policy Act," said Anita Delong, Environmental Coordinator for the Bridger-Teton National Forest.

Information Is available at http://www.fs.usda.gov/project/?project=50622. Comments are due by December 5, 2016. Written comments should be submitted to: District Ranger Richard Raione, Greys River Ranger District, 671 N. Washington, Afton, WY 83110 or to District Ranger Don Kranendonk, Big Piney Ranger District, P.O. Box 218, Pig Piney, WY 83113. Electronic comments can be submitted to comments-intermtn-bridger-teton-greys-river@fs.fed.us or to comments-intermtn-bridger-teton-big-piney@fs.fed.us. For more information or to be added to the mailing list for this project, please contact Environmental Coordinator Anita DeLong at akdelong@fs.fed.us or (307) 886-5329.

---
Congress passes bill to improve trail maintenance and preservation (posted 11/17/16)
Senator Mike Enzi media release
Washington, D.C. – Congress sent a bill this week to President Obama that would improve access to America's National Forests through better trail maintenance and preservation.

The National Forest System Trails Stewardship Act would make better use of existing resources within the Forest Service to significantly increase the role of volunteers and partners in maintaining the usability and sustainability of the National Forest's trail system.

Senators Mike Enzi, R-Wyo. and Michael Bennet, D-Colo. were the prime sponsors in the Senate and Representatives Cynthia Lummis, R-Wyo., and Tim Walz, D-Minn., in the House. U.S. Senator John Barrasso, R-Wyo., was a cosponsor of this bill. Legislators in both houses passed the bipartisan bill unanimously.

"Wyoming is home to some stunning forests and they should be easily accessible," Enzi said. "With our country in tough fiscal times, it is important that we maintain access to our public land in a fiscally sound manner. This bill would make the most of our resources, maximize the use of volunteers and improve access to our National Forests for generations to come."

"Millions of people every year come to Colorado for some of the best hiking, scenery, and wildlife viewing that the country has to offer," Bennet said. "Our tourism and outdoor recreation industries depend on a well-maintained trail system throughout our national forests. This bill will help the Forest Service do more with less by increasing the use of volunteers to ensure our trails are accessible and safe for all of us to use."

The Forest Service currently maintains only one-quarter of the 158,000 miles of National Forest trails that offer hiking, horseback riding, hunting, mountain bicycling, motorized vehicles, and other outdoor activities. The act would expand the number of trails that could be maintained by requiring a national strategy to maximize the use of volunteers and partners while addressing liability concerns that restrict outside groups and individuals working on the trails.

The bill also directs a study on utilizing fire crews for maintenance work during off-seasons and a study on permits for outfitters and guides to offset some fees through work on trail maintenance.

"This is really a motherhood and apple pie kind of bill," Lummis said. "This legislation empowers volunteers in their desire and effort to restore our national trails system. It also explores utilizing fire crews during the off season and letting outfitters work off some of their fees in trail maintenance. By refocusing on volunteers and stretching existing resources, we will make real progress on the trail maintenance backlog, despite these tight fiscal times. I thank Senator Enzi for shepherding this bill through the Senate. It is very exciting to see this legislation, which will restore public access to beautiful trails, head to the White House for the President's signature."

"From hikers to bikers, outdoor enthusiasts across the country utilize 157,000 miles of National Forest System trails every day for exercise, relaxation, and exploration. Though public use remains high, close to two-thirds of these trails don't receive any maintenance whatsoever because our Forest Service simply lacks the resources to keep up," Walz said. "I am proud the legislation Representative Lummis, Senator Enzi, Senator Bennet and I have worked on passed the Senate today and I look forward to it being signed into law. Protecting our public lands for future generations while increasing access to the great outdoors is our responsibility, and this bill is a step in the right direction."

Click here for a copy of the bill.

---
Second performance of Nutcracker added (posted 11/16/16)
Friday, December 2 at 7PM in the Pinedale Auditorium
Pinedale Fine Arts Council
"The Saturday performance sold out in a matter of days and there was still a pretty big demand for tickets," said PFAC Marketing Director Tim Ruland. "After working out some logistics we were able to add the Friday show and hopefully we can sell it out too!"

Experience the holiday spirit and a little magic with loved ones of all ages at The Nutcracker. The Sugar Plum Fairy and her Cavalier will fly you away to the Snow Kingdom and the Land of the Sweets, but not before battling the not-so-scary Mouse King and his Pirate Henchmice. Toni Pimble's exquisite choreography, Don Carson's colorful and magical sets, and the joy of a world class Company, creates the perfect tradition for everyone in your family.
Performed by the internationally acclaimed Eugene Ballet, this marks the first time ever that the Nutcracker has been performed in Pinedale.

Joining the company will be 38 local dancers from both Pinedale and Big Piney. These students have been rehearsing for 2 months to prepare for this performance. Come watch the magic unfold.

Tickets for the Friday, Dec 2nd Nutcracker are available at Boondocks Pizza, The Cowboy Shop, both Office Outlets, The Big Piney Library and at the door the night of the performance. Ticket prices are $20 adults / $7 students / $2 extra at the door.

Able to switch your Saturday tickets for Friday?
We have a few families still looking for Saturday tickets. If you are willing to switch nights, please stop by the PFAC office or any ticket outlet to exchange them. Thanks! - PFAC

---
Business Directory
Click here for
Advertising Information