CDC changes COVID-19 guidance (posted 8/12/2022)
Pinedale Online!
On Thursday, August 11th, the Centers for Disease Control (CDC) issued a press release indicating they are steamlining their guidance for COVID-19 stating, "COVID-19 continues to circulate globally, however, with so many tools available to us for reducing COVID-19 severity, there is significantly less risk of severe illness, hospitalization and death compared to earlier in the pandemic."

Highlights include:
- Recommending if people are sick with COVID-19, or
what might be COVID-19, they should isolate from others, regardless of vaccination status. If you test positive for COVID-19, stay home for at least 5 days and isolate from others in your home. You are likely most infectious during these first 5 days. If after 5 days you are fever-free for 24 hours without the use of medication, and your symptoms are improving, or you never had symptoms, you may end isolation after day 5. It is recommended to wear a mask through day 10.
- Screening testing of asymptomatic people without known exposures will no longer be recommended in most community settings.
- Recommending that instead of quarantining if you were exposed to someone with COVID-19, you wear a high-quality mask for 10 days and get tested on day 5.
- The CDC is also dropping the 6-feet distancing from others recommendation.
- The CDC still promotes COVID-19 vaccinations and booster shots to protect against serious illness, hospitalization and death. (Vaccinated individuals can still contract COVID-19 and transmit it to others. To date, in Wyoming, there have been over 34,000 lab-confirmed cases of COVID-19 in vaccinated people and over 200 vaccinated deaths since the pandemic began. No one age 18 or under has died in Wyoming due to COVID-19 over the 2-1/2 years of the pandemic.)

Click on the link below to read the full media release.
Source: CDC streamlines COVID-19 guidance to help the public better protect themselves and understand their risk

---
Postal rates for packages to increase during 2022 holiday season (posted 8/12/2022)
Pinedale Online!
The United States Postal Service (USPS) filed notice on August 10, 2022 regarding a temporary increase in prices for package prices for the 2022 peak holiday season. This is a temporary rate adjustment to help cover the extra handling costs for parcels during the holiday rush. The increase does not affect international products.

The rate increase goes into effect on October 2, 2022 until January 22, 2023. Increase rates vary by zones. Commercial and Retail Priority Mail and Priority Mail Express will see increases from $.25 cents to $6.50 for flat rate boxes and envelopes, depending on weight and destination.

The price for first class mail Forever stamp increased from $.58 cents to $.60 cents in July 2022. A postcard stamp rose from 40 cents to 44 cents with that rate increase. The holiday rate increase is only for packages and will not change these prices for letters.

The Postal Service generally receives no tax dollars for operating expenses and relies on the sale of postage, products and services to fund its operations.

A full list of commercial and retail pricing can be found on the Postal Service's Postal Explorer website at https://pe.usps.com/text/dmm300/Notice123.htm.
Source: U.S. Postal Service Announces Proposed Temporary Rate Adjustments for 2022 Peak Holiday Season

Related Links:
Postal rates increase Pinedale Online!, July 18, 2022

---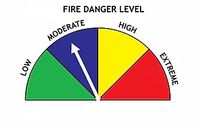 Fire danger lowers to Moderate (posted 8/12/2022)
Bridger-Teton National Forest
On August, 10, 2022, Teton Interagency Fire managers adjusted the fire danger rating to moderate for Grand Teton National Park, Bridger-Teton National Forest, and the National Elk Refuge following recent rainfall and cooler temperatures.

A moderate fire danger rating does not mean that people should let their guard down regarding fire risk. The best way to prevent wildfires is to not build an outdoor fire. If temperatures are cool, dress in layers to keep warm instead.

If you choose to build a fire, keep your fire small and attend to it vigilantly. Be sure to have a plan for putting your fire out before you light it. Campfires must be completely extinguished before you leave them. Before you walk away from your campfire, douse your fire with a large amount of water, stirring the coals and ashes into a thick, muddy soup, incorporating the white ash from the fire's edges. Feel for heat in the center of the fire, on the larger pieces of wood, and along the edges of the ash. Repeat this process until no heat remains.

If you do not have a shovel or water, no established fire ring, a soil area to build your fire free of flammable materials, or if there are winds that could carry sparks, consider not building a fire.

So far this year, there have been 77 illegal and abandoned campfires in the Teton Interagency Fire area. Every year, hundreds of campfires are left unattended, with all of them having the potential to start a large, extremely costly, life-threatening wildfire. Unattended or abandoned campfires can quickly escalate into wildfires and recreationists can be held liable for suppression costs if their campfire ignites a wildfire. Please be responsible with fire.

Learn more about wildfire prevention and current wildfires by visiting www.tetonfires.com. To report a fire or smoke in the area, call the Teton Interagency Fire Dispatch Center, 307-739-3630.

---
States say Feds meddling in State voter registration process (posted 8/5/2022)
Wyoming Secretary of State Ed Buchanan media release
Secretaries of State Ask President Biden to Rescind Executive Order Inserting Federal Agencies Into State Voter Registration Processes Without Prior Congressional Approval

CHEYENNE, WYOMING – Wyoming Secretary of State Ed Buchanan has joined fourteen other Secretaries of State from across the country jointly signing a letter to President Joe Biden asking him to rescind Executive Order No. 14019, which calls for federal agencies to act beyond their Congressionally-specified functions.

The Executive Order directs federal agencies to develop their own plans to register voters in those states that use an agency's services or programs. The Executive Order further directs those agencies to share these plans with the President without first consulting the states.

The letter cites a lack of Constitutional authority of an Executive Order to direct federal agencies to operate voter registration services beyond their Congressionally-specified functions.

The letter also says that Biden's Executive Order duplicates voter registration efforts already conducted at the state level, and ignores codified procedures and programs for voter registration outlined in state laws and constitutions.

As the supreme law of the land, the U.S. Constitution clearly indicates that state legislatures, not the President, shall prescribe the way and manner a state manages its election process. Neither the U.S. Constitution nor the National Voter Registration Act include any such grant of executive authority to the President to require federal agency involvement with state-level voter registration processes.

Any actions to reconfigure states' voter registration duties and responsibilities must be done by Congress or the states themselves, not through the Executive branch. The signatories to the letter contend that the Executive Order erodes the responsibility and duties of their state legislatures.

A complete copy of the letter can be found here.

---
Sublette County Public Health Update: July 22, 2022 (posted 7/23/2022)
Sublette County Public Health
This week's update is the last scheduled update that Sublette County Public Health will issue. If critical information changes, we will once again provide updates to the public.

If interested, you can keep up to date on numbers and data at:
• Wyoming Department of Health
https://health.wyo.gov/publichealth/infectious-disease-epidemiology-unit/disease/novel-coronavirus/
• CDC Map
https://www.cdc.gov/coronavirus/2019-ncov/science/community-levels.html

It has been our pleasure to communicate with you over the past few years about COVID related information. It is time to decrease our response as available data declines and our focus returns to all of our Public Health services. As always, please call Public Health @ 367-2157, if you need information related to current guidelines or vaccine recommendations.

COVID Update
Sublette County Public Health has received notification of 24 new positive COVID-19 cases in Sublette County since our last update on July 15th. Per the Wyoming Department of Health report on Tuesday, July 19th – our current numbers include 2,036 recoveries and 27 deaths, for a total of 2,063 cases since the pandemic began (529 cases in 2022).

Sublette County is in the high community transmission level according to the CDC's website.
(https://www.cdc.gov/coronavirus/2019-ncov/science/community-levels.html) See attached map for a quick view of the rest of the state's community transmission status.

COVID-19 Vaccines
As of July 4, 2022 – 3,548 people or 36.09% of our total population, have been fully vaccinated in Sublette County.

Sublette County Public Health offers weekly COVID vaccine clinics for ages 6+ months. Walk-ins are welcome on our scheduled clinic days or call 367-2157 to schedule an appointment. Pfizer and Moderna are offered at our weekly clinics.

Tuesdays at the Public Health Office in the Marbleton Senior Center
• 1 to 3:30 pm for COVID vaccinations/boosters
• Appointments recommended. Walk-ins welcome.

Thursdays at the Public Health Office in Pinedale
• 1 to 4 pm for COVID vaccinations/boosters.
• Appointments recommended. Walk-ins welcome.

Please bring your COVID vaccine card and completed vaccine consent form with you.

COVID-19 Testing
Please see our website for information: https://www.sublettewycovid.com/testing.

---
Postage rates increase (posted 7/18/2022)
First Class Forever stamp is now 60 cents
Pinedale Online!
In case you didn't realize it, the rates for postage stamps went up on July 10th. The cost of a first-class Forever stamp rose from 58 cents to 60 cents. A postcard stamp has risen from 40 cents to 44 cents. Other products and services have had price increases as well. The U.S. Postal Service requested the rate increase in April, 2022.

Below is the media release posted on the USPS website:

July 2022 Postage Price Changes
On April 6, 2022, the United States Postal Service® filed notice with the Postal Regulatory Commission (PRC) of price changes to take effect July 10, 2022. On June 9, 2022, the PRC announced the approval of changes, which include a two-cent increase in the price of a First-Class Mail Forever stamp from 58 cents to 60 cents.

The proposed prices, approved by the Governors of the U.S. Postal Service, would raise First-Class Mail® prices approximately 6.5 percent, which is lower than the Bureau Labor Statistics annual inflation rate of 7.9 percent as of the end of February. The price changes reflect a judicious implementation of the Postal Service's pricing authority provided by the PRC.

For information on the July 2022 Competitive Products and International Special Services price changes, see July 2022 Postage Price Changes - Competitive Products and International Special Services.

The new First-Class Mail prices can be summarized as follows:
July 2022 First-Class Mail Prices
First-Class Mail Current Price Proposed Price
One-ounce letter, domestic $0.58 $0.60
Single-piece letter, additional ounce $0.20 $0.24
Metered mail 1-ounce $0.53 $0.57
Postcard stamp $0.40 $0.44
One-ounce letter, international $1.30 $1.40

The Postal Service is also seeking price adjustments for Special Services products including Certified Mail, Post Office Box™ rental fees, Money Order fees and the cost to purchase insurance when mailing an item.

As inflation and increased operating expenses continue, these price adjustments will help with the implementation of the Delivering for America plan, including a $40 billion investment in core Postal Service infrastructure over the next ten years. With the new prices, the Postal Service will continue to provide the lowest letter-mail postage rates in the industrialized world and offer a great value in shipping.

The PRC has reviewed and approved the prices. The complete Postal Service price filing with prices for all products can be found on the PRC site under the Daily Listings section at https://www.prc.gov/dockets/daily. The Mailing Services filing is Docket No. R2022-1. The price change tables are also available on the Postal Service's Postal Explorer website at https://pe.usps.com/PriceChange/Index.

The Postal Service generally receives no tax dollars for operating expenses and relies on the sale of postage, products, and services to fund its operations.

Source USPS.com

---
Algae Bloom Advisory issued for Big Sandy and Eden Reservoirs in Wyoming (posted 7/15/2022)
Recreational Use Advisories in place
The Wyoming Department of Health (WDH) has issued a harmful cyanobacterial bloom (HCB) recreational use Bloom Advisory for Big Sandy Reservoir and Eden Reservoir based on data provided by the Wyoming Department of Environmental Quality (DEQ). The WDH is working directly with resource management agencies to ensure that signs are posted at all waterbodies with advisories. Additional details regarding advisory status, including changes to the type of advisory, and other HCB resources can be found at WyoHCBs.org.

The WDH issues recreational use advisories when cyanobacterial cell densities or cyanotoxin concentrations pose a risk to people engaging in swimming or similar water contact activities in areas where cyanobacterial blooms occur. HCBs may also pose a health risk to animals. Bloom Advisories are issued when a HCB is present and toxins may be present. Toxin Advisories are issued when cyanotoxins exceed recreational thresholds. Waterbodies under an advisory are not closed since HCBs may only be present in certain areas and conditions can change frequently. Advisories will remain in place until blooms have fully dissipated and cyanotoxin concentrations are below recreational use thresholds identified in Wyoming's HCB Action Plan.

If you encounter a potential HCB, the Wyoming Department of Health and the Wyoming Livestock Board recommend the following:
• Avoid contact with water in the vicinity of the bloom, especially in areas where cyanobacteria are dense and form scums.
• Do not ingest water from the bloom. Boiling, filtration and/or other treatments will not remove toxins.
• Rinse fish with clean water and eat only the fillet portion.
• Avoid water spray from the bloom.
• Do not allow pets or livestock to drink water near the bloom, eat bloom material, or lick fur after contact.
• If people, pets, or livestock come into contact with a bloom, rinse off with clean water as soon as possible and contact a doctor or veterinarian.

Questions about health effects and recreational use advisories can be directed to Courtney Tillman, Surveillance Epidemiologist, Wyoming Department of Health, at courtney.tillman@wyo.gov or (307) 777-5522. Questions regarding cyanobacteria sampling can be directed to Kelsee Hurshman, Natural Resource Analyst, Wyoming Department of
777-2073.

Current HCB Recreational Use Advisories
Waterbody Name Observation or Sampling Location(s) Advisory
Type Date Issued
Big Sandy Reservoir, East Dam Bloom, 07/14/2022
Eden Reservoir, South Outlet Bloom, 07/14/2022
Gillette Fishing Lake, South Shore Bloom, 06/08/2022
Goshen Hole Reservoir, NW Boat Ramp Bloom, 06/28/2022

---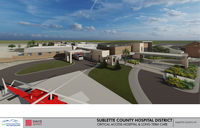 Architect rendering

Sublette County no longer the only county in Wyoming without a hospital (posted 6/28/2022)
Kari DeWitt, Sublette County Hospital District
On June 24, 2022 the Sublette County Hospital District (SCHD) received approval for a $32.2 million USDA Rural Development Community Facilities loan to fund the construction of a new Critical Access Hospital (CAH), the first of its kind in Sublette County.

Sublette County has long had the dubious distinction of being the only Wyoming county without a hospital, but in November 2020, voters chose to rectify that situation by overwhelmingly voting in a Hospital District. Healthcare is a fundamental need for Sublette County citizens and the approval of the USDA loan application is a key step in improving healthcare access across Sublette County.

Sublette County Commissioners Joel Bousman and Tom Noble note that, "Sublette County approved the formation of a Hospital District with the understanding that the Sublette County Commission would provide up to $20 million to fund a new nursing home upon completion of a merger of the Sublette Center (the current Long Term Care center) with the Hospital District, which puts healthcare services in Sublette County under one umbrella. The goal of all of this is to improve healthcare services in our county and allow our senior citizens the option to remain in the county for care. With approval of the USDA loan, we can now move in that direction."

The current long-term care facility, the Sublette Center, is 50 years old and in desperate need of updating. The new facility will attach to the hospital with a number of improvements over the existing facility, including private rooms and a memory care unit.

This joint project is the capstone of a multi-year community effort led by community members eager to see healthcare improve in Sublette County.

"The historical significance of this announcement is not lost
on us," said Tonia Hoffman, SCHD Board Chair. "We are thrilled to be a part of pulling the project together in spite of the many obstacles we faced and are grateful for the various members of the entire team of people who contributed in any way. We look forward to creating a lasting legacy of patient care in Sublette County." SCHD Board members include Hoffman, Jamison Ziegler, Kenda Tanner, Wendy Boman and David Bell.

While Sublette County currently has two clinics (one with an attached emergency room), critical healthcare services – including blood transfusions, chemotherapy and, most of all, the ability for any patient to stay overnight – have never been available.

The new CAH facility will consist of a 10-bed inpatient unit plus a pharmacy and laboratories. The building will be staffed with full-time doctors and mid-level providers, as well as a variety of professional staff in other healthcare positions. The 70,000-square-foot facility will also offer advanced imaging capabilities, including ultrasound, X-ray, CT and mammograms.

The 50-bed long-term care facility will include a 10-bed memory care unit, one of only two in western Wyoming.

"Having a Critical Access Hospital in Sublette County will greatly increase care. In the past we have been lacking in basic services," Dave Doorn, SCHD Administrator, states. "Having a CAH will be a game changer for our community."

A key piece to the project moving forward was the Sublette Center (the current LTC facility) agreeing to merge with the Sublette County Hospital District. As the Sublette Center currently operates as a nonprofit, the merger will improve pay and benefits for the Sublette Center staff. The merger will also allow both organizations to share services such as dietary, IT, infection control and housekeeping.

"Forming one healthcare entity for Sublette County is better for the community," Sublette Center Board Chairs Patty Racich and Marilyn Jensen write. "Our board believes the success of elder care lies in strengthening relationships. We hope to work towards continued improvement of healthcare for all ages of Sublette County residents and provide exceptional care for long-term care residents."

"Assuring quality healthcare for the residents was important to the support of the project," Sublette Center Administrator Dawn Walker adds. Each room in the new long-term care facility will have a bathroom and shower. Unlike the current facility where most of the rooms are doubles, requiring patients to have a roommate, most rooms in the new facility are private. Dawn Walker notes, "This will make such a difference for our residents."

This project has been a long time in the making. Medical Director Dr. David Burnett, who has practiced medicine in Sublette County for 33 years, has a framed copy of the front-page article from the Big Piney Examiner dated October 15, 1925. The headline of the article reads, "A Hospital Is Our Most Essential Need". Dr. Burnett notes, "Thanks to years of hard work by first the Sublette County Rural Health Care District board, and then the newly formed Hospital District Board, and significant community support from all towns, mayors, county commissioners, our state representatives and our citizens, Sublette County will now have a hospital. One hundred years of progress and the hard work of many have led us to this. It is a most significant development that will have great impact on our county."

After Sublette County's November 2020 election to form a Hospital District, the newly elected board focused on an opportunity in the USDA's Communities Facilities Program for rural areas. Established in the Balanced Budget Act of 1997, CAH is a designation given to eligible rural hospitals by the Centers for Medicare and Medicaid Services, essential to receiving compensation for eligible patient care. With the application's approval in June 2022, and the obligation of funding, the SCHD is ready to begin construction.

Layton Construction has been selected as the Construction Manager. Layton is a national construction firm that has completed dozens of healthcare projects. Most recently, they built the beloved Pinedale Elementary School in 2010. With USDA loan approval, Layton stands ready to start the subcontractor bidding process and groundbreaking on this historic project. Completion is expected in 2024.

Click on this link for more on the Sandy Fire.

---
ERAP Update (posted 6/26/2022)
Emergency Rental Assistance Program
Wyoming Department of Family Services
If you are eligible for the Emergency Rental Assistance Program (ERAP) and you are in need of additional services to help you stay safely in your home, please contact the community based organization for your county for more information about housing stability services. Costs related to obtaining or keeping safe housing will be considered on a case-by-case basis by the community based organizations.

ERAP funding also provides specialized services for eligible seniors, individuals with disabilities, domestic violence survivors and human trafficking survivors to support their ability to obtain and maintain safe housing.

• Seniors and individuals with disabilities: The Wyoming Department of Health's Aging Division provides these specialized services.
• Survivors of domestic violence and human trafficking: The Wyoming Coalition Against Domestic Violence and Sexual Assault provides these specialized services.

ERAP Funding Update
With rising gas and food costs, the demand for ERAP remains high. June has already surpassed May in expended funds.

Currently ERAP has issued $5.1 million in assistance payments, and it is quickly looking like June will beat April as the highest paid month. ERAP is a temporary federally funded relief program helping eligible Wyoming households struggling to make rent, internet and utility payments.

Please keep in mind that even though you may be eligible for assistance, we cannot promise funding will be available in the future. Do not wait to apply.

Since its launch in April 2021, ERAP has helped 9,364 Wyoming households with a total of $41 million in assistance. Of the rental payments, $32 million went to landlords, $5.9 million to households, $2.5 million to utilities and $5,700 for moving expenses.

Wyoming has issued 2,144 letters of intent to households who are homeless or without a current residence. Of those approved letters of intent, 552 households have obtained housing.

More Information:
• ONLINE: dfs.wyo.gov/erap
• PHONE: The call center is open 9 AM - 6 PM, Monday through Friday. The toll-free number is 1-877-WYO-ERAP (1-877-996-3727).

---
Business Directory
Click here for
Advertising Information