President Obama announces Clean Power Plan (posted 8/3/15)
1,560-page plan to take 'real action on climate change'
1,560-page plan to take 'real action on climate change'
On Monday, August 3, 2015, President Obama and the Environmental Protection Agency (EPA) announced their intent to implement new action called the Clean Power Plan, intended to reduce carbon emissions from electric generating power plants. The administration says the 1,560-page plan is "real action on climate change" that is "fair, flexible and designed to strengthen the fast-growing trend toward cleaner and lower-polluting American energy."

The document states "The purpose of this rule is to protect human health and the environment by reducing CO2 emissions from fossil fuel-fired power plants in the U.S."

The Administration says this final rule is a significant step forward in implementing the President's Climate Action Plan, which is intended "to address the far-reaching harmful consequences and real economic costs of climate change" with actions to reduce greenhouse gas emissions "that contribute to climate change and its harmful impacts on public health and the environment. "

In this action, the Environmental Protection Agency (EPA) is establishing final emission guidelines for states to follow in developing plans to reduce greenhouse gas (GHG) emissions from existing fossil fuel-fired electric generating units (EGUs). Specifically, the EPA is establishing:
1) carbon dioxide (CO2) emission performance rates representing the best system of emission reduction (BSER) for two subcategories of existing fossil fuel-fired EGUs – fossil fuel-fired electric utility steam generating units and stationary combustion turbines,
2) state-specific CO2 goals reflecting the CO2 emission performance rates, and
3) guidelines for the development, submittal and implementation of state plans that establish emission standards or other measures to implement the CO2 emission performance rates, which may be accomplished by meeting the state goals. This final rule will continue progress already underway in the U.S. to reduce CO2 emissions from the utility power sector.

The final rule becomes effective 60 days after publication in the Federal Register.

Clean Power Plan Final Rule (PDF) (1560 pp, 3.3 MB)
http://www.epa.gov/airquality/cpp/cpp-final-rule.pdf

Regulatory Impact Analysis: Clean Power Plan Final Rule (PDF) (343 pp, 5.4 MB)
http://www.epa.gov/airquality/cpp/cpp-final-rule-ria.pdf

Source for more info: http://www2.epa.gov/cleanpowerplan/clean-power-plan-existing-power-plants

---
EPA moving forward with plan to turn off your lights (posted 8/3/15)
Raising energy prices, cutting jobs, shutting down existing plants, and putting a stop to coal use in the US
Wyoming Senator Mike Enzi
Washington, D.C. – President Barrack Obama and the Environmental Protection Agency (EPA) moved forward today (Monday, August 3, 2015) with a unprecedented rule to regulate new and existing coal power plants, dubbed the "Clean Power Plan". U.S. Senator Mike Enzi, R-Wyo., issued the following statement.

"This proposal isn't some isolated bureaucratic rule," Enzi said. "If you can make it too expensive to open a new power plant and prematurely shut down existing plants, you effectively put a stop to coal use in this country. As coal accounts for nearly 40 percent of the nation's electricity, the consequences for all Americans are real. This president needs to understand real families, real businesses, real communities will be hurt.

"The Obama Administration's push to raise energy prices and cut jobs is unfortunately more successful than much of what this Administration does.

"This rule will be detrimental to every consumer's personal economy. Come next winter people are going to feel it. It's also going to increase costs for manufacturing. This is the wrong course."

To combat the rule, Enzi has cosponsored the Affordable Reliable Energy Now Act (ARENA), which would delay the compliance date of the Clean Power Plan until the courts decide if the rule is on good legal standing. The Supreme Court recently ruled the EPA's 2012 Mercury and Air Toxics Standards (MATS) an overreach by the agency.

The Administration has also introduced a number of other regulatory overreaches including:

• Waters of the United States (WOTUS) rule – would significantly expand federal control of land and water resources across the nation, triggering substantial additional permitting and regulatory requirements.

• EPA ozone rule – the EPA proposed to tighten the National Ambient Air Quality Standards (NAAQS) for ground-level ozone that could cost Wyoming's economy tens of billions of dollars and thousands of jobs by setting the ground-level ozone standard at an onerously low level.

• The Office of Surface Mining Reclamation and Enforcement's rule – an overreach by the Office of Surface Mining Reclamation and Enforcement to rewrite federal regulations in order to expand their oversight of mining around streams.

---
Barrasso calls on States to reject job-crushing EPA Carbon Mandate (posted 8/3/15)
'Massive federal grab will rival Obamacare in its bureaucratic scope and cost to the economy'
Wyoming Senator John Barrasso
WASHINGTON, D.C. – Today (Monday, August 3, 2015), U.S. Senator John Barrasso (R-Wyo.) issued the following statement after the Environmental Protection Agency (EPA) finalized President Obama's "Clean Power Plan" that mandates massive new red tape and job-crushing regulations on American energy producers.

"The President is forging ahead with a rule that will undermine electric reliability, disadvantage U.S. manufacturing, destroy coal jobs and force American families to pay more for electricity. This is no different than the 'cap and tax' scheme the President failed to get through a Democrat-controlled Congress in 2009.

"The Senate will work to advance the bipartisan 'Affordable Reliable Energy Now Act' to block this multi-billion dollar carbon mandate. This bill will give states the real flexibility they need to ensure Americans continue to have access to affordable and reliable sources of energy.

"There's a reason why over half of the states have come out against this mandate. Governors know that despite the administration's promise of flexibility, their states simply cannot comply with this unrealistic proposal—and they shouldn't have to. This rule will face significant challenges in court and states are right to reject it.

"The President, in full legacy-seeking mode, is choosing again to go around Congress and the American people. This massive federal grab will rival Obamacare in its bureaucratic scope and cost to the economy."

Background:

On March 11, 2015, the Senate Environment and Public Works Committee held a hearing on the administration's so called "Clean Power Plan." The hearing featured testimony from different state regulators, including Wyoming Department of Environmental Quality (DEQ) Director Todd Parfitt. Director Parfitt testified in detail about the challenges the state of Wyoming will face in trying to develop a plan to comply with this "problematic" and "unrealistic" proposal.

On May 13, 2015, Senator Barrasso co-sponsored the bipartisan "Affordable Reliable Energy Now Act" (ARENA) introduced by Senator Shelley Moore Capito (R-WV) that would roll back the president's "Clean Power Plan." The ARENA Act takes into account EPA's proposed regulations for both new and existing power plants. It requires EPA to submit to Congress a report describing the quantity of greenhouse gas emissions the "Clean Power Plan" is expected to reduce. It also directs the EPA to conduct modeling to show the impacts of the rule on the climate indicators used to develop the rule.

---
Senators concerned State Department changes would limit Second Amendment, freedom of speech (posted 8/3/15)
Wyoming Senators Mike Enzi and John Barrasso media release
Washington, D.C. – Senators Mike Enzi and John Barrasso, R-Wyo., today joined Senator Steve Daines, R-Mont., and a group of 25 Senators in a letter to Secretary of State John Kerry and Acting Deputy Assistant Secretary Anthony Dearth in response to proposed changes to definitions in the International Traffic in Arms Regulations (ITAR) which has the potential to limit Americans' freedom of speech and negatively impact Americans' Second Amendment freedoms.

On June 3rd, the State Department proposed changes to modify several definitions in ITAR that would empower the federal government to regulate public use of any content that contains information about defense articles, which includes every common hunting and sports shooting rifle and handgun.

"We write to express our strong concerns regarding proposed changes to the International Traffic in Arms Regulations (ITAR) and the implications those changes hold for Americans' First and Second Amendment rights," the Senators wrote. "Conceivably, these new definitions could include information such as how to legally modify or assemble a generally available firearm, such as a hunting rifle or a self-defense handgun, or information on the development of new loading information for existing firearm ammunition. These types of activities are part and parcel of how many Americans exercise their Second Amendment rights."

The Senators urged the State Department to modify or delay the rule, "Accordingly, we urge the State Department to modify or delay these misguided changes to the ITAR in order to ensure they do not violate the First and Second Amendment or until commonly owned firearms and ammunition are not adversely impacted."

The full text of the Senators' letter can be found here: http://www.daines.senate.gov/imo/media/doc/ITAR%20Amendment--Revisions%20to%20Definitions;%20Data%20Transmission%20and%20Storage.pdf

---
FAA: Wildfires and drones don't mix (posted 7/30/15)
Public asked to keep drones on ground when firefighting aircraft in the air working
Federal Aviation Administration media release
WASHINGTON – Responding to recent incidents in which unmanned aircraft systems (UAS), also known as "drones," interfered with manned aircraft involved in wildland firefighting operations, the U.S. Department of Transportation's Federal Aviation Administration (FAA) is supporting the U.S. Department of the Interior and U.S. Forest Service in their simple message to drone operators: If you fly; we can't.

"Flying a drone near aerial firefighting aircraft doesn't just pose a hazard to the pilots," said U.S. Transportation Secretary Anthony Foxx. "When aircraft are grounded because an unmanned aircraft is in the vicinity, lives are put at greater risk."

Often a temporary flight restriction (TFR) is put in place around wildfires to protect firefighting aircraft. No one other than the agencies involved in the firefighting effort can fly any manned or unmanned aircraft in such a TFR. Anyone who violates a TFR and endangers the safety of manned aircraft could be subject to civil and/or criminal penalties. Even if there is no TFR, operating a UAS could still pose a hazard to firefighting aircraft and would violate Federal Aviation Regulations.

"The FAA's top priority is safety. If you endanger manned aircraft or people on the ground with an unmanned aircraft, you could be liable for a fine ranging from $1,000 to a maximum of $25,000," said FAA Administrator Michael Huerta. "Know the rules before you fly. If you don't, serious penalties could be coming your way for jeopardizing these important missions."

Since so many people operate unmanned aircraft with little or no aviation experience, the FAA is promoting voluntary compliance and working to educate UAS operators about how they can operate safely under current regulations and laws. The agency has partnered with industry and the modeling community in a public outreach campaign called "Know Before You Fly."

The campaign recently reminded UAS users to respect wildfire operations. The National Interagency Fire Center also posted a video warning for users to, "Be Smart. Be Safe. Stay Away."

Additionally, the FAA provided guidance to law enforcement agencies because they are often in the best position to deter, detect, immediately investigate, and, as appropriate, pursue enforcement actions to stop unauthorized or unsafe unmanned aircraft operations.

So remember this simple message around wildfires: If you fly, they can't. Keep your drone on the ground and let firefighters and aircraft do their jobs. And, if you see someone flying a drone near a wildfire, report it immediately to local law enforcement and the nearest FAA Flight Standards District Office with as much information as possible. You can find the closest FAA office at: http://www.faa.gov/about/office_org/field_offices/fsdo/.

---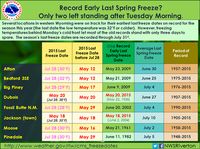 Earliest last spring freeze dates in western Wyoming.

Freezing in July (posted 7/29/15)
National Weather Service - Riverton Wyoming
Several locations in western Wyoming were on track to have their earliest last spring freeze date on record this year (the last date the low temperature was 32 degrees or colder) with no freezing temperatures since mid to late May. However, freezing temperatures behind Monday's cold front let most of the old records stand with only three days to spare. The clock was winding down with July 31st the final day of the 'last freeze' of the season; August 1st starts the 'first freeze' season or a whole new ballgame. As someone once said who is not Mark Twain, "Climate is what we expect, weather is what we get". And sometimes in July, summer is what we expect and winter is what we get. Welcome to Wyoming!

The COOP stations in Dubois and Jackson are the only two locations on the list that are still on track to set a new record for the earliest last spring freeze date.

Source: https://www.facebook.com/NWSRiverton/photos/a.217925718217766.65908.211590608851277/1032295663447430/?type=1&theater

---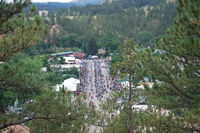 Downtown Hulett, Wyoming from Sturgis 2014. Photo courtesy Wyoming Highway Patrol.

Wyoming Highway Patrol preparing for 75th anniversary of Sturgis Motorcycle Rally (posted 7/28/15)
Wyoming Highway Patrol
The 75th anniversary of the Sturgis, South Dakota motorcycle rally is approaching and scheduled August 3rd through August 9th, 2015. The 75th anniversary has the potential of reaching over one million enthusiasts.

Sturgis traffic will be traveling through Wyoming to and from the event and the Northeast corner of the Cowboy State will experience a heavy influx of motorcyclists during the week of the event. With that said, motorists are encouraged to drive and ride safely, respect each other and keep each other safe. If you are planning to travel to Northeast Wyoming, particularly the Crook County and Weston County areas, be prepared for heavy traffic and delays during peak hours of the day.

The Wyoming Highway Patrol will have additional enforcement the weeks before, during and after the event. WHP Troopers will be fulfilling the agency mission of serving and protecting all people in Wyoming with courtesy, professionalism and integrity through high visibility in Northeast Wyoming and emphasizing highway traffic safety through education and enforcement.

To stay safe during the event, we encourage everyone to plan ahead, check weather forecasts, watch for wildlife on the highways at all times, designate a sober driver and be courteous to one another. Drive and ride safe Wyoming and happy 75th Sturgis!

Related Links:
www.sturgismotorcyclerally.com
---
Wolf control in Wyoming (posted 7/21/15)
Cat Urbigkit, Pinedale Online!
Mike Jimenez of the U.S. Fish & Wildlife Service said Tuesday that federal wildlife officials have destroyed 16 wolves in Wyoming in 2015 in response to livestock depredations.

The most recent wolf control action was last week, when two wolves were killed in the Upper Green River region due to continued livestock depredations on cattle. In May, six wolves from a pack of 24 were killed in the Gros Ventre due to cattle depredations. In June, a wolf was killed in the Kaycee area after predating on sheep. Half-dozen wolves were killed in two separate control actions in Park County in 2015.

So far in 2015, FWS confirmed that 41 domestic sheep and 15 cattle were killed by wolves in the state, in addition to five calves that were injured.

FWS has one ongoing control action for wolves that have repeatedly preyed on cattle in the Dubois area.

Related Links:
Wolf Watch - By Cat Urbigkit

---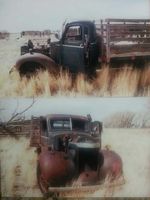 Photo courtesy Sweetwater County Sheriff's Office

Public's help sought for information about stolen antique truck (posted 7/21/15)
Sweetwater County Sheriff's Office
ROCK SPRINGS (7/21/15) - The Sweetwater County Sheriff's Office is seeking information on an antique truck stolen from a ranch north of Rock Springs.

Sheriff Mike Lowell said the truck was taken around noon on July 12 from a ranch south of Eden on U.S. Highway 191. He described it as a green 1940 1-ton Chevrolet with rusted fenders and no hood. The truck is a flatbed with wooden cargo racks.

The truck does not run. A witness reported that it was loaded onto a flatbed trailer drawn by a late 1990s to early 2000s black Ford diesel pickup; an extended-cab four-wheel-drive with Wyoming license plates.

The black Ford pickup, towing the flatbed and stolen Chevrolet, left the area northbound on Highway 191.

Authorities said the truck was parked at the spot where it was stolen for many years, and was last registered in the 1970s.

Anyone with information is asked to contact the Sweetwater County Sheriff's Office at (307) 922-5321.
---
2015 National High School Finals Rodeo (posted 7/20/15)
The 2015 National High School Finals Rodeo (NHSFR) was held July 12-18 at the Sweetwater County Events Complex in Rock Springs, Wyoming. The event involves 1,500+ competitors from 41 US states as well as 5 Provinces in Canada and Australia. The National High School Rodeo Finals is the largest rodeo in the world with 13 performances over 7 days. This marks the third consecutive year that the NHSFR has been held at the Sweetwater County venue in Rock Springs.

A number of Wyoming youth competed in the National Finals. Brian Brown of LaBarge tied for 1st place in the country for bareback bronc riding. Chance Aimes of Big Piney came in 13th in bareback. Big Piney's Karson Bradley competed in both barrel racing and pole bending. She was honored as the all-around rookie cowgirl at last year's rodeo after placing 15th in barrel racing and 18th in pole bending. She finished 15th in pole bending and 16th in barrel racing for 2015. Kassidy Williams of Pinedale came in 13th in barrel racing. Rylee Whitman of Big Piney came in 12th in Girls Cutting.

National High School Final Rodeo (NHSFR) 2015 results for Wyoming competitors - Final Top 20 Rodeo Standings

Bareback Riding
T1. Brian Brown, La Barge, Wyoming, 215
(T1. Rio Lee, Benson, Ariz., 215)
6. Hunter Carlson, Douglas, Wyoming, 201
13. Chance Ames, Big Piney, Wyoming, 146

Goat Tying
20. Jacey Thompson, Lusk, Wyoming, 16.22

Tie-Down Roping
1. Colton Kofoed, Bear River, Wyoming, 26.81
14. A.C. Martin, Evanston, Wyoming, 20.3

Saddle Bronc
18. Brady Thurston, Lance Creek, Wyoming, 85

Pole Bending
15. Karson Bradley, Big Piney, Wyoming, 61.876

Team Roping
11. Kellan Johnson, Casper, Wyo., Jayden Johnson, Casper, Wyoming, 37.85

Barrel Racing
6. Sierra Spratt, Lysite, Wyoming, 52.492
13. Kassidy Williams, Pinedale, Wyoming, 53.189
16. Karson Bradley, Big Piney, Wyoming, 57.703

Girls Cutting
12. Rylee Whitman, Big Piney, Wyoming, 427

Click on this link for the complete Final Top 20 Rodeo Standings posted on Sweetwaternow.com: 2015 National High School Final Rodeo results

---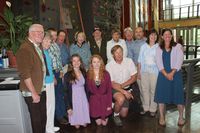 Skinner family. Photo courtesy PAC.

PAC dedicates its Climbing Wall to the memory of Todd Skinner (posted 7/20/15)
Pinedale Aquatic Center
On Saturday, July 18th, the climbing wall at the Pinedale Aquatic Center (PAC) became the TODD SKINNER MEMORIAL CLIMBING WALL.

Over 80 people gathered for the dedication event, and speakers included world-class climber Steve Bechtel and community members Albert Sommers, Greg Legerski , Gene Andrews and Ric Samulski. Family members who shared memories of Todd were his brother Orion, and his two uncles, Courtney and Monte Skinner. People came from far and wide to honor Todd's legacy by telling stories of his persuasive ways, his ability to teach and motivate others to do their best; and to always be reaching for great heights, in all aspects of life.

Honored guests of the day were Todd Skinner's immediate family, Amy-his wife, and his three children Hannah, Sarah and Jake. It was Todd's family who unveiled the plaque and made the renaming of the PAC wall official.

This event provided the bridge between the past and the present, by defining Todd's impact on the sport of climbing and how PAC fits into it. Through PAC's mission of promoting lifetime skill development by educating and motivating patrons to try new things, we are carrying on this positive legacy.

PAC looks forward to creating even more opportunities to inspire individuals to keep reaching for the next challenge. And, the Todd Skinner Memorial Climbing Wall will remind us of all that is possible.

More pictures: PAC dedicates Todd Skinner Memorial Climbing Wall

Related Links:
Todd Skinner Climbing Wall dedication Pinedale Aquatic Center
www.pinedaleaquatic.com Pinedale Aquatic Center

---
Wolf News Roundup (posted 7/15/15)
Cat Urbigkit, Pinedale Online!
Most recent American news items for wolves have little to do with the animals themselves, and instead focus on disputes over managing the predators. For details on these stories, click on the links below.

Feds decline listing wolves as threatened
The U.S. Fish and Wildlife Service has determined that a petition to reclassify all gray wolves in the conterminous United States, except for the Mexican wolf in the Southwest, as a threatened species under the Endangered Species Act (ESA) does not present substantial information indicating that reclassification may be warranted. As a result, the Service will take no further action on the petition, which was submitted by the Humane Society of the United States and 22 other petitioners in January.

Red Wolf reintroduction halted
The U.S. Fish & Wildlife Service will not release any more red wolves into the wild in South Carolina while it determines the fate of the red wolf recovery program. The program has been under review for months, with a decision expected any day.

Five Idaho Wolves Killed
Federal wildlife officials recently killed five wolves in Idaho in response to continued depredations on domestic sheep and cattle. The area where the depredations occurred is near Fairfield, located in the center of the state (about an hour south of Challis and Sun Valley).

Mexican Wolves
A coalition of local, regional and national conservation watchdog groups filed a lawsuit against the U. S. Fish & Wildlife Service, seeking increased federal protection for Mexican wolves. The groups oppose the federal designation of the Mexican wolf population as "nonessential" – the same status granted to gray wolves as part of the reintroduction program in the Yellowstone and Central Idaho regions. The groups also seek to double the federal population goal for wolf populations, expand from one wolf population to three populations, and to increase Mexican wolf presence northern Arizona, New Mexico, Colorado, and Utah.

Mange
Wolves suffering from mange have a better chance of survival if they are members of a larger pack, according to a recent paper published in the journal Ecology Letters. According to the paper's abstract: "Infected individuals experience increased mortality hazards with increasing proportions of infected pack-mates, but healthy individuals remain unaffected. The social support of group hunting and territory defense are two possible mechanisms mediating infection costs."

Related Links:
U.S. Fish & Wildlife Service - Gray Wolf Recovery page
Red Wolf Reintroduction - Read an article here.
U.S. Fish & Wildlife Service - Red Wolf Recovery page.
Idaho wolves killed - Read an article here.
U. S. Fish & Wildlife Service - Mexican Wolf Recovery page
Ecology Letters - Read the mange article here.
Bozeman Daily Chronicle - Read an article about the mange research here.
Wolf Watch - by Cat Urbigkit, Pinedale Online!

---
Business Directory
Click here for
Advertising Information