FAA: Wildfires and drones don't mix (posted 7/30/15)
Public asked to keep drones on ground when firefighting aircraft in the air working
Federal Aviation Administration media release
WASHINGTON – Responding to recent incidents in which unmanned aircraft systems (UAS), also known as "drones," interfered with manned aircraft involved in wildland firefighting operations, the U.S. Department of Transportation's Federal Aviation Administration (FAA) is supporting the U.S. Department of the Interior and U.S. Forest Service in their simple message to drone operators: If you fly; we can't.

"Flying a drone near aerial firefighting aircraft doesn't just pose a hazard to the pilots," said U.S. Transportation Secretary Anthony Foxx. "When aircraft are grounded because an unmanned aircraft is in the vicinity, lives are put at greater risk."

Often a temporary flight restriction (TFR) is put in place around wildfires to protect firefighting aircraft. No one other than the agencies involved in the firefighting effort can fly any manned or unmanned aircraft in such a TFR. Anyone who violates a TFR and endangers the safety of manned aircraft could be subject to civil and/or criminal penalties. Even if there is no TFR, operating a UAS could still pose a hazard to firefighting aircraft and would violate Federal Aviation Regulations.

"The FAA's top priority is safety. If you endanger manned aircraft or people on the ground with an unmanned aircraft, you could be liable for a fine ranging from $1,000 to a maximum of $25,000," said FAA Administrator Michael Huerta. "Know the rules before you fly. If you don't, serious penalties could be coming your way for jeopardizing these important missions."

Since so many people operate unmanned aircraft with little or no aviation experience, the FAA is promoting voluntary compliance and working to educate UAS operators about how they can operate safely under current regulations and laws. The agency has partnered with industry and the modeling community in a public outreach campaign called "Know Before You Fly."

The campaign recently reminded UAS users to respect wildfire operations. The National Interagency Fire Center also posted a video warning for users to, "Be Smart. Be Safe. Stay Away."

Additionally, the FAA provided guidance to law enforcement agencies because they are often in the best position to deter, detect, immediately investigate, and, as appropriate, pursue enforcement actions to stop unauthorized or unsafe unmanned aircraft operations.

So remember this simple message around wildfires: If you fly, they can't. Keep your drone on the ground and let firefighters and aircraft do their jobs. And, if you see someone flying a drone near a wildfire, report it immediately to local law enforcement and the nearest FAA Flight Standards District Office with as much information as possible. You can find the closest FAA office at: http://www.faa.gov/about/office_org/field_offices/fsdo/.

---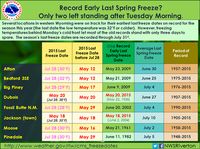 Earliest last spring freeze dates in western Wyoming.

Freezing in July (posted 7/29/15)
National Weather Service - Riverton Wyoming
Several locations in western Wyoming were on track to have their earliest last spring freeze date on record this year (the last date the low temperature was 32 degrees or colder) with no freezing temperatures since mid to late May. However, freezing temperatures behind Monday's cold front let most of the old records stand with only three days to spare. The clock was winding down with July 31st the final day of the 'last freeze' of the season; August 1st starts the 'first freeze' season or a whole new ballgame. As someone once said who is not Mark Twain, "Climate is what we expect, weather is what we get". And sometimes in July, summer is what we expect and winter is what we get. Welcome to Wyoming!

The COOP stations in Dubois and Jackson are the only two locations on the list that are still on track to set a new record for the earliest last spring freeze date.

Source: https://www.facebook.com/NWSRiverton/photos/a.217925718217766.65908.211590608851277/1032295663447430/?type=1&theater

---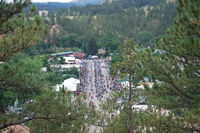 Downtown Hulett, Wyoming from Sturgis 2014. Photo courtesy Wyoming Highway Patrol.

Wyoming Highway Patrol preparing for 75th anniversary of Sturgis Motorcycle Rally (posted 7/28/15)
Wyoming Highway Patrol
The 75th anniversary of the Sturgis, South Dakota motorcycle rally is approaching and scheduled August 3rd through August 9th, 2015. The 75th anniversary has the potential of reaching over one million enthusiasts.

Sturgis traffic will be traveling through Wyoming to and from the event and the Northeast corner of the Cowboy State will experience a heavy influx of motorcyclists during the week of the event. With that said, motorists are encouraged to drive and ride safely, respect each other and keep each other safe. If you are planning to travel to Northeast Wyoming, particularly the Crook County and Weston County areas, be prepared for heavy traffic and delays during peak hours of the day.

The Wyoming Highway Patrol will have additional enforcement the weeks before, during and after the event. WHP Troopers will be fulfilling the agency mission of serving and protecting all people in Wyoming with courtesy, professionalism and integrity through high visibility in Northeast Wyoming and emphasizing highway traffic safety through education and enforcement.

To stay safe during the event, we encourage everyone to plan ahead, check weather forecasts, watch for wildlife on the highways at all times, designate a sober driver and be courteous to one another. Drive and ride safe Wyoming and happy 75th Sturgis!

Related Links:
www.sturgismotorcyclerally.com
---
Freezing temps in July (posted 7/28/15)
Cold temps hit Sublette County
National Weather Service
(Tuesday, July 28, 5:45AM), Pinedale): A cold dry airmass settled in behind yesterday's cold front. Here are some of the colder readings for Tuesday morning, July 28th.

LOCATION TEMP TIME/DATE ELEVATION

SUBLETTE COUNTY
21 W BIG PINEY, 25 F, 0509 AM, 07/28, 8200 FT
7 NE PINEDALE, 25 F, 0426 AM, 07/28, 8530 FT
BONDURANT, 27 F, 0500 AM, 07/28, 6650 FT
6 WNW CORA, 27 F, 0533 AM, 07/28, 7462 FT
1 NE PINEDALE, 28 F, 0532 AM, 07/28 7382 FT
2 NW BONDURANT, 29 F, 0451, AM 07/28, 6726 FT
14 E BONDURANT, 30 F, 0400, AM 07/28, 8240 FT
NEW FORK LAKE, 30 F, 0400, AM 07/28, 8340 FT
PINEDALE AIRPORT, 30 F, 0515 AM, 07/28, 7085 FT
N WIND RIVER MTS, 31 F, 0400 AM, 07/28, 9820 FT
SNIDER BASIN, 31 F, 0400 AM, 07/28, 8060 FT
28 WNW BIG PINEY, 31 F, 0400 AM, 07/28, 8500 FT
BIG PINEY AIRPORT, 32 F, 0453 AM, 07/28, 6974 FT
PINEDALE, 33 F, 0300 AM, 07/28, 7195 FT
10 E BIG SANDY, 33 F, 0400 AM, 07/28, 9080 FT
9 E BIG PINEY, 33 F, 0500 AM, 07/28, 6803 FT
MARBLETON, 33 F, 0257 AM, 07/28, 6896 FT
16 E BOULDER, 33 F, 0400 AM, 07/28, 9360 FT
20 E BONDURANT, 34 F, 0400 AM, 07/28, 7740 FT
PINEDALE, 34 F, 0500 AM, 07/28, 7310 FT

Observations are collected from a variety of sources with varying equipment and exposure. Not all data listed are considered official.

---
Wolf control in Wyoming (posted 7/21/15)
Cat Urbigkit, Pinedale Online!
Mike Jimenez of the U.S. Fish & Wildlife Service said Tuesday that federal wildlife officials have destroyed 16 wolves in Wyoming in 2015 in response to livestock depredations.

The most recent wolf control action was last week, when two wolves were killed in the Upper Green River region due to continued livestock depredations on cattle. In May, six wolves from a pack of 24 were killed in the Gros Ventre due to cattle depredations. In June, a wolf was killed in the Kaycee area after predating on sheep. Half-dozen wolves were killed in two separate control actions in Park County in 2015.

So far in 2015, FWS confirmed that 41 domestic sheep and 15 cattle were killed by wolves in the state, in addition to five calves that were injured.

FWS has one ongoing control action for wolves that have repeatedly preyed on cattle in the Dubois area.

Related Links:
Wolf Watch - By Cat Urbigkit

---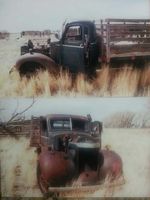 Photo courtesy Sweetwater County Sheriff's Office

Public's help sought for information about stolen antique truck (posted 7/21/15)
Sweetwater County Sheriff's Office
ROCK SPRINGS (7/21/15) - The Sweetwater County Sheriff's Office is seeking information on an antique truck stolen from a ranch north of Rock Springs.

Sheriff Mike Lowell said the truck was taken around noon on July 12 from a ranch south of Eden on U.S. Highway 191. He described it as a green 1940 1-ton Chevrolet with rusted fenders and no hood. The truck is a flatbed with wooden cargo racks.

The truck does not run. A witness reported that it was loaded onto a flatbed trailer drawn by a late 1990s to early 2000s black Ford diesel pickup; an extended-cab four-wheel-drive with Wyoming license plates.

The black Ford pickup, towing the flatbed and stolen Chevrolet, left the area northbound on Highway 191.

Authorities said the truck was parked at the spot where it was stolen for many years, and was last registered in the 1970s.

Anyone with information is asked to contact the Sweetwater County Sheriff's Office at (307) 922-5321.
---
2015 National High School Finals Rodeo (posted 7/20/15)
The 2015 National High School Finals Rodeo (NHSFR) was held July 12-18 at the Sweetwater County Events Complex in Rock Springs, Wyoming. The event involves 1,500+ competitors from 41 US states as well as 5 Provinces in Canada and Australia. The National High School Rodeo Finals is the largest rodeo in the world with 13 performances over 7 days. This marks the third consecutive year that the NHSFR has been held at the Sweetwater County venue in Rock Springs.

A number of Wyoming youth competed in the National Finals. Brian Brown of LaBarge tied for 1st place in the country for bareback bronc riding. Chance Aimes of Big Piney came in 13th in bareback. Big Piney's Karson Bradley competed in both barrel racing and pole bending. She was honored as the all-around rookie cowgirl at last year's rodeo after placing 15th in barrel racing and 18th in pole bending. She finished 15th in pole bending and 16th in barrel racing for 2015. Kassidy Williams of Pinedale came in 13th in barrel racing. Rylee Whitman of Big Piney came in 12th in Girls Cutting.

National High School Final Rodeo (NHSFR) 2015 results for Wyoming competitors - Final Top 20 Rodeo Standings

Bareback Riding
T1. Brian Brown, La Barge, Wyoming, 215
(T1. Rio Lee, Benson, Ariz., 215)
6. Hunter Carlson, Douglas, Wyoming, 201
13. Chance Ames, Big Piney, Wyoming, 146

Goat Tying
20. Jacey Thompson, Lusk, Wyoming, 16.22

Tie-Down Roping
1. Colton Kofoed, Bear River, Wyoming, 26.81
14. A.C. Martin, Evanston, Wyoming, 20.3

Saddle Bronc
18. Brady Thurston, Lance Creek, Wyoming, 85

Pole Bending
15. Karson Bradley, Big Piney, Wyoming, 61.876

Team Roping
11. Kellan Johnson, Casper, Wyo., Jayden Johnson, Casper, Wyoming, 37.85

Barrel Racing
6. Sierra Spratt, Lysite, Wyoming, 52.492
13. Kassidy Williams, Pinedale, Wyoming, 53.189
16. Karson Bradley, Big Piney, Wyoming, 57.703

Girls Cutting
12. Rylee Whitman, Big Piney, Wyoming, 427

Click on this link for the complete Final Top 20 Rodeo Standings posted on Sweetwaternow.com: 2015 National High School Final Rodeo results

---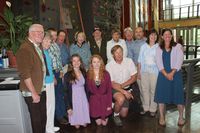 Skinner family. Photo courtesy PAC.

PAC dedicates its Climbing Wall to the memory of Todd Skinner (posted 7/20/15)
Pinedale Aquatic Center
On Saturday, July 18th, the climbing wall at the Pinedale Aquatic Center (PAC) became the TODD SKINNER MEMORIAL CLIMBING WALL.

Over 80 people gathered for the dedication event, and speakers included world-class climber Steve Bechtel and community members Albert Sommers, Greg Legerski , Gene Andrews and Ric Samulski. Family members who shared memories of Todd were his brother Orion, and his two uncles, Courtney and Monte Skinner. People came from far and wide to honor Todd's legacy by telling stories of his persuasive ways, his ability to teach and motivate others to do their best; and to always be reaching for great heights, in all aspects of life.

Honored guests of the day were Todd Skinner's immediate family, Amy-his wife, and his three children Hannah, Sarah and Jake. It was Todd's family who unveiled the plaque and made the renaming of the PAC wall official.

This event provided the bridge between the past and the present, by defining Todd's impact on the sport of climbing and how PAC fits into it. Through PAC's mission of promoting lifetime skill development by educating and motivating patrons to try new things, we are carrying on this positive legacy.

PAC looks forward to creating even more opportunities to inspire individuals to keep reaching for the next challenge. And, the Todd Skinner Memorial Climbing Wall will remind us of all that is possible.

More pictures: PAC dedicates Todd Skinner Memorial Climbing Wall

Related Links:
Todd Skinner Climbing Wall dedication Pinedale Aquatic Center
www.pinedaleaquatic.com Pinedale Aquatic Center

---
Wolf News Roundup (posted 7/15/15)
Cat Urbigkit, Pinedale Online!
Most recent American news items for wolves have little to do with the animals themselves, and instead focus on disputes over managing the predators. For details on these stories, click on the links below.

Feds decline listing wolves as threatened
The U.S. Fish and Wildlife Service has determined that a petition to reclassify all gray wolves in the conterminous United States, except for the Mexican wolf in the Southwest, as a threatened species under the Endangered Species Act (ESA) does not present substantial information indicating that reclassification may be warranted. As a result, the Service will take no further action on the petition, which was submitted by the Humane Society of the United States and 22 other petitioners in January.

Red Wolf reintroduction halted
The U.S. Fish & Wildlife Service will not release any more red wolves into the wild in South Carolina while it determines the fate of the red wolf recovery program. The program has been under review for months, with a decision expected any day.

Five Idaho Wolves Killed
Federal wildlife officials recently killed five wolves in Idaho in response to continued depredations on domestic sheep and cattle. The area where the depredations occurred is near Fairfield, located in the center of the state (about an hour south of Challis and Sun Valley).

Mexican Wolves
A coalition of local, regional and national conservation watchdog groups filed a lawsuit against the U. S. Fish & Wildlife Service, seeking increased federal protection for Mexican wolves. The groups oppose the federal designation of the Mexican wolf population as "nonessential" – the same status granted to gray wolves as part of the reintroduction program in the Yellowstone and Central Idaho regions. The groups also seek to double the federal population goal for wolf populations, expand from one wolf population to three populations, and to increase Mexican wolf presence northern Arizona, New Mexico, Colorado, and Utah.

Mange
Wolves suffering from mange have a better chance of survival if they are members of a larger pack, according to a recent paper published in the journal Ecology Letters. According to the paper's abstract: "Infected individuals experience increased mortality hazards with increasing proportions of infected pack-mates, but healthy individuals remain unaffected. The social support of group hunting and territory defense are two possible mechanisms mediating infection costs."

Related Links:
U.S. Fish & Wildlife Service - Gray Wolf Recovery page
Red Wolf Reintroduction - Read an article here.
U.S. Fish & Wildlife Service - Red Wolf Recovery page.
Idaho wolves killed - Read an article here.
U. S. Fish & Wildlife Service - Mexican Wolf Recovery page
Ecology Letters - Read the mange article here.
Bozeman Daily Chronicle - Read an article about the mange research here.
Wolf Watch - by Cat Urbigkit, Pinedale Online!

---
BLM seeks public comment on proposal to update oil and gas rules (posted 7/15/15)
The Bureau of Land Management (BLM) released proposed, updated regulations on the measurement, accountability, and royalty payments for oil and gas production from Federal and Indian leases.

The BLM says the new proposed rules are aimed at preventing theft and loss of oil and gas resources and does not impose an unreasonable financial or regulatory burden on industry or the BLM.

Public comment on the rule is being sought for 60 days, through September 11, 2015.

"The proposed rule represents an important step in the BLM's modernization of its oil and gas regulations," said Assistant Secretary for Land and Minerals Management Janice M. Schneider. "These updates will help ensure that oil and gas produced from leases overseen by the BLM is properly measured, that American taxpayers receive fair value for public resources, and that Indian tribes and allottees, States and local governments receive the full royalties they are due."

The proposed rule will replace Onshore Oil and Gas Order Number 3 (Order 3), which has not been updated since 1989. The BLM says the old rule does not reflect modern industry operations or technology.

Order 3 sets minimum standards that oil and gas produced from leases overseen by the BLM are properly and securely handled. The BLM determined that updates to these standards were necessary based on its experience with oil and gas measurement in the field and the changes in technology and industry operations that have occurred since Order 3 was issued. The new rules will address production accountability.

"The BLM's rules concerning oil and gas measurement are over 25 years old and are long overdue for an update," said BLM Director Neil Kornze.

Specifically, the proposed rule would:

• Establish uniform procedures for designating official points for oil and gas measurement for royalty accounting purposes, known as facility measurement points, that are applicable to new and existing leases;
• Codify existing guidance related to approving commingling, i.e., the -combining of production from multiple leases, unit Participating Areas (PA), Communitized Areas (CA), or fee or State properties before the point of royalty measurement.
• Establish conditions for the approval of off-lease oil and gas measurement;
• Update requirements related to the use of valve and drain seals, prohibitions on the use of meter by-passes, and reporting requirements;
• Require operators of new and existing oil and gas facilities to provide new site facility diagrams designed to help BLM meet its oversight responsibilities; and
• Require purchasers and transporters to comply with the same standards as operators with respect to records.

The proposed rule is the next step in a process that the BLM began in 2011 with tribal consultation meetings and continued in 2013 with public listening sessions on potential changes to several of its existing Onshore Orders. The public listening sessions included representatives from Indian lands, environmental groups, other Federal agencies, and the oil and gas industry. Input from the listening sessions, stakeholder outreach, as well as tribal consultation meetings that have occurred since that time, helped inform the development of the proposed rule.

The BLM oil and gas management program is one of the most important mineral leasing programs in the Federal government. The total value of production is over $33 billion, which generates more than $3 billion in royalty revenue annually from oil and gas leasing activities on public lands (most of which is shared with state and local governments) and nearly $1 billion in royalty revenue from activities on tribal lands (all of which goes to tribes or individual allotees).

The proposed rule may be viewed online at: https://www.federalregister.gov/public-inspection.

The BLM encourages the public to participate in the process by submitting comments on the proposed rule by September 11, 2015.

Submit comments through one of the following methods:
• Federal eRulemaking Portal: http://www.regulations.gov. Follow the instructions at this Web site.
• Mail: U.S. Department of the Interior, Director (630), Bureau of Land Management, Mail Stop 2134 LM, 1849 C Street NW, Washington, DC 20240 Attention: Regulatory Affairs.
• Personal/messenger delivery: Bureau of Land Management, 20 M. Street SE, Room 2134 LM, Attention: Regulatory Affairs, Washington, DC 20003.

---
Bridger-Teton National Forest seeks comments on Skyline Proposal near Pinedale (posted 7/15/15)
Bridger-Teton National Forest
The Pinedale Ranger District of the Bridger-Teton National Forest is seeking public comments on the Skyline Wildland Urban Interface Fuels Reduction Project being analyzed under the Healthy Forests Restoration Act, located north of Pinedale in Sublette County, Wyoming.

Under the Proposed Action, approximately 2,440 acres would be treated to reduce fuels utilizing mechanical equipment, prescribed burning, and a combination of these treatments. The treatments will reduce the risk of high severity wildfire and increase public and firefighter safety in the event of a wildfire. No new or temporary road construction will be authorized.

The Pinedale Ranger District hosted a public meeting in February to discuss the proposed project. The meeting was an opportunity for the public, interested parties, and cooperators to learn about the project and join in a collaborative group that will work together with the Forest Service in developing the Skyline Wildland Urban Interface Fuels Reduction Project. Fire Management personnel, resource specialists, and the Pinedale District Ranger were on hand to answer questions and discuss the issues related to this proposed project. Comments from the meeting have been reviewed and are addressed in the scoping document.

The vegetation in the proposed project area consists of conifer-encroached aspen, lodgepole pine and Douglas fir stands. The aspen stands are losing vigor with age, and conifer trees are becoming dominant which increases the risk of crown fires in these stands. The lodgepole pine stands pose an increased fire risk due to mortality from a mountain pine beetle epidemic. The mortality led to local woodcutting activities leaving large volumes of slash on the forest floor which has created heavy fuel loads. The dead standing hazard trees are a threat to the public and firefighting resources.

This comment period represents the only opportunity for the public to comment on this proposal prior to the objection process. Only those who submit "specific written comments" on the Proposed Action during this 30-day comment period will be eligible to file an objection. The opportunity to comment will end 30-days after the scoping notice appears in the Casper Star Tribune.

The scoping document and information on the Skyline Wildland Urban Interface Fuels Reduction Project is available on the Bridger-Teton National Forest website at: http://www.fs.usda.gov/goto/btnf/projects.
---
Business Directory
Click here for
Advertising Information