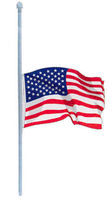 Flag Half Staff notice

Flag Half Staff notice – John Paul Stevens (posted 7/22/19)
Wyoming Governor Mark Gordon
Governor Gordon, pursuant to President Donald Trump's proclamation, has ordered both the U.S. and State of Wyoming flags be flown at half-staff statewide from 12:00 AM until sunset on Tuesday, July 23, 2019 as a mark of respect for the memory of John Paul Stevens, retired Associate Justice of the Supreme Court of the United States.

Related Links:
John Paul Stevens Wikipedia

---
Slide Fire burning in North Fork Fisherman Creek Area (posted 7/20/19)
Bridger-Teton National Forest
Bondurant, Wyoming, July 20, 2019 – The Slide Fire was discovered on Friday, July 19, and is currently burning on the Bridger-Teton National Forest on the Big Piney Ranger District. Resources from Sublette County Unified Fire and Teton Interagency fire responded to the reported smoke which is located in a remote area near Bondurant, Wyoming in the North Fork Fisherman Creek area between Sour Moose and Slide Creek north of Rim Draw.

The fire burned actively through the night and grew a half acre in size and is now two and a half acres. The fire is burning in heavy dead and down timber. Fire behavior is moderate at this time with some single tree torching. This is an initial attack fire with a strategy of full suppression. Crews are currently working on constructing containment lines around the fire and aerial resources are doing bucket drops to knock down actively burning flame.

Resources on scene include 10 smokejumpers from West Yellowstone, MT, 4 Firefighters from the Pinedale and Big Piney Ranger Districts, 1 Sublette County firefighter, 3 Teton Interagency Helitack crewmembers, 1 Type III helicopter from Teton Interagency Fire, 1 Type 4 BTNF engine. Several additional resources are on order including 8 smokejumpers (Boise, ID), 1 Type I interagency hotshot crew (northern Utah), 1 Type I helicopter (northern Utah). These new resources are expected to arrive on the fire later today.

The cause of the fire is a lightning strike from a thunderstorm several days ago. Substantial rain fell in the area during the storm but with the hot, dry, and windy conditions this week, the fire activity picked up. These fires are commonly called 'holdover' fires.

Another fire was discovered on the Kemmerer Ranger District, the Middle Fork Fire in the Commissary Ridge area late Thursday, July 18. This fire was also a holdover approximately one acre in size. Firefighters expect containment later on today.

Fire prevention specialists would like this to be a reminder that the forest is drying out and people recreating in the wildlands need to be careful with fire and take extra precautions to completely extinguish campfires.

Firefighter and public safety is the number one priority with regard to this or any fire. There are no closure or evacuations in effect at this time. For more information visit www.tetonfires.com. To report a fire or smoke call the Teton Interagency Fire Dispatch Center at 307-739-3630.

---
Colorado River Conferences (posted 7/19/19)
Albert Sommers, House District #20 Representative
Hello Sublette County, I am sure you have heard the phrase, "whiskey is for drinking and water is for fighting." During the month of June, I attended two conferences dealing with water shortages in the Colorado River and its tributaries. One conference was held in Boulder at the University of Colorado's Law School, and the other was held in Salt Lake City at Utah's Department of Natural Resources.

The Colorado River Basin has been experiencing persistently dry hydrology since the turn of the twenty-first century, while many of the metropolitan areas that utilize the Basin's water have seen incredible growth. Denver, Salt Lake, Phoenix, and Las Vegas are some of the fastest growing cities in the nation. How we balance this exponential population growth with a shrinking water resource, the Colorado River, will be one of the great challenges of the next 50 years.

Historically, agriculture has controlled the vast majority of water rights on the Colorado River. However, in many areas that are seeing increased demand for municipal and industrial uses of water, agricultural users of water are under increased pressure to either sell their water or curtail their use of water. This is not just a fight between agriculture, municipalities, and industrial water users, but is also a fight between the Upper Basin states (Wyoming, Colorado, Utah, New Mexico, and a small piece of Arizona) and the Lower Basin states (Nevada, the bulk of Arizona, and California). The Colorado River and its tributaries provide water for about 40 million people and more than 5.5 million acres of farmland from Wyoming to California.

The fight over Colorado River water has been going on for one hundred years. In fact, in 1919 the rapidly expanding use of Colorado River water in California was viewed with increasing alarm by officials in the four Upper Basin States. As a consequence of their concern, the League of the Southwest was formed in 1919 to promote the orderly development and equitable division of the waters of the Colorado River. Congress approved the Kincaid Act in 1920, which directed the Secretary of the Interior to make a full and comprehensive study and to report on the possible diversion and use of Colorado River water. As a result of negotiations among the seven Basin States, it was agreed that an interstate compact would establish an equitable apportionment of the waters and protect the Upper Basin States. Each of the seven Basin States adopted the authorizing legislation in 1921 and Congress consented to the negotiations by legislation enacted on August 19, 1921. The Colorado River Commission convened in January 1922. After 27 meetings, a final agreement on the Compact was signed in Santa Fe, New Mexico, on November 24, 1922. By 1944, the state legislatures of all seven Basin States had ratified the compact. This final agreement also included language that the Upper and Lower Basin states would equally share any water shortage resulting from treaty obligations to Old Mexico.

So, why are we still fighting one hundred years later? After all, we have a virtually water-tight agreement between all of the states and the federal government. The answer is that poor assumptions were made regarding projected flows of the Colorado River. These early studies occurred during a wet cycle, which we now understand better due to tree ring studies. For the two decades proceeding 1922, the Colorado River had produced an average flow that would have accommodated 16 million acre-feet per year in consumptive use of water annually for the two basins. However, the Upper Basin by virtue of the Compact assumed the burden of drier cycles. Hence the Lower Basin has received a guaranteed 10-year cumulative minimum flow of 75 million acre-feet at Lee's Ferry, which lies just below Lake Powell. The Upper Basin became a guarantor in the sense that its depletions may not reduce the 10-year aggregate flow below the 75 million acre-feet at the Lee Ferry compact point.

Modern tree ring studies have revealed that the three decades prior to 1922 were likely the wettest in the past 500 to 1,200 years, and that the natural long-term annual flow past Lee's Ferry would accommodate only 13.5 million acre-feet of consumptive use. The Lower Basin and Old Mexico are estimated to utilize between 1.2 to 1.5 million acre-feet of water per year more than the river flows on average in today's drier conditions. Hence, the Lower Basin states have a recognized structural deficit, and consequently, to meet demands, the basin's reservoirs have been drawn down by about 30 million acre-feet. If the drought conditions continue, Lake Powell could drop below the elevation necessary to produce power. So, the Lower Basin states are utilizing more water than they are allocated, and drier conditions threaten the Upper Basin states' ability to provide the required amount of water below Lake Powell.

If the Upper Basin states cannot provide 75 million acre-feet of water for the previous 10-year period, then Compact requirements are tripped that would require a curtailment of use in the Upper Basin. All post-1922 water rights could be subject to curtailment. Curtailment will have a greater impact on municipalities and industrial users than agricultural users, because agriculture has most of the pre-1922 water rights. However, agriculture will be heavily impacted as well.

In May 2005, the Secretary of the Interior directed the Department of Reclamation to develop additional strategies for improving management of the reservoirs of the Colorado River system. In response, Reclamation initiated a public process to develop and adopt interim operational guidelines that can be used to address the operations of Lake Powell and Lake Mead during drought and low reservoir conditions. These interim guidelines are in effect until 2026. About 2014, the major water suppliers in the Lower Basin entered into a Pilot Drought Response MOU with the Department of the Interior. Many of these same parties, joined with Denver Water in the Upper Basin to implement a System Conservation Pilot Program designed to fund water conservation. Some ranchers in Sublette County have utilized this program, which paid them to turn off their water after a set date, and then not put water back on their fields until the next spring. This program was somewhat contentious among irrigators in Sublette County, with supporters and detractors.

Beginning in 2014, the Upper and Lower Basin states began working on a Drought Contingency Plan to address shortages in the Basin. The seven Colorado River Basin States, in partnership with the Department of Interior, recently signed the Colorado River Drought Contingency Plan (DCP). One part of particular importance to the Upper Basin states of Colorado, New Mexico, Utah and Wyoming is the Demand Management Storage Agreement (DMSA). The DMSA authorizes the Bureau of Reclamation to make available to the States unfilled storage capacity at the Initial Units of the Colorado River Storage Project Act (Powell, Navajo, the Aspinall Unit and Flaming Gorge). The DMSA neither establishes nor mandates the development of a Demand Management (DM) program. Storage would become available only if the States were able to design and implement a DM program in the Upper Basin. If the States do establish a DM program, the DMSA allows for storage of up to 500,000 acre-feet of water conserved in the Upper Colorado River Basin, which will help assure compliance with the 1922 Colorado River Compact.

According to the Wyoming State Engineer's Office, "the States are working to identify priority issues that will need to be developed to inform a thorough evaluation regarding the feasibility of a Demand Management program. A critical component of that evaluation is engagement with water users and other interested parties of the Green and Little Snake River basins of Wyoming. Beginning later this summer, we will begin focused discussions on DM throughout the respective basins in Wyoming."

The conferences that I have attended are helping me become more educated on Colorado River issues, and it is imperative that all water users in the Green River Basin, which is everyone, become engaged in the discussions around a Demand Management Program. I remain unconvinced that Wyoming should participate in a Demand Management Program, since we are not utilizing the 14% share of water we were allocated in the 1948 Upper Colorado River Basin Compact. However, I am keeping an open mind, because I worry about the old adage that Dan Budd often repeated: "water flows to money." I worry about drying up agriculture to wet the whistle of Denver, Salt Lake City, Phoenix, and Las Vegas. Everyone who likes to fish, feed hay, or drink water in the Green River Valley had better pay attention.

Thanks
Albert Sommers

---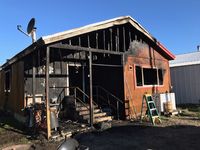 House fire in Pinedale. Photo courtesy Sublette County Unified Fire.

Thank You Volunteer Firefighters! (posted 7/19/19)
Sublette County Unified Fire
Commitment. Dedication. Sacrifice. These are some of the core values of Sublette County Unified Fire and they were on full display in our firefighters last week.

As many of you know, Sublette County Unified Fire (SCUF) fought two significant and devastating structure fires last week. Both fires had 30+ firefighters respond, but what you may not know is that SCUF firefighters responded to 7 other calls for service last week - some were vehicle accidents, some were suspected gas leaks, and some were what we call "good intent" calls. But no matter what the call was, volunteer firefighters left their jobs, families and recreational activities to respond.

The dedication and commitment of our firefighters did not end there. Several firefighters spent parts of their Rendezvous weekend manning a fire prevention and education booth, and another group of firefighters helped line up the parade on Saturday before driving several trucks in the parade. Another 15 firefighters attended a specialized 20 hour vehicle extrication class over the weekend. Some of these firefighters had hardly slept in the last two nights, but they still showed up to class to improve their skills in providing vehicle extrication to the residents and visitors of Sublette County. In between all of this, firefighters have been stopping by their stations checking gear and trucks to make sure everything is ready to go for the next call.

The work of a volunteer fire department often goes unseen except when on a call. However, there are 80+ firefighters throughout Sublette County always working to make sure they are ready to respond to the next call for service. When that call comes, they leave their lives behind and respond to help our neighbors in their darkest hours. So the next time you see one of our county's volunteer firefighters, let them know you appreciate their commitment, dedication and sacrifice. It makes our community a better place to live.

Related Links:
Sublette County Unified Fire
Firefighter application

---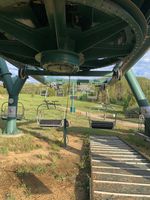 Photo courtesy White Pine Resort

White Pine Resort continues to operate (posted 7/18/19)
White Pine Resort
Despite the fire which engulfed the lodge at White Pine Resort last week, the business is still operating with the main phone line now forwarded to a cell and being answered 24/7.

In the last few days both Great Spirit lift, which serves the top of the mountain, and Little Spirit have been tested and appear to be fully operational. Doppelmayr, who lead the annual extensive lift maintenance service, will be on site next week to check and test all electrical circuits.

CEO, Alan Blackburn and GM Katie Lane agree that the lifts at White Pine will operate this winter. "Skiers will purchase day passes from a temporary dwelling. Season Passes continue to be available on-line and are at their lowest rate until the end of the month," said Lane. The message at the top of the White Pine website posted the day after the fire advises "the fire may have destroyed our lodge but not the ski lifts. We will be open for skiing this winter!"

Plans are to meet with USFS next week as the Resort operates on a permit issued by the Forest Service. Sean McGuiness, Mountain Resorts Coordinator BTNF and Pinedale's District Ranger Rob Hoelscher will assist with deciding on the best option for a temporary dwelling, where it might be sited as well as ensuring construction and wiring conform with code.

"We are planning on providing our loyal supporters with a great level of service and support," said Blackburn. "Rossignol have been in touch asking how they might help replace the thousands of dollars of skis and snowboards that were lost in the fire."

At this stage it appears that the fire was contained to the lodge, built in 1998/9 and whilst the cause and origin are still under investigation, initial predictions are that the fire may have been the result of a lightning strike. Spectators at the Pinedale rodeo last Thursday evening report seeing lighting and a storm passing through the mountains in the area. White Pine has faced lightning strikes previously with hits on the lift towers, fuse boxes and other buried electrical lines.

Horses in the corrals at White Pine were not injured in the fire but have been moved to alternative pasture. The White Pine summer horse riding program continues to operate with trail rides, gear drops and pack trips available. There is still time to sign up for the Basic Trail Riding Skills camp next week. The three day course focuses on basic day riding, loading and unloading, how to read a trail map as well as trail safety. There is another horse camp scheduled for August.

Cabins and the Tent Village/RV areas all escaped fire damage and are all available for rental.

Perhaps most emotionally affected are the brides who had planned to celebrate their wedding day at White Pine this summer. "Calling a bride the day before her wedding was just awful," said White Pine's wedding co-ordinator Robyn Blackburn. "Local people are so resourceful and within hours of the fire, the wedding planned for the day following the fire had been rescheduled and resited. There is a wedding planned at White Pine for this weekend thanks to Josh Criddle and Black Mountain Rentals who will be providing complimentary tents and tables.

Other brides have chosen to stay with White Pine and rather than a lodge we will be erecting a large, festive tent rented from a local company with dance floor and decorative lighting. The party will go on," Blackburn said.

The White Pine team would like to thank all the local firefighting crews who ensured that the damage was contained to one structure. Local businesses and town folk have contacted White Pine extending offers to help and assist wherever possible. "We hadn't realized just how important White Pine is in our community – so many have contacted us, saddened by the loss and shared memories of growing up learning to ski at White Pine. We have all been deeply affected," Blackburn said.

Looking to the future, the lodge will be rebuilt. "It is impossible to predict the timeline as the insurance adjusters have only just visited the site. There is a long road ahead, but there is a new lodge at the end of the tunnel," said Blackburn.

For further information contact Robyn Blackburn, White Pine Resort, 307-367-6606, robyn@whitepineski.com, www.whitepineski.com.

---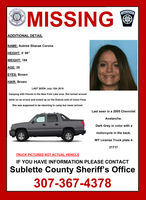 Missing Person

Investigation continues for missing woman (posted 7/18/19)
Official search and rescue operations suspended
Sublette County Sheriff's Office
(Pinedale, Wyoming –July 18th, 2019) - Even though the official search and rescue mission has been suspended, this case continues to be an active missing persons case. Our office with the cooperation of Fremont County Sheriff's Office, Sweetwater County Sheriff's Office and the Wyoming Highway Patrol will continue to investigate until Corona is located. At this time, no new information is available in this case.

Yesterday, official search and rescue missions being conducted by Tip Top Search and Rescue and Fremont County Search and Rescue were suspended in the search for Aubree Corona. Corona (28), of Green River, Wyoming was listed as a missing person with our office when she didn't return to her camp over the weekend. Both Tip Top and Fremont County Search and Rescue coordinated and conducted an extensive search of the area between Green River Lakes and Dubois Monday and Tuesday where Corona and the truck she was driving had been observed Saturday morning by several individuals. Neither Corona or the truck was ever located.

If you have any information on the whereabouts of Miss Corona, please contact the Sublette County Sheriff's Office 307-367-4378.

Related Links:
Search suspended for missing woman Sublette County Sheriff's Office, July 17, 2019
MISSING PERSON: Aubree Shanae Corona Sublette County Sheriff's Office, July 16, 2019

---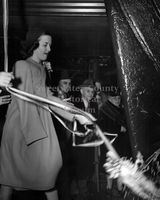 Eva Papich Rogers christens the SS Rock Springs Victory at the Oregon Shipbuilding Company in Portland, February 22, 1945 (Sweetwater County Historical Museum Photo)

Rock Springs woman christened World War II ship (posted 7/18/19)
New book released about 100 notable Sweetwater County women, two talks, on July 18 and July 20
Sweetwater County Historical Museum
(Sweetwater County, Wyo. - July 17, 2019) Among the women profiled in the new book, Sweetwater Women, is a Rock Springs resident who christened a ship during World War II, the Sweetwater County Historical Museum in Green River said in a media release on Wednesday.

In 1945, Eva Papich Rogers, a Union Pacific Coal Company switchboard operator in Rock Springs, was chosen when she won a special popularity contest to travel to the Oregon Shipbuilding Company along the Willamette River in Portland to christen the SS Rock Springs Victory, a 15,000-ton Victory-class cargo ship.

Victory ships were a class of World War II American cargo ships. An improved version of the earlier Liberty cargo ships, a total of over 500 Victories were built from 1944 to 1945.

The Liberty and Victory ships were instrumental in the Allied victory in World War II and were capable of carrying about 10,000 tons of cargo. They were crewed by seamen of the United States Merchant Marine, while the ships' armament, normally a 5-inch gun, a 3-inch gun, and an assortment of 20mm and .50-caliber machine guns, was manned by sailors of the United States Navy Armed Guard.

Though the Rock Springs Victory was scrapped in 1970, several Victory ships are still afloat as museum ships, including the SS American Victory in Tampa, Florida, shown here.

Sweetwater Women, by local author Christine Alethea Williams and Sweetwater County Historical Museum Director Brigida Blasi, profiles the lives of over 100 women, past and present, who have figured prominently in Sweetwater County history. Its official release will take place at two upcoming book-signing events in Green River and Rock Springs.

The first event, Sweetwater Women's official launch and book signing, is set for 6:00 PM on Thursday, July 18, at the Tomahawk Hotel in Green River. Williams and Blasi will be there, as will a special guest speaker: historian and rancher Ann Chambers Noble of Cora.

Noble received a B.A. in history from Bowdoin College and a M.A. in history from the University of Utah. She has published extensively on Wyoming history topics, and currently serves on the boards for the University of Wyoming's American Heritage Center, Buffalo Bill Center of the West's McCracken Library, and Wyoming State Review Board for the National Register of Historic Places.

Her topic on the 18th will be "The Equality State: Wyoming Women Lead the Nation."

The second event, a book signing with Blasi and Williams, is set for Saturday, July 20th, at Sidekicks Book & Wine Bar at 507 Broadway in Rock Springs from 11:00 AM to 2:00 PM.

The authors expressed their special thanks to the Tomahawk Hotel and Sidekicks for hosting the events and their work in advancing downtown development. Williams and Blasi see the release of Sweetwater Women as their contribution to the "Year of Wyoming Women," celebrating the 150th anniversary of women's suffrage in Wyoming.

Sweetwater Women is published through the Sweetwater County Museum Foundation, a non-profit organization that exists to support the museum. All proceeds from the book's sale go directly to the Foundation. It will be available at the museum on Flaming Gorge Way in Green river and online at Amazon.com.

Click on this link for more photos: Rock Springs woman christened World War II ship

Related Links:
https://www.sweetwatermuseum.org/ Sweetwater County Historical Museum

---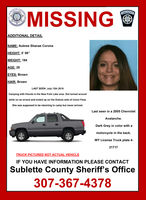 Aubree Coronoa is still listed as a missing person. Please call 307-367-4378 with any information about her whereabouts.

Search suspended for missing woman (posted 7/17/19)
Aubree Corona missing since July 13
Sublette County Sheriff's Office
(Pinedale, Wyoming –July 17th, 2019) The official Search and Rescue mission has been suspended in the search for Aubree Corona, who was been missing since Saturday.

This morning (Wednesday, July 17, 2019), search and rescue operations on the Sublette County and Fremont County side of Union Pass have been suspended for missing Aubree Corona after the search yielded no leads. Search operations began Monday (July 15th) for Miss Corona who has been missing since Saturday afternoon when she didn't arrive back to camp with friends as planned.

During the search operations, Tip Top Search and Rescue members as well as the contract helicopter were deployed to the Union Pass area in an extensive search for Miss Corona. Fremont County Search and Rescue deployed a similar response on their side of the pass in a coordinated search effort. An extensive grid search of the entire area between Green River Lakes and Dubois Wyoming were conducted over the last two days. As of Tuesday evening, the search of the entire area resulted in no signs of Miss Corona or the vehicle she was reported to be in.

The last reported contact from Miss Corona was mid-afternoon on Saturday where she made contact with her friends via text message. She reportedly informed them that she was lost on the wrong side of Union Pass and received directions from a logger in the area. Sublette County Sheriff's Office was able to contact the logger and confirm his contact with Miss Corona. Miss Corona stated in her text that she was getting fuel and food and headed back to Sublette County. During the course of the last few days we received numerous tips from citizens who had seen her driving the vehicle on Saturday in the Union pass area. However, these sightings were early afternoon on Saturday and before her last text message to her friend's at camp.

We have received an overwhelming response of volunteers willing to come help search. These offers are very appreciated. However, we encourage people not to self-deploy in these situations as they can interfere with the detailed grid search and can result in secondary searches for those who aren't familiar with the area and terrain. We want to thank those who gave us valuable information to assist in the search.

Miss Corona is still listed as a missing person. If you have any information about her whereabouts please contact the Sublette County Sheriff's Office 307-367-4378.

Related Links:
MISSING PERSON: Aubree Shanae Corona July 16, 2019

---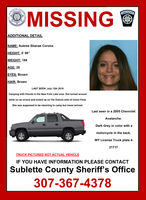 Missing Person

MISSING PERSON: Aubree Shanae Corona (posted 7/16/19)
The Sublette County Sheriff's Office reports that Aubree Corona, 28, of Green River has been missing since Saturday, July 13th. She was camping with friends in the New Fork Lake area and reportedly got turned around when going on an errand and ended up on the Dubois side of Union Pass. She was supposed to be returning to camp, but never arrived. She was last seen in a dark gray 2005 Chevrolet Avalanche, Wyoming truck license plate 4-21717, with a motorcycle in the back. Aubree has brown hair, brown eyes, is 5'8" tall, and weighs approximately 194 lbs. If you have seen her or the vehicle, or have any information about this case, please contact the Sublette County Sheriff's Office at 307-367-4378.

---
Victim of Pinedale house fire identified (posted 7/16/19)
James Tipton of Pinedale succumbs in July 10 fire, Tricia Gunderson able to escape
Sublette County Sheriff's Office
Thursday, July 10th, the Sublette County Sheriff's Office, Sublette County Unified Fire, Sublette County EMS and Wyoming Highway Patrol responded to a structure fire at 121 North Ashley in Pinedale. Upon arrival one occupant was out of the home the other was reported to still be inside. When rescue crews reached the individual through the blaze in the home, he was unfortunately deceased. The victim was unable to be positively identified at that time.

During autopsy the victim was positively identified as James Tipton (67) of Pinedale, Wyoming. The cause of death has not yet been determined by the Sublette County Coroner's Office and the fire is still currently under investigation.

Tricia Gunderson, who was able to exit the home was taken to the Pinedale Medical clinic from the scene. Miss Gunderson was then life flighted to EIRMAC (Eastern Idaho Regional Medical Center) for further treatment. As of today (Monday, July 15, 2019), her condition has been improving and will likely be released from the hospital soon.

---
Early morning fire destroys White Pine Ski Lodge (posted 7/12/19)
Sublette County Unified Fire
Emergency responders were notified of the report of a wildland fire at the White Pine Ski Resort in Pinedale at approximately 1:20 AM this morning (Friday July 12, 2019). Emergency responders arrived on scene to an active fire in the lodge itself. There have been no injuries to responders and no extension to the neighboring structures or forest. Fire crews are currently engaged on mopping up the fire and the cause is still under investigation.

The response included multiple personnel from Sublette County Unified Fire, Sublette County Sherriff's Office, Sublette County EMS, Sublette County Emergency Management and Bridger Teton Fire Crews.

Fire crews contained the fire to the lodge building and monitored the surrounding areas to ensure the fire didn't spread to the surrounding forest or buildings.

---
Bridger-Teton National Forest proposes campground and rental cabin fee changes (posted 7/5/19)
Comments accepted until August 31, 2019
Bridger-Teton National Forest
The Bridger-Teton National Forest is soliciting comments on a proposal to increase fees, or charge new fees at several campgrounds and rental cabins on the Kemmerer, Big Piney, Blackrock, and Pinedale Ranger Districts. Most of these campgrounds and rental cabins have been available for recreation use by the public for over 30 years. Campgrounds on the Forest are typically open May - September, while rental cabins may be open year round. A review of visitor use data and fee collection information for existing fee campgrounds and rental cabins on the Forest demonstrate public need and demand for the variety of recreation opportunities these facilities provide; and that current fees are insufficient to adequately maintain these facilities for public use.

Market analysis indicates that the proposed fees are both reasonable and acceptable for the type of recreation experience they provide on the National Forest.

The following campgrounds and rental cabins are included in this proposal for fee increases:

Proposed Fee Increase Sites
Site Name, Ranger District, Current Fee, Proposed Fee
Hams Fork Campground, Kemmerer, $7.00, $10.00
Hobble Creek Campground, Kemmerer, $7.00, $10.00
Kelley Guard Station, Kemmerer, $30.00, $60.00
La Barge Guard Station, Kemmerer, $30.00, $60.00
Hoback Guard Station, Big Piney, $30.00, $80.00
Sacajawea Campground, Big Piney, $7.00, $10.00
Snyder Guard Station, Big Piney, $30.00, $60.00
Boulder Lake Campground, Pinedale, $7.00, $12.00
Fremont Lake Campground: Single, Pinedale, $12.00, $15.00
Fremont Lake Campground: Double, Pinedale, $24.00, $30.00
Fremont Lake Group Site, Pinedale, $35.00, $50.00
Half Moon Lake Campground, Pinedale, $7.00, $12.00
New Fork Lake Campground, Pinedale, $7.00, $12.00

Proposed New Fee Sites
Middle Piney Lake Campground, Big Piney - $10.00
Willow Lake Campground, Pinedale, - $10.00
Sagebrush Cowboy Cabin, Blackrock, - $40.00

Visitor use fees for campgrounds and rental cabins on the Forest have not been raised since the early 1990's. In the last several years, improvements have been made at all sites in this fee increase proposal. Improvements at campgrounds may include new vault toilets, bear-resistant food storage or trash receptacles, picnic table replacement or refurbishing, and water system updates. Improvements in rental cabins include items such as new flooring, windows, stoves, refrigerators, furniture, and heaters. The proposed fee increase is necessary to address increased operational costs for continued operation and maintenance of these campgrounds and rental cabins to enhance the recreation experience at these sites. These fee increases are only proposed at this stage. A final decision regarding these fee increases will be made after further analysis and public comment.

Photos of campgrounds and rental cabins included in this fee increase proposal can be found on the Bridger-Teton National Forest webpage, https://www.fs.usda.gov/alerts/btnf/alerts-notices. At this time, comments are being accepted on this new fee increase proposal. Please send your comments to: Cindy Stein, Forest Recreation Program Manager, P.O. Box 220, Pinedale, WY 82941, cindy.stein@usda.gov with "BT Recreation Fee Proposal" as the subject line. Comments will be until taken until August 31, 2019.

All new fee proposals will be presented before a citizen's committee, Wyoming Recreation Action Team (REACT). REACT is a consortium of state and federal land management agencies that work to ensure public input regarding proposed fee increases on federal lands and to identify opportunities and address issues affecting recreation and tourism in Wyoming. State agencies making up REACT are Wyoming Game and Fish Commission, Department of State Parks and Cultural Resources, Wyoming Department of Transportation, Division of Travel and Tourism, and Department of Agriculture. Federal entities involved are the Bureau of Land Management, National Park Service, US Fish and Wildlife Service, and US Forest Service. The public is welcome to attend and comment at all committee meetings. The next REACT meeting is expected to be held the winter/spring of 2019/20. The exact meeting time, location and agenda will be announced on the Bridger-Teton National Forest website and through the local media. These fee proposals will also receive extensive review by the Regional and Washington Offices of the US Forest Service.

In 2004, Congress passed the Federal Lands Recreation Enhancement Act, which allows the Forest Service to retain funds collected at certain recreation sites and use these funds locally to operate, maintain, and/or improve these sites. Before the Forest Service received the authority to retain funds locally, all fees collected by the Forest Service went to the national treasury. As a result of this Act, the Bridger-Teton National Forest retains approximately 95% of the revenue collected at recreation fee sites, including all sites listed above. These fees are utilized to operate, maintain, and/or improve services and facilities at fee sites on the Forest.

If approved, the proposed fee increases would begin in the spring of 2020. Reservations for campgrounds and rental cabins can be made via toll free number (877) 444-6777 or online at www.recreation.gov.

For more information, questions, or comments about the fee increase proposal, please visit the Bridger-Teton National Forest website at: http://www.fs.usda.gov/btnf or contact Cindy Stein at 307-367-5717 or cindy.stein@usda.gov.

---
Business Directory
Click here for
Advertising Information