Western Watersheds sues over elk feedgrounds (posted 7/30/14)
Western Watersheds Project release
"Western Watersheds Project has filed a court challenge contesting the Wyoming Game and Fish Department's daily feeding of elk on five feedgrounds during the winter on public lands within the Bridger-Teton National Forest and adjacent to the Palisades Wilderness Study Area. The contested feedlots are attracting between 73 and 84 percent of the elk in northwest Wyoming each year, but the Forest Service has not sufficiently analyzed the consequences of issuing a 20-year permit to WGFD to feed the wildlife on these federal lands.

"Elk feedgrounds arise from another era, when the idea was to keep elk away from haystacks on private ranch lands. Now, feedgrounds are maintained in large part to alleviate the fears of ranchers about the transmission of brucellosis to cattle. These feedgrounds have sustained artificially high populations of elk and led to unnatural concentrations of the animal in a few sites on National Forest lands.

"Unnatural concentrations of elk increase the potential for disease transmission of serious illnesses like Brucellosis and Chronic Wasting Disease, which some scientists predict could seriously impact elk populations in northwest Wyoming. Locating feedlots on public land also leads to serious ecological impacts, including reduced stream bank stability and impacts to water quality, as well as heavy use of vegetation in the area. Additionally, concentrating prey species can skew predator distribution as grizzlies, wolves and scavengers may be drawn to feedlot areas.

"Western Watersheds Project knows it's time for the Forest Service to manage public lands to protect wildlife, not the special interests of Wyoming ranchers."

Related Links:
Western Watersheds Project - Anti-Grazing Organization Website
---
Motorcyclist killed in 4-vehicle crash near Jackson (posted 7/28/14)
Joseph Bale of Whittier, California killed, three others injured
Wyoming Highway Patrol
Two motorcycles and two passenger vehicles were involved in a crash on July 27th at 12:51 pm. The crash occurred at mile post 146.10 on US 89 six miles south of Jackson, Wyoming.

52-year old Joseph Bale of Whittier, California was traveling north on a 2006 Harley-Davidson motorcycle. Mr. Bale came up behind a 2007 Audi A4 that was stopped in traffic waiting for another vehicle to turn left. The Audi was driven by 31-year old David Johnson of Blackfoot, Idaho. Mr. Bale failed to notice that the Audi was stopped and swerved left to avoid the Audi. Mr. Bale's motorcycle made contact with the rear end of the Audi causing Mr. Bale to separate from the motorcycle. Mr. Bale landed in the roadway and sustained fatal injuries.

A second motorcycle driven by 36-year old Romulo Magahaes of Fortaleza, Brazil was northbound traveling behind Mr. Bale on another 2006 Harley-Davidson motorcycle. Mr. Magahaes also swerved left to avoid the stopped Audi and Mr. Bale's motorcycle. After swerving into the southbound lane, Mr. Magahaes collided head-on with a southbound 2013 Kia Optima driven by 66-year old Linda Farrag of Cohasset, Massachusetts. The collision with Mr. Magahaes' motorcycle and the Kia Optima also forced Mr. Magahaes' motorcycle into the stopped Audi.

Mr. Bale and Mr. Magahaes were both wearing helmets at the time of the crash. Mr. Bale was pronounced deceased at the scene of the crash. Mr. Magahaes, Linda Farrag, and Linda Farrag's passenger Jane Long were all transported to St John's Medical Center by ground ambulance. The crash caused the highway to be temporary closed. Driver inattention and following too close are currently being investigated as the contributing factors in the crash.

This crash marks the 79th fatality on Wyoming roads for 2014.
---
Preference Point application period underway (posted 7/28/14)
Moose, bighorn sheep, elk, deer, antelope
Wyoming Game & Fish
Resident and non-resident moose and bighorn sheep hunters and non- resident elk, deer and antelope hunters are reminded that the preference point only application period is now underway. Applications for preference points will be accepted through Sept. 30.

Preference points are available for qualifying big game hunters who did not apply for a moose or bighorn sheep license this year and non-resident elk, deer and antelope hunters who did not apply for a license this year or who did not draw their first choice license and did not mark the preference point box on their license application.

Under the preference point system, 75 percent of available licenses in each hunt area and license type will be allocated to the preference point drawing. Applicants with the highest preference point ranking will receive priority in the preference point draw. The remaining 25 percent of available licenses will be allocated in a random drawing regardless of preference points.

A youth applicant wanting to be awarded preference points must be at least 11 years old at the time of submitting an application for a big game limited quota license and must be at least 12 years old when in the field hunting. A youth applicant wanting to purchase preference points only must be at least 11 years old at the time of submitting an application and must be at least 12 years old by Dec. 31 of that year.

Preference points may be purchased online through the Game and Fish website at: wgfd.wyo.gov. Hunters with eligibility questions or other inquiries about preference points can call 307-777-4600.

Wyoming Game and Fish calendar:
July 1-Sept. 30: Preference point application period continues
Wednesday, August 6: Wyoming Mule Deer Summit, Daniel Schoolhouse, Daniel, Wyoming, 8AM more info
Friday, August 15: Archery antelope season opens in most hunt areas

---
Absentee voting available through August 18 (posted 7/24/14)
Wyoming will hold its 2014 Primary Election on Tuesday, August 19th. Any person who expects to be absent from his place of residence on Election Day, or who cannot be present at his precinct polling place on Election Day because of illness, injury, disability, old age or tenets of his religion, may apply for an absentee ballot in person, in writing, or by telephone, at the Office of the County Clerk, Sublette County Courthouse, P.O. Box 250, Pinedale, WY 82941, 307-367-4372 or 307-276-3827, or mary.lankford@sublettewyo.com. Absentee ballots may be requested through August 18, 2014, at the County Clerk's Office in the courthouse in Pinedale.

---
Wyoming school districts form coalition to reinstate annual inflation-adjusted funding (posted 7/23/14)
Superintendents meet with Governor Mead to discuss effect on students and to seek support
Sublette County School District #1 media release
PINEDALE – A coalition of seven Wyoming school districts have joined together to advocate for the reinstatement of an inflation adjustment to the school funding program, according to Dr. Boyd Brown, superintendent of Campbell County School District #1. The coalition includes Campbell County School District #1, Carbon County School District #1, Johnson County School District #1, Sheridan County School District #1, Sublette County School District #1, Sweetwater County School District #2, and Teton County School District #1 – a diverse group of small, medium and large districts throughout the state.

Together, Wyoming's 48 school districts have not received cumulative inflation adjustments for the last four years, three of which account for approximately $151 million (FY 2011, 2012 and 2013), forcing many schools to eliminate, delay or not fully fund essential reading, foreign language, art, remediation, academic enrichment and technology programs, among others. New curriculum programs have also been delayed, and many schools have had to eliminate teaching and other professional positions.

"Inflation occurs whether we like it or not," said Brown. "School building heat and electricity, various types of required insurance, and many other fixed-budget line items continue to increase year over year – just as they do in Wyoming's households. Without cumulative inflation adjustments to our annual funding we have been unable to cover the basic costs of running schools throughout the state. This lack of funding is resulting in increased class sizes and creating disparities in the quality of education being delivered to Wyoming's students."

"Legislation regarding inflation-adjusted funding for Wyoming school districts is already in place," said Brown. "We're respectfully requesting that the legislature bring forth a bill that will provide for an automatic, annual, cumulative inflation adjustment. This will allow school districts to plan ahead as student count grows, offer critical and increasingly challenging educational programming, and hire and retain the best teachers – all of which is essential to the very purpose of K-12 education in Wyoming: to prepare all Wyoming students for college and/or the rigors of the workplace in today's skills-based, competitive economy."

Governor Mead met with several superintendents and business managers from the coalition on July 9 to discuss how the lack of cumulative inflation adjustments in annual school funding for the last four fiscal years is affecting students throughout Wyoming. The seven-district coalition is also working closely with its local legislators to discuss how Wyoming's students are being adversely affected and to seek solutions.

"I appreciated the opportunity to meet with these superintendents and hear their proposal. Meeting with them showed me that we have strong leadership in our local school districts," Governor Matt Mead said.

During the coalition's meeting with Governor Mead he requested additional information from school districts about how the loss of inflation adjustments is hurting Wyoming's students. Specifically, he asked for further updates about the loss of technology support and readiness, and science, technology, engineering and math (STEM) programming. These are areas of focus for Governor Mead aimed at preparing students and diversifying and expanding Wyoming's economy.

As a result of the lack of inflation-adjustments, Sheridan County School District #1 has lost a total of 23 staff members, which is a 12.5% workforce reduction, while student population increased from 919 in fiscal year 2011 to 957 in fiscal year 2014. "Our certified teaching staff losses have caused an increase in the state mandated K-3 16:1 class size to 17.4:1," said Marty Kobza, superintendent of Sheridan County School District #1. "We have also eliminated certain reading, science, art, technology and enrichment programs, and remainunable to launch our STEM programming in any substantial way.I believe Governor Mead, Senator Enzi and many of our legislators agree – STEM programming is essential to our student's success in Wyoming and beyond."

"We appreciate Governor Mead's interest and support of education in Wyoming," said Brown. "We look forward to working with him and our local legislators to identify and implement a timely solution."

Related Links:
www.pinedaleschools.org Sublette County School District #1

---
EPA decides to cancel wage garnishing rule (posted 7/16/14)
Comments from Wyoming legislators
EPA decides to cancel wage garnishing rule
Comments from Wyoming legislators

Senator Barrasso applauds EPA decision to cancel wage garnishing rule

WASHINGTON, D.C. – Today (Wednesday, July 16, 2014), U.S. Senator John Barrasso (R-Wyo) released the following statement regarding the Environmental Protection Agency's (EPA) decision to withdraw its rule to garnish Americans' wages:

"In a rare moment of rationality, the EPA has decided to pull the plug on its outrageous attempt to bypass the courts and garnish Americans' wages. I'm pleased that the Agency actually listened to Americans' strong opposition and canceled this power grab.

"Now it's time for the EPA to also pay attention to Americans who are speaking out against new regulations that will damage our economy and put more people out of work."

Background:

On July 10th, Senator Barrasso joined Senator David Vitter (R-La.), top Republican on the Environment and Public Works Committee, and Senator Mike Enzi (R-Wyo.) in sending a letter to EPA Administrator Gina McCarthy calling on the Agency to withdraw its direct final rule on administrative wage garnishment. (letter: http://www.epw.senate.gov/public/index.cfm?FuseAction=Files.View&FileStore_id=a16d239d-2a9d-4fa8-94e1-b3f81994702c)

Senator Mike Enzi's comments:
EPA backs off on wage-garnishment proposal
Enzi calls for continued vigilance

Washington, D.C. - After receiving "adverse" comments from U.S. Senators Mike Enzi, John Barrasso, both R-Wyo., and David Vitter, R-La., the top Republican on the Senate Environment and Public Works Committee, the Environmental Protection Agency (EPA) has decided to withdraw its direct final rule on administrative wage garnishment, which would allow the EPA to collect money from private citizens without first obtaining a court order.

"This is good news for Wyoming and all those who believe in private property rights, but this is an agency driven by a relentless and extreme environmental agenda. I'm sure it's already taking steps to get this rule finalized via a longer process," said Enzi.

Enzi, Barrasso, Senators Mitch McConnell, R-Ky., John Thune, R-S.D., and others were also in the process of introducing a Resolution of Disapproval on EPA wage garnishment rule. The House Appropriations Committee attached an amendment to an appropriations bill this week that would prohibit the EPA wage-garnishment rule.

"The outcry against this Independence Day weekend sneak attack was swift and loud from both sides of Capitol Hill, but we must stay active. The EPA will. It's already in the process of trying to expand its control to state and private water and it's seeking to kill coal and all the jobs and energy that go along with that industry. Right now the agency has almost 50 open proposed rules," Enzi said. "The public also has the ability to comment on proposed EPA rules. It's important for people to let this agency know it's not OK for it to take away their freedoms."

Related Links:
Senators: EPA grants itself excessive authority with new rule to garnish wages from private citizens July 14, 2014

---
Senators: EPA grants itself excessive authority with new rule to garnish wages from private citizens (posted 7/14/14)
Wyoming Senators Mike Enzi and John Barrasso
Washington, D.C. – On Thursday, July 10th, U.S. Sen. David Vitter (R-La.), top Republican on the Environment and Public Works Committee, along with Sens. Mike Enzi (R-Wyo.) and John Barrasso (R-Wyo.), sent a letter to Gina McCarthy, Administrator of the U.S. Environmental Protection Agency (EPA). In the letter, the senators request that the agency withdraw its direct final rule on administrative wage garnishment, which would allow the EPA to collect money from private citizens without first obtaining a court order.

"While we recognize the government's legitimate interest in efficiently and effectively pursuing delinquent debt, EPA's new wage garnishment procedures provide an agency prone to regulatory abuses with even more power over Americans. Individuals who face threats of ruinous fines from the agency may now have to think twice before challenging EPA over its regulatory jurisdiction," wrote the senators.

"It's ironic that as we were preparing to celebrate Independence Day and our freedoms, the EPA was quietly seeking another way to take away some of those freedoms," said Enzi. "I appreciate Senator Vitter's leadership in the effort to rein in this abuse."

"The EPA's latest regulatory overreach is another one-two punch to responsible Americans who are trying to provide for their families. First, this out of control agency can fine you hundreds of thousands of dollars for simply building a pond on your own land. Now, the EPA is trying to bypass the courts and force your employers to garnish your wages to cover their expensive fines," said Barrasso. "Our letter makes it clear that the agency should not move forward with this rule. Americans across the country need to join us in contacting the EPA immediately and telling them that their rule is dead on arrival. We will work together to do everything possible to make sure this rule never takes effect."

In the letter, the senators note the case of a private landowner in Wyoming who received an EPA compliance order with terms threatening fines of up to $187,500 per day for building a pond on his property. The senators also note that case of a West Virginia poultry farmer whom EPA threatened with civil penalties of up to $37,500 per day because stormwater, which had flowed across her property, ended up in a "water of the United States." The senators note EPA's new garnishment rule could chill challenges to similar regulatory abuses.

---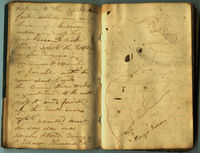 A newly-discovered 1826 journal by William Ashley is on special loan and on display at the Museum of the Mountain Man. Rocky Mountain Fur Trade Journal 2014 author Jay Buckley will give a talk about this rare journal on Friday, July 11th at 2PM at the Museum.

Newly-discovered 1826 William Ashley Journal on display at the Museum of the Mountain Man (posted 7/10/11)
Talk about the journal on Friday, July 11th
The Museum of the Mountain Man is excited to have a very special exhibit on display this summer: A newly-discovered 1826 journal by William Ashley. The journal is on loan from the Campbell House Museum in Saint Louis, Missouri.

This unknown journal details Ashley's journey starting at the mouth of the Kansas River on the Missouri River on March 27, 1826 and ending at Independence Rock and Devil's Gate on the Sweetwater River in what is now Wyoming on June 2, 1826.

The trip was Ashley's last trip to the Rocky Mountains on his way to the 1826 Cache Valley rendezvous in present day Utah where he would sell his fur trade company to Jedadiah Smith, David Jackson and William Sublette. The journal includes a narrative section of daily activities as well as various business and account records before and after the trip.

The journal was preserved by Ashley's clerk Robert Campbell and later mistakenly thought to have been written by him. Having been lost since 1938, it was donated to the Robert Campbell House Museum in 2005 by Karl Deibel, the son of a secretary in the law firm that administered the Campbell estate in 1938.

The full journal has been reproduced in the 2014 Rocky Mountain Fur Trade Journal with a historical context by Jay Buckley. During research for publication, it became clear the journal was written by William Ashley filling a gap in the earliest records of the mountain fur trade.

Jay Buckley is a guest speaker at the Museum of the Mountain Man and will give a talk about the journal and his article on it at 2:00PM on Friday, July 11th at the Museum. Anyone who wishes to have this year's authors autograph their copy of the Journal, and missed the booksigning on Friday evening, can meet the authors again between 2-4PM on Friday during the Rocky Mountain Fur Trade Journal author presentations. Journals are available for $25 in the Museum gift shop. The talks are free.

Click here for a complete schedule of the talks and programs at the Museum of the Mountain Man during Green River Rendezvous Days: Museum Schedule of Events

---
Wolverine decision pending (posted 7/9/14)
Cat Urbigkit, Pinedale Online!
Early next month, the U.S. Fish & Wildlife Service is expected to issue a final decision whether to grant federal protection to wolverines under the Endangered Species Act. In response to continued petitions for listing filed by environmental groups, in February 2013, FWS proposed rules that would list in the lower 48 states as a threatened species, and to classify wolverines in Wyoming, Colorado and New Mexico as a nonessential experimental population – which would allow for Colorado wildlife officials to undertake a reintroduction program.

FWS biologists had proposed federal protection for wolverines, citing that the primary threat to the species is "from habitat and range loss due to climate warming." Wolverines require habitats with near-arctic conditions wherever they occur. In the contiguous United States, wolverine habitat is restricted to high-elevation areas in the West.

In May 2014, a FWS ecological services team based in Montana recommended that the final FWS decision provide for federal protection for the species. But two weeks later, the Assistant Regional Director for the FWS Ecological Services division responded in a 24-page memo casting doubt upon the degree to which FWS can reliably predict impacts to wolverine populations from climate change. That memo instructed staff to prepare a withdrawal of the listing proposal. The withdrawal will then be presented to FWS Director Dan Ashe for his approval.

Click on the links below for more details.

Related Links:
• Wolverine memo - Read the memo here.
• Salt Lake Tribune - Utah wolverine article

---
Feds assess dog breeds to protect livestock herds from predator depredation (posted 7/8/14)
Cat Urbigkit, Pinedale Online!
Federal government researchers are testing a variety of larger livestock guardian dog breeds to learn if they can better protect livestock herds from wolf depredations.

Taking on an adult grizzly bear or a pack of wolves is a lot to ask of a livestock protection dog, but it's a task they willingly take to protect their herds from predation. For centuries, livestock protection dogs have helped ranchers protect livestock from coyotes, feral dogs, foxes, and mountain lions. Without them, thousands of sheep, lambs, and calves would be killed or injured each year.

Livestock protection dogs grow up and live with their herd, patrolling the perimeters of grazing areas to ward of potential predators. Now, with the recovery and expansion of populations of grizzly bears and wolves, current breeds of livestock protection dogs— like the Great Pyrenees, Komondors, and Akbash— are losing many of the fights. They are no match for these larger predators.

To help producers in western States cope with the rising number of large carnivores on the landscape, USDA's Wildlife Services (WS) program and its research arm the National Wildlife Research Center (NWRC) are leading an effort to identify more suitable breeds of livestock protection dogs. In 2013, NWRC researchers began a multi-year study to determine the effectiveness of larger, more assertive European dog breeds at protecting livestock from grizzly bears and wolves in Idaho and Montana. WS Deputy Administrator William Clay recently directed that this project be expanded to Oregon, Washington, and Wyoming.

"Finding suitable dog breeds for use as livestock protection dogs against wolves and bears not only helps us safeguard livestock and the livelihoods of ranchers, but also enhances and encourages coexistence between people and large predators" states Deputy Administrator Clay.

Researchers and their partners are importing young Kangal, Karakachan, and Cão de Gado Transmontano dogs from Europe and placing them with producers to acclimate and bond to sheep. The dogs' movements and behaviors are monitored using global position system (GPS) collars and direct observations. Care is taken to monitor for negative behaviors in the dogs, such as aggression towards other dogs, livestock, or humans or an inability to bond to livestock.

Data is also being gathered on wolf and grizzly bear activities and movements in the study areas. Researchers hope to learn whether the European breeds can protect livestock from wolves and bears while also exhibiting appropriate temperaments for living with livestock in pens and on open lands.

---
BLM schedules Riley Ridge to Natrona Pipeline public scoping meetings (posted 6/30/14)
BLM extends comment deadline to August 1
Bureau of Land Management
The Bureau of Land Management (BLM) Rock Springs Field Office has scheduled public scoping meetings for the proposed 243-mile hydrogen sulfide and carbon dioxide pipeline from Riley Ridge, 18 miles southwest of Big Piney, Wyoming, to the Natrona Hub, 30 miles west of Casper, Wyoming.

• July 14 - Holiday Inn, 1675 Sunset Dr., Rock Springs, Wyo.
• July 15 - Marbleton Town Hall, 10700 Highway 189, Marbleton
• July 16 - Rodeway Inn/Pronghorn Lodge, 150 E. Main St., Lander, Wyo.
• July 17 - Ramada Plaza Riverside, 300 W. F St., Casper

All meetings will take place from 4 to 7 p.m. BLM specialists and project representatives will be on hand to provide information, answer questions and collect public comments regarding the proposed pipeline route, identified issues and potential impacts and mitigation.

The BLM is extending the scoping period from July 9 to Aug. 1 to allow additional time for the submission of public comments following the scoping meetings. Written comments identifying specific issues, concerns, ideas or mitigation opportunities for consideration in the environmental impact statement should be emailed to BLM_WY_RRNP@blm.gov with "Public Comment" in the subject line; faxed to 307-352-0329; or mailed or delivered to the BLM, Attn: Stephanie Anderson, 280 Hwy. 191 N., Rock Springs WY 82901.

Before including your address, phone number, e-mail address, or other personal identifying information in your comment, be advised that your entire comment – including your personal identifying information – may be made publicly available at any time. While you may ask us in your comment to withhold from public review your personal identifying information, we cannot guarantee that we will be able to do so.

Related documents can be reviewed at the Rock Springs Field Office, 280 Hwy. 191 N., Rock Springs, Wyoming, or online at www.blm.gov/wy/st/en/info/NEPA/documents/rsfo/RRNP.html.

For more information, please contact Jim Stobaugh at 775-861-6478 or jstobaug@blm.gov.

Persons who use a telecommunications device for the deaf (TDD) may call the Federal Information Relay Service (FIRS) at 1-800-877-8339 to contact the individual listed above during normal business hours. The FIRS is available 24 hours a day, 7 days a week, to leave a message or question with the below individual. You will receive a reply during normal business hours.

---
Business Directory
Click here for
Advertising Information