Cindy Hill denied access to her office (posted 3/10/14)
Cindy Hill
Below is a statement from Wyoming Department of Education Superintendent Cindy Hill.

UPDATE 3/10/14: After the Supreme Court has ruled twice that the current governor signed an unconstitutional bill, the current governor continues to refuse to recognize the highest law of the land, the Constitution. Today, my staff and I attempted to resume our work at the Wyoming Department of Education. We were denied. I will be updating the public this afternoon, March 10th at 4pm via teleconference. You are welcome to call in at 877-278-8686 and enter the participant pin 759559 to listen. The call in facility is limited to 150 participants. NOTE: Casper Star article yesterday titled: "Mead to declare candidacy for second term" The Casper Star incorrectly reported that "Hill has since been reinstated and granted all her previous authority." I call upon the current governor to abide by that statement or issue a public correction.

---
Pinedale Roundup – March 7, 2014 (posted 3/7/14)
Session ends, Gov. Mead signs budget
Budget strips funding for review of science standards
National Parks continue to drive economies, shutdown costly
---
Cows suffer PTSD-like symptoms (posted 3/7/14)
Oregon State University
Unlike cows that haven't ever had a run-in with wolves, ones that have can experience stress-related illnesses and have a harder time getting pregnant – meaning decreased profits for ranchers, according to a new study by Oregon State University.

"When wolves kill or injure livestock, ranchers can document the financial loss," said Reinaldo Cooke, an animal scientist in OSU's College of Agricultural Sciences. "But wolf attacks also create bad memories in the herd and cause a stress response known to result in decreased pregnancy rates, lighter calves and a greater likelihood of getting sick. It's much like post-traumatic stress disorder – PTSD – for cows."

After a reintroduction to Yellowstone National Park in the last two decades, grey wolves have dispersed through the West and have hunted in livestock grazing areas. Since then, OSU researchers have heard anecdotes from ranchers that cows that have come in contact with wolves are more aggressive, sickly and eat less.

To measure the stress of a wolf attack on cows – and estimate its lingering effects – researchers simulated a wolf encounter with 100 cows. Half of them had never seen a wolf, and the other half had been part of a herd that was previously attacked on the range.

Cows were gathered in a pen scented with wolf urine while pre-recorded wolf howls played over a stereo. Three trained dogs – German Shepherds closely resembling wolves – walked outside the pen.

Researchers found that cortisol, a stress hormone, increased by 30 percent in cows that had previously been exposed to wolves. They bunched up in a corner, formed a protective circle and acted agitated. Their body temperatures also increased rapidly, another indicator of stress. Yet the cows previously unfamiliar with wolves were curious about the dogs and did not show signs of stress.

Multiple studies from Cooke and other researchers have established a link between cow stress and poor performance traits that can cost ranchers.

A 2010 OSU economic analysis estimated that wolves in northeastern Oregon could cost ranchers up to $261 per head of cattle, including $55 for weight loss and $67 for lower pregnancy rates, according to John Williams, an OSU extension agent in Wallowa County who conducted that study.

"In a herd, if you are not raising calves, your cows are not making you money," said David Bohnert, an expert in ruminant nutrition at OSU's Eastern Oregon Agriculture Research Center in Burns. "With stress likely decreasing the proportion of those getting pregnant and causing lighter calves from those that do, a wolf attack can have negative financial ripple effects for some time."

Both researchers call for further research into ways of successfully managing both wolves and livestock so they can co-exist.

The wolf-cow simulated encounter study, which was funded by the Oregon Beef Council, was published in the Journal of Animal Science and co-authored by Cooke and Bohnert.

Related Links:
OSU Economic Analysis Read the study here.
Wolf-cow simulated encounter study Read the study here.
Wolf Watch by Cat Urbigkit


---
Seven wolves harvested in Wyoming (posted 3/7/14)
Cat Urbigkit, Pinedale Online!
The Wyoming Game & Fish Department reports that as of 3 p.m. on March 4, seven wolves have been harvested in Wyoming's predator zone since the start of the year.

In addition, the agency has captured and placed radio collars on 34 wolves from 16 pack sin the state (outside of Yellowstone National Park). The agency estimates there are 186 wolves roaming in Wyoming outside Yellowstone and the Wind River Indian Reservation, according to the Associated Press.

Related Links:
Wyoming Game & Fish Department - Official state website.
Wolf Watch by Cat Urbigkit

---
Sublette Examiner – March 4, 2014 (posted 3/4/14)
Waiting on a bite
Court denies rehearing of SF 104 ruling
No Action Days in 2014, DEQ looks to end ozone season
Bill to end moratorium on new alt. schools sent to Governor
Obituary - Donna Edmison
Obituary - Marian Gants

---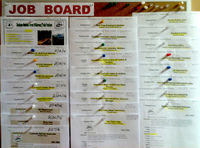 Pinedale Online Job Board listings are posted in paper form on the bulletin board on the door to our office in Office Outlet in Pinedale, 43 S Sublette Ave.

Looking for a Job? Check out our Job Board! (posted 3/3/14)
Over 20 jobs on the Job Board right now
Pinedale Online!
If you are looking for a job, and haven't found our Pinedale Online Job Board yet, we want to make you aware of this resource for finding jobs in Sublette County. Currently there are over 20 jobs listed. These are real jobs, looking for good workers, available now. Jobs can be posted on the Job Board at any time, so keep checking back if you are trying to find work here. Jobs are a wide variety, from retail store help, to office work, to camp cooks for local hunting outfitters, to motel housekeeping positions, bartenders, restaurant help, dental office help, vet office help, EMTs. CDL Drivers, heavy equipment operators, gas and oilfield work and more. For many jobs, the prospective employee may need to be able to pass a drug test and provide their work experience history. Some employers don't list phone numbers because they want local prospective employees to stop by their places of business in person to pick up an application. Many of the larger oil and gas companies have HR department links on their websites to submit job applications.

The Job Board can be found at www.PinedaleJobs.com. Here are some of the jobs we currently have listed on the Pinedale Online Job Board:
(Updated 3/7/14)
Full-Time Bookkeeper Rocky Mountain Bank, Pinedale, Wyoming
(FILLED) Customer Service Associate Pinedale Rental, Pinedale, Wyoming
CDL Class A' Driver RS Bennett Construction Co. Inc., Big Piney, Wyoming area
Retail Store Help Great Outdoor Shop, Pinedale, Wyoming
(FILLED) Shop Help Pinedale Rental, Pinedale, Wyoming
Ski Resort Help White Pine Resort, Pinedale, Wyoming
Transport Tanker Driver All American Fuel Co., Sublette County, Wyoming
Dental Receptionist Wind River Dental, Pinedale, Wyoming
Activity Assistant Sublette Center, Pinedale, Wyoming
(FILLED) Drivers for Bulk Fuel Delivery All American Fuel Co., Pinedale, Wyoming
(FILLED) Vet Clinic help The Animal Clinic of Pinedale, Pinedale, Wyoming
Seasonal Sous Chef Half Moon Lake Lodge, On Half Moon Lake
Lube Tech (all makes & models) Wolf's Pinedale Dodge, Pinedale, Wyoming
Part-Time Night Audit/Front Desk Person Hampton Inn & Suites, Pinedale, Wyoming
Automotive Technicians (all makes & models) Wolf's Pinedale Dodge, Pinedale, Wyoming
Full-time Housekeeping Pinedale Hampton Inn & Suites, Pinedale, Wyoming
Full-time Breakfast Attendant/Lobby Pinedale Hampton Inn & Suites, Pinedale, Wyoming
Full-Time EMTs Sublette County Rural Health Care District, Sublette County, Wyoming
Licensed Massage Therapist JAK's Salon & Boutique, Pinedale, Wyoming
Cashier Pinedale Super Center, Pinedale, Wyoming
Waitstaff and Bartenders Lakeside Lodge, Pinedale, Wyoming
Sandwich Artist Pinedale Subway, Pinedale, Wyoming
Packer/Camp Jack Bald Mountain Outfitters, Pinedale, Wyoming
---
Wolf Watch (posted 3/3/14)
Cat Urbigkit has posted several new stories about what's happening with wolves in the region. Her stories can be found on Wolf Watch on Pinedale Online, www.wolf-watch.com. See the links below to get to the stories.

Black Wolf in Black Hills?
by Cat Urbigkit, Pinedale Online!
A logger has reported spotting a black wolf northwest of Rapid City, South Dakota. And numerous residents of Spearfish have reported a wolf in a residential area in the last few months. Yet a state wildlife official discounts these reports. It appears the only time the state wildlife agency believes reports of wolves in that state is when another wolf carcass is brought in - something that happens every few years.

Feds produce wolf-coyote pups
by USGS press release
Scientists have successfully produced hybrid pups between a male western gray wolf and a female western coyote in captivity. By artificially inseminating a female western coyote with western gray wolf sperm, U.S. Geological Survey scientists and partners from the St. Louis Zoo, University of California, Davis, and Wildlife Science Center recently demonstrated that coyotes are able to bear and nurture healthy hybrid offspring. The results contribute new information to an ongoing question about whether the eastern wolf of southeastern Canada (and formerly of the eastern U.S.) is a unique species that could be protected by the U. S. Endangered Species Act. The findings are published in the journal PLOS ONE.

Idaho kills 23 Wolves in Lolo
by Idaho Fish and Game press release
Idaho Fish and Game, in cooperation with the USDA Wildlife Services, has completed another wolf control action in northern Idaho's Lolo elk zone near the Idaho/Montana border to improve poor elk survival in the area. In February, Wildlife Services agents killed 23 wolves from a helicopter. The action is consistent with Idaho's predation management plan for the Lolo elk zone, where predation is the major reason elk population numbers are considerably below management objectives. Fish and Game prefers to manage wolf populations using hunters and trappers and only authorizes control actions where harvest has been insufficient to meet management goals. The Lolo zone is steep, rugged country that is difficult to access, especially in winter.

Isle Royale Wolf Death
by Cat Urbigkit, Pinedale Online!
The debate about the future of wolves on Isle Royale just got a little more complicated. While wolf biologists and advocates debate whether there should be human intervention to boost the dwindling Isle Royale wolf population, frigid winter temperatures have allowed an ice bridge to form, connecting the island to the mainland, increasing hope for natural recruitment for the wolf population. But it appears the opposite has happened. A five-year old female wolf from the island has been found dead on the mainland after crossing the ice bridge.

Wolf on Mount Hood
by Cat Urbigkit, Pinedale Online!
Oregon's wolf population is growing and wolves are being documented in regions of the state where wolf presence hasn't been confirmed in a half-century. State wildlife officials even documented a wolf on Mount Hood in the Cascades, hundreds of miles from the core of the state's wolf population. This is the same region of the state where the famous wandering wolf OR-7 roams. OR-7 became famous when he journeyed into California, but his travels eventually took him back into Oregon.
__________________________________________

Cat Urbigkit is an award-winning writer, photographer and rancher from Big Piney, Wyoming. Her family has a ranch raising sheep and Hereford cattle in Sublette County in western Wyoming. She spent more than a decade conducting research on the history of Wyoming's wolves, with her non-fiction book on that subject, "Yellowstone Wolves: A Chronicle of the Animal, the People, the Politics," was released in 2007 by McDonald and Woodward Publishing Company. She was a writer and co-owner of the Sublette Examiner newspaper in Pinedale for many years, later leaving to free-lance write. Her articles have appeared in many newspapers, magazines and on the web. She has been monitoring wolf activity and stories for Pinedale Online Wolf Watch since 2006.
---
Sheriff's Office warns of resurgent 'delinquent taxes' scam (posted 3/3/14)
Sweetwater County Sheriff's Office
The Sweetwater County Sheriff's Office issued a warning about a resurgent "delinquent taxes scam" circulating once again throughout the county.

Authorities say there were such calls circulating in November of last year, but are starting up again now because of the onset of income tax season.

Sheriff Rich Haskell said his office has received a number of reports from people in Rock Springs and Green River who have received telephone calls from people claiming to be agents of the Internal Revenue Service, demanding payment of delinquent income taxes.

The pattern is for the caller to insist on prompt payment through a credit or debit card or a wire transfer. If the person called refuses or begins asking questions, the caller often threatens a visit from law enforcement, arrest, arrest of a spouse, or a driver's license revocation.

The callers use fake names and sometimes even provide a bogus IRS badge number. They may even know the last four digits of their intended victim's Social Security number, all in an effort to make the swindle sound more convincing.

Genuine communications from the IRS begin with a letter, not a phone call. Other tipoffs that such calls are a scam include the following:

- Knowledge of the intended victim's Social Security number or its last four digits.
- Recitation of the bogus IRS agent's badge number.
- During the call, the sound of other, similar conversations can be heard in the background.
- The caller becomes rude and hostile and hangs up.
- Follow-up calls from a different person also claiming to be an IRS agent.

Sheriff Haskell made the following recommendations to those who receive such calls: If you actually owe on your federal income taxes or think you might owe, contact the IRS directly at 1-800-829-1040 to speak with a genuine official about your tax issues.

If you know you don't owe any income taxes, call 1-800-366-4484 to report the caller to the Treasury Inspector General for Tax Administration.

Related Links:
Telephone scam advisory Feb. 25, 2014
Chamber warns of possible scam Jan. 26, 2014
---
Yellowstone and Grand Teton National Parks seeking recruits for 2014 Youth Conservation Program (posted 3/3/14)
Yellowstone and Grand Teton National Parks are accepting applications for youth to participate in their 2014 Youth Conservation Programs (YCP).

The YCP is a summer program for high school students to do summer outdoor work including trail maintenance and rehabilitation, brush removal, hazard tree removal, campground maintenance, resource restoration projects, public land conservation efforts and other related outside work. It's a great chance to be outside during the summer and get experience working in recreation and resource management, all in the setting of two of the nation's most beautiful national parks.

The programs at the two parks are slightly different from each other. Yellowstone is looking for 50 kids between the ages of 15-18, selected across the nation, and they will live onsite at the Park and be paid $7.25/hour. Youth participating in the Grand Teton Park program must be between the ages of 16-19 and already live locally because no housing is provided. Wages with the Grand Teton YCP are $11/hour.

Applications for the Yellowstone Park YCP program are due by Saturday, March 8th. Applications for the Grand Teton Park YCP program must be postmarked by Friday, March 14th.

See the full media releases below for details of the two programs.
______________

Grand Teton National Park Recruits for 2014 Youth Conservation Program
MOOSE, WY —Grand Teton National Park is recruiting participants for the 2014 Youth Conservation Program (YCP). Funding for this youth employment opportunity comes from the Grand Teton National Park Foundation through generous contributions by their donors. Applications must be postmarked by March 14, 2014

The YCP is a summer program for high school students, ages 16 to 19. The 2014 program will span ten weeks from June 16 through August 21. This marks the ninth year that Grand Teton has conducted the program, and trail supervisors hope to enroll 15-25 short-term positions during this recruitment period.

Participants must be at least 16 years of age by June 16, and live locally as housing is not provided. Applicants must also be United States citizens and students in good standing. Other qualifications include good team skills, a willingness to learn about Grand Teton National Park and its trail system, and the ability to work at a physically demanding job which may involve lifting 30-40 pounds. Wages for participants in the YCP program are set at approximately $11.00 per hour.

YCP enrollees develop an understanding of National Park Service (NPS) conservation ethics as they assist with critically-needed maintenance and rehabilitation on park trails and pathways. Participants work alongside NPS crew leaders and become familiar with NPS stewardship goals, while learning essential trail maintenance skills. YCP participants will work 30-50% of their time with several of the other park divisions (i.e. Science and Resource Management, Interagency Fire, Interpretation, and Visitor and Resource Protection). Students will also meet experts in all aspects of public lands conservation.

During the course of their day, YCP participants may answer basic visitor questions and serve as ambassadors for the park as they complete project work on some of the most visible, and most impacted, park trails. Most of the work will be focused on projects dealing with rehabilitation of trails and backcountry areas through activities such as brushing, hazard tree removal, and construction of water bars and drainage swales. In addition to the project work, environmental education programs and several recreational opportunities are also offered.

As an extension of their mission to support innovative projects that add value to Grand Teton National Park, the Foundation provides funding for salaries, work boots, work pants, tee-shirts, and free transportation to and from Jackson for YCP participants. For more information about this youth program and how to contribute to future YCP activities, or other Foundation programs, contact Leslie Mattson by email at leslie@gtnpf.org or phone 307-732-0629.

To obtain an application or get further information about the 2014 YCP, please call Stacy Myers in Grand Teton National Park at 307-739-3379, or write to YCP Program, GTNP, Drawer 170, Moose, WY 83012. Applications are also available online at http://www.nps.gov/grte/supportyourpark/ycp.htm.
______________

Yellowstone Park recruiting for 2014 Youth Conservation Corps program
Imagine having the opportunity to work, learn, play, and serve in the world's first national park.

Yellowstone National Park is currently recruiting for the 2014 Youth Conservation Corps (YCC) program, a residential work and education program for young men and women between the ages of 15 and 18. The program is designed to develop an appreciation for the nation's natural resources and heritage through unique educational, recreational and work experiences.

Yellowstone recruits youth from all social, economic, ethnic and racial backgrounds for the YCC program. Corps members work together under adult leadership to complete conservation projects such as rehabilitation of trails, campground restoration and a wide variety of resource management and maintenance projects.

Participants and staff develop their job and leadership skills while further exploring personal values, gaining self-esteem, expanding their awareness of work ethics, and learning firsthand about environmental and conservation issues. Corps members will also participate in evening and weekend recreational activities and discover the many options for careers in the National Park Service and other land management agencies.

Yellowstone will offer two, month-long YCC sessions, June 8 to July 9, and July 13 to August 13. Fifty youth will be selected from across the country to participate in the program.

No previous wilderness experience is required, but a willingness and ability to work in a physically active outdoor program, getting along well with others, and maintaining a positive attitude are essential for success.

Participants will be required to live on location, and room and board will be provided at a minimal cost. Wages will be set at the federal minimum wage of $7.25 per hour. Applicants must be citizens of the United States and be 15 years of age by June 8, but not over 18 years of age by August 13.

For further information and application materials visit www.nps.gov/yell/parkmgmt/yccjobs.htm.

Questions may be directed to the park's YCC Program Manager at (307) 344-2256. Completed application materials must be received no later than March 8, 2014.

The Yellowstone YCC Program is funded by the generous donations of individuals and organizations to the Yellowstone Park Foundation. More information can be found at www.ypf.org.
---
Please give wildlife plenty of room and patience (posted 3/3/14)
Deep snow forces animals into residential areas
Wyoming Game & Fish
Wyoming Game and Fish officials are asking residents in the Jackson, Wilson and Pinedale areas to be aware and show patience with moose and other wildlife that often show up in residential areas during the winter months. The Jackson Game and Fish office has received numerous calls from concerned citizens about moose in residential areas, prompting them to offer advice on how to avoid problems with these large animals. This winter has been a bit more problematic due to the amount of snow the area has received.

"It really is a matter of simply being aware and giving the animals plenty of room," said Jon Stephens, North Jackson Game Warden for the Wyoming Game and Fish Department. "We often don't expect to see these animals in our neighborhood or developed areas, but this time of year we should be more cognizant of that possibility."

Wildlife officials are asking residents to be wary and exhibit patience when encountering wildlife. "Generally, these animals are not going to pose a threat to anyone as long as we give them their space, control our pets around them and so on," said Stephens. "However, if an animal is charging people or posing a threat, we want to know about it and we will respond."

Wildlife officials acknowledge that wildlife, such as moose, can be potentially dangerous and offer these tips to avoid a conflict:
• Be especially watchful during times of low light. Moose can be difficult to see at night.
• Look for tracks or other signs of moose on trails, pathways, or around houses.
• Never crowd an animal or surround it.
• Always allow an animal an escape route.
• Always control pets while walking them and make sure there are no wildlife around before letting animals out of the house.
• View and photograph animals from a distance.
• Avoid feeding wildlife as it often attracts wildlife into conflict situations (i.e. roads, fences, landscaping, pets, etc.) .

Similarly, Game and Fish officials are also asking area motorists to be wary and exhibit patience to avoid collisions with wildlife. "Wildlife are regularly crossing area roadways this time of year and can be especially hard to see in low light situations," says Stephens. "We really need to slow down and give ourselves plenty of braking distance, especially on potentially slick roads."

Teton county residents are reminded that there is a ban on the feeding of wildlife in the town of Jackson and throughout the county, excluding bird feeders and unintentional feeding associated with the feeding of livestock.

"This is a stressful time for all wildlife and we need to give them room, whether it's in the backcountry or our own backyard," said Stephens.
---
WYDOT awards road contracts (posted 3/3/14)
Wyoming Transportation Commission
Contracts totaling nearly $17.4 million for 13 projects around the state, including two that will be funded through increased fuel tax revenue, were awarded by the Wyoming Transportation Commission during its February meeting in Cheyenne.

Deteriorating pavement on nearly five miles of Interstate 90 between Acme and Ranchester north of Sheridan will be milled off and replaced with a new layer of pavement under a $6 million contract won by Riverside Contracting of Missoula, Mont. The work will include rehabilitating the decks of seven bridges and improvements to a drainage culvert. The contract completion date is Nov. 30.

A three-mile section of US 89 through Afton will get a new layer of pavement under a $2.7 million contract awarded to DePatco Inc. of St. Anthony, Idaho. The work will include sidewalk replacement and new sidewalks at the south end of the project. The project is one of 19 WYDOT expects to be able to fund with the additional fuel tax revenue the department is projected to receive this year. The contract completion date is Oct. 31.

Intermountain Slurry Seal of Watsonville, Calif., was the low bidder at $2 million for a contract to complete chip sealing on highways in Converse, Fremont, Goshen and Natrona counties by Aug. 31.

LeGrand Johnson Construction of Logan, Utah, submitted the low bid of $1.4 million for removing deteriorating pavement on nearly eight miles of US 191 about eight miles south of Boulder and replacing it with a new layer of pavement. The project will be funded with additional fuel tax revenue and the work is expected to be done by Oct. 31.

Lander's CC&G Inc. was the low bidder at $1.3 million for a contract to replace the last timber bridge on Wyoming's highway system. The WYO 170 bridge over Owl Creek west of Thermopolis will be replaced with a concrete bridge scheduled to be open to traffic by Nov. 30.

Deteriorating concrete slabs in the passing lanes of Interstate 80 near the I-25 Interchange in Cheyenne will be repaired under an $875,000 contract won by B. Jackson Construction Group of West Jordan, Utah. The contract completion date is Sept. 30.

K's Construction of Otto will complete guardrail upgrades to improve safety on US 16 through Ten Sleep Canyon under an $841,000 contract that carries a completion date of Oct. 31.

Cheyenne Reiman Corp. submitted the low bid of $662,000 contract to repair the Parsley Boulevard Bridge over I-80 in Cheyenne. Reiman will replace two of the bridge's girders that were damaged when struck by a truck carrying an over-height load in August of 2013, less than a week after it had been reopened following completion of repairs required after the bridge was struck by a truck in 2012. The contract requires the repairs to be completed between June 9 and July 12.

Big Piney's R.S. Bennett Construction won a $520,000 contract to remove mud from highway ditches and around right-of-way fences along US 89 south of LaBarge. The accumulations of mud are the result of flooding in the area last September. The contract completion date is June 30.

The commission also awarded contracts for:

$467,000 to Reiman Corp. and Subsidiaries of Cheyenne for replacing the scales at the US 85 Port of Entry south of Cheyenne by Oct. 31;

$434,000 to SCI Inc. of Lyman for culvert and ditch cleaning at various locations along I-80 in Sweetwater County by Oct. 31;

$121,000 to Cache Valley Electric of Salt Lake City for installing a pedestrian crossing system at the intersection of Third Street and Shields Street in Laramie by Oct. 31. The system will include overhead mast arms with flashing lights activated by buttons accessible to pedestrians; and

$98,000 to Merrill Inc. of Cheyenne for installing a cattle guard on an approach to WYO 70 at the Medicine Bow National Forest boundary east of Savery by Sept. 3.

---
Public comment sought for proposed changes to Unauthorized Practice Of Law rules (posted 3/3/14)
Wyoming State Bar
The Wyoming State Bar today (Monday, March 3) announced that it will accept public comment relating to proposed changes to the rules governing the unauthorized practice of law.

The proposed changes identify services that may be provided by non-lawyers such as title insurance companies, real estate rental agencies, licensed real estate brokers, financial institutions, abstractors and tax return preparers, so long as certain safeguards are observed.

The current rules, the proposed rule and the comments received to date can be seen at www.wyomingbar.org. Comments will be accepted until 5:00 p.m. on March 31, 2014.

Members of the public who would like to comment on the proposed rule are invited to submit their written comments to:
Mark Gifford
Bar Counsel
Wyoming State Bar
P.O. Box 109
Cheyenne, WY 82003
mgifford@wyobc.org

---
Wyohistory.org debuts new education package (posted 3/3/14)
Website offers Wyoming students Wyoming history education
Online encyclopedia WyoHistory.org presents a new education package especially for students, teachers and others who enjoy learning more about the state's history. The package includes lively articles on nine historic sites on the Oregon Trail in Wyoming enhanced with interactive maps, extensive photo galleries, videos of inquisitive fourth graders touring the sites, field-trip lesson plans for teachers and quizzes for students.

Visitors to WyoHistory.org can access the new package linked prominently near the top of the home page, WyoHistory.org.

WyoHistory.org Editor Tom Rea and Designer Steve Foster created the easy-to-navigate instructional package by working with Natrona County and Casper College educators, students and museum professionals, and using up-to-date mapping information drawn from public sources with the help of the Wyoming State Historic Preservation Office.

Rea notes that all Wyoming fourth graders study the Oregon Trail. He said he hopes the resource will make the trails even more attractive to them, their teachers, their families—and anyone else interested in Wyoming's past.

"The great thing about the Oregon Trail in Wyoming," Rea says, "is that so much of it still looks like it did in the 1850s," when traffic on the trail was at its peak. "The space, distance and landscapes on the trails help bring history alive for students of all ages," he adds.

He says he hopes the maps, directions, photos, videos and lesson plans will help more teachers find time to take kids on field trips on the trails—always a challenge as schools ask teachers to do more and more with each available day.

All of the lesson plans offer notes for elementary, middle and high-school teachers on how the plans address specific requirements in the Wyoming State Social Studies Standards at each of those levels.

High school students from Star Lane Center in Casper created the videos by filming and interviewing elementary students when they toured sites like Fort Laramie, the Guernsey Ruts, Fort Caspar, Independence Rock, Martin's Cove, South Pass and Fort Bridger.

The WyoHistory.org website, a project of the Wyoming State Historical Society, has been on line since 2011 and officially launched in March 2013. The Wyoming State Historical Society is a nonprofit membership organization approaching its 61st birthday. For more information, contact Rea at (307) 277-3275 or email editor@wyohistory.org.

---
Deadline for Nonresident Deer, Antelope applications March 17 (posted 3/3/14)
Wyoming Game & Fish
Nonresidents who would like to hunt deer and antelope in Wyoming during the 2014 hunting season are reminded the application deadline to be included in the drawing is 5 p.m. on March 17. Starting this year all applications must be made online. No paper applications are being accepted.

The application deadline has been moved to March 17 this year because the traditional March 15 deadline is on a weekend. When application deadlines are on weekends, holidays, etc., when the Cheyenne headquarters office is closed, the deadline becomes the next business day that the headquarters office is open.

Hunters are required to submit the full license fee at the time of application. Nonresident license fees including the $14 application fee are $326 for deer and $286 for pronghorn antelope. The drawing will be held in late June. After the draw, hunters who are successful will receive a license. Those unsuccessful in the draw will receive a refund minus the application fee.

Hunters can only apply online through the Game and Fish website wgfd.wyo.gov. The paper application process has been phased out as the online application process has proven to be much more efficient and accurate and is easier for hunters to ensure their applications are received in advance of the deadline date. It has contributed to a substantial cost savings over the old process.

Drawing odds vary depending on species and hunt area. Preference points have been available for both deer and pronghorn for eight years and 75 percent of the quotas for each species are issued in the preference point drawing. The remaining 25 percent is issued in a random drawing without regard for preference point totals. The number of preference points required to ensure drawing success varies with the hunt area. Some areas, especially for pronghorn on private lands are very easy to draw without preference points. Conversely, areas which have large amounts of public lands have more competition for licenses and come with more difficult drawing odds. Hunters can research drawing odds from previous years for the various species and hunt areas on the Game and Fish website. Drawing odds may vary from year to year depending on quotas and numbers of applicants. Some of the deer regions that have traditionally had good drawing odds or even leftovers after the draw may not have leftovers this year if quotas are reduced and interest from hunters increases. Hunters who choose not to apply this year can still purchase a preference point online from July 1 – September 30.

Hunters are also advised that the application deadline for reduced price doe/fawn antelope and deer licenses is also March 17. Historically, most of these licenses remaining after the drawing and were picked up over the counter at local license agents once the season started. However, in recent years, doe/fawn license quotas in a number of areas, especially on public lands, or lands which have good public access, have been issued in the initial drawing. Hunters desiring these licenses may wish to apply in the drawing rather than taking the chance of obtaining them as leftovers. Nonresident fees for reduced price doe/fawn deer and antelope licenses are $48 for each species.

Licenses for areas undersubscribed in the drawing will be available on the Game and Fish website on a first come first-serve basis beginning July 10 for full-price licenses and July 17 for reduced-price licenses.

Hunters with additional questions on deer and antelope hunting and the application process can call 307-777-4600 for more information.

---
Game and Fish offers online application assistance (posted 3/3/14)
Wyoming Game & Fish
With two application deadlines now past, the Wyoming Game and Fish Department reports that the online only application process is going very well.

For those who would like to apply, but may not have access to a computer or need assistance in applying, the Game and Fish has computer stations at each of its regional offices and the Cheyenne headquarters building. In addition, hunters who have questions about applying online or need assistance can call the Game and Fish at 307-777-4600.

Prior to this year, hunters had the option of submitting paper applications or applying online to be included in drawings for licenses. Beginning 2014 the Game and Fish switched to a total online application process. "Most people were applying online anyway," said license section manager Jennifer Doering. "Last year 96 percent of all applications we received were online."

Doering said the online application process has proven to be much more efficient and accurate and is easier for hunters to ensure their applications are received in advance of the deadline date. "It has contributed to a substantial cost savings over the old process," Doering said.

To apply online hunters can go into the Game and Fish website http://wgfd.wyo.gov. In addition to application information, hunters can find drawing odds, harvest reports from previous years along with hunt area maps.

---
Business Directory
Click here for
Advertising Information