Pinedale area 2019 Fall Hunting forecast (posted 9/13/19)
Wyoming Game & Fish
Pronghorn (antelope)
In the Pinedale Region, the northern portion of the Sublette antelope herd includes hunt areas 87- 91. Population estimates for this herd are below desired levels generally due to harsh winters in 2010-2011 and again during 2016-2017. The 2018 fawn ratio was 55:100, below the previous 5- year average (2013-2017) of 65:100, while the total buck: 100 doe ratio of 57:100 was near the previous 5-year average of 56:100. This pronghorn population grew slightly during mild winter conditions from 2014-2016, experienced above average mortality during the 2016-2017 winter, exhibited increased survival during the mild 2017-2018 winter, but above average temperatures and the very dry conditions during the summer of 2018 moderated population recovery.

Mortalities resulting from the 2018-2019 winter are unknown at this time, but have the potential to be above average given high snow loads in the winter ranges of this herd. For the 2019 hunting season, there are no changes in the Pinedale Region. Although it remains difficult to draw an antelope license, those that do draw should experience high success rates.

Deer
Portions of two mule deer herds are managed in the Pinedale Region: the Sublette and Wyoming Range herds. Both are large populations with special management strategies designed to provide high quality hunting opportunities, older age class deer and high buck:100 doe ratios (30-45:100). For the Sublette herd, this population decreased below the post-hunt population objective in 2004 following significant winter losses when fawn mortality was estimated at 75% and adult mortality 2019 Statewide Fall Hunting Forecast – Page 11 at 20%, and has remained below desired population objective levels since that time. Despite improved spring moisture and improved shrub productivity from 2009 to 2011, deer losses were extreme from the 2010-2011 winter, with an estimated 70% fawn loss. Dry conditions during 2012 and 2013 resulted in poor production on winter habitats followed by improved moisture and forage production in 2014 and 2015. Good fawn survival during 2014-2016 resulted in population growth, but losses during the 2016-2017 were again extreme. Despite a mild winter and excellent fawn survival during winter 2017-2018, snow depths on Sublette deer winter ranges during 2018-2019 were considerable.

Change in ratio surveys conducted in April of 2019 indicated about 50% of the fawns were lost during winter. Adult survival estimates of telemetered Sublette deer from ongoing research with the University of Wyoming indicated 76% survival, with some mortalities occurring as late as May. The goal of the 2019 hunting season for the Sublette mule deer herd (hunt areas 130, 131, 138- 142, 146, 150-156, 162) is to minimize buck harvest to maintain postseason buck:doe ratios above 30:100, while still allowing hunting opportunity. Maintaining the current nonresident quota at 600 licenses, coupled with a short hunting season and antler point restrictions (3 points or more) for a third year in a row should help achieve these goals. General license seasons are proposed to run from September 15-October 6, closing on the first Sunday of October. The Wyoming Range deer herd (hunt areas 134, 135,143-145) also suffered heavy losses during the winter of 2016-2017, with documented losses of all radio-collared fawns and 35% of telemetered adult does, equating to an over-winter loss of approximately 40% of the entire deer herd.

Conversely, the winter of 2017-2018 was exceptionally mild and allowed increased fawn survival. However, the winter of 2018-2019 was also severe, but impacted mule deer wintering on the more southern ranges (Evanston-Cokeville) greater than winter ranges near LaBarge.

Change in ratio surveys conducted in April 2019 indicated a loss of nearly 30% of fawns for the entire herd, but a 70% loss in hunt area 134 compared to only a 13% loss in hunt area 143. The impact of the 2016-2017 winter was seen in December 2017 post season surveys, which indicated that fawn production and survival was low with only 54 fawns:100 does. In 2018, fawn:doe ratios improved slightly to 60 fawns:100 does, but remain lower than the previous fiveyear average (2013-2017) of 64 fawns:100 does. Yearling buck:doe ratios improved from 5:100 in 2017 to 12:100 in 2018 reflecting increased survival. Although adult buck:doe ratios dropped to 29:100 in 2017, they bumped up to 30:100 in 2018, within management objectives.

The southern portion of the Wyoming Range herd will offer 13 days of antlered deer hunting in hunt areas 134 and 135, allowing hunters to take antlered mule deer with three points or more on either antler or any white-tailed deer. General license hunting opportunity for antlered mule deer will run from September 15-October 6 for hunt areas 142-145. In hunt area 145, a total of 50 Limited quota Type 3 licenses valid for any white-tailed deer will be in place from November 1- November 15, and unused Type 3 licenses valid for antlerless white-tailed deer will continue from November 16-January 31. Region G and Region H nonresident deer quotas will remain at 400 and 600 licenses, respectively. Conservative nonresident quotas combined with a short general license seasons for all hunters will help meet the "special" management criteria of maintaining at least 30 bucks:100 does and maintain quality bucks in the population.

Elk
There are 4 elk herds managed in this region: Hoback, Pinedale, Piney and Upper Green. Liberal seasons have been in place for several years and are designed to move populations down toward objective levels, while maintaining at least 15 bulls:100 cows in the post-hunt populations. All herds met bull ratio objectives, ranging from 19 bulls:100 cows in the Hoback herd to 29 bulls:100 cows in the Upper Green River herd. Elk attendance was average to high on most feedgrounds in the Pinedale Region, a result of increased snowloads in most locations during the 2018-2019 winter. Calf:cow ratios averaged 32:100 among the four herds, ranging from 30:100 in the Pinedale herd to 39:100 in the Hoback elk herd. Elk hunter harvest in 2018 was slightly lower in most Pinedale Region elk herds due to warmer than average conditions during fall and the late arrival of snow. The Piney elk herd is currently within the established population objective after numerous years of liberal seasons to keep the herd from growing. Liberal seasons are again planned for the 2019 hunting season. Hunt areas 92 and 94 will open October 1 for limited quota type 6 cow or calf only hunting and extend to November 23. These licenses will extend to the end of January for a portion of hunt area 92. A type 7 cow or calf only license will allow hunters to take advantage of the month of November to harvest an elk north of Middle Piney Creek in hunt area 94. There will be a total of 800 type 6 cow or calf licenses available in hunt areas 92 and 94 and seasons will run through November 23 to reduce elk numbers. Elk numbers in the Pinedale herd (hunt areas 97 and 98) have been very stable in recent years and remain within the established population objective. Hunting seasons have been designed to increase antlerless harvest and lower population levels. Hunter success in the Pinedale elk herd remains to be among the highest in the region, with an overall 33% success rate. The 2019 seasons are again designed to target antlerless elk and lower population levels. The 2019 hunting season in the Hoback herd will offer general license any elk hunting through October 31 in hunt areas 86 and 87. This herd is being managed to provide recreational opportunities while maintaining 15 bull:100 cow ratios. An increase in the number of elk wintering 2019 Statewide Fall Hunting Forecast – Page 18 in the northern portion of hunt area 87 will allow for simplified regulations in 2019; all of hunt area 87 will be open for general license hunters for antlerless elk November 1-5. With stable elk numbers in the Upper Green River herd the past two years, 2019 hunting seasons will continue expanded antlerless elk hunting opportunities first implemented in 2017, specifically increases in Type 6 licenses and season length in hunt area 96. This herd is slightly above the stated objective of 2500 elk, and is managed with a combination of general and limited quota licenses to meet management objectives. Elk hunters with 96 type 1 and 6 licenses can pursue antlerless elk through the end of November in hunt area 96.

Moose
2019 Statewide Fall Hunting Forecast – Page 21 The Pinedale Region manages the majority of the Sublette Moose herd unit which is managed under a 'special' management strategy to provide recreational opportunities and maintain a harvest age of 4 years for bulls to maintain trophy harvest opportunities. This herd has a winter trend count objective of 1,500 moose, and the population has been stable to slightly increasing since 2006. The 2018 trend count was 1,210 moose, similar to the previous 5-year average trend counts of 1,159 animals and below the desired objective of 1,500 moose. The 2019 seasons are designed to maintain quality bull ratios (+50:100) while encouraging the population to grow. Due to concerns over the availability of older age class bulls in hunt area 3 and hunter opportunity complications created by the boundary between areas 3 and 4 boundary, hunt area 3 and 4 license holders were allowed to hunt either area in 2018 with 5 fewer total moose licenses. These area licenses will again be offered that opportunity in 2019.

Bighorn Sheep
The Darby Mountain sheep herd and a portion of the Whiskey Mountain herd are managed by Pinedale regional personnel. In 2016, the Darby Mountain herd (hunt area 24) was opened for the first time since the season was closed after the 2011 hunting season. In 2019, area 24 will again be open with one license for any ram. Continued population declines in the Whiskey herd prompted another reduction in hunt area 8. A total of 8 licenses will be offered in 2019, compared to 12 licenses in 2017 and 10 offered in 2018. In 2016, hunt areas 8 and 23 were combined to create the new area 8, and the season length was extended to October 31 (September 1–October 31) to provide additional hunter opportunity.

Upland Game Birds – Small Game
Sage grouse seasons will again run later in September in an attempt to reduce the vulnerability of hens with broods. In 2018, the season for dusky (blue) and ruffed grouse was extended from November 30 to December 31. In years with later than average onset of snow, access to the forested habitats of these gamebirds provides additional time afield for upland enthusiasts and the season structure will remain the same in 2019. Hunters will need to be mindful of winter range closures in some areas that begin in November and December. There is a healthy population of snowshoe hares and cottontail rabbits within the Region, and the season has been extended to March 31 to allow for more hunting opportunities in late winter. However, several areas of the Bridger Teton National Forest are closed to winter access beginning in November and December and hunters should check with the Bridger Teton National Forest for details of their winter travel plan.

Related Links:
Wyoming Statewide Game Forecast

---
Three-vehicle crash near Bondurant kills one, injures 2 (posted 9/13/19)
Bondurant resident William Saunders succumbs to injuries in crash
Wyoming Highway Patrol
On September 12, 2019, a fatal crash occurred around milepost 138 on US 191 north of Pinedale, Wyoming. Around 1:50 p.m., Wyoming Highway Patrol troopers were dispatched to the area for a motor vehicle collision.

A 2006 Polaris Sportsman ATV was traveling westbound on a private roadway. The driver of the Polaris failed to see a northbound 2015 Subaru WRX and pulled into the northbound lane. The Subaru collided with the Polaris before crossing into the southbound lane and colliding with a 2009 Chevrolet Silverado.

The driver of the Polaris has been identified as 93-year-old Bondurant, Wyoming resident William D. Saunders. Saunders was not wearing a helmet and transported to the St. Johns Memorial Hospital, where he succumbed to injuries sustained in the crash.

The driver of the Subaru has been identified as 26-year-old Denver, Colorado resident Sean Jordan. Jordan was wearing his seatbelt and not injured in the crash. The first passenger in the Subaru has been identified as 29-year-old Denver, Colorado resident Meghan Ceselsky. Ceselsky was wearing her seatbelt and transported to the St. Johns Memorial Hospital for injuries sustained in the crash.

The driver in the Chevrolet has been identified as 50-year-old Jackson, Wyoming resident John Clover. Clover was wearing his seatbelt and transported by private vehicle to St. Johns Memorial Hospital for injuries sustained in the crash.

Driver inattention on the part of Saunders is being investigated as a possible contributing factor.

This is the 112th fatality on Wyoming's roadways in 2019 compared to 77 in 2018, 106 in 2017, and 84 in 2016 to date.

---
Wyoming delegation applauds repeal of Waters of the United States rule (posted 9/12/19)
WASHINGTON, D.C. – U.S. Senators Mike Enzi and John Barrasso and Congresswoman Liz Cheney, all R-Wyo., applauded the Environmental Protection Agency for announcing final plans to repeal and replace the Obama-era Waters of the United States (WOTUS) regulation.

"I am glad the administration is repealing the excessively burdensome Waters of the United States rule, which was a massive regulatory overreach that should have never been allowed in the first place," Enzi said. "This rule gave the federal government power to regulate nearly every creek or pond. States know best how to manage our resources. This announcement is good news for our farmers, ranchers and small businesses. I look forward to reviewing the final rule."

"The WOTUS rule would have put backyard ponds, puddles, and prairie potholes under Washington's control," said Barrasso. "I applaud the Trump administration for working to remove this outrageous regulation. Americans deserve clean water and clear rules. We need rules that protect water and respect local authority."

"President Trump's efforts to repeal the Obama-era WOTUS rule is another crucial promise made and kept to Wyoming and rural communities throughout the nation," said Cheney. "The previous administration's WOTUS rule was not only misguided, it was an unconstitutional power grab that jeopardized Wyoming's ranchers, farmers, and private landowners. Today's announcement is another significant step taken by this administration to reduce unnecessary regulations and restore power to the states, where it belongs."

---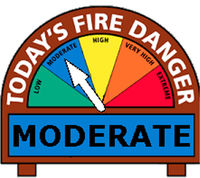 Fire danger reduced to Moderate

Fire Danger decreases to Moderate (posted 9/12/19)
Bridger-Teton National Forest
WESTERN WYOMING - The fire danger rating for Grand Teton National Park, National Elk Refuge, and Bridger-Teton National Forest lands has decreased to moderate following recent rainfall and cooler temperatures.

A moderate fire danger rating does not mean that people should let their guard down. This time of year frost starts to kill summer's grasses and wildflowers, creating more light cured fuels to carry fire. Larger-diameter fuels remain dry throughout the fall season. Additionally, with fall comes the arrival of hunting season and an increase in both front country and backcountry use on public lands. People hunting and recreating on public lands will want to have warming fires and campfires with the cooler overnight temperatures.

Help to prevent wildfires by not having a fire at all. Dress for success with layers and warm clothes. If you choose to have a fire, keep your fire small. Be present with your fire at all times, and have a plan for putting your fire out before lighting it.

Campfires and warming fires must be completely extinguished. This means pouring a lot of water on the fire, stirring the coals and ashes into a thick muddy soup, mixing the white ash from the fire's edges into the water, and then feeling for heat. Repeat this process until no heat remains. Use your hand to feel the center, the big pieces, and the edges for heat. Consider not having a fire if you don't have a shovel and water, if there is not an established fire ring, there is not an area of bare mineral soil free of flammable materials, or if there are winds to carry sparks.

To date, 146 campfires have been abandoned or left unattended in the Teton Interagency Dispatch area. This count was 119 at the end of August, meaning that 27 campfires have been left burning in this area in the past 12 days. Please be responsible with fire this fall.

Learn more about wildfire prevention and current wildfires by visiting www.tetonfires.com.

---
WYGF seeks info on pronghorn poaching (posted 9/12/19)
Wyoming Game & Fish
FARSON, WYOMING – The Wyoming Game and Fish Department is seeking any information regarding a buck pronghorn antelope that was illegally shot and left to waste near Farson on the morning of Sunday, September 8, 2019. The young buck was shot with a rifle on an irrigated alfalfa field two miles north of Farson (the old Jack McMurry Ranch) in Antelope Hunt Area 91. The hunt area was only open to the taking of doe or fawn antelope, during a special early season designed to alleviate damage to growing cultivated crops on private land.

Witnesses in the area described a vehicle that may have been involved as a small blue truck driven by a middle-aged man with light colored hair, accompanied by a young woman with dark hair and a nose ring. It is also believed the occupants of the blue truck were unaware that they did not have permission to hunt on that particular parcel of land due to a recent change in land ownership.

South Pinedale Game Warden Jordan Kraft states, "This type of action shows a blatant disregard for wildlife and is a theft of the wildlife resource to law abiding citizens."

Anyone with possible information regarding this poaching incident, or who was in the area and may have noted suspicious vehicles or activities, is encouraged to call the Pinedale Game and Fish office at 1-800-452-9107, the STOP POACHING hotline at 1-877-WGFD-TIP (1-877-943-3847) or the South Pinedale Game Warden, Jordan Kraft, at 307-367-2470.

Callers may remain anonymous and any information leading to an arrest and conviction may result in a reward of up to $5,000.00.

---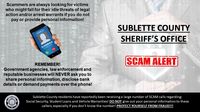 Scam Alert

Scam Alert (posted 9/12/19)
The Sublette County Sheriff's Office has received numerous calls recently of a variety of scams. These people can sound very convincing and may threaten legal action and/or arrest warrants if you do not pay money or provide personal information.

NEVER GIVE OUT PERSONAL INFORMATION OVER THE PHONE.

These scammers may be threatening, or sound very convincing and claim they are law enforcement officers, collection agencies, or bank officials. Remember, government agencies, law enforcement, and reputable businesses will NEVER ask you to give out your personal information or demand payment over the phone.

Even the Caller ID showing on your phone can be faked by scammers and may show the call to be coming from your bank or local law enforcement, when it really is not. DO NOT TRUST the Caller ID number showing on your phone as being legitimate.

Recent scams circulating involve social security numbers, student loans, vehicle warranties and more. Senior citizens can be particularly vulnerable to these scams. Never wire money, buy money cards to send to callers, or give out bank account or personal identification information to callers on the phone.

Hang up on these callers. If you are concerned about the status of your utility or bank account, call those companies directly using the number from your billing statement rather than using any phone number given to you by the scammers.

Please report suspicious phone calls to the Sublette County Sheriff's Office, 307-367-4378.

---
2019 Pinedale Half Marathon Sept. 28 (posted 9/11/19)
The 2019 Pinedale Half Marathon and 10K Walk/Run will be held on Saturday, September 28th. The event takes place on a course along scenic Fremont Lake in the Wind River Mountains near Pinedale. It includes a run/walk for the entire half marathon (13.1 miles), a 10K course (6.2 miles), or a one-mile course. All ages welcome to participate.

Race Check-In and Starts
Early bag pick up will be at Wind River Brew Pub in Pinedale from 4-7PM on Friday, September 27th.

On race day, all racers meet at Rendezvous Pointe early Saturday morning to check in, 425 E Magnolia St. in Pinedale (building directly behind, north, of Ridley's Family Markets).

The Half Marathon runners and walkers will start at Rendezvous Pointe at 8:30AM in Pinedale and head towards Fremont Lake in an out-and-back race.

The 10K racers will load a bus at Rendezvous Pointe at 8:30AM and will be taken to the Start at Fremont Lake Overlook and will run or walk back into town. The 10K will start at 9:30AM.

Sorry, no bikes, strollers or dogs on the Half Marathon or 10K courses. Dogs, strollers, and bikes are all allowed in the 1-mile.

The 1 Mile Fun Run/Walk will take place in town starting at Rendezvous Pointe. Start is at 11AM. Bikes and strollers are allowed in the 1 Mile Fun Run/Walk.

Click on the links below for the race route maps:

10K Race: http://pinedalehalfmarathon.com/uploads/3/5/2/3/35237971/10k__2_.jpg

Half Marathon: http://pinedalehalfmarathon.com/uploads/3/5/2/3/35237971/halfmap.pdf

Registration:
Early Bird registration rate is $35/person. Late registration (date TBA) to race day on-site registration is $50. Click on this link for more information about registration:
http://pinedalehalfmarathon.com/registration.html


FREE community BBQ
After the races, everyone is invited to a FREE community BBQ. This BBQ is open to everyone including participants, family members, visitors, supporters and other community members. The Pinedale Lion's Club works the grill, with local chef Sue Eversull by their side. Sue delights with her numerous salads and desserts.

Musical Entertainment
After race music is provided by Tim Ruland of the Pinedale Fine Arts Council (PFAC).

Child Care
The Pinedale Aquatic Center (PAC) is offering child care to participants with children ages 6 weeks to 12 years. Day care is available on Saturday, September 28th from 7:30-11:30AM. Participants must RSVP to PAC at 307-367-2832 ext. 6240 by Monday, September 23rd to take advantage of the child care services.

High Altitude Event
If you are from out of town & planning on participating, please be ready for a high-altitude event. This 1/2 Marathon starts at an elevation of 7,175 feet above sea level and overall gains about 300 feet throughout the course of this event.

Visitor Information
More area information is available online at the Pinedale tourism website, www.visitpinedale.org. The Sublette County Visitor Center/Sublette County Chamber of Commerce in downtown Pinedale offers additional area information and maps.

More info:
Visit the event website at: www.pinedalehalfmarathon.com
Call the Pinedale Aquatic Center: (307)367-2832
Email: Pinedalehalf@gmail.com
---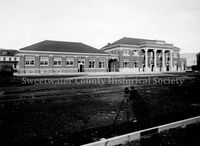 Green River Passenger Depot. Photo courtesy Sweetwater County Historical Society.

Sweetwater County historian receives WYSHS award for article on Green River Passenger Depot (posted 9/11/19)
Sweetwater County Historical Museum
A Sweetwater County historian received special recognition Saturday (Sept. 7, 2019) for her article about the history of the Green River railroad passenger depot.

At the Wyoming State Historical Society's (WYSHS) annual conference at the Museum of the Mountain Man in Pinedale, Brie Blasie, director of the Sweetwater County Historical Museum in Green River, received the Society's First Place Non-Fiction Publication Award for her article "The Green River Passenger Depot: A Symbol of Community and Prosperity."

Beginning around 1904, the citizens of Green River began pressuring the Union Pacific Railroad (U.P.) for construction of a new, up-to-date passenger depot for the town. In April of 1909, a petition sent to the U.P. calling for a new depot succeeded, and within two months Mayor Hugo Gaensslen received word that the railroad had approved construction, which was completed in 1910.

The new depot was huge and second in size in Wyoming only to the depot in Cheyenne. As described in Blasi's article, "The impressive redbrick building consisted of three wings, the central wing being two stories tall and fronted by a 40-foot-long colonnade and arched entranceways. Inside, the building offered both travelers and locals a variety of services including a dining room, a café, separate men's and women's waiting rooms, bathrooms, ticket office, baggage rooms, and various offices for employees and passenger services."

The now 109-year-old depot saw a number of modifications over the years and remains one of Green River's most iconic buildings.

"The Green River Passenger Depot" can be found in Volume IV of Echoes From the Bluffs a collection of local history articles published by the Green River Historic Preservation Commission. Echoes from the Bluffs is available at the Sweetwater County Historical Museum and on Amazon.

The Wyoming State Historical Society was founded in 1953. As described in its mission statement, the Society is a "non-profit membership driven organization [that] encourages the study of Wyoming history. We believe to study the past is to understand the present and prepare for the future." The Society's website can be found at https://www.wyshs.org; its encyclopedic Wyoming history website, WyoHistory.org, is online at https://www.wyohistory.org.

Since 1990, the Museum of the Mountain Man in Pinedale has been "preserving and interpreting the history of the Rocky Mountain fur trade." For more information, visit its website at https://www.museumofthemountainman.com.

The Sweetwater County Historical Museum is located at 3 E. Flaming Gorge Way in Green River. The museum is currently operating under summer hours, Monday through Saturday, 10:00 AM to 6:00 PM. Admission is free.

---
Senator Enzi accepting nominees to military academies (posted 9/11/19)
Deadline to apply is Nov. 5, 2019
WASHINGTON, D.C. – U.S. Senator Mike Enzi, R-Wyo., is accepting applications for nominations to the U.S. military service academies for the 2020-21 school year. Every year, Enzi gives Wyoming youth considering military careers the opportunity to apply for a nomination to the Air Force Academy, the Merchant Marine Academy, the Military Academy at West Point and the Naval Academy.

"Military service academies provide exceptional opportunities to young people, including a quality education," Enzi said. "These academies open doors and provide a unique set of experiences that graduates will carry with them throughout their lives. I highly encourage anyone who is interested to apply."

All applicants for service academies require a nomination and an appointment. To be considered for a nomination, a student will be evaluated on leadership, extracurricular activities, academic grades, SAT/ACT test scores and letters of recommendation. Based on the applicant's interview with Enzi's selection committee, applicants are recommended to Enzi for final approval. Following Enzi's nomination, final appointments will be determined by each academy.

The application, procedures and specific criteria are available on Enzi's website. For additional information, please contact Martha Wilson at (307) 772-2477 or Martha_Wilson@enzi.senate.gov.

Complete application packets are due to Enzi's Cheyenne office by Nov. 5, 2019 at 2120 Capitol Ave. St. 2007 Cheyenne, WY 82007. Enzi's committee will interview qualified applicants on either Dec. 6 or 7.

---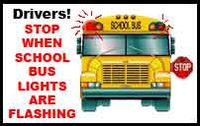 Drivers: Stop for school buses with flashing lights.

Drivers: Stop for school buses flashing lights (posted 9/10/19)
Sublette County Sheriff's Office
All school buses have flashing lights and stop signs that indicate children and either loading or unloading from a school bus. Wyoming State Statute requires all drivers come to a complete stop when approaching a school bus from either direction while their lights and stop sign are activated. Drivers cannot resume driving until the bus driver has deactivated the stop sign and lights. If you pass a school bus while their stop sign is activated with lights on you can be issued a citation that carries a fine of $435.

As of July 1st 2019, State Statute allows for school bus video systems and concerned citizens to submit video evidence of drivers passing a bus with activated stop signals and can lead to citations for the driver as well. We hear lots of excuses why drivers don't stop, but we take student safety seriously and so should you, this school year lets work together to keep our kids safe.

---
605 acres of habitat protected for wildlife (posted 9/10/19)
Jackson Hole Land Trust
The Jackson Hole Land Trust announced today (Tuesday, Sept. 10) that 605 acres in Sublette County located along the Red Desert to Hoback Mule Deer migration corridor have been protected through the Willow Lake Pasture Conservation Easement now held by the Green River Valley Program of the Jackson Hole Land Trust.

Protected in perpetuity on August 28, 2019, the Willow Lake Pasture Conservation Easement (Willow Lake) contains 605 acres of important open space, wildlife habitat, and agricultural heritage in Sublette County, located just five miles north of Pinedale. This is the first multiple hundred acre agricultural property that has been protected since the Jackson Hole Land Trust (JHLT) and the Green River Valley Land Trust merged, forming the Green River Valley Program (GRVP) based locally in Pinedale.

"It is very satisfying to see the Green River Valley Program completing significant and important protection projects in Sublette County," says GRVP Advisory Council and JHLT Board Member Mike Fenn.

"The JHLT and its staff have been working hard to establish new conservation easements in Sublette County since the creation of the program in 2016, and we are now seeing the positive outcomes of focused and diligent protection work that comes to fruition sometimes over extended timelines," Fenn continued. "With conservation accomplishments like Willow Lake, we are experiencing the concrete results of the JHLT's dedication to working with local landowners to protect open spaces, wildlife habitats and migration corridors, and working lands in our region."

The open sagebrush steppe of the Willow Lake property has historically supported ranching operations, and it is part of the frame of view of the majestic Wind River Mountains. Willow Lake contains wet meadows and ephemeral pothole wetlands, which are oases in the surrounding sagebrush sea that provide nesting, feeding, and shelter habitat for waterfowl and other birds, as well as small mammals and migrating big game.

The property provides seasonal habitat for pronghorn antelope, mule deer, and moose, and is located within the Daniel Greater Sage-Grouse Core Population Area. It also lies in the Sublette Mule Deer Migration Corridor, which stretches from the Red Desert near Rock Springs to the Hoback area and is the longest documented mule deer migration route in the world. The location of the property supports wildlife resilience by providing connectivity to both federal and state public lands, which helps to facilitate seasonal migrations such as those of mule deer, moose, and pronghorn.

The Willow Lake project was accomplished with funding from the Wyoming Wildlife and Natural Resource Trust (WWNRT), the USDA's Natural Resources Conservation Service (NRCS) Agricultural Conservation Easement Program, and the Wyoming Governor's Big Game License Coalition. In addition to this public funding, a portion of the easement's value was generously donated by the landowner.

Since the 2016 merger of the JHLT and the Green River Valley Land Trust, the GRVP has been working to advance the Land Trust's mission to protect and steward the treasured landscapes of Northwest Wyoming. By completing this major protection project, the GRVP has taken an important step in establishing momentum for land protection in Sublette County.

The JHLT continues to prioritize the protections of other properties in Sublette County, including in the Pinedale and Bondurant areas, and has secured public funding to support several of these easement projects. The JHLT looks forward to closing these projects in the future.

---
Touch-A-Truck Sept 14 (posted 9/8/19)
The Children's Discovery Center is hosting its 1st Annual Touch-A-Truck event on Saturday, September 14th.

Touch-A-Truck provides a unique opportunity for children and their families to explore all sorts of vehicles; construction, landscaping, transportation, delivery, public service, and more all in one place! Children will be allowed to touch their favorite vehicles, sit inside and turn the wheel, and meet our wonderful community members who help build, protect, and serve in our community.

Entry is by donation. All are welcome! There will be face painting provided by Wilderness Church and food vendors (Dynomite Donuts and Semper Smoking) on site. Dave Smith will be our DJ and will provide music for the event.

There will be a 50/50 prize to the winner of a beach ball drop from a dump truck. The person whose ball lands on the red dot, wins 50% of the pot.

Lastly, Sublette County Public Health will be present and can provide car seat checks to those who need it.

The event will be from 9:00 - 2:00; NO-NOISE 90 (9:00AM - 10:30AM) Located at the Bloom Field just behind WYDOT.

All proceeds go directly back to the Children's Discovery Center and its programs. The CDC is a 501(c) 3 non-profit childcare facility located in Pinedale, Wyoming. Donations are welcome.

**Any vendors who are willing to participate in some form, please contact Allison Bolgiano at 307-367-6272. We look forward to partnering with our community!

---
Wolf News Roundup 9/03/2019 (posted 9/8/19)
Cat Urbigkit, Pinedale Online!
Alaska
Back in the 1960s, Alaska wildlife officials decided that Coronation Island with its high density of deer should have a wolf population, so four wolves were transplanted. What came next is a story of the wolves causing the decline of the deer population, and when the wolf population declined and was eventually eliminated, the deer population once again increased. It's detailed in a new book by Dave Klein, as reviewed in the Juneau Empire.

Idaho depredation
The Capital Press reports that wolves killed a record number of livestock in Idaho in the last fiscal year, with 175 confirmed depredations – a 25 percent increase from the year prior.

WA cancels meetings
Washington Department of Fish & Wildlife officials have cancelled a series of wolf recovery planning open houses because of the volatility of public discourse. A press release from the agency said: "We've seen incredible intensity around wolf issues this summer, on both sides of the issue. For outreach to be meaningful, our meetings have to be productive. Unfortunately, we've received some information that indicates to us that the meetings could be disrupted, possibly creating an unsafe meeting environment for the public participating," said WDFW Director Kelly Susewind. "Based on our initial outreach to stakeholders, we think digital open houses and a robust survey will be our most productive means of gathering feedback on this initial scoping effort."

Japan
A wolf association in Japan is proposing that wolves be "reintroduced" into Japan in order to control the over-abundant deer population. Since Japan's native wolf is extinct, the group proposes to bring in wolves from Mongolia or China.

Check out the links below for details on these stories.


Related Links:
Alaska - Juneau Empire
Idaho - Capital Press
Washington - Washington Department of Fish & Wildlife
Japan - Atlas Obscura
Wolf Watch - by Cat Urbigkit, Pinedale Online!

---



New Fork River. Photo courtesy BLM.

BLM releases New Fork River Habitat Environmental Assessment (posted 9/4/19)
BLM releases New Fork River Habitat Environmental Assessment
PINEDALE, WYOMING – The Bureau of Land Management (BLM) Pinedale Field Office (PFO) recently completed an Environmental Assessment (EA), Finding of No Significant Impact (FONSI), and Decision Record (DR) for the New Fork River Habitat Restoration and Boat Access Project. The EA was signed and released to the public on Sept. 4.

The BLM, in cooperation with the Wyoming Game and Fish Department (WGFD), is proposing a two phase project that will improve watershed and water quality on approximately two miles of the New Fork River. This endeavor supports the Department's priority of conservation stewardship and will improve recreation opportunities there.

Beginning in late summer of 2019, Phase I will enhance instream and riparian habitat conditions for aquatic and terrestrial wildlife for about 0.75 miles upstream, and improve facilities for recreationists. Phase II will begin implementation in summer of 2020, and will continue the habitat enhancements through the remaining 1.25 miles of river upstream of the boat ramp facilities as funding is made available.

The EA documents can be found on the BLM ePlanning site (https://eplanning.blm.gov). Here is the shortened link: https://go.usa.gov/xV85n for your convenience. The project site is located off County Road 23-106, approximately 20 miles from Pinedale and 10 miles south of Boulder, Wyoming, Sixth Principal Meridian, T. 31 N., R. 109 W., sec. 11, 12; and T. 31 N., R. 108 W., sec. 7.

For more information about the New Fork River Habitat Restoration and Boat Access project, contact Luke Schultz, WGFD Habitat Biologist, at 307-367-4353 or luke.schultz@wyo.gov, or Alex Gardiner, BLM Fisheries Biologist, at 307-828-4537 or tgardiner@blm.gov. For more information about BLM Wyoming, please visit www.blm.gov/wyoming.

---
Half Moon Lake bridge work starts in early September (posted 8/30/19)
Bridger-Teton National Forest
The Bridger-Teton National Forest is making progress on replacement of three bridges in the Pinedale area. Crews are scheduled to begin work on the Sweeney and Half Moon bridges on the Half Moon Lake road in early September. The Union Pass road and Tosi bridge are open to vehicle traffic, and the Tosi bridge replacement is expected to be complete in mid-September.

Construction crews will soon be mobilizing to the Half Moon Lake road for the replacement of the Sweeney and Half Moon bridges. Both the Project Manager and Pinedale Ranger District personnel have been in contact with local land owners in the area, with the goal of mitigating access impacts. The Half Moon Lake road is scheduled to close for approximately 2-3 hours on September 5th to unload and pre-stage the bridge components. The Half Moon Lake road below the campground will then be closed beginning September 9th, when the contractor will begin excavation at the Sweeney bridge site. Once the new Sweeney bridge is constructed, the contractor is scheduled to mobilize to the Half Moon bridge site on September 16th.

As part of the mobilization to the Half Moon bridge site, the Half Moon Lake road will be closed at the junction with Skyline Drive. No access will be permitted through the construction sites to ensure the safety of the workers and the public. Full closures of the Half Moon Lake road are scheduled to end by September 27th.

Hazardous conditions associated with construction of the new bridge abutments on the Tosi bridge had forced a closure of the Union Pass road to through vehicular traffic during the month of August. Though the road is now open, travelers can expect to experience short intermittent closures of up to two hours at the Tosi bridge. Longer delays will occur when crews are setting the new bridge deck with a crane and building the roadway approaches. The existing bridge will be used for travel until the new bridge is finalized. Travelers are urged to use caution as they proceed through the construction zone, both for their safety and for the safety of the construction workers.

The Pinedale Ranger District would like to extend their thanks for everyone's patience and cooperation during these projects. Please direct any questions about these closures and bridge construction projects to the Pinedale Ranger District at 307-367-4326.

---
Business Directory
Click here for
Advertising Information