Big game winter range closures announced (posted 12/5/2023)
Bureau of Land Management
The BLM Kemmerer and Pinedale Field Offices will close BLM-administered public big game winter ranges to all motorized vehicle travel from Jan. 1 through Apr. 30, 2024. This annual closure is necessary to protect elk, moose, pronghorn and mule deer from disruptive human activities during the difficult winter months which can increase the mortality rate for these animals.

In the Kemmerer Field Office area, the following areas will be closed:
The Slate Creek area south of Fontenelle Creek, west and north of Highway 189 and east of the crest of Slate Creek Ridge.

The Rock Creek area south of County Road 204/Pine Creek Road, west of the crest of Dempsey Ridge, west of Fossil Butte National Monument and north and east of Highway 30.

The Bridger Creek area south of Highway 30, west of Fossil Ridge, west of the Bear River Divide, north of the Uinta-Lincoln County line, east of the Utah-Wyoming border and southeast of Highway 89.

In the Pinedale Field Office area, the following areas will be closed:
The Ryegrass, Bench Corral, Deer Hills, Calpet and Miller Mountain winter ranges including lands north of Fontenelle Creek, east of the U.S. Forest Service Boundary, west of U.S. Highway 189 and south of Horse Creek.

The Mesa winter range including lands east of County Road 110/East Green River Road, north of County Road 136/Paradise Valley Road, west of the New Fork River and south of U.S. Highway 191.

Motorized vehicles such as snowmobiles, all-terrain vehicles, pickups and sport utility vehicles are prohibited during this time. Use of these areas by non-motorized means such as walking, horseback riding, cross-country skiing, and mountain biking is allowed. Highways and county roads are not subject to this closure. Motorized vehicle use on public land the remainder of the year is always limited to existing roads and two-track trails.

Local and federal agencies, including the Wyoming Game and Fish Department, the Department of Agriculture Animal Plant Health Inspection Service, the Lincoln and Uinta County Sheriff's Offices and the BLM, are excepted when performing official duties.

Additionally, operators of existing oil and gas facilities performing maintenance and pumping, as approved in their permits; livestock operators conducting permitted activities; utility companies conducting emergency maintenance after notifying the BLM; and other users who have been granted an exception by submitting a written application to the BLM for review and approval are excepted from this closure.

Signs will be posted at key locations entering the closed areas. For more information about the Pinedale Field Office area, contact Mark Thonhoff, (307) 367-5357; and for Kemmerer Field Office area, call (307) 828-4500.

---
Bridger-Teton releases Draft EIS analysis for elk feedgrounds (posted 12/2/2023)
Bridger-Teton National Forest
The Bridger-Teton National Forest has released the Dell Creek and Forest Park Elk Feedgrounds draft environmental impact statement (DEIS) for the Wyoming Game and Fish Commission's application for continued long-term use of facilities at these two feedgrounds in Lincoln and Sublette Counties.

The DEIS analyzes Wyoming Game and Fish commission's proposal to utilize National Forest System land for their winter elk feeding operations to maintain population objectives and control elk distribution to minimize conflicts with human land uses. The DEIS discloses potential effects of four alternatives including an alternative that would permit the Wyoming Game and Fish Commission to continue their current operations without changes.

The Notice of Availability (NOA) of the DEIS was published in the Federal Register on December 1, 2023 and is available online at: https://www.fs.usda.gov/project/btnf/?project=60949.

The 45-day comment period begins with publication of the NOA in the Federal Register. Comments on the proposed project will be accepted through January 16, 2024.

Comments can be submitted electronically through the project webpage or directly to https://cara.ecosystem-management.org/Public//CommentInput?Project=60949. Please identify your comments on the subject line as "Elk Feedground Environmental Impact Statement." 

For more information or to be placed on the mailing list, please contact Randy Griebel at 307-739-5537.

---
BLM Christmas tree permits available (posted 11/20/2023)
Bureau of Land Management
Christmas tree permits are available at BLM Wyoming field offices and online.

Permits may be purchased between 7:45 a.m. and 4:30 p.m., Monday-Friday from all BLM Wyoming offices except the Wyoming State Office and Newcastle Field Office. The cost for a permit is $7.50 to $10 per tree, depending on location. Up to a maximum of five Christmas trees can be purchased by an individual for personal use.

The permits are also available online at https://forestproducts.blm.gov.

A BLM permit is valid for trees located on BLM-administered lands only. Permits for trees on U.S. Forest Service-administered land can be obtained at your local Forest Service office and at some BLM offices.

Tree cutters must have a valid permit with them while cutting a tree. Trees may not be cut within wilderness areas, wilderness study areas, timber sale areas or administrative sites such as developed campgrounds.

Although the Christmas tree permits are for any tree species, the BLM recommends Engelmann spruce, sub-alpine fir, Douglas fir, ponderosa pine and lodgepole pine as the best species to cut for your Christmas tree. Christmas trees harvested from aspen stands and dense young stands will contribute to forest health and improve wildlife habitat.

It is the purchaser's responsibility to not trespass on private land and to make sure you're cutting the tree in the correct area. Be prepared for winter weather and high country conditions.

For more information, please visit www.blm.gov/wyoming-christmas-trees or call your local BLM office:

Buffalo Field Office (307) 684-1100
Casper Field Office (307) 261-7600
Cody Field Office (307) 578-5900
Kemmerer Field Office (307) 828-4500
Lander Field Office (307) 332-8400
Pinedale Field Office (307) 367-5300
Rawlins Field Office (307) 328-4200
Rock Springs Field Office (307) 352-0256
Worland Field Office (307) 347-5100


---
Bridger-Teton National Forest announces New Pinedale District Ranger (posted 11/15/2023)
Kate Olsen to take lead of Pinedale Ranger District
Bridger-Teton National Forest
PINEDALE, WYOMING— Bridger-Teton National Forest Supervisor, Chad Hudson, recently hired Kate Olsen to serve as the new Pinedale District Ranger. Olsen has been with the Bridger-Teton National Forest as a fisheries biologist since 2017.

Olsen grew up in central Pennsylvania and moved out west in 2008 after she completed her undergraduate degree in Environmental Studies and Biology from St. Lawrence University. She spent a few years working in the backcountry of Yellowstone National Park before going back to school. She earned her Masters of Science in Fisheries Biology at Utah State University in 2013 while working at the Rocky Mountain Research Station in Logan, Utah.

Olsen has worked on several National Forests, starting with the Medicine Bow Routt National Forest, where she spent 2 summers in the field as a Fish Biologist trainee with the Forest Service. Additionally, she worked on the Malheur National Forest in Oregon as a Fisheries Biologist for 5 years and a temporary assignment in Idaho on the Sawtooth National Forest as a Deputy Area Ranger for the Sawtooth National Recreation Area.

Olsen spends most of her off days in and around the water, fishing or floating when its melted, and on her skis when its frozen. Most of her vacations are spent back east with family. Olsen is usually accompanied on adventures by her two pups, Ole and Nylander. When she is not in the woods, she hopes to be tying flies to chase cutthroat with and creating food or art to share with friends. "I am really grateful that I've been given the opportunity to learn and grow in this new role," Olsen said. "I am excited to start to manage some of the challenges we know this district is faced with and to help the district to prepare for those we haven't yet faced."

You can learn more about the Bridger-Teton National Forest by following us on Facebook, www.facebook.com/BridgerTetonNF or Twitter X www.twitter.com/BridgerTetonNF or on the Forest website at https://www.usda.gov/btnf.

---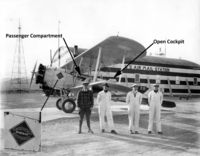 An American Railway Express Boeing Model 40-B and its ground crew at the original Rock Springs Airport, circa 1930

A pioneer package express system served Sweetwater County (posted 11/15/2023)
By railroad and plane
By railroad and plane
SWEETWATER COUNTY, WYOMING - Before UPS and Fed-Ex, there was the American Railway Express, for years the nation's largest air and ground express delivery service. Deliveries and pickups were made nationwide, including Sweetwater County, reported the Sweetwater County Historical Museum.

In 1917, the United States declared war on Germany and the following year the government took over operation of the railroads and established the American Railway Express. In so doing, the government also expropriated the nation's seven major express companies carriers, including the American Express Company, Adams & Company, and Wells Fargo. All were merged into a single public corporation, the American Railway Express. (At war's end, the railroads were returned to their owners, but the express companies were not; they remained the American Railway Express.) In its heyday, the company employed over 45,000 people nationwide, operated over 190,000 miles of railway lines, and possessed a fleet of trucks numbering in the thousands.

In 1927, the company expanded its operations to include an Air Express Division, and air deliveries to Rock Springs began not long afterward. In its archives the museum recently discovered a photograph, circa 1930, of an A.R.E. aircraft and its proud crew at the original Rock Springs Airport, now the site of the White Mountain Golf Course.

The airplane in the photograph is a single-engine biplane, a Boeing Model 40-B. The Model 40 was Boeing's first passenger aircraft and made its maiden flight on May 20, 1927. The Model 40 was a large transport for its time, with a wingspan of 44 feet, 2 inches, an overall length of a little over 33 feet, and a gross weight of 6,000 pounds. It carried a pilot in an open cockpit, two passengers in a tiny cabin, and up to 1,000 pounds of cargo.

The company became REA Express (Railway Express Agency) in 1960 and operated until 1975, when financial difficulties and competition from the United Parcel Service and the U.S. Postal Service pushed the 57-year-old enterprise into bankruptcy.

The Sweetwater County Historical Museum is located at 3 E. Flaming Gorge Way in Green River. Hours are Tuesday through Saturday, 9:00 AM to 5:00 PM, and there is no charge for admission.

---
Rocky Mountain Power warns customers about billing scams (posted 11/15/2023)
Rocky Mountain Power
Heading into the holiday season, Rocky Mountain Power is reminding customers to be vigilant about fraudulent communications from scammers posing as utility representatives. This activity tends to increase during this time of year.

Customers can protect themselves from these types of schemes by being aware of the following facts:
Scammers will often tell you that your service is scheduled to be interrupted in the next 30-60 minutes.
Fact: Rocky Mountain Power will not contact any customer demanding immediate payment to avoid disconnection of service the same day.

Fraudsters may ask you to purchase a prepaid card and tell them the card information over the phone.
Fact: Rocky Mountain Power does not ask customers to make payments by purchasing a prepaid card. You and other customers can always choose how you would like to make your payments.

Be suspicious of anyone who approaches you by phone, email, text or in person and demanding on-the-spot payment.
Fact: Rocky Mountain Power will not demand immediate payment for damaged or broken electrical equipment or any other service.

If you receive one of these calls, ask the caller to state your account number and compare it with the number listed on your bill.
Fact: Rocky Mountain Power customer service employees will always have your correct account number.

Scammers increasingly have used text messages as a means of targeting victims. Fact: Rocky Mountain Power will not demand payment via text message. Rocky Mountain Power encourages customers to set up their online billing profile at Pay My Bill (RockyMountainPower.net) where they can pay bills and review statements.

Scammers may also use a sophisticated deceptive tactic that makes it appear to caller ID systems that the call is coming from Rocky Mountain Power when it is not. If you receive a call that uses one of the scamming methods mentioned above, or that seems suspicious in any way, hang up and call Rocky Mountain Power's customer service team directly.

Remember, if you still have concerns about the legitimacy of a call, you can always call our published customer service number, 1-888-221-7070. Rocky Mountain Power is asking customers to report information about any scam calls received, including the phone number the person is calling from and any information that may help to track down the fraudsters.

About Rocky Mountain Power
Rocky Mountain Power provides safe and reliable electric service to more than 1.2 million customers in Utah, Wyoming and Idaho. The company supplies customers with electricity from a diverse portfolio of generating plants including hydroelectric, thermal, wind, geothermal and solar resources. Rocky Mountain Power is part of PacifiCorp, one of the lowest-cost electricity producers in the United States, with 2 million customers in six western states. For more information, visit rockymountainpower.net.

---
Public Meetings for recommendations on the Rock Springs RMP (posted 11/8/2023)
CHEYENNE, WYOMING – Governor Mark Gordon invited the public to attend meetings on the Bureau of Land Management's (BLM) Rock Springs Draft Resource Management Plan (RMP). These meetings are being organized by the University of Wyoming's Ruckelshaus Institute along with the UW College of Agriculture, Life Sciences, and Natural Resources, the UW School of Energy Resources, and the Wyoming County Commissioners Association.

Public meetings will be held in Rock Springs, Green River, and Farson on November 17 and 18. Organizers will provide an overview of the National Environmental Policy Act (NEPA), the RMP process, and how to submit comments to the BLM. This will be followed by an interactive public workshop for the public to share their perspectives with a task force to be appointed by the Governor.

"It is clear that the draft Rock Springs RMP is critical for the economy and lifeblood of Southwestern Wyoming," Governor Gordon said. "Significant effort must be put into making the final plan work for the people and industries of Wyoming."

The initial public meetings are facilitated by the Ruckelshaus Institute, UW Extension, and UW School of Energy Resources and will focus on the topics of livestock; industry; recreation and tourism; and wildlife and conservation. Facilitators will seek input from participants to determine priorities and opportunities to be addressed by the task force. The public is invited to participate in one or all of the meetings. Task force members will be at the meetings to hear directly from the public.

BLM staff are not expected to attend the initial public meetings. While the facilitators will share information about how individuals can comment directly on the RMP, public statements made at the meetings will not be a part of the BLM's regular comment process. However, information, recommendations, and corrections can be submitted through additional comments from the public to the BLM.

Information regarding meeting times and location will be updated shortly on the Ruckelshaus Institute's project's website, uwyo.edu/haub/ruckelshaus-institute/rmp-meetings.html. This site will provide background information and questions given to the public in attendance at the meetings. Those who are not able to attend one of the meetings may contribute on the website.

These initial public meetings will inform a Governor-appointed stakeholder task force composed of leaders of various user groups including recreation, industry, conservation, agriculture, local governments and others. The task force will develop recommendations incorporating public input from the interactive workshops, which they will deliver to the Governor and BLM in January.

As a reminder, the BLM extended the Rock Springs RMP comment deadline to January 17, 2024. The draft RMP and information on how to comment can be found on the following link: https://eplanning.blm.gov/eplanning-ui/project/13853/510

---
Governor Gordon welcomes Federal Court decision dismissing Lawsuit over Oil and Gas drilling permits (posted 11/3/2023)
Wyoming Governor Mark Gordon
CHEYENNE, WYOMING – Governor Mark Gordon welcomed the announcement of the dismissal of a lawsuit brought by extreme environmental groups challenging the issuance of over 4,000 federal Applications for Permit to Drill (APD) in the Powder River Basin and in New Mexico. The State joined oil and gas companies working in Wyoming to support the approved permits and to meet the nation's need for affordable energy. The judge dismissed the lawsuit, finding that the plaintiffs did not have standing to sue. The State supported that position.

"This ruling is a welcome decision for the people of Wyoming and a victory for American families who need affordable oil and gas that is produced responsibly in Wyoming," Governor Gordon said. "I will continue to work with our Attorney General to protect Wyoming's interests and I thank our legal team for its work on behalf of the state."

---
Grand Teton Park September visitation was busy (posted 11/3/2023)
National Park Service – Grand Teton National Park
MOOSE, WYOMING – This year's (2023) visitation statistics show September as the second busiest September on record in Grand Teton National Park. This year's month of September saw more recreation visits than the month of June. Historically, June, July and August were the most visited months of the year, however, this year, July, August and September have been the most visited months thus far.

In addition, the park's total recreation visitation for 2023 (3,059,238) has exceeded the total recreation visits for all of 2022 (2,806,223), indicating a 21% increase year-to-date.

Data from trail counters indicate that trail use from June–August 2023 increased by 1.2% compared to last year and 12% compared to 2019. For the month of September, trail use increased 4% compared to September 2022. Year-to-date backcountry overnight stays also increased 4.3% this year compared to the same time frame in 2022.

Grand Teton continues to see changes in how and when people visit the park. The park just completed initial Visitor Use and Experience civic engagement where the public was asked for their input about how they visit the park and what their experiences have been. Park staff are reviewing the comments that were received and will share the results in the upcoming months.

If you are interested in learning more about visitation statistics in Grand Teton National Park or any other National Park Service site, please visit irma.nps.gov/STATS/.

Winter is here and many roads and facilities in Grand Teton are closed. If planning to visit the park, be prepared by bringing food, water and extra layers of clothing. Check the weather and park conditions at go.nps.gov/tetonconditions and know what roads are open by checking Grand Teton's live road status map at go.nps.gov/tetonroads. Follow Grand Teton on Facebook, Twitter and Instagram for more.

---
2023 USPS holiday shipping and mailing deadlines (posted 11/3/2023)
To reach recipients by Christmas
USPS
WASHINGTON, DC — To assist customers with their preparations for the upcoming busy holiday shopping and shipping season, the U.S. Postal Service is providing 2023 holiday shipping and mailing deadlines. The information below covers domestic, international and military shipping destinations to allow for the timely delivery of cards, letters and packages by Dec. 25th.

The Postal Service has announced it will not have a peak, or demand, surcharge this holiday season, offering increased predictability in pricing for customers. As always, the Postal Service offers simple, upfront pricing year-round with no additional fees for residential area delivery, for Saturday delivery, no fuel surcharges and no volume minimums. The Postal Service continues to be the most affordable way to mail and ship this holiday season.

2023 USPS Holiday Shipping and Mailing Deadlines
Within the Lower 48 (excludes Alaska and Hawaii)
• USPS Ground Advantage — Dec. 16
• First-Class Mail (including greeting cards) — Dec. 16
• Priority Mail — Dec. 18
• Priority Mail Express — Dec. 20

Alaska
• USPS Ground Advantage — Dec. 16
• First-Class Mail — Dec. 16
• Priority Mail — Dec. 18
• Priority Mail Express — Dec. 20

Hawaii
• USPS Ground Advantage — Dec. 16
• First-Class Mail — Dec. 16
• Priority Mail — Dec. 16
• Priority Mail Express — Dec. 20

Air/Army Post Office (APO), Fleet Post Office (FPO), Diplomatic Post Office (DPO)
• USPS Ground Advantage — Nov. 6
• First-Class Mail — Dec. 9
• Priority Mail — Dec. 9
• Priority Mail Express Military Service — Dec. 15*

* PMEMS not available for APO/FPO/DPO AE ZIPs 093

International Mail
Shipping deadlines for international mail vary depending on the destination. Check out International Mail and Shipping Services for details. The Postal Service is a secure shipping option that meets international mail shipping needs to over 180 countries.

---
Helium in Wyoming (posted 11/3/2023)
New report from the Wyoming State Geological Survey
USGS
A new publication from the Wyoming State Geological Survey (WSGS) focuses on helium, a unique element that plays a critical role in a number of industries. Wyoming is one of the largest producers of helium in the world—all of it a by-product of natural gas production in the LaBarge-Big Piney area of Sublette County. The helium occurs in a carbon dioxide-rich natural gas reservoir hosted in the Mississippian Madison Limestone.

"Helium is an often overlooked resource that is indispensable to a wide range of industries," says Dr. Erin Campbell, WSGS Director and State Geologist. "This new public information circular highlights the development of natural gas resources at LaBarge and summarizes other helium occurrences across the state. Wyoming plays an important role in the helium industry, and we hope the public will find this report useful in understanding the history of helium development."

Helium is inert, is a lighter-than-air gas, and in liquid form is the coldest refrigerant available. These are only a few of the properties that makes it indispensable to a wide range of industries. Over the past century, helium has played a crucial role in major advances, including welding lighter American aircraft during World War II, in Space Shuttle rocket launches, and in particle physics experiments.

Today, most helium is used in MRI medical imaging systems, a critical diagnostic tool used in hospitals worldwide. It also plays a vital role in semiconductor manufacturing, which uses it to create a controlled atmosphere for growing germanium and silicon crystals. Other uses of helium include as a lifting gas, in scientific and laboratory equipment, in other electronics components manufacturing, and welding.

Accompanying the circular is a dataset of natural gas compositions sampled from oil and gas wells across the state. The dataset contains gas analyses that measured for helium specifically, in addition to the typical components of natural gas. Analyses are compiled from the U.S. Geological Survey, U.S. Bureau of Mines, Bureau of Land Management, and Wyoming Oil and Gas Conservation Commission. Each gas sample has been matched to a well catalogued by the Wyoming Oil and Gas Conservation Commission.

Although helium can be found in groundwater, soils, rocks, and the atmosphere in very small quantities, natural gas reservoirs are the only accessible sources. During the last century, federal agencies analyzed helium concentrations in natural gas samples collected across the country in an effort to identify new sources of helium. These historic gas analyses form the bulk of the dataset accompanying this publication.

Public Information Circular 48, Helium in Wyoming, is available as a free download from the WSGS website. The publication covers production, the federal helium program, global market, and occurrences in the state. There also is an accompanying appendix with a dataset of historic natural gas compositions, which include helium.

The dataset is also available on the WSGS online Oil and Gas Map of Wyoming. Users can view the gas compositions in relation to the sampled wells and other data included on the map. The natural gas data can also be queried for specific concentrations of helium, nitrogen, carbon dioxide, and methane.

---
Business Directory
Click here for
Advertising Information