Seminars on large carnivores to teach safety and awareness (posted 3/26/15)
Seminar in Pinedale April 29
It's that time of year again when bears are waking up and people are preparing to enjoy the great outdoors. As spring arrives, the Wyoming Game and Fish Department reminds outdoor enthusiasts to be "bear aware" and take the necessary precautions to avoid conflicts with large carnivores.

Large Carnivore Conflict Coordinator Brian DeBolt said that at this time of year, bears are emerging from their dens.

"Typically, male bears emerge from their dens in mid-March and April, while females and young-of-the-year cubs emerge in late April and early May," DeBolt said. "This makes it an ideal time to attend a workshop to learn about large carnivores and how to avoid encounters and potential conflicts."

Educational workshops will be offered in communities across the state. At each workshop, Game and Fish large carnivore managers will present information about bear, mountain lion and wolf ecology, population status, management and more importantly, what people should do in an encounter situation. In addition, there will be discussion on preemptive measures to be taken by the public in order to reduce the likelihood of conflicts with carnivores.

Seminars are free and open to people of all ages and skill levels. Please call your local Game and Fish office for more information.

Community When Location Time
Dayton March 30th Dayton Town Hall 7:00-9:00pm
Sheridan March 31st Sheridan WGFD Regional Office 7:00-9:00pm
Cody April 9th Cody Library 5:30-7:30pm
Douglas April 9th Courthouse Community Room 6:00-8:00pm
Ten Sleep April 11th Senior Citizen Center 10:00-12:00am
Laramie April 11th UW Berry Biodiversity Conservation Center 10:00-12:00am
Lander April 13th Fremont County Library 6:00-8:00pm
Dubois April 14th Headwaters Art Center 6:00-8:00pm
Jackson April 15th Teton County Library 5:30-7:30pm
Pinedale April 29th Sublette County Library 5:30-7:30pm

---
Senators seek to repeal death tax (posted 3/26/15)
Washington, D.C.— Senators Mike Enzi and John Barrasso, both R-Wyo., joined Senator John Thune, R-S.D. yesterday (March 25, 2015) to re-introduce legislation to permanently repeal the federal estate tax, better known as the death tax.

Enzi and Barrasso said the bill would permanently abolish the tax on family farms, ranches, and businesses. The senators believe a family's assets, sometimes built up over generations, should be left in the hands of the family and will be put to better use there in the local community than shipped off to a wasteful Washington.

According to a study by former Congressional Budget Office Director Douglas Holtz-Eakin, repealing the death tax would create 1.5 million additional small business jobs and would shave almost a percentage point off the unemployment rate.

Thune and Brady are the main sponsors of the bill. At its introduction in the Senate, the bill had 25 cosponsors in addition to Enzi and Barrasso. Representative Kevin Brady, R-Texas, introduced the same legislation in the house.

The bill is supported by the American Farm Bureau Federation, Associated Builders and Contractors, National Association of Manufacturers, National Federation of Independent Business, 60 Plus Association, Americans for Tax Reform, Club for Growth, National Black Chamber of Commerce, International Franchise Association, National Taxpayers Union, American Conservative Union, Family Business Coalition, and many others.

---
Senate passes Barrasso Amendment to protect water and property rights (posted 3/26/15)
Amendment limits EPA from adopting expanded and broad regulatory definition of waters of the U.S.
WASHINGTON, D.C. – Today (March 25, 2015), U.S. Senator John Barrasso (R-Wyo.), successfully included an amendment to Senate Budget Resolution, S. Con. Res. 11, that limits the Environmental Protection Agency (EPA) from adopting an expanded and broad regulatory definition of "Waters of the United States." The amendment passed the Senate by a vote of 59 to 40.

In addition to Senate Environment and Public Works (EPW) Committee Chairman Jim Inhofe (R-OK), Barrasso's amendment #347 was co-sponsored by Senators Dan Sullivan (R-AK), Mike Rounds (R-SD), Roger Wicker (R-MS), Shelley Moore Capito (R-WV), John Boozman (R-AR), Mike Crapo (R-ID), Dan Coats (R-ID), John Hoeven (R-ND), Deb Fischer (R-NE), David Vitter (R-LA), Johnny Isakson (R-GA), Jerry Moran (R-MO), Roy Blunt (R-MO), Pat Roberts (R-KS) and Ben Sasse (R-NE).

"The EPA has made it clear it has no problem going around Congress and the American people to pursue its extreme regulatory agenda. The latest attempt to expand the definition of 'Waters of the U.S.' is no exception," said Barrasso. "The Administration claims it has no intention of using this rule to regulate things like drainage ditches and isolated ponds. My amendment simply holds the Administration to their word. This will give our farmers, ranchers and small business owners the certainty and peace of mind they deserve."

"I am proud to stand with the majority of the Senate to rein in EPA and the Army Corps of Engineers attempts to expand the regulatory definition of the term 'water of the United States.' EPA regulations have long been unchecked and costly to American taxpayers, and an attempt to expand federal control over land and water is no different. This amendment calls on EPA and the Corps of Engineers to keep their promises to members of Congress and farmers, and to heed the call from local governments to ensure that water management systems are not waters of the U.S. I applaud my colleagues who voted to recognize limits on federal jurisdiction under the Clean Water Act, and pursue an environment with less red tape and more state control." – U.S. Senator Jim Inhofe (R-Okla.)

Barrasso's amendment #347 establishes a spending-neutral reserve fund to ensure federal jurisdiction under the Clean Water Act is focused on water quality, which may include limiting federal jurisdiction based on certain criteria.

Background:
Barrasso Amendment #347 specifically:

• Limits how the Environmental Protection Agency or the Army Corps of Engineers determine what is connected to the waters of the United States.

• Limits include not allowing the agencies to make a determination based on the movement of birds, mammals, and insects.

• Prevents determinations based on the movement of water through the ground – or the movement of rain water, or snow melt, over the land outside of a channel.

• Prohibits Water Pollution Control Act from extending to things like puddles, isolated ponds, roadside ditches, and wastewater systems.

---
Jackson Hill Climb cancelled (posted 3/20/15)
Extreme snowmobile action event typically draws thousands of spectators
The 40th Annual World Championship Hill Climb that was scheduled for March 26-29 at Snow King in Jackson, Wyoming has been cancelled. The decision to cancel the snowmobile event for 2015 was reached jointly by the Jackson Hole Snow Devils, the U.S. Forest Service, the town of Jackson, the Jackson Hole Chamber of Commerce and Snow King Resort. Officials cited unseasonably warm weather and poor conditions on the mountain that could be safety hazards as reasons for the cancelation.

Related Links:
www.snowdevils.org
Hill Climb cancellation causing tourism fallout Wyoming Business Report, March 20, 2015
White Pine Hill Climb By Terry Allen, pinedaleonline.com, March 17, 2015

---
New Federal fracking regulations set to begin in 90 days (posted 3/20/15)
Requires closer inspection of well sites, release of info on fracking chemicals, inspection of cement well casings, release of well geology info, more
Pinedale Online!
The New York Times posted an article today (Friday, March 20th) saying the Obama administration has unveiled the nation's first major federal regulations on hydraulic fracturing of natural gas and oil wells. The new rules will only apply to oil and gas wells drilled on public lands. The vast majority of well drilling and fracking done today in the United States is done on private land, which some argue is because of the growing number of rules and restrictions the federal government is placing on mineral extraction and resource development on public lands. The rules will cover about 100,000 wells, according to the Interior Department. The New York Times article says these are expected to be the first in a series of new rules governing fracking by the Obama administration. Additional rules are expected to be forthcoming designed to curb the release of methane from fracking wells. Click on the link below to read the full article.

Obama Administration Unveils Federal Fracking Regulations By Coral Davenport, newyorktimes.com, March 20, 2015

---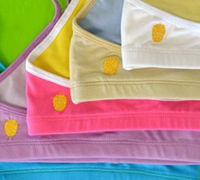 Photo courtesy Yellowberry Company.

Have you heard about 'Yellowberry'? (posted 3/19/15)
Megan Grassell creates company that makes 'tween' bras for young girls
Pinedale Online!
The Wyoming Business Report has an update on former Pinedale resident, Megan Grassell, and her new company, Yellowberry, that makes 'tween' bras for young girls. The Grassell family now lives in Jackson, Wyoming.

Grassell got the idea for her new company after her frustration in 2013 while shopping to try and find an appropriate first bra for younger sister, Mary Margaret. All the selection choices were sexual, padded and push-up, with nothing appropriate for the body of a developing young girl.

In 2004, at age 18 and just finishing high school, Megan started a sole proprietorship and turned to an online crowdfunding campaign which raised $40,000 to help her launch her new company to make comfortable, affordable bras that fit the bodies of girls age 11 to 15-years old, the "tween" market.

Last fall, Megan Grassell was name as one of Time Magazine's top 25 most influential teens for 2014.

In the latest news, she has just entered into a partnership with clothier American Eagle Outfitters for a new line called Aerie for Yellowberry. Click on the links below for more on Megan's story.

Related Links:
www.yellowberrycompany.com
The Yellowberry story www.yellowberrycompany.com
Bra startup leads founder to 'Most Influential Teen' status By Mark Wilcox, Wyoming Business Report, October 14, 2014
Teen Entrepreneur Megan Grassell Used Her Frustration To Fuel A Business Forbes.com, Sept. 20, 2014
Yellowberry bras support innocence By Mark Wilcox, Wyoming Business Report, April 15, 2014

---
Senators to EPA: Focus on polluted areas before restricting everyone (posted 3/19/15)
Senator Enzi media release
Senators introduce bipartisan bill to block EPA regulation from costing Wyoming billions

Washington, D.C. – Senators Mike Enzi and John Barrasso, both R-Wyo., cosponsored legislation this week to block the Environmental Protection Agency (EPA) from implementing regulations that could cost Wyoming's economy tens of billions of dollars and thousands of jobs by setting the ground-level ozone standard at an onerously low level.

The Clean Air, Strong Economies (CASE) Act, led by Senator John Thune, R-S.D., and Joe Manchin, D-W.V., would stem the economic harm from a lower ozone standard by requiring the EPA to focus on the worst areas for air quality before lowering the National Ambient Air Quality Standards (NAAQS) for ground-level ozone across the country.

NAAQS are outdoor air quality standards that measure the concentration of six main pollutants. The EPA's new rule would lower the current ozone standard of 75 parts per billion (ppb) to between 65 and 70ppb. Counties that exceed the ground-level ozone standard are considered non-attainment areas and must implement expensive plans to reach compliance. The CASE Act would require 85 percent of areas currently not meeting the existing 75 ppb standard to meet compliance before the EPA could lower it further.

The proposed standard from the EPA could affect eight counties in Wyoming, including Lincoln County, Sublette County, Albany County, Goshen County, Laramie County, Platte County, Fremont County and Sweetwater County. A National Association of Manufacturers report details the heavy cost of compliance in Wyoming.

According to the EPA's own estimate when it proposed a similar standard in 2010, the costs of the proposal to the country were estimated to be $19 billion to $90 billion per year. Industry estimates indicate that a 65 ppb standard would lead to 1.4 million fewer jobs per year, reduce annual GDP by $140 billion, and shut down approximately one-third of all coal-fired power plant capacity. This would have a tremendous impact on rural areas, which depend on coal as an affordable and reliable source of energy production.

---
Reminder: Prohibited to collect antlers until May 1st (posted 3/19/15)
Purpose is to minimize stress on animals from human disturbance during winter months
Wyoming Game & Fish
The Wyoming Game and Fish Department reminds antler hunters there is a season in place which prohibits the gathering of horns or shed antlers from January 1 through April 30 on public lands west of the Continental Divide in Wyoming. This regulation has been in effect since 2009 and applies to all state-owned lands, as well as federal lands.

In 2012, the Wyoming Board of Land Commissioners approved an annual restriction prohibiting the collection of antlers between Jan 1 and April 30 on all parcels of land under jurisdiction of the Board of Land Commissioners west of the Continental Divide. These lands are often referred to as "state lands" and are usually blue on land status maps.

In addition, many big game winter ranges in both Teton and Sublette counties have further restrictions to either human presence or motor vehicles during the winter months. However, the shed antler regulation applies to all federal or public lands not covered under such winter range closures.

Similarly, Wildlife Habitat Management Areas (WHMAs) managed by the Wyoming Game and Fish Department in the Jackson and Pinedale Regions are closed to human presence December 1 through April 30. For more information on Game & Fish WHMAs, you may visit the website at: http://wgfd.wyo.gov/accessto/whmas.asp

The purpose of the shed antler regulation is to minimize harassment or disturbance of big game animals on their winter and spring ranges when animals are most vulnerable to stress and displacement to less productive habitats. Colorado and Utah have similar regulations.

As with any regulation, the department realizes enforcement and public cooperation is key to its effectiveness. Each winter, the Wyoming Game and Fish Department brings in additional game wardens from across the state to increase the enforcement presence on key winter ranges, both to deter the poaching of trophy mule deer during early winter and enforce the antler hunting regulation after animals have shed their antlers.

Anyone witnessing a wildlife violation may call the Stop Poaching hotline at 1-877-WGFD-TIP. Tips are most helpful when they are reported promptly and include information such as the date, time, location and specific details about the suspected violation. Also important is a physical description of the suspected violator as well as a license plate number and description of any vehicles involved in the incident. Stop Poaching tips also can be reported online at: http://gf.state.wy.us/wildlife/enforcement/stoppoaching/submitTip.aspx. Tips may result in a reward and informants can choose to remain anonymous.

---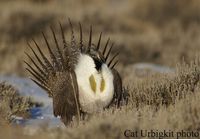 A male sage grouse strutting on a lek. Photo by Cat Urbigkit.

Spring's Natural Arrivals (posted 3/17/15)
Cat Urbigkit, Pinedale Online!
Spring's arrival is Sublette County is heralded by the trilling calls of newly arriving sandhill cranes in hay meadows, and the gentle songs of bluebirds. It's also the time that Greater Sage Grouse begin to congregate on their leks (traditional breeding grounds).

The Wyoming Game and Fish Department offers the following tips for viewing sage grouse as they strut on their leks:

• Arrive at lek sites at least one hour before sunrise.
Don't drive onto the lek. Park away from the edge of the lek.
• Turn off the vehicle lights and engine.
• Use binoculars and spotting scopes to observe birds.
• Stay in your vehicle.
• Do not make loud noises or sudden movements.
• Do not leave until the birds do.
• Keep pets in your vehicle. Better yet, leave them home.
• Do not trespass on private land.
• Postpone your visit if roads are muddy.

Be especially cautious with viewing activities during late March and early April when breeding activity usually peaks. Late April is a better time to visit because most of the
breeding is complete but the males are still actively strutting. The weather is usually better too.

If you are not sure where to go to visit a lek, click on the link below to learn of a location near you.

Related Links:
Sage Grouse Lek Viewing Guide - Learn of a location near you

---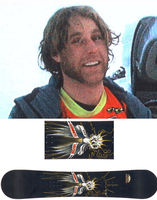 Ben Bradley was stabbed to death in June, 2006 while hitchhiking between Rock Springs and Jackson, Wyoming. The unique snowboard he had with him has never been recovered. Anyone with information on the case, including information about Bradley's unique snowboard, is asked to contact the Sweetwater County Sheriff's Office or the Division of Criminal Investigation. Photo courtesy SCSO.

Sweetwater County detectives examining new information in unsolved 2006 murder of Ben Bradley (posted 3/16/14)
Public's help sought for information about stabbing death - have you seen this snowboard?
Sweetwater County Sheriff's Office
ROCK SPRINGS, WYOMING The unsolved murder of a Colorado man whose body was found in a remote area north of Rock Springs in 2006 is being reviewed in the light of new information.

Ben Bradley, 28, of Tabernash, Colorado, was hitchhiking to Jackson, Wyoming, on a snowboarding outing when he disappeared in the Rock Springs area on the night of Friday, June 2, 2006. His badly decomposed body was found near the base of Boar's Tusk, about 25 miles north of Rock Springs, by sightseers on October 1st of 2006. An autopsy determined the cause of death to be multiple stab wounds to the chest area.

At the time of his disappearance, Bradley had with him his custom-made Never Summer "split-board" snowboard, a representation of which is shown here.

Sergeant John Grossnickle of the Sweetwater County Sheriff's Office said the snowboard splits into two short skis, permitting the user to climb up slopes. The split board can then be reassembled and used as a conventional downhill snowboard.

Bradley's snowboard has never been recovered. Grossnickle said the Sheriff's Officer is working closely with the Division of Criminal Investigation's cold case unit in examining new evidence that has come to light in the case.

Grossnickle emphasized that the Bradley case has never gone inactive. "The information that has come into our possession has opened up fresh avenues in the investigation," he said. "We hope to use that information to solve Ben's murder."

Given the fresh developments, authorities are asking that anyone with information on the case, including information about Bradley's unique snowboard, contact the Sweetwater County Sheriff's Office or the Division of Criminal Investigation, 307-872-3870.
---
Game and Fish schedules public meetings to discuss 2015 hunting seasons (posted 3/15/15)
Wyoming Game and Fish
The Wyoming Game and Fish Department invites the public to participate in the 2015 big game season-setting process. Season-setting public meetings will be held in Pinedale and Jackson with open houses to be held in Afton and Marbleton.

Local Game and Fish biologists and wardens will be at all meetings to discuss big game population data collected this winter and any resulting season changes being proposed for next fall. Wildlife managers also will be discussing small game, game birds and waterfowl seasons.

The public is encouraged to attend one of the public meetings held in each Game and Fish region to discuss the proposals.

March 23: Afton Civic Center, 6-8 p.m. (open house)
March 24: Marbleton Marbleton Town Hall, 6-8 p.m. (open house)
March 25: Pinedale Wyoming Game and Fish Regional Office, 6-9 p.m.
March 26: Jackson Antler Inn, 6-9 p.m.

To accommodate those who can't attend a meeting in person, online commenting forms and other related information will be posted under the public meetings tab at: wgfd.wyo.gov. Written comments also can be submitted at the meetings, or mailed to: Wyoming Game and Fish Department, Attn: Regulations 3030 Energy Lane, Casper, WY 82604. Written comments must be received by 5 p.m., Tuesday, March 31, and will be presented to the Game and Fish Commission prior to their April 22-23 meeting in Casper.

The Wyoming Game and Fish Department supports the Americans with Disabilities Act. Anyone requiring additional or auxiliary aids should contact the Pinedale Region office at 307-367-4353 or the Jackson Region office at 307-733-2321. Every effort will be made for reasonable accommodations.
---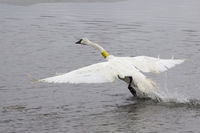 An adult trumpeter swan takes flight after being collared and released near Jackson. Photo by Mark Gocke, Wyoming Game & Fish.

Game & Fish surveys trumpeter swans (posted 3/15/15)
Population numbers showing strong growth - increased 26% from 2014
Wyoming Game and Fish
Wyoming Game and Fish Department nongame biologist, Susan Patla, recently conducted an annual winter survey for trumpeter swans, and other waterfowl, in the Pacific Flyway portion of western Wyoming. The annual aerial survey is coordinated with the U.S. Fish and Wildlife Service, and the states of Idaho and Montana, to obtain a count of all trumpeters in the Rocky Mountain population in the western United States. The majority of these swans winter in the Tri-state area of eastern Idaho, western Wyoming and southwestern Montana with small groups also found in Nevada and Oregon.

Overall, a total of 6,775 swans were counted in the Tri-state area, which is a 26% increase from 2014 when 5,368 birds were counted. Typically, over 90 percent (more than 5,000) of the wintering swans are migrants from interior Canada where nesting populations have shown strong growth for the past few decades.


This year, Patla counted a total of 931 swans in western Wyoming, or 14% of the total Tri-state wintering population. An additional 168 swans were counted in Yellowstone National Park (YNP). The numbers counted in Wyoming outside of YNP are almost identical to the previous five year average.

The total number of swans counted by drainage included: Snake River (515), Green River (211), and Salt River (119). Considering the year-round resident population of swans that nest in Wyoming (based on results of the fall survey), Canadian migrants likely comprised 86% of the swans wintering in the Snake River drainage and 39% of the Green River birds.

In most years, winter habitat for swans is very distinct from their summer habitat. However, given recent warm temperatures in February and March, swans have been found moving onto or near nesting areas that normally remain frozen until mid-March to early June. How this may affect available forage during the pre-nesting period is unknown. Little mortality has been documented this winter, but the Department requests that any dead swans found be reported immediately to the local Wyoming Game and Fish Department office.

---
Wolf News Roundup (posted 3/6/15)
Cat Urbigkit, Pinedale Online!
Wyoming & the Great Lakes States
Wolves in Wyoming and the Great Lakes states remain under federal protection pursuant to the Endangered Species Act, but legislation pending in Congress would change wolf management, replacing federal protection with state management of wolves in Wyoming and in the Great Lakes states of Minnesota, Michigan and Wisconsin.

Bill In Congress
House Bill 884 has simple language, but if enacted, would prohibit further litigation on the issue. The bill currently reads:
"A BILL
To direct the Secretary of the Interior to reissue final rules relating to listing of the gray wolf in the Western Great Lakes and Wyoming under the Endangered Species Act of 1973, and for other purposes. Be it enacted by the Senate and House of Representatives of the United States of America in Congress assembled,
SECTION 1. REISSUANCE OF FINAL RULE REGARDING GRAY WOLVES IN THE WESTERN GREAT LAKES.
Before the end of the 60-day period beginning on the date of enactment of this Act, the Secretary of the Interior shall reissue the final rule published on December 28, 2011 (76 Fed. Reg. 81666), without regard to any other provision of statute or regulation that applies to issuance of such rule. Such reissuance shall not be subject to judicial review. SEC. 2. REISSUANCE OF FINAL RULE REGARDING GRAY WOLVES IN WYOMING.
Before the end of the 60-day period beginning on the date of enactment of this Act, the Secretary of the Interior shall reissue the final rule published on September 10, 2012 (77 Fed. Reg. 55530), without regard to any other provision of statute or regulation that applies to issuance of such rule. Such reissuance shall not be subject to judicial review."

Fundraising
In response to the filing of the Congressional bill, the Center for Biological Diversity is raising money to fight it – reportedly already raising $75,000 of its stated goal of $100,000 for its Wolf Defense Fund. The group's latest fundraising email states: "Don't let the hateful bullies in Congress put more wolves in harm's way. Let's stop this bill, now." Meanwhile, the U.S. Fish & Wildlife Service and the states of Michigan and Wisconsin have filed notices of intent to appeal the federal court decision that relisted wolves in those states, so the litigation will continue.

Downlist, not Delist
Fearing that Congress will take action to delist wolves, animal activists have recruited 78 members of the U.S. House of Representatives to sign off on a letter asking Secretary of the Interior Sally Jewell to support downlisting wolves in the most of the United States to "threatened" status. Earlier this year, the Humane Society of the United States petitioned the U.S. Fish and Wildlife Service to reclassify wolves, and to develop a nationwide wolf recovery plan. At a Congressional committee meeting, Representative Don Young of Alaska noted that the Congressional members who signed the letter don't have wolves in their district. He said, "I'd like to introduce them (wolves) in your district. If I introduced them in your district, you wouldn't have a homeless problem anymore."

Wolf Harvest in Rockies
Idaho's wolf hunting and trapping season is set to close at the end of March, and thusfar, 116 wolves have been harvested by hunters, and 94 by trappers. In the 2013-2014 hunting and trapping season, a total of 302 wolves were taken. Montana sportsmen have harvested 204 wolves in the hunting/trapping season set to close March 15.

Washington Woes
Washington is the latest state to fall victim to the ongoing stream of activists filing federal lawsuits over wolves. WildEarth Guardians has filed a lawsuit challenging the authority of USDA Wildlife Services to kill wolves in Washington state. Wildlife Services works in conjunction with the Washington Department of Fish & Wildlife to control problem wolves – wolves that have repeatedly preyed on livestock. This lawsuit claims that Wildlife Services activities threaten both wolf recovery and healthy ecosystems.

Chasing Snowmobiles
In other Minnesota wolf news, two trails in Voyageurs National Park along the Canadian-Minnesota border have been closed by National Park Service officials after a wolf chased or followed snowmobiles on three occasions. Superintendent Mike Ward stated, "We are taking precautions for the protection of the visitors and the wolf. Visitors are encouraged to continue to enjoy the winter wonderland by accessing the open trails throughout the park and multiple gateway communities."

Related Links:
Wolf Chasing Snowmobiles article - Read about it in the Star Tribune.
Read about Congressional hearing on bill - AgriPulse
Wolf Watch! - by Cat Urbigkit

---
Business Directory
Click here for
Advertising Information