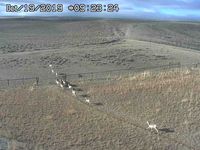 A herd of pronghorn cross the Trappers Point Wildlife Overpass headed south in October 2019.

Path of the Pronghorn (posted 10/21/19)
Fall migration
The fall pronghorn antelope migration has been going on for several weeks now. Animals spend the summer in the higher elevations of the Upper Green River Valley. With the colder weather and late fall snowfall, bigger herds begin moving down the valley headed towards their winter ranges. Many of those animals pass through the Trappers Point bottleneck and can be seen on the Trappers Point wildlife webcam. Watching them on the web cam allows the public to view them up close while not being physically present and disturbing them.

For those up for a drive and wanting a photo opportunity, herds of animals can also often be seen along the Cora Highway 352 on the way to Green River Lakes and on the East Green River Road between US 191 and Hwy 351. (Please watch animals from a distance and stay out of their pathway. If you stay in your vehicle to watch or photograph, the animals will feel less stress from your presence.)

While the weather prompts the pronghorn to migrate, it also causes the cattle that have been grazing in the Upper Green to come out of the mountains in what is known as the Green River Drift. The pronghorn and cattle mix well and can often be seen near each other as herds of both animals move southward down the valley. Cowboys are also helping gather the herds and making drives moving cattle along the drift fences and sorting grounds to home ranches down the valley. These operations usually take place in the morning hours.

To view the Trappers Point wildlife webcam, go to http://www.trapperspoint.com. You will need to have java enabled on your browser to view the live cam. The camera pans a circular view every several minutes. Sometimes administrators will manually move the camera as well.

To learn more about the historic Green River Drift cattle drive, visit http://www.greenriverdrift.org.

---
Yellowstone wolf oddities (posted 10/20/19)
Cat Urbigkit, Pinedale Online!
Yellowstone National Park has released its wolf project annual report for 2018, reporting that there were at least 80 wolves in 9 packs (7 breeding pairs) living primarily in the park at the end of December 2018.

For all the details, download the report at the link below.

A Rarity:
Interesting items in the report include the discovery of a hermaphrodite wolf (meaning having both male and female sex organs). According to the report on the Cougar Creek pack, "During handling for collaring operations, it was found that the wolf assumed to be the alpha female was actually a hermaphrodite. This wolf, 1116U (U denotes neither male or female status given), died in late February due to an apparent gunshot wound outside the park." This black wolf was handled in order to replace her radio-collar, and was classified as an old adult (more than six years old).

Multiple Litters:
In the Junction Butte pack, all four of the pack's females bred and produced pups, with three of the four females having pups in one den. "By late May, as many as 11 pups were counted at the Slough den, nursed by all three females."

A subordinate male wolf in the pack "showed an unusual infatuation with the small pups" which resulted in the death of at least one of the pups and possibly more. Only three of the pups survived the summer.

Three females from the Mollie's Pack also bred, but one was killed before she could give birth to her pups. The two other females whelped in separate dens.

The Wapiti Lake pack also produced two litters, and ended the year with 19 wolves in the pack, including 13 adults and six pups.

The four adult members of the Bechler pack denned, but after a black bear was photographed entering the den, the pack abandoned the den and no pups were found.

Related Links:
Yellowstone Wolf Report 2018 - National Park Service
Wolf Watch - by Cat Urbigkit, Pinedale Online!

---
Reports about Yellowstone bears, wolves, and birds published online (posted 10/18/19)
Yellowstone National Park
Yellowstone National Park recently published online three reports from 2018 about bear management, wolves, and birds. Each annual report focuses largely on the health of these wildlife populations.

Topics from the Bear Management Program Annual Report (https://www.nps.gov/yell/learn/nature/upload/2018-Bear-Report_web.pdf) include bear sightings, management of roadside bear viewing, bear mortalities, bear-human conflicts, bear-proof food storage locker installation and more.

Yellowstone's Bear Biologist Kerry Gunther said, "There were few bear-human conflicts inside of the park in 2018; however, managing visitors that stopped to view and photograph bears foraging in roadside meadows and thus creating large bear jams was a considerable management challenge."

Topics from the Bird Project Annual Report (https://www.nps.gov/yell/learn/nature/upload/2018-Bird-Report_web.pdf) include monitoring of raptors, wetland birds, songbirds and near-passerine, fall migration, raven movements, and noteworthy and rare bird sightings.

Biologist Lauren Walker said, "We used five methods to monitor breeding songbirds in 2018: point counts in willow stands and mature forests, transects through plots in sagebrush steppe, a banding station, and the North American Breeding Bird Survey (BBS). We recorded 35 songbird species within three willow growth types and captured at least 32 species at our banding station in a willow-lined riparian corridor. Observers recorded 24 species in mature forests and 29 species in sagebrush steppe. We also observed over 3,100 individuals belonging to 82 species along three BBS routes in the park."

Topics from the Wolf Project Annual Report (https://www.nps.gov/yell/learn/nature/upload/2018-Wolf-Report_web-2.pdf) include pup survival, wolf pack summaries, and using radio collars to study wolves.

Doug Smith, Yellowstone Wolf Project leader says, "In 2018 we noted a drop in pup numbers, however there were no intra-species wolf killings, which is usually the reason for the most wolf mortality. This year marks a 10-year period of relatively stable wolf numbers. While the reasons for this are unknown, a relatively stable elk population is likely a large factor."

---
BTNF signs ROD for Upper Green grazing (posted 10/15/19)
Project allows for continued cattle and horse grazing on 170,643 acres in the Upper Green River watershed
Bridger-Teton National Forest
The Pinedale Ranger District of the Bridger-Teton National Forest has signed the final record of decision for the Upper Green River Area Rangeland Project. The project allows for continued cattle and horse grazing on 170,643 acres in the Upper Green River watershed.

District Ranger Rob Hoelscher selected alternative three, as outlined in the final environmental impact statement, with some modifications. Under this decision, livestock grazing will continue on all six allotments. The decision uses livestock management strategies designed to sustain rangeland and riparian health, while improving resource conditions where needed.

In making the final decision, Hoelscher considered the environmental analysis, public comment, consultation with cooperators and federal agencies, as well as discussions from pre-decisional administrative review or objection processes. He said, "Grazing is an appropriate use of the National Forest and is important to the community economically and socially."

In creating his decision, Hoelscher took the needs and concerns of a diverse group of interested parties into account in order to achieve balance among such diverse positions.

"Crafting this decision was not easy. On the one hand, some want hard and fast direction and consequences. Permittees on the other hand desire flexibility for their operations," Hoelscher said. "I believe this decision does a bit of both while meeting the requirements of our land management plan."

One example of the modification in the final decision is to invite all interested parties to attend pre-grazing season annual meetings. This will ensure that future monitoring results, discussion of issues and development of solutions can be considered in a collaborative way.

The record of decision is available at http://www.fs.usda.gov/project/?project=3049.

For more information, contact Rob Hoelscher, Pinedale District Ranger, at 307-367-5700, or P.O. Box 220, Pinedale, WY 82941.
---
Fourth Grade students receive free admission to America's public lands for a year (posted 10/15/19)
Bureau of Land Management
Calling all fourth graders!!! BLM is happy to once again sponsor "The Every Kid Outdoors Program." The annual pass provides fourth grade students, along with their families, friends and classmates, free access to more than 2,000 other federal recreation areas for a year. The program encourages fourth graders to explore, learn, and recreate in spectacular settings, including national parks, wildlife refuges, marine sanctuaries, and forests.

"There is so much to discover on public lands," said Acting BLM Wyoming State Director Duane Spencer. "Visits on class trips or family vacations to experience our wide open landscapes and historic treasures will provide lifelong memories."

To obtain the free pass, fourth grade students can visit the Every Kid Outdoors website, participate in a short educational activity, and download a voucher. The voucher is valid for between September 1, 2019 and August 31, 2020 to correspond to the traditional school year. The voucher may be exchanged for a plastic keepsake pass at participating federal lands.

The voucher or pass grants free entry for fourth graders, all children under 16 in the group and up to three accompanying adults (or an entire car for drive-in parks) to most federally managed lands and waters. The pass does not cover expanded amenity fees such as camping or boat rides.

The great outdoors make a great classroom. Fourth grade educators are encouraged to take advantage of the wide range of educational programs and tools associated with the Every Kid Outdoors program. Educational activities, field trip options, information and tools in English and Spanish, and the ability to print vouchers for passes for students are all available on the website.

The Every Kid Outdoors Program was established by Congress in 2019. It replaces the Every Kid in a Park Program which was launched in 2015. It is an interagency collaboration between the National Park Service, U.S. Fish and Wildlife Service, Bureau of Reclamation, Bureau of Land Management, U.S. Army Corps of Engineers, National Oceanic and Atmospheric Administration, and U.S. Forest Service.

For more information about the Every Kid Outdoors Program, go to: https://everykidoutdoors.gov, call Keith Brown, outdoor recreation planner at (307) 775-6031, kmbrown@blm.gov or Cindy Wertz, public affairs specialist, (307) 775-6014, cwertz@blm.gov.


---
BLM announces annual adjustment to drilling permit fee (posted 10/15/19)
Non-Refundable fee raised to $10,230 for BLM to process oil and gas drilling permits on public and Indian lands
Bureau of Land Management
As directed by Congress, the Bureau of Land Management (BLM) will adjust the fee it charges to process oil and gas drilling permits on public and Indian lands for inflation, effective October 1, 2019. That adjustment will increase the fee by $180, to $10,230.

The non-refundable processing fee is collected when an oil and gas operator submits a drilling permit (called an Application for Permit to Drill or APD), and is required whether or not a particular permit is subsequently approved. Congress established the fee and directed the BLM to adjust the APD fee annually for inflation over 10 years as part of the National Defense Authorization Act (NDAA) for Fiscal Year 2015.

To carry out this statutory requirement, the BLM has issued guidance to its field offices regarding the collection and handling of APD fees in the current fiscal year. The new guidance largely tracks prior guidance with respect to collection and handling policies such as when the fee is required; when the BLM will begin processing the APD; and acceptable forms of payment.

This fee is an important component of the funding for the BLM's permitting program and enhances the agency's ability to coordinate with other Federal and State agencies in connection with oil and gas permitting, streamlining permit review processes, and reducing permitting times. Fifteen percent of the fees are directly returned to the BLM field office that collected the fees to offset some of the costs of processing protests, leases, and permits. The remaining 85 percent is used to support project offices that perform the majority of the permit processing and inspection work across the BLM. In Fiscal Year 2019, the BLM collected almost $51 million in APD fees.

---
BLM updates mineral cost recovery fee schedule (posted 10/15/19)
Bureau of Land Management
The Bureau of Land Management (BLM) has issued a final rule, effective October 1, 2019, which updates the cost recovery fees that the BLM charges for processing certain actions undertaken by its mineral programs. Specifically, this final rule updates the fees charged to recover costs incurred in processing certain documents associated with oil, gas, coal, and solid mineral activities on public lands, including fees associated with mineral patent adjudications. Consistent with updates to the fee schedules in prior years, this final rule increases the fee schedule based on inflation.

The BLM is authorized to charge cost recovery fees under the Federal Land Policy and Management Act of 1976 and the 2005 Cost Recovery Rule. The fee schedule is adjusted annually based on the change in the Implicit Price Deflator for Gross Domestic Product, or IPD-GDP, from the 4th Quarter of one calendar year to the 4th Quarter of the following calendar year. The IPD-GDP is published annually by the Department of Commerce.

Under this final rule, 24 fees will remain the same and 24 fees will increase. Of the 24 fees that are being increased by this rule, 13 will increase by $5 each, seven will increase by $10 each, two will increase by $15 each, and two will increase by more than $15 each. The fees increasing by more than $15 are the fee for adjudicating a mineral patent application containing more than 10 claims, which will increase by $75, from $3,215 to $3,290, and the fee for adjudicating a patent application containing 10 or fewer claims, which will increase by $40, from $1,605 to $1,645.

The updated fees are based on a common mathematical formula used by businesses nationwide to adjust their expenses. This fee update rule uses the change in the IPD-GDP from the 4th Quarter of 2017 to the 4th Quarter of 2018, which reflects the rate of inflation over four calendar quarters.

---
BLM proposes rule to streamline Royalty Rate Reduction Process (posted 10/15/19)
For Non-Energy Solid Minerals mined on public lands
Bureau of Land Management
The Bureau of Land Management (BLM) proposed a rule that will remove unnecessary and overly burdensome requirements and provide much needed regulatory relief and efficiencies for producers of non-energy solid leasable minerals. The proposed rule could stimulate up to $4.5 million of additional economic activity over the next 10 years.

These minerals include soda ash, potash, phosphate, sodium, potassium, sulphur, and gilsonite. With the publication of the proposed rule in the Federal Register, the BLM will initiate a 60-day public comment period.

"Non-energy solid minerals are vital in the production of such everyday products as toothpaste and garden fertilizers," said Department of the Interior Acting Assistant Secretary of Land and Minerals Management Casey Hammond. "With this proposed rule, the BLM will provide industry with much-needed relief when tough markets make it more difficult to develop these minerals, which support thousands of American jobs in local communities."

Mineral development is an important land use within the BLM's multiple-use mandate, providing economic opportunities and commodities that are essential to maintaining a high quality of life. In fiscal year 2017, the development of non-energy minerals on BLM-managed public lands contributed $13.4 billion to the national economy and supported 48,000 jobs.

The U.S. was once the world's leading producer of soda ash, a non-energy solid leasable mineral, but Chinese production surpassed domestic production in 2003. With updates in the proposed rule that streamline the reduction process for non-energy solid minerals, the proposal will improve the BLM's ability to support development and production of the Federal mineral estate.

"Wyoming is home to large deposits of soda ash, and the exploration, development and production of this commodity is done under state-of-the-art industrial, labor, and environmental standards," Wyoming Governor Mark Gordon said. "A reduction of the federal royalty rate to two percent is essential to the long-term global competitiveness of the soda ash industry. This proposed rule will protect jobs in both Wyoming and other states in the industry supply chain and will also enable strategic capital investment for future growth and job creation."

The proposed rule would streamline the process for lessees to seek and/or for the BLM to provide relief in the terms for rental fees, royalty rates and/or minimum production requirements associated with these minerals.

Informed by Secretarial Order 3354, which calls for improvements in the exploration and development of Federal solid mineral resources, the proposed rule also addresses permitting efficiencies and processing times.

The proposed rule would make two key changes that could affect the royalties and rental fees paid by producers of solid leasable minerals other than coal and oil shale on Federal lands. First, it would streamline the process by which producers of these minerals could apply for a reduction in their royalty rate, rental fee or minimum production requirements by lessening the information requirements for operators who apply. This would allow the BLM to approve a reduction in the rental fee, royalty or minimum production requirements on a lease-by-lease basis in response to an application from a producer, if the agency finds that a lease cannot be successfully operated under current market conditions.

In addition, the proposed rule would allow the BLM to reduce the rental fee, royalty rate or minimum production requirements on its own initiative if it finds that a reduction is necessary to develop a type of solid minerals on an area- or on an industry-wide basis.

By reducing informational requirements, the BLM estimates the proposed modifications would have a beneficial impact of up to a half-million dollars per year over the next decade on industry and government staff time in the form of reduced paperwork burdens.

Interested parties may submit comments, identified by the number RIN 1004-AE58, by any of the following methods:

• Mail: U.S. Department of the Interior, Director (630), Bureau of Land Management, Mail Stop 2134 LM, 1849 C St., N.W., Washington, D.C. 20240, Attention: RIN 1004-AE58.
• Personal or messenger delivery: U.S. Department of the Interior, Bureau of Land Management, 20 M Street, S.E., Room 2134LM, Washington, DC 20003, Attention: Regulatory Affairs.
• Federal eRulemaking portal: http://www.regulations.gov. In the Searchbox, enter "RIN 1004-AE58" and click the "Search" button. Follow the instruction at this website.
---
Wolf News Roundup 10/12/2019 (posted 10/12/19)
Cat Urbigkit, Pinedale Online!
Wyoming Wolf Hunt
With the Sept. 1 opening of the wolf hunting season in many of western Wyoming's trophy wolf hunt areas, quotas have been reached in four hunt areas, so those areas are now closed.

This includes: the quota of four wolves has been reached in the Clarks Fork Hunt Area 1; the quota of two wolves has been reached in Area 3, the South Fork; the Wind River Hunt Area 5 quota of one wolf has been reached; and the two-wolf quota at The Rim (Hunt Area 10) has also been reached.

Of the total quota of 35 wolves available for legal harvest in the state's wolf trophy zone, 18 wolves have been killed by hunters as of Friday, Oct. 11. An additional 20 wolves have been killed so far this year in the remainder of Wyoming, where wolves are classified as predators.

Wolf Cull Successful
The population of three mountain caribou herds in northeastern British Columbia has increased by 49 percent in four years due to an experimental wolf cull program, according to a new report from the British Columbia government. "These caribou herds have declined drastically in response to landscape changes that altered predator-prey dynamics and led to high rates of predation by wolves. The decrease in wolf abundance across the South Peace treatment area has shown conclusive evidence that intensive wolf reduction has halted and reversed the declining trends of the Klinse-Za, Kennedy Siding, and Quintette caribou populations."

"Aerial wolf reduction has been shown to be the most targeted and effective method of intensively reducing wolf populations over large geographic areas to elicit strong population responses in caribou herds. Both the efficacy and efficiency of the South Peace wolf reduction program has increased over time. The success of the program is contingent on utilizing experienced and proficient removal crews, operating during optimal weather conditions, and maintaining a high level of operational oversight by provincial Ministry staff. Wolf reduction is a management tool that must be used responsibly and ethically, and implemented with the highest standards for humaneness and scientific rigour. Wolf reduction programs should be considered as an effective interim management tool for halting and reversing caribou declines, while the ultimate causes (i.e. habitat alteration) of such declines are addressed. Based on the findings of the five-year wolf reduction program in the South Peace, it is highly recommended that wolf reduction continue to be implemented to support these particular caribou herds towards meeting the ultimate management objective of self-sustaining populations."

WA Cattlemen
After Washington Governor Jay Inslee told his state wildlife agency to reduce the number of lethal control actions for cattle-killing wolves (earning praise from the Center for Biological Diversity), the Stevens County Cattlemen's Association responded that his association and the governor agree on one thing: that current management of wolves isn't working. For more, see the Statesman Examiner article linked below.

Check out the links below for details on these stories.

Related Links:
Wolf Cull Program - BC government
WA wolves - Statesman Examiner
Wolf Watch - by Cat Urbigkit, Pinedale Online!
---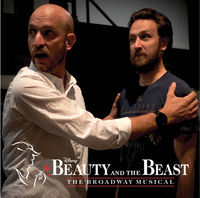 Beauty & the Beast Oct 24-26 in Pinedale

Beauty & the Beast opens October 24 (posted 10/11/19)
Pinedale Theatre
The Pinedale Theatre production of Disney's Beauty and the Beast opens Thursday, October 24 for a three-night run at the Sheppard Auditorium. Featuring local actors who have been rehearsing since August, this will be the biggest production in history for Pinedale Theatre who stage a musical every other year. Tickets are now on sale for all shows including a Saturday matinee.

Beauty and the Beast Show Times:
Thursday, Oct. 24: 7 p.m. at Sheppard Auditorium
Friday, October 25: 7 p.m. at Sheppard Auditorium
Saturday (Matinee), October 26: 2 p.m. at Sheppard Auditorium
Saturday, October 26: 7 p.m. at Sheppard Auditorium

Based on the book by Linda Woolverton, "Beauty and the Beast" is the 10th-longest-running Broadway show of all time. October's Pinedale production will feature custom stage and set, special effects and costumes shipped directly from Maine!

Tickets are $20 adult / $7 student and are available at Office Outlets, Cowboy Shop, Pine Coffee, Big Piney Library and online at pinedalefinearts.com.

Beauty and the Beast is presented by Pinedale Theatre with support from The Wyoming Arts Council, The Wyoming Community Foundation and The Sublette County Recreation Board.

---
Wolf News Roundup 10/07/2019 (posted 10/7/19)
Cat Urbigkit, Pinedale Online!
Wyoming Wolf Hunt
With the Sept. 1 opening of the wolf hunting season in many of western Wyoming's trophy wolf hunt areas, quotas have been reached in four hunt areas, so those areas are now closed.

This includes: the quota of four wolves has been reached in the Clarks Fork Hunt Area 1; the quota of two wolves has been reached in Area 3, the South Fork; the Wind River Hunt Area 5 quota of one wolf has been reached; and the two-wolf quota at The Rim (Hunt Area 10) has also been reached.

Of the total quota of 35 wolves available for legal harvest in the state's wolf trophy zone, 16 wolves have been killed by hunters as of Thursday, Oct. 3. An additional 19 wolves have been killed so far this year in the remainder of Wyoming, where wolves are classified as predators.

WA Governor Opposes Lethal Control
Washington Governor Jay Inslee sent a letter to the Washington State Department of Fish and Wildlife asking for changes to the gray wolf recovery program. The governor asked WDFW to provide him with an update to his requests and recommendations for additional action by December 1.

The letter reads, in part, "I understand that conflicts between wolves and livestock do occur, especially as the state's wolf population continues to grow. The department, working with the Wolf Advisory Group, livestock producers, hunters, conservation groups and others, has made significant progress in securing both gray wolf recovery and increasing the social tolerance of wolves on the Washington state landscape. The State's Wolf Conservation and Management Plan (Wolf Plan) has contributed to the recovery of this species, and is a model of citizenry engagement and statewide leadership. I acknowledge that the Wolf Plan is successful in most parts of our state...Chronic livestock depredations and annual lethal removal of wolves in the Kettle River Range in Ferry County, have resulted in public concern and outrage over lethal management actions taken by the department.

"I share the public's concern and am troubled that the Wolf Plan does not appear to be working as intended in this particular area in Northeastern Washington. I believe we cannot continue using the same management approach on this particular landscape. We must look for other strategies that address the unique nature of this particular geographical area, an area which has been characterized as prime gray wolf habitat. We must find new methods to better support co-existence between Washington's livestock industry and gray wolves in our state. The status quo of annual lethal removal is simply unacceptable."

Irish Rewilding
A Green Party leader has called for the reintroduction of wolves into Ireland, but a governmental minister says that there are no plans in place for such an action, and that releasing wolves would do considerable damage to farming and existing conservation programs.

Belgium Reward
Environmental groups have offered about $33,000 as a reward for information about the assumed death of a wild wolf in Belgium. Although the adult female wolf's body has not been located, the groups assert that illegal hunting has resulted in the animal's disappearance.

Check out the links below for details on these stories.

Related Links:
Wy Harvest Limits - Wyoming Game & Fish Department
Ireland - RTE.com
Washington Governor - Read the letter here.
Belgium - Newsweek
Wolf Watch - by Cat Urbigkit, Pinedale Online!

---
Hunters asked to help collect samples for CWD research (posted 10/5/19)
Wyoming Game & Fish
The Wyoming Game and Fish Department needs help from hunters this fall to collect lymph node samples from elk for chronic wasting disease (CWD) testing in targeted areas near Pinedale. Hunters are a very important component in helping Game and Fish understand the disease and achieve CWD monitoring goals.

The Pinedale Regional Game and Fish Office is asking hunters who harvest elk in hunt areas 97 and 98 to submit samples for testing. These areas are targeted for more intensive sampling this year with the aim of determining CWD prevalence and providing insight for future management decisions. Hunters outside of this year's focused surveillance areas can still submit a sample for testing.

Hunters can have animals sampled at any game check station this season or by stopping by the Pinedale Regional Office. If you visit the Regional Office outside of normal business hours (8 a.m. to 5 p.m., Monday through Friday), or if personnel are unavailable, there will be a drop box for you to leave the elk head for sampling. When leaving a head in a drop box, hunters are asked to document their license number, date of harvest and hunt area where the animal was taken. Hunters can also learn how to take a sample by watching a how-to video on the Game and Fish website.

Results from CWD testing are available online within three weeks. Hunters can expedite results within 10 working days for a $30 fee; contact the Wyoming State Veterinary Lab in Laramie at (307) 766-9925 for more information.

Hunters also need to be aware of Wyoming carcass transport rules to prevent the spread of CWD within Wyoming and other states. Wyoming's regulations require deer, elk and moose hunters transport only the following items within Wyoming:

• Deer, elk and moose can be transported to a camp, private residence for processing, a taxidermist, a processor or a CWD sample collection site in Wyoming provided the head and all portions of the spinal column remain at the site of kill or such parts are disposed in any approved landfill or approved incinerator in Wyoming. A listing of landfills that will accept waste from processed game animals and whole carcasses is available on the Game and Fish website.
• Cut and wrapped meat
• Edible portions with no portion of the spinal column or head attached
• Cleaned hide without the head attached
• Skull, skull plate or antlers that have been cleaned of all meat and brain tissue
• Teeth
• Finished taxidermy mounts

Whole deer, elk and moose carcasses cannot be transported out of Wyoming. The only parts approved to leave the state are edible portions with no part of the spinal column or head; cleaned hide without the head; skull, skull plate or antlers that have been cleaned of all meat and brain tissue; teeth; or finished taxidermy mounts. All hunters need to check with their home states for the rules about importing deer, elk or moose from Wyoming.

More information and resources for hunters on CWD is available on the Game and Fish CWD webpage.

Related Links:
Hunters: Submit CWD Samples Wyoming Game & Fish
---
Pile burning planned on Bridger-Teton National Forest in Sublette County (posted 10/1/19)
Smoke may be visible at times
Bridger-Teton National Forest
PINEDALE, WYOMING – Beginning this week (beginning of October, 2019), the Bridger-Teton National Forest plans to burn piles of slash generated by timber sales, hazard tree removal, and fuel reduction work on the Pinedale and Big Piney Ranger Districts. This work will continue throughout the fall and winter as favorable conditions allow.

Piles to be burned are located in the following areas:
Big Sandy Lodge
Sylvan Bay Summer Home Community Pile
White Pine/2018 Force Unit #3
Upper Kelly Force Unit
New Fork Lakes Scout Camp
Red Cliff
N. Fork Fisherman Cr. Community Pile
Some South Fort Units
Sylvan Bay Piles
Surveyor Ridge
Some West Fort Units
Some East Fort Units
Some Sweeney Units
Sweeney Force Unit
Sweeney Repile Unit
Old Road Timber Sale
Cabins Post and Pole
Green River Lakes Lodge
Fence Debris Piles

Brief concentrations of smoke may be visible when crews ignite the piles. The overall duration of the projects will vary with weather conditions and may last anywhere from a few days to a few weeks. Fire managers are also planning on burning the last Cottonwood II prescribed burn unit, located in Sjhoberg Creek on the Big Piney Ranger District in North Cottonwood area, this fall when conditions become favorable. For additional information about these burning operations, please contact the Big Piney Ranger District office at 307-276-5800.

For additional information on the Bridger-Teton National Forest, visit http://www.fs.usda.gov/btnf, follow us on Twitter (@BridgerTetonNF), or like us on Facebook (US Forest Service – Bridger-Teton National Forest). Anyone can receive news from the Bridger-Teton National Forest by self-subscribing to our mailing list by following this link https://www.fs.usda.gov/main/btnf/home In the center of the page enter your email address and then submit the request. You will then be able to choose what news release topics you wish to receive.
---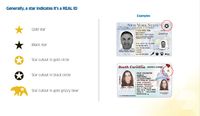 Required REAL ID for travelers. Graphic courtesy Department of Homeland Security.

REAL ID will be required by Oct. 1, 2020 (posted 10/1/19)
New ID required for travelers to fly within the United States
Department of Homeland Security
WASHINGTON – The Department of Homeland Security (DHS) reminds travelers that the upcoming REAL ID requirement and enforcement will start one year from today. Beginning October 1, 2020, every traveler must present a REAL ID-compliant driver's license, state-issued enhanced driver's license, or other acceptable forms of identification, such as a valid passport or U.S. military ID, to fly within the United States. Individuals who are unable to verify their identity will not be permitted to enter the Transportation Security Administration (TSA) checkpoint and will not be allowed to fly.

"This is an important step in enhancing commercial aviation security and we urge travelers to ensure they have compliant documents," said Acting Secretary Kevin K. McAleenan. "DHS is committed to working with states as they continue their efforts to issue REAL IDs to Americans."

• Real progress has been made in less than two years. In January of 2017, only 26 states were REAL ID compliant.
• Through voluntary partnerships with state governments, associations, DMVs, and other stakeholders in all 50 states and 6 territories, DHS can proudly say that 47 out of 50 states are currently REAL ID compliant.
• There is still work to do. Only 27% of Americans have been issued a REAL ID at this time.

DHS has been working to increase public attention and focus on the upcoming deadline. Beginning in April, TSA has displayed signs at airports notifying the public of changing requirement. In August, TSA began verbally advising travelers who present non-compliant licenses of the upcoming REAL ID requirement and enforcement date. TSA has also co-hosted REAL ID events with motor vehicle administration officials in numerous locations around the country throughout the spring and summer, with more to come.

REAL ID-compliant licenses are marked by a star on the top of the card. Michigan, Vermont, Minnesota, and New York states issue both REAL ID and state-issued enhanced driver's licenses, both of which are acceptable. Washington state issues enhanced driver's licenses only. These documents will be accepted at the airport security checkpoint when the REAL ID enforcement goes into effect. Travelers who are not sure if their state-issued ID is compliant should check with their state driver's license agency.

In addition, DHS has been working closely with the government officials of all 56 states and territories as well as the American Association of Motor Vehicle Administrators and the National Governors Association to implement REAL ID and provide technical assistance.

Passed by Congress in 2005, the REAL ID Act implements the 9/11 Commission's recommendation that the federal government "set standards for the issuance of sources of identification, such as driver's licenses." The Act established minimum security standards for state-issued driver's licenses and identification cards and prohibits federal agencies from accepting licenses and identification cards from states that do not meet these standards for official purposes, such as at airport security checkpoints.

The regulations established the deadline of October 1, 2020, to ensure full enforcement of the REAL ID Act. States have made considerable progress in meeting this key recommendation of the 9/11 Commission.

For more information on how to become REAL ID compliant, check with your local state driver's license agency. To download and print informational materials, visit tsa.gov/real-id.

---
WYDOT Authorized Travel program streamlined (posted 10/1/19)
For those needing permission to travel on closed sections of highways
Wyoming Department of Transportation
Wyoming motorists who need permission to travel on closed sections of highways when conditions are safe may be eligible for faster approval into the state's authorized travel program.

The Wyoming Department of Transportation (WYDOT) is streamlining its WYDOT Authorized Travel (WAT) program to allow faster approval for new and renewing Wyoming applicants under certain conditions. Once approved, WAT users would then receive travel permission alerts the same way.

WYDOT decided to implement a faster-approval system to help when the state has rolling closures on roads like Interstate 80. Those closures typically occur during winter storms when a city reaches its capacity and services are no longer available for additional vehicles.

"To receive faster approval, a person must have a Wyoming address, vehicle registration and driver license," said Ali Ragan, project manager for WYDOT's Intelligent Transportation Systems program. "They also can't have more than six segments of road they are applying for."

Under the WAT program, WYDOT gives motorists permission to travel if their destinations are between the closure gates and impassable portions of the road. The program is designed primarily for local commuters who travel between home and work, school, medical appointments and agricultural property.

WAT doesn't give blanket permission for motorists to travel during every road closure. The only time WYDOT will notify a person is if the section they requested is safe to travel and not impacted by any events that closed the road initially.

Under the new streamlined system, everyone who previously applied to the WAT program will need to reapply as well as those who are new to the program.

Out-of-state applicants and Wyoming residents who request travel on more than six segments will apply online as well but their applications could take longer for approval.

To apply for the WAT program, motorists can visit the Wyoming Travel Information Service website (https://www.wyoroad.info/) and click on the WAT icon. Motorists will need to submit justification for travel, road sections they need to travel, and driver contact and vehicle information.

---
Business Directory
Click here for
Advertising Information