Tricia O'Connor named as Bridger-Teton Forest Supervisor (posted 12/20/14)
Bridger-Teton National Forest
JACKSON, WYOMING – Tricia O'Connor, currently deputy forest supervisor of the Tongass National Forest in Alaska, will be the new supervisor of the Bridger-Teton National Forest, Forest Service officials announced today (Friday, Dec. 19, 2014).

"Tricia's broad experience and high caliber of his work make her a great match for the issues, communities and natural resources that are the Bridger-Teton National Forest," said Intermountain Regional Forester Nora Rasure. "I personally know what an outstanding job she has done in previous positions. Her background in wildlife will serve the forest and the public well."

"I am excited to be part of the Bridger-Teton and look forward to working with employees, partners and stakeholders," said O'Connor.

O'Connor has worked closely with the diverse stakeholders and communities of Southeast Alaska on a wide variety of resource management issues, with a focus on recreation, restoration, forest management, and strengthening rural communities. Prior to her work on the Tongass, she served in several key positions in Alaska, including District Ranger and Forest Staff Officer for planning, wildlife and subsistence. She began her career as a wildlife biologist and has worked on various assignments in Washington D.C.

O'Connor holds a bachelor's degree in biology from Cornell University and a master's in Natural Resource management from Humboldt State University.

She will begin work at the Bridger-Teton National Forest on February 22, 2015. O'Connor replaces Clint Kyhl who left the position this past September.

---
Wyoming Arts Council announces recipients of 2014 Governor's Arts Awards (posted 12/21/14)
Wyoming Arts Council
The Wyoming Arts Council has announced that Governor Matthew H. Mead has selected Jim Wilcox of Jackson, Tom Lucas of Dubois and Zachary Pullen of Casper as the recipients of the 2014 Wyoming Governor's Arts Awards. They will be honored at the annual Governor's Arts Awards Gala on February 27, 2015, at Little America in Cheyenne.

"These three artists are truly outstanding. They are representative of the many wonderful artists we have in Wyoming who contribute to a thriving arts economy," Governor Mead said. "Each does signature work, each does inspiring work, and I am pleased to recognize them. I look forward to the awards ceremony."

Folk Artist Tom Lucas is best known for his rediscovery of the skills needed to make bows from wild sheep horns. Growing up, he lived near Native Americans and learned many of their arts, including arrow making, saddle making, and making implements from the horns of big horn sheep. He has preserved heritage that might otherwise be lost and enthusiastically shares what he has learned with others. Mr. Lucas has been featured in a fascinating, recent documentary.

Zachary Pullen is a well-known, highly regarded illustrator. His illustrations appear in numerous books and national publications. He has shown his artwork statewide and nationally. He has designed original artwork to publicize The Equality State Book Festival and the Casper Museum Consortium. He also created unique artwork for a Wyoming Symphony Orchestra program. Mr. Pullen generously shares his talents with the community, including Wyoming students.

Jim Wilcox is a nationally known landscape painter, especially renowned for his paintings of northwest Wyoming. His book Canvassing the West chronicles his work and is a visual delight. He was the 2014 honored artist at the Buffalo Bill Art Show & Sale in Cody. He owns the Wilcox Gallery in Jackson and founded the Jackson Hole Art Academy. Mr. Wilcox holds art workshops and mentors others, invented an easel used for painting outdoors, and contributes much to the community.

---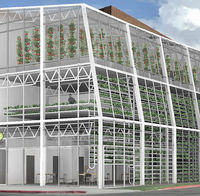 Photo courtesy Vertical Harvest.

Jackson Hole building 3-story tall vertical harvest greenhouse (posted 12/21/14)
Will supply fresh vegetables to local community
Dawn Ballou, Pinedale Online!
We've been intrigued by the concept of the space-saving, indoor vertical gardening techniques as a way for Wyomingites to have gardens in our high-elevation, short-growing season climate.

It recently came to our attention that a company in Jackson Hole, north of Pinedale, is taking the vertical gardening concept to a whole new level. A company called Vertical Harvest has teamed up with the Town of Jackson in a public/private partnership and are in the process of building a three-story tall vertical hydroponic greenhouse. They have acquired a 30 foot wide x 150 foot long, 1/10th of an acre empty lot belonging to the Town of Jackson adjacent to the Town's downtown municipal parking garage on the corner of Millward and Simpson Streets.

They plan to grow tomatoes, strawberries, lettuce, herbs, specialty and microgreens, and more which will be purchased by local area restaurants, local grocery stores and businesses, and directly to consumers. Approximately 95% of their anticipated harvest is already contracted for local delivery.

The 13,500 square foot greenhouse will have three floors and grow produce year-round. By going vertical (up), they can maximize space and create basically three horizontal greenhouses stacked on top of each other and have about the equivalent of 5 acres of conventional agriculture growing space. The growing trays will be on a revolving carousel and on a timer that fully maximizes each plant's exposure to available natural south-facing sunlight (kind of like a dry cleaning moving rack) – a rotating living wall. Plants are suspended in an organic base in a system of circulating water rather than soil. The company expects to grow 100,000 pounds of vegetables a year in the greenhouse. Click here to view a video explaining more about the project.

The women who own the company have been working on this project for the past five years. They plan to provide jobs for people in the community who have development disabilities. Workers will be trained on seeding, caring for the plants, and harvesting, as well as work in the retail store and assisting with deliveries.

The company has received approval for a $1.5 million loan from the State of Wyoming for the project, in addition to a $300,000 grant from the Town of Jackson, funding from 1% for the Tetons, as well as numerous private donations from supporters.

The groundbreaking ceremony for the project was held on Friday, December 19, 2014. The greenhouse is planned to open in the fall of 2015.

Click on the related links below for more on this story.

Contact info:
Vertical Harvest
Penny McBride – Project Administrator, 307-413-6797
penny@verticalharvestjackson.com
PO Box 7290
Jackson, WY 83002

Related Links:
Jackson Hole's Vertical Harvest greenhouse By Allen Best, mountaintownnews.net, January 16, 2014
www.verticalharvestjackson.com Vertical Harvest of Jackson
Vertical Harvest – Facebook page
Vertical Harvest Kickstarter Conversation Jan. 3, 2013
Larrssen Ltd. Greenhouse Engineering (Danish company)
Edible walls
Vertical vegetable gardening
Pocket planters, indoor/outdoor vertical gardens, green walls
USDA plant hardiness zone map

---
Pulling water out of the air (posted 12/21/14)
Pinedale Online!
In some arid countries, obtaining water is a significant challenge. The Smithsonian website has an article about a device being tested in Ethiopia, Africa, that collects condensation created from differences between day and nighttime temperatures to gather as much as 25 gallons of clean drinkable water per day from the air. The 30-foot tall device is called Warka Water, created by Arturo Vittori, an industrial designer, and his colleague Andreas Vogler.

Click on this link to read the article by the Smithsonian: This Tower Pulls Drinking Water Out of Thin Air By Tuan C. Nguyen, Smithsonian.com, April 8, 2014

Click on this link to read more about www.water.org

---
Clear solar windows may be a next-generation energy source (posted 12/21/14)
Pinedale Onlnie
Researchers at Michigan State University are working on developing transparent solar collectors that let sunlight in while turning ultraviolet and near-infrared light into electricity. The clear plastic solar collectors can be placed on windows without obstructing the view or on car windows to collect energy.

At first, commercial applications are likely to appear on small energy requiring applications such as adhered to the screens of mobile devices. In cities, where space is limited to install solar panels, but buildings have a lot of window space already built in, the technology has the potential to supplement the building's current energy use. Just like today's solar panels, the technology still isn't very energy efficient. But if researchers can figure out how to maximize the energy recovery, it could help reduce reliance on outside energy sources and provide buildings with an independent backup energy source.

Read the article on the Smithsonian website here: This Clear Plastic Material Harvests Solar Energy Without You Even Knowing It's There By Matt Safford, Smithsonian.com, September 30, 2014

Click on this link to read more about a company founded by the researchers working on commercializing this light harvesting technology: www.ubiquitous-energy.com.
---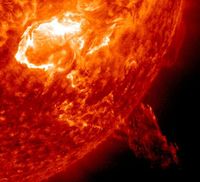 Photo taken by NASA's Solar Dynamics Observatory

Solar CME may sideswipe Earth in next several days (posted 12/20/14)
Solar flare electromagnetic pulses can impact your electronics or telecommunications equipment
Pinedale Online!
There was an X-class eruption from the Sun today (Saturday, December 20th) that National Oceanic and Atmospheric Administration (NOAA) forecasters say may have ejected a large solar cloud CME whose trajectory may cross the Earth's path in two or three days and may cause some minor geomagnetic storms this weekend.

This is a natural event, but one that anyone with electronics or dependent on telecommunications equipment should be aware of and may want to monitor updates. Most people are unprepared for CME events, some of which, whether natural or man-caused terrorism events, can damage or destroy electronic equipment, blackout telecommunications, and even disable electronic controls in vehicles.

When sunspots erupt from our Sun they can create solar flares or coronal mass ejection (CME) plumes of particle material that fly away from the eruption site on the surface of the Sun into space. These eruptions can produce bursts of radiation across the electromagnetic spectrum, from radio waves to x-rays and gamma-rays. Some of that ejected material can reach the earth within hours or may take days. If that ejected plume traveling into space from the Sun crosses the path of the Earth, it can cause minor to major impacts and disruptions to electronic communication systems, depending on the size and intensity of the eruption from the Sun. Government and private entities watch and track these incidents and alerts are issued if there appears to be a possibility of a brush with our atmosphere that might impact telecommunications, air traffic, or other national interests.

Scientists classify solar flares according to their x-ray brightness in the wavelength range 1 to 8 Angstroms. There are 3 categories: X-class flares are big and are major events that can trigger planet-wide radio blackouts and long-lasting radiation storms. M-class flares are medium-sized that can cause brief radio blackouts that affect Earth's polar regions. Minor radiation storms sometimes follow an M-class flare. Compared to X- and M-class events, C-class flares are small with few noticeable consequences here on Earth.

According to information posted on spaceweather.com for Dec. 20th, radio emissions from shock waves rippling through the sun's atmosphere suggest that a CME is en route from today's solar eruption. However, they are still waiting for data from the Solar & Heliospheric Observatory (SOHO) coronagraphs to confirm the existence and trajectory of a massive storm cloud. If a CME is coming, it will probably take 2 to 3 days to reach Earth.

For those interested in more information, how to receive space weather alerts, and what you can do to protect your electronics, check out the links below. Much more information is available by doing a keyword search on the interenet.

Related Links:
www.spaceweather.com
Coronal mass ejection (CME) Wikipedia
Solar Flare vs. CME - What's The Difference? Video - Space.com
SOHO Solar & Heliospheric Observatory
Can We Predict Solar Flares—And Protect Our Satellites? Popular Mechanics, Oct. 22, 2014
Protecting Your Electrical Equipment from Solar Flares. By Mike Bertone, Mastersconnection.com
Electromagnetic Pulse Protection Futurescience.com

---
DOI proposes tighter regulation and costs for coal industry (posted 12/19/14)
Bureau of Land Management media release
Interior Department Announces Initial Steps to Strengthen Federal Energy Valuation Rules, Expand Guidance on Federal Coal Program
Initiatives provide certainty, additional clarity for energy industry, and help ensure the collection of every dollar due to the American public

WASHINGTON, D.C. — The Department of the Interior today announced the release of a draft proposed federal regulation by the Office of Natural Resources Revenue (ONRR) governing the valuation of federal oil and gas, and federal and American Indian coal resources, as well as expanded guidance on the production of coal on public lands issued by the Bureau of Land Management (BLM). Both initiatives seek to provide greater clarity and certainty for the energy industry and are part of the Department's larger effort to help ensure the American public receives every dollar due for domestic energy resources.

The current oil, gas and coal valuation regulations – originally put in place for natural gas and coal in the late 1980s – have not kept pace with the significant market changes that have occurred in the domestic natural gas and coal markets since that time. The existing federal oil valuation regulations are a decade old. The proposed draft regulation being released by ONRR today will update the regulations to help keep pace with modern technology and practices.

"Coal produced on public lands is an important part of our domestic energy portfolio, but we have an obligation – and we are fully committed – to ensure that the American taxpayer receives a fair return for the production of domestic energy resources," said Deputy Secretary of the Interior Mike Connor. "The initial steps we are taking are part of the larger effort to strengthen the management of coal production on public lands by providing greater certainty and predictability to the industry and helping to protect American taxpayers. We look forward to receiving public comment on the draft proposal."

Existing gas and coal valuation regulations may require an energy company to follow benchmarks when it sells its product to an affiliated company. The benchmarks for coal are applied sequentially and include such factors as comparable arm's-length sales, prices reported to public utility commissions and the Federal Energy Regulatory Commission, other relevant matters and a netback calculation.

These benchmarks can be administratively burdensome to industry trying to report and pay proper royalties, and to regulators reviewing royalty payments for audit and compliance purposes. The proposed regulation aims to remedy this and other issues caused by outdated rules with more clear regulations that better reflect the changing energy industry, while protecting taxpayer and American Indian assets.

The BLM today is also sending updated guidance to the field that will help ensure a consistent and efficient coal lease sale process, increase clarity in determining fair market value and provide guidance on independent review of appraisal reports. The guidance will enable the Bureau to account for export potential through analysis of comparable sales and income.

The BLM coal program's revised manuals and handbooks are part of a suite of actions that the BLM has undertaken following the recommendations of a June 2013 audit by the Department of the Interior Office of Inspector General and a February 2014 Government Accountability Office report. Previous guidance has been issued regarding publicly available information such as the accepted fair market value and historical lease sale data, and not accepting coal lease bids below the pre-sale fair market value. Over the past two years, the BLM has developed new training programs for coal specialists and completed the first phase of a bureau-wide tracking system for coal inspections. The handbooks can be viewed here (http://www.blm.gov/wo/st/en/info/regulations/Instruction_Memos_and_Bulletins/blm_handbooks.html). The manuals can be viewed here (http://www.blm.gov/wo/st/en/info/regulations/Instruction_Memos_and_Bulletins/blm_manual.html).

The BLM has also released safety, inspection and enforcement guidance to promote more responsible development of coal resources on the nation's public lands, including: improved documentation for coal operation inspections on coal exploration licenses, licenses to mine, leases, and logical mining units; and increased Mineral Mine Inspector training and certification requirements.

The Consolidated Federal Oil & Gas and Federal & Indian Coal Valuation Reform rule will be published in the Federal Register on January 6, 2015, which initiates a 60-day public comment period. The notice will be available on the web at: www.regulations.gov.

Comments can be made on-line, by mail, or by hand-carrying documents:
• Electronically go to www.regulations.gov. In the entry titled "Enter Keyword or ID," enter "ONRR-2012-0004," then click "Search." Follow the instructions to submit public comments. ONRR will post all comments.
• Mail comments to Armand Southall, Regulatory Specialist, P.O. Box 25165, MS 61030A, Denver, CO 80225.
• Hand-carry comments, or use an overnight courier service, to the Office of Natural Resources Revenue, Building 85, Room A-614, Denver Federal Center, West 6th Ave. and Kipling St., Denver, Colorado 80225.

---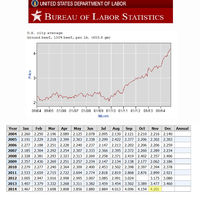 Price of ground beef. Source: Bureau of Labor Statistics.

Average national price of ground beef rises to $4.20/pound (posted 12/17/14)
Over $4 per pound for last four months, highest prices in 10 years
Pinedale Online!
According to statistics released today (Wednesday, Dec. 17, 2014) from the Bureau of Labor Statistics, the average price nationally for ground beef rose to $4.201 per pound in November 2014. In October it was $4.15/pound. In January 2014 it was $3.467/pound. The price of beef has been on a steady rise since January 2011.

Statistics for national average prices for ground beef per pound 2004-2014:
Nov. 2004: $2.216
Nov. 2005: $2.302
Nov. 2006: $2.206
Nov. 2007: $2.289
Nov. 2008: $2.357
Nov. 2009: $2.062
Nov. 2010: $2.394
Nov. 2011: $2.899
Nov. 2012: $3.175
Nov. 2013: $3.477
Nov. 2014: $4.201

The explanation for the high prices include a shortage of cattle on the market, drought conditions causing ranchers to reduce herd numbers, harsher winter conditions that kept animals from gaining as much weight on feedlots, and high feed prices.

Source: United States Department of Labor Bureau of Labor Statistics, http://data.bls.gov/timeseries/APU0000703112

Related Links:
Over 20,000 cattle perish in South Dakota/Nebraska blizzard Pinedale Online, Oct. 21, 2013
---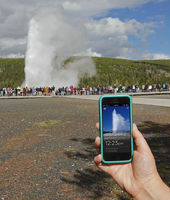 New geyser app now available

Yellowstone geyser eruption free app available for smartphone and tablet (posted 12/16/14)
Yellowstone National Park
The largest concentration of active geysers in the world—approximately half of the world's total— is found in Yellowstone National Park.

You can now discover the natural wonder of the most famous geyser of all, Old Faithful, and other geysers with a free app that you can use during your visit to the park and at home. The new app will help you find out when Old Faithful and five other predictable geysers could erupt.

The app also features a link to a webcam so that you can view live eruptions of Old Faithful and other nearby geysers. The FAQ section provides answers to several of the frequently asked questions that explain how a few geysers can be predicted and other fascinating details about Yellowstone's geysers.

You can follow the Social Media Feed and see what's happening in Yellowstone by browsing the park's Twitter, YouTube and Flickr sites. Because every eruption is different, the app's Photo Gallery contains an array of geyser eruption photos.

The NPS Geysers app was developed in partnership with Dr. Brett Oppegaard, Washington State University (Vancouver) and University of Hawaii, and the National Park Service, Yellowstone National Park and Harpers Ferry Center. The app was made possible, in part, by a donation from Canon USA, Inc., through the Yellowstone Park Foundation.

The NPS Geysers app is now available in the Google Play Store and in the Apple App Store.

Related Links:
www.nps.gov/yell

---
Big game hunting application information for 2015 available on WGFD website Dec. 17 (posted 12/15/14)
Wyoming Game & Fish
Even though the big game license application period doesn't begin until Jan.1, hunters can start planning now for 2015 hunts.

Beginning Dec. 17, big game hunting application information for both residents and nonresidents will be on the Game and Fish website wgfd.wyo.gov. A major change in this year's application deadline extends the time period when nonresidents can apply for deer and antelope licenses. The previous deadline was March 15 and this year will be June 1 – the same as the resident deadline. The deadline has been moved to June 1 this year because the normal deadline of May 31 is on a weekend. All other application deadlines for residents and nonresidents are the same as in previous years and are as follows: Feb. 2 – Nonresident elk (extended from Jan. 31 because of weekend); March 2 – Resident and nonresident bighorn sheep, moose, mountain goat and wild bison (extended from Feb. 28 due to weekend).

Hunters are reminded that all big game applications must now be made online. License manager Jennifer Doering said the expanded application period for nonresident deer and antelope is a direct result of the online application process.

"Applying online allows us to process applications much quicker and greatly reduces the number of errors hunters made on applications," Doering said. "It has resulted in tremendous savings in money and manpower and allows us to get ready for the drawings in a matter of days after the deadline instead of the multiple weeks of preparation when paper applications were the method for applying for licenses."

Hunters with questions on the big game application process or needing help to apply can contact the Game and Fish at 307-777-4600. The Game and Fish will begin accepting applications for 2015 hunts beginning Jan. 1, 2015.

---
Business Directory
Click here for
Advertising Information