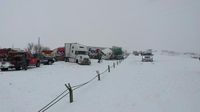 Multiple crashes closed Interstate 80 in Wyoming between Laramie and Cheyenne on Thursday, April 16, 2015. Photo courtesy Wyoming Highway Patrol.

Crashes close Interstate 80 between Cheyenne and Laramie (posted 4/16/15)
Multiple injuries, no fatalities reported
Wyoming Highway Patrol
Update, Thursday, April 16, 7:36PM:
33 commercial vehicles and 12 passenger vehicles is the latest estimate that were involved in one of the three crash sequences along with multiple other vehicles that were not part of an actual crash, but became stranded in the event due to road blockage. 16 motorists were transported by ambulance and 11 motorists were transported by a Laramie County School District bus to Cheyenne Regional Medical Center in Cheyenne, Wyoming. Six of those injured were critical to serious leg or spine injuries. No fatalities were reported from this event.

Speeds too fast for the blizzard conditions and loss of control are being investigated as contributing factors in the crashes that caused a "domino" style chain reaction after the first couple of vehicles lost control.

Agencies that responded were the Wyoming Highway Patrol, Laramie County Sheriff's Office, Albany County Sheriff's Office, Wyoming Office of Homeland Security, Laramie County Fire Districts 1, 2, and 10, AMR Ambulance, F.E. Warren First Responders, Wyoming National Guard First Responders, City of Laramie Fire Department, WYDOT and multiple tow companies from Cheyenne and Laramie. Joint training between all of these agencies and their dispatchers was credited for the rapid response, extrication, treatment and transport of those injured in the event.

Interstate 80 between Cheyenne and Laramie is expected to remain closed into tonight and possibly through the early morning hours of tomorrow (April 17th) as the investigation and cleanup continues through the evening. Weather will hold a strong determining factor for the investigators and cleanup crews as to when I 80 will be ready to reopen. Again, we ask motorists at the road closed gates in Cheyenne and Laramie to please be patient and check for updates at www.wyoroad.info or by calling 1-888-WYO-ROAD (1-888-996-7623)

Click on this link for additional reports and more pictures
________________________________
Original post, Thursday, April 16, 3:12PM:
Three major vehicle pileups near mile post 342 on Interstate 80 on both the east and westbound sides currently have I 80 closed between Cheyenne and Laramie. Blizzard conditions were present at the time of the crashes that involved approximately 40 - 50 commercial vehicles and 20 passengers vehicles between the three pileups.

Multiple agencies from two counties have responded to assist in tending to the injured and assisting Patrol with the investigations. No fatalities have been reported at the time of this release but multiple injuries have been confirmed.

The initial event began around 11:22 a.m. Vehicles not involved in the crashes are being cleared from the crash scene at this time. I 80 will remain closed for an undetermined amount of time as WHP Crash Team Members are responding to help with the investigation.

We ask that motorists waiting at the road closed gates in Cheyenne and Laramie be patient and check www.wyoroad.info for updates when the interstate will reopen.

---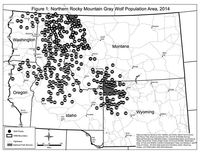 Known wolf packs in the Northern Rockies.

Wolf Population Tops 1,800 (posted 4/11/15)
Cat Urbigkit, Pinedale Online!
Federal wolf recovery goals for wolves in the Northern Rockies call for an equitably distributed wolf population containing at least 300 wolves and 30 breeding pairs in three recovery areas within Wyoming, Montana, and Idaho. There are now a minimum of 1,800 wolves in more than 300 packs, roaming across five states (Wyoming, Montana, and Idaho, plus Oregon and Washington), according to a new report by the U.S. Fish and Wildlife Service.

Federal funding of more than $3.1 million was expended in 2014 on wolf monitoring, management, control and research, according to the Northern Rocky Mountain Wolf Recovery Program 2014 Interagency Annual Report.

Federal protections have been removed for wolves in Montana and Idaho, eastern Oregon, eastern Washington, and north central Utah. Wolves in Wyoming remain under federal protection.

Here are some of the highlights of the recently released wolf reports from each state.

Wyoming
The State of Wyoming was responsible for monitoring and managing the gray wolf population in Wyoming outside Yellowstone National Park, Wyoming (Yellowstone), and outside Tribally-owned and Native American-owned fee-titled lands within the Wind River Reservation from January 1, 2014 through September 23, 2014.

On September 23, 2014, U.S. Federal District Court in Washington, D.C. released a ruling that overturned the 2012 Wyoming wolf delisting rule. This ruling returned Endangered Species Act protections for wolves throughout Wyoming and transferred wolf monitoring and management authority back to the U.S. Fish and Wildlife Service.

As of September 23, 2014, the gray wolf population in Wyoming outside Yellowstone and Wind River Reservation remained above minimum delisting criteria.

At least 195 wolves in greater than 34 packs inhabited Wyoming outside Yellowstone and the Wind River Reservation on September 23, 2014. Pack size ranged from 2-22, and averaged 6.1 wolves/pack.

Sixteen packs successfully reproduced and raised greater than 2 pups of the year through September 23, 2014, all of which were located primarily within the Wolf Trophy Game Management Area.
Causes of mortality included: human-caused = 57 (control in response to confirmed livestock depredation = 31,
preemptive damage control in the predatory animal area = 9,
legal public harvest in the predatory animal area = 12,
vehicles = 1, illegal = 2, other = 2); natural = 3; and unknown = 3.

Seventy radio-collared wolves were being monitored as of September 23, 2014 in Wyoming outside Yellowstone and the Wind River Reservation (36% of the known population on September 23, 2014).

From 2000-2009, the wolf population in Wyoming outside Yellowstone and the Wind River Reservation increased annually, then stabilized between 200 and 250 wolves from 2010-2011. During the period of wolf population growth, wolves also expanded in range and recolonized historic areas of distribution. Through 2006, cattle depredation by wolves increased rapidly as the wolf population increased and expanded in range. Beginning in 2006, the USFWS moved to a more aggressive approach of wolf control following confirmed livestock depredation, leading to a decrease in the number of livestock losses despite a continued increase in the overall wolf population.

Wolves were confirmed to have killed 55 head of livestock (49 cattle, six sheep) in Wyoming outside Yellowstone and the Wind River Reservation from January 1 through September 23, 2014. An additional seven cattle were injured by wolves during this timeframe. Seventeen packs (50% of 34 packs in Wyoming outside Yellowstone and the Wind River Reservation) were involved in >1 depredation.

Of the 17 packs involved in >1 depredation; 13 packs (76%) were involved in >2 depredations; and nine packs (53%) were involved in >3 depredations. Thirty-one depredating wolves were lethally removed through control efforts to reduce livestock losses.

Yellowstone National Park
There were at least 104 wolves in 11 packs (9 breeding pairs) living primarily in Yellowstone National Park (YNP) through December 2014. This is an increase of nine wolves (2013 = 95 wolves) and one pack since 2013. Due to many years of being uncollared, for the first time the Bechler Pack was estimated via genetic sampling from scat samples obtained from their den site. Overall, wolf numbers have fluctuated between 83 -104 wolves from 2009 - 2014 (excluding the low of 83 in 2012 the range is 94-104) and 6-9 breeding pairs. Pack size ranged from 2-14 and averaged 9.2. Park-wide 40 pups survived to year end, 17 on the Northern Range and 23 in the Interior with an average surviving of 4.4/pack for the 9 of 11 (82%) packs that had pups.

Wind River Indian Reservation
Wolves have been present on the reservation for at least 13 years and are currently distributed across the Wind River and Owl Creek mountain portions of the reservation. As of December 31, 2014, a minimum of 10 wolves and 1 pack (St. Lawrence) were documented on Wind River. No breeding pairs were documented on Wind River. Breeding had occurred in the St. Lawrence pack, but pups were not verified at the end of 2014.

Idaho
Biologists documented 104 packs within the state at the end of 2014. In addition, there were 23 documented border packs counted by Montana, Wyoming, and Washington that had established territories overlapping the Idaho state boundary. Additional packs are suspected but not included due to lack of documentation.

Determination of breeding pair status was made for 43 packs. Of these, 26 packs met breeding pair criteria at the end of 2014, and 17 packs did not. No determination of breeding pair status was made for the remaining 61 packs. Reproduction (production of at least 1 pup) was documented in a minimum 55 packs.

The year-end population for documented packs, other documented groups not qualifying as packs, and lone wolves was estimated at 770 wolves. Mortalities of 360 wolves were documented in Idaho in 2014, 113 wolves (24%) less than in 2013. Human-caused mortality accounted for 342 of 344 (99%) wolf mortalities during 2014 where cause of death could be determined. Legal harvest was 256 wolves, agency removal and legal take was 67 wolves, and mortality from other human causes was 19 wolves. Sixteen wolf mortalities were attributed to unknown causes and two were attributed to natural causes.

USDA APHIS Wildlife Services agents classified 43 cattle, 100 sheep, 3 dogs, and 1 horse as confirmed wolf depredations in 2014. Ten cattle, 7 sheep, and 1 dog were classified as probable wolf depredations.

Montana
The minimum count of Montana wolves decreased by 73 from 627 in 2013 to 554 in 2014. A total of 134 packs of 2 or more wolves were verified in Montana for 2014. Thirty-four packs, seven more than in 2013, qualified as a breeding pair.

USDA Montana Wildlife Services (WS) confirmed 42 livestock losses to wolves including 35 cattle, 6 sheep and 1 horse in calendar year 2014 compared to 78 total confirmed losses in 2013. Additional losses (both injured and dead livestock) most certainly occurred, but could not be confirmed. Most depredations occurred on private property.

The total number of known wolf mortalities during 2014 was 308, with 301 of these mortalities being human-related, including 213 legal harvests, 57 control actions (50 agency control and 7 under defense of property statute or under shoot-on sight-permits), 11 vehicle strikes, 10 illegal killings, 6 killed under the newly-enacted Montana State Senate Bill 200, 2 capture-related mortalities, 1 euthanized due to poor health, and 1 legal tribal harvest. In addition, 1 wolf died of natural causes and 6 of unknown causes.

Oregon
The 2014 Oregon minimum wolf population is 77 wolves. Nine packs were documented and eight of those packs met the criteria as breeding pairs. Known wolf packs occurred in parts of Baker, Jackson, Klamath, Umatilla, Union, and Wallowa Counties. In addition six new pairs of wolves were also confirmed in Oregon; five within the Eastern Wolf Management Zone and one within the Western Wolf Management Zone. 2014 marks the third year that the conservation population objective (four breeding pairs in eastern Oregon), as defined in the Oregon Wolf Conservation and Management Plan (Wolf Plan), was achieved.

Six wolves were captured and radio-collared in 2014 and throughout the year as many as 18 GPS radio-collared wolves were monitored. At year-end 13 wolves (17% of the population) were radio- collared in Oregon. Three radio-collared wolves dispersed out of state. No adult mortality or incidental take was documented in Oregon during 2014.

Confirmed depredation of livestock decreased; 11 incidents of wolf depredation were confirmed in five areas of Oregon in 2014. Per the Wolf Plan the Oregon Department of Fish and Wildlife and area producers implemented non-lethal measures to minimize depredation.

Washington
The minimum estimated wolf population in Washington increased by approximately 31% over 2013 levels to at least 68 known wolves in 16 known packs including at least 5 breeding pairs. Pack sizes ranged from 2 to 6 and averaged 3.7 wolves per pack. One pack that existed in 2013 was no longer considered a pack at the end of 2014. State and tribal biologists captured a total of 14 wolves from 9 different packs and monitored a total of 19 radio collared wolves from 11 different packs that existed at some point during 2014. We documented 10 mortalities in Washington during the year and the causes of mortality included natural causes (n = 3), human- caused (n = 4), unknown (n = 2), and agency control (n = 1).

Wolf populations were managed to ensure progress towards recovery goals while also minimizing chronic loss of livestock caused by wolves. Two cattle and 28 sheep were confirmed wolf-kills while an additional 2 cattle, 6 sheep, and 1 dog were confirmed injured by wolves. Two packs (12% of known Washington packs that existed at some point during the year) were involved in at least 1 confirmed livestock depredation. One wolf was removed during agency control actions to minimize chronic loss of livestock.

Click on this link for more data.

Related Links:
Annual Wolf Reports
Western Gray Wolf Federal website for western wolf information.
Wolf Watch by Cat Urbigkit

---
Anglers reminded of new fishing regulations (posted 4/1/15)
Wyoming Game & Fish
The warmer weather of the past few weeks has effectively removed the ice from most waters in the state and anglers in increasing numbers are taking advantage of the good fishing that is usually available once waters open up.

With that increase in fishing activity, the Game and Fish is reminding anglers of the new fishing regulations that went into effect beginning in 2015. These changes came about because of action by the Wyoming Game and Fish Commission last fall and went through a series of public meetings.

Of interest to anglers and live baitfish dealers is the change that allows transport of live baitfish into the state from approved commercial hatcheries. The regulation includes new requirements specific to live baitfish importation. The new regulation will allow those holding a commercial hatchery license or a live baitfish dealer license to import fathead minnows from Game and Fish approved commercial sources outside the State of Wyoming.

"This regulation was changed specifically to improve the live baitfish supply for those anglers that prefer to use live baitfish," said Game and Fish fisheries chief, Mark Fowden. "We are confident the safeguards we have put in place by only allowing baitfish to be imported from secure sources will make it easier for anglers to get baitfish and still prevent introduction of unwanted species into Wyoming waters."

Other changes of note reflect a change in state law allowing the use of corn for bait and the use of artificial lighting devices while fishing. The regulation will continue to prohibit the use of artificial light when spear gunning for game fish.

Of interest to bass anglers is the liberalization of the size limit regulation for bass on several southeastern Wyoming waters. Festo Lake and Hawk Springs Reservoir have had the bass size limit removed completely. On Grayrocks Reservoir, the 15-inch minimum size limit has been removed. Anglers can now keep three (3) bass but only one can be over 12 inches in length.

The new fishing regulations booklet listing all changes is now on the Game and Fish website wgfd.wyo.gov. Printed copies are available at license selling agents. The new changes are highlighted throughout the booklet.

---
States challenge Feds on new fracking rule (posted 4/1/15)
North Dakota joins Wyoming in lawsuit
North Dakota is joining Wyoming's lawsuit against the Bureau of Land Management over its new fracking for rules for federal and tribal lands. Wyoming filed their challenge against the U.S. Department of the Interior on March 26, 2015. See the links below for more on the lawsuit. Wyoming argues that the BLM's rule exceeds the agency's statutory jurisdiction, conflicts with the Safe Drinking Water Act, and unlawfully interferes with the State of Wyoming's hydraulic fracturing regulations.

Related Links:
North Dakota Joins Wyoming Fracking Lawsuit By Emily Guerin, www.wyomingpublicmedia.org, March 31, 2015
Wyoming Becomes First State To Challenge Federal Fracking Regs By Leigh Pater, www.wyomingpublicmedia.org, March 26, 2015
State of Wyoming v. United States Department of Interior, et al. (BLM Fracking Rule) State of Wyoming Attorney General's Office
New Federal fracking regulations set to begin in 90 days www.pinedaleonline.com, March 20, 2015
Obama Administration Unveils Federal Fracking Regulations By Coral Davenport, www.newyorktimes.com, March 20, 2015

---
Granite Hot Springs Pool closed until mid-May (posted 3/31/15)
Due to spring thaw inaccessible road conditions
Bridger-Teton National Forest
The Jackson Ranger District of the Bridger-Teton National Forest is announcing the closure of Granite Hot Springs Pool a week earlier than its scheduled closing date due to the unusual warm conditions making the road inaccessible. Granite Hot Springs will be closed on Tuesday, March 31 for the winter season.

"The unusual early warm weather conditions we have had this winter has caused the roads to become excessively muddy and slushy for snowmobiles and snow bikes to reach the Hot Springs" said Linda Merigliano, Recreational Manager of the Jackson Ranger Districts. "A lot of our outfitters are done for the season and it just makes the most sense for both the public convenience and resource protection to close it a little early this year."

Vehicle access through Granite road is closed until May 1st. Granite Hot Springs Pool will open for the summer mid-May, if the weather is favorable.

For further updates on Granite Hot Springs or current road conditions on the Bridger-Teton National Forest, visit http://www.fs.usda.gov/alerts/btnf/alerts-notices or call (307) 739-5500.

---
BLM High Desert District prepared for coming fire season (posted 3/31/15)
Bureau of Land Management
The Bureau of Land Management (BLM) High Desert District (HDD) and its partners are working together to ensure they are ready for the 2015 fire season, which has already had 8 fires for over 1600 acres burnt. At lower elevations we have abundant dead grass and shrubs from last summer's above average rain fall. Under our current warm dry conditions fires will burn and carry very quickly with little to know wind.

"We've met with county and local fire departments, the State of Wyoming Forestry Division and other federal agencies to coordinate wild fire responses and resources so that we're prepared to protect the public at a moment's notice," said Frank Keeler, High Desert District Fire Management Officer. "Each year, the district also signs formal operating plans with Teton, Sublette, Sweetwater, Fremont, Albany, Carbon, Unita, Lincoln and Laramie counties and fire districts to ensure seamless wild fire operations."

BLM Fire Management would like to ask the public to be aware of the elevated fire danger at this time and be proactive in preventing wild fires. No fire restrictions are in place at this time on BLM Public Lands, however, all outdoor users need to follow some common sense rules:
• No fire works on BLM Lands.
• Make sure camp fires are dead out.
• Travel and camp with a shovel, fire extinguisher and ample water.
• Ag burns on private lands, please ensure that your local authorities are aware and insure you have the ability to handle the amount of fire you put on the ground.
• Pay attention to wind speeds and wind direction before you lite.
• Sports shooting on public lands can and will start fires.
• Spark arresters on four wheelers/motorcycles etc. must be in working order, do not park your vehicle in tall grass that comes into contact with your vehicle's exhaust system.
• Industry should have protective measures in place to limit fire ignitions, and report all wild fires promptly to 911 or 800-295-9953.

For more information, please contact Keeler at 307-352-0282.

---
Seminars on large carnivores to teach safety and awareness (posted 3/26/15)
Seminar in Pinedale April 29
It's that time of year again when bears are waking up and people are preparing to enjoy the great outdoors. As spring arrives, the Wyoming Game and Fish Department reminds outdoor enthusiasts to be "bear aware" and take the necessary precautions to avoid conflicts with large carnivores.

Large Carnivore Conflict Coordinator Brian DeBolt said that at this time of year, bears are emerging from their dens.

"Typically, male bears emerge from their dens in mid-March and April, while females and young-of-the-year cubs emerge in late April and early May," DeBolt said. "This makes it an ideal time to attend a workshop to learn about large carnivores and how to avoid encounters and potential conflicts."

Educational workshops will be offered in communities across the state. At each workshop, Game and Fish large carnivore managers will present information about bear, mountain lion and wolf ecology, population status, management and more importantly, what people should do in an encounter situation. In addition, there will be discussion on preemptive measures to be taken by the public in order to reduce the likelihood of conflicts with carnivores.

Seminars are free and open to people of all ages and skill levels. Please call your local Game and Fish office for more information.

Community When Location Time
Dayton March 30th Dayton Town Hall 7:00-9:00pm
Sheridan March 31st Sheridan WGFD Regional Office 7:00-9:00pm
Cody April 9th Cody Library 5:30-7:30pm
Douglas April 9th Courthouse Community Room 6:00-8:00pm
Ten Sleep April 11th Senior Citizen Center 10:00-12:00am
Laramie April 11th UW Berry Biodiversity Conservation Center 10:00-12:00am
Lander April 13th Fremont County Library 6:00-8:00pm
Dubois April 14th Headwaters Art Center 6:00-8:00pm
Jackson April 15th Teton County Library 5:30-7:30pm
Pinedale April 29th Sublette County Library 5:30-7:30pm

---
Reminder: Prohibited to collect antlers until May 1st (posted 3/19/15)
Purpose is to minimize stress on animals from human disturbance during winter months
Wyoming Game & Fish
The Wyoming Game and Fish Department reminds antler hunters there is a season in place which prohibits the gathering of horns or shed antlers from January 1 through April 30 on public lands west of the Continental Divide in Wyoming. This regulation has been in effect since 2009 and applies to all state-owned lands, as well as federal lands.

In 2012, the Wyoming Board of Land Commissioners approved an annual restriction prohibiting the collection of antlers between Jan 1 and April 30 on all parcels of land under jurisdiction of the Board of Land Commissioners west of the Continental Divide. These lands are often referred to as "state lands" and are usually blue on land status maps.

In addition, many big game winter ranges in both Teton and Sublette counties have further restrictions to either human presence or motor vehicles during the winter months. However, the shed antler regulation applies to all federal or public lands not covered under such winter range closures.

Similarly, Wildlife Habitat Management Areas (WHMAs) managed by the Wyoming Game and Fish Department in the Jackson and Pinedale Regions are closed to human presence December 1 through April 30. For more information on Game & Fish WHMAs, you may visit the website at: http://wgfd.wyo.gov/accessto/whmas.asp

The purpose of the shed antler regulation is to minimize harassment or disturbance of big game animals on their winter and spring ranges when animals are most vulnerable to stress and displacement to less productive habitats. Colorado and Utah have similar regulations.

As with any regulation, the department realizes enforcement and public cooperation is key to its effectiveness. Each winter, the Wyoming Game and Fish Department brings in additional game wardens from across the state to increase the enforcement presence on key winter ranges, both to deter the poaching of trophy mule deer during early winter and enforce the antler hunting regulation after animals have shed their antlers.

Anyone witnessing a wildlife violation may call the Stop Poaching hotline at 1-877-WGFD-TIP. Tips are most helpful when they are reported promptly and include information such as the date, time, location and specific details about the suspected violation. Also important is a physical description of the suspected violator as well as a license plate number and description of any vehicles involved in the incident. Stop Poaching tips also can be reported online at: http://gf.state.wy.us/wildlife/enforcement/stoppoaching/submitTip.aspx. Tips may result in a reward and informants can choose to remain anonymous.

---
Business Directory
Click here for
Advertising Information