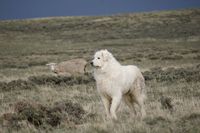 Livestock guardian dog 'Rena' went missing in November 2011 when a good samaritan picked her up thinking she was 'lost', when she was actually out with her sheep herd east of Marbleton. Photo courtesy Cat Urbigkit.

Sweetwater Sheriff's Office issues advisory about working sheep dogs (posted 2/5/16)
Please don't pick them up thinking they are 'lost'
Sweetwater County Sheriff's Office
The Sweetwater County Sheriff's Office (Rock Springs) issued an advisory Thursday concerning working sheep dogs.

Sheriff Mike Lowell said several border collies and Australian shepherd dogs were recently picked up near the Tata Chemicals Plant west of Green River. They were reported by people who were concerned about their well-being in the recent harsh weather.

These particular dogs were not abandoned or dumped, however; they were working sheep dogs that belonged to a sheep camp about 3/4s of a mile away.

Sweetwater County Animal Control Officer Chris Thomas explained the problem. "People pick these dogs up and bring them in with the best of intentions, but once they've been removed from their working environment for any amount of time, they often lose their working skills. Often, too, these sheepherder's dogs are females that may have litters of pups hidden somewhere."

One incident two years ago was a typical example. A Rock Springs woman came upon seven Great Pyrenees puppies in the bottom of a gulch in a remote area south of the city and took them home, fearing that they had been abandoned. (Great Pyrenees are a favorite breed of working sheep dog.)

The pups were reported to the Sheriff's Office and it was determined that the pups' mother was from one of the sheep camps operating in the area. County animal control officers worked with Eddie Lopez, the county range officer, to reunite them with their mother. (The pups are pictured here with ACO Thomas.)

Officials ask that people encountering large dogs in remote areas not pick them up or feed them, but note their location and notify the Sheriff's Office. County animal control officers can then go to the scene, assess the situation, and take appropriate action.
_____________________________________________________

Editor's note: There are also working livestock guardian dogs in Sublette County. In November 2011, Cat Urbigkit experienced the same kind of incident when her now-famous sheep dog, 'Rena' went missing while tending her herd east of Marbleton. Someone had picked her up thinking she was wandering outside lost. Rena tends to sheep herds at the Urbigkit's Paradise Sheep Company, protecting them from predators. Fortunately, Rena was returned home safe and sound several days later. See the links below to read that story.

Related Links:
Livestock and sheep guard dogs aren't 'lost' 2012
Rena is missing (Cat Urbigkit's livestock guardian dog) 2011
---
WYDOT releases travel information app for smart phones (posted 2/5/16)
Wyoming Department of Transportation
A new smart phone app for road and travel information has been released by the Wyoming Department of Transportation (WYDOT).

The Wyoming 511 app provides pre-trip and en route travel information, and can be used to provide location information to friends, family or emergency responders. It is available for most Android and Apple phones.

A map-based feature of the app provides information intended for planning a trip. Users can choose between road conditions and highway cameras. When viewing road conditions, a color-coded system shows pavement conditions and traffic hazards. The highway cameras view provides images from WYDOT's statewide network of Web cameras.

Future releases of the app will add information about road construction and weather sensors.

The app improves safety for travelers who are already on the road with a "hands free, eyes free" function that speaks incidents and condition reports. Users hear road condition information for the route they are traveling on, and traffic incidents within a user-defined radius.

The app also features a "Where Am I?" function that uses GPS technology to identify the user's location by route and mile marker as well as latitude and longitude coordinates. The location information provides accuracy down to one-tenth of a mile.

No personally identifiable information is collected by WYDOT through the use of the app.

It is available for free download from the Apple App Store and the Google Play Store. Search for the Wyoming 511 app, and look for the blue icon with the WYDOT logo on it, or go to https://play.google.com/store/apps/details?id=info.wyoroad.mobile.android or https://itunes.apple.com/us/app/wyoming-511/id1077881610.

---
Wolf News Roundup (posted 2/5/16)
Cat Urbigkit, Pinedale Online!
Wolf Delisting
A U.S. senator from Wisconsin has introduced an amendment to delist wolves in Minnesota, Wisconsin, Michigan and Wyoming. The amendment to the Energy Policy Modernization Act is the second such amendment provided by congressional members in attempt to move delisting forward. Two congressional members from Wisconsin have written an opinion piece on the need for delisting. See the links below for more details.

Wisconsin Wolves
Wisconsin's effort to transplant elk in the west-central portion of the state has been hampered by predation from a local wolf pack. More elk will be brought in from Kentucky to boost the herd.

Washington Wolves
A northeastern Washington state wolf pack is being closely watched by wildlife officials after the pack of five surrounded a pair of dogs near a family's rural home. Residents fired shots to scare the wolves away.

For more details on these stories, check out the links below.

Related Links:
Wolf Delisting - Duluth News Tribune
Congressional member letter - Read the letter here.
Wisconsin wolves - Star Tribune
Washington wolf pack - Spokesman.com
Wolf Watch By Cat Urbigkit

---
Senate bill would protect Second Amendment rights of Social Security beneficiaries (posted 2/5/16)
SSA use bureaucracy to strip away beneficiaries' right to own a firearm
Senator Mike Enzi media release
Washington, D.C. – Senator Mike Enzi, R-Wyo., cosponsored legislation introduced by Senator Mike Crapo, R-Idaho., today (Thursday, Feb. 4, 2016) that would protect Social Security beneficiaries from being stripped of their Second Amendment rights because of determinations used by the Social Security Administration about the management and payment of an individual's benefits.

"It is completely outrageous to believe the Social Security Administration should have any role in determining whether a senior should have the right to own a firearm," Enzi said. "It is unfortunate that legislation is necessary to protect Americans, who happen to receive Social Security benefits, from having their 2nd Amendment rights suddenly stripped by their government without due process."

In January 2013, President Obama issued a memorandum directing federal agencies – including the Social Security Administration - to gather and submit information to the National Instant Criminal Background Check System (NICS) on individuals who may be determined to be what NICS refers to as "mentally deficient." In order for an individual to be deemed "mentally deficient," a court, board or other lawful authority is required to find that the person is a danger to themselves or others or is unable to contract or manage their own affairs.

For some beneficiaries, the Social Security Administration will appoint someone to act as representative payee for a beneficiary who may need assistance to manage their benefits. This appointment is not made through a court of law and is not a determination of a beneficiary's mental capacity. Under the president's memorandum, the Social Security Administration could be required to report individuals who have been appointed a representative payee to NICS. Crapo's bill would prevent Social Security beneficiaries from being reported and protect their Second Amendment rights.

Text of the bill, S.2495, will be referred to the Senate Committee on the Judiciary. Companion legislation, H.R. 3516 has been introduced in the House by Rep. Sam Johnson of Texas.

---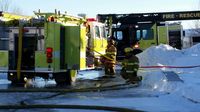 Firefighters converged on Country Club Lane to put out multiple fires in homes when an accident caused by a high voltage power surge into residential electrical lines. Photo courtesy Sublette County Unified Fire.

Country Club Lane Fire (posted 2/4/16)
Sublette County Unified Fire media release
PINEDALE, WY - On Wednesday, February 3, 2016, at approximately noon, Sublette County Unified Fire was dispatched to a vehicle crash at 435 Country Club Lane. Upon arrival it appeared a vehicle had made contact with an electrical pedestal. The adjacent phone box was smoking. Occupants were complaining of smoke in their residences on the east side of the road. SCUF evacuated all units to ensure safety, and made assessments of structures. While making assessments, a firefighter noticed smoke in a structure on the west side of the road. Multiple units were called to assist in fire suppression efforts. A total of 12 homes were affected. The fire is under investigation at this time.

Five battalions responded with apparatus to the scene, including Pinedale, Boulder, Daniel, Kendall Valley and Big Piney. A total of 27 volunteer firefighters worked together to suppress the fire. No injuries were reported.

Sublette County Unified Fire would like to thank the efforts of Rocky Mountain Power, CenturyLink, Sublette County Emergency Management, Sublette County Sheriff's Office, Sublette County Rural Health Care District EMS, and Wyoming Highway Patrol for all of their assistance.

Authority: Shad Cooper, Fire Chief

---
BLM reschedules February Oil and Gas Lease Sale to May 3, 2016 (posted 2/4/16)
Bureau of Land Management
The Bureau of Land Management (BLM) Wyoming State Office has released its proposed list of parcels for the May 3, 2016 oil and gas lease sale. The BLM also announced that the parcels originally scheduled to be offered at the postponed February 2016 sale will be offered during the May sale.

The February sale was postponed due to a severe winter storm in Cheyenne, Wyoming. The February parcels, which are scheduled to be offered at the May sale, include 80 parcels totaling 77,385 acres.

The posted list for May identifies 32 parcels containing approximately 29,736 acres and include parcels located in Carbon, Sweetwater, Sublette, Lincoln, and Uinta counties in Wyoming.

Copies of the May 2016 competitive oil and gas lease sale notice will be available at the sale and may be purchased in advance for $5 from the State Office at 5353 Yellowstone Road in Cheyenne, or by writing: BLM, Attn: Copy Work, P.O. Box 1828, Cheyenne, Wyo. 82003. Copies are also available for purchase from each BLM field office in Wyoming.

Information for both the postponed February parcels and upcoming May parcels, including environmental assessments, public comments, and maps can be found at http://on.doi.gov/1sS8l3Z.

---
WYDOT to hold webinar on Wyoming's proposed Connected Vehicle Pilot Project (posted 2/4/16)
Webinar Feb. 5, 2016
Wyoming Department of Transportation
Wyoming is one of three sites chosen by the U.S. Department of Transportation (U.S. DOT) for pilot projects to deploy connected vehicle technology. WYDOT's proposal focuses on improving safety and freight mobility along the I-80 corridor, with the intent to develop a program that can be applied in other rural states.

During the Feb. 5 webinar, the Wyoming Department of Transportation (WYDOT) will hold a webinar on Friday, February 5th from 11AM to noon in which they will present to U.S. DOT officials its proposal for using connected vehicle technology to improve dissemination of road condition reports through in-vehicle advisories to support speed management, detours, parking and the presence of maintenance and emergency vehicles.

Interested persons can sign up for the webinar here: www.itsa.org/icfwyomingconopswebinar

MORE INFO:
ICF/Wyoming CV Pilot Site Concept of Operations Webinar
Date: Friday, February 5, 2016
Time: 1:00PM - 2:00PM EST
Presenter: Kate Hartman - Connected Vehicle Pilot Deployment Program Manager - ITS JPO, USDOT
Presenter: Deepak Gopalakrishna - ICF/Wyoming Project Manager

Background:
Sponsored by USDOT Intelligent Transportation Systems Joint Program Office (ITS JPO), the Connected Vehicle Pilot Deployment Program seeks to combine connected vehicle and mobile device technologies in innovative and cost-effective ways. Ultimately, this program will improve traveler mobility and system productivity while reducing environmental impacts and enhancing safety. The USDOT has selected three pilot sites, where teams are in the process of conducting Phase 1 Concept Development activities leading to later phases (Phase 2 Design/Build/Test and Phase 3 Operations). The three selected pilot sites are ICF/Wyoming, Tampa (THEA) and New York City.

ICF/Wyoming Site Information:
The ICF/Wyoming Pilot Project is intended to develop a suite of applications that utilize vehicle to infrastructure (V2I) and vehicle to vehicle (V2V) communication technology to reduce the number and severity of adverse weather-related incidents in the I-80 Corridor in order to improve safety and reduce incident-related delays. These applications support a flexible range of services from advisories, roadside alerts, parking notifications and dynamic travel guidance. Information from these applications are made available directly to the equipped fleets or through data connections to fleet management centers (who will then communicate it to their trucks using their own systems). The project is focused on the needs of commercial vehicle operators in the State of Wyoming.

Webinar Details:
During the Concept Development Phase, there will be three public webinars from each pilot site to provide all interested parties a sense of the key issues addressed in each deployment, the conceptual approach, and expected deployment impacts. This Concept of Operations webinar is the first of three webinars focusing on: issues to be addressed at the deployment site, the deployment concept, and insights gained from stakeholder engagement activities during concept development process. The next webinar will discuss how the sites plan to measure and monitor the success of the sites in meeting the performance goals of the deployment with respect to safety, mobility and environmental impacts. The last webinar will be on the comprehensive deployment plan prior to Phase 2, which brings together the deployment concept, the performance measurement plan, and other areas (e.g., safety management, privacy, security, participant training, and application development and integration). Stay tuned for more upcoming public webinars from the three pilot sites by visiting the program's website at: http://www.its.dot.gov/pilots/.

---
Negative interest rates could be coming soon to US (posted 2/4/16)
Banks charge customers to keep their money with the bank
Bloomberg.com posted a story on Feb. 2 saying the Federal Reserve is considering going to negative interest rates as part of their annual stress test on banks. A negative interest rate means the central bank (and perhaps private banks) will charge negative interest. Instead of receiving money on deposits, depositors must pay regularly to keep their money with the bank. This is intended to incentivize banks to lend money more freely and businesses and individuals to invest, lend, and spend money rather than pay a fee to keep it safe. The countries of Switzerland, Sweden, Denmark and Japan have already done this.

Click on this link to read the story: The Fed Wants to Test How Banks Would Handle Negative Rates

Related Links:
Negative Interest Rate Policy (NIRP) Definition www.investopedia.com
Federal Reserve System Wikipedia
Famous quotations on banking themoneymatters.com
1913 Federal Reserve Act
Debt-based economy
Fractional Reserve Banking Wikipedia
How money is created YouTube
The Fed and Money Creation YouTube
History of US money
Explaining inflation

---
Questar sells to Dominion (posted 2/4/16)
Sale impacts customers in Sublette County, Wyoming
The Wyoming Business Report posted a story on Feb. 2 reporting that Questar company has been acquired by Dominion Resources, based out of Richmond, Virginia in a $4.4 billion deal announced on Feb. 1st. Dominion will take on Questar's customers in southwest Wyoming, Utah and Idaho, as well as their gas gathering system in the state. Questar has gas service customers in Sublette, Lincoln, Uinta, Sweetwater and Carbon counties in Wyoming. Click on this link to read the full story: In $4.4B deal, Questar sells to Dominion

---
Collision causes electrical outages, fires in Pinedale (posted 2/3/16)
Sublette County Sheriff's Office
(Pinedale, Wyo – Feb. 3, 2016) A collision reported at 11:40 a.m. on February 3, between a passenger vehicle and a power pedestal in the 400 block of County Club Lane, just east of the golf course in Pinedale, caused a series of small electrical fires, smoke, and/or the odor of burnt electrical wires in several of the nearby homes. Residents were evacuated and personnel from Sublette County Unified Fire worked on clearing the homes of fire. Sublette County Sheriff's Office personnel were also on scene to block the roadways and Emergency Management Coordinator, James Mitchell, was working with town and county resources to provide assistance to residents. By 6:45 p.m., Rocky Mountain Power had restored electric to the main power meter, though residents were asked to not turn the power back on to their homes without the assistance of an electrician, due to potential electrical fire risk. Just prior to electric being restored to the main power source, SCSO Captain Wes Johnston was asking residents to enter their homes and ensure that water was left running in their kitchens and bathrooms, due to the below freezing temperatures. Any resident needing further assistance is asked to contact the on-scene emergency personnel, or contact the Sublette County Sheriff's Office, 307-367-4378.

Click here for a report from Sublette County Sheriff's Office Public Information Officer Sgt. Katherine A. Peterson, courtesy KPIN 101.1FM Radio (as of Wednesday evening, Feb. 3, 2016): Country Club Lane house fires mp3, 3.91MB

---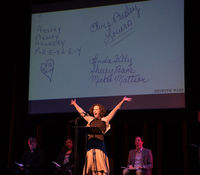 Letters Aloud

LOVE ME OR LEAVE ME: PFAC presents Letter's Aloud Feb. 11 (posted 2/1/16)
Pinedale Fine Arts Council
The Pinedale Fine Arts Council is proud to present Letter's Aloud on Thursday, February 11 at 7 p.m. in the Pinedale Auditorium. The Seattle-based Letters Aloud will be presenting a very special Valentine's production of "LOVE ME OR LEAVE ME—Letters of Loving, Longing and Leaving."

Letters Aloud is a live reading series where great actors give voice to deeply personal letters written by famous people throughout history. Accompanied by live music and thoughtful imagery, it's an entertaining and poignant reminder of how correspondence has changed over the years and how truly valuable a handwritten (or typewritten) letter can be.

At the Pinedale performance, Letters Aloud will be presenting "LOVE ME OR LEAVE ME—Letters of Loving, Longing and Leaving." What happens when a letter crafted uniquely for one reader is put on stage for all to see? Intimate thoughts laid bare, intended for one, are held up for us like a mirror, making us reflect on our own hearts, lives, and times. Letters Aloud embraces the theme of romantic love in the upcoming "Love Me Or Leave Me – letters of loving, longing and leaving". By turns steamy and sweet, this selection of personal letters from such luminaries as Ansel Adams, Henry Miller, Frida Kahlo, Virginia Woolf, Elizabeth Taylor, Henry VIII and Guns 'n Roses guitarist Slash will inspire your passions—and maybe that Valentine's Day card that you have yet to write.

"We had the opportunity to catch a Letters Aloud performance in Eugene, Oregon last year and were completely blown away," PFAC Marketing/Outreach Director Tim Ruland said. "We're really excited to bring this unique and unforgettable experience to Pinedale."

Letters Aloud live in Pinedale is presented by the Pinedale Fine Arts Council with support in part from the Wyoming Arts Council through funding from the Wyoming Legislature and the National Endowment for the Arts which believes a great nation deserves great art, the Western States Arts Federation (WESTAF), Sublette BOCES, SCSD #1, Western Sublette BOCES #9, the Sublette County Recreation Board, the Sublette Community Foundation, Jonah Energy, Linn Energy, QEP Resources, Tegelers & Associates, Wyoming Community Foundation, Ultra, 1st Bank and Denbury. For more information please visit www.pinedalefinearts.com or call 307-367-7322, and be sure to find us on Facebook.

---
Launch of the audio collection with Sounds from Yellowstone (posted 1/30/16)
Yellowstone National Park
Yellowstone National Park and the Acoustic Atlas at Montana State University Library announced today the launch of the Yellowstone Collection, a curated compilation of field recordings and a developing podcast series highlighting America's first national park.

Through a cooperative project between the Acoustic Atlas and Yellowstone National Park, the growing audio collection aims to create new ways to experience the animals, landscapes, and people of the area, by offering a freely accessible online archive of natural sounds, interviews, and radio stories focused on the Greater Yellowstone Ecosystem.

"We could not be more excited to share the sounds of Yellowstone through our archive," Kenning Arlitsch, Dean of the Montana State University Library, said. "Montana State University Library launched the Acoustic Atlas because there are relatively few natural sound collections at libraries, and even fewer focusing on the Greater Yellowstone Ecosystem." The Acoustic Atlas was founded in 2013 and includes recordings from throughout the Western United States. The Yellowstone collection builds on its mission to document the sounds of regional ecosystems.

In addition to expanding the natural sounds collection at MSU, the field recordings will be used as a foundation in creating sound-rich, podcast-style audio pieces that tell the stories of research and issues in Yellowstone National Park. The audio stories, which visitors and followers can listen to online, will highlight the rich, but changing, soundscapes of the area, chronicle some of the research taking place in the Greater Yellowstone Ecosystem and spotlight key voices in the region. Project producer and Yellowstone National Park correspondent Jennifer Jerrett says, "It's kind of like public radio for Yellowstone National Park. I hope these stories build perspective and advance our conversations about science and the complexities of preservation in Yellowstone." Jerrett continues, "2016 marks the National Park Service Centennial, so it seems fitting to stop and listen—to really listen—and reflect on the meaning of parks and preservation in America. I'm proud to be working on such an extraordinary project."

The project is supported in part by Montana State University, the Yellowstone Association, the Yellowstone Park Foundation, and by a generous grant through the Eyes on Yellowstone program. Eyes on Yellowstone is made possible by Canon U.S.A., Inc. This program represents the largest corporate donation for wildlife conservation in the park. Audio from the partnership can be accessed through both the Yellowstone National Park (http://www.nps.gov/yell/learn/photosmultimedia/soundlibrary.htm) and Acoustic Atlas (http://www.acousticatlas.org/) websites.
---




Eukanuba™ Stage Stop Race Jan. 29 - Feb. 6, 2016

Eukanuba™ Stage Stop Race begins January 29th in Jackson (posted 1/25/16)
8-day stage stop format international sled dog race now in its 21st year
Organizers of the EUKANUBA™ Stage Stop Race are staging an unforgettable, day-long celebration in Jackson on Friday, January 29, 2016, to kick-off the 323-mile race. There will be a series of events throughout the day including the opportunity to see the mushers, dogs and vet staff, cheer on the teams as they start their eight-day journey, as well as a post-race torch light parade and fireworks.

Celebrating its 21st anniversary, the EUKANUBA™ Stage Stop Race makes sled dog racing more accessible to the general public, as well as showcases the beautiful state of Wyoming. The event features 13 mushers and their dog teams, who'll race more than 323 miles over the course of eight days while visiting several different cities. The racers compete for a prize purse of $195,000, but communities along the route also win because of donations to area shelters and other charities.

In addition to the EUKANUBA™ Stage Stop Race, 14 additional competitors will participate in the PEDIGREE® 8-Dog Classic Race, which is a two day race that will visit Driggs, Idaho and Alpine, Wyoming.

WHEN: Friday, January 29, 2016
9:00AM – 1:00PM: Vet Check (Deloney Parking Lot) – see the mushers, dogs and vet staff.
5:00PM: Town Square Kick-Off
6:30PM: First mushers leave the shoot
Post-Race: Torch light parade and fireworks at the Snow King Event Center

FREE SHUTTLES:
Ride the free START Shuttle from the Town Square to the EUKANUBA™ Party at Snow King following the start of the race. Shuttle stops will be available on Cache across from the Cadillac Grille every 15 minutes beginning at 7:00 p.m.

ROAD CLOSURES:
The following streets will be closed during the kick-off event in Jackson:
• E. Broadway between S. Cache Street and Redmond Street
• Redmond between E. Broadway and Cache Creek Drive
• Cache Creek Drive between Redmond and the Snow King Property

The Pinedale Stage Stop race will be held on Day 5, Wednesday, February 3rd. Their Meet the Mushers Dinner will be held on Tuesday evening, February 2nd at 6PM in the Lovatt Room of the Pinedale Library. The race starts at the Upper Green snowmobile trailhead past Cora at 9AM Wednesday morning. Spectators welcome. This is a loop race, so this will also be the finish line. Nearby Kendall Valley Lodge will have breakfast and lunch specials on race day. More info: http://www.wyomingstagestop.org/stages/pinedale-wy/

The Big Piney/Marbleton Stage Stop will be held on Day 6, Thursday, February 4th. Their Mushers Dinner will be held on Wednesday evening, February 3rd at 5:30PM at the Senior Center in Marbleton. Race starts at 9AM from the Middle Piney parking lot. It is a loop race, so this will also be the finish line. More info: http://www.wyomingstagestop.org/stages/pinedale-wy/

See the complete race schedule, musher biographies, and more details online at www.wyomingstagestop.org.

For more information contact Roger Carpenter, (970) 310-7746, media@wyomingstagestop.org.

---
'Ding the Ling' Fishing Derby on Fontenelle Feb 13 & 14 (posted 1/25/16)
The LaBarge Activities' Committee is hosting their "Ding the Ling" Fishing Derby on Saturday & Sunday on Fontenelle Reservoir on February 13th and 14, 2016. Registration is from 8 a.m. to 7 p.m. on the 13th at the Fontenelle boat ramp on W. Fontenelle Creek Road near the campground. The derby starts at 11 a.m. on the 13th. Over $2,000 in cash prizes combined for both youth and adults in two Burbot categories. For more information, please call Sadie at 307-705-2771 or Jenny at 307-388-0198.

---
Business Directory
Click here for
Advertising Information