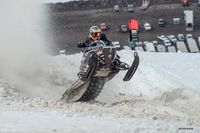 Erin Beukelman #13x, of Pinedale will be competing. Photo courtesy RLT Photos.

White Pine Snowmobile Hillclimb March 7 & 8th (posted 2/26/15)
Rocky Mountain Snowmobile Hillclimb Association (RMSHA) event
White Pine Ski Resort
An expected 600 snowmobiles will take on the hill at White Pine Ski Resort on Saturday, March 7th in an attempt to qualify for the final run-offs in one of six classes on Sunday. The 1,000' climb is predicted to take around 60 seconds for the leaders in each class; the best skiers at White Pine can probably get from the top to the base in around a similar time increment.

"Poor snowfall levels in late January and early February put a question mark on this year's hillclimb, but a decent snowfall over last weekend confirmed the 2015 Rocky Mountain Snowmobile Hillclimb Association (RMSHA) event at White Pine," stated RMSHA vice president Hal Tittensor. "We are expecting to attract riders from around the intermountain region and as far away as Oregon."

The White Pine Snowmobile Hillclimb provides competitors with one of the last of the qualifying opportunities prior to the World Championship Hillclimb which will be held on Saturday, March 28th at Jackson Hole, Wyoming.

Races commence each day at 8am with competitors roaring up the mountain passing between a series of mandatory gates. To miss a gate is instant disqualification. To keep the day exciting, snowmobiles will leave the start two at a time but follow different trails to the top. Saturday's 30 participants in each category will be reduced down to 12 for Sunday's finals.

Spectators can view the event from the base area or ride Little Spirit Lift up for mid-mountain viewing.

Following the crowning of Queens and Kings in Junior, Amateur, Stock, Improved Stock, Mod and Semi Pro classes, is a crowd favorite, the Locals Race. The class is open to all with the invitation to "Ride What YaBrung." The $65 entry fee for the race includes compulsory insurance costs and RMSHA fees. The winner will be presented with a trophy. Entry forms for the Locals Race can be downloaded at www.whitepineski.com with reservations accepted on Sunday just prior to the race.

For the youngsters, there will be a fun flat course adjacent to the mountain for 120 snowmobile riders. The kids' circuit will be open all weekend with all riders receiving a commemorative medal.

For spectators, entry into White Pine Ski Resort is $20 per car load. "Pack 'em, Stack 'em or Tack 'em onto your vehicle," encourage the organizers. Parking is limited as the professional's huge snowmobile trailers command a good percentage of the parking lot. "It's our way of encouraging carpooling," says White Pine owner Kari DeWitt. "It's the same price for a truck with one driver or that same truck packed full with friends and family."

White Pine will be serving a $12.00 All-You-Can-Eat Buffet Breakfast on both Saturday and Sunday mornings from 8am-11am. The Lodge Grill Restaurant will be open for lunch for those wishing to dine in the warmth with Pinedale High School students serving from an outdoor food concessionaire to raise funds for their end-of-year Senior Class Party.

For further information contact Robyn Blackburn, robyn@whitepineski.com, 307 367 6606.

Photos of Erin Beukelman #13x and Aaron Sterck #285, both from Pinedale, courtesy RLT Photos.

Related Links:
www.rmsha.net Rocky Mountain Snowmobile Hillclimb Association
https://www.facebook.com/racermsha Rocky Mountain Snowmobile Hillclimb Association Facebook page

---
Winter Elk counts begin (posted 2/26/15)
Wyoming Game & Fish
Wildlife biologists and game wardens count big game animals at different times of year based on when they are most visible and they can be classified as males, females and juveniles to get a picture of not only how many animals there are, but how the population is trending: increasing, stable or decreasing. This information helps managers design hunting seasons that will keep the population at the established population objective.

Winter is the best time to count and classify elk since most of the elk in the Pinedale and Jackson regions attend feedgrounds, making them relatively easy to count. All of the game wardens, biologists and several other regional personnel chip in to count the elk as it is a big job.

While all the numbers are still being tabulated, managers are expecting numbers to be somewhat higher due to the relatively light harvest this past hunting season.

Managers will present all the current big game numbers along with their proposed hunting seasons at a round of public meetings to be held later this spring. In the Pinedale region, public meetings are scheduled for the evening of March 24th in Marbleton and March 25th in Pinedale. More info

---
Elk research continues (posted 2/26/15)
Wyoming Game & Fish
Pinedale personnel in the Game and Fish Department's Brucellosis-Feedgrounds Habitat (BFH) program spent much of January capturing elk using both corral traps and chemical immobilization at several area elk feedgrounds.

Adult cow elk were fitted with GPS collars to document finescale movements and also Vaginal Implant Transmitters to identify elk parturition, or calving areas.

Approximately 250 elk have been trapped at Fall Creek, Dell Creek and Alpine feedgrounds, and an additional 30 elk were darted from a haysled at 10 different feedgrounds this winter. Data were downloaded and will be used to continue multi-agency studies on feedground elk ecology.

The collars will be refurbished with new batteries and drop-off mechanisms and redeployed this winter to continue to collect GPS data on elk. The Game and Fish Department's BFH program personnel, with collaborators from Iowa State University and the University of Wyoming, have collected over 500 years worth of GPS collar data from elk captured on 20 feedgrounds and seven native winter range sites adjacent to feedgrounds from 2007 to 2015.

---
Senators introduce bipartisan bill to protect knife owners (posted 2/26/15)
Pocket knives are banned by some local and state laws
Washington, D.C. ¨C Today (Wednesday, February 25, 2015) U.S. Senators Mike Enzi, R-Wyo., and Ron Wyden, D-Ore., introduced legislation to ensure that those traveling with a properly secured knife are not prosecuted under local or state laws which ban certain knives.

¡°Americans who are transporting a pocket knife shouldn¡¯t have to worry that they will be arrested for just passing through,¡± said Enzi. ¡°This is not theoretical, but a real problem. It is almost impossible for a citizen to be fully aware of the thousands of knife laws across the country. This bill would solve this issue.¡±

¡°This is a common-sense bill that respects state laws, ensures public safety and protects the rights of knife owners,¡± Wyden said. ¡°It provides protections that don¡¯t currently exist for knife owners traveling between places where knives are legal--as long as they keep that knife inaccessible on the trip.¡±

The Knife Owners Protection Act would provide safe harbor to Americans travelling with a knife where it is lawful for the knife to be possessed at both the points of origin and destination, so long as the knife is transported in a closed container. This legislation is based on the Firearms Owner Protection Act of 1986 which provides the same protection to law©\abiding gun owners.

---
Postmark deadline for Conservation Stamp Art Contest is March 2 (posted 2/23/15)
The Wyoming Game and Fish Department reminds artists that entries for the 2015 Wyoming Conservation Stamp Art Contest must be postmarked or delivered in the Cheyenne Headquarters Game and fish office by March 2.

The swift fox, (Vulpes velox) one of Wyoming's unique non game animals, is the subject for the 2015 contest. The annual event is now in its 32nd year.

Game and Fish typically receives 50-80 entries each year. The contest will culminate with judging in Cheyenne on April 10, 2015. The winning artwork will appear on the 2016 Wyoming conservation stamp.

Information including rules and deadlines on the Conservation Stamp Art Contest is on the Game and Fish website wgfd.wyo.gov. Printed rules and entry forms are also available and will be mailed to requesting artists. Artists may also choose to review the rules and use the forms on the Game and Fish website.

Each year the Game and Fish selects one species to be the subject of the competition and eventually appear on the printed conservation stamps. The winning artist also receives a cash award of $3,500. Second place receives $1,500, third $750.

The competition is open to professional artists. A change in this year's contest allows submission of up to two entries per artist. Artists are also reminded that the March 2 deadline is a change from the March 15 deadline that was in place for a number of years.

---
Deadline for moose, bighorn sheep, mountain goat and wild bison applications March 2 (posted 2/23/15)
Wyoming Game & Fish
Both resident and nonresident hunters are reminded that less than one week remains to apply for moose, bighorn sheep, mountain goat and wild bison licenses for the 2015 hunting season. The application deadline this year is March 2 because Feb. 28 is on a weekend. When deadlines fall on weekend dates the Wyoming Game and Fish Department accepts applications through midnight on the next business day.

Bison hunters are reminded that as with last year, applicants are required to submit the full license fee at the time of application as is required for all other species. The license fees for a Wyoming resident are $263 for a female/ calf wild bison license and $413 for the any wild bison license. The nonresident license fees are $1,022 for a female/calf wild bison license and $2,522 for the any wild bison license.

Hunters can only apply online through the Game and Fish website wgfd.wyo.gov. The paper application process has been phased out as the online application process has proven to be much more efficient and accurate than paper applications and is easier for hunters to ensure their applications are received in advance of the deadline date. It has contributed to a substantial cost savings over the old process.

Hunters can research drawing odds from previous years for the various species and hunt areas on the Game and Fish website wgfd.wyo.gov. Hunters who choose not to apply this year can still purchase a preference point online from July 1 – September 30.

---
Public meetings scheduled for 2015 proposed hunting seasons & regulations (posted 2/23/15)
Meeting in Marbleton May 24th and in Pinedale May 25th
The Wyoming Game and Fish Department will be holding their annual public information gathering meetings in March on proposed big game, wild turkey, upland game bird, small game, wild bison, early migratory game birds and Light Goose Conservation Order seasons and regulations.

Late migratory waterfowl seasons will be discussed for future consideration. Regulations governing uses of lands and waters acquired or administered by the Game and Fish Commission will also be discussed at the public meetings.

All interested parties are encouraged to attend one of these public meetings held across the state discussing all the 2015 hunting season proposals:

March 19: Evanston, 6:30 p.m. Uinta County Library
March 19: Greybull, 6 p.m. Town Hall
March 19: Riverton, 6 p.m. Fire Hall
March 19: Powell, 6:30 p.m. Park County Fairgrounds
March 19: Thermopolis, 6 p.m. Historical Museum
March 23: Afton, 6 p.m. Civic Center
March 23: Hulett, 7 p.m. Community Center
March 23: Meeteetse, 6 p.m. Senior Center
March 23: Mountain View, 6:30 p.m. School Board Room
March 23: Saratoga, 6 p.m. Town Hall
March 23: Sheridan, 4 p.m. Game and Fish Office
March 23: Sundance, 4 p.m. Crook County Courthouse
March 23: Wheatland, 6 p.m. Platte County Library
March 24: Baggs, 6 p.m. Valley Community Center
March 24: Buffalo, 4 p.m. Johnson County Library
March 24: Dubois, 6 p.m. Headwaters Arts and Conference Center
March 24: Gillette, 4 p.m. Campbell County Library
March 24: Jeffrey City, 6 p.m. Fire Hall
March 24: Kemmerer, 6:30 p.m. Lincoln County Library
March 24: Marbleton, 6 p.m. Town Hall
March 24: Newcastle, 7 p.m. U.S. Forest Service Office
March 24: Torrington, 6 p.m. Platte Valley Bank
March 24: Worland, 6 p.m. Washakie County Fairgrounds
March 25: Cheyenne, 6 p.m. Game and Fish Office
March 25: Cokeville, 6:30 p.m. Town Hall
March 25: Douglas, 6 p.m. Converse County Courthouse
March 25: Lovell, 6 p.m. Fire Hall
March 25: Lusk, 5 p.m. Niobrara County Courthouse
March 25: Pinedale, 6 p.m. Game and Fish Office
March 25: Rawlins, 6 p.m. Jeffrey Center
March 26: Green River, 7 p.m. Game and Fish Office
March 26: Jackson, 6 p.m. Game and Fish Office
March 26: Lander, 6 p.m. Game and Fish Office
March 26: Laramie, 6 p.m. University of Wyoming Berry Center
March 26: Sheridan, 7 p.m. Game and Fish Office
March 30: Casper, 6 p.m. Game and Fish Office

Written comments are also welcome through 5 p.m. March 31 at public meetings, or by mailing the Wyoming Game and Fish Department, Regulations, 3030 Energy Lane, Casper, WY 82604 or online at http://wgfd.wyo.gov. Copies of the proposed regulations are available at the same address in accordance with Chapter 1 Regulation Governing Access to Public Records.

Signed written comments will be presented to the Game and Fish Commission prior to the public hearing at their April 22-23 meeting in Casper at the Wyoming Contractors Association Regional Training Center, 2220 North Bryan Stock Trail.

The Game and Fish Department supports the Americans with Disabilities Act. Every effort will be made for reasonable accommodations by contacting the nearest Game and Fish office.

---
'We have great ice!' (posted 2/23/15)
Big Fish Winter Derby Feb 28 & May 1st
Fishermen: Here's an ice condition report hot off the press for the upcoming Big Fish Winter Derby on Fremont Lake this weekend. Kimberly said, "We have really nice ice! No overflow. No slushy spots. The ice is absolutely perfect right now."

At last report, ice was 10-12" thick on Fremont Lake. Temperatures dipped to -14 and below last night (Sunday, Feb. 22). Day and nighttime temperatures are forecast to stay in the single digits to 20s for the rest of the week. Everything is on track and looking to be great for the ice fishing derby this weekend.

Early registration will be on Thursday, February 26th from 4-7PM at the V.F.W. in Pinedale. Main registration will be on Friday, February 27th from 6-9PM at the Corral Bar & Grill in Pinedale, 30 W Pine Street. Entry fee is $20 for Boat Club members and $40 for non-members. Derby hours are from 7AM to 4PM on Saturday and 7AM to 2PM on Sunday. There is a mandatory check-in at Lakeside Lodge each morning at 6AM. No pets or passenger vehicles allowed on the ice.

Those coming up for the Derby can take advantage of special room rates at the Hampton Inn of $89/night, use group code P.B.C. (307-367-6700). Local motels

Click here for the 2015 derby flyer (PDF)

For more information contact Kimberly at 307-367-2524 or 307-231-4764 or go online to www.pinedaleonline.com/boatclub

Related Links:
www.visitpinedale.org Pinedale visitor website

---
Game and Fish surveys show increase in mule deer and antelope fawn numbers (posted 2/19/15)
Wyoming Game and Fish
The Wyoming Game and Fish Department's annual surveys of pronghorn antelope and mule deer herds this fall and winter show higher than average numbers of fawns. This is significant because population growth is driven by the number of fawns that are born and survive to their first birthday. Game and Fish attributes some of the increases to improved moisture conditions.

For mule deer herds, Game and Fish's statewide surveys show positive results, with the number of fawns per 100 does well above recent averages. Several herds had more than 80 fawns per 100 does. Research shows at least 66 fawns per 100 does are needed to support population growth.

"Survey results from this fall and winter are encouraging. Drought conditions, which began in earnest in 2000, coupled with disease outbreaks and predation have been hard on antelope and mule deer throughout the state. To see a spike in fawns across Wyoming shows how important moisture and habitat are to antelope and mule deer. This is why we have put such an emphasis on improving habitat for wildlife with partners like the Governor's Big Game License Coalition and the Wyoming Wildlife and Natural Resource Trust," said Scott Smith, deputy chief of the Game and Fish's Wildlife Division.

This fall, Game and Fish surveyed pronghorn antelope herds across the state. Overall, many herds showed an increase in fawns per 100 does. Some examples include, the Cheyenne River Herd covering parts of Converse, Weston and Niobrara Counties with 91 fawns per 100 does. The average from 2009-2013 was 63 per 100. In Washakie and Hot Springs Counties the Copper Mountain Herd had 89 fawns per 100 does, while the 2009-2013 average was 58.

Pronghorn antelope and mule deer are the two most populous big game animals in Wyoming. Both species have been in decline across western North America over the last two decades.
---
Public comments sought on Pinedale Anticline Noise Report (posted 2/19/15)
Comments due by March 3, 2015
Bureau of Land Management
The Pinedale Anticline Project Office (PAPO) is seeking public comments on the 2014 acoustic noise report on sound levels at Greater Sage-Grouse leks in the Pinedale Anticline natural gas field.

The report contains the results of a study that monitored sound levels at 19 leks within the Anticline.

It is available for review at www.wy.blm.gov/jio-papo/papo/index.htm.

Written comments identifying specific issues, concerns or ideas should be emailed to egdecker@blm.gov with "Noise Report Comment" in the subject line; faxed to 307-367-5329; or mailed or delivered to the PAPO, Attn: Eric Decker, P.O. Box 768, 1625 W. Pine St., Pinedale WY 82941 by March 3, 2015. The PAPO will not respond directly to comments, but will take them into consideration for the final report.

Before including your address, phone number, e-mail address, or other personal identifying information in your comment, you should be aware that your entire comment – including your personal identifying information – may be made publicly available at any time. While you may ask us in your comment to withhold your personal identifying information from public review, we cannot guarantee that we will be able to do so.

For more information, please contact Eric Decker at 307-367-5386.

Persons who use a telecommunications device for the deaf (TDD) may call the Federal Information Relay Service (FIRS) at 1-800-877-8339 to contact the individual above during normal business hours. The FIRS is available 24 hours a day, 7 days a week, to leave a message or question with the above individual. You will receive a reply during normal business hours.

---
Wyoming Range mule deer being studied (posted 2/18/15)
Providing info on habitat, migration patterns, winter and summer ranges
Wyoming Game & Fish
LA BARGE, WYOMING – A study involving the Wyoming Range mule deer herd in western Wyoming is yielding important information that is helping biologists learn more about the needs of the deer that inhabit the area.

The Wyoming Game and Fish Department has been collaring mule deer in the winter ranges near LaBarge, Kemmerer and Evanston with the goal to fit radio collars on 70 does in these areas to determine habitats preferred by the deer. Once habitat usage is documented, wildlife managers will be able to assess the nutritional carrying capacity of the population to better determine how many deer the landscape can support in a given year. Also important are migration routes and stopover areas the deer use as they depart winter ranges on their annual migration to summer ranges.

To date, wildlife managers have identified important migration corridors from critical winter ranges in the LaBarage area to summer ranges in the Greys River and Wyoming Range and Salt Ranges. There has also been a substantial migration documented for deer that spend the winter by Evanston and travel into the Greys River and Salt Ranges as well—a distance of at least 150-160 miles.

Gary Fralick, Game and Fish biologist whose responsibilities include the Wyoming Range deer herd said, "Stopover areas are those areas deer pass through during their annual migration to summer ranges. These stopover areas are essential habitat components for the animals to refuel and begin to replenish fat reserves after spending six months on sagebrush winter ranges. Migrations are very energetically demanding and it is important for the does to be in good physical condition prior to the parturition period."

Fralick said that stopover areas allow the pregnant does to maximize the green succulent grasses and forbs that provide necessary nutrition to allow does to produce viable and healthy fawns during the June birthing period.

"The body condition of the does is ultimately going to dictate how many fawns are recruited into the population," Fralick said. "This recruitment will determine the numbers of animals available for wildlife enthusiasts to view and what kind of hunting seasons can be expected in future years."

A positive indicator of the age group variety of the Wyoming range herd over the last three years has been provided by hunter harvest data.

"We've seen quite a variation in the number of age classes of bucks being harvested," Fralick said. "This indicates that the age classes of these animals when they were fawns, come through the winter in good shape."

Fralick said the winter so far is shaping up to be another good year for deer but cautioned there are still several months of winter left that could affect the population.

"But, unless the severity of the winter is substantial in the next few months, the deer now on the winter ranges should have a high survival rate. To finish off the winter, we will be hoping for spring precipitation with the resulting plant growth the deer need during the annual migration from their winter to summer ranges," Fralick said.

---
Summit the Grand Teton via an eClimb virtual experience (posted 2/15/15)
New interactive program on Grand Teton National Park's website
Grand Teton National Park
MOOSE, WYOMING - Ever wonder what it might feel like to climb and actually stand atop the Grand Teton? Visitors can now experience the Grand's 13,770-foot summit via a web-based interactive program and make this exhilarating trek without the physical effort, and possible anxieties, associated with such a lofty goal. Come take a virtual climb of Grand Teton National Park's most iconic peak and discover the legacy of mountaineering in the Teton Range of northwestern Wyoming.

Grand Teton National Park ranger naturalists invite classroom students, as well as adult visitors from far and wide, to explore the beauty and wonders of the rugged Teton mountains through the convenience of their personal computer and the comfort of a home office or living room. This virtual mountaineering excursion—or eClimb—provides an introduction to the features, geology, history, and excitement of scaling the granite ledges and spires that form the Grand Teton massif: the highest peak in the Teton Range and second highest mountain in Wyoming. This web-based tour introduces viewers to the various elements (rocky terrain, plants and wildlife) that exist in Grand Teton's forest and alpine communities.

eClimbers can control images and sounds at each stop along their virtual tour, and they can activate videos to explore the human and natural history related to each location along the climbing route. By hovering their mouse over a photograph, hidden images will be revealed through the click of a button. eClimbers can also use videos to imagine scrambling over boulder fields and wedging through rocky alcoves as they experience the thrill of climbing and drama of a mountain rescue in a virtual landscape.

"After the success of our String Lake eHike that we posted in early 2013, we knew an eClimb could provide an exciting experience for visitors who either don't have the time or the ability to reach such a high mountain summit," said Vickie Mates, Grand Teton National Park's chief of interpretation and partnerships.

"We hope children and adults alike enjoy this virtual journey to the alpine zone and the summit of the Grand Teton. And we hope that those who discover our suite of electronic experiences will also be tempted to make a live visit to Grand Teton National Park to explore first-hand the exquisite Teton peaks and the wildlife that lives in their majestic shadow," added Mates.

The Grand Teton eClimb is the third in a series of web-based, interactive programs that help orient visitors and educate them about the wonders of Grand Teton National Park. A String Lake eHike and videos of the Moose-Wilson corridor offer two other opportunities for virtual tours of the park.

To experience this innovative program, visit the park's website at www.nps.gov/grte and click on the link for Photos & Multimedia, then go to the Virtual Tour link.

---
Business Directory
Click here for
Advertising Information