The Museum houses Jim Bridger's rifle, among many other interesting artifacts related to the early 1800 fur trade era and Sublette County history.

Museum of the Mountain Man open for the season (posted 5/5/15)
Open daily through September
The Museum of the Mountain Man in Pinedale has opened for the summer season. They are open daily from 9AM to 5PM through September. Admission is $7 for adults, $5 for seniors, $4 for children 6-12 years old.

Displays for 2015 include:
Wilson Photography Studio Collection
National Geographic Pronghorn Passage Photo exhibit
Archaic Camp from 6,000 years ago
Jim Bridger's rifle
Chief American Horse Warrior Society Tipi
Shoshone Sheephorn bow
Vernon & Virginia Delgado Winchester Commemorative rifle collection

The Sublette County Historical Society is celebrating their 80 year anniversay this year and the Museum of the Mountain Man is celebrating 25 years.

Click on this link for more pictures>

Upcoming events:
Tuesday-Thursday, May 12-14, Living History Days at the Museum with the American Mountain Men Living history demonstrations including blacksmithing, Indian sign language, trade goods, beaver trapping, mountain man clothing, firearms and weapons, and more. The public is very welcome to attend.

Thursday-Sunday, July 9-12, Green River Rendezvous Days Rocky Mountain Fur Trade Journal and author talks, living history demonstrations, Native American culture with "Bad Hand", children's activities, more.

Related Links:
www.mmmuseum.com Museum of the Mountain Men

---
Construction continues on Fremont Lake Campground and Upper Boat Launch (posted 5/4/15)
No projected reopening date
Bridger-Teton National Forest
The Fremont Lake Campground and Upper Boat Site, located on the Bridger-Teton National Forest five miles north of Pinedale, Wyoming, remain closed and the Forest does not have an estimated opening date. The Contracting Office continues to work with the contractor to finish obligations under the campground construction contract.

Fremont Campground:
Fremont Campground is the largest campground on the Bridger-Teton National Forest and is considered one of the premier campgrounds on the Forest. Campground improvements at this site were necessary to address public health and safety issues, improve accessibility and meet visitor expectations for quality facilities at Fremont Lake.

"We recognize this campground is extremely important to the public, especially to the local community," said Recreation Specialist Cindy Stein. "We've heard from many people how important this campground is for families, businesses, and campers locally and abroad. For this reason, we remain committed to completing this effort and opening this campground as soon as contractually possible," she said.

Reservations cannot be accepted for the Fremont Campground until the contract is completed. Other available campsites on the Pinedale Ranger District include the Half Moon Lake and Narrows Campgrounds (which have reservation sites), as well as Trails End Campground, Boulder Lake Campground, New Fork Lake Campground, and Willow Lake Campground.

Upper Fremont Boat Site:
While not part of the Fremont Campground construction project, the Upper Fremont Boat Site is located within the Fremont Campground construction area. The Forest Service and Wyoming Game and Fish Department are working in partnership to bring this launch site to acceptable standard, including replacement of the dilapidated boat dock. The Lower Fremont Boat Site, located on the southwest shore of Fremont Lake, remains open to boaters throughout the 2015 boating season.

Public notice will be provided when the boat site and campground opening date is finalized. The Forest appreciates everyone's patience and the Bridger-Teton remains committed to providing high quality recreation facilities across the Forest.

For more information on campgrounds available on the Bridger-Teton National Forest visit www.fs.usda.gov/btnf/.

---
Bridger-Teton National Forest begins selling firewood permits (posted 4/30/15)
Bridger-Teton National Forest
cThe Bridger-Teton National Forest will start selling firewood permits for personal use beginning May 15, 2015 at many of our District offices and local vendors for a price of seven dollars per cord with a five cord minimum purchase.

National Forests across the nation have been providing a substantial amount of firewood for the public since 1970's, which has continued to grow as more households in America are a adopting a more environmentally friendly route to reduce energy and fossil fuel consumption. Selling firewood permits also aids in fire prevention by removing burnable material from the Forest floor.

When gathering firewood, permits allow for the harvest of down or standing dead wood only and it is important to use firewood from local sources to prevent the spread of invasive species. A standard cord is 8 feet long, 4 feet wide and 4 feet high, measuring 128 cubic feet when wood is stacked in a row. Make sure to cut firewood only where the permit allows, as other neighboring Forests might have different firewood cutting regulations and price and may be located in areas not open for cutting such as wilderness areas, campgrounds, picnic areas, resorts, recreation management areas, wilderness study areas, administrative sites, or timber sales. Maps of legal wood cutting locations will be available where permits are sold and on the Forest website.

Forest visitors are advised to check in with their local ranger stations regarding the areas roads and trails information. Permits are offered at all of our District Forest office locations and vendors listed in our website: www.fs.usda.gov/main/btnf/passes-permits/forestproducts, accepting cash, checks, and credit cards as form of payment. The Forest does on occasions offer free firewood which is advertised to the public as it becomes available throughout the summer. Transplant permits will be sold at the District offices beginning Friday May 1, 2015.

Be advised that firewood gathered under a personal use permit may not be resold for profit. For more information about Forest regulations or the products available for sale visit our website www.fs.usda.gov/btnf or call our office at (307) 739-5500.

---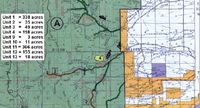 Cottonwood prescribed burn map

Bridger-Teton plans Cottonwood area prescribed burn in Wyoming Range (posted 4/24/15)
Bridger-Teton National Forest
The Bridger-Teton National Forest plans to conduct a prescribed burn in the Cottonwood area of the Big Piney Ranger District this spring.

The primary objective of the burn is to increase aspen regeneration and reduce encroaching conifer. Additional benefits will be to increase forage conditions for wildlife habitat and reduce hazardous fuels build-up while restoring fire adaptive ecosystems.

"Fire is a very good tool to help bring back these aspen stands," said East Zone Fire Manager Officer Paul Hutta, "since the aspen are shade intolerant, removing the overstory of conifers will allow for the formation of new vegetation to grow."

The Cottonwood II prescribed burn is located approximately 20 miles west of the town of Daniel, Wyoming, North and South Cottonwood drainages and on Bare Pass near Red Castles. The project consists of several units totaling 1,093 acres. Fire Managers have already successfully treated approximately 482 acres over the last couple of seasons.

"Unit 4 on the South Cottonwood Road is about 118 acres, which is the area we are looking at burning this spring if conditions become favorable to do so," said Fuels Specialist Paul Swenson, "we had great success with the four units we burned last spring and fall and anticipate this one will meet our objectives as well."

Burning may begin the last week of April and could potentially last through May. Actual ignition will be dependent on meeting strict parameters for weather and fire behavior conditions. Forest users may experience temporary smoky conditions in the vicinity of the project area and smoke will be visible from the towns of Big Piney and Pinedale. Hazards associated with fire such as snags, hot stump holes, rolling debris, and residual hot spots will be present inside and adjacent to the burn unit. Interagency fire managers will attempt to minimize any adverse impacts as the burn proceeds.

This vegetation treatment is an interagency cooperative effort with Bureau of Land Management, Wyoming Game & Fish Department, Sublette County Unified Fire, and Teton Interagency Fire.

For more information about this project, contact the Big Piney Ranger District at 307-276-3375 or visit www.tetonfires.com.
---
New rule requires oil and gas wells to be no closer than 500 feet from occupied structures (posted 4/21/15)
On April 14th, the Wyoming Oil and Gas Conservation Commission approved a new rule that requires oil and gas companies to drill wells no closer than 500 feet from existing occupied structures – a bump up from the previously allowable 350 feet.

The rule defines occupied structure as a building specifically constructed and approved for human occupancy such as a residence, school, workplace or hospital. Outbuildings such as sheds, barns or garages are not considered occupied structures.

The updated rule falls short of environmentalists' request for a quarter-mile buffer and isn't even as large as commission staff's initial proposal of 750 feet in fall 2014. Some argue that public health and safety has taken a backseat to energy accessibility.

Oil and Gas Supervisor Mark Watson went through a section-by-section explanation of the new rule. He noted that a definition of production facilities was added. That language in the rule means any building or equipment used for the purpose of producing, treating or separating produced fluids and gas. The rule includes but does not limit the definition for pumps, compressors, generators, gas flares, treaters, separators, storage tanks and pits.

The supervisor may approve variances to the setback rule if the owner(s) of occupied structures give written approval. If good cause is shown, the supervisor may approve or deny a variance and either the landowner or the oil and gas operator may request a hearing before the commission. The rule encourages oil and gas operators to locate production facilities "at a greater distance from occupied structures where technically feasible."

Another provision added since last year's discussions by the Commission and public comments requires oil and gas operators to give between 30 and 180 days' notice to owners of occupied structures if the well will be located within 1,000 feet of the structure. The operator has to provide appropriate contact information about the well; a notice that a new well will follow an estimated construction, drilling and completion schedule; technical information that identifies the well location; and a description of best management practices and specific measures the operator will take to mitigate "reasonably foreseeable impacts to the owners of occupied structures." Operators must consider potential noise, lighting, dust, orientation of the drilling pad and traffic.

The rule then requires that 15 days prior to construction of a drilling pad or site for production facilities a report detailing actions taken by the operator to communicate with owners of the occupied structures. Comments from those owners must also be submitted in the report. Measures to mitigate potentially negative impacts on structure owners will be in the report. Landowners may ask the supervisor in writing to waive these requirements.

The rule will go into effect 75 days from the April 14, 2015 commission meeting.

---
Personal preparedness the focus of Severe Weather Awareness Week April 20-24 (posted 4/20/15)
National Weather Service
Spring is a time of transition, when late-season snowstorms can impact travel and afternoon thunderstorms bring the threat of hail, tornadoes, and lightning. The National Weather Service is asking Wyoming residents to use Wyoming Severe Weather Awareness Week, April 20 through 24, to plan and prepare for the varied weather that strikes the state.

"Everyone seems to have several ways in which they receive warnings. Smartphone apps, wireless emergency alerts, NOAA Weather Radio, the emergency alert system broadcasts over TV and radio, just to name a few. Having several ways in which you receive warnings increases the likelihood that you take action," said Chris Jones, warning coordination meteorologist at the Riverton NWS office. "Our focus this week is on increasing preparedness and taking action to keep you and your family safe when hazardous weather threatens."

Chad Hahn, warning coordination meteorologist at the Cheyenne NWS office, added that severe weather is more than just tornadoes, wind, and hail. "Certainly, people should practice a family tornado drill once each year and they should always take shelter indoors when thunderstorms approach," said Hahn. He added, "Flash floods and wildfires are also dangerous, and people need to be ready to take action when they threaten."

The NWS advises that people understand which weather hazards are most likely to affect them and then put together an emergency plan. Knowing ahead of time where you plan to shelter saves valuable time when hazardous weather strikes. Jones and Hahn both agree that sharing your preparedness activities with others is critical in building a weather-ready nation.

A test Tornado Warning will be issued by the NWS for the entire state on Wednesday, April 22, at 10:30 am to ensure statewide emergency communications and alerting capabilities are ready for the thunderstorm season. Broadcasters and public safety alerting points across Wyoming will be participating in the test. Schools, health care and continuing-care facilities, and other large venues are encouraged to use the drill to test internal emergency procedures.

For more information about severe weather safety and preparedness, visit the NWS website at: http://www.weather.gov/riw/severe_weather_awareness_week_main

---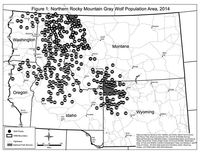 Known wolf packs in the Northern Rockies.

Wolf Population Tops 1,800 (posted 4/11/15)
Cat Urbigkit, Pinedale Online!
Federal wolf recovery goals for wolves in the Northern Rockies call for an equitably distributed wolf population containing at least 300 wolves and 30 breeding pairs in three recovery areas within Wyoming, Montana, and Idaho. There are now a minimum of 1,800 wolves in more than 300 packs, roaming across five states (Wyoming, Montana, and Idaho, plus Oregon and Washington), according to a new report by the U.S. Fish and Wildlife Service.

Federal funding of more than $3.1 million was expended in 2014 on wolf monitoring, management, control and research, according to the Northern Rocky Mountain Wolf Recovery Program 2014 Interagency Annual Report.

Federal protections have been removed for wolves in Montana and Idaho, eastern Oregon, eastern Washington, and north central Utah. Wolves in Wyoming remain under federal protection.

Here are some of the highlights of the recently released wolf reports from each state.

Wyoming
The State of Wyoming was responsible for monitoring and managing the gray wolf population in Wyoming outside Yellowstone National Park, Wyoming (Yellowstone), and outside Tribally-owned and Native American-owned fee-titled lands within the Wind River Reservation from January 1, 2014 through September 23, 2014.

On September 23, 2014, U.S. Federal District Court in Washington, D.C. released a ruling that overturned the 2012 Wyoming wolf delisting rule. This ruling returned Endangered Species Act protections for wolves throughout Wyoming and transferred wolf monitoring and management authority back to the U.S. Fish and Wildlife Service.

As of September 23, 2014, the gray wolf population in Wyoming outside Yellowstone and Wind River Reservation remained above minimum delisting criteria.

At least 195 wolves in greater than 34 packs inhabited Wyoming outside Yellowstone and the Wind River Reservation on September 23, 2014. Pack size ranged from 2-22, and averaged 6.1 wolves/pack.

Sixteen packs successfully reproduced and raised greater than 2 pups of the year through September 23, 2014, all of which were located primarily within the Wolf Trophy Game Management Area.
Causes of mortality included: human-caused = 57 (control in response to confirmed livestock depredation = 31,
preemptive damage control in the predatory animal area = 9,
legal public harvest in the predatory animal area = 12,
vehicles = 1, illegal = 2, other = 2); natural = 3; and unknown = 3.

Seventy radio-collared wolves were being monitored as of September 23, 2014 in Wyoming outside Yellowstone and the Wind River Reservation (36% of the known population on September 23, 2014).

From 2000-2009, the wolf population in Wyoming outside Yellowstone and the Wind River Reservation increased annually, then stabilized between 200 and 250 wolves from 2010-2011. During the period of wolf population growth, wolves also expanded in range and recolonized historic areas of distribution. Through 2006, cattle depredation by wolves increased rapidly as the wolf population increased and expanded in range. Beginning in 2006, the USFWS moved to a more aggressive approach of wolf control following confirmed livestock depredation, leading to a decrease in the number of livestock losses despite a continued increase in the overall wolf population.

Wolves were confirmed to have killed 55 head of livestock (49 cattle, six sheep) in Wyoming outside Yellowstone and the Wind River Reservation from January 1 through September 23, 2014. An additional seven cattle were injured by wolves during this timeframe. Seventeen packs (50% of 34 packs in Wyoming outside Yellowstone and the Wind River Reservation) were involved in >1 depredation.

Of the 17 packs involved in >1 depredation; 13 packs (76%) were involved in >2 depredations; and nine packs (53%) were involved in >3 depredations. Thirty-one depredating wolves were lethally removed through control efforts to reduce livestock losses.

Yellowstone National Park
There were at least 104 wolves in 11 packs (9 breeding pairs) living primarily in Yellowstone National Park (YNP) through December 2014. This is an increase of nine wolves (2013 = 95 wolves) and one pack since 2013. Due to many years of being uncollared, for the first time the Bechler Pack was estimated via genetic sampling from scat samples obtained from their den site. Overall, wolf numbers have fluctuated between 83 -104 wolves from 2009 - 2014 (excluding the low of 83 in 2012 the range is 94-104) and 6-9 breeding pairs. Pack size ranged from 2-14 and averaged 9.2. Park-wide 40 pups survived to year end, 17 on the Northern Range and 23 in the Interior with an average surviving of 4.4/pack for the 9 of 11 (82%) packs that had pups.

Wind River Indian Reservation
Wolves have been present on the reservation for at least 13 years and are currently distributed across the Wind River and Owl Creek mountain portions of the reservation. As of December 31, 2014, a minimum of 10 wolves and 1 pack (St. Lawrence) were documented on Wind River. No breeding pairs were documented on Wind River. Breeding had occurred in the St. Lawrence pack, but pups were not verified at the end of 2014.

Idaho
Biologists documented 104 packs within the state at the end of 2014. In addition, there were 23 documented border packs counted by Montana, Wyoming, and Washington that had established territories overlapping the Idaho state boundary. Additional packs are suspected but not included due to lack of documentation.

Determination of breeding pair status was made for 43 packs. Of these, 26 packs met breeding pair criteria at the end of 2014, and 17 packs did not. No determination of breeding pair status was made for the remaining 61 packs. Reproduction (production of at least 1 pup) was documented in a minimum 55 packs.

The year-end population for documented packs, other documented groups not qualifying as packs, and lone wolves was estimated at 770 wolves. Mortalities of 360 wolves were documented in Idaho in 2014, 113 wolves (24%) less than in 2013. Human-caused mortality accounted for 342 of 344 (99%) wolf mortalities during 2014 where cause of death could be determined. Legal harvest was 256 wolves, agency removal and legal take was 67 wolves, and mortality from other human causes was 19 wolves. Sixteen wolf mortalities were attributed to unknown causes and two were attributed to natural causes.

USDA APHIS Wildlife Services agents classified 43 cattle, 100 sheep, 3 dogs, and 1 horse as confirmed wolf depredations in 2014. Ten cattle, 7 sheep, and 1 dog were classified as probable wolf depredations.

Montana
The minimum count of Montana wolves decreased by 73 from 627 in 2013 to 554 in 2014. A total of 134 packs of 2 or more wolves were verified in Montana for 2014. Thirty-four packs, seven more than in 2013, qualified as a breeding pair.

USDA Montana Wildlife Services (WS) confirmed 42 livestock losses to wolves including 35 cattle, 6 sheep and 1 horse in calendar year 2014 compared to 78 total confirmed losses in 2013. Additional losses (both injured and dead livestock) most certainly occurred, but could not be confirmed. Most depredations occurred on private property.

The total number of known wolf mortalities during 2014 was 308, with 301 of these mortalities being human-related, including 213 legal harvests, 57 control actions (50 agency control and 7 under defense of property statute or under shoot-on sight-permits), 11 vehicle strikes, 10 illegal killings, 6 killed under the newly-enacted Montana State Senate Bill 200, 2 capture-related mortalities, 1 euthanized due to poor health, and 1 legal tribal harvest. In addition, 1 wolf died of natural causes and 6 of unknown causes.

Oregon
The 2014 Oregon minimum wolf population is 77 wolves. Nine packs were documented and eight of those packs met the criteria as breeding pairs. Known wolf packs occurred in parts of Baker, Jackson, Klamath, Umatilla, Union, and Wallowa Counties. In addition six new pairs of wolves were also confirmed in Oregon; five within the Eastern Wolf Management Zone and one within the Western Wolf Management Zone. 2014 marks the third year that the conservation population objective (four breeding pairs in eastern Oregon), as defined in the Oregon Wolf Conservation and Management Plan (Wolf Plan), was achieved.

Six wolves were captured and radio-collared in 2014 and throughout the year as many as 18 GPS radio-collared wolves were monitored. At year-end 13 wolves (17% of the population) were radio- collared in Oregon. Three radio-collared wolves dispersed out of state. No adult mortality or incidental take was documented in Oregon during 2014.

Confirmed depredation of livestock decreased; 11 incidents of wolf depredation were confirmed in five areas of Oregon in 2014. Per the Wolf Plan the Oregon Department of Fish and Wildlife and area producers implemented non-lethal measures to minimize depredation.

Washington
The minimum estimated wolf population in Washington increased by approximately 31% over 2013 levels to at least 68 known wolves in 16 known packs including at least 5 breeding pairs. Pack sizes ranged from 2 to 6 and averaged 3.7 wolves per pack. One pack that existed in 2013 was no longer considered a pack at the end of 2014. State and tribal biologists captured a total of 14 wolves from 9 different packs and monitored a total of 19 radio collared wolves from 11 different packs that existed at some point during 2014. We documented 10 mortalities in Washington during the year and the causes of mortality included natural causes (n = 3), human- caused (n = 4), unknown (n = 2), and agency control (n = 1).

Wolf populations were managed to ensure progress towards recovery goals while also minimizing chronic loss of livestock caused by wolves. Two cattle and 28 sheep were confirmed wolf-kills while an additional 2 cattle, 6 sheep, and 1 dog were confirmed injured by wolves. Two packs (12% of known Washington packs that existed at some point during the year) were involved in at least 1 confirmed livestock depredation. One wolf was removed during agency control actions to minimize chronic loss of livestock.

Click on this link for more data.

Related Links:
Annual Wolf Reports
Western Gray Wolf Federal website for western wolf information.
Wolf Watch by Cat Urbigkit

---
Granite Hot Springs Pool closed until mid-May (posted 3/31/15)
Due to spring thaw inaccessible road conditions
Bridger-Teton National Forest
The Jackson Ranger District of the Bridger-Teton National Forest is announcing the closure of Granite Hot Springs Pool a week earlier than its scheduled closing date due to the unusual warm conditions making the road inaccessible. Granite Hot Springs will be closed on Tuesday, March 31 for the winter season.

"The unusual early warm weather conditions we have had this winter has caused the roads to become excessively muddy and slushy for snowmobiles and snow bikes to reach the Hot Springs" said Linda Merigliano, Recreational Manager of the Jackson Ranger Districts. "A lot of our outfitters are done for the season and it just makes the most sense for both the public convenience and resource protection to close it a little early this year."

Vehicle access through Granite road is closed until May 1st. Granite Hot Springs Pool will open for the summer mid-May, if the weather is favorable.

For further updates on Granite Hot Springs or current road conditions on the Bridger-Teton National Forest, visit http://www.fs.usda.gov/alerts/btnf/alerts-notices or call (307) 739-5500.

---
Seminars on large carnivores to teach safety and awareness (posted 3/26/15)
Seminar in Pinedale April 29
It's that time of year again when bears are waking up and people are preparing to enjoy the great outdoors. As spring arrives, the Wyoming Game and Fish Department reminds outdoor enthusiasts to be "bear aware" and take the necessary precautions to avoid conflicts with large carnivores.

Large Carnivore Conflict Coordinator Brian DeBolt said that at this time of year, bears are emerging from their dens.

"Typically, male bears emerge from their dens in mid-March and April, while females and young-of-the-year cubs emerge in late April and early May," DeBolt said. "This makes it an ideal time to attend a workshop to learn about large carnivores and how to avoid encounters and potential conflicts."

Educational workshops will be offered in communities across the state. At each workshop, Game and Fish large carnivore managers will present information about bear, mountain lion and wolf ecology, population status, management and more importantly, what people should do in an encounter situation. In addition, there will be discussion on preemptive measures to be taken by the public in order to reduce the likelihood of conflicts with carnivores.

Seminars are free and open to people of all ages and skill levels. Please call your local Game and Fish office for more information.

Community When Location Time
Dayton March 30th Dayton Town Hall 7:00-9:00pm
Sheridan March 31st Sheridan WGFD Regional Office 7:00-9:00pm
Cody April 9th Cody Library 5:30-7:30pm
Douglas April 9th Courthouse Community Room 6:00-8:00pm
Ten Sleep April 11th Senior Citizen Center 10:00-12:00am
Laramie April 11th UW Berry Biodiversity Conservation Center 10:00-12:00am
Lander April 13th Fremont County Library 6:00-8:00pm
Dubois April 14th Headwaters Art Center 6:00-8:00pm
Jackson April 15th Teton County Library 5:30-7:30pm
Pinedale April 29th Sublette County Library 5:30-7:30pm

---
Business Directory
Click here for
Advertising Information