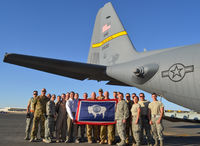 Sen. Barrasso with Wyoming National Guard's 187th Airlift Squadron in Kuwait. Photo courtesy Senator Barrasso's office.

Barrasso spends Thanksgiving with Wyoming troops in Kuwait (posted 11/23/17)
Senator Barrasso media release
Sharing Thanksgiving with Wyoming troops overseas is always an honor," said Wyoming Senator John Barrasso.

"There are 106 members of the Wyoming Air National Guard's 187th Airlift Squadron serving in Kuwait. They are a long way from home and it was nice to bring a little bit of Wyoming to them for the holidays. So much of our gratitude goes to these brave men and women who are doing an incredible job keeping America and our allies safe. As we take time to count our blessings this holiday season, please remember the sacrifice that our service members and their families make every day."

In addition to sharing Thanksgiving dinner with the troops, Barrasso toured workstations, aircraft and was briefed by military leaders on the status of their mission.

Sen. Barrasso and MSgt. Robert Brown of Cheyenne. Photo courtesy Senator Barrasso's office.

Sen. Barrasso tours aircraft in Kuwait with WYANG 187th Airlift Squadron. Photo courtesy Senator Barrasso's office.

Sen. Barrasso with Wyoming National Guard's 187th Airlift Squadron in Kuwait. Photo courtesy Senator Barrasso's office.

Click on this link for more pictures.

---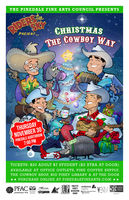 Riders in the Sky 'Christmas the Cowboy Way' Nov. 30 in the Pinedale Auditorium, and Pinedale Fine Arts Council presentation.

Riders in the Sky return to Pinedale for 'Christmas The Cowboy Way' Nov. 30 (posted 11/22/17)
Pinedale Fine Arts Council
The Pinedale Fine Arts Council (PFAC) is proud to present the Multi-Grammy Award winning Riders In The Sky's presentation of "Christmas the Cowboy Way" on Thursday, Nov. 30 at 7:00 p.m. in the Pinedale Auditorium.

Riders In The Sky's presentation of "Christmas the Cowboy Way" blends together a festive mix of western music classics, traditional Christmas music, and Riders' original yuletide carols in a holiday spectacular sure to delight Saddle Pals of all ages.

Those wacky, four-part harmonizing cowboys have spruced up the bunkhouse, donned their sequined yuletide outfits, and loosed their vivid imaginations to create a holiday musical fantasy, which will feature their unique "brand" of cowboy humor sprinkled with a dash of holiday spice.
The evening set will feature original songs like "Riding Home On Christmas Eve," "Deck The Bunkhouse Walls," and "The Last Christmas Medley You'll Ever Need To Hear." You will also be invited to join Riders in singing traditional holiday classics such as "I'll Be Home For Christmas", "Rudolph the Red-Nosed Reindeer" and others. And all this yuletide charm is augmented with the classic, western favorites Riders have been singing for 30 years. So put on your merry cheer and saddle up and ride! You're invited to spend a holiday evening Christmas The Cowboy Way!

Tickets for Riders in the Sky "Christmas the Cowboy Way" are available online at pinedalefinearts.com and at Pine Coffee Supply, The Cowboy Shop, Office Outlets, The Big Piney Library and at the door the night of the performance. Ticket prices are $20 adults / $7 students / $2 extra at the door.

Riders in the Sky "Christmas the Cowboy Way" live in Pinedale is presented by the Pinedale Fine Arts Council with support in part from the Wyoming Arts Council through funding from the Wyoming Legislature and the National Endowment for the Arts which believes a great nation deserves great art, Sublette BOCES, SCSD #1, Western Sublette BOCES #9, the Sublette County Recreation Board, the Wyoming Community Foundation - Sublette, Tegeler & Associates, Ultra, Andeavor, 1st Bank & Rocky Mountain Power Foundation.

For more information please visit www.pinedalefinearts.com or call 307-367-7322. And be sure to find us on Facebook!

---
Law enforcement mounting special DUI and seat belt use patrols over Thanksgiving holiday (posted 11/22/17)
Law enforcement throughout the state will be working special DUI and seat belt enforcement details throughout the Thanksgiving holiday.

In Wyoming, it is illegal to drive with a blood alcohol concentration (BAC) of .08 or higher. If you kill someone while under the influence, you could be charged with aggravated vehicular homicide. Driving while intoxicated means putting yourself and other lives at risk of harm. A DUI arrest means going to jail, losing your license, and paying steep financial costs.

Here are some recommendations for safe alternatives to drinking and driving.

• Plan a safe way home before any festivities or gatherings that involve alcohol.

• Designate a sober driver or call for a ride, taxi or rideshare.

• If you see a drunk driver on the road, contact law enforcement by calling the Report Every Drunk Driver Immediately (REDDI) hotline number at 1-800-442-9090 to report suspected drunk drivers. Callers should be prepared to provide the dispatcher with a description of the vehicle, its location, and direction of travel.

• If you know people who are about to drive or ride after drinking, take their keys and help them make other arrangements to get to where they are going safely.

---
Rocky Mountain Power gives tips on how to stay safe while preparing for your Thanksgiving feast (posted 11/22/17)
Rocky Mountain Power
Rocky Mountain Power wants to make sure safety is on the menu this Thanksgiving, as kitchen accidents are a leading cause of fires and home injuries.

Keeping an eye on the stove, staying in the home while food is in the oven and keeping children a safe distance away from cooking appliances are paramount in kitchen safety.
In addition, there are a number of electrical safety steps that sometimes can get overlooked but are key in staying safe as you prepare for Thanksgiving Day feasting.

• DON'T fight a grease or electrical fire with water. Smother the fire with a pot lid and always have a fire extinguisher available.
• DON'T overload your electrical outlets.
• DO unplug any unused appliances that could accidentally be turned and left on.
• DO replace any appliances with frayed cords to avoid electrical shock.
• DO locate all appliances away from the sink. Remember, water and electricity do not mix.
• DON'T use extension cords with major appliances.

---
BLM offers Christmas tree permits for sale starting Nov. 24 (posted 11/21/17)
Bureau of Land Management
Bureau of Land Management (BLM) will offer Christmas tree permits for sale starting Nov. 24, 2017.

Permits may be purchased between 7:45 a.m. and 4:30 p.m., Mon.-Fri. from any BLM Wyoming field office. The cost for a permit is $5 to $10 per tree, depending on location. Up to a maximum of five Christmas trees can be purchased by an individual for personal use on BLM-administered lands.

A BLM permit is valid for trees located on BLM lands only. Permits for trees on U.S. Forest Service-administered land can be obtained at your local Forest Service office and at some BLM offices.

Tree cutters must have a valid permit with them while cutting a tree. Trees may not be cut within a wilderness area, wilderness study area, timber sale area, or administrative sites such as developed campgrounds.

Although the Christmas tree permits are for any tree species, the BLM recommends Engelmann spruce, sub-alpine fir, Douglas fir, ponderosa pine and lodgepole pine as the best species to cut for your Christmas tree. Christmas trees harvested from aspen stands and riparian areas will contribute to forest health and improve wildlife habitat.

It is the purchaser's responsibility to not trespass on private land and to make sure you're cutting the tree in the correct area. Be prepared for winter weather and high country conditions.

For more information call your local BLM office:

Buffalo Field Office (307) 684-1100
Casper Field Office (307) 261-7600
Cody Field Office (307) 578-5900
Kemmerer Field Office (307) 828-4500
Lander Field Office (307) 332-8400
Newcastle Field Office (307) 746-6600
Pinedale Field Office (307) 367-5300
Rawlins Field Office (307) 328-4200
Rock Springs Field Office (307) 352-0256
Worland Field Office (307) 347-5100
Wyoming State Office (307) 775-6314

---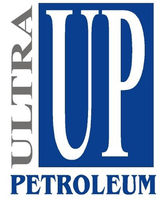 Ultra Petroleum

Update on Ultra Pinedale horizontal well program (posted 11/20/17)
New well has more than doubled its historic field average
On November 15th, Ultra Petroleum Corp. (NASDAQ:UPL) issued an update on the performance of its two-mile horizontal natural gas well in the Pinedale Anticline. The well has more than doubled its historic field average.

On November 7th the Company announced a test rate of 21 million cubic feet equivalent per day (MMcfe/d) for its two-mile horizontal well targeting the Lower Lance A interval. Yesterday (Nov. 14), this well achievedparameters a 24-hour test rate of 42 MMcfe/d. Flow-back include a gas rate of 38 MMcf/d, a condensate rate of 700 barrels per day and a flowing casing pressure of 3,000 psi. This morning's spot rate is 46 MMcfe/d.

"The well has steadily increased over the past week and remains on a controlled choke. With only 17% of the frac fluid recovered to date, and flowing pressures well above normal operating pressure, we expect to manage the flow-back for several more weeks," said Brad Johnson, Senior Vice President, Operations. "In addition to being excited about this well's high productivity, we are also encouraged that it is generating a condensate yield of 18 barrels per MMcf, which is more than double the historic field average."

The Company is in the process of drilling two additional horizontal wells. Both wells are expected to be online by the end of January 2018.

Source: http://www.ultrapetroleum.com/phoenix.zhtml?c=62256&p=irol-newsArticle&ID=2317167 - Ultra Petroleum Provides Update on Horizontal Well, Asset Sales and Hedging Program, Ultra Petroleum Corp, 11/15/17

Related Links:
Ultra Petroleum successfully drills 2-mile horizontal well on Pinedale Anticline - Pinedale Online, November 12, 2017
---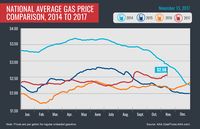 National gas price averages for November, 2017. Graphic courtesy AAA.

National gas price average jumps nine cents since first of November (posted 11/18/17)
Pinedale Online!
The American Automobile Association reports that the national gas price average has increased nine cents inside of 13 days since the first of November. Strong fall consumer gasoline demand has continued into November and is chipping away at national gasoline inventory. The Energy Information Administration (EIA) reports total gasoline inventories dropped by 3.3 million bbl in their latest report. "Compared to the first half of November last year, gas prices this November are on average 39-cents more expensive," said Jeanette Casselano, AAA spokesperson.

Average regular gas price across the country for 11/18/17 were:
Regular: 2.549/gallon
Diesel: 2.836/gallon

Average fuel prices for Wyoming for 11/18/17 were:
Regular: 2.532/gallon
Diesel: 3.072/gallon

Sublette County's low prices* as of 11/18/17 were:
$2.619/gallon for regular
$3.099/gallon for diesel

Highs* in Sublette County were:
$2.799/gallon for regular
$3.499/gallon for diesel
(*6 stations surveyed in Pinedale, Big Piney and Marbleton)

High prices in states for gas as of the time of this report were:
Hawaii: 3.247 Regular, 4.036 Diesel
Alaska: 3.277 Regular, 3.234 Diesel

Low prices in states for gas in the country as of the time of this report were:
Alabama: 2.261/gallon for regular
Mississippi: 2.550/gallon for diesel

State and National gas price data source: http://gasprices.aaa.com/ American Automobile Association
---
Temporary delays expected on Granite Creek Road in Hoback Canyon (posted 11/17/17)
Construction work to improve sight distance at entrance
Bridger-Teton National Forest
On Monday, November 20, 2017, Wyoming State Trails will be working on the entrance to the Granite Creek Road on the Bridger-Teton National Forest's Jackson Ranger District, located off of Highway 189/191, approximately 25 miles south of Jackson, Wyoming. Delays of 15 minutes are expected until Tuesday, November 21st.

The entrance of the Granite Creek Road has a narrow pinch-point with a blind corner. Workers will be utilizing a rock hammer and other equipment to chisel off 2-feet of rock face and remove the debris, and level out the area. Eliminating the blind curve will improve the sight distance and safety for visitors accessing the Granite Creek drainage.

The Forest asks that visitors use caution as workers and equipment will be moving in the area. For more information on road status or current conditions on the Forest, check with the local Ranger Districts or call 307-739-5500.

---
4 survive small plane crash near Rock Springs (posted 11/16/17)
Wyoming Highway Patrol
On November 15th, 2017 at 3:00 p.m., Wyoming Highway Patrol Troopers were dispatched to the area of mile post 2.5 on Wyoming State Highway 370 near Rock Springs, Wyoming for a report of a downed aircraft.

A small commuter plane carrying the pilot and three passengers had to make an emergency landing when the plane experienced mechanical problems. The pilot attempted to land the plane on WY 370.

All of the occupants survived the crash, but three of the passengers were transported by ground ambulance to the local area hospital and treated for their injuries.

The investigation has been turned over to the Federal Aviation Administration.

The occupants of the plane were out surveying and counting wild horses for the Bureau of Land Management prior to the crash.

---
Wolf News Roundup 11/14/2017 (posted 11/14/17)
Cat Urbigkit, Pinedale Online!
Wyoming wolf hunt
Half of Wyoming's wolf trophy game hunt areas remain open, as quotas have not yet been reached. According to the Wyoming Game & Fish Department, 34 wolves have been taken during the fall hunting season in the trophy game areas, while another 27 wolves have been killed in the state's predator zone so far this year.

Wolf killing, depredation investigations
Environmental groups have asked Oregon Governor Kate Brown to reopen an investigation into the self-defense killing of a wolf. The groups took issue with the Oregon State Police determination that an elk hunter who killed a wolf while it was running directly at him was in self-defense. The wolf was one of three that approached the man.

In other Oregon news, the Malheur County Sheriff's Office has confirmed that wolves killed six cattle – the first such event in recent history in that county. The finding is a direct contradiction of the Oregon Department of Fish & Wildlife. Read the details in the links below.

Midwest wolves
The National Park Service has indicated that its preference is to reintroduce wolves to Isle Royale. The island has only two wolves remaining, and moose are abundant. In other news, Wisconsin legislators are eying a bill that would block state agencies from participating in management of the state's wolf population or in enforcing laws prohibiting the killing of wolves. The move is viewed as an attempt to pressure Congress to pass legislation removing wolves from the endangered species list.

Washington wolves
The Washington Department of Fish & Wildlife reports:
On October 27, 2017, a livestock producer saw one wolf in the act of attacking their livestock on private grazing lands in Northern Ferry County. The producer shot and killed the wolf, and reported the incident to WDFW. WDFW Enforcement investigated the producer's action and found it to be consistent with state regulations. In areas of Washington where wolves are not listed under the federal Endangered Species Act, WAC 220-440-080 states the owner of domestic animals (or an immediate family member, agent, or employee) may kill one gray wolf without a permit issued by the WDFW director if the wolf is attacking their domestic animals. The incident occurred outside any known pack territories and the wolf killed was an unmarked adult female.

On November 2, 2017 WDFW was contacted by a different livestock producer in Ferry County about an injured calf that was discovered less than three miles from where the unmarked female wolf was killed under caught-in-the-act authority. A WDFW contracted range rider heard that there was a possible injured calf a day prior, but the calf could not be located at that time. Once the calf was found, it was taken to a holding pen for the investigation. The Ferry County Sheriff and WDFW management staff were notified of the pending depredation investigation as per the Wolf-Livestock Interaction Protocol. A Ferry County Officer was also in attendance for the depredation investigation.

The calf had injuries to both rear flanks and on both rear legs between the pin and hocks. Injuries on the rear flanks included bite lacerations and puncture wounds. Hemorrhaging was noted near bite lacerations in all four locations. After the wound was cleaned and dead tissue was removed, significant hemorrhaging was noted inside the wound, specifically around the wound margins. After a field examination of the injuries to the calf, it was determined to be a Confirmed Wolf Depredation. The determination was based on evidence and recent wolf activity in the area. Repeated reports from the producer and WDFW contracted range rider included recent wolf howls, tracks, scat, and cattle grouping behavior in the pasture where the injured calf was located. Information on the use of deterrence measures will be provided in our next monthly wolf report."

For more details on these stories, see the links below.

Related Links:
Wyoming hunts - Wolf Harvest Summary
Isle Royale - Fox9.com
Midwest wolves - Wisconsin Public Radio
Oregon investigation - OregonLive.com
Malheur County wolves - Malheur Enterprise
Washington - Washington Department of Fish & Wildlife
Wolf Watch - by Cat Urbigkit, Pinedale Online!

---
Info sought on deer poachings near Pinedale (posted 11/14/17)
Wyoming Game & Fish
PINEDALE - The Wyoming Game and Fish Department is seeking any information regarding two mule deer that were illegally shot south of Pinedale in recent days.

First, a buck mule deer was discovered northeast of Buckskin Crossing, off of the Lander Cut-Off Road (CR 23-132) near Long Draw. It is believed the deer was likely killed last Thursday or Friday, November 9 or 10 respectively. The buck deer was shot during a closed season and only the antlers were removed from the animal.

The second buck mule deer was killed Sunday, November 12, around 12:00PM along the Boulder Lake Road. The suspect is described as a white male, approximately five feet nine inches in height with a heavy-set build, blue eyes, balding light colored/whitening hair and a scruffy beard in his mid-50's. The suspect is also described as having a strong accent or slight speech impediment. The suspect was observed wearing an orange cap and hunting out of a maroon semi-truck with no trailer in the Boulder area. The individual was seen leaving the area around 1:00PM. The deer was field dressed and removed from the field. It is believed that the suspect was not aware that the deer season was currently closed in the area. UPDATE: This person has been caught.

Anyone with possible information regarding either of these poaching incidents, or who was in the area and may have noted suspicious vehicles or activities, is encouraged to call the Pinedale Game and Fish office at 1-800-452-9107, the STOP POACHING hotline at 1-877-WGFD-TIP (1-877-943-3847) or the South Pinedale Game Warden, Jordan Kraft, at 307-367-2470.

Callers may remain anonymous and any information leading to an arrest and conviction may result in a reward of up to $5,000.00. Warden Kraft urges the public to come forward with any relevant information about either of these mule deer poaching incidents, especially in light of this past winter's severe impacts to local mule deer herds.

---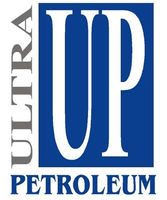 Ultra Petroleum

Ultra Petroleum successfully drills 2-mile horizontal well on Pinedale Anticline (posted 11/12/17)
Pinedale Online!
Ultra Petroleum announced their 3rd Quarter 2017 results in a press release on November 7, 2017. One of the highlights they mention is the successful drilling and completion of a two-mile horizontal well on the east flank of Pinedale. They report this is currently flowing at 21 MMcfe/d (10% condensate) and increasing. Their production is up 6% compared to the second quarter of 2017.

Pinedale Horizontal Program Update
The Company recently drilled and completed a two-mile horizontal well on the east flank of Pinedale. This well targeted the Lower Lance A section and encountered significant gas shows throughout the entire 10,300' lateral. Flowback was initiated on November 1st and the well is currently flowing at 21 MMcfed (10% condensate) and is still increasing. The Company expects the clean-up period of the flow-back operation to continue for 2-3 weeks. The total well cost is estimated at $9 million, which is expected to decrease over time as more horizontals are drilled.

Currently, the Company is drilling another horizontal well on the east flank that is targeting a deeper interval in the Mesaverde formation. This well should be drilled and completed by year-end 2017. A third well, designed as a half-mile offset to the recent well in the Lower Lance A, is scheduled to spud by the end of December 2017.

Wyoming Operations
During the third quarter, the Company and its partners brought online 63 gross (45.2 net) vertical wells in Pinedale with an average initial production (IP) rate for new operated vertical wells brought online of 6.8 million cubic feet equivalent (MMcfe) per day. The average condensate yield from these third quarter wells was 10.5 barrels per million cubic feet (MMcf). Contributing to this increase in production and activity was the Company's ramp up to eight operated rigs in Pinedale by the end of August.

The Company averaged 8.4 days to drill an operated vertical well in the third quarter, as measured by spud to total depth (TD). This compares to 9.4 days to drill an operated vertical well in the second quarter. The decreased cycle time of one day reflects improved efficiencies now that the new rigs have been fully integrated into the fleet. Total days per vertical well, measured by rig-release to rig-release, averaged 10.6 days in the third quarter, which compares to 11.4 days in the second quarter of 2017.

Ultra Petroleum Corp. is an independent exploration and production company focused on developing its long-life natural gas reserves in the Green River Basin of Wyoming – the Pinedale and Jonah Fields. In addition, Ultra Petroleum currently has an oil development project underway in the Uinta Basin, Three Rivers area in Utah. Maintaining natural gas optionality, Ultra has a position in the heart of the Marcellus shale in the Appalachian Basin of Pennsylvania.

Click on this link to read Ultra's full 3rd Quarter report: Ultra Petroleum Announces Third Quarter 2017 Results, Successful Horizontal Well and Updated Investor Presentation

Related Links:
Ultra Petroleum Pinedale Field ultrapetroleum.com
Out of bankruptcy, Ultra focuses on Western Wyoming By Heather Richards, Casper Star-Tribune, August 13, 2017
The Jonah Field and Pinedale Anticline: A natural-gas success story By Ann Chambers Noble, wyohistory.org

---
BOR fumbles Big Sandy assessment (posted 11/8/17)
Cat Urbigkit, Pinedale Online!
The Bureau of Reclamation (BOR) has released an environmental assessment for enlarging the Big Sandy Reservoir and is accepting public comment on the proposal until Dec. 6. But unless BOR determined you were an "interested stakeholder" you probably wouldn't know that. No press releases were issued, no notice soliciting public comment was posted on the agency's website, and a letter stating the document's availability and public meeting date was sent only to a select list of people and government agencies. Although the letter was sent to Sweetwater County officials, Sublette County officials were not consulted nor on the distribution list, even though more than half the reservoir is located in Sublette County.

That nearly 500 acres will be newly inundated is only mentioned in the document's assessment of impacts to Greater Sage-Grouse. BOR officials were unable to answer a question of how many of these acres are held in private landownership. Those are some of the issues that arose during the BOR's public meeting Tuesday night in Farson that was attended by about a dozen local residents.

Pete Arambel of Dunton Sheep Company is the lone private property owner in the area impacted by the reservoir expansion and said that under state law, all affected private landowners were to be contacted, yet he was not.

"Why did you not?" Arambel asked. "I have 1,600 acres on that reservoir; 800 above, 800 below. I'm the only landowner there. I was never contacted." Arambel continued, "Our company has owned this ground for 115 years; we've operated this ground for 100, and no one ever talked to us. Why?"

BOR officials responded that they have discussed the Arambel property with state officials, and most recently, have been in contact with Arambel's attorney.

"This document doesn't deal with anything with the affected lands," Arambel said. "It doesn't deal with anything about our operations. This is birthing country: you're taking my lambing ground. You're taking my calving ground. … There's nothing about my operation here."

BOR's NEPA Compliance Lead Peter Crookston said since the design phase is only at 30 percent, this was early in the planning process, and suggested Arambel submit his concerns in writing during the public comment period.

One BOR official said the EA looked at the lands in the area in general, "holistically," rather than any individual parcel. Arambel responded, "Your people trespassed on my land three years ago taking your elevation points. Was I ever contacted to give you access, or grant access, to any of that property? No."

BOR said state officials were in charge of talking with private property owners about the project. The Wyoming Water Development Commission (WWDC) is the lead agency funding the project, and the project sponsor is the Eden Valley Irrigation and Drainage District.

Arambel said that both the WWDC and BOR had proceeded with the project without contacting him, and he had to be the one to initiate contact about the project involving his private property.

Other things you won't find in the EA include:
• The cost of the project. A Wyoming Water Development Commission study puts the construction cost at $8.4 million.
• A timeline for the project. Under questioning at Tuesday's meeting, BOR officials said that the construction goal is the fall of 2019.
• The duration for construction. When questioned, BOR officials said that construction season would be September 15 to April 15th.
• Impacts to existing uses, including livestock operations, and lambing and calving operations.
• Engineering design drawings. While there is a written description of project components, basic design drawings weren't included in the EA, but were displayed during a presentation at the meeting.
• The words "private property" do not appear in the document. The agency's map for the reservoir expansion clearly shows several parcels of private property that will be impacted by the new inundation.

The word "landowner" is mentioned only once, in the section where BOR noted: "A comment period and public meeting will be conducted to solicit comments on the Draft EA. Notices of the comment period and public meeting will be sent to shareholders, landowners, and local, state, and Federal agencies."

Livestock grazing and agricultural operations are only mentioned once in the 87-page document, in the EA's "cumulative effects" section: "Grazing and agricultural practices would be expected to continue as they have for decades, with no cumulative impact from this Project. Any impacts from this work would be temporary in nature with no long-term impacts. Based on resource specialists' review of the Proposed Action, Reclamation has determined that this action would not have a significant adverse cumulative effect on any resources."

Private Property
In an interview Wednesday, Arambel expressed frustration that while he didn't want to halt the project, proper process was not followed, and harm to his ranch operation aren't being addressed.

"Fix me and I'll be out of the way. Dirt for dirt: I want a trade, and that's all – and that's where we've been from day one. We're not about dollars, we're all about the land."

The WWDC-commissioned planning study for the project (completed earlier this year) noted, "Communication with the Dunton Sheep Company representative indicated they would entertain a potential land exchange to allow Reclamation or the State of Wyoming to own these inundated properties."

WWDC Deputy Director Jason Mead said in an interview Wednesday afternoon that while WWDC's role in the project planning is primarily completed, his office will continue to serve as a go-between between Arambel and the State Land Office, which would have to approve of such a land exchange. Mead said that while there had been "roadblocks" in coming to an agreement, he was orchestrating a meeting between state officials and Arambel in attempt to resolve the impasse.

"I want to find the middle ground and see this project happen because it will provide big benefits for that local area, in my opinion," Mead said. He noted that the Big Sandy project falls within Governor Matt Mead's "10 in 10" water development strategy, which calls for development of 10 reservoir projects in the state in 10 years.

WWDC's Mead said, "We're not in the business of impacting landowners. Eminent domain is not something we are going to pursue on this project."

The Project
The Big Sandy Reservoir, located about 10 miles north of Farson in both Sublette and Sweetwater counties, provides storage for irrigation, flood control, and recreation.

The Wyoming Water Development Commission is interested in increasing the storage capacity of the reservoir by raising the spillway crest by five feet, increasing total storage capacity (by 13,600 acre-feet) to 52,300 acre-feet. A toe drain and filter trench would be installed along the left abutment of the dam, a filter diaphragm would be installed around the outlet works, a cement-bentonite cutoff wall would be constructed through the crest of the dike, and since raising the reservoir would increase the water height on the existing dikes that are already experiencing erosion, additional riprap would be required. In addition, the project would replace the Big Sandy Feeder Canal headworks and six concrete drop structures.

Water Law & Private Property
Wyoming water development law 41-2-122 specifically provides for "Protection and rights of landowner":
"(a) The Wyoming water development commission shall include in the planning process at Level I notification to a landowner whose lands may be flooded or otherwise physically affected, as determined by the administrator. The commission shall include in the planning process at Level II consultation with any landowner whose land may be flooded or otherwise physically affected by a proposed water project and shall include a report on the proposed mitigation of landowner impacts as jointly identified by the commission and the landowner." (b) The Wyoming water development commission shall consult with and supply copies of reports and studies to any landowner whose land will be flooded or physically affected by any proposed water development project. The commission and any employees or other persons under the control of the commission shall mitigate any damages and disruption of the landowner's operations during the study phase including prevention of public nuisances and shall enter on private property only in the manner provided by W.S. 1-26-506 and shall also be subject to W.S. 1-26-507 and 1-26-508.
(c) In proceeding with Level III, construction and operation plans, the commission shall follow the requirements of the Wyoming Eminent Domain Act, shall negotiate in good faith with affected landowners and, in addition, shall attempt to mitigate damages which may occur from the impacts enumerated in subsection (a) of this section."

---
2017 Wyoming brand books on sale (posted 11/7/17)
The Wyoming Livestock Board's 2017 brand books are available for sale. Cost is $38 for the book plus $4.74 for shipping. The brand book can also be purchased on CD for $22. Older brand books can be viewed on the WLSB website at wysb.state.wy.us. To order and for more information call (307) 777-7515.

---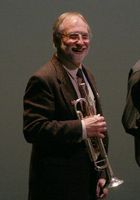 Craig Sheppard. Pinedale Online file photo by Pam McCullough.

SCSD 1 to name PHS Auditorium for long-time instrumental music teacher R. Craig Sheppard (posted 11/6/17)
Pinedale Auditorium to be renamed 'Sheppard Auditorium'
SCSD#1 media release
Sublette County School District 1 is pleased to announced that it will name the SCSD 1 Auditorium after long-time instrumental music teacher R. Craig Sheppard. Mr. Sheppard provided 40 years of distinguished service to SCSD 1 as the band instructor, from 1972-2012. Under Mr. Sheppard's leadership the band grew from just 21 students to nearly 80 at times. Mr. Sheppard has had a profound influence on two generations of students and musicians in Pinedale. "His success and longevity in a single district is becoming an exceptionally rare feat in K-12 education", said Superintendent Jay Harnack. Mr. Harnack requested the SCSD 1 Board of Trustees rename the facility in Mr. Sheppard's honor last spring.

Mr. Sheppard will be recognized at the District's Winter Concert on December 4th, 2017 and the auditorium will be officially dedicated as "Sheppard Auditorium" at that time. We hope that you can join us in this celebration.

---
Two recreation proposals at Greys River Ranger District (posted 11/3/17)
Portable toilet installation and 3-day snowmobile hill climb. Deadline for comments is November 30, 2017
Bridger-Teton National Forest
AFTON, WYOMING – The Greys River Ranger District of the Bridger-Teton National Forest is seeking public input on two current recreation-related proposals. One is the addition of a new vaulted toilet facility and the other is a one-time recreation event permit.

The proposed new vaulted toilet facility is being considered for a previously hardened location approximately thirteen miles up the Little Greys River Road, # 10124. Currently, the only existing toilet facility along the approximately 25-miles of open roads in the drainage is within a fenced area at McCain Guard Station, at the extreme northern portion of the upper forks of the road system. This guard station is available for public rental, so when general forest recreationists want to use that facility, conflicts can arise. The proposed location would be more centrally-located to the majority of the dispersed campsites just below the upper 'Y' where #10124 and #10047 diverge, at an old heli-spot and former roadway (#10124A) where the ford washed out years ago (T36, R116, S6). This location is also near the #10334 network at Blind Trail, popular with firewood collectors and motorbike enthusiasts exploring Telephone Pass. Visitors enjoying these day-use activities may not be associated with any self-contained camping units, so with increased numbers of recreationists in the drainage, sanitation facilities are clearly a desired improvement.

The proposed recreation event permit would allow for the continued use of the Phillips Canyon area in Grover Park for its February 2018 three-day snowmobile Hill Climb. This event has been held on the national forest for approximately twenty years now, and provides a positive economic boost for local communities during a slower season. The local volunteer organization, Star Valley Ridge Riders snowmobile club, is the host and project proponent that would hold this permit. Because this area has a number of special designations, including critical wildlife winter range and municipal watershed protection emphasis, event design criteria have been developed over the years to address a variety of potential resource concerns.

Given the volatile changes in amounts of snow on the hill from year to year, and even across a single winter, the requirement for an average of at least eighteen inches of snow prior to the event start can present a challenge. Last year barely met that depth requirement, and soil damage had to be treated. Several years ago, the snow slid off the face of the slope used for the event, and the location had to be moved to the ski area outside Cokeville, which was a less exciting location for participants, and farther from Star Valley businesses. Packing the hill earlier has been allowed under special permit waivers for the past two years, and the activity does appear to be effective in retaining snow.

Questions on the two proposals can be directed to Sid Woods at 307-886-5327. For inclusion in the permitting decision, please send comments to swoods@fs.fed.us prior to December 1, 2017.

---
Business Directory
Click here for
Advertising Information