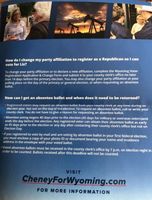 How do I change my party affiliation to register as a Republican so I can vote for Liz?

Wyoming 2022 Primary Election cross-over voting (posted 8/18/2022)
Pinedale Online!
Cowboy State Daily posted a couple of interesting articles about cross-over voting during the 2022 Primary Election in Wyoming, so we wanted to take a look at if that occurred in Sublette County as well. Crossover voting occurs when a voter participates in a primary election for a political party with which he or she does not generally affiliate, for example if a registered Democrat votes for a Republican candidate. In Wyoming, voters can switch their party affiliation up to the day of the primary.

The race where this was seen as being particularly significant in Wyoming's 2022 primary election was for U.S. Representative between Republican incumbent Liz Cheney and challenger Harriet Hageman. While campaigning in the primary, Cheney put out political campaign ads aimed at Independents and Democrats with instructions on how voters could change their party affiliation for the GOP primary on August 16. Liz Cheney ultimately lost to Harriet Hageman in the August 16th primary.

Teton County, which had a 38 higher percentage of registered Democrats to Republicans in the 2020 presidential election, had the number of registered Republicans in the county overtake registered Democrats before the 2022 primary, according to an article on Wyoming Public Radio in early August. Teton County is the only county in the state that voted overwhelmingly for Liz Cheney. We did not find data on the number of Teton County registered as Democrats who switched to Republican party for the primary election.

In Sublette County, the Sublette County Clerk's Office provided data that approximately 112 people switched from Democrat to Republican party affiliation in the 2022 primary election. There were only 43 Democratic ballots cast in the election in Sublette County compared to 3,626 Republican ballots. There were a total of 5,253 registered voters in Sublette County as of August 16, 2022. The primary election had a 69% voter turnout in the county.

One story by Cowboy State Daily stated, "Tuesday primary election statistics appear to show huge numbers of Democrats "crossed over" to vote Republican in the primary. From January 1 to Aug. 16 – the date of the election – the Republican party gained 19,016 registered voters, while the Wyoming registry as a whole gained just 6,273. That's an internal shift of 12,743 voters into the Republican party." The story went on to state, "The current split of 75% registered Republicans to 12.7% registered Democrats is the largest split between the two parties in recorded Wyoming history." A second story by Cowboy State Daily commented that Tuesday's election had the highest turnout in Wyoming history for a primary.

Click on the links below for news stories regarding cross-over voting in the 2022 Primary Election in Wyoming.

Huge Crossover Presence In Wyoming Primary Election: 94% Of Ballots Republican By Clair McFarland, August 17, 2022

Crossover Voting Did Not Have Big Impact On Wyoming's U.S. House Primary Race By Leo Wolfson, August 17, 2022

Liz Cheney is appealing to Wyoming Democrats. Will it make a difference? By Bill Walkey, Wyoming Public Radio, August 5, 2022

Wyoming Secretary of State 2022 Primary Election Summary (PDF)

---
Yellowstone visitation statistics for July 2022    (posted 8/18/2022)
Visitation down 45% since July 2021
National Park Service
Yellowstone National Park hosted 596,562 recreation visits in July 2022. This is a 45% decrease from July 2021 (1,080,767 recreational visits), the most-visited July on record, and a 36% decrease from July 2019 (936,062), the last pre-Covid year.

On June 13, all entrances to Yellowstone National Park closed due to historic flooding. Park visitors were evacuated over the next 24 hours. On June 22, the East, South and West entrances to the park reopened on a limited entry basis. On July 2, entry restrictions on the East, South and West entrances were removed. The North (Gardiner, Montana) and Northeast (Cooke City/Silver Gate, Montana) entrances remain closed to visitor vehicles.

As the park recovers from the June flood, it's critical that visitors traveling to the park in the coming weeks stay informed about what's open and closed.

So far in 2022, the park has hosted 1,864,771 recreation visits, down 30% from 2021.

The list below shows the year-to-date trend for recreation visits over the last several years
(through July):

2022 – 1,864,771 (The park was closed June 13 through June 21. Three entrances opened June 22)
2021–2,668,765
2020 –1,674,699 (The park was closed May 1 through May 18. Two entrances were open May 18 through May 31)
2019 – 2,294,691
2018 – 2,322,271
2017 – 2,316,541

---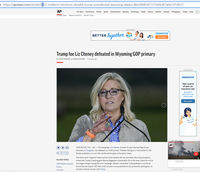 AP News had this story posted online before Sublette County even had all their ballot boxes turned into the county courthouse.

Sublette County 2022 Primary Election results (posted 8/16/2022)
Pinedale Online!
The Primary Election determines candidates from each party to compete in the General Election in November.

Unofficial results for the August 16, 2022 Primary Election:
Unofficial Summary Results-Sublette County only-2022 Primary Election (PDF)

Wyoming Statewide 2022 Primary Election Results

Election results are not official until certified by the Canvassing Board (Friday, August 19, 2022 for County Canvassing Board; Wednesday, August 24, 2022 for State Canvassing Board)

HIGHLIGHTS:
(Republican, no Democratic candidates filed)
House District 20 results (Sublette + Lincoln County):
Albert Sommers defeats Mike Schmid (2,139 to 1,419 votes)
Bill Winney (158 votes)

Sublette County Commissioner (2):
(Republican, no Democratic candidates filed)
Doug Vickrey (1,591 votes - 25.17% of votes)
Mack Bradley (1,170 - 18.51%)
--------------------------
Robin Schamber (996, 15.76%)
Lynn Bernard (882, 13.95%)
Andrew Zook (543, 8.59%)
Tyler Maxfield (362 5.73%)
Gary Sanders (295, 4.67%)
Bob Jones (259, 4.10%)
Jim Brost (203, 3.21%)

Sublette County Attorney:
(Republican, no Democratic candidates filed)
Clayton Melinkovich (1,899 - 62.18%) defeats Stan Cannon (1,026 - 33.60%)

Sublette County Clerk:
(Republican, no Democratic candidates filed)
Carrie Long (2,245 - 68.63%) defeats Kris Bacheller (1,022 - 31.24%)

US Representative (Sublette County only):
(Republican)
Harriet Hageman (2,538 votes - 71.69% of Sublette County votes)
Liz Cheney (849 votes - 23.98% of Sublette County votes)

Sublette County non-contested races:
(Republican, no Democratic candidates filed)
Coroner: Curt Covill (3,096, 99.68%)
County Sheriff: KC Lehr (2,964, 97.34%)
County Treasurer: Emily Paravicini (3,027, 99.67%)
County Assessor: Laila Illoway (2,952, 99.16%)
County Clerk of District Court: Janet K. Montgomery (3,025, 99.77%)

STATISTICS:
Ballots Cast: Total 3,626
Democratic Ballots Cast: 43
Republican Ballots Cast: 3,583
Nonpartisan Ballots Cast: 0
Blank Ballots Cast: 2

---
CDC changes COVID-19 guidance (posted 8/12/2022)
Pinedale Online!
On Thursday, August 11th, the Centers for Disease Control (CDC) issued a press release indicating they are steamlining their guidance for COVID-19 stating, "COVID-19 continues to circulate globally, however, with so many tools available to us for reducing COVID-19 severity, there is significantly less risk of severe illness, hospitalization and death compared to earlier in the pandemic."

Highlights include:
- Recommending if people are sick with COVID-19, or
what might be COVID-19, they should isolate from others, regardless of vaccination status. If you test positive for COVID-19, stay home for at least 5 days and isolate from others in your home. You are likely most infectious during these first 5 days. If after 5 days you are fever-free for 24 hours without the use of medication, and your symptoms are improving, or you never had symptoms, you may end isolation after day 5. It is recommended to wear a mask through day 10.
- Screening testing of asymptomatic people without known exposures will no longer be recommended in most community settings.
- Recommending that instead of quarantining if you were exposed to someone with COVID-19, you wear a high-quality mask for 10 days and get tested on day 5.
- The CDC is also dropping the 6-feet distancing from others recommendation.
- The CDC still promotes COVID-19 vaccinations and booster shots to protect against serious illness, hospitalization and death. (Vaccinated individuals can still contract COVID-19 and transmit it to others. To date, in Wyoming, there have been over 34,000 lab-confirmed cases of COVID-19 in vaccinated people and over 200 vaccinated deaths since the pandemic began. No one age 18 or under has died in Wyoming due to COVID-19 over the 2-1/2 years of the pandemic.)

Click on the link below to read the full media release.
Source: CDC streamlines COVID-19 guidance to help the public better protect themselves and understand their risk

---
Postal rates for packages to increase during 2022 holiday season (posted 8/12/2022)
Pinedale Online!
The United States Postal Service (USPS) filed notice on August 10, 2022 regarding a temporary increase in prices for package prices for the 2022 peak holiday season. This is a temporary rate adjustment to help cover the extra handling costs for parcels during the holiday rush. The increase does not affect international products.

The rate increase goes into effect on October 2, 2022 until January 22, 2023. Increase rates vary by zones. Commercial and Retail Priority Mail and Priority Mail Express will see increases from $.25 cents to $6.50 for flat rate boxes and envelopes, depending on weight and destination.

The price for first class mail Forever stamp increased from $.58 cents to $.60 cents in July 2022. A postcard stamp rose from 40 cents to 44 cents with that rate increase. The holiday rate increase is only for packages and will not change these prices for letters.

The Postal Service generally receives no tax dollars for operating expenses and relies on the sale of postage, products and services to fund its operations.

A full list of commercial and retail pricing can be found on the Postal Service's Postal Explorer website at https://pe.usps.com/text/dmm300/Notice123.htm.
Source: U.S. Postal Service Announces Proposed Temporary Rate Adjustments for 2022 Peak Holiday Season

Related Links:
Postal rates increase Pinedale Online!, July 18, 2022

---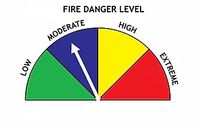 Fire danger lowers to Moderate (posted 8/12/2022)
Bridger-Teton National Forest
On August, 10, 2022, Teton Interagency Fire managers adjusted the fire danger rating to moderate for Grand Teton National Park, Bridger-Teton National Forest, and the National Elk Refuge following recent rainfall and cooler temperatures.

A moderate fire danger rating does not mean that people should let their guard down regarding fire risk. The best way to prevent wildfires is to not build an outdoor fire. If temperatures are cool, dress in layers to keep warm instead.

If you choose to build a fire, keep your fire small and attend to it vigilantly. Be sure to have a plan for putting your fire out before you light it. Campfires must be completely extinguished before you leave them. Before you walk away from your campfire, douse your fire with a large amount of water, stirring the coals and ashes into a thick, muddy soup, incorporating the white ash from the fire's edges. Feel for heat in the center of the fire, on the larger pieces of wood, and along the edges of the ash. Repeat this process until no heat remains.

If you do not have a shovel or water, no established fire ring, a soil area to build your fire free of flammable materials, or if there are winds that could carry sparks, consider not building a fire.

So far this year, there have been 77 illegal and abandoned campfires in the Teton Interagency Fire area. Every year, hundreds of campfires are left unattended, with all of them having the potential to start a large, extremely costly, life-threatening wildfire. Unattended or abandoned campfires can quickly escalate into wildfires and recreationists can be held liable for suppression costs if their campfire ignites a wildfire. Please be responsible with fire.

Learn more about wildfire prevention and current wildfires by visiting www.tetonfires.com. To report a fire or smoke in the area, call the Teton Interagency Fire Dispatch Center, 307-739-3630.

---
States say Feds meddling in State voter registration process (posted 8/5/2022)
Wyoming Secretary of State Ed Buchanan media release
Secretaries of State Ask President Biden to Rescind Executive Order Inserting Federal Agencies Into State Voter Registration Processes Without Prior Congressional Approval

CHEYENNE, WYOMING – Wyoming Secretary of State Ed Buchanan has joined fourteen other Secretaries of State from across the country jointly signing a letter to President Joe Biden asking him to rescind Executive Order No. 14019, which calls for federal agencies to act beyond their Congressionally-specified functions.

The Executive Order directs federal agencies to develop their own plans to register voters in those states that use an agency's services or programs. The Executive Order further directs those agencies to share these plans with the President without first consulting the states.

The letter cites a lack of Constitutional authority of an Executive Order to direct federal agencies to operate voter registration services beyond their Congressionally-specified functions.

The letter also says that Biden's Executive Order duplicates voter registration efforts already conducted at the state level, and ignores codified procedures and programs for voter registration outlined in state laws and constitutions.

As the supreme law of the land, the U.S. Constitution clearly indicates that state legislatures, not the President, shall prescribe the way and manner a state manages its election process. Neither the U.S. Constitution nor the National Voter Registration Act include any such grant of executive authority to the President to require federal agency involvement with state-level voter registration processes.

Any actions to reconfigure states' voter registration duties and responsibilities must be done by Congress or the states themselves, not through the Executive branch. The signatories to the letter contend that the Executive Order erodes the responsibility and duties of their state legislatures.

A complete copy of the letter can be found here.

---
Sublette County Public Health Update: July 22, 2022 (posted 7/23/2022)
Sublette County Public Health
This week's update is the last scheduled update that Sublette County Public Health will issue. If critical information changes, we will once again provide updates to the public.

If interested, you can keep up to date on numbers and data at:
• Wyoming Department of Health
https://health.wyo.gov/publichealth/infectious-disease-epidemiology-unit/disease/novel-coronavirus/
• CDC Map
https://www.cdc.gov/coronavirus/2019-ncov/science/community-levels.html

It has been our pleasure to communicate with you over the past few years about COVID related information. It is time to decrease our response as available data declines and our focus returns to all of our Public Health services. As always, please call Public Health @ 367-2157, if you need information related to current guidelines or vaccine recommendations.

COVID Update
Sublette County Public Health has received notification of 24 new positive COVID-19 cases in Sublette County since our last update on July 15th. Per the Wyoming Department of Health report on Tuesday, July 19th – our current numbers include 2,036 recoveries and 27 deaths, for a total of 2,063 cases since the pandemic began (529 cases in 2022).

Sublette County is in the high community transmission level according to the CDC's website.
(https://www.cdc.gov/coronavirus/2019-ncov/science/community-levels.html) See attached map for a quick view of the rest of the state's community transmission status.

COVID-19 Vaccines
As of July 4, 2022 – 3,548 people or 36.09% of our total population, have been fully vaccinated in Sublette County.

Sublette County Public Health offers weekly COVID vaccine clinics for ages 6+ months. Walk-ins are welcome on our scheduled clinic days or call 367-2157 to schedule an appointment. Pfizer and Moderna are offered at our weekly clinics.

Tuesdays at the Public Health Office in the Marbleton Senior Center
• 1 to 3:30 pm for COVID vaccinations/boosters
• Appointments recommended. Walk-ins welcome.

Thursdays at the Public Health Office in Pinedale
• 1 to 4 pm for COVID vaccinations/boosters.
• Appointments recommended. Walk-ins welcome.

Please bring your COVID vaccine card and completed vaccine consent form with you.

COVID-19 Testing
Please see our website for information: https://www.sublettewycovid.com/testing.

---
Business Directory
Click here for
Advertising Information