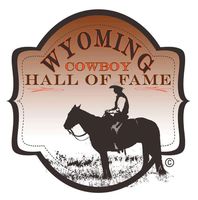 Nominations sought for the 2019 Wyoming Cowboy Hall of Fame

Nominations sought for 2019 Honorees to Wyoming Cowboy Hall Of Fame (posted 1/19/19)
Nominations accepted until Feb. 28, 2019
Wyoming -- where cattle first wintered over in 1852 and more than 600,000 grazed by 1882 – is The Cowboy State. The livestock industry is the reason many of your ancestors have a history on the prairies between the Sweetwater and the Yellowstone, the Platte and the Powder, the Green and the Missouri.

This is the season to honor that heritage by nominating cowboys and cowgirls you believe are eligible and worthy of induction with the Wyoming Cowboy Hall of Fame Class of 2019. Nominations close the last day of February 2019.

Anyone may put forth any nominee. Clear instructions for nominating are outlined at the WCHF website, and photos may be submitted along with each nomination. The website is www.wyomingcowboyhalloffame.com. Only online nominations submitted by the end of February 2019 can be accepted.
The link for nomination forms is http://www.wyomingcowboyhalloffame.com/nomination/

When nominations close, forms will be sorted and sent to regions in which the nominees reside. A person may possibly be nominated by more than one person, in which case all completed nominations will be forwarded together to the Regional Committees.

A wealth of knowledge about Wyoming's significant cowboy culture exists across the state, and cowboys and cowgirls are best known by those they live and work among. Therefore, Regional Committees will first review nominations of potential honorees in their region. Selected nominees will then be submitted to the WCHF board of directors for final selection in May.

Regional committees will also identify nominees they wish to recognize at the local level, independent from that nominee's consideration by WCHF for induction. While the WCHF may induct a small number of nominees each year, Regions are welcome and encouraged to honor local cowboys and cowgirls in the number and manner they choose.

All correctly completed nomination forms will be kept in a pool for future selection, if not selected the first year nominated. Both WCHF and the Regional Committees may choose the number of inductees to be honored, with no minimum or maximum set.

Inductees to the Wyoming Cowboy Hall of Fame will be publicized state-wide and honored at an Induction Ceremony in September.

Your participation in nominating worthy candidates for WCHF is important to the Cowboy State's ongoing heritage. Please take the brief time necessary to fill out and submit those nominations as soon as possible.
---
XMR Vintage Snowmobile Oval Race Jan. 19 (posted 1/18/19)
The XMR Vintage Snowmobile Oval Race will be held on Saturday, January 19th at Sagebrush Downs Track in Cora. The event is hosted by Snow Explorers/Altitude Off-Road. Snowmobile racers from all over the Rocky Mountains will be coming to Pinedale for high speed oval races. Classes include junior's, women's, master's (ages 50+) as well as stock, super stock, mod, and outlaw sled classes.

Concessions will be provided by Dynomite Donuts and Boulder Bar. Bundle up and bring the whole family out for a day at the races starting around 9 am!

Sagebrush Downs Racetrack is 6 miles north of the Cora junction on Highway 352, on the west side, at 31 Sievers Subdivision Road.

Visit www.xmr-racing.com or call Patrick at 307-231-6161 or Dave at 307-231-6790 for more information.

---
Auction open for 2019 Wyoming Game & Fish Commissioners License (posted 1/18/19)
Proceeds to benefit the Wyoming Stock Growers Environmental Stewardship Tour in summer 2019
Wyoming Stock Growers Association
CHEYENNE, WYOMING – The Wyoming Game & Fish Commissioners License is now open for bidding and ends Tuesday, March 31, 2019. License is good for elk, deer, or antelope in the state of Wyoming. Opening minimum bid starts at $12,000 with no option for a 'Buy Now' price. All proceeds will benefit the Wyoming Stock Growers Association (WSGA) Environmental Stewardship Tour in the summer of 2019.

"Wyoming Stock Growers is grateful to Commissioner Mark Anselmi for once again providing a Commissioners License to enable us to celebrate the resource stewardship of Wyoming ranchers through our annual Environmental Stewardship Tour," states Executive Vice President, Jim Magagna.

All interested bidders are the contact the WSGA office and place bids with Olivia Sanchez by phone or email – (307) 638-3942 or olivia@wysga.org. Bids will be updated regularly on the WSGA website and Facebook page, www.wysga.org. once the first bid has been made.

As stated on the Wyoming Game & Fish website, "…All big game licenses authorized under this section are valid for a specific region or hunt area as designated by the license holder at the time of application…" All hunters and sportsmen in and out of the state of Wyoming are welcome to bid and support a great program with over 20 years of recognizing landowners for their stewardship and conservation practices.

For more information, contact Olivia Sanchez at the WSGA office at 307-638-3942, olivia@wysga.org or visit www.wysga.org.

---
2019 Special Olympics Area II Games in Pinedale Jan. 25 (posted 1/18/19)
Gayle Hamner
PINEDALE, WYOMING - On Friday, January 25, 2019 Special Olympics Wyoming athletes from Wyoming's southwestern communities of Big Piney, Evanston, Jackson, Park City Utah, Pinedale and Star Valley will compete at Area II Winter Games at White Pine Ski Resort.

This competition is in preparation for the State Winter Games that will be held in Jackson, Wyoming on February 5-7, 2019. State Winter Games is one of the four main Special Olympics Wyoming competition events held each year. Athletes compete in Downhill Skiing, Cross Country Skiing, Snowshoeing and Snowboarding.

The 2019 Area II Winter Games schedule for Friday, January 25th at White Pines Ski Resort is as follows:
• 9:00 AM Registration
• 10:00 AM Opening Ceremonies
• 10:30 AM Competition Begins
• 12:00 Lunch (or as athletes are able)
• 1:00 PM Competition Resumes

The public is welcome and encouraged to attend to support and cheer on local athletes as they qualify for upcoming statewide competition. If you have questions about Area II Games, please visit www.sowy.org or call Dan Lang at the Special Olympics Wyoming office at (307) 235-3062.

Special Olympics Wyoming is a not-for-profit organization providing year-round sports training, athletic competition and other related programs to children and adults with intellectual disabilities; offering them continuing opportunities to realize their potential, develop physical fitness, demonstrate courage and experience joy and friendship. Special Olympics Wyoming changes lives by encouraging and empowering people with intellectual disabilities, promoting acceptance for all, and fostering communities of understanding and respect.

Visit Special Olympics Wyoming at www.specialolympicswy.org.
Facebook: facebook.com/SpecialOlympicsWyoming
Twitter: http://www.twitter.com/SpecOlymWY
Instagram: https://www.instagram.com/specialolympicswy

Related Links:
Wyoming State Winter Games
www.whitepineski.com White Pine Ski Area
www.visitpinedale.org Pinedale, Wyoming visitor website

---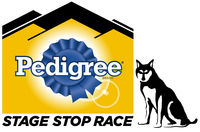 Pedigree Sled Dog Race

2019 Pedigree Stage Stop Race Jan. 25 – Feb 2 (posted 1/17/19)
The 2019 Pedigree Stage Stop Race will be held January 25th through February 2. Twenty-six competitors will participate in this year's race, which is done in daily stages. There is $165,000 in total prize money that will be awarded. Participating communities are Jackson, Alpine, Pinedale, Kemmerer, Big Piney/Marbleton, Lander, Driggs Idaho, Teton County.

2019 Schedule:
Friday, January 25: Opening Ceremonies — Jackson, Wyoming
https://www.wyomingstagestop.org/stages/jackson-hole/

Saturday, January 26: Stage One — Alpine, Wyoming (30 miles)
https://www.wyomingstagestop.org/stages/alpine-wy/

Sunday, January 27: Stage Two — Pinedale, Wyoming (34 miles)
https://www.wyomingstagestop.org/stages/pinedale-wy/

Monday, January 28: Stage Three — Kemmerer, Wyoming (34 miles)
https://www.wyomingstagestop.org/stages/kemmerer-wy/

Tuesday, January 29: Stage Four — Big Piney/Marbleton, Wyoming (35 miles)
https://www.wyomingstagestop.org/stages/big-piney-marbleton-wy/

Wednesday, January 30: Stage Five — Lander, Wyoming (35 miles)
https://www.wyomingstagestop.org/stages/lander-wy/

Thursday, January 31: Travel day February 1 — Stage Six— Driggs, Idaho (32 miles)
https://www.wyomingstagestop.org/stages/driggs-id/

Friday, February 2: Stage Seven — Teton County, Wyoming (30 miles)
https://www.wyomingstagestop.org/stages/201/

2019 Mushers
Austin Forney from Leadville, Colorado
Alix Crittenden from Bondurant, Wyoming
Dan Phillips from Snowmass Village, Colorado
Linda Pierce from Okanagen, Washington
Justin Fortier from Saint-Raymond, Québec, Canada
Alexandra Rochat from Whitehorse, Yukon, Canada
JR Anderson from Buyck, Minnesota
Fernando Ramirez from Peoa, Utah
Laura Daugereau from Port Gamble, Washington
Chris Adkins from Sand Coulee, Montana
Jeff Conn from Ester, Alaska
Allan Berge from Glenrock, Wyoming
Bruce Magnusson from Manchester, Michigan
Tom Thurston from Oak Creek, Colorado
Erick Laforce from Lanoraie, Quebec, Canada
Katherine Scheck from Whitehorse, Yukon Territories, Canada
Lina Streeper from Fort Nelson, British Columbia, Canada
Monica Magnusson from Cheboygan, Michigan
Dennis LaBoda from Hovland, Minnesota
David Torgerson from Red Lodge, Montana
Anny Malo from Quebec, Canada
Rachel Courtney from Caliento, Manitoba, Canada
Tommy Bird from Southend, Saskatchewan, Canada
Doug Butler from Middlebury, Vermont
Tim Thiessen from Leadville, Colorado
Jake Golton from L'Amable, Ontario, Canada

Race Contacts:
Dan Carter, Pedigree® Stage Stop Race Director, racedirector@wyomingstagestop.org
or Dianna Lehn Pedigree® Stage Stop Assistant Race Director, secretary@wyomingstagestop.org

Media Support: Roger Carpenter Pedigree® Stage Stop Race Media Director at (307) 343-6130 or email media@wyomingstagestop.org.
Website: www.wyomingstagestop.org
Facebook: facebook.com/PedigreeStageStopRace

Mailing Address:
Pedigree Stage Stop Race
P.O. Box 13443
Jackson, WY 83002

---
Wyoming fishing and hunting license changes (posted 1/17/19)
The Wyoming Game & Fish Department has changed their licensing so that no matter when you buy a fishing, small game, game bird or furbearers license as well as conservation stamp, it will be valid for 12 months from the purchase date. If you buy a fishing license on July 4, you can fish through July 4 of the next year, instead of our previous system where the license was only good through the calendar year. With these new changes, expiration dates for license and stamps will be printed on the licenses to easily keep track of when you need to purchase next. And, if you renew early, the start date for the new license will begin the day after your current license expires.

---
February SNAP Benefits to be issued early (posted 1/14/19)
Supplemental Nutrition Assistance Program - SNAP
Wyoming Department of Family Services
Due to the partial federal government shutdown, the U.S. Department of Agriculture (USDA) has requested states provide an early issuance of February SNAP benefits in order to utilize available funding. Wyoming families eligible for SNAP will receive their February benefit by January 20, 2019, which means the Department of Family Services (DFS) needs to process January recertification paperwork by January 15, 2019.

This is NOT an additional benefit for SNAP recipients; families who receive the early issuance will not receive another issuance in the month of February.

As allowed by federal regulation, DFS has granted an extension to families who were set to renew SNAP benefits in January for February, in order to ensure they receive February benefits. These families will be required to renew benefits in February. Those families will need to turn in an application in February to determine ongoing eligibility. Any new eligible applications received in January will receive January benefits but are at risk for not receiving a February benefit. The DFS eligibility staff will be working diligently to get as many cases processed as possible.

If a family is eligible for February benefits, they will receive their February monthly benefit on the following dates:

Last Name Date
A-D January 16, 2019
E-K January 17, 2019
L-R January 18, 2019
S-Z January 19, 2019

DFS does not anticipate there will be any more SNAP funding available after the February issuance until the shutdown ends. DFS is encouraging people to donate funds, food, or volunteer at local food banks and similar organizations that may see an increase of customers if the shutdown continues.

Reminder: February SNAP benefits will be added in the middle of January this year. This means recipients will not have SNAP benefits added in February.

If you have questions or would like more information, please contact your local DFS office found here, http://dfsweb.wyo.gov/home/contact-us.

---



Max with Deputy Dan Ruby.

SCSO announces the passing of retired K9 'Max' (posted 1/14/19)
Sublette County Sheriff's Office
PINEDALE, WYOMING - January 14th, 2019 - The Sublette County Sheriff's Office regrets to announce the passing of retired K9 "Max." Max began his career with the SCSO in May of 2009. Along with his partner, Deputy Dan Ruby, Max worked for approximately five and a half years seizing multiple types of drugs coming in to our County.

K9 Max retired from duty in November 2014, and afterward became a permanent member of the Ruby family. Deputy Ruby described Max as, "A small lapdog trapped in a big dog's body. He was always happiest near me." Deputy Ruby went on to say, "Max loved to work and play with his toys or anything that would squeak." The Sublette County Sheriff's Office is honored to have had K9 Max serving our community and we thank him and Dan for their faithful years of service.

Our deepest condolences to Deputy Ruby and his family. Max will not be forgotten.

---
Wyoming Senior Winter Games in Pinedale Feb 7-9 (posted 1/14/19)
Ready for this year's WYOMING SENIOR WINTER GAMES?!

Did you know that Pinedale started the Wyoming Senior Winter Games in 2008, and has been its host site frequently since then? On February 7-9, 2019 our enthusiastic, capable team of volunteers look forward to hosting participants from 50 years old to the most "senior seniors" to alpine and Nordic ski, ice skate, snowshoe, swim, play pickleball, and ride a fat tire bike with other like-minded active, mature adults.

Pinedale boasts some of the finest Nordic Ski trails in the Rocky Mountain west, a fabulous Alpine Ski venue in the White Pine Ski Resort, perfectly groomed ice at the Sublette County Ice Arena, and an 82,000 sq. ft. recreation center, the Pinedale Aquatic Center (PAC), for the always-popular swim meet and pickleball competitions.

Fun events include the 1-mile walk on PAC's indoor track; and new this year will be the Fat Bike race. Participants can enjoy a soak in PAC's hot tub after an exhilarating ski, skate, or snowshoe.

Our local senior center, Rendezvous Pointe, hosts the culminating Banquet for the Games. Saturday night, Feb. 9th, starting at 5:30pm, participants and their guests can enjoy (BYOB) happy hour, a slideshow of all events, fabulous food, and entertainment by Pinedale's own local artist, Jason Tyler Burton. Our Banquet speaker is Miekka Zanders, Executive Director of Legacy Lodge in Jackson Hole. Come hear Ms. Zanders explore what it means to be a senior adult, as we strive to increase our quality of life by identifying the dimensions of wellness that support stronger physical health while creating a model for active, engaged and meaningful super-senior years.

Please find regularly updated information, and registration online at: www.wyseniorolympics.com. The $50 registration fee for the 3-day Winter Games event covers most all competitions you choose to enter. There is an option to purchase additional banquet tickets for guests for $20.

For games' participants, onsite registration is open until the day of each event. Registration and hospitality will be held beginning Thursday, Feb. 7th at 10am, at the PAC, 535 N. Tyler Ave., and will be open and available to all participants through Saturday, Feb. 9th.

In addition to registering for the Games, you can volunteer to help out during the event. From registration-hospitality duties at PAC, to setting up and timing at the alpine, Nordic and snowshoe events, to setting up the banquet, volunteers are needed!

Email JJ Huntley at juliejoneshuntley@gmail.com to be part of the volunteer team. Additional local highlights to enhance this year's Games entertainment include the (Nitty Gritty Dirt Band's) John McEuen (PFAC) concert in Pinedale's Sheppard Auditorium on Thursday, Feb. 7th at 7:00pm , and a gourmet French Cuisine International dining option offered at White Pine Friday, Feb. 8th. Tickets and reservations apply, www.whitepineski.com.

For lodging and overnight accommodations, check out www.VisitPinedale.org.

Mark your calendars now for a fun-filled weekend of active recreation in gorgeous Pinedale, Wyoming.
---
Wolf News Roundup 1/13/2019 (posted 1/13/19)
Cat Urbigkit, Pinedale Online!
Northeastern Montana
A hunter shot and killed a wolf in northeastern Montana, about 300 miles from where most of the state's wolves are known to roam, according to the Associated Press. The 70-pound female wolf was killed on the plains near Glasgow by a landowner with a wolf hunting license.

Oregon plan
After completing the last scheduled facilitated meeting with stakeholder representatives on Monday, Jan. 8, ODFW staff are working to finalize a revised Wolf Conservation and Management Plan. That Plan will be presented to the Commission at its March 15 meeting in Salem for final adoption.

Last year, Commissioners decided to postpone Wolf Plan revisions and conduct additional facilitated outreach in hopes of getting more consensus from stakeholders. Professional facilitator Deb Nudelman with Kearns and West facilitated five meetings with stakeholders from late August 2018 through early January 2019.

While stakeholders representing ranching, hunting and wolf conservation came to agreement on some topics, there was no consensus on several of the most controversial issues including the number of livestock depredations that leads to consideration of lethal removal of wolves when nonlethal deterrents have not worked. Environmental group stakeholders with Oregon Wild, Cascadia Wildlands, Center for Biological Diversity, and Defenders of Wildlife announced late last Friday, Jan. 4 that they would not attend the final meeting.

"We were disappointed these groups left the discussion and we did not have the full stakeholder group present at the final meeting," said Derek Broman, ODFW Carnivore Coordinator. "Since the drafting of the original 2005 plan, stakeholders remain very passionate so consensus is challenging to achieve."

The facilitated process was designed to create a space for stakeholders to negotiate and allow for give and take on all sides," he continued. "We thank all stakeholders for their time and attention at the meetings and for the progress made on several issues, and everyone thanks Kearns and West for their professional facilitating of these meetings."

Stakeholder groups were able to find some consensus on wolf collaring priorities, the desire to increase the use of nonlethal techniques and funding enhanced population modeling. But stakeholders remained divided on lethal take of wolves when they are killing livestock, including the number and time frame of confirmed depredations before lethal control of wolves is considered.

ODFW is responsible for investigating livestock depredations and uses a rigorous, evidence-based process to determining if a wolf or wolves was responsible. A certain number of "confirmed" livestock depredations can lead to consideration of lethal removal of wolves by the department or a landowner. Currently, the Plan allows for consideration of lethal removal after two confirmed depredations within no specific time frame, but ODFW typically authorizes lethal removal after three or more confirmed depredations. In practice, ODFW has denied more lethal removal requests for wolves than it has approved.

Since the first Wolf Conservation and Management Plan was approved in 2005, hunting of wolves has been in the Plan as a potential tool to manage wolf populations. Throughout the current review of the Wolf Plan, no proposals have been made by ODFW to begin hunting wolves. If hunting of wolves were to be proposed by staff in the future, it would have to be approved by the Commission in a public rule-making process.

Oregon rancher
As Oregon moves forward with revision of its wolf management plan, KTVL in Oregon talks with a rancher who has lost five calves and one livestock guardian dog wolves. Check out the links below for the details.

Washington warning
The Stevens County Commission issued a public safety announcement last week, noting: "Recent citizen reports of wolf activity indicate that several packs have come very close to homes in several areas of Stevens County. These reports have been confirmed by our Sheriff Wildlife Specialist. While there are no reports of any dangerous activity or threatening behavior to persons an abundance of caution makes it prudent to raise the awareness for those people especially in the Orin Rice, Seigel Hill Road, Mingo Mountain, Valley Westside and Crystal Falls areas. "To all of our residents, please be aware and be cautious regarding outside pets, livestock and feed that may be a predator attractant." Wolves are a protected species in this region of Washington.

Wisconsin
Wisconsin wildlife officials estimate the state is home to at least 905-944 wolves, living in 238 packs, for an average of 3.8 wolves per pack. Occupied wolf range in the state is estimated at about 24,000 square miles. As part of the state's monitoring program, state officials live captured 36 wolves. The average weight of 13 live-captured adult males was 84 pounds, and the average weight of adult females was 68 pounds. According to the state's annual wolf monitoring report, Wisconsin has 34 farms classified as chronic depredation farms.

Isle Royale
The National Park Service has told researchers involved in the long-running wolf study on Isle Royale that they may not access the island until after the government shutdown is over, according to the Duluth News Tribune. The wolf project is believed to be the longest-running wolf research project in the world, at more than 60 years. Last fall, the Park Service began translocating mainland wolves onto the island to boost the area's last two surviving (and severely inbred) wolves, and had planned to release additional wolves this winter. Now the monitoring of the population is on hold.

Related Links:
Montana wolf killed - Associated Press article
Oregon - Oregon Department of Fish & Wildlife
Oregon rancher - KTVL.com
Washington warning - Stevens County, Washington website
Wisconsin - Wisconsin Department of Natural Resources
Isle Royale - Duluth News Tribune
Wolf Watch - by Cat Urbigkit, Pinedale Online!


---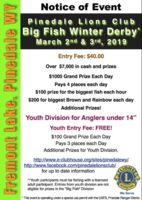 Ice fishing derby on Fremont Lake March 2 & 3, hosted by the Pinedale Lions Club.

2019 Big Fish Winter Derby March 2 & 3 (posted 1/13/19)
Ice fishing derby on Fremont Lake hosted by the Pinedale Lions Club
Fishermen and women: Mark your calendar! The Pinedale Lions Club will be hosting the 2019 Big Fish Winter Derby on Fremont Lake on Saturday and Sunday, March 2 & 3. The two-day fishing event is based out of Lakeside Lodge, four miles from Pinedale, Wyoming.

This year they will have over $7,000 in cash and prizes for the event. There is a $1,000 Grand Prize each day. It pays four places each day. $100 for the biggest fish each hour. $200 for the biggest rainbow and brown each day.

There will be a youth division for anglers under 14 years of age. Youth participants must be fishing with a licensed adult participant. Entries in the Youth division are not eligible for prizes in the Big Fish division.

This event is operating under a special use permit with the Bridger-Teton National Forest, Pinedale Ranger District.

More information to be announced. See links below for additional details.

Related Links:
Pinedale Lions Club
Pinedale Lions Club Facebook page
www.lakesidelodge.com Lakeside Lodge, on Fremont Lake, Pinedale, Wyoming
www.VisitPinedale.org Pinedale area visitor information

---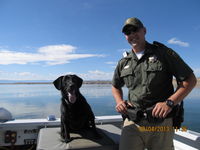 Photo courtesy Wyoming Highway Patrol

WHP announces passing of K-9 Kato (posted 1/11/19)
Wyoming Highway Patrol
The Wyoming Highway Patrol is saddened to announce the passing of one of our retired K-9's. On January 9th, 2019, retired K-9 "Kato" passed away after a brief illness. Kato began his career with the Wyoming Highway Patrol in 2008 specializing in narcotics detection assigned to Trooper Jason Green. In 2011, Trooper Brandon Deckert was selected as his handler and the team was assigned to Sublette County in Division 'T', replacing Trooper Jason Green who was promoted to Lieutenant at that time.

During Kato's eight-year career, he was involved in several significant narcotics-related cases and deployed throughout Wyoming during concentrated HIDTA (High Intensity Drug Trafficking Area) details on Wyoming highways. Kato was deployed 321 times resulting in the seizure of 277 pounds of marijuana, 5.4 pounds of methamphetamine, $182,273 dollars of US currency directly related to drug trafficking, approximately 1 pound of prescription pills, psilocybin mushrooms, LSD and acid, five firearms (one from a school), and two searches that led to the furtherance of Federal investigations involving domestic and international terrorists.

Trooper Deckert and K-9 "Kato" were very active in their community of Pinedale, as well as other communities throughout Wyoming. The two of them shared their enthusiasm for working together while involved in numerous safety-related presentations, K-9 demonstrations at schools and community functions. Trooper Deckert shared his affection for K-9 "Kato" who taught him many lessons as a K-9 handler and was there for him during some difficult times during his career.

Our condolences to Trooper Deckert and his family. K-9 "Kato" was a valuable member of our K-9 team and a cherished partner and family member to Trooper Deckert. He will be missed!

---
Jackson passes ordinance to ban plastic bags (posted 1/11/19)
Buckrail posted an article about Jackson's new ordinance banning plastic bags for retailers in town. The new ordinance designates a fee for bags and calls for the elimination of plastic bags by April 15 for large grocers and November 1st for smaller retailers. If shoppers don't have their own bag, they can pay an extra 20 cents for a paper bag. Half of that tariff will go to the town and county, half will go back to the retailer.

Click on this link for more on this story: Get ahead of the plastic bag ban www.buckrail.com, 1/11/19

---
Total lunar eclipse Jan. 20-21 (posted 1/10/19)
Sky Watchers will get a treat this month the night of January 20/21 for a total lunar eclipse. This will be visible from North and South America, Europe and western Africa. The Earth's shadow will sweep over the lunar surface to give it a reddish tinge and turn it into what some call a "blood moon." This will be the first lunar eclipse of 2019 and the last total lunar eclipse until 2021. Sounds like another good excuse for a party!

---
Price of postage stamps to go up Jan. 27th (posted 1/10/19)
Forever stamps increasing to $.55 cents each
The United States Postal Service will be adjusting prices for postage on Sunday, January 27, 2019. Some prices will increase, some will decrease. The new prices will include a 5-cent increase in the price of a First-Class Mail Forever stamp, from 50 cents to 55 cents. The single-piece additional ounce price will be reduced to 15 cents, so a 2-ounce stamped letter, such as a typical wedding invitation, will cost less to mail, decreasing from 71 cents to 70 cents.

The Postal Service receives no tax dollars for operating expenses and relies on the sale of postage, products, and services to fund its operations.

The price changes include:
Letters (1 oz.): Current: 50 cents, New Rate: 55 cents
Letters additional ounces: Current: 21 cents, New Rate: 15 cents
Letters (metered 1 oz.): Current: 47 cents, New Rate: 50 cents
Outbound International Letters (1 oz.): Current: $1.15, New Rate: $1.15 (no change)
Domestic Postcards: Current: 35 cents, New Rate: 35 cents (no change)

The proposed domestic Priority Mail Retail Flat Rate price changes are:
Small Flat Rate Box: Current: $7.20, New Rate: $7.90
Medium Flat Rate Box: Current: $13.65, New Rate: $14.35
Large Flat Rate Box: Current: $18.90, New Rate: $19.95
APO/FPO Large Flat Rate Box: Current: $17.40, New Rate: $18.45
Regular Flat Rate Envelope: Current: $6.70, New Rate: $7.35
Legal Flat Rate Envelope: Current: $7.00, New Rate: $7.65
Padded Flat Rate Envelope: Current: $7.25, New Rate: $8

First-Class Package Service, a lightweight expedited offering used primarily by businesses for fulfillment purposes, will move to zone-based pricing to better align with the cost of service and improve value based on distance. The Postal Service does not add surcharges for fuel, residential delivery, or regular Saturday or holiday season delivery.

The Postal Service reportedly lost $3.9 billion in 2018, attributing the losses to drops in mail volume and the costs of pensions and health care. It marked the 12th year in a row the agency reported a loss despite growth in package shipping.

Source: https://about.usps.com/news/national-releases/2018/pr18_086.htm

---
SCSD 1 to implement new Visitor Management System (posted 1/9/19)
Sublette County School District #1
As a part of our ongoing efforts to strengthen our program of safety and security at our schools, Sublette County School District 1 is pleased to announce that we will begin using the Raptor Visitor Management System. Part of keeping students and faculty safe is knowing who is in our buildings at all times, and the Raptor system will allow us to do that. The Raptor system will better allow us to screen visitors, contractors, and volunteers in our schools and provide us with a safer environment for our students and staff.

Upon entering a district building, visitors will be asked to present an ID such as a Driver's License, which can either be scanned or manually entered into the system. If a parent or guardian for any reason does not have a US government-issued ID, the school staff member can use any form of identification and manually enter the person's name into the Raptor system. The Raptor system will check to ensure that registered sex offenders are not entering our school campuses without our knowledge. The Raptor system checks the visitor's name and date of birth for comparison with a national database of registered sex offenders. The registered sex offender database is the only official database checked by the Raptor system. No other data from the ID is gathered or recorded and the information is not shared with any outside agency. Once entry is approved, Raptor will issue a badge that identifies the visitor, the date, and the purpose of his/her visit. A visitor's badge will not be necessary for those who visit our schools simply to drop off an item in the office or pick up paperwork.

Another benefit of the Raptor System includes the management of volunteers. In the near future, volunteers will be able to apply online to be a volunteer. We also believe approval times for volunteers will be shortened significantly.

The safety of our students is our highest priority and the Raptor visitor management system allows us to quickly identify those that may present a danger to our students. Thank you in advance for your understanding and your support in enhancing the school safety protocols in our district.

Related Links:
www.sub1.org Sublette County School District #1
---
Shed antlers, hunting technology (posted 1/9/19)
Cat Urbigkit, Pinedale Online!
As the Wyoming Legislature begins, there have been about 160 bills prefiled, addressing everything from tuition and fees, to water well drilling. We've picked a few that may be of interest to sportsmen. To read the complete details of a bill, browse all the proposed legislation, or to check a bill's status, click on the legislative website link provided below.

HB0002 would authorize the Wyoming Game and Fish Commission to regulate and control the methods of taking wildlife including regulating, limiting or prohibiting the use of hunting technologies.

HB0012, sponsored by Representative Albert Sommers, would modify regulation of the collection of shed antlers and horns by removing language specifying that such regulation may occur between Jan. 1 and May 1. The new language proposes to authorize the WG&F Commission: "To regulate and control the collection of shed antlers and horns of big game animals, including regulation of the dates, times and locations for collection, for the purpose of minimizing the harassment or disturbance of big game populations on public lands west of the Continental Divide."

HB0028 sponsored by Representative Haley, with Sommers listed as a co-sponsor, would modify the shed antler collection law to eliminate the provision for such regulation to take place only west of the Continental Divide, and would also eliminate the reference to winter months, while adding a reference to bighorn sheep horns. The draft language authorizes the WG&F Commission: "To regulate and control the collection of shed antlers and horns of big game animals for the purpose of minimizing the harassment or disturbance of big game populations on public lands in the state of Wyoming any time during the year, subject to the provisions for bighorn sheep horns in W.S. 23 3 117."

HB0073, sponsored by Representative Blake, would allow a person to use a leashed blood-trailing dog to help recover a killed or wounded big game animal.

Related Links:
2019 General Session - Wyoming Legislature
---
Grizzly resolution (posted 1/8/19)
Cat Urbigkit, Pinedale Online!
Members of the Wyoming Legislature have proposed a joint resolution requesting congressional action to swiftly remove grizzly bears in the Yellowstone region from federal protection and to return management of grizzlies over to state and tribal authority. The resolution also requests that until delisting occurs, the federal government fully fund the cost of managing the species.

The resolution provides information regarding the impacts of grizzlies in Wyoming:
• Wyoming contributes more than $2 million for grizzly bear monitoring, research and management.
• Wyoming has spent more than $45 million on the grizzly bear management.
• Wyoming has received about $1 million in federal funding for grizzly bear management since 2009, while the State spent $19.6 million for the same purpose.

In 2016, Wyoming citizens lost 136 head of cattle to grizzly bear depredations, in addition to 29 sheep, and numerous farm birds, pigs, and a dog, with Wyoming providing nearly half-a-million dollars to compensate for these damages.

In 2017, Wyoming citizens lost 115 cattle, 23 sheep, and 78 chickens killed by grizzlies, with the state providing $270,000 for damage related to grizzlies. In 2018, Wyoming citizens lost 142 cattle to grizzly bear depredation, with Wyoming providing $380,000 in compensation.

The resolution also notes that in 2018, three people were injured in grizzly bear attacks, and one person was killed by a grizzly, in addition to an overall increase in human interactions with grizzly bears. Since 2009, three people were killed by grizzlies in Wyoming, with another 31 people injured.

The resolution notes that grizzly bear population recovery and conservation success "can be directly attributed to the support and efforts of the state of Wyoming and its citizens."

House Joint Resolution 0001 can be tracked on the Wyoming Legislature's website, which is linked below.

Related Links:
Track bills here - Wyoming Legislature
---
Wyoming Legislature Begins (posted 1/7/19)
State of the State, Bill Tracking
Wyoming Legislative Service Office
The 65th Wyoming Legislature will convene on Tuesday, January 8 at noon. Wyoming Governor Mark Gordon will give his first State of the State address January 9 at 10 a.m.

The 65thWyoming Legislature will convene in a Joint Session of the Wyoming Senate and House of Representatives on Wednesday at 10 a.m., during the second day of legislative proceedings of the 2019 General Session.

A live audio stream of the event can be heard by clicking on the "Live Audio of 2019 Joint Session" link on the Legislature's homepage at www.wyoleg.gov. In addition, the Wyoming Legislature will partner with the Governor's Office to provide a live video stream of the event. A link to the video will be prominently displayed on the Governor's homepage at governor.wy.gov. In the event of technical problems with the video, members of the public will still be able to listen to the event through the Legislature's live audio link.

Wyoming residents are encouraged to use the Wyoming Legislature's Website to track legislation and participate in policy making during the 2019 General Session in Cheyenne. The Web address is www.wyoleg.gov and is continually updated as each bill moves through the respective bodies. A variety of resources can be found on the site including all legislation and amendments sponsored by legislative committees and individual members. The text of each bill is posted on the Legislature's Website as soon as the legislation is assigned a bill number.

All bills in the House and Senate can be tracked via the legislative Website by clicking on the "Browse 2019 Bills" link on the homepage. In addition, residents can also find information about how their elected officials voted by clicking on the "Votes" tab located on each bill page. The results are posted after each roll call vote is taken on the House and Senate Floor.

The times and dates of standing committee meetings and House and Senate daily floor schedules are also available on the Website. Calendars of floor proceedings in the Senate and House are posted in the late afternoon for the next day's activities which include the legislation under consideration and the general order of business. You can also sign up to receive the committee notices and floor calendars electronically through the Legislature's subscription service, available on the Legislature's Website.

The public can listen to live audio of the daily House and Senate proceedings. The audio can be heard by using any device that plays audio files and can be found by clicking on the "Audio Broadcasts of the 2019 Session" link on the homepage.

The Website also provides a variety of ways for residents to contact their representatives including e-mail addresses for all legislators and the "Online Hotline" which allows the public to recommend support for or opposition to a piece of legislation and leave a comment regarding a bill.

Related Links:
Legislative website - State of Wyoming Legislature

---
BLM Wyoming extends protest period for Greater Sage-Grouse Plans (posted 12/22/18)
Bureau of Land Management
CHEYENNE, WYOMING – To ensure the public and BLM's state and local partners have sufficient time to review the Final Environmental Impact Statement (EIS) and proposed Resource Management Plan Amendments (RMPA) addressing Greater Sage-Grouse, BLM Wyoming is extending the protest period for the Final EIS/RMPA until January 23, 2019.

In working with the State of Wyoming during consistency review the BLM discovered that incorrect versions of appendices A, B and C were included with the Final EIS and has now included the correct versions of these appendices. These changes do not substantially change the alternatives in the RMPA or Final EIS. An Errata Sheet summarizing the changes to the appendices and updated versions of appendices A, B and C are available on the BLM's ePlanning project webpage at https://goo.gl/22jKE2. Electronic protests can also be submitted on that webpage.

If submitting a protest in hard copy, it must be mailed to one of the following addresses:
U.S. Postal Service Mail:
BLM Director (210)
Attention: Protest Coordinator
WO-210, P.O Box 71383
Washington, D.C. 20024-1383

Overnight Delivery:
BLM Director (210)
Attention: Protest Coordinator,
WO-210, 20 M Street SE, Room 2134LM
Washington, D.C. 20003

Protests submitted electronically by any means other than the ePlanning project website will be invalid unless a protest is also submitted in hard copy. Protests submitted by fax will also be invalid unless also submitted either through ePlanning project website protest section or in hard copy.

Before including your address, phone number, email address, or other personally identifiable information in your comment, you should be aware that your entire comment – including your personally identifiable information – may be made publicly available at any time. While you can ask the BLM in your comment to withhold your personally identifiable information from public review, we cannot guarantee that we will be able to do so.

For more information contact Jenny Marzluf, BLM Wyoming Greater Sage-Grouse Coordinator at 307-775-6090 or by email at jmarzluf@blm.gov.

---
2019 Wild horse adoption events in Rock Springs (posted 12/22/18)
Bureau of Land Management
ROCK SPRINGS, WYOMING. - The Bureau of Land Management Rock Springs Wild Horse Holding Facility will reopen with a wild horse adoption event on Jan. 18-19, from 9 a.m. to 3:30 p.m. The adoption will include approximately 60 horses (10 mares, 10 geldings, 40 weanlings [geldings and fillies] which were gathered in September 2018 from the Green Mountain and Stewart Creek herd management areas.

The event marks the reopening of the Rock Springs holding facility to the public in 2019 and is in keeping with the BLM's commitment to finding good homes for healthy wild horses. More adoption events in Rock Springs are scheduled for March 15-16 and April 12-13.

"These horses are so beautiful and deserve to be loved and appreciated," said Kathi Fine, BLM Wild Horse and Burro Program assistant in Rock Springs. "I have seen many successful adoptions and happy families take their new horses home for riding, recreation or just as a pet."

The offered horses will be available on a first-come, first-served basis for the base adoption fee of $125. Any person wishing to adopt a wild horse must fill out an application, be able to conform to the BLM's minimum adoption requirements and have their application approved by the BLM. BLM specialists will be on hand to answer questions and assist with the adoption applications.

To reach the holding facility from I-80, take Elk Street Exit 104 and go north 1 mile, then turn right onto Lionkol Road and follow for a half-mile. To learn more about BLM Wyoming's wild horse adoption program or the Rock Springs Wild Horse Holding Facility, visit www.blm.gov/WHB. To learn more about BLM Wyoming, please visit www.blm.gov/wyoming.

---
Business Directory
Click here for
Advertising Information