Roll-over accident kills LaBarge woman (posted 10/6/2022)
Wyoming Highway Patrol
On October 5, 2022, a fatal crash occurred at milepost 1.5 on County Road 315 near La Barge, Wyoming. Around 2:30 p.m., Wyoming Highway Patrol troopers were notified of a one-vehicle rollover.

A 2000 Volkswagen Beetle was headed west on County Road 315 when the driver failed to negotiate a curve to the left. The driver steered back onto the road before leaving the left side of the roadway, colliding with a metal culvert and overturning.

The driver of the Volkswagen has been identified as 59-year-old La Barge, Wyoming, resident Gina C. Bailey. Bailey was not wearing a seatbelt and succumbed to her injuries at the crash scene.

Driver inattention is being investigated as a possible contributing factor.

This is the 95th fatality on Wyoming's roadways in 2022 compared to 89 in 2021, 104 in 2020, and 127 in 2019 to date.

---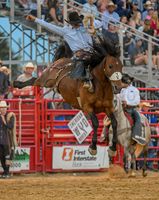 Tanner Butner riding Black Tie for a score of 91.5 at the Sheridan WYO Rodeo. Photo by Tanya Hamner, www.tanyahamner.com

Off to the NFR (posted 10/6/2022)
Daniel's Tanner Butner to compete in saddle bronc at 2022 National Finals Rodeo
Tanner Butner, rookie saddle bronc rider from Daniel Wyoming, qualified to advance to the National Finals Rodeo (NFR) after placing right on the bubble at the number 15th spot with his ride at the Sheridan WYO Rodeo. Tanner broke the arena record with his 91.5 ride on Black Tie.

Other Wyoming cowboys competing in the NFR this year are Brody Cress from Hillsdale, Wyoming, who won the average last year. He has won the NFR Average Title 2017, 2019, and 2021. This is his 6th time to qualify for the NFR in saddle bronc riding. (2017-2021) He is sitting 3rd currently and is only $70,546.25 away from the world title. Cole Reiner, from Buffalo, Wyoming goes for his 3rd trip to the NFR for bareback riding. Reiner is sitting 1st going into the NFR at $160,970.51 only $1,711.47 ahead of Jess Pope.

2022 NFR begins December 1st and goes each night until December 10th.

Related Links:
Tanner Butner profile ProRodeo.com
Tanner Butner Facebook page
Tanner Butner on Instagram

---
BLM seeks feedback on proposed oil and gas lease sale (posted 10/6/2022)
30-day scoping period for public input on 209 parcels
CHEYENNE, WYOMING – In accordance with congressional direction in the Inflation Reduction Act, Bureau of Land Management Wyoming started a 30-day scoping period to receive public input on 209 parcels totaling 251,086 acres that may be included in an upcoming lease sale.

The parcels the BLM will analyze, as well as maps and instructions on how to comment are available on our ePlanning website at https://eplanning.blm.gov/eplanning-ui/project/2021772/510

Future BLM lease sales will include updated fiscal provisions authorized in the Inflation Reduction Act:
• Minimum bids for all offered parcels will be $10 per acre, an increase from the $2 per acre minimum bid set in 1987;
• Royalty rates will be 16.67 percent, up from the previous minimum of 12.5 percent; and
• Rental rates will be $3 per acre for the first two years, $5 per acre for years three through eight, and $15 per acre in years nine and ten. Prior to the Inflation Reduction Act, rental rates were $1.50 per acre for the first five years and $2 per acre for each year thereafter, rates originally set in 1987.
_________________________________________
Editor's note: Parcels for sale are located in Big Horn, Campbell, Carbon, Converse, Crook, Fremont, Goshen, Johnson, Laramie, Natrona, Niobrara, Sheridan, Sublette, Sweetwater, Uinta, Washakie and Weston counties in Wyoming and Harlan County in Nebraska.

---
BLM seeks nominations to the Wyoming Resource Advisory Council (posted 10/5/2022)
Bureau of Land Management
The Bureau of Land Management (BLM) today (October 5, 2022) announced that it is seeking public nominations for position on the Wyoming Resource Advisory Council (RAC). This citizen-based council assists in the development of recommendations that address public land management issues within Wyoming.

The BLM maintains RACs chartered under the Federal Advisory Committee Act and the Federal Policy and Land Management Act across the West. Each RAC consists of 10- to 15-members from diverse interests in local communities, and they assist in the development of recommendations that address public land management issues.

"Wyoming's Resource Advisory Council provides BLM Wyoming with vital feedback on current issues, concerns, and proposals, and enable us to engage local communities and stakeholders to improve our management of public lands," said BLM Wyoming State Director, Andrew Archuleta. "We aim to encompass a wide variety of perspectives and backgrounds that represent our state and use their counsel to guide our work as effectively as possible."

The BLM maintains RACs as a means of gaining expert advice, ideas, and diverse opinions on issues including land use planning, environmental issues, fire management, off-highway vehicle use, recreation, oil and gas exploration, noxious weed management, grazing issues, and wild horse and burro herd management issues. The RACs support the Bureau's commitment to enhance the quality of life for all citizens through the balanced stewardship of America's public lands and resources.

Individuals may nominate themselves or others to serve on the RAC. Nominees, who must be residents of the state where the RAC has jurisdiction, will be reviewed based on their training, education, and knowledge of the RAC's geographic area. Nominees should also demonstrate a commitment to consensus building and collaborative decision-making. Letters of reference should accompany all nominations from any represented interests or organizations, a completed RAC application, and any other information that speaks to the nominee's qualifications.

The RAC is seeking seven nominations in the following categories:

Category One – Representatives of organizations associated with energy/mineral development; federal grazing permit holders; the timber industry; transportation or rights-of-way; off-highway vehicles users; and commercial and developed outdoor recreation.

Category Two – Representatives of archeological and historic organizations; dispersed recreation users; wild horse and burros organizations; and nationally or regionally-recognized environmental organizations.

Category Three – Representatives of State, county, or local elected office; Indian Tribes located within or adjacent to the area for which the RAC is organized; academicians employed in natural resource management or natural sciences; employees of a state agency responsible for management of natural resources; and the public at large.

As published in a notice in today's (October 5, 2022) Federal Register, the BLM will consider nominations for 30 days until November 5. For more information, please contact Azure Hall, ahall@blm.gov 307-274-5591.

---
Bridger-Teton National Forest is hiring (posted 10/2/2022)
Bridger-Teton National Forest
The Bridger-Teton National Forest is hiring! Fire engine operators, helitack, fire cache laborers, recreation (trails, wilderness, campgrounds, off highway vehicle, river), timber, range, wildlife, fisheries, archeology, hydrology, minerals, equipment operator, maintenance technicians and customer service.

Please apply between September 29 and October 6, 2022.

Government housing may be available for some positions. More than one position may be filled for each job announcement. These positions will be temporary, not to exceed 1039 hours.

Positions to start in the spring/early summer of 2023. Contact the hiring managers in the attached documents for further information. All positions will be advertised on USAJOBS: www.usajobs.gov.

More information on Fire positions can be found at: http://gacc.nifc.gov/gbcc/dispatch/wy-tdc/

---
HAF Program Update (posted 10/2/2022)
Wyoming Department of Family Services
Please help us spread the word about the Wyoming Homeowner Assistance Fund (HAF) Program, which is a temporary federally funded program. Even though households may be eligible for assistance, we cannot promise funding will be available in the future. Interested households should not wait to apply or seek help with their application. For application assistance, please contact the call center toll-free at 1-888-WYO-HAFP (1-888-996-4237) from 9 a.m. – 6 p.m. Monday through Friday.

Through the HAF Program, eligible homeowners can receive up to $17,000 in assistance as a one-time award, paid to a servicer or vendor on behalf of an eligible homeowner to pay for past due payments. Households do not need to be delinquent on mortgage payments to receive help for past due utility payments or housing-related expenses.

• MORTGAGE DELINQUENCY: Financial assistance to help reinstate a mortgage or to pay other housing-related costs related to a period of forbearance, delinquency, or default. Mortgage delinquency will be prioritized over other past due expenses.
• PAST DUE UTILITY PAYMENTS: Electricity, energy costs (fuel, oil & propane), water and sewer. (Internet costs are not an eligible expense.)
• PAST DUE HOUSING-RELATED BILLS: Property taxes, homeowners insurance or homeowner association dues.

Before applying, you can go to the online application and determine if you are eligible for the HAF Program. Visit dfs.wyo.gov/haf and click the APPLY NOW button. A window to the application portal will open and give you a choice to click on CHECK ELIGIBILITY or APPLY NOW.

FOR MORE INFORMATION VIA PHONE: For application assistance, please contact the call center toll-free at 1-888-WYO-HAFP (1-888-996-4237) from 9 a.m. – 6 p.m. Monday through Friday.

---
Pinedale Half Marathon Race Recap (posted 9/19/2022)
The 2022 Pinedale Half Marathon and 10K was a huge success. There were participants from 11 different states that joined in on the 18th running of this event. Runners experienced sweeping views of Fremont Lake and the snow-capped Wind River Mountains before returning back to town and crossing the finish line at Rendezvous Pointe.

Race results can be found at www.pinedalehalfmarathon.com.

The Pinedale Half Marathon committee would like to thank all of the participants, volunteers and sponsors for making this event possible. The PHM fundraising campaign will continue through September 24th.

---
Fire Danger increases to High (posted 9/6/2022)
Bridger-Teton National Forest
Teton Interagency fire managers have elevated the fire danger rating to high for Grand Teton National Park, the Bridger-Teton National Forest and the National Elk Refuge beginning Tuesday, September 6.

The forecast is for continued warmer and drier weather. Visitors should not be deceived by how green the landscape looks. It is the dead and down timber and dried vegetation (fuels) that could carry fire, prompting fire managers to elevate the fire danger rating.

A high fire danger rating means fires can start easily and spread quickly. When determining fire danger, fire managers use several indicators such as the moisture content of grasses, shrubs, and trees; projected weather conditions including temperatures and possible wind events; the ability of fire to spread after ignition; and availability of firefighting resources across the country.

Public land users can help prevent wildfires by not having a fire at all and instead dressing in layers and warm clothes.

Fire managers advise recreationists to use caution if choosing to build and maintain a campfire. In areas where campfires are allowed, fires should never be left unattended and must be completely extinguished before you leave the area. So far this year, there have been 99 abandoned campfires in the Teton Interagency Fire area. Unattended or abandoned campfires and warming fires can quickly escalate into wildfires and recreationists can be held liable for suppression costs if their campfire becomes a wildfire.

All campers and day-users should have a shovel on hand and a water bucket ready for use if choosing to have a fire. Soak, stir, feel, repeat. It is extremely important that all campfires are "dead out" and cold to the touch before leaving.

Visit the Teton Interagency Fire web site at TetonFires.com to learn more about fire safety and what fire regulations may be in place. To report a fire or smoke in the immediate area, call the Teton Interagency Fire Dispatch Center at 307-739-3630.

---
ERAP Funding Update (posted 8/27/2022)
Wyoming Department of Family Services
Since its launch in April 2021, the Emergency Rental Assistance Program (ERAP) has helped 11,700 Wyoming households with a total of $53 million in assistance. Application numbers continue to rise, likely due to the increase in grocery and gas prices. So far, ERAP has paid out $5.4 million in August, making it the highest paid month. With the increased number of applications, case review is taking longer, with the average case aging sitting at 31 to 32 days from submission to final decision. Of the total payments, $42 million went to landlords, $8 million to households, $3.1 million to utilities and $14,000 for moving expenses.

ERAP is a temporary federally funded relief program. Even though households may be eligible for assistance, we cannot promise funding will be available in the future. Do not wait to apply or seek out help for your application.
________________________________________

Are you a Wyoming homeowner who has fallen behind on mortgage payments, utility bills or other housing related costs?Under the Wyoming Homeowner Assistance Fund (HAF) Program, eligible homeowners can receive up to $17,000 in assistance as a one-time payment to pay for mortgage delinquency and/or past due payments of utilities, property taxes, homeowners insurance, and homeowners association dues. The payment is sent directly to a servicer or vendor on behalf of an eligible homeowner. The HAF Program is a temporary federally funded assistance fund. Don't wait to apply. Learn more or apply at dfs.wyo.gov/HAF. If you need application assistance, please contact the call center toll-free at 1-888-WYO-HAFP (1-888-996-4237) from 9 a.m. – 6 p.m. Monday through Friday.
________________________________________

ERAP RESOURCES
• REPORT POTENTIAL FRAUD: Click here for the form
• ONLINE: Learn more about ERAP online at dfs.wyo.gov/erap.
• IN PERSON: If you need assistance with an application, there are community based organizations set up in each county to provide help. (Click here for an updated list)
• VIA PHONE: The call center is open 9 AM - 6 PM, Monday through Friday. The toll-free number is 1-877-WYO-ERAP (1-877-996-3727).
• FLYER: Download the ERAP flyer to learn more about the program and to share with those who may be interested in the program. Download ENGLISH flyer OR Download SPANISH flyer

Questions?
APPLICATION QUESTIONS
If you have questions regarding your application, please call 877-WYO-ERAP.

PROGRAM QUESTIONS
If you have programmatic questions, please email RentalAssistance@wyo.gov

---
Yellowstone visitation statistics for July 2022    (posted 8/18/2022)
Visitation down 45% since July 2021
National Park Service
Yellowstone National Park hosted 596,562 recreation visits in July 2022. This is a 45% decrease from July 2021 (1,080,767 recreational visits), the most-visited July on record, and a 36% decrease from July 2019 (936,062), the last pre-Covid year.

On June 13, all entrances to Yellowstone National Park closed due to historic flooding. Park visitors were evacuated over the next 24 hours. On June 22, the East, South and West entrances to the park reopened on a limited entry basis. On July 2, entry restrictions on the East, South and West entrances were removed. The North (Gardiner, Montana) and Northeast (Cooke City/Silver Gate, Montana) entrances remain closed to visitor vehicles.

As the park recovers from the June flood, it's critical that visitors traveling to the park in the coming weeks stay informed about what's open and closed.

So far in 2022, the park has hosted 1,864,771 recreation visits, down 30% from 2021.

The list below shows the year-to-date trend for recreation visits over the last several years
(through July):

2022 – 1,864,771 (The park was closed June 13 through June 21. Three entrances opened June 22)
2021–2,668,765
2020 –1,674,699 (The park was closed May 1 through May 18. Two entrances were open May 18 through May 31)
2019 – 2,294,691
2018 – 2,322,271
2017 – 2,316,541

---
Sublette County 2022 Primary Election results (posted 8/16/2022)
Pinedale Online!
The Primary Election determines candidates from each party to
compete in the General Election in November.

Unofficial results for the August 16, 2022 Primary Election:
href=http://www.pinedaleonline.com/pdfs/UnofficialSummaryResu
ltsReport20220816.pdf>Unofficial Summary Results-Sublette
County only-2022 Primary Election (PDF)

href=https://sos.wyo.gov/Elections/Docs/2022/Results/Primary/
2022_Statewide_Candidates_Summary.pdf>Wyoming Statewide 2022
Primary Election Results

Election results are not official until certified by the
Canvassing Board (Friday, August 19, 2022 for County
Canvassing Board; Wednesday, August 24, 2022 for State
Canvassing Board)

HIGHLIGHTS:
(Republican, no Democratic candidates filed)
House District 20 results (Sublette + Lincoln County):

Albert Sommers defeats Mike Schmid (2,139 to 1,419 votes)
Bill Winney (158 votes)

Sublette County Commissioner (2):
(Republican, no Democratic candidates filed)
Doug Vickrey (1,591 votes - 25.17% of votes)
Mack Bradley (1,170 - 18.51%)
--------------------------
Robin Schamber (996, 15.76%)
Lynn Bernard (882, 13.95%)
Andrew Zook (543, 8.59%)
Tyler Maxfield (362 5.73%)
Gary Sanders (295, 4.67%)
Bob Jones (259, 4.10%)
Jim Brost (203, 3.21%)

Sublette County Attorney:
(Republican, no Democratic candidates filed)
Clayton Melinkovich (1,899 - 62.18%) defeats Stan Cannon
(1,026 - 33.60%)

Sublette County Clerk:
(Republican, no Democratic candidates filed)
Carrie Long (2,245 - 68.63%) defeats Kris Bacheller (1,022 -
31.24%)

US Representative (Sublette County only):
(Republican)
Harriet Hageman (2,538 votes - 71.69% of Sublette County
votes)
Liz Cheney (849 votes - 23.98% of Sublette County votes)

Sublette County non-contested races:
(Republican, no Democratic candidates filed)
Coroner: Curt Covill (3,096, 99.68%)
County Sheriff: KC Lehr (2,964, 97.34%)
County Treasurer: Emily Paravicini (3,027, 99.67%)
County Assessor: Laila Illoway (2,952, 99.16%)
County Clerk of District Court: Janet K. Montgomery
(3,025, 99.77%)

STATISTICS:
Ballots Cast: Total 3,626
Democratic Ballots Cast: 43
Republican Ballots Cast: 3,583
Nonpartisan Ballots Cast: 0
Blank Ballots Cast: 2

---
Postal rates for packages to increase during 2022 holiday season (posted 8/12/2022)
Pinedale Online!
The United States Postal Service (USPS) filed notice on August 10, 2022 regarding a temporary increase in prices for package prices for the 2022 peak holiday season. This is a temporary rate adjustment to help cover the extra handling costs for parcels during the holiday rush. The increase does not affect international products.

The rate increase goes into effect on October 2, 2022 until January 22, 2023. Increase rates vary by zones. Commercial and Retail Priority Mail and Priority Mail Express will see increases from $.25 cents to $6.50 for flat rate boxes and envelopes, depending on weight and destination.

The price for first class mail Forever stamp increased from $.58 cents to $.60 cents in July 2022. A postcard stamp rose from 40 cents to 44 cents with that rate increase. The holiday rate increase is only for packages and will not change these prices for letters.

The Postal Service generally receives no tax dollars for operating expenses and relies on the sale of postage, products and services to fund its operations.

A full list of commercial and retail pricing can be found on the Postal Service's Postal Explorer website at https://pe.usps.com/text/dmm300/Notice123.htm.
Source: U.S. Postal Service Announces Proposed Temporary Rate Adjustments for 2022 Peak Holiday Season

Related Links:
Postal rates increase Pinedale Online!, July 18, 2022

---
Business Directory
Click here for
Advertising Information