Roundup of Wolf Issues (posted 10/29/14 )
Cat Urbigkit, Pinedale Online!
While wolves in Wyoming remain back under protections of the federal Endangered Species Act, Wyoming Public Media reports that Wyoming's congressional delegation has pledged to go to Congress to get wolves delisted in the state. Montana and Idaho were successful in getting wolves delisted via federal legislation after years of litigation. A federal judge recently overturned Wyoming's wolf management plan based on a deficiency state officials are now trying to correct through rule-making. If Congressional action were successful, the legal battles could finally be ended.

But some wolf advocates are still stewing over the delisting of wolves in Idaho and Montana and have come up with a new strategy. Defenders of Wildlife is currently conducting a call to action for wolf advocates to "Demand an Immediate Status Review of Wolves in the Northern Rockies." On its website, with an auto-generated letter of demand, Defenders states: "More than five months have passed since Defenders formally requested FWS conduct an urgent review to reassess the status of wolves in the Northern Rockies, based on the aggressive management of wolves by the state of Idaho.

"The call for this status review is an important step toward restoring Endangered Species Act protection to wolves in Idaho and other Northern Rockies states."

Our neighbors in Utah have their own wolf issues as well. The Salt Lake Tribune reports that state officials are investigating sightings of a wolf in the Uinta Mountains of Duchesne County. The collared wolf was identified by its dying radio collar as originating in the Boundary Pack that roamed Idaho's panhandle region near the Canadian border – an 850 mile trek.

Capital Press writer Matthew Weaver interviewed a Washington couple after their problems with the Huckleberry wolf pack killing their sheep this summer. The couple discussed the uncertainty ahead, with a wolf pack that is not deterred by human presence, or the presence of livestock guardian dogs. You'll find the link to this article below.

Voters in Michigan will have their say on two ballot measures relating to wolves – but they appear to be nothing more than opinion polls on the public's views of laws already enacted. One referendum authorizes wolf hunting seasons, while the other authorizes the state's natural resource commission the authority to manage wolves as game animals. Each referendum cites existing law and its provisions, then asks "Should this law be approved?" Michigan's first wolf hunting season took place last year, after the laws were enacted in 2012 and 2013.

In its battle to challenge the laws allowing wolf hunting, Keep Michigan Wolves Protected has raised $2 million in the last two years, with the largest contributions – $1.33 million in cash, and $1.4 million in goods and services – coming from the Humane Society of the United States.

Interestingly, a ballot measure in Maine proposes to ban black bear hunts using baits, dogs or traps. Of the $1.4 million raised by Mainers for Fair Bear Hunting (seeking to ban these hunting methods), 96% came from the Washington, D.C.-based Humane Society of the United States.

For more on these wolf stories, check the links below.

Related Links:
Wyoming's Congressional plans - From Wyoming Public Media
Call to Action - Defenders of Wildlife
Wolves in Utah - Salt Lake Tribune
Washington Couple Talks Wolf Problems - Capital Press
More on the Michigan Vote - Michigan Live

---
Yellowstone Park roads to Old Faithful, Canyon close for the season Nov. 3 (posted 10/27/14)
Yellowstone National Park
There are only a few days left to drive your own vehicle into the interior of Yellowstone before the roads close for the season.

Roads to most of the park's popular locations close to vehicle travel at 8:00 a.m. Monday, November 3. The exception is the road from the park's North Entrance at Gardiner, Mont., through Mammoth Hot Springs to the park's Northeast Entrance and the communities of Cooke City and Silver Gate, Mont., which is open all year, weather permitting. All other park roads close for the season to allow staff members to begin preparing the roads for guided snowmobile and snowcoach travel beginning December 15.

Visitors driving to and in the park during the fall and winter are encouraged to have flexible travel plans and be prepared for changing weather conditions. Temporary travel restrictions or closures like those experienced Sunday and Monday can occur at any time without notice. Mud and snow tires or tire chains may be required. Updated information on road conditions in Yellowstone is available 24-hours a day by calling 307-344-2117.

At Mammoth Hot Springs, the Yellowstone General Store, Post Office, medical clinic, campground, and visitor center remain open all year. Pay-at-the pump fuel is available 24 hours a day all year at all park service stations.

All communities near and on the way to Yellowstone are open all year, with local businesses offering a wide range of fall and winter recreation opportunities.

Information on fall and winter lodging, camping, services, and activities near the park in the Montana communities of Gardiner, West Yellowstone, Cooke City, and Silver Gate is available by contacting their respective Chambers of Commerce or from the Montana Office of Tourism at 800-847-4868 or www.visitmt.com.

Those interested in visiting the Wyoming communities of Cody and Jackson can get information from their Chambers of Commerce, or by contacting Wyoming Office of Tourism at 800-225-5996 or www.wyomingtourism.org.

If your travel plans to Yellowstone take you through Idaho, you can get more information by calling the Idaho Division of Tourism Development at 800-847-4843 or by checking out their web site www.visitidaho.org.

Extensive information and assistance for planning a visit to Yellowstone is available on the park's web site at www.nps.gov/yell.

---
Senator Barasso: Obama Administration is Intentionally Misleading Americans on Proposed Water Rule (posted 10/24/14)
Senators respond to Administration's biased campaign to downplay negative impacts proposed rule will have on jobs, the economy and private landowners
Sentator Barasso media release
WASHINGTON, D.C. – Today (Thursday, October 23, 2014), U.S. Senators John Barrasso (R-WY), Ted Cruz (R-TX), Republican Leader Mitch McConnell (R-KY) and Senate Environment and Public Works Committee Ranking Member David Vitter (R-LA) led a group of 25 senators in calling out the Obama Administration for intentionally misleading Americans about the negative impacts of the proposed "Waters of the United States" (WOTUS) rule.

With few exceptions, this proposed rule would give the Environmental Protection Agency (EPA) and Army Corps of Engineers (Corps) virtually unlimited regulatory authority over all state and local waters, no matter how remote or isolated such waters may be from truly navigable waters. The Small Business Administration's Office of Advocacy (SBA) recently reported this rule will result in a "direct and potentially costly impact on small businesses."

In a letter to EPA Administrator Gina McCarthy and Secretary of the Army John M. McHugh, the senators outline and respond to some of the Administration's misleading talking points about the rule.

"Undoubtedly, there is a disconnect between regulatory reality and the Administration's utopian view of the proposed 'waters of the United States' rule. We believe this reflects the EPA's and the Corps' refusal to listen to the thousands of Americans who have asked that the proposed rule be immediately withdrawn. Indeed, there have been several examples of bias against the proposed rule's critics. For the record, we note here the ways in which the Administration has manipulated this rulemaking in ways that appear to be designed to prejudge the outcome:," the Senators wrote.

The Senators respond in detail to:

The Obama Administration claims that the proposed "Waters of the United States" rule responds to prior requests for a Clean Water Act rulemaking.
The Obama Administration insinuating that opposition to the proposed rule is equivalent to opposition to clean water.
EPA's attempt to delegitimize questions and concerns surrounding the proposed rule.
EPA and the Corps blatant misrepresentation of the impacts of increased Clean Water Act jurisdiction.
EPA's social media advocacy in favor of the proposed "Waters of the United States" rule prejudices the rulemaking process.

In addition to Barrasso, Cruz, McConnell, and Vitter, the letter was signed by Senators Pat Roberts (R-KS), Mike Enzi (R-WY), John Cornyn (R-TX), Jim Risch (R-ID), Marco Rubio (R-FL), Mike Crapo (R-ID), Roger Wicker (R-MS), Jim Inhofe (R-OK), Jeff Sessions (R-AL), Chuck Grassley (R-IA), Roy Blunt (R-MO), John Boozman (R-AR), Mike Johanns (R-NE), Tim Scott (R-SC), Deb Fischer (R-NE), Orrin Hatch (R-UT), Jerry Moran (R-KS), Rand Paul (R-KY), Johnny Isakson (R-GA), John Hoeven (R-ND) and Mike Lee (R-UT).

Full text of the letter below:

October 23, 2014

The Honorable Gina McCarthy
Administrator, Environmental Protection Agency
1300 Pennsylvania Avenue, NW
Washington, DC 20460

The Honorable John M. McHugh
Secretary of the Army
101 Army Pentagon
1300 Pennsylvania Avenue, NW
Washington, D.C. 20310-0101
Re: Proposed Rule to Define "Waters of the United States"
Docket ID No. EPA-HW-OW-2011-0880

Dear Administrator McCarthy and Secretary McHugh,

Despite numerous requests for the Environmental Protection Agency (EPA) and the Army Corps of Engineers (Corps) to withdraw the proposed "waters of the United States" rule, the Administration has shown it intends to pursue this unprecedented executive overreach, regardless of the consequences to the economy and to Americans' property rights. The proposed rule would provide EPA and the Corps (as well as litigious environmental groups) with the power to dictate the land use decisions of homeowners, small businesses, and local communities throughout the United States. With few exceptions, it would give the agencies virtually unlimited regulatory authority over all state and local waters, no matter how remote or isolated such waters may be from truly navigable waters. The proposed rule thus usurps legislative authority and Congress's decision to predicate Clean Water Act jurisdiction on the law's foundational term, "navigable waters."

Because the proposed "waters of the United States" rule displaces state and local officials in their primary role in environmental protection, it is certain to have a damaging effect on economic growth. Increased permitting costs, abandoned development projects, and the prospect of litigation resulting from the proposed rule will slow job-creation across the country. Similar concerns led the Small Business Administration's Office of Advocacy (SBA) to recently call for the withdrawal of the proposed rule. As SBA observed, the proposed rule will result in a "direct and potentially costly impact on small businesses," and the "[t]he limited economic analysis which [EPA and the Corps] submitted with the rule provides ample evidence of a potentially significant economic impact."[1] We join SBA and continue to urge EPA and the Corps to withdraw the proposed rule.

Undoubtedly, there is a disconnect between regulatory reality and the Administration's utopian view of the proposed "waters of the United States" rule. We believe this reflects the EPA's and the Corps' refusal to listen to the thousands of Americans who have asked that the proposed rule be immediately withdrawn. Indeed, there have been several examples of bias against the proposed rule's critics. For the record, we note here the ways in which the Administration has manipulated this rulemaking in ways that appear to be designed to prejudge the outcome:

Bias Factor #1: The Obama Administration Claims That the Proposed
"Waters of the United States" Rule Responds to Prior Requestsfor a Clean Water Act Rulemaking.

EPA has repeatedly claimed that the proposed "waters of the United States" rule responds to various requests for the agency to clarify the scope of Clean Water Act jurisdiction. Likewise, the Administration stated last month that the proposed rule "is responsive to calls for rulemaking from Congress, industry, and community stakeholders as well as decisions of the U.S. Supreme Court."[2]

Such assertions are wholly misleading. A request for a regulatory clarification does not provide a license to run roughshod over the property rights of millions of Americans. Yet the Obama Administration has used prior rulemaking requests as an excuse to unilaterally advance a regulatory agenda that defies the jurisdictional limits established by Congress when it enacted the Clean Water Act in 1972.

In fact, the proposed rule would harm the very landowners, small businesses, and municipalities that expressed interest in working with EPA and the Corps to address Clean Water Act jurisdictional issues. Thus, rather than respond to requests for a rulemaking, the proposed rule serves as an example for why so few Americans trust EPA.

Bias Factor #2: The Obama Administration Insinuates That Opposition to the Proposed Rule Is Equivalent to Opposition to Clean Water.

When EPA Administrator Gina McCarthy announced the proposed "waters of the United States" rule last March, she professed that the proposed rule "clarifies which waters are protected, and which waters are not."[3] Similarly, EPA's Office of Water has suggested that those who "choose clean water" should support the proposed rule.[4]

These statements insinuate that the proposed rule's critics oppose clean water. This is an insulting ploy that belies the numerous efforts made in recent years by agriculture, industry, and local officials to improve water quality throughout the country. It ignores the fact that nonfederal waterbodies are subject to local and state water quality regulations. Moreover, the Clean Water Act's emphasis that "[i]t is the policy of the Congress to recognize, preserve, and protect the primary responsibilities and rights of States to prevent, reduce, and eliminate pollution" negates the canard that choosing clean water requires acceding to unlimited federal regulatory authority.[5]

Bias Factor #3: EPA Has Attempted to Delegitimize Questions and Concerns Surrounding the Proposed Rule.

Administrator McCarthy has described certain questions regarding the proposed rule as "ludicrous" and "silly."[6] Stakeholders have also observed how EPA officials have responded to concerns over the proposed rule with misrepresentations and a "knock on their intelligence."[7]

EPA's disparaging of the proposed rule's critics serves no one. If EPA believes concerns with the proposed rule are unwarranted, the appropriate course of action would be for the agency to respond formally in the context of the notice and comment procedures accompanying the current rulemaking. Belittling the proposal's critics only furthers the impression that EPA has predetermined the outcome of the "waters of the United States" rulemaking.

Bias Factor #4: EPA and the Corps Have Blatantly Misrepresented the Impacts of Increased Clean Water Act Jurisdiction.

EPA and the Corps have attempted to downplay the substantial outcry over the proposed "waters of the United States" rule as well as the prospect of federalizing thousands of ditches, ponds, streams, and other waterbodies. They have done so by claiming that the impacts associated with increased Clean Water Act jurisdiction are insignificant.

For example, EPA claims the proposed rule "would not infringe on private property rights," and that the Clean Water Act "is not a barrier to economic development."[8] The Corps has also stated that "when privately-owned aquatic areas are subject to Clean Water Act jurisdiction . . . [that] results in little or no interference with the landowner's use of his or her land."[9]

These assertions strain credulity. Given the history of regulatory and land use issues associated with the Clean Water Act (including numerous congressional hearings, Supreme Court cases, and real world examples of costs and hardship resulting from affirmative jurisdictional determinations), it is astonishing that any federal agency would claim that a designation of private property as "waters of the United States" does not affect the landowner's property rights.

That such statements have come from EPA and the Corps suggests that the agencies either don't appreciate the real-world impacts of the law they're charged with administering, or they are intentionally trying to minimize the effect of the proposed rule. It is likewise not surprising that SBA, an expert agency charged with representing the views of small entities before federal agencies and Congress, has also critiqued the manner in which EPA and the Corps have estimated the proposed rule's impacts.[10]

Bias Factor #5: EPA's Social Media Advocacy in Favor of the Proposed "Waters of the United States" Rule Prejudices the Rulemaking Process.

EPA staff are asking the public to influence the agency's view of the proposed "waters of the United States" rule. In fact, the Twitter account for EPA's Office of Water is now essentially a lobbyist for the proposed rule. A few months ago, EPA established a website called "Ditch the Myth," which declares that the proposed rule "clarifies protection under the Clean Water Act for streams and wetlands that form the foundation of the nation's water resources."[11] The agency has now gone so far as to solicit others to seek to influence EPA regarding the proposed rule, urging social media users to "show their support for clean water and the agency's proposal to protect it."[12] These actions raise serious questions about compliance with the Anti-Lobbying Act.[13]

The integrity of the rulemaking process is in jeopardy, if not already tainted. EPA's social media advocacy removes any pretense that the agency will act as a fair and neutral arbiter during the rulemaking. Why should any landowner believe that EPA will seriously and meaningfully examine adverse comments regarding the proposed rule's impact on ditches, for example, when the agency has already pronounced that the proposed rule "reduces regulation of ditches"?[14] Why should state officials believe that their concerns with the proposed rule will be fully considered, when EPA has already determined that the proposed rule "fully preserves and respects the effective federal-state partnership . . . under the Clean Water Act"?[15]

EPA's social media advocacy is a firm indicator that adverse comments will receive scant attention during the rulemaking period. We question whether the "waters of the United States" rulemaking can be conducted in accordance with the Administrative Procedure Act and its objective that agencies "benefit from the expertise and input of the parties who file comments with regard to [a] proposed rule" and "maintain a flexible and open minded attitude towards its own rules." [16]

We are dismayed that the Administration has failed to adhere to its impartial obligations under the law. Moreover, this bias has been reflected in comments from NGOs as well. Based on similar statements from groups such as Organizing for Action, Natural Resources Defense Council, and Clean Water Action, it is as though the Administration and its environmentalist allies are of one mindset, eager to paint the proposed rule's critics as anything other than concerned citizens.

At the same time, although the above groups are entitled to have a misguided and flawed perspective on the proposed "waters of the United States" rule, the Administration owes the American people a higher level of discourse. To date, however, this rulemaking has been plagued by administrative bias and prejudicial grandstanding. It is therefore incumbent on EPA and Corps to reverse course, withdraw the proposed rule, and commit to working more cooperatively with interested stakeholders in future regulatory proceedings.

http://barrasso.senate.gov

[1] Letter from SBA to the Hon. Gina McCarthy and Maj. Gen. John Peabody re: Definition of "Waters of the United States" Under the Clean Water Act (Oct. 1, 2014), available at http://www.sba.gov/sites/default/files/Final_WOTUS%20Comment%20Letter.pdf.
[2] Executive Office of the President, Office of Management and Budget, Statement of Administration Policy re: H.R. 5078 (Sept. 8, 2014).
[3] U.S. Environmental Protection Agency, EPA Administrator Gina McCarthy Gives an Overview of EPA's Clean Water Act Rule Proposal, YOUTUBE (Mar. 25. 2014), http://www.youtube.com/watch?v=ow-n8zZuDYc.
[4] Travis Loop, Do You Choose Clean Water?, GREENVERSATIONS: AN OFFICIAL BLOG OF THE U.S. EPA Sept. 9, 2014), http://blog.epa.gov/blog/2014/09/do-you-choose-clean-water/.
[5] Federal Water Pollution Control Act § 101, 33 U.S.C. § 1251 (emphasis added).
[6] Chris Adams, EPA Sets Out to Explain Water Rule That's Riled U.S. Farm Interests, NEWS & OBSERVER (July 9, 2014), http://www.newsobserver.com/2014/07/09/3995009/epa-sets-out-to-explain-water.html
[7] Letter from J. Mark Ward, Senior Policy Analyst and General Counsel, Utah Assoc. of Counties, to Gina McCarthy and Bob Perciasepe, U.S. Environmental Protection Agency (July 18, 2014), available at http://www.kfb.org/Assets/uploads/images/capitolgovernment/utahassocofcountiesepa71814.pdf
[8] U.S. Environmental Protection Agency, Facts About the Waters of the U.S. Proposal, http://www2.epa.gov/sites/production/files/2014-09/documents/facts_about_wotus.pdf.
[9]Finding Cooperative Solutions to Environmental Concerns with the Conowingo Dam to Improve the Health of the Chesapeake Bay: Hearing Before the Subcomm. on Water and Wildlife of the S. Comm. on Environment & Public Works, 113 Cong. 19 (2014) (Corps response to question for the record, on file with Senator David Vitter).
[10]See SBA Letter, supra n.1.
[11]DITCH THE MYTH, http://www2.epa.gov/uswaters/ditch-myth.
[12] U.S. Environmental Protection Agency, Water Headlines for the Week of September 9, 2014, http://water.epa.gov/aboutow/ownews/waterheadlines/May-6-2014-Issue.cfm.
[13]See 18 U.S.C. § 1913 (prohibiting the use of appropriated federal funds for the "personal service, advertisement, telegram, telephone, letter, printed or written matter, or other device, intended or designed to influence in any manner a Member of Congress, a jurisdiction, or an official of any government, to favor, adopt, or oppose, by vote or otherwise, any legislation, law, ratification, policy, or appropriation").
[14]See DITCH THE MYTH, supra note 11.
[15]See id.
[16]McClouth Steel Prod. Corp. v. Thomas, 838 F.2d 1317, 1325 (D.C. Cir. 1988) (interpreting 5 U.S.C. § 553; internal quotations omitted). See also Letter from Waters Advocacy Coalition to EPA Administrator Gina McCarthy and Secretary of the Army John M. McHugh re: Proposed Rule to Define "Waters of the United States" (Sept. 29, 2014) ("The [Administrative Procedure Act] does not allow [EPA and the Corps] to keep altering the regulatory landscape throughout the rulemaking process. Indeed, the public cannot be expected to provide meaningful comment on a moving target."), available at http://www.fb.org/tmp/uploads/wacletter092914.pdf.
---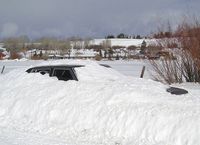 Car buried in snow in Pinedale. Pinedale Online file photo.

Emergency Preparedness Tips (posted 10/24/14)
A little advance preparation can save hardship later on
Pinedale Online!
Winter in Wyoming brings cold temperatures, continuous snow-covered ground, and difficult living conditions. Temperatures can dip to more than 40 below zero for days at a time. Electricity outages can last for hours or even days in extreme cases. That means no electric heat, no power to operate water well pumps, and difficult if not impossible travel conditions. Without proper care, water and sewer lines can freeze solid. In addition to the normal challenges of winter in Wyoming, the world has Ebola, flu, and the possibility of other pandemic diseases to consider and prepare for. Should a large-scale disaster occur, it will likely be too late to stock up on supplies. Advance preparation will help with survivability of serious situations. Here are preparation tips to protect yourself and your family. By stocking up on items a little at a time each week, shopping sales, and stockpiling things you know you'll want or need, the task of getting prepared doesn't have to be burdensome or overly expensive.

1. Winterize your home
Make sure windows are sealed, the house has good insulation, leaks repaired, vulnerable water pipes wrapped with insulation or heat tape, smoke and CO2 alarms have fresh batteries, and have a good fire extinguisher handy. Consider adding an alternative backup for heating and cooking needs in case your primary system goes out. Consider having a generator and fuel on hand for emergency electrical power. If you use a well for your water supply, consider an alternative method to power the pump if electricity goes out, or stockpile extra water for family needs for hours or days until power returns.

2. Assemble a home preparedness kit
Useful supplies to help in the event of any kind of emergency include a flashlight, non-perishable foods, a manual can opener, bottled water (5 gallons per person), blankets, warm clothing (coats, hats, gloves, socks, thermal long johns), winter footwear, a battery-operated radio and clock, extra batteries, extra cash, alternative home heat source, alternative light source, candles, matches, alternative cooking means and fuel, games/books/cards for entertainment, and pet supplies. Also remember to restock the medicine cabinet with updated non-prescription pain relievers, cold remedies, first aid supplies and prescription medicines so you can take care of anyone with an illness during emergency situations.

3. Rotate your food stockpile
If you've been well prepared for years, you might find that your food stockpile is getting close to the expiration date on some canned items. Now is a good time to consider rotating those supplies and bringing in fresh items. The local Food Basket would be delighted to get your older canned goods to give to needy families. Requests for their food supply services go up in the winter and near the holidays. Local grocery stores often offer canned good case-lot sales during the fall months, so it is a great time to freshen and rotate your long-term food storage stockpile.

4. Have a preparedness mindset at home, work, church, and in the community
If you are able to stabilize the needs for yourself and your family, you might consider expanding your reach to help cover the needs for others who might not be as prepared as you are. Consider encouraging your church, place of work, and community organizations to put in a supplemental emergency supply stockpile for the needs of their people should an emergency or disaster strike. Local supply stockpiles can help communities be independently prepared to survive emergency situations. Even apartment dwellers with minimal extra storage space can put in a handy well-thought out food and supply stockpile that can get them through short-term survival situations. Not enough cupboard space? Raise your beds and use the space underneath as storage space. Consider also that minimizing debt, cutting out unnecessary spending, and reducing monthly bills will make your wallet stretch farther. Remember to also stockpile some extra cash on hand to be able to pay your regular bills and get you through weeks or even months in the event of a fiscal crisis in emergency situations.

5. Vehicle Winter Survival Kit
Many people live in rural areas in Wyoming. During emergency situations, you may be stranded at an isolated structure or on the road in your vehicle. It is a good idea to prepare a winter survival kit for each vehicle that is driven during the winter and that it is not taken out. Update the contents of your kit on a regular basis and make sure all drivers and passengers know where to find it.

The type of kit you prepare is up to you, and the container can be anything ranging from cardboard boxes, large plastic ammo cans, and milk crates for the gallon-size fluid containers, to a plastic type box with a lid. The very basics should provide for water, food and warmth. You can add additional items and eventually develop a large kit, but you do not need to fill up the trunk.

Here are some of the basic items that it should contain:
1. Extra clothing, such as parka, boots, long underwear, heavy socks, mittens, ski mask.
2. Emergency blankets - wool blankets, sleeping bags - 2 large green or black plastic leaf bags (to reflect body heat) and some safety pins (the bags are for insulation for feet, safety pins keep the bags together.)
3. Heat reflective tarp -space blankets and tape (to use insulate windows, not as blankets.)
4. Signal mirror and a plastic coach's type whistle to signal help in case you hear a rescuer who cannot see you.
5. Bright red or orange cloth, or a roll of bright surveyor tape to attach to your antenna to draw attention to your car in heavy snow.
6. Water - 1 gallon per person - but do not eat snow! This uses up body heat and lowers your body temperature. Eating snow also dehydrates your body resulting in a net water loss! (Remember water expands when it freezes and may break containers if left in extreme cold.)
7. Flashlight with extra batteries (reverse the batteries to avoid accidental switching and burnout, and replace batteries yearly) warm batteries before using them. 12-hour light sticks are also a good addition.
8. Honey, hard candy, jellybeans, raisins, nuts, candy bars, chewing gum, dehydrated fruit, and jerky, high calorie and high-energy food such as snack bars, fruit rollups. Anything that does not need cooking is good to prolong your body's ability to generate heat in the event of being stranded for a long period.
9. Toilet tissue and a coffee can with a sealable lid for a makeshift toilet. Plastic garbage bags can be used for a makeshift toilet. Disinfectant wipes and hand sanitizer are also helpful.
10. Cell phone and charger. An old digital cell phone with the charger is perfect to put in the kit and leave. Service is not needed to make 911 calls on most modern cell phones and cell networks can triangulate your position, which is very handy in an emergency. Even "out-of-service" cell phones can still dial 911, although most analog phones will not work. If you do not have an extra phone, get a $20 pre-paid phone with roaming.
11. Medium-sized snow shovel or a collapsible shovel.
12. Jumper cables and a tow rope or chain
13. Tire chains (know how to put them on your vehicle!)
14. Gas line antifreeze (use as recommended during winter to avoid problems)
15. Gallon container of defrosting windshield fluid, premixed antifreeze
16. Vehicle repair kit (pliers, screwdriver, adjustable wrench, cable ties, wire, electrical tape, duct tape, fuses, etc)
17. Bag of sand or non-clumping kitty litter for traction assistance or traction mats, can also use your car floor mats.
18. Snow brush and ice scraper
19. Sunglasses or ski goggles
20. Hand warmers (chemical type)
21. Fire extinguisher
22. Compass and maps
23. 50+ SPF sunscreen- you will quickly sunburn in snow conditions
24. Paper & pencils
25. First aid kit/book, aspirin or equivalent and with Imodium, decongestant, etc
26. Rain coat
27. Reflective tape or reflective triangles (flares are hard to find) if you are foregoing the reflective triangles you should at least get the reflective tape. This is the same type of reflective material seen on traffic signs; it will be great if you are changing your tire in the dark.
28. Extra newspaper for insulation
29. Baby formula and diapers if you have a small child.
30. Pet needs (food, water and warmth).
31. Prescription medication for you and any passengers.

6. Infectious disease or pandemic preparation
A pandemic may incapacitate (and/or terminate) a significant portion of the population, crippling the infrastructure due to lack of manpower and possibly leaving you without groceries, utilities and other services for the duration (months or longer). If a deadly virus such as a super-flu or Ebola were to infect the broad population and spread easily from person to person, a pandemic (worldwide outbreak of disease) could begin. No one can predict when or where a pandemic might occur and it isn't unreasonable to do some advance preparation for the possibility. The reality is it is more a matter of when, not if. Are you ready to self quarantine for 30, 60, 90, 120 days? Surviving a pandemic is a matter of isolating yourself from OTHER INFECTED PEOPLE until the die-off has run its course. This could be many months or even longer. In order to be fully prepared, you must have the ability to self quarantine without the need to go out where other (potentially infected) people are. This includes work, grocery shopping, school, etc. You must have everything that you need already at home.

During the onset of a pandemic, most people will not fully realize the ramifications and will continue to go about their daily habitual routines - going to work, going to the grocery store, school, church, etc. exposing themselves to the potential mortal consequences of exposure. Almost every transmissible disease has an incubation period during which the person is infected but not yet showing signs of disease. Quite often, a person can be contagious for one to several or more days before exhibiting symptoms.

During the circumstance when someone within your group becomes infected, that person will have to be quarantined to avoid infecting everyone else. If you take in any new members to the group, they should also be quarantined to assure that they are not infected (many viral infections will manifest themselves within a period of 3-5 days, and most within 10-14, Ebola virus potentially up to 21 or longer).

Ideally the quarantine area will be a separate building from your own living quarters, such as an outbuilding, garage, empty house, or barn. If you choose to offer a room within your home, choose one vented to the outside and without ducting connecting to the rest of the house. Make sure the room has a negative pressure by leaving a window cracked, so the air flows into the room from the remainder of the house and exits through the window.

The following is a starter-list of preparation items:
Water (1 gallon per person per day)
Food Storage - for all members living in the household (3 months minimum)
5 gallons of liquid bleach per person of the household to sanitize everything.
4 boxes of exam gloves (different sizes for every member of the household)
Quality N95 masks
Antibacterial Soap (with Benzethonium Chloride) or Hand Wipes for meticulous hand washing
100¡ä roll of clear 4 mil plastic - for setting up an isolation room
Duct tape (Duck Tape) - for setting up an isolation room
HEPA filters - enough for whole house air filtration
25 lbs. of lime per person - for provisional toilets
50 heavy duty black 3 MIL garbage bags per person - for provisional toilets and garbage
100 ordinary kitchen trash bags per person - for provisional toilets and garbage
25 lbs. of kitty litter per person - for sick people's body fluids clean up
100 rolls of toilet paper per person - for personal sanitation
20 rolls of paper towels per person
Boxes of facial tissues
Washboard, clothesline, and laundry soap - for potentially washing clothes by hand.
Good dish soap like "Dawn" or other aggressive anti-grease formula
Water filtration and purification devices
Water collection, storage and carrying containers
Safety Goggles and/or a Face Shield will help protect the eyes (potential point of infection)
Protective clothing: Fluid resistant or impermeable gowns, raincoat, aprons, gloves, shoe covers, boots, and booties (to protect skin from fluids)
Eye protection (face shield or goggles)
Facemasks (goggles or face shield must be worn with facemasks),
N95 respirators
Disposable cutlery, cups and dishes
Paper, notepads, pens, markers
Gallon size ziploc bags
Plastic sheeting to protect mattresses and to make walls for an isolation room
Waterproof matches
Feminine hygiene supplies
Contact lens supplies
Prescription medicines needed for all family members
Facial tissues
Extra toothbrushes and toothpaste
First Aid Kit
Special foods for special dietary needs
Sewing Kit
Scissors
Disinfectant, disposable wipes, spray cleaners
Disaster Plan for all family members, designated safe meeting place
Phone/email contact list for all family members
Spare change for pay phone use
Photocopies of important documents and papers stored in a safe place
Packets of your favorite and most used spices (salt, pepper, sugar)
Rubbing alcohol
Anti-diarrhea medication
Antiseptic ointment
Denture care needs
Plastic wrap
Aluminum foil
Entertainment items (cards, board games, movies, computer games, books, musical instruments)
Buckets or containers for cleaning supplies
Extra cash
Portable toilet
Good source of light, lamp, lamp fuel
Good independent source of heat, bundle up clothing
Tea, coffee, cigarettes, alcoholic beverages
Whistle, bell or noisemaker for a sick person to call for help
Over the counter medications for cold/flu symptoms
Basic medical supplies
Antibiotics
Emergency foods that don't require refrigeration

Editor's Note: Dr. William T. Close, who lived in Big Piney, was a physician and surgeon in the Congo for sixteen years. He was part of the team that helped define and contain the first outbreak of Ebola in 1976. His book, "Ebola - Through the Eyes of the People," is available at Office Outlet in Pinedale as well as on Amazon.com.

Related Links:
Emergency Preparedness Kit Ready.gov
Safe Winter driving tips from WYDOT Wyoming Department of Transportation
Winter is coming - be prepared Tips for winter preparedness
State of Alaska - Pandemic Influenza & Emergency Preparedness 7 Day Survival Kit

---
General Election ballot preview (posted 10/22/14)
Know the candidates
Click on the links below to see the ballots for candidates in the 2014 General Election for precincts in Sublette County. (PDF)

Big Piney 2-1
Bondurant 5-1
Boulder 1-4
Cora 4-1
Daniel 4-2
Marbleton 2-2
Pinedale 1-1
Pinedale 1-3

---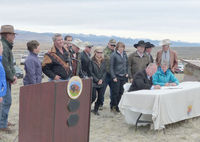 Secretary of the Interior Sally Jewell and Wyoming Governor Matt Mead sign 9 agreements with ranchers.

Coming together for wildlife (posted 10/17/14)
Dawn Ballou, Pinedale Online!
On Wednesday, October 15th dignitaries from across the state and nation gathered in Pinedale to celebrate a public-private partnership to sign nine agreements to conserve of sagebrush habitat to benefit sage-grouse and other wildlife species. The U.S. Fish and Wildlife Service, Bureau of Land Management, and the Sublette County Conservation District have been working with area ranchers for years to protect and conserve sagebrush habitat that is important for sage-grouse and many other species.

Sage-grouse are an important species to plan for because in 2015 U.W. Fish & Wildlife Service must make a decision about whether or not to list the bird on the Endangered Species list.

The event on October 15th included a morning tour of the Brad Bousman ranch near Boulder, and a signng ceremony at Trappers Point around noon. The ceremony involved the signing of nine agreements between the U.S. Fish and Wildlife Service and nine ranchers. The ranchers were recognized as the first landowners to enter into the U.S. Fish and Wildlife Service's (FWS) Candidate Conservation Agreement with Assurances (CCAA) program for the greater sage-grouse in Wyoming.

Landowner stewardship of sage-grouse habitats is promoted through the CCAA, which provides private landowners with incentives for engaging in voluntary proactive conservation through assurances that limit future conservation obligations. Specifically, landowners are provided the assurance that if they implement various conservation measures, they will not be subject to additional restrictions if the species becomes listed under the ESA.

The day's events were attended by U.S. Secretary of the Interior, Sally Jewell; Wyoming Governor Matt Mead; Dan Ashe, Director of the U.S. Fish and Wildlife Service; Don Simpson, Wyoming State Director of the Bureau of Land Management; Brad Bousman of Bousman Livvestock, Inc.; and many private landowners and local stakeholders.

Here is a list of the ranchers honored.

WYOMING CCAAs
Conservation practices
1. Brad Bousman - Bousman Livestock, Inc. (Sublette County)
• Approximately 1,400 acres enrolled; all within Sage-Grouse Core Area
• Involved with Pilot Project for cheatgrass control
• Converted windmill stock watering tanks to solar to eliminate perching by ravens and other birds that preys on the eggs and young of sage-grouse.
• Installed wildlife escape ramps in solar tanks that he manages both on private and public (BLM) lands.
• Implemented (for many years) conservation practices such as flushing bars on his hay tractor to avoid and minimize collisions with sage-grouse that use his hay meadows; also delays haying until after the GSG nesting season.
• Is an active Sublette County Conservation District Board Member and NRCS partner who supports the development and implementation of conservation programs for landowners.
• Actively participates in monitoring GSG use on his BLM grazing allotments.

2. John Erramouspe - G & E Livestock, Inc. (Sublette County)
• Approximately 1,200 acres enrolled; 97% in Sage-Grouse Core Area
• Buries power lines
• Uses solar power
• Created overflow to provide access for sage-grouse, but limited use by livestock and wildlife

3. John Boroff - Boroff Land and Livestock (Sublette County)
• Approximately 1,300 acres enrolled; 100% in Sage-Grouse Core Area

4. John Blaha - Blaha Ranch, Inc. (Sublette County)
• Approximately 1500 acres enrolled; 100% in Sage-Grouse Core Area

5. Donald W. Rogers, Jr. (Sublette County)
• Approximately 400 acres enrolled; 100% in Sage-Grouse Core Area

6. Fred Pape - Pape Ranches, Inc. (Sublette County)
• Approximately 10,000 acres enrolled; 100% in Sage-Grouse Core Area
• Philosophy that wildlife was there first, so they work with wildlife, and enjoy having wildlife on their property
• Recipient of Regional Leopold Conservation Award in 2008
• Worked with NRCS to create a mosaic patterned brush treatment to benefit sage-grouse
• Promotes wildlife friendly fences where possible
• Usually takes about 1.5 hours to cut a 10 acre area of oats. Last year there was about 20 sage-grouse in that area. Landowner walked through the oats to flush the birds out of the field before cutting. This extra effort took more than 4 hours to complete, but landowner didn't want to harm any sage-grouse.

7. Jennie & Mark Gordon - Merlin Ranch (Johnson County)
• 8,428 acres enrolled; 55% in Sage-Grouse Core Area
• Family owned ranch – established in 1988
• Angus cattle ranch
• Holistic management and cell grazing
• Recipient of Excellence in Rangeland Stewardship Award – 2009
• Manager: Kevin Rodriguez
• Owners: Mark and Jennie Gordon

8. Roy Liedtke, Kelly Hardy, Wendy Hutchinson- Longreach Buffalo Co., LLC (Campbell County)
• 3,240 acres enrolled; 100% in Sage-Grouse Core Area
• The members of Longreach Buffalo Company, Kelly Hardy, Wendy Hutchinson, and Roy Liedtke, have spent their professional careers as caretakers of the environment. This dedication to the ecosystem is one reason they chose to diversify their ranch by raising buffalo, along with beef cattle, bringing this magnificent species back to its native range. The ranch is in NE Wyoming in core sage-grouse habitat, with a diverse mixture of rolling plains and timbered lands. The owners' previous work in the coal industry allowed them to pool their resources and experience to purchase the ranch in 2001, where they have been a steadfast team devoted to creating a sustainable ranching environment for livestock and wildlife.

9. Priscilla Welles - HIP Investments, LLC (Johnson County)
• 12, 236 acres enrolled; 80% in Sage-Grouse Core Area
• HIP Investments, run by the Welles family, is a cattle operation that runs on a contiguous swath of rolling prairie sagebrush country west of the Powder River Basin in NE Wyoming. The middle waters of Crazy Woman Creek run through its western border, and the ranch supports both riparian areas and prime sage grouse breeding and nesting grounds. A significant portion of the ranch lands lie in the recently described "core" area for supporting areas to be managed for sage-grouse habitat. This designation has helped the landowners re- affirm their historical dedication to running their livestock operation with a high regard for the safety and viability of the wildlife that share in the land's resources.
• Initiatives that have been taken have involved: o Removal of woven wire fencing. Installation of fence markers to avoid bird collisions.
• Buried power lines in areas of energy development.
• Rotational grazing program utilizing recommendations and monitoring according to the Wyoming Rangeland Monitoring Guide.
• Placement of stock watering tanks in upland areas to remove cattle from the riparian areas.
• Bird escape ramps in all watering facilities.
• Mosquito larvae application in réservoirs to prevent the spread of west Nile Virus to bird populations.
vLimited activity in pastures with lek areas during bird breeding season.

It is the goal of the land owners to have a healthy ecosystem through dedicated management for both the economic and ecological success of the operation.

Click on this link for more pictures.
---
Business Directory
Click here for
Advertising Information