Record of Decision signed for No Oil & Gas leasing in the Wyoming Range (posted 1/18/17)
Bridger-Teton National Forest
JACKSON, WYOMING, January 17, 2017 – Today (Tuesday, January 17, 2017), the Record of Decision (ROD) for the Forest Service's Final Supplemental Environmental Impact Statement (FSEIS) was signed by Under Secretary Robert Bonnie. The signed ROD selected the "no leasing" alternative for oil and gas leases on 39,490 acres on the eastern slope of the Wyoming Range within the boundary of the Bridger-Teton National Forest in Sublette County, Wyoming. Based upon overwhelming public comment and significant recreation, wildlife and watershed values identified, no leasing was the selected alternative. The FSEIS and the ROD are available on the Bridger-Teton National Forest webpage, http://www.fs.usda.gov/project/?project=48737.

---
Grand Teton National Park sets record in 2016 with over 4.8 million visits (posted 1/18/17)
Exceeds Yellowstone National Park
Grand Teton National Park reports record visitation for the third consecutive year, receiving over 4.8 million visits in 2016. This was a 3.8% increase from the previous record of 4.6 million visits in 2015. The most significant increases came in the months of May, June, and November when total visitation increased 20, 11, and 10 percent, respectively.

The record visitation is part of a longer term upward trend which has seen park visitation increase 23 percent over the past four years. The record is also part of a nationwide trend which has brought record numbers to parks across the country. Visitation numbers are derived from traffic counter data. The numbers recorded by these counters are run through an algorithm to determine an estimated visitation number.

Park managers believe a number of factors contribute to the rising visitation levels including gas prices, overall economic growth, interest generated by the National Park Service Centennial, trends in the tourism industry, and marketing promotions including the Find Your Park campaign. The record year came despite the Berry Fire, the largest wildland fire in park history, which closed portions of U.S. Highway 89/191/287 in the park for 11 days in August and September.

Park managers implemented measures in 2016 to mitigate the impacts of increased visitation on park resources and the visitors' experience. In 2017, park managers will begin implementation of the Moose-Wilson Corridor Comprehensive Management Plan, which will ultimately manage the number of visitors in the area at any one time.

By comparison, nearby Yellowstone National Park reported 4.2+ million visits for 2016.

More info on national park visitation statistics at: https://irma.nps.gov/Stats/Reports/Park
---
Yellowstone Park visitation exceeds 4.2 million in 2016 (posted 1/18/17)
Yellowstone National Park reports that visitation exceeded previous records with a total of 4,257,177 million visitors in 2016. This is a 3.89 percent increase from 4,097,710 visits in 2015 and a 21.17 percent increase over visits in 2014. One of the most notable changes in visitation trends in recent years is the number of commercial tour buses entering Yellowstone's gates. The number of buses entering in 2016 was 12,778 which was a 21.3 percent increase over 2015 entries and a 46.5 percent increase over the number of buses in 2014. Park management is currently considering options for commercial tour bus management.

"During the busiest times of the year, visitation levels in the park have led to long lines, traffic congestion, diminishing visitor experiences, and impacts on park resources," said Superintendent Dan Wenk. "It's our job to recognize the trend, how it's affecting this magnificent park, understand our visitors, and what we may need to do to protect Yellowstone for future generations. All options are on the table." In August 2016, the park conducted social science studies to better understand visitors including their demographics, experiences, opinions, and preferences. The data will help park managers make decisions that reflect the experiences and needs of visitors both in the present and in the future. The results of the study are expected in spring of 2017.

Detailed park visitation information and additional information on how these statistics are calculated is available online at https://irma.nps.gov/Stats/Reports/Park.

---
Amazon to collect tax from Wyoming retail sales beginning March 1, 2017 (posted 1/17/17)
Wyoming Governor Mead announces tax deal with Amazon
Governor Matt Mead news release
CHEYENNE, WYOMING, January 12, 2017 – The largest online retail business in the United States has entered into a voluntary collection agreement with the State of Wyoming. Amazon will begin collecting tax on its sales to Wyoming consumers and businesses beginning March 1st of 2017.

The news comes at a time when Wyoming is facing an historic budget crisis. The additional tax collections will not come close to solving the issues the State faces, but will obviously help.

Amazon has recently moved to collect taxes in Utah, Iowa, Nebraska and most recently in South Dakota. A review of their website identified 34 states and the District of Columbia where Amazon is collecting sales tax.

"Wyoming businesses are at a disadvantage when internet businesses fail to collect tax," said Governor Mead. "This is an important step in the right direction. I encourage the Legislature to continue to work on the remote seller's bill."

The voluntary agreement with Amazon does not provide resolution of Wyoming's long standing effort to require collection of sales tax by remote vendors through ongoing membership in the Streamlined Sales Tax Governing Board. It does, however, indicate that sales taxes can be collected by online vendors from their customers.

The effect on the state revenues is difficult to project. More will be known after the vendor has remitted for a year which will also include seasonal and holiday sales.

Research has been published on the amount of revenue lost to electronic commerce by Wyoming and other states and there are estimates available. From a study conducted by the University of Tennessee in 2009 the estimate of total losses of revenue from E-commerce transactions in Wyoming was 28.6 million in sales taxes for 2012. The Legislature is considering a remote sales bill which would apply to all internet sales.

Source: https://content.govdelivery.com/accounts/WYGOV/bulletins/17ffa8f

---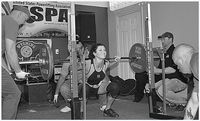 Kelli Hoopes is 1st in USA in 52 kilo Open Raw. 3rd in world in same. Photo by Terry Allen.

The WAD Powerlifting Open (posted 1/15/17)
Wyoming Athlete Development in Pinedale
Terry Allen
Sarah Walker from Star Valley came to Pinedale Saturday to compete in the nationally sanctioned powerlifting event put on by WAD (Wyoming Athlete Development). Sarah weighs about 75 pounds and had 75 kilos (165 pounds) on the bar but wasn't able to finish the lift according to the national rule book and got red-lighted.

Hailey Harber has only been lifting 8 weeks but says she is glad she got started. "I just wanted to get stronger," she said. "But it has already done more for me mentally than physically." When pressed for specific's she said, "It has made me a more patient Mother."

Manny has been powerlifting a year and said he did a 305 pound squat, a 210 bench and a 370 pound deadlift.

Big John Mastin of Cheyenne, who makes wonderful faces when he lifts, has only been powerlifting for a year and came in second place in the deadlift, not quite able to lock-out at 601 pounds.

National Champion Kelli Hoopes lives in Afton with her husband and they have a gym there. She has been doing crossfit for 5 years, but powerlifting for only a year. When I asked her why she did it, she responded, "I just like feeling strong."

Hailey Harber prepared for the meet by watching a Vikings movie the night before and doing her hair Viking style. She did such a good job, I had to give her a little extra page space.

Stafford and Josette Polk live in Big Piney. Josette has been lifting a year and at this meet set a new state record of 281 pounds.

Doug Wellemeyer has been lifting for nine years. He had been in jail, but nine years ago when he got out, the cop that arrested him gave him a 90 day gym membership. "January 9th this year marks 9 years I have been clean and sober," said Doug.

Adam Clinton won the event with a lift of 601 pounds. "I didn't know where I was going to float," said Adam. "My first 2 lifts felt heavy. I didn't know my last lift was going to pull that easy."

Alejandra Rice came over from Worland with her coach Randall Homan. Alejandra is 14 years old and set 3 records.

Andrew Zook and his wife Jen are the owners of WAD (Wyoming Athlete Development) in Pinedale and Andrew said a few words after the event. "The WAD Powerlifting Open was a complete success, but there is no way it could have happened without all of the outstanding help that donated their Saturday to make it happen. I want to thank the table staff that took a brand new program and made it work well-Jennifer Zook, Erika Tokarz, Amy Knotts. The hardest job at a Powerlifting meet is the spotting and loading- Bryan Coltharp, Kris Searles, Mike Smith, Claudio Martinez. You guys did spectacular! Mike Waller the best undiscovered MC around, he now has a permanent Job for Meets. My door staff Sierra Hattan, Madison Zook, Zach Maxam (the heavy hitting bouncers). I also want to thank Carl Lovell and Derek Lang for being so willing to referee with me, a solid group! I want to express my appreciation for the friends, family and residents of Sublette County for coming to support all the Athletes. Powerlifting is an ever growing sport that fosters self improvement and a competitive environment. Let's keep it growing!!"

I'll post the results sheets as soon as I receive them.

Thanks to all the competitors for letting me take your photograph. Thanks to Dawn at Pinedale Online for sponsoring this story.
You may use images off the story for your personal use. I sell hi-rez and print images at family friendly prices.

If I made a mistake anywhere, please let me know. txpartisan@gmail.com

Click on this link for more pictures from the event: The WAD Powerlifting Open (21 pictures)

Related Links:
Wyoming Athlete Development Facebook page


---
Hell Gap Paleoindian Site listed as National Historic Landmark (posted 1/14/17)
One of 24 new National Historic Landmarks designated by the Department of the Interior
The "Hell Gap Paleoindian Site," located in Goshen County, Wyoming, is one of 24 new sites announced on January 11th as being designated as National Historic Landmarks by the U.S. Department of the Interior. The Hell Gap archaeological site contains evidence of repeated occupations by nine Paleoindian cultural complexes in well-stratified deposits. To date, no other excavated Paleoindian site in North America contains a record that includes all of the cultural complexes known on the Plains spanning from between 13,000 and 8,500 years ago. Since its discovery and initial investigation, this site has been associated with cutting edge research in the field of Paleoindian archeology.

Click on this link for the full list of all 24 sites the have been recently designated:
24 new National Historic Landmarks designated by the Department of the Interior

---
2016 Energy Survey indicates acceleration in oil and gas activity (posted 1/13/17)
'Regional oil and gas firms said they returned to profitability'
Federal Reserve Bank of Kansas City
FOR IMMEDIATE RELEASE Friday, January 13, 2017
TENTH DISTRICT ENERGY ACTIVITY ACCELERATES
Federal Reserve Bank of Kansas City Releases 4th Quarter Energy Survey
KANSAS CITY, Mo. – The Federal Reserve Bank of Kansas City released the 4th quarter Energy Survey today. According to Chad Wilkerson, Oklahoma City Branch executive and economist at the Federal Reserve Bank of Kansas City, the survey revealed an acceleration in Tenth District energy activity.

"Regional oil and gas firms said they returned to profitability in the fourth quarter for the first time in over two years," said Wilkerson. "Companies began hiring again and increased their drilling programs further."

The Kansas City Fed's quarterly Tenth District Energy Survey provides information on current and expected activity among energy firms in the Tenth District. The survey monitors oil and gas-related firms located and/or headquartered in the Tenth District, with results based on total firm activity. Survey results reveal changes in several indicators of energy activity, including drilling, capital spending, and employment. Firms also indicate projections for oil and gas prices. All results are diffusion indexes – the percentage of firms indicating increases minus the percentage of firms indicating decreases.

A summary of the 4th quarter survey can be found at this link.

Results from past surveys and release dates for future surveys can be found at https://www.kansascityfed.org/research/indicatorsdata/energy.

The Federal Reserve Bank of Kansas City serves the Tenth Federal Reserve District, encompassing the western third of Missouri; all of Kansas, Colorado, Nebraska, Oklahoma and Wyoming; and the northern half of New Mexico. As part of the nation's central bank, the Bank participates in setting national monetary policy, supervising and regulating numerous commercial banks and bank holding companies, and providing financial services to depository institutions. More information is available online at www.kansascityfed.org.

---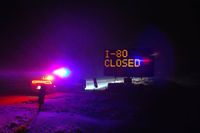 I-80 Road Closure sign. Photo courtesy Wyoming Highway Patrol.

Don't run the gates (posted 1/12/17)
Road closures are for public safety
Wyoming Highway Patrol
As winter weather continues to impact many Wyoming highways, with some leading to highway closures, a recent event on South Pass between Farson and Lander highlights why it is important to heed the road closures.

On January 11th, the Wyoming Highway Patrol received a call from a stranded motorist on Wyoming State Highway 28, which had been closed for nearly two days. The motorist had went around the road closure gate near Farson and ran into poor road conditions and became stuck near milepost 41 in a snow drift. South Pass area Wyoming Department of Transportation (WYDOT) crews had to plow a path out to the motorist, shovel them out, and escort them to safety. A responding Trooper met the motorist near the South Pass service road and escorted them the rest of the way out so the plows could resume clearing the highway.

WY 28 has very little cell phone service. Had this been the day prior and in a different location on WY 28, the driver would have been on their own to survive the elements due to white out conditions. The driver was apologetic for making WYDOT and the WHP rescue them. The motorist had become concerned because they only had a quarter tank of fuel left and a prior medical condition. The motorist was cited for traveling on a closed highway and sent on their way.

This event underscores the importance of staying off closed highways. The decision to go around the road closed gate put their life in jeopardy with the weather conditions, as well as the possibility of being hit by a plow that does not expect to have any other vehicles on the highway. When drivers willfully go around a road closed gate without proper authorization, they can expect a $420 fine when caught.

Motorists are reminded to check www.wyoroad.info or dial 511 for the latest road conditions. The website will also allow drivers to sign up for Wyoming Authorized Travel (WAT). WAT allows drivers, in certain circumstances, to travel on closed portions of state highways when in effect. The WHP also asks that motorists refrain from calling their local or WHP dispatch centers to inquire when highways will open. The latest information will always be posted on the website or by dialing 511.

---
DOI releases reform of Federal Coal Program (posted 1/12/17)
Bureau of Land Management
1/11/17: BLM media release:
Interior Department Releases Comprehensive Roadmap to Reform Federal Coal Program
Public Review Concludes Need to Modernize Federal Coal Program; Results Focus on Fair Return to Taxpayers, Transparency & Efficiency, and Program Impact on Climate Change

WASHINGTON – The U.S. Department of the Interior's Bureau of Land Management (BLM) today (Wednesday, January 11, 2017) released the results of a comprehensive, public review of the Nation's federal coal program. The review, based on hundreds of thousands of public comments and prompted by a Secretarial Order issued in 2016, examined concerns about the federal coal program that have been raised by the Government Accountability Office, the Interior Department's Inspector General, Members of Congress and the public.

"Based on the thoughtful input we received through this extensive review, there is a need to modernize the federal coal program," said U.S. Secretary of the Interior Sally Jewell. "We have a responsibility to ensure the public – including state governments – get a fair return from the sale of America's coal, operate the program efficiently and in a way that meets the needs of our neighbors in coal communities, and minimize the impact coal production has on the planet that our children and grandchildren will inherit. The only responsible next step is to undertake further review and implement these commonsense measures."

Secretary Jewell first called for an open and honest conversation of the federal coal program in March 2015. Today's report outlines the need for modernization of the federal coal program in the following key areas: ensuring a fair return to Americans for the sale of their public coal resources, assessing the structure and efficiency of the coal program in light of current market conditions, and considering impacts on communities and the environment including climate change.

"Over the past eight years we have focused on modernizing and strengthening the way that energy is produced in America. As a result of that work, solar, wind and geothermal power are the fastest growing sources of energy in the United States and oil and gas are produced in safer and cleaner ways. It is vital that we update our nation's coal program as well. This report provides the critical starting point for the modernization that is needed," said BLM Director Neil Kornze.

The report sets out the best policy ideas available for addressing these important issues, and identifies the additional data and technical work needed to decide how to move forward.

Today's report also identifies a number of good government modernization activities that will be taken in the near future to improve the program. These include increased transparency of the leasing program, increased protection for private surface owners and opportunities to prevent wasted natural gas from coal mines. Additional areas to be considered include: adjusting rental rates and bonus bids paid for leased coal to reflect inflation (which have not been updated in more than 30 years); strengthening financial and environmental responsibility requirements for operators who are permitted to bid on coal leases; and undertaking actions to improve lease process efficiency.

The production of federal coal accounts for more than 40 percent of all coal produced in the United States and is responsible for 10% of the country's greenhouse gas emissions. While energy markets, communities, environmental conditions and national priorities have undergone major changes in recent decades, the BLM's management of the federal coal program has stayed relatively static.

Next steps in the review process include finalizing the additional analysis identified in the report and completion of the programmatic environmental review required by Secretary Jewell's January 2016 order.

Consistent with the practice during two programmatic reviews of the federal coal program that occurred during the 1970s and 1980s, the Interior Department has instituted a pause on issuing new coal leases while the review is underway. The pause does not apply to existing coal production activities. There have been limited, commonsense exceptions to the pause, including for metallurgical coal (typically used in steel production), small lease modifications and emergency leasing, including where there has been a demonstrated safety need or insufficient reserves.

Companies can continue to mine the large amount of coal reserves already under lease, estimated to be enough to sustain current levels of production from federal land for approximately 20 years.

The report issued today is available here. Comments received during the scoping process, which included public meetings in Casper, Wyo.; Salt Lake City, Utah; Knoxville, Tenn.; Grand Junction, Colo.; Seattle, Wash.; and Pittsburgh, Pa., were posted online in August 2016 and are available here. Transcripts of these are available here. Additional information about the BLM's comprehensive review of the federal coal program can be found here.

---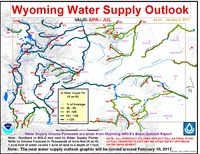 January 2017 Wyoming water outlook. NOAA graphic.

Wyoming December 2016 precip 170-180% of average (posted 1/9/17)
NOAA
HIGHLIGHTS:
- Wyoming December 2016 precipitation was 170 to 180 percent of average.
- Current water year precipitation is averaging 110 to 115 percent of normal across Wyoming.
- Mountain snowpack across Wyoming is 105 to 110 percent of median.
- Above normal snowmelt streamflow volumes are expected across most major basins in Wyoming.
-Wyoming reservoir storages are 100 to 105 percent of average for January.

Synopsis:
December 2016 precipitation totals across Wyoming were 170 to 180 percent of average. Precipitation numbers varied between 255 percent of normal over the Wind River Drainage to near 120 percent of normal over the Little Snake Watershed (south central Wyoming). Current water year (October-December 2016) precipitation across Wyoming is 110 to 115 percent of average.

Mountain snowpack across Wyoming was 105 to 110 percent of median by early January. Snowpack "water" numbers and/or SWEs were the highest across basins in central through western Wyoming—varying between 115 to 145 percent of median. SWEs across basins in southeastern Wyoming were near to 100 percent of median. SWEs across the Powder River Basin were 80 percent of median

Above normal (110 to 115 percent) snowmelt streamflow volumes are expected across almost all major basins across Wyoming. Above average streamflow volumes are expected across the Wind, Shoshone, Upper Yellowstone, Upper Green, and Sweetwater Watersheds. The Powder, Tongue, Upper Yellowstone, and Little Snake Basins are forecasted to have below to near normal streamflow volumes during the upcoming snowmelt season.

Reservoirs storages across Wyoming are above average at 115 to 125 percent for January.

For more information contact:
Jim Fahey
Wyoming NOAA hydrologist
work 307-857-3898 ext 493
cell 307-709-8778

---
Business Directory
Click here for
Advertising Information