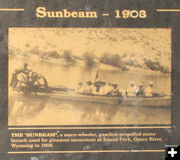 Sunbeam - 1908

Closeup of a panel on an interpretive historical sign on Expedition Island in Green River, Wyoming. This is the year the craft started being used. At first it was a gasoline-powered sternwheeler. About a year later it was converted to a propeller propulsion boat. It was used for pleasure excursions up and down the Green from Island Park in 1908. In 1909, on a trip to Big Piney, it sheared its propeller and was grounded in Big Piney. It was later sold, taken up to be used on Fremont Lake, and refurbished, where it served giving pleasure boat rides for a number more years.


Week 3 History Contest Winner: Bonnie Whitley, Boulder
Schwan's Sublette County History Contest Week 3 Winner, and announcing the question for Week 4
by Dawn Ballou, Pinedale Online!
March 9, 2016

We are pleased to announce Bonnie Whitley, of Boulder as the winner of last week's Schwan's Sublette County History Contest.

The Week 3 History Question was: "What was the name of the first sternwheeler passenger boat on the Green River with service to Big Piney?"

Bonnie guessed "Sunbeam", which is the correct answer. Congratulations Bonnie! She won the Schwan's Pork Tenderloin Filet Wrapped with Applewood Smoked Bacon.

In June 1908, four men: J.F. Moerke, Frank Briggs, M.C. Peterson and C.W. Johnson, the owners of the amusement park on Island Park on the Green River at Green River, Wyoming, purchased two excursion boats to be used as pleasure boats for tourist rides on the Green River. The boats were the "Sunbeam" and the "Teddy R." These were stern-wheeler, gasoline propelled motor launches. The boats were seven feet wide and twenty five feet in length and seated twenty adults. The "Sunbeam" carried pleasure seekers as far down the river as Buckboard and up the river as far as Big Piney. The island today is called Expedition Island, a 7-acre community park that marks the area where Major John Wesley Powell and Vitaly Develvis started an expedition down the Green River and Colorado River in 1871. The park is also believed to mark where Major Powell started a similar expedition down the two rivers in 1869. The local Green River Historic Preservation Commission has placed interpretive signs along a walking trail on the island, including two signs that specifically talk about the sternwheelers that were used on the Green River in the early 1900s. One of the signs shows a picture of the early Sunbeam.

An article in the June 24, 1908 Pinedale Roundup entitled, "Steamboats to Run up Green River" says "We understand that one boat is now being built in Green River City to ply between that city and the mouth of Boulder. This means that navigation of the Newfork is also contemplated as Boulder Creek is a tributary to that stream. These boats will carry about a foot of water, and will be easily handled. Gasoline launches are also being purchased and put on the Green river in the vicinity of the city of that name. It will not be long before the inhabitants of Pinedale put in most their time down on the levee waiting for the boats to come in. All aboard for Green River City and all points South."

The Green River Star reported the Sunbeam made a trip upriver to Big Piney in July 1908. The June 11, 1909 Green River Star has an article reporting that "the boat of Johnson and Moerke was put in the river Sunday, and in a few days will be in shape to carry passengers. The boat has been remodeled and looks good." It appears that it may have been at that time the Sunbeam was back in Green River and refitted from a stern-wheeler to a propeller-propulsion boat. On its last river trip upriver sometime around July 1909, the "Sunbeam" sheared its propeller at Big Piney and was disabled. It was reportedly left there at Big Piney.

In August 1909, the Pinedale Roundup reported that W.S. Peck purchased the Sunbeam for a reported consideration of $1,000. The boat was hauled overland to Fremont Lake to be used. It was later reported that Peck didn't buy the boat, but instead bought interest in a firm called the "Fremont Boat Club." In August, 1909, the Pinedale Roundup reported the company planned on making a number of improvements to the boat, including equipping it with a full cabin, and making it a "very comfortable, roomy and seaworthy cruiser, and the construction of a barge for transporting horses and pack outfits to the head of the lake. In consequence of these improvements they will not commence active operations until Oct. 5." Sometime in this period, the Sunbeam was repaired and fitted with a 12 horse power engine. In another article in the August 1909 Pinedale Roundup reported that "Mr. Peck has been busy the past week building a walk and landing out over the water, and intends building a boat house soon." Through June 2011 through December 2012, the Sunbeam was operational and there were regular display ads in the Pinedale Roundup advertising boat rides on Fremont Lake on the "Sunbeam" carrying 16 passengers making regular trips on Fremont Lake to Camp Headquarters every Sunday. The excursions were headquartered at Faler Hotel, Pinedale with V. E. Faler, Proprietor. Party trips 6 or less in party - $10. Special rates for more than 6 in a party. July 1912 was the last we could find references to the Sunbeam. We were unable to find any photos of the remodeled Sunbeam as it was used on Fremont Lake, and could not find further references to the Sunbeam after 1912.
__________________________________

Here's the history question for Week 4: "Where is 'Lake Beautiful' in Sublette County?"
The Schwan's Prize for this week is: A selection of three 1/2 gallon ice cream tubs
No purchase necessary to enter the contest.

Click here to go to the Contest page:

Click here to go to the Clues page for the Week 4 History Question.

Guesses for this week's history can be entered by emailing your answer to: myriam.wolcott@schwans.com by noon on Tuesday, March 15, 2016. If you don't do email, you can call Pinedale area Schwan's delivery driver Jean-Francois at 307-360-FOOD (3663) and give your answer and contact info. Include your name, email address, mailing address, and a contact phone number in your submission so we can notify you if you are the winner. (Please be sure to let us know what town you live in/near in Sublette County.)

The latest Schwan's catalogs are available from the Schwan's truck drivers, at the Pinedale Online office in the back of the Office Outlet store in Pinedale, and at KPIN 101.1FM Radio in the Summit Building in Pinedale. If you've never tried any of the Schwan's foods, ask Dawn at Pinedale Online for a sample (limit one per customer, age 16 or over, while supplies last.)

The Schwan's Sublette County History Contest is sponsored by Schwan's Home Service of Rock Springs, KPIN 101.1FM Radio, and Pinedale Online! The contest runs for six weeks, from Wednesday, February 17, 2016 and ending on Tuesday, March 29, 2016.