Pinedale Half Marathon Race Recap (posted 9/19/2022)
The 2022 Pinedale Half Marathon and 10K was a huge success. There were participants from 11 different states that joined in on the 18th running of this event. Runners experienced sweeping views of Fremont Lake and the snow-capped Wind River Mountains before returning back to town and crossing the finish line at Rendezvous Pointe.

Race results can be found at www.pinedalehalfmarathon.com.

The Pinedale Half Marathon committee would like to thank all of the participants, volunteers and sponsors for making this event possible. The PHM fundraising campaign will continue through September 24th.

---
Glenn Miller Orchestra to perform Sept. 26 (posted 9/12/2022)
Pinedale Fine Arts Council presentation
PFAC
The Pinedale Fine Arts Council is excited to kick off the 2022-23 season with The World Famous Glenn Miller Orchestra performing live Monday, September 26 at 7 p.m. in the Sheppard Auditorium. This show will not only feature the orchestra but will also include special guest vocalist Jenny Swoish.

The Glenn Miller Orchestra is the most sought after big band in the world. The legendary Glenn Miller was one of the most successful of all dance bandleaders back in the Swing Era of the 1930's and 40's. A matchless string of hit records, the constant impact of radio broadcasts and the drawing power at theatres, hotels and dance pavilion, built and sustained the momentum of popularity.

Glenn disbanded his musical organization in 1942 at the height of its popularity to volunteer for the Army. There, he organized and led the famous Glenn Miller Army Air Force Band. It went to Europe to entertain servicemen performing numerous live and radio shows. On December 15, 1944, Major Miller took off in a single engine plane from Europe to precede his band to France, disappearing over the English Channel, never to be seen again. The army declared him officially dead a year later.

With the release of the major motion movie The Glenn Miller Story featuring Jimmy Stewart and June Allyson in 1954, interest and popular demand led the Miller Estate to authorize the formation of the present Glenn Miller Orchestra. On June 6, 1956, and under the direction of drummer Ray McKinley who had become the unofficial leader of the Army Air Force Band after Glenn's disappearance, the reformed Glenn Miller Orchestra performed its first concert and has been on the road ever since.

Tickets are on sale now at regular PFAC outlets and online at: pinedalefinearts.com

---
Searchers still unable to find drowning victim (posted 9/11/2022)
Sublette County Sheriff's Office
PINEDALE, WYOMING – FRIDAY, SEPTEMBER 9TH, 2022 update

After over two weeks of searching for missing Pinedale man, Rick De Ruiter Zylker, Tip Top Search and Rescue (TTSAR) has been unsuccessful in recovering his body. Mr. Zylker was last seen in the early afternoon of Wednesday, August 24th swimming amongst friends and co-workers in Fremont Lake, when he went underwater, never to resurface.

The challenges faced by the TTSAR team and rescue boat Closure, which have prevented a successful recovery, are the depth of the search and the topography of the lake bottom, which is covered in a myriad of rock outcroppings, boulders, shelves, benches, and cliffs. It is very similar to what you see above water in that area.

TTSAR is going to suspend search efforts in order to give the Closure crew a break and allow them to catch up with their families and tend to some things at home. Plans are to return in a week or two to resume search efforts with the remote operated vehicle (ROV).

We have reached out to other professionals in the field of underwater recovery. Those we have spoken with are willing to help, but feel they will have the same challenges our crew has been faced with. After speaking with family members, we are also looking into a new technology called LIDAR which is used in underwater mapping. The application has yet to be used for drowning recovery; however, it utilizes unmanned drones which can map bodies of water from above or below the water's surface.

Prior to this incident, TTSAR applied for and received a grant to update the "tow-fish" and side-scan equipment on our boat as we can no longer get it serviced and parts are unavailable. Due to supply chain issues, we don't know if we'll receive this new equipment before Fremont Lake ices over for the winter.

While we can't definitively say Mr. Zylker's body will never return to the surface on its own, the likelihood of this occurring at the depth, pressures at that depth, and temperatures at that depth in Fremont Lake is very unlikely. We were able to drop a temperature probe into the lake to record temperatures at different depths. At the surface, temperatures ranged from 65 to 69 degrees Fahrenheit (F). At twenty feet below the surface, the temperature gradually decreases to around 58 F, below 40 feet the temperature drops significantly, and at 100 feet the temperature is 35 F. In the area crews searched, there is minimal to no underwater current evident by lack of silt accumulation, ambient light disappears around 170 feet below the surface, and pressures at 250 feet reach 750,000 Pascal or 110 psi.

We can't thank the family of Mr. Zylker and our community enough for their support and understanding during this tragic event. Thank you to Brian and Leslie Nate of First Bank for providing lunches last week and Peggy Weber for bringing up lunch this week. Our hearts go out to Rick's family, his co-workers at Ridley's, and the many friends and customers he met here in Sublette County.

We will continue to provide updates and answer questions the best we can.

---
Fire Danger increases to High (posted 9/6/2022)
Bridger-Teton National Forest
Teton Interagency fire managers have elevated the fire danger rating to high for Grand Teton National Park, the Bridger-Teton National Forest and the National Elk Refuge beginning Tuesday, September 6.

The forecast is for continued warmer and drier weather. Visitors should not be deceived by how green the landscape looks. It is the dead and down timber and dried vegetation (fuels) that could carry fire, prompting fire managers to elevate the fire danger rating.

A high fire danger rating means fires can start easily and spread quickly. When determining fire danger, fire managers use several indicators such as the moisture content of grasses, shrubs, and trees; projected weather conditions including temperatures and possible wind events; the ability of fire to spread after ignition; and availability of firefighting resources across the country.

Public land users can help prevent wildfires by not having a fire at all and instead dressing in layers and warm clothes.

Fire managers advise recreationists to use caution if choosing to build and maintain a campfire. In areas where campfires are allowed, fires should never be left unattended and must be completely extinguished before you leave the area. So far this year, there have been 99 abandoned campfires in the Teton Interagency Fire area. Unattended or abandoned campfires and warming fires can quickly escalate into wildfires and recreationists can be held liable for suppression costs if their campfire becomes a wildfire.

All campers and day-users should have a shovel on hand and a water bucket ready for use if choosing to have a fire. Soak, stir, feel, repeat. It is extremely important that all campfires are "dead out" and cold to the touch before leaving.

Visit the Teton Interagency Fire web site at TetonFires.com to learn more about fire safety and what fire regulations may be in place. To report a fire or smoke in the immediate area, call the Teton Interagency Fire Dispatch Center at 307-739-3630.

---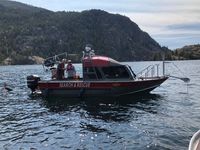 Search boat. Photo courtesy Sublette County Sheriff's Office.

Search continues for drowning victim in Fremont Lake (posted 8/27/2022)
Sublette County Sheriff's Office
Tip Top Search and Rescue (TTSAR), Sublette County Sheriff's Office (SCSO), and Wyoming Game and Fish continued their search this morning in the area around Moosehead Bay on Fremont Lake, north of Pinedale, Wyoming, for a missing Pinedale man, "Rick" De Ruiter Zylker, who was last seen Wednesday afternoon while swimming with co-workers and friends. We were unsuccessful in locating Mr. Zylker this morning and strong winds picked up around noon which stalled search efforts this afternoon.

Speaking on behalf of the Sheriff's Office and TTSAR, I wanted to put out a sincere "thank you" to Mr. Zylker's family, for their support and understanding during this very difficult time; to Rick's co-workers at Ridleys and Ace Hardware for providing lunches and valuable information which has aided thus far in the search; and to our public for their outreach of support and prayers, as well as respecting the search area and steering clear as to not disrupt our search boat and crew.

The Sheriff's Office has received numerous calls to assist in the search; however, at this point in time we have enough volunteers and resources to continue our efforts. I would like to try and clarify some commonly asked questions, and educate the public on our search thus far. Many people have offered to come out and assist because their boats are equipped with side-scan sonar. While this is the same technology, we use a different application. On your standard fishing boat, the transducer is mounted to the underside of the vessel. This provides an underwater map directly below and to the sides of the boat. We utilize a Tow Fish which you can see in the photo. It looks similar to a yellow torpedo. The Tow Fish is attached to a cable and it is lowered in to the water using a spool and motor. The crew attempt to get the Tow Fish as close to the bottom as possible without getting it snagged in trees or rocks. The Tow Fish emits a signal out side ways, thus the term "side-scan" and feeds it back to the operator. This is done in order to produce a shadow on any object sitting on the lake floor. Liken it to shining a flashlight in front of you. Any object will cast a shadow, and solid objects will appear brighter. This helps us to determine size and shape of the object. Fremont lake has a wide range of bottom surface as you can see from the monitor images; from sandy smooth, sandy wavy, rock outcroppings, boulders bigger than cars, and underwater cliffs. The sandy bottoms are easy to pick out objects and clear, the rocks are more challenging and require coming in at several different angles.

Why can't we utilize divers or dive teams? The area we are searching ranges in depth from 150ft to 300ft of water. Our target range is 250ft. Even 7,000ft above sea level the pressures at that depth are well over 100 pounds per square inch (psi). Recreational divers normally don't exceed 130ft as going deeper would require decompression. Temperatures at that depth would be in the 30s and visibility would be zero without the aid of a light. Because of this our team is equipped with an underwater remote operated vehicle or ROV.

Can we call on some of these reputable recovery/search teams we've seen on Television to assist? Yes. We can. However, we are using the same or very similar equipment, technology, and our Captain, TTSAR volunteer John Linn, is doing the same thing they would be doing. John has countless hours of experience and has helped families across this state and bordering states recover loved ones. I can guarantee this is not about pride. John belongs to a special group of individuals who have made it their life's mission in offering this service. He is on the phone with fellow searchers, Gene and Sandy Ralston, almost every evening, ensuring nothing is missed. If John feels he needs help or more specialized equipment then he will call upon that individual and we will get them here. Currently, TTSAR boat Closure, John Linn, and a select few of our TTSAR members are the only crew in this state capable of providing this service.

Since Wednesday afternoon, John Linn and his crew have covered an area approximately 1,800ft by 2,500ft. Our plans are to give the crew a break tomorrow, Sunday, make some changes to the equipment to enhance the coverage area in the rocky areas, then start back up Monday morning. The Upper Fremont Lake Boat Dock is open to the public. We just ask that anyone headed to the inlet, stay toward the west end of the lake when approaching Moosehead Bay and try and keep your wake at a minimum.

We will continue to provide updates and answer questions as time permits. Please keep the De Ruiter Zylker family and our search teams in your thoughts and prayers.

KC Lehr, Sublette County Sheriff

---
ERAP Funding Update (posted 8/27/2022)
Wyoming Department of Family Services
Since its launch in April 2021, the Emergency Rental Assistance Program (ERAP) has helped 11,700 Wyoming households with a total of $53 million in assistance. Application numbers continue to rise, likely due to the increase in grocery and gas prices. So far, ERAP has paid out $5.4 million in August, making it the highest paid month. With the increased number of applications, case review is taking longer, with the average case aging sitting at 31 to 32 days from submission to final decision. Of the total payments, $42 million went to landlords, $8 million to households, $3.1 million to utilities and $14,000 for moving expenses.

ERAP is a temporary federally funded relief program. Even though households may be eligible for assistance, we cannot promise funding will be available in the future. Do not wait to apply or seek out help for your application.
________________________________________

Are you a Wyoming homeowner who has fallen behind on mortgage payments, utility bills or other housing related costs?Under the Wyoming Homeowner Assistance Fund (HAF) Program, eligible homeowners can receive up to $17,000 in assistance as a one-time payment to pay for mortgage delinquency and/or past due payments of utilities, property taxes, homeowners insurance, and homeowners association dues. The payment is sent directly to a servicer or vendor on behalf of an eligible homeowner. The HAF Program is a temporary federally funded assistance fund. Don't wait to apply. Learn more or apply at dfs.wyo.gov/HAF. If you need application assistance, please contact the call center toll-free at 1-888-WYO-HAFP (1-888-996-4237) from 9 a.m. – 6 p.m. Monday through Friday.
________________________________________

ERAP RESOURCES
• REPORT POTENTIAL FRAUD: Click here for the form
• ONLINE: Learn more about ERAP online at dfs.wyo.gov/erap.
• IN PERSON: If you need assistance with an application, there are community based organizations set up in each county to provide help. (Click here for an updated list)
• VIA PHONE: The call center is open 9 AM - 6 PM, Monday through Friday. The toll-free number is 1-877-WYO-ERAP (1-877-996-3727).
• FLYER: Download the ERAP flyer to learn more about the program and to share with those who may be interested in the program. Download ENGLISH flyer OR Download SPANISH flyer

Questions?
APPLICATION QUESTIONS
If you have questions regarding your application, please call 877-WYO-ERAP.

PROGRAM QUESTIONS
If you have programmatic questions, please email RentalAssistance@wyo.gov

---
Yellowstone visitation statistics for July 2022    (posted 8/18/2022)
Visitation down 45% since July 2021
National Park Service
Yellowstone National Park hosted 596,562 recreation visits in July 2022. This is a 45% decrease from July 2021 (1,080,767 recreational visits), the most-visited July on record, and a 36% decrease from July 2019 (936,062), the last pre-Covid year.

On June 13, all entrances to Yellowstone National Park closed due to historic flooding. Park visitors were evacuated over the next 24 hours. On June 22, the East, South and West entrances to the park reopened on a limited entry basis. On July 2, entry restrictions on the East, South and West entrances were removed. The North (Gardiner, Montana) and Northeast (Cooke City/Silver Gate, Montana) entrances remain closed to visitor vehicles.

As the park recovers from the June flood, it's critical that visitors traveling to the park in the coming weeks stay informed about what's open and closed.

So far in 2022, the park has hosted 1,864,771 recreation visits, down 30% from 2021.

The list below shows the year-to-date trend for recreation visits over the last several years
(through July):

2022 – 1,864,771 (The park was closed June 13 through June 21. Three entrances opened June 22)
2021–2,668,765
2020 –1,674,699 (The park was closed May 1 through May 18. Two entrances were open May 18 through May 31)
2019 – 2,294,691
2018 – 2,322,271
2017 – 2,316,541

---
Sublette County 2022 Primary Election results (posted 8/16/2022)
Pinedale Online!
The Primary Election determines candidates from each party to
compete in the General Election in November.

Unofficial results for the August 16, 2022 Primary Election:
href=http://www.pinedaleonline.com/pdfs/UnofficialSummaryResu
ltsReport20220816.pdf>Unofficial Summary Results-Sublette
County only-2022 Primary Election (PDF)

href=https://sos.wyo.gov/Elections/Docs/2022/Results/Primary/
2022_Statewide_Candidates_Summary.pdf>Wyoming Statewide 2022
Primary Election Results

Election results are not official until certified by the
Canvassing Board (Friday, August 19, 2022 for County
Canvassing Board; Wednesday, August 24, 2022 for State
Canvassing Board)

HIGHLIGHTS:
(Republican, no Democratic candidates filed)
House District 20 results (Sublette + Lincoln County):

Albert Sommers defeats Mike Schmid (2,139 to 1,419 votes)
Bill Winney (158 votes)

Sublette County Commissioner (2):
(Republican, no Democratic candidates filed)
Doug Vickrey (1,591 votes - 25.17% of votes)
Mack Bradley (1,170 - 18.51%)
--------------------------
Robin Schamber (996, 15.76%)
Lynn Bernard (882, 13.95%)
Andrew Zook (543, 8.59%)
Tyler Maxfield (362 5.73%)
Gary Sanders (295, 4.67%)
Bob Jones (259, 4.10%)
Jim Brost (203, 3.21%)

Sublette County Attorney:
(Republican, no Democratic candidates filed)
Clayton Melinkovich (1,899 - 62.18%) defeats Stan Cannon
(1,026 - 33.60%)

Sublette County Clerk:
(Republican, no Democratic candidates filed)
Carrie Long (2,245 - 68.63%) defeats Kris Bacheller (1,022 -
31.24%)

US Representative (Sublette County only):
(Republican)
Harriet Hageman (2,538 votes - 71.69% of Sublette County
votes)
Liz Cheney (849 votes - 23.98% of Sublette County votes)

Sublette County non-contested races:
(Republican, no Democratic candidates filed)
Coroner: Curt Covill (3,096, 99.68%)
County Sheriff: KC Lehr (2,964, 97.34%)
County Treasurer: Emily Paravicini (3,027, 99.67%)
County Assessor: Laila Illoway (2,952, 99.16%)
County Clerk of District Court: Janet K. Montgomery
(3,025, 99.77%)

STATISTICS:
Ballots Cast: Total 3,626
Democratic Ballots Cast: 43
Republican Ballots Cast: 3,583
Nonpartisan Ballots Cast: 0
Blank Ballots Cast: 2

---
Postal rates for packages to increase during 2022 holiday season (posted 8/12/2022)
Pinedale Online!
The United States Postal Service (USPS) filed notice on August 10, 2022 regarding a temporary increase in prices for package prices for the 2022 peak holiday season. This is a temporary rate adjustment to help cover the extra handling costs for parcels during the holiday rush. The increase does not affect international products.

The rate increase goes into effect on October 2, 2022 until January 22, 2023. Increase rates vary by zones. Commercial and Retail Priority Mail and Priority Mail Express will see increases from $.25 cents to $6.50 for flat rate boxes and envelopes, depending on weight and destination.

The price for first class mail Forever stamp increased from $.58 cents to $.60 cents in July 2022. A postcard stamp rose from 40 cents to 44 cents with that rate increase. The holiday rate increase is only for packages and will not change these prices for letters.

The Postal Service generally receives no tax dollars for operating expenses and relies on the sale of postage, products and services to fund its operations.

A full list of commercial and retail pricing can be found on the Postal Service's Postal Explorer website at https://pe.usps.com/text/dmm300/Notice123.htm.
Source: U.S. Postal Service Announces Proposed Temporary Rate Adjustments for 2022 Peak Holiday Season

Related Links:
Postal rates increase Pinedale Online!, July 18, 2022

---
Business Directory
Click here for
Advertising Information