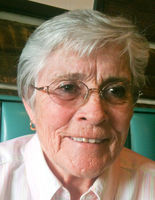 Mary Spence

Obituary – Mary Spence (posted 5/7/2021)
Covill Funeral Home
Mary L. Spence, 83, peacefully passed away May 2, 2021 at Sublette Center in Pinedale, Wyoming.

Mary Louise was born August 7, 1937 near Merna, Wyoming to Milton McKinley David and Ethel Illinois Hodson David. The family later moved over the hill to the Beaver area where Mary spent her childhood with her siblings. Many of Mary's fondest childhood memories were of the time she spent tagging along with "Uncle Buck" Baker, particularly her attempts to ride his hunting dogs. Her education began at home and later she attended high school in Pinedale, Wyoming.

Three children were born during her marriage to Cork Lozier: Michael Robert, PatrickAllen and Delta Ann. Mary and Cork raised Hereford cattle while they owned 'The Meyer's Place' on Horse Creek. After the marriage, Mary moved to Pinedale, where she worked at various guest ranches and bars, honing her sharp wit and ability to handle any situation – including dealing with the actors that came from Hollywood to film "The Legend of Earl Durand". During this time, she married Ross Alexander and their home at the Kratz house became a community hub for family and friends.

In 1974, she moved to Cody, Wyoming where she owned the Buffalo Bill Bar. She also did volunteer work at the Buffalo Bill Historical Center in Cody and forged lifetime friendships in the community.

---
Road work in Big Piney begins May 10 (posted 5/6/2021)
The Wyoming Department of Transportation, along with contract crews from Lewis & Lewis, Inc. will be working on about 5 miles of WYO 350 in Big Piney beginning May 10.

The project starts in the heart of Big Piney and will affect access to numerous residences along WYO 350. Crews will begin with milling operations, and will be placing the milled asphalt on the existing shoulders. Crews will also be placing a leveling course and overlay. There will also be some ADA improvements in the town at the intersections of Budd and Nichols Ave. and Smith Ave.

Construction will be taking place in front of the high school and there are several resident accesses across from the high school that will have their routine access limited during construction. However, access to these residences and the high school will be maintained during operations.

WYDOT requires that motorists remember to obey all roadside signs, flaggers, and traffic control devices to maintain safety for the traveling public as well as crews working in the area.

---
Community Clean-Up Day May 22 (posted 5/6/2021)
The Pinedale Lions Club and Main Street Pinedale are teaming up to co-host this year's Pinedale Community Clean-Up Day on Saturday, May 22nd. Individuals, families, friends, groups, organizations, businesses, and other non-profits, are all invited to participate to help make Pinedale a little cleaner. Come out for a great community event and help keep Pinedale beautiful!

Schedule:
8:30 am – 10 am: Route Sign-ups at the Courthouse Lawn
MSP tent, trash bags available (no need to get up super early, we'll still be here to sign you up for a route!)
Noon – 1 pm: Free Volunteer Lunch at Courthouse Lawn

---
PHS Class of 2021's Senior Lasagna Dinner Fundraiser May 11 (posted 5/5/2021)
Pinedale High School Class of 2021 will host their Senior Lasagna Dinner Fundraiser on Tuesday, May 11 from 5-7PM at Rendezvous Pointe in Pinedale. Lasagna dinner prepared by Sue Eversull. Dine-In or Carry-Out. Suggested donation of $5 per plate. Dine-in seating limited to 80 people at a time. Please enjoy a great lasagna dinner and help support the Pinedale High School senior class.
---
Enroll Wyoming Health Insurance help May 7 & 8 (posted 5/5/2021)
In Pinedale and Big Piney
Navigators from Enroll Wyoming will be in Pinedale on Friday, May 7th to assist individuals and families with enrolling in Marketplace Health Insurance. The Navigators will be at the Sublette County Library in Pinedale, 155 S Tyler Ave. in from 10 A.M. until 6 P.M. Visits are by appointments only, call 307-214-0786.

The following day, Saturday, May 8th, the Navigators will be in Big Piney to assist individuals and families with enrolling in Marketplace Health Insurance. The Navigators will be at the Big Piney Branch Library, 106 S Fish Street, from 10 A.M. until 2 P.M. By appointments only, call 307-214-0786

What is Enroll Wyoming? Enroll Wyoming is a non-profit organization designed to help individuals, families and small businesses explore their health insurance options on the Marketplace, Medicaid, Kid Care CHIP, Medicare, and with private insurers who offer a Qualified Health Plan (QHP).

Who are Navigators? Navigators are Wyoming residents who assist individuals, families, and small businesses with Marketplace enrollment, understanding health insurance and using preventive services. Navigators travel to all 23 counties and offer services free of charge.

Are navigators only available during open enrollment? No. Navigators work 12 months of the year. After open enrollment, they assist with Marketplace and tax guidelines, Special Enrollment Periods (SEPs), and community health outreach events called Coverage to Care.

What are the hours for Enroll Wyoming navigators? Navigators work Monday through Friday. They take appointments on Saturdays and Sundays as needed. Navigators work from 8am to 6pm., but will make appointments outside of this timeframe as needed.

Where is Enroll Wyoming's office? 214 East 23rd Street, Cheyenne, WY-Cheyenne Regional Medical Center, Wyoming Institute of Population Health

What is the Marketplace? Is it the same as Obamacare and healthcare.gov? Yes. The Marketplace is a federally facilitated place for individuals, families and small businesses to shop for and purchase health insurance. Many people qualify for cost assistance to help pay for premiums and out-of-pocket expenses. The official website is www.healthcare.gov.

How do I qualify for the Marketplace? There is an income guideline: income must be within 100% to 400% of the Federal Poverty Level (FPL).

What if my income is less than 100% of the FPL? Medicaid may be an option. If ineligible for Medicaid, there are programs with health clinics that offer cost assistance for some health care services. Dial 2-1-1 or a call navigator for assistance.

Can I purchase a plan on the Marketplace if my employer offers me coverage? Employer coverage has to meet an affordability law. If the lowest cost of an individual plan premium for the year is more than 9.66% of your annual income, this is not affordable and you may purchase a plan on the Marketplace with cost assistance. Different guidelines apply to family coverage. Contact a navigator for more information.

How do I qualify for a Special Enrollment Period (SEP) after open enrollment is over? A life changing event, such as loss of coverage, new job without coverage, marriage, divorce, child birth, adoption, change in income, and change in permanent residence may qualify for special enrollments. You have 60 days to enroll in a Marketplace plan from the date of the life changing event.

Information about Health Insurance Marketplace

Enroll Wyoming

For more information, call 307-214-0786 or dial 2-1-1.

---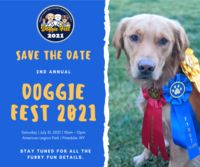 Doggie Fest 2021 July 31st (posted 5/5/2021)
Save the date! The 2nd Annual Doggie Fest 2021 will be held on Saturday, July 31st. This event is sponsored by the Sublette County Bridges Out of Poverty. It will be from 10AM to noon in the American Legion Park in Pinedale. More details TBA.
---
Work at Pinedale Airport begins in June (posted 4/30/2021)
Grover Laseke, Airport Manager
Work on Pinedale Airport projects are scheduled for the summer of 2021.
• The East GA Apron project is anticipated to begin mid-June and last for 80 working days (estimated completion of October 1st). This project involves the construction of a new apron between taxiway Bravo and Charlie for larger aircraft and has been awarded to HK Contractors. For the duration of this project, no-self serve fueling capabilities will be available starting July 4th. The old fueling station will be removed and a new self-service avgas station will be installed near the current location. Jet fuel will be available through Emblem Aviation from their fuel truck during this time. This project is being paid for with an FAA grant.
• The rehabilitation of the runway is estimated to start after July 4th. HK Contractors has been awarded the contract for this work which should take 50 working days (estimated completion by mid-September). The airport will be closed to all aircraft operations except for helicopters during this time. After paving is completed, the runway will be opened back up for daytime use, but will be closed at night to complete runway grooving for an estimated 2 weeks. Tenants will be able to access their hangars during construction. This project is also being paid for with an FAA grant.
• Crack sealing project has a start date of May 17th. All taxiways, aprons and the parking lot will have cracks sealed before the pavement is sealed. This project is estimated to last for three working days and is being paid through a WYDOT grant. All vehicles must be removed from the parking lot or they will be towed.
• Pavement sealing and remarking will happen after the crack sealing project is completed. As with the crack sealing, we hope to complete this project during the runway shutdown. It will take about 5 days to compete. All vehicles will be required to be removed from the parking lot or they will be towed. This project is also being funded through a WYDOT grant.
• During the airport closure, Emblem Aviation will have limited hours but will be operating out of the Big Piney Airport.
• An online video conference will be held on Thursday May 20th at 5:00 PM for the purposes of updating all airport tenants and interested parties on these projects. Access can be obtained by using the below link or by calling the phone number listed. Online access to meeting will be at this link: meet.google.com/jbs-urrj-zcg Phone access can be made by calling 1-347-943-9833 / PIN: 984 902 263#
• The Airport Board has updated the airport minimum standards document. This document provides guidance for commercial operations at the airport. A copy for review is available at https://www.townofpinedale.us/airport.
• A new document titled Pinedale Airport Rules and Regulations is being formulated. These rules are in addition to the lot lease documents already in place for the airport. These rules will cover parking, motor vehicle operations, along with what activities are allowed on airport property. When finalized this document will be posted at https://www.townofpinedale.us/airport.
• A new flying club has organized at the Pinedale Airport. Wind River Flyers was formed over the last year and is now operational with a Cessna 182. Currently membership is limited to 12 persons with one membership slot open. Contact John Douglas at 307-413-7888 for details.
• The Pinedale Airport Board meetings are held on the first Wednesday of each month at 4:30 PM. Typically the meetings are held in the conference room at the airport. You can participate in the meetings by conference call. The meeting agendas are available on the Town of Pinedale website. You can also contact Airport Manager Grover Laseke and he will send you the agenda when it is developed. The public and all interested parties are welcome to attend.
• Two airport board member terms are expiring soon. If you are interested in applying for either of these positions, please send a letter of interest to Town Clerk Maureen Rudnick at MaureenRudnick@townofpinedale.us or by mail to PO Box 709, Pinedale, WY 82941.

For more information, contact Grover Laseke at (307) 360-9025 or email GroverLaseke@TownofPinedale.us.

---
2nd Annual Walk for Life June 19 (posted 4/29/2021)
Sponsored by Hope Choice Pregnancy Center
Hope Choice Pregnancy Centers and Mentoring Programs in Pinedale is hosting their 2nd Annual Walk for Life on Saturday, June 19, 2021. The Hope Choice Walk for Life is an opportunity for the community to gather together in the belief that every life truly matters. Bring family and friends and join the walk, starts at 9AM. There will be food, games, face painting, and fun. Everyone is invited to join the Hope Choice Pregnancy Center as they continue their stand in support of life. Hope Choice is located at 209 E Magnolia Street in Pinedale. For more information, call Emmy at 307-367-7077 or email edaniels@hopechoice.com.
---
Town of Pinedale seeks RFP for mosquito fogging (posted 4/28/2021)
Deadline is May 13, 2021
Town of Pinedale
The Town of Pinedale is accepting Proposals for 2021 Mosquito Fogging. Proposals for the Project will be received at the office of the Town Clerk, Town of Pinedale, P.O. Box 709, located at 69 Pinedale South Road, Wyoming, 82941 (Pinedale Town Hall) until Thursday, May 13, 2021 at 12:00pm (noon) MST. Proposals shall be delivered according to the Request for Proposal. The Request for Proposal package may be obtained at the Town Hall or by email. For more information, please call Town Hall at 307-367-4136 or email Kevin Mitchell at kevinmitchell@townofpinedale.us.

The Town of Pinedale reserves the right to reject any and all proposals, and to waive all informalities. The Town of Pinedale may accept any proposal which in its opinion best serves its interests. 2021 Mosquito Fogging - TOP Bid No. 21-5

---
Green River Valley Cattlemen's Association Banquet & Fundraiser May 22 (posted 4/28/2021)
The Green River Valley Cattlemen's Association Banquet & Fundraiser will be held on Saturday, May 22, 2021 at 5:30PM at the Sublette County Fairgrounds in Big Piney. Dinner tickets are $25 (brisket, pulled pork, salad, dessert). There will be a cash bar. Live music featuring Jared Rogerson. There will be a scholarship raffle sponsored by Pickaroon Timber, post & poles, tickets $3 each or 4 for $10. Kids under 12 are entered to win a SR 110 dirt bike. There will be a silent auction featuring pieces made by Pinedale and Farson FFA teams. There will also be door prizes and a gun raffle – tickets will be available at the dinner, must be present to win. For more information, call Audra at 307-760-5737.
---
Free Dump Days May 6 & 7 (posted 4/21/2021)
Sublette County residents can take advantage of Free Dump Days at the Big Piney landfill on Thursday and Friday, May 6th and 7th. This is for Sublette County residents only – no commercial haulers. Refuse must be dumped at the Big Piney Landfill for it to be free. If dumped at the Transfer Station, it will be charged. Tires are not free, those will be charged. No dump trucks or bigger allowed to dump for free. They will be accepting large appliances such as non-working refrigerators, freezers, washers, dryers, TVs, and computer monitors. They also will be accepting paints and stains, however will not accept liquid hazardous materials, or unknown/unmarked liquid materials.
---
SCCD Spring Expo 2021 June 19 (posted 4/21/2021)
The Sublette County Conservation District (SCCD) will hold their 2021 Spring Expo from 9AM to 2PM on Saturday, June 19, 2021 at the Sublette County Ice Arena in Pinedale. There will be vendor booths, a children's activity booth, and speaker presentations. Talks include high altitude gardening and greenhouse design with Penn and Cord Parmenter, mountain food and seed growers, and high altitude gardening teachers. For more information on the event or to fill out a vendor application, please visit this link https://www.sublettecd.com/spring-expo.
---
Brand new Makerspace 'The Pinedale Wyrkshop' opens (posted 4/21/2021)
Pinedale Fine Arts Council
A new Makerspace in Pinedale, called the Pinedale Wyrkshop, opens its doors for anyone who seeks access to best-in-class tech tools so they can take their creative projects to the next level.

The newly renovated space in the Sublette BOCES building has an array of advanced technology tools such as 3D printers, laser cutters, and high-end sewing machines. Pinedale Wyrkshop is a free community makerspace where people of all ages and ability levels can get together to work on projects and share ideas. Makerspaces are not just for tech savvy folks or engineers, but are spaces for anyone to use. Users can tap into emergent technologies, collaborate together, and start projects they may have only ever previously dreamed of. The mission is to demonstrate that anyone can be a maker.

Development of a Makerspace in Pinedale was made possible through a new partnership with the University of Wyoming's Innovation Wyrkshop, and with financial support from the Wyoming Department of Workforce Services Division of Vocational Rehabilitation (DVR). It was brought to Pinedale through a joint effort by Sublette BOCES and the Pinedale Fine Arts Council.

The Pinedale Wyrkshop joins a larger network of six "Innovation Wyrkshops" across Wyoming, also found in Cheyenne, Evanston, Laramie, Casper, and Rock Springs. Through a growing library of workshops and programs shared across all Wyrkshop partners, makers effectively gain access to all six spaces for free.

"The idea behind our network is that a maker can learn how to use equipment in one makerspace, and earn the certification necessary to operate that same equipment across the entire network," said Tyler Kerr, Makerspace Coordinator for UW's flagship Innovation Wyrkshop, and principle facilitator of DVR's makerspace partnership. "No more retraining, no additional barriers to access, no membership fees. At the heart of it, the name of the game is accessibility and inclusivity."

Funding for the Pinedale Wyrkshop development was provided by DVR as a means to provide young adults opportunities to work alongside and network with their fellow makers. The program will allow students to work alongside experienced makers, while gaining industry credentials through the shared training program. Students also will participate in career roundtable discussions with STEAM educators and industry professionals, attend workshops and gain work experience. This opportunity to add a Makerspace to Pinedale was a joint effort by the Pinedale Fine Arts Council and Sublette BOCES #1.

The Makerspace will be open Tues, Wed and Thurs from 2pm - 8pm and by appointment. To learn more about the Pinedale Wyrkshop and figure out how to get started, visit www.pinedalewyrkshop.com.

To read more about Wyoming's Wyrkshop makerspace network, visit www.wyrkshop.org.

---
Mother's Day Tea in Daniel May 8 (posted 4/16/2021)
A Mother's Day Tea will be held on Saturday, May 8th at 2:00PM at the Daniel Schoolhouse.
---
Mother's Day High Tea May 8 (posted 4/16/2021)
A Mother's Day High Tea will be held at the Chambers House Bed & Breakfast in Pinedale on Saturday, May 8th from 1-3PM. Wear your best posh outfit – there will be a "Best Tea Hat" contest. This event is hosted by Sacred Rim Event Planning. Tickets start at $20, available www.sacredrimeventplanning.com/events.
---
Pinedale Anticline annual planning documents available (posted 4/16/2021)
Will not hold a physical meeting; Comments accepted until May 17, 2021
Bureau of Land Management
The Bureau of Land Management Pinedale Field Office will not hold a physical meeting in 2021 for the Pinedale Anticline Project Area wildlife, air, water and operator planning sessions. Instead, wildlife monitoring reports, operator reports, and agency updates typically presented at the meeting will be available on the Jonah Interagency Office/Pinedale Anticline Project Office (JIO/PAPO) website: https://www.blm.gov/wyoming/jio-papo/papo.

Documents available include:
Annual wildlife planning meeting documents, including required wildlife monitoring and updates on mule deer and Greater sage-grouse populations and mitigation.

Annual air, water and operator meeting documents, including socioeconomics, air quality, water quality/monitoring, reclamation and operator development projections and reports.

Please submit comments to Kellie Roadifer at kroadife@blm.gov or to Doug Linn at dlinn@blm.gov. Comments will be accepted until May 17, 2021.

For information about the Pinedale Anticline Project Area, please visit: https://www.blm.gov/wyoming/jio-papo/papo or contact Kellie Roadifer at 307-699-1279, or Doug Linn at 307-367-5302, or at dlinn@blm.gov.

---
Local Services:
Abortion Alternatives
Accounting & CPA
Apartments/Townhomes
Arts & Entertainment
Attorneys & Legal
Auction Services
Automotive
Aviation Services
Banks & Financial
Bars
Beauty Salons
Bed & Breakfasts
Boating
Bookkeeping
Builders & Contractors
Building Material
Business Services
Cabins
Cellular
Child Care
Churches
Cleaning Services
Clothing
Commercial Art
Computer Supplies
Condos
Consultants
Convenience Stores/Fuel
Convention/Meeting
Dentists
Dining
Dry Cleaning
Events
Fabric & Crafts
Fencing
Fishing
Flooring
Food & Drink
Funeral Homes
Furniture
Gifts/Western
Government
Graphic Design
Grocery & Market
Guest Ranches & Lodges
Handyman Services
Hardware & Feed
Heating
Health Care & Medical
Horseback Adventures
Insurance
Interior Design
Internet/Web/Advertising
Landscaping
Laundry
Liquor Stores
Lodging
Log Homes
Marketing
Massage Therapy
Modular Homes
Motels
Mountain Biking
Movie Theaters
Museums
Nails
Newspapers
Office Supplies
Oil Field Services
Optometrists
Organizations
Outdoor Equipment
Outfitters & Guides
Packaging & Shipping
Painters
Pet Stores
Pharmacies
Photography
Plumbing
Professional Services
Radio
Real Estate Agencies
Real Estate-FSBO
Remodeling
Retirement
Retreats
RV Camping
Schools
Scrapbooking
Septic Services
Skiing
Snowmobiling
Snow Plowing
Storage and Storage Units
Tanning
Tattoos & Body Art
Tax Preparation Services
Taxidermy
Transportation/Shuttle
Trash Services
Trucking
Veterinarians
Visitor Services
Wagon Rides
Well Drilling