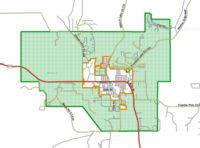 Spray area

Mosquito spraying scheduled for around July 5th & 6th around Pinedale (posted 7/3/2022)
Sublette County Mosquito Abatement District #1 (SCMAD#1) will be spraying for mosquitos in early July. The tentative spray dates for aerial application are the 5th and 6th of July, weather permitting. Spraying will start at sun-up.

SCMAD#1 uses an aerial application to control the mosquito population within the district and the town. The Town of Pinedale has a contract with the SCMAD#1 to include it in the spray work. The town will be sprayed at the same time as the district.

The area to be covered includes the town of Pinedale, fields west of Ehman Lane over to Duck Creek, the Pinedale Elementary School area, parts of the Pinedale Industrial Park, south Pinedale to the New Fork River/Mesa Road, east side of US 191 including Old Brazzill Ranch subdivision area, and north Pinedale subdivisions east and west of Skyline Drive.

Is the aerial application safe?
The Sublette County Mosquito Abatement District uses Fyfanon ULV Insecticide for their mosquito control. According to their website, "Fyfanon ULV Insecticide is safe to use around humans, pets, and wildlife when used according to the product label. Fyfanon is labeled for aerial and ground-application mosquito control and has been an important tool for mosquito control in the U.S., Canada and around the world for 60 years. Once Fyfanon has been applied it immediately begins to brake down due to photodegradation, (exposure to sunlight and air) this process only takes a few minutes."

Bee Keepers
SCMAD#1 understand the vital role bees play in Sublette County. Our objective is to control mosquitoes with as little harm to pollinators as possible. If you are keeping bees and would like a notification of when they are spraying, or if you would prefer not to be sprayed, please call Owen Best at 307-231-4459.

About Mosquitoes
The life cycle of a mosquito can be from about two weeks to a month. Only the females bite. They need a blood meal for their reproductive cycle to produce eggs. Click on this link for more information: Life Cycle of a Mosquito

For more information about mosquito spraying around Pinedale call 307-231-4459 or go online to www.scmad1.com.

---
Funeral Service for Linda Meeks July 9 (posted 6/30/2022)
Covill Funeral Home
Linda Meeks, 69, of Pinedale passed away Wednesday, June 29, 2022. A funeral service will be held Sat. July 9th at 12:30PM at the Daniel Schoolhouse. Friends and family will gather for a reception following the services at the schoolhouse.

Related Links:
Obituary – Linda Meeks Covill Funeral Home

---
Sublette County Hospital District now offering Urgent Care (posted 6/26/2022)
Sublette County Hospital District
Starting July 5, 2022, the Sublette County Hospital District will now be offering Urgent Care. This will be open at the Pinedale Medical Clinic from 7am to 7pm, Monday thru Friday.

Administrator Dave Doorn notes, "When we administered our Community Health Needs Assessment survey, one of the top requests was for more access to patient care. By adding an Urgent Care and expanding hours, we are able to better meet the needs of the community."

Urgent Care consists of non-life-threatening acute needs, such as lacerations, minor fractures, fevers, animal bites, sprains or asthma.

Public Relations Director Kari DeWitt notes, "I am thrilled we are able to offer Urgent Care, especially for the parents in our community who might have a sick child after hours. It will be such a time saver not to have to drive out of the County for care."

Patients may either call 307-367-4133 or walk in to schedule an Urgent Care appointment.

Routine Care will continue at both the Pinedale Clinic and Marbleton/Big Piney Clinic from 8am to 5pm Monday thru Friday. Routine Care is preventative maintenance, prescription refills, physicals, WYDOT physicals, going over test results and other routine healthcare visits.

Kari DeWitt notes, "We do ask if you have a routine concern, that you make a regular appointment. That will leave the Urgent Care free to deal with truly urgent matters."

Lab and Radiology visits will also remain on the Monday through Friday 8am to 5pm schedule. If you need blood draws, lab work, CT scans, ultrasounds, or other routine lab and radiology services, please plan on coming during normal business hours.

Of course, the Emergency Room is available 24/7 for true emergencies. The SCHD operates full 24/7 EMS service in both Pinedale and Marbleton/Big Piney, so someone can always call 911 for a true emergency. If it's not necessary to call 911, a patient can call 307-367-4133 to speak with our answering service which can connect you with the ER provider on call if necessary.

Dave Doorn notes, "We couldn't expand services like this without the buy in from our staff. We would like to thank them for going above and beyond and figuring out how to expand access to care in Sublette County and better serve our community."

---
Sublette County Public Health Update: June 23, 2022 (posted 6/26/2022)
Sublette County Public Health
COVID Update
Sublette County Public Health has received notification of 44 new positive COVID-19 cases in Sublette County since our last update on June 10th. The Wyoming Department of Health is currently issuing new case count reports on Tuesdays only. From the WDH report on Tuesday, June 21st – our current numbers include 1,965 recoveries and 27 deaths, for a total of 1,992 cases since the pandemic began.

Sublette County, along with most of the rest of the state, moved to the medium community transmission level according to the CDC's website (https://www.cdc.gov/coronavirus/2019-ncov/science/community-levels.html)

COVID-19 Vaccines
As of June 20, 2022 – 3,534 people, 35.95% of our population, have been fully vaccinated in Sublette County.

This week, the CDC approved COVID-19 vaccines for younger children ages 6 months through 5 years. Parents and caregivers can now get their younger children vaccinated in Sublette County–please call 367-2157 to schedule your appointment. SCPH will start offering Pediatric Moderna (ages 6months–5 yrs) at our Thursday, June 30th clinic.
Detailed information about COVID-19 vaccines for children, including questions and answers for parents about safety and potential side effects, is available from the CDC at https://www.cdc.gov/coronavirus/2019-ncov/vaccines/vaccines-children-teens.html

Sublette County Public Health offers weekly COVID vaccine clinics for ages 6+ months. Walk-ins are welcome on our scheduled clinic days or call 367-2157 to schedule an appointment (appointments for PEDS Moderna required at this time). Pfizer, Peds Pfizer (ages 5-11yrs), Moderna, and Peds Moderna (ages 6months–5yrs) are offered at our weekly clinics.

Tuesdays at the Public Health Office in the Marbleton Senior Center
• 1 to 3:30 pm for COVID vaccinations/boosters
• Appointments recommended. Walk-ins welcome.

Thursdays at the Public Health Office in Pinedale
• 1 to 4 pm for COVID vaccinations/boosters.
• Appointments recommended. Walk-ins welcome.

Please bring your COVID vaccine card and completed vaccine consent form with you. We ask that you wear a mask in our offices for your appointment.

COVID-19 Testing
Please see our website for information: https://www.sublettewycovid.com/testing

---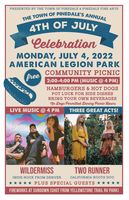 Town of Pinedale 4th of July Celebration (posted 6/22/2022)
The Town of Pinedale will hold their annual 4th of July free community picnic at the American Legion Park from 2-4PM. They will have hamburgers, hotdogs. Potluck for side dishes, bring your own beverages. No dogs allowed during picnic hours. The celebration is being co-hosted with the Pinedale Fine Arts Council who is bringing live music to the event. Music starts at 4PM. Bands are Wildermiss, Two Runner, and special guests. There will be fireworks at dusk (shot from Yellowstone Trails RV park on the west end of town). Everyone invited to come join the fun!
---
Local Services:
Abortion Alternatives
Accounting & CPA
Apartments/Townhomes
Arts & Entertainment
Attorneys & Legal
Auction Services
Automotive
Aviation Services
Banks & Financial
Bars
Beauty Salons
Bed & Breakfasts
Boating
Bookkeeping
Builders & Contractors
Building Material
Business Services
Cabins
Cellular
Child Care
Churches
Cleaning Services
Clothing
Commercial Art
Computer Supplies
Condos
Consultants
Convenience Stores/Fuel
Convention/Meeting
Dentists
Dining
Dry Cleaning
Events
Fabric & Crafts
Fencing
Fishing
Flooring
Food & Drink
Funeral Homes
Furniture
Gifts/Western
Government
Graphic Design
Grocery & Market
Guest Ranches & Lodges
Handyman Services
Hardware & Feed
Heating
Health Care & Medical
Horseback Adventures
Insurance
Interior Design
Internet/Web/Advertising
Landscaping
Laundry
Liquor Stores
Lodging
Log Homes
Marketing
Massage Therapy
Modular Homes
Motels
Mountain Biking
Movie Theaters
Museums
Nails
Newspapers
Office Supplies
Oil Field Services
Optometrists
Organizations
Outdoor Equipment
Outfitters & Guides
Packaging & Shipping
Painters
Pet Stores
Pharmacies
Photography
Plumbing
Professional Services
Radio
Real Estate Agencies
Real Estate-FSBO
Remodeling
Retirement
Retreats
RV Camping
Schools
Scrapbooking
Septic Services
Skiing
Snowmobiling
Snow Plowing
Storage and Storage Units
Tanning
Tattoos & Body Art
Tax Preparation Services
Taxidermy
Transportation/Shuttle
Trash Services
Trucking
Veterinarians
Visitor Services
Wagon Rides
Well Drilling