Schwan's Sublette County History Contest
Week 4 Clues Page (March 9-March 15, 2016)
(Last day to enter guesses for this question is Tuesday, March 15, 2016, at noon.)
KPIN Radio ad for Week 4
(2.47MB mp3 audio file)

Week 4 Question: "Where is 'Lake Beautiful' in Sublette County?"
Correct answer: "New Fork Lake" (also known as Lac d'Amalia)
Winner: Kenna Tanner, Pinedale
Prize for Week 4: A selection of three 1/2 gallon ice cream tubs

Prior to the late 1890s, this lake shows up referred to as Lac d'Amalia, Lake D'Amalia, Lake de Amalia, DeMalia, or de Amalia in the Wind River Range. Wyoming Place Names website, a service of the Wyoming State Library, says this about the origin of the name for New Fork Lake: "Formerly called DeMalia Lake, so named by the early trappers after the sister of Lucien Fontenelle. Shown as Lake de Amalia on maps through 1897. It is named New Fork Lake on the 1900 map of the State of Wyoming by the General Land Office."
http://wyomingplaces.pbworks.com/w/page/12715805/New%20Fork%20Lakes
William Henry Jackson, an American geological survey photographer and an explorer of the American West in the late 1800s, took pictures of this lake and labeled them with several variations of 'de Amalia'. A Hayden survey map from 1887/1888 shows this lake, a tributary to the Green River, labeled Lac d'Amalia. Several of Jackson's photos of New Fork Lake can be found by searching the Library of Congress website, https://www.loc.gov/item/2008678243/ and also the Denver Public Library digital website, http://digital.denverlibrary.org/cdm/ref/collection/p15330coll21/id/8486
In 1980, John W. Shields did a biography of Perry W. Jenkins – "Father of Sublette County" with a Lola Homsher Endowment Fund Grant from The Wyoming State Historical Society. In this report he says, "He was directly associated with the enlargement of the New Fork Lake, which was a natural lake known locally by the Indians as Lake De Amelia which translated as "Lake Beautiful." Jenkins evidently told his family that the dam on the New Fork River was the first retention dam built on the headwaters of the Colorado River watershed." This comment was noted as the author's personal correspondence with Ruth (Jenkins) Wilson Oliver, June 14, 2007. (http://www.crwua.org/documents/about-us/oral-histories/Perry-Jenkins.pdf)
On the wyominggeneology.com website for "The Piney Country, Wyoming", an article mentions a man named Eugene Alexander who "in 1889 he took up land on Newfork River just below Lake de Amelia, which is also called New Fork Lake."
http://www.wyominggenealogy.com/uinta/piney_country_wyoming.htm
Here are photos taken of Lake d'Amalia by William Henry Jackson in the late 1800s:
http://digital.library.illinoisstate.edu/cdm/ref/collection/ilstudia/id/6296
http://digital.denverlibrary.org/cdm/ref/collection/p15330coll21/id/8486
https://beta.worldcat.org/archivegrid/collection/data/47104311
http://cdm15330.contentdm.oclc.org/cdm/ref/collection/p15330coll21/id/8490
In our clues for this question, the "John" we mentioned was John Perry Barlow, grandson of P.W. Jenkins who is known as "The Father of Sublette County."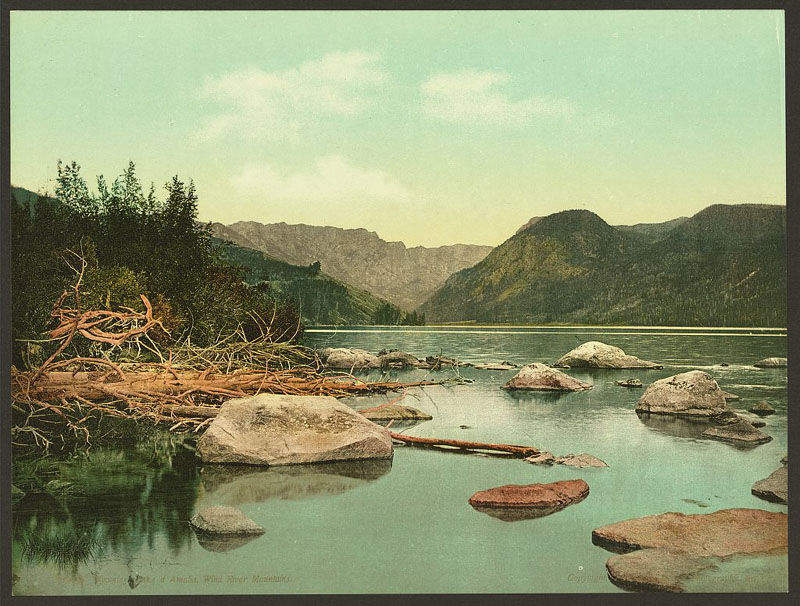 Library of Congress: 1898 Detroit Photographic Company, Wyoming. Lake d'Amalia, Wind River Mountains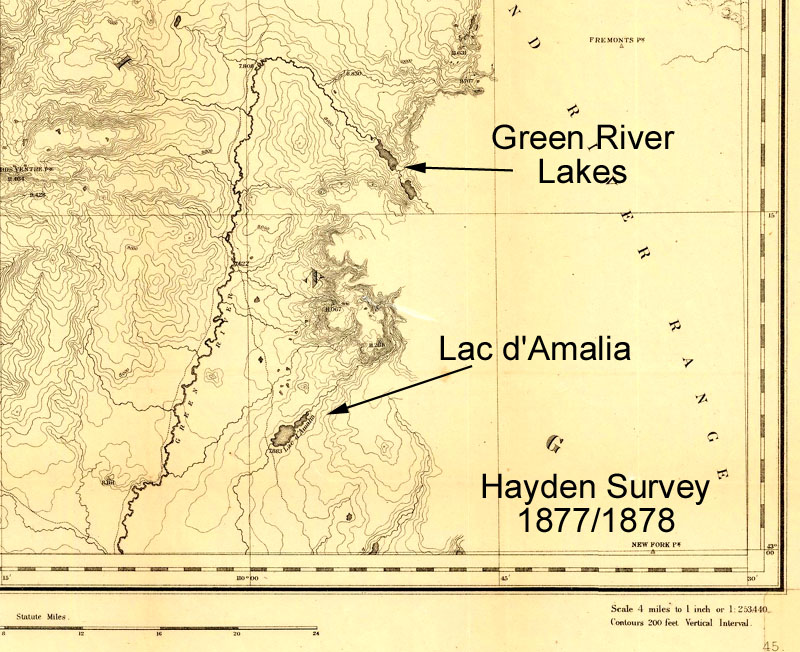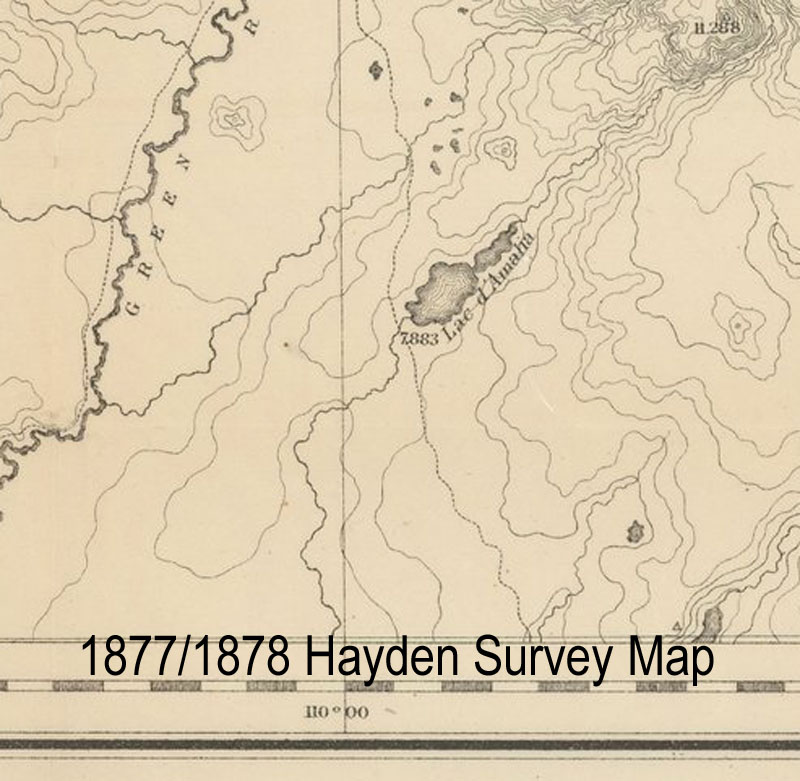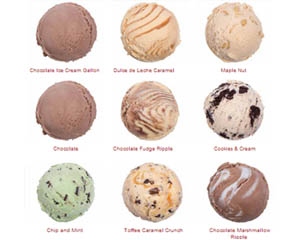 Week 4 Clues

1. Sublette County has more than 1,300 lakes.
2. Many geographical features have changed names over time. The United States Board on Geographic Names (BGN) is a federal body within the United States Geological Survey, an agency of the Department of the Interior. The purpose of the board is to establish and maintain uniform usage of geographic names throughout the federal government of the United States.

3. Fremont Lake is the deepest body of water in Wyoming, reaching a depth of 607-feet. It's the 7th-deepest lake in the continental United States. Fremont Lake is located in the Bridger-Teton National Forest, just 3 miles northeast of Pinedale, and was created from glacial ice some 10,000 years ago. The lake is 11 miles long and a half-mile wide, with 22 miles of shoreline. Fremont Lake was first known as Stewart Lake. It took its name in 1837, after Scottish adventurer Captain William Drummond Stewart who had camped at the lake for more than a decade with the likes of famed mountain man, Jim Bridger, and other mountain men, trappers, and Indians. But in 1842, Stewart Lake was renamed Fremont Lake, for the man who would become known as "The Pathfinder", General John Charles Fremont, who happened onto the lake while surveying the area and plotting a course for the Oregon Trail. It is unknown if he was aware of the earlier naming.
4. Yellowstone Lake is shown as Sublett's Lake on maps from the 1800s. Beaver Creek used to be shown as Lead Creek on early maps. North and South Cottonwood Creek were called Marsh Creek and White Clay Creek. North Piney Creek was called Bitterroot Creek.
5. The Green River is 730 miles long, beginning in the Wind River Mountains of Wyoming and flowing through Wyoming and Utah for most of its course, except for 40 miles into western Colorado. In 1776, the Spanish friars Silvestre Vélez de Escalante and Francisco Atanasio Domínguez crossed the river near present-day Jensen, naming it the Rio de San Buenaventura. The map-maker of the expedition, Captain Bernardo Miera y Pacheco, erroneously indicated that the river flowed southwest to what is now known as Sevier Lake. Later cartographers extended the error, representing the Buenaventura River as flowing into the Pacific Ocean. At least one charted the Buenaventura as draining the Great Salt Lake. Later Spanish and Mexican explorers adopted the name Rio Verde, meaning "Green River" in Spanish. Wilson Hunt of John Jacob Astor's Pacific Fur Company called it The Spanish River in 1811. By then it was known that the Green River drained to the Colorado River and the Gulf of California. When Jedediah Smith reached the lower Colorado in 1826 he at first called it the Seedskeedee, as the Green/Colorado River was commonly known among the trappers. By the time of Bonneville's expedition in 1832, the names "Seeds-kee-dee", "Spanish River", "Green River", and even "Colorado River" were used interchangeably by the trappers and American explorers. Today, the Seedskadee Wildlife Refuge in SW Wyoming on the Green River is derived from the Shoshone language word sisk-a-dee-agie, which means "river of the prairie hen".

6. The Bureau of Land Management has online access to the historic General Land Office (GLO) Records. It can be found here: http://www.glorecords.blm.gov/search/

7. William Henry Jackson (April 4, 1843 – June 30, 1942) was an American geological survey photographer and an explorer famous for his images of the American West. Many of these historic images are available for viewing online. The Library of Congress has a huge collection of publicly available historic photographs, https://www.loc.gov.
8. Lucien Fontenelle was a French fur trader in the Rocky Mountains in the early 1800s with his family hailing from the New Orleans, Louisiana area. His parents were killed in a hurricane when he was young and he and his sister Amelia were raised for a time by an aunt in New Orleans. Lucien left at age 16 to create a life of his own and began working in the lower Missouri fur trade. His work and travels took him across the Rockies into what is now Wyoming, Idaho and Utah. His sister Amelia was said to be "a lady of striking appearance." She lived a long life, marrying an eminent New Orleans lawyer, ultimately living to age 81. It is said she spoke very little English. Fontenelle Creek and Reservoir in Wyoming are named after Lucien.
9. Perry Wilson Jenkins was born in 1867 and ultimately ended up in Wyoming settling in the Upper Green River Valley in the hopes of improving his health. He was a professor of mathematics and astronomy, he was an engineer and a surveyor. In the early 1900s he acquired land holdings in the Upper Green and began cattle ranching at the Bar Cross Ranch near Cora. He served as Cora's Justice of the Peace beginning in 1908. He used his engineering knowledge and skill in the construction of canals and reservoirs in western Wyoming. He was a co-owner of the first gas station in Big Piney. He had a deep interest in history and helped found the Sublette County Historical Society and participated in early Green River Rendezvous celebrations. He became quite involved in local and state politics and served in the Wyoming House of Representatives. He helped champion the bill to create Sublette County as one of Wyoming's 23 counties.
10. Mytopo.com website lets you browse and view free US Geological Survey, US Forest Service, and NRCan topo maps for the US and Canada.
11. The Green River Valley Museum has a lot of local history online. They have many oral histories about local area ranches under their Brands pages. www.grvm.com
12. Dr. Ferdinand Vandeveer Hayden (September 7, 1829 – December 22, 1887) was an American geologist noted for his pioneering surveying expeditions of the Rocky Mountains in the late 19th century. In 1869, he led an expedition along the Front Range to Denver and Sante Fe. In 1870 he received a $25,000 governmental grant to lead a 20-man expedition to South Pass, Fort Bridger, Henry's Fork, and back to Cheyenne. In 1871, Hayden led a geological survey into the Yellowstone region of northwestern Wyoming. The survey consisted of some 50 men which included notables such as Thomas Moran, painter and famous frontier/Civil War photographer William Henry Jackson. The following year, Hayden and his work, Preliminary Report of the United States Geological Survey of Montana and Portions of Adjacent Territories; Being a Fifth Annual Report of Progress was instrumental in convincing Congress to establish Yellowstone as the first U.S. National Park, aided by Jackson's stunning large-format photographs and Moran's dramatic paintings. In 1883 F.V. Hayden produced the Twelfth Annual Report of the United States Geological and Geographical Survey of the Territories: A Report of Progress of the Exploration in Wyoming and Idaho for the year 1878. In Two Parts [Yellowstone]. His surveys and maps were a landmark in the history of the exploration and documentation of the American West. These publications also encouraged the westward expansion of the United States.
13. John probably knows the answer to this one.


Email your answer to myriam.wolcott@schwans.com
or call Jean-Francois at 307-360-FOOD (3663)
_________________________________________________________
Official Rules:
1. Eligibility: NO PURCHASE NECESSARY TO ENTER. Contest participants must be residents of Sublette County, Wyoming; be at least 18 years of age, and a U.S. citizen to win. Limit one weekly prize per person and household. All past winners are eligible to enter to win the Grand Prize. There are no substitutions allowed on prize winnings. No one directly involved in the creation of the contest or history questions, or their families or household members, are eligible to win any of the contest prizes.

2. Contest Period: The contest runs for six weeks, from Wednesday, February 17, 2016 and ending on Tuesday, March 29, 2016.

3. Sponsors: Schwan's, Pinedale Online, KPIN 101.1FM Radio. Contacts for more information are:
Schwan's Home Service of Rock Springs, phone: 307-360-FOOD (3663), myriam.wolcott@schwans.com, 213 Industrial Ave, Rock Springs, WY 82901
Pinedale Online: Dawn Ballou, Editor, 307-360-7689, support@pinedaleonline.com
PO Box 2250, Pinedale, WY 82941
KPIN 101.1FM Radio: Bob Rule, 307-367-2000, kpin@wyoming.com
PO Box 2000, Pinedale, WY 82941

4. To Enter: Each week's history question will be posted on Pinedale Online on the Local page and at http://www.pinedaleonline.com/schwans, as well as announced on KPIN 101.1 FM Radio. To enter a guess to answer the week's history question, send an email with your answer to myriam.wolcott@schwans.com or call 307-360-FOOD (3663) by Noon on the Tuesday ending that week's contest. Include your name, email address, mailing address, and a contact phone number so the winner can be notified. All entries become the property of Schwan's and will not be returned. Winners names will be posted on Pinedale Online at http://www.pinedaleonline.com/schwans/ and announced on KPIN 101.1 FM Radio on the Wednesday following that week's question. The next week's new history question will also be posted and announced on Wednesday.

5. Prize Drawing: On or about Tuesday evening, contest administrators will review the entries and determine which one was the first to coming closest to correctly answering the question. There will be only one prize awarded to one winner each week. Winner's name will be posted on the Pinedale Online website and announced on KPIN 101.1FM Radio on the Wednesday ending the week of that contest question. If the contest sponsor cannot contact the prize winner within 3 days of announcement of the winner, the contest sponsors may select an alternate winner from the next closest correct answer entries that can be contacted to claim that week's prize. Schwan's Home Service of Rock Springs reserves the right to be ultimate decider of each week's contest winner and their decision is final. Prizes will be delivered by Schwan's to the winner within Sublette County, Wyoming by prior arrangement during the next week's Schwan's regular Sublette County route delivery cycle. By accepting prize, winner releases all participating sponsors from any liability as a result of this prize. Schwan's will pay the Wyoming State sales tax of the winning prizes for the prize winners.

6. Privacy: Information gained from contest entrants is subject to Schwan's privacy policy. Names of winners will be posted online and announced over KPIN Radio, but email addresses, phone numbers and physical addresses will not be released. Schwan's will use address information to make deliveries of prizes to winners. Schwan's may ask contest entrants if they would like a Schwan's catalog and/or more information about the company's food products.