Schwan's

Sponsor Schwan's Home Food Delivery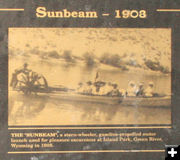 Sunbeam

Sternwheeler on the Green River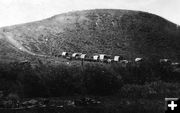 Lander Trail

One of the few existing photos of a wagon train in the 1850s, this image made by the artist Albert Bierstadt in 1859 shows emigrant wagons at the Big Sandy River on the Lander Trail just 26 miles east of the New Fork crossing. Photo courtesy Sublette County Historical Society.


History Contest
by Dawn Ballou, Pinedale Online!
March 31, 2016

We are pleased to announce Lisa Williams of Cora as the final winner of the Schwan's Sublette County History Contest. Thank you to everyone who participated in the History Contest these past six weeks. The Grand Prize was Dinner for Two - Your choice of Schwan's appetizer, main course and dessert up to $50 value. The second prize was the Red Velvet & Cheesecake (prize from last week which no one guessed the answer).

The final questions were:
"What is the oldest geographic feature place name in Sublette County still in use today?"
Answer: Green River
"What was the first constructed road in the Upper Green River Valley?"
Answer: Lander Cut-Off Trail

Geographic feature place names
Daniel T. Potts, born in 1794, joined the Henry and Ashley expedition bound for the Rocky Mountains and the Columbia River in 1822 and served as a scout. He wrote many letters to friends and family describing his adventures. A number of those letters survive today. In 1826 he uses the term "Green River" to describe the Upper Colorado River. Prior to that time accounts referred to the river as the Spanish River, Colorado River, and versions of Seeds-ka-dee.

Wilson Price Hunt – 1811 (http://www.mtmen.org/mtman/html/wphunt/index.html)
• Big Horn
• Wind River
• Spanish River (today called Green River)
• Mad River (today called Snake River)
• Columbia

Robert Stuart – 1812 (Discovery of the Oregon Trail by Philip Rollins)
• Mad River (today called Snake River)
• Henry's River (today called Henry's Fork)
• Pilot Knobs (today called Teton Range)
• Hoback's Fork (today called Hoback River)
• Spanish River (today called Green River)
• Willow Branch (today called Willow Creek)
• Wind River
• Big Horn

William Ashley – 1825 (http://www.mtmen.org/mtman/html/ashintro.html)
• Wind River
• Sweetwater
• Shetkadee (In Wyoming today called Green River)
• Green River (In Utah)

Daniel Potts – July 16, 1826 (http://www.mtmen.org/mtman/html/potts2.html)
• SeetKadu & Green River
• Sweet Water
• Rocky Mountains
• Yellow Stone
• Wind River
• Lewis River (today called Snake River)
• Bear River

Lander Trail
The Lander Trail (Cut-Off, Road) was built as part of the national road originally designated the central division of the Fort Kearney, South Pass and Honey Lake Wagon Road to improve the transportation corridors from the eastern United States to California and Oregon prior to when a railroad could be built. The chief engineer was Frederick Lander, its namesake. The cut-off road was intended to bypass the Mormon country and expensive toll ferries beyond the Continental Divide and allow poorer emigrants using ox-driven wagons an alternative route where they could ford the streams and cross the terrain in a shorter amount of time than the main Oregon Trail. The road was constructed in 1858 and opened in 1859. It went from Burnt Ranch near South Pass to Fort Hall through what would become the future states of Wyoming and Idaho. A crew of 115 men built 230 miles of new trail in 1858. They moved more than 62,000 cubic yards of dirt and rock—equal to 6,000 modern dump truck loads—and cleared 34 miles of heavy timber and willows. Construction cost $40,260, finished ahead of schedule, and came in under budget. The Lander Road had good grass, fishing, water and wood, however it was built late in the emigration period of the western covered wagon migration. 13,000 emigrants used the new road in 1859. The last documented wagon using the Lander Trail was in the early 1900s. It continued to be used by people for two-way east/west traffic into the settlement era of the early 1900s with both horse-drawn and motorized vehicle traffic. It came into disuse once better roads with more direct routes were built through the terrain. The Lander Trail is now a National Historic Trail which has been marked along its length. There are 95 miles of the road crossing Sublette County and about 60 miles of it can still be accessed today through BLM and National Forest lands. The 104-acre Lander Trail-New Fork River Crossing Historical Park, acquired in 2010 and opened to the public in 2013. It gives the public an opportunity to see a location of the emigrant trail at a major river crossing and campsite.

Related Links:
http://www.wyohistory.org/encyclopedia/lander-trail
http://www.pinedaleonline.com/news/2005/04/LanderCutoffRoadofth.htm
http://www.newforkcrossing.org/
http://thefurtrapper.com/home-page/lander-trail/

While there were a number of great submissions for both these questions, no one else correctly answered either question or provided an alternate answer that changed what we thought were the correct answers. We want to add in the comment that not all of history is known. It's like working on a 10,000 piece jigsaw puzzle and only having 1500 of the pieces to work with. New information that reveals more about past history comes along all the time as new information comes to light. While this contest is over and we have given answers to these questions and awarded our prizes, it is possible at some future time a letter, diary account, or other information will be found that reveals something that could change these answers and change history as we know it today. If you enjoy history too and find new information that changes or challenges any of these answers, we'd love for you to share it with us. Email comments to support@pinedaleonline.com. History is everywhere around us and helps us understand who we are and why we are the way we are so we can better understand the path forward into the future. Thanks again to everyone for participating in this contest. We'll keep these pages archived to keep the information available.




Related Links