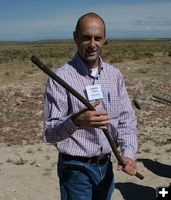 Old Rifle Stock

Old Rifle Stock Jordan Vana, Green River Valley Land Trust staff, holds an old rifle stock that was found on the Cross Lazy 2 Thompson ranch west of Big Piney. The Lander Cut-Off of the Oregon Trail runs through the ranch. Pinedale Online file photo.


Historic Cross Lazy Two Ranch near Big Piney conserved
by Green River Valley Land Trust
September 17, 2009

The Thompson family and Green River Valley Land Trust (GRVLT) are pleased to announce the permanent conservation of a portion of the centennial Cross Lazy Two Ranch west of Big Piney.

The project closed on August 25 and represents what the parties believe to be the largest one-time easement purchase in Wyoming history in terms of acreage conserved. The easements ensure that more than 4,400 acres of working ranchland, wildlife habitat and scenic views will remain available for Wyoming residents and visitors forever.

"Our family has run this ranch for more than 100 years," said Tim Thompson. "Working with the Green River Valley Land Trust made sense financially and allows us to leave a legacy we can be proud of."

The conserved property will continue to anchor the Thompson's cattle operation for future generations and provides:

• Crucial habitat and migration routes for pronghorn, mule deer, moose and elk;
• Important habitat for waterfowl, sage grouse and neotropical migrating songbirds;
• 10 miles of riparian habitat and aquatic systems along South Piney Creek, Middle Piney Creek and Beaver Creek; and
• Ideal habitat for 61 of Wyoming's Species of Greatest Conservation Need identified under the Wyoming Game and Fish Department's Comprehensive Wildlife Conservation Strategy.

The property also includes a portion of the Lander Cutoff to the Oregon Trail, used by as many as 500,000 pioneers to migrate west.

A variety of partners contributed to the project, including the Jonah Interagency Mitigation and Reclamation Office, Wyoming Wildlife and Natural Resource Trust, Doris Duke Charitable Foundation, The Nature Conservancy, Tom Thorne Sage Grouse Conservation Fund, Wyoming Community Foundation, Wyoming Game and Fish Commission, Upper Green River Sage Grouse Working Group, and Rocky Mountain Elk Foundation.

"We sincerely appreciate the Thompson's commitment to conservation and look forward to working with them to maintain the ranch's agricultural and natural values," said GRVLT Executive Director Lara Ryan.

For more information on working with GRVLT, visit www.grvlandtrust.org or contact Jordan Vana, Land Program Director, at (307) 367-7007 or jordan@grvlandtrust.org.

The Green River Valley Land Trust is a private, nonprofit organization that works with landowners to conserve Wyoming's natural and agricultural resources. GRVLT exists to serve landowners. It is one of the first accredited land trusts in the country and the only accredited land trust in Wyoming to date. Since 2000, GRVLT has worked with more than 45 families to conserve nearly 30,000 acres of working ranchland, wildlife habitat and open space in the Cowboy State.