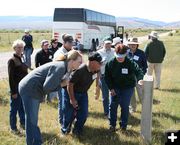 Land Trust Tour

The Green River Valley Land Trust organized a tour of the Lander Trail in early September, as part of education about the Cross Lazy 2 ranch, a conservation property on South Cottonwood Creek west of Big Piney. The Land Trust hosts many tours and programs each year in Sublette County. Pinedale Online file photo.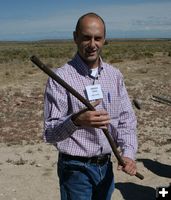 Jordan Vana

Jordan Vana, GRVLT staff, holds an old rifle stock that was found on the Cross Lazy 2 Thompson ranch, a conservation property west of Big Piney. Pinedale Online file photo.


Green River Valley Land Trust gains national recognition
by Green River Valley Land Trust
September 23, 2008

(Pinedale) – The Land Trust Accreditation Commission, an independent program of the Land Trust Alliance, awarded accreditation to 39 land trusts from across the country at its inaugural awards ceremony last Friday night in Pittsburgh. This is a milestone for the land conservation community as well as the local Green River Valley Land Trust (GRVLT) in Pinedale.

"At a time when the public is demanding increasing accountability from nonprofit organizations and government, including land trusts, the new independent accreditation program provides the assurance of quality and permanence of land protection the public is looking for," said Commission Executive Director Tammara Van Ryn. "Today land trusts can join museums, hospitals, universities and other nonprofit institutions that demonstrate that they deserve the public's trust through rigorous accreditation programs."

The accreditation seal will be a mark of distinction in land conservation, recognizing organizations for meeting national standards for excellence, upholding the public trust, and ensuring that conservation efforts are permanent. To date, GRVLT is the only accredited land trust in Wyoming. "Earning this distinction means so much to our organization," said Lara Ryan, Executive Director of the Green River Valley Land Trust. "On behalf of our Board, Advisory Board, and staff, we thank the Accreditation Commission and look forward to working with landowners to conserve our community's working lands, wildlife habitats, and open space."

The Green River Valley Land Trust is a private, nonprofit organization dedicated to assisting landowning families of the area in the conservation of agricultural, ranch, and natural lands in order to sustain and protect open spaces, watersheds, wildlife habitat, and other ecological values for today's inhabitants and as a legacy for future generations. Since 2000, the Land Trust has worked with more than 40 families to conserve nearly 24,000 acres of working ranchland, wildlife habitat and open space in Sublette County.

For more information, please contact Lara Ryan or Jordan Vana at (307) 367-7007 or stop by the GRVLT office at 131 South Jackson Avenue in Pinedale.




Related Links