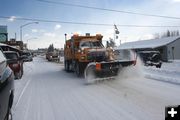 Snowplow

The county and town snow plows were out in force clearing the roads.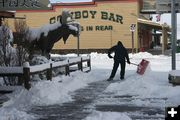 Digging Out

Residents and businesses dig out after awakening to 8" of new snow in Pinedale Tuesday morning.


SNOW!
Pinedale gets 8", Big Piney gets 4"
by Pinedale Online!
November 14, 2006

Pinedale got hit with its first big snow storm of the season Monday night. Residents woke up to blizzard conditions in the county and 8" of snow on the ground to deal with. Big Piney got around 4" of snow out of the storm (unofficial totals).

County and Town snow plows have been working hard to get to all the streets and highways open again. Residents are pitching in to clear their own driveways, then helping out a neighbor to get them cleared out.

Local law enforcement has been busy all morning responding to calls of falls, slide-offs, minor fender benders and more serious accidents. With temperatures hovering around freezing, and the sun coming out to melt a bit of the surface snow, conditions are very slick on the roads in the county. Anyone driving between Pinedale and Jackson on US Highway 191 is cautioned that the roads around the Rim and Bondurant are very slick.

Current road condition reports are available online at http://www.wyoroad.info/highway/conditions/Dist3.html and by dialing 511 in most Wyoming locations. Otherwise, please dial: 888-996-7623 (888 WYO-ROAD).

It takes a storm like this to get us all back into the mindset of winter driving in Wyoming. Leave early to allow plenty of time to reach your destination, drive slower on snow-packed roads putting plenty of distance between you and the other cars around you, no sudden moves, carry a cell phone and have emergency blankets and clothing in your car for you and your passengers.

The good news is that White Pine Ski Resort is projecting a Thanksgiving Day opening, and snow-lovers are getting out their snowmobiles.

See the links below for SNOTEL snow depth information and more about skiing and snowmobiling. We'll need more snow yet before snowmobiling season really gets started. There's plenty now for cross-country skiing and snowshoeing.

Photos by Clint Gilchrist, Pinedale Online!




Related Links