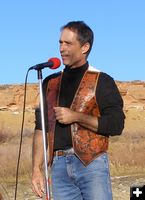 Paul Piana

Todd's friend, collaborator and fellow climber Paul Piana, offered the first tribute of the day during the open mic session.


Memorial for Todd Skinner held at Sinks Canyon Center
by Sue Sommers
October 29, 2006

Saturday saw a spectacular fall afternoon at Sinks Canyon Center outside Lander, and provided a fitting scene for the memorial service and tribute to climber and Pinedale native son Todd Skinner. The tone was both solemn and celebratory and included a melodious bluegrass band, tables groaning under the weight of homemade delicacies, a bonfire and slideshow, and hundreds of people – family, friends and colleagues – visiting and sharing "Todd Stories."

An open mic session allowed participants to step up and narrate their recollections and insights about the remarkable man, providing opportunities for most to laugh through their tears. One speaker reminded everyone that, given the weather conditions on this day (perfect for climbing) the only person sure to be absent, even had he been alive, would have been Todd.

Story and photos by Sue Sommers, Pinedale Online.