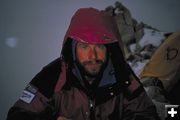 Todd Skinner

Todd Skinner on his Trango expedition. Photo courtesy Ann Krcik.


Todd Skinner killed in climbing fall at Yosemite Park
by Dawn Ballou, Pinedale Online!
October 24, 2006

(Editor's Update 10/27/06: Memorial Services for Todd will be held on Saturday, October 28th at 3:00 pm at the Central Wyoming College (CWC) Sinks Canyon Center Field Station near Lander, Wyoming. Directions on how to get there. Potluck meal, dress warm (outside service), carpool as much as possible-parking is limited. "The Skinners really want anyone who wants to come to the memorial to come. Even if folks never met Todd, but were inspired by him, they want to meet them." Bring photographs and memories for a memorial book for Todd's family. See the end of this story for links to climbing websites to the links section at the bottom of this page for additional articles and a forum talking about Todd. Climbers can send condolences for the family by sending to Wild Iris Sports, 333 Main, Lander, WY 82520. A memorial fund has been set up for the children at: Skinner Memorial Fund, c/o Atlantic City Federal Credit Union, 704 Main St, Lander, WY 82520. See the links at the end of this article for web links for more information about Sinks Canyon.)
________________________________________________
Acclaimed rock climber, Todd Skinner, was killed Monday, October 23, in a rock-climbing accident in Yosemite National Park.

According to Gail Sqambellome, Assistant Coroner Public Administrator for the Mariposa County California Sheriff's Office, Todd was reportedly rappeling with a friend in the Leaning Tower area of the Park. He fell approximately 800 feet. The report was called in by Park Rangers to the Sheriff's Office a little before 4:00 pm. An autopsy has been scheduled but the date has not yet been determined.

Todd lived in Lander, Wyoming, with his wife and three children. He was 47 years old. His 48th birthday would have been on Saturday, October 28.

According to his publicist, Ann Krcik, Todd apparently was working on a new route on a climb. They were done for the day, rapping down the rope (rappeling down), when the accident occured. She said preliminary reports are that there was some kind of an equipment malfunction, but it is not known exactly what happened. "Even when he was free climbing, he always had a rope for safety purposes," she said.

Todd was the son of Doris and Bob Skinner. His father was a founding member of Skinner Brothers, based out of Pinedale. Todd grew up in a family of outdoorsmen and mountaineers, who through the generations have had a life-long love of the outdoors.

Todd is survived by his wife, Amy, and their three young children, Hannah, Sarah and Jacob; his father, Bob, who moved from Pinedale to Lander five years ago; his brother Orion Skinner of Parker, Colorado; and sister Holly Skinner of Midvale, Wyoming. His mother, Doris, passed away on September 20, 2006. She worked for many years at Pinedale's Sublette County Library as librarian and was very active in church activities in Pinedale and around Wyoming.

Todd was an accomplished rock climber with many years of experience. He was one of the climbers on the technical search team who found the body of missing hiker Ken Koski on Mount Bonneville in the Bridger Wilderness in September. He was the keynote speaker at the Pinedale High School Class of 2004 senior graduation where he gave his inspirational presentation, "Beyond the Summit", an account of his historic first free ascent of the east face of Trango Tower in Pakistan, part of a mountain range that contains some of the largest cliffs and most challenging rock climbing in the world.

According to his website, Todd accomplished more than 300 first ascents in 26 countries around the world and established new climbs at the highest level of difficulty. He relished the challenge of all aspects of rock climbing, from Bouldering to Himalayan peaks, but most of all he dreamed about Big Walls that may be free climbed in all corners of the globe.

Todd's climbing highlights included the first free ascent of the Salathe Wall on El Capitan in Yosemite National Park, the first free ascent of the north face of Mt. Hooker in the Wind River Range, the first free ascent of the Great Canadian Knife in the Cirque of the Unclimbables in the Yukon Territories, the first free ascent of the Northwest Direct Route on Half Dome, Yosemite National Park, the first free ascent of the East Face of Trango Tower in Pakistan's Karakoram Himalayas (the first grade 7 free climb in the world), the first free ascent of a new route on Kaga Pamari, Hand of Fatima Group, Mali West Africa, the first free ascent of a new route, War and Poetry, on Ulamertorsuaq, in the Cape Farewell region of Greenland and the First free ascent of the East Face of Poi, Ndoto Mtns of Northern Kenya.

Todd was featured in National Geographic, Life Magazine, Outside Magazine, USA Today, Climbing, and Rock and Ice. His expeditions to Pakistan, Vietnam, Mali, Greenland was featured on the Outdoor Life Channel. His expedition to Aritiyope, an Amazon big wall in Venezuela, was featured on ESPN.

He authored a book entitiled, "Beyond the Summit: Setting and Surpassing Extraordinary Business Goals."

In the intorduction of the book he writes, "I might have dedicated this book to Wyoming's Wind River Mountians-my earliest and most influential teachers-for it was there I first began to understand the profound transformative power of great challenges. When I stood on my first summit at the age of eleven, what I could see was mountains all around me, and more mountains beyond me: beautiful, sunlit granite ramparts all beckoning me to climb them as well."

He continues, "Even then I realized I could not climb them all, and I would have to find a way to choose among them. And I knew I wasn't a good-enough climber yet to reach the summit of those I did choose. But I found that the mountains themselves have the power to make us good enough-the challenge encourages us to rise to meet it, and each mountain prepares us to climb the next."

Memorial Services for Todd will be held on Saturday, October 28th at 3:00 pm at Sinks Canyon, near Lander, Wyoming. See the links at the end of this article for web links for more info about Sinks Canyon.




Related Links