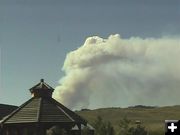 Horse Creek Fire

Smoke from the Horse Creek Fire is clearly visible in the Bondurant webcam.

Horse Creek Fire
August 18, 2006
The Horse Creek Fire is burning in the Little Horse Creek drainage on the Jackson Ranger District, about two miles inside the Gros Ventre Wilderness. As of Friday afternoon, the fire was reported to be approximately 200 acres in size, burning in steep terrain.

Smoke from this fire is visible in the Snake and Hoback River canyons, and as far south as Big Piney. It is also visible from the Bondurant webcam. Fires are burning on the Pinedale, Jackson, Kemmerer and Buffalo Ranger Districts of the Bridger-Teton National Forest.