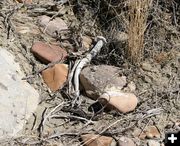 Spike deer shed

This little spike shed was at least a year old, showing signs of weathering.

Antler Hunting
April 2, 2006
The snow is melting and the weather has started to turn pretty decent, making the great outdoors beckon again for weekend day trips. A fun activity this time of year is to go antler hunting. Each spring, mule deer, elk and moose lose their antlers to make way for new ones to grow. If you know where to look, you can find some very nice specimens. Some people take antler hunting very seriously and are out on a mission each spring to collect trophy racks. This past Sunday, we just wanted to get outside and enjoy the warm weather and stroll through the hills around Big Piney where deer and antelope have wintered and see what we could find.

We've been watching where the herds have been roaming and were careful to make sure we were on public land, well away from any closed winter range areas. There were deer in the area, but we made sure to keep our distance and not spook them. In this area, we knew we were looking for mule deer antler sheds and did not expect to find any elk antlers. Our goal was more to just get outside, do some hiking and enjoy a beautiful day outside, whether we found antler sheds or not.

By the end of a couple of hours, we had found a couple of small mule deer antlers, an antelope horn shed, a horned toad and a nice obsidian arrowhead. Below are pictures of what we found on our outing.

If you go out antler hunting this spring, be sure to know the ownership of the land you're on (public or private) and the access rules. Winter range closures are still in effect for many areas. Keep dogs under control and don't let them chase wildlife. Be sure to have everyone who goes out walking through the brush check for ticks when they get back. Check the dog too.

Photos by Clint Gilchrist and Dawn Ballou, Pinedale Online!

Related Links