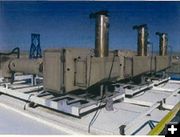 SCR System

This photo shows three Johnson Matthey emissions control systems installed on top of three caterpillar diesel engines on a Shell drill rig in the Pinedale Anticline. The diesel engines are in the white boxes. The gray devices on top are the SCR systems, one on top of each diesel engine. Photo courtesy Johnson Matthey.



For more information about this system contact:
Wilson Chu
Marketing and New Business Manager
Johnson Matthey
Stationary Source Emissions Control
400 Lapp Road
Malvern, PA 19355
484-320-2114 Office
484-320-2152 FAX
www.jmssec.com


New system helps control NOx for Shell drill rigs
Johnson Matthey wins contract for 21 additional advanced SCR systems
by Johnson Matthey
October 28, 2008

Based on initial testing, the successful implementation of three Johnson Matthey (JM) Selective Catalytic Reduction (SCR) Systems in meeting stringent NOx and ammonia slip limits resulted in Shell Exploration & Production Company (Shell) choosing JM's Stationary Source Emissions Control (SSEC) group to supply an additional 21 SCR Systems (three Systems per drilling rig).

Diesel engines used in natural gas drilling rigs undergo dynamic load changes throughout the drilling cycle resulting in dramatic fluctuations in exhaust flow rate and NOx emission levels. Previous attempts by other SCR suppliers to control NOx emissions from these engines were unsuccessful. Johnson Matthey's advanced SCR System not only reduced NOx by 90% based on initial testing, but has also maintained an average ammonia slip of 2 to 3 ppm. The SCR System must be suitable for use in harsh environments, especially extreme temperature swings and be capable of being disassembled, moved and reassembled quickly and easily.

The state of Wyoming and the Bureau of Land Management (BLM) requested all natural gas companies in the Pinedale Anticline -- currently estimated to be one of the largest gas fields in the U.S.-- to reduce NOx emissions from their drilling rigs. The current emission reduction targets for the drilling rigs, each equipped with three Caterpillar 3512 diesel engines, are 90% NOx and 10 ppm ammonia slip.

Johnson Matthey will provide complete engineering, project management, installation and service support for the 21 new SCR Systems, as they did for the first three systems. The modular design of the JM system makes them easy to transport and reassemble within the Pinedale Anticline with minimal effort.

Johnson Matthey release, October 10, 2008, reprinted with permission
_____________________________________________________
Editor's Note: According to Wilson Chu, Marketing and New Business Manager for Johnson Matthey, the emissions control system for the Shell drilling rigs is located on top of a box that houses three caterpillar diesel engines. Each SCR system is directly above each engine. The exhaust from the engine below exits the top of the engine at the top of the box and enters the bottom of the SCR emissions control system. "Our advanced SCR system can be installed in 3 days. In addition, the systems are designed for transportability. They can be easily disassembled when the rig is disassembled and moved to the next site and re-assembled. There is almost no maintenance required. The main thing is to make sure there is enough urea in the tank…. We are extremely competitive in our pricing… Our system is an advanced catalytic solution that is highly cost effective relative to the high value product (natural gas) that companies like Shell get out of the ground. It offers the gas drilling company very high up time with low maintenance, while giving the residents of Pinedale clean air." - Dawn Ballou, Editor, Pinedale Online!