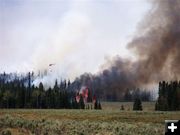 Back Burn

A helicopter uses a drip torch to light back burns along South Horse Creek on Friday, June 29th. Photo by Allene Dana.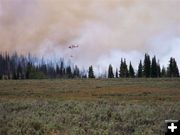 Helicopter with drip torch

A drip torch is mounted on a helicopter and used to set intentional back fires in strategic locations to create a black line perimiter void of fuels.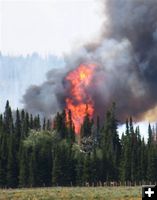 Torching

Trees torch during the back-burn operations on Friday near South Horse Creek. Photo by Allene Dana.



Back burn fire

This fire was intentionally set along South Horse Creek by firefighters. The back burn will consume fuel and act as a firebreak for the approaching main fire.



Scroll down for more photos.


Horse Creek Fire at 7,660 acres Friday eve
Grew 655 acres Friday, back-burns in progress
by Pinedale Online!
June 29, 2007

Notice: There will be a public meeting in Pinedale on Sunday, July 1, at 7PM at the Pinedale Library regarding the Horse Creek Fire.

Friday, June 29, 11:45 PM Update:
Firefighters working the Horse Creek Fire have been taking advantage of the winds from the southwest to do extensive back-burn operations along South Horse Creek to try and slow the southern progress of the fire and hold it from jumping south of South Horse Creek.

A spot fire crossed south of the creek Friday, but firefighters were able to put that out. Helicopters lit back-burn fires to try and eliminate fuel for the fire to burn if the wind switched back to blowing from the North. The purpose of the back burns are to lessen the chance of any more fire jumping South Horse Creek. Much of the large flames visible today along South Horse Creek were due to the intentional back-burn efforts with fires set by helicopter drip torches. One finger of fire made it over Prospect Mountain today and burned about 8 acres before firefighters were able to put it out. Crews are camping on South Horse Creek tonight watching for any signs of the fire crossing again.

The fire grew from 7,005 acres to 7,660 acres during the course of the day on Friday. It is being called 40% contained. There are 418 fire fighters working the fire, including 15 engines from US Forest Service, Sublette County, and National Park Service. Four helicopters: a Type I, 2 Type II, and a Type III; Five Type I hand crews, 7 Type II hand crews, two water tenders, and various overhead.

See the Inciweb website for more official information on the Horse Creek Fire. The Forest Service has been updating this site several times a day as new information comes in. There are also more photos and maps posted on this site: Horse Creek Fire (Inciweb)

We were told today that the fire danger on the Bridger-Teton National Forest has gone up from High to VERY HIGH. Stage I fire restrictions are expected to go into effect on Tuesday, July 3rd.

The Forest Service will be holding a public meeting in Pinedale on Sunday, July 1, at the Pinedale Library about the Horse Creek Fire.

New Maps and Photos:

Panorama of Horse Creek Fire on Friday, June 29:
View of the fire taken from the cutoff road between the Horse Creek Road and Ryegrass Road on Friday afternoon, June 29, 2007. The panorama photo shows the view from Triple Peak to Merna Butte. From left to right, the view is looking Southwest, West, Northwest and North. View includes Triple Peak, North Cottonwood Creek, McDougal Gap and Mt McDougal, Prospect Ridge, South Horse Creek, Jewett Elk Feedground, private home threatened by the fire, Lookout Mountain and Merna Butte. This is a 700K file, which may be slow to load for those using dial-up internet connections. Photos by Clint Gilchrist, Pinedale Online!
Fire Panorama
(Scroll right to see entire panorama picture)
Caution: large file (700K)

Horse Creek Fire Infrared Imagery Fire Perimeter Map on Friday, June 29, 2007:
Note: This is a large file, 8.1 MB. Viewers using slower internet connections may find this file takes a long time to download. PDF requires Adobe Acrobat Reader to view. USFS graphic.
June 29 Fire Perimeter Map
Caution: large file (8 MB PDF)

Horse Creek Fire Photo Galleries:

Thursday, July 28 photos:
Fire crosses from Elk Ck into S Horse Creek (7 photos)

Thursday, June 28th evening update.
Photos from Tuesday and Wednesday (30 pictures)

Monday and Tuesday, June 25 & 26:
Horse Creek Fire pictures from Monday and Tuesday, June 25 & 26 (15 photos)

Saturday, June 23:
Horse Creek Fire Photo Gallery - June 23rd (38 photos)
__________________________________________
Photos on this page by Allene Dana and by Clint Gilchrist, Pinedale Online!




Related Links
Horse Creek Fire - Inciweb (fire info uploaded by Forest Service)- Updates, Photos, Maps