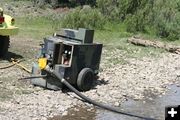 Pump in stream

A pump takes water from Horse Creek to refill tanks in the pumper trucks working the blaze.



Burn area

The fire quickly burned through this area on Thursday, with the fire growing from 30 acres to over 600 in just a couple of hours.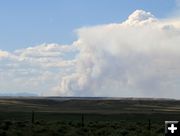 Fire on June 21

The Horse Creek Fire started on Thursday, June 21, putting up a large column of smoke. This view is from 25 miles away, from just north of Marbleton.



Scroll down for more photos


Horse Creek Fire - Photo Gallery
Fire danger raised to HIGH
by Dawn Ballou, Pinedale Online!
June 23, 2007

Editor Note: See June 26, 2007 - 9:00 pm update for more recent information and pictures.

The Horse Creek Fire is burning on the Big Piney Ranger District of the Bridger-Teton National Forest. It is approximately 20 miles west of the town of Daniel, burning on the north and south sides of the Horse Creek Road.

STATUS: As of around 3:00 PM on Saturday, June 23, the fire was approximately 765 acres in size and was being called 10% contained. According to Mark Randall, Incident Commander on the Initial Attack, fire managers do not have any projection yet for when this fire might be called controlled.

The fire started around 3:00 PM on Thursday, June 21. There are no trail closures at this time. For fire fighter and public safety, the road is closed to public travel beyond the Horse Creek Snowmobile Parking Lot. Sublette County Sheriff's Office deputies are manning the road block, which is in place for public and fire fighter safety. Most of the fire fighting activity is basing off the Horse Creek road west of Sherman Guard Station.

There are no structures threatened at this time. If the fire were to spread, there are old tie hack cabins interspersed in the forest that may be at risk on National Forest land, but are not presently threatened.

Fire camp is being set up in the vicinity of the snowmobile parking lot. There are currently around 200 firefighter personnel at the site.

The fire intensity has been picking up in the afternoons due to warm-up from the heat of the day and increasing afternoon winds. Because of the terrain and spotting, it is difficult to get a solid hand or dozer black line around the fire at this time. Ground crews are being supported by the 3 helicopters to attack new spot fires and try and prevent the fire from going over the south ridge into the next drainage.

FIRE BEHAVIOR: Some extreme fire behavior has been observed since the fire began. Warm temperatures and afternoon winds are working to spread the fire. The majority of the fire is on the north side of the Horse Creek Road. Torching trees in places is sending sparks over to the south side of the drainage and causing isolated spot fires 1/4 to 1/2 mile ahead of the main fire. The fire is creeping through previously burned areas of the old Mule fire and cleaning up fuels in that area. In other areas with more tree coverage, the fire is making occasional short crown runs. On Thursday, the fire grew quickly and 100 foot flame lengths were reported.

RESOURCES: Resources on the fire include 200 fire personnel, 10 fire engines (USFS, Sublette County and National Par Service), 3 helicopters (Type I, Type II and Type III). Personnel consist of 5 hand crews (including Centennial Type II Initial Attack, Big Horn Basin Type II, Teton Interagency Type II Initial Attack) 2 Sublette County Road & Bridge dozers and various overhead (including Pinedale and Big Piney Ranger District personnel). Two Type I Hot Shot crews are part of the hand crews working spot fires (Logan and Bonneville).

OBJECTIVE: This fire is being managed for suppression. Fire managers want to keep the blaze east of the Pass Creek Road and between Horse and Pass Creek.

CAUSE: The cause of the fire is still undetermined and currently under investigation. The fire appears to have started near the road, but no obvious cause has yet been identified. There are dispersed campsites in the vicinity of where the fire started, but no determination has been made as to whether the fire was human-caused, originated from one of the campsites, or started due to a lightnig strike in the vicinity.

FIRE DANGER RAISED TO HIGH: Fire danger was raised from Moderate to HIGH today. There is little prospect of wetting rains in the weather forecast over the next few days to help crews put out this fire.

CLOSURES: There are no closures at this time. The Forest Service is asking that traffic on Horse Creek Road be limited to fire personnel only for fire fighter and public safety.

MORE INFORMATION: For more information about this fire, contact Mary Cernicek with the Bridger-Teton National Forest, (307) 739-5564.

Below is the overhead team working the Horse Creek Fire:
Tristan Fluharty - Incident Commander Type III (BTNF West Zone Fuels AFMO, Kemmerer Ranger District)
Mark Randall - Type III IC Trainee (BTNF East Zone Fuels AFMO, Pinedale Ranger District)
Justin Kaber - Operations Section (BTNF East Zone Suppression AFMO, Big Piney Ranger District)
TJ Hunt - Agency Representative/Division Supervisor (Sublette County Fire Warden, Daniel)
Ben Franklin - Division Supervisor (Sublette County, Daniel Volunteer Fire Department)
John Ball - Division Supervisor (Sublette County Asst. Fire Warden, Big Piney/Marbleton Volunteer Fire Department)
Dana Stone - Logistics Chief (State of Wyoming Forestry Department)
Lisa Elenz - Plans Section (Grand Teton National Park Fire Management Officer, Moose, WY)
Dan Oles - Plans Section (Bureau of Land Management GIS Specialist, Kemmerer)
Anita Douglas - Finance Section (BTNF, Pinedale Ranger District)
Debbie Chapin - Finance Section (BTNF, Big Piney Ranger District)

Photos by Dawn Ballou, Pinedale Online! Special thanks to Mark Randall, Pinedale Ranger District, and Nan Stinson, Big Piney Ranger District Fire Public Information Officer, for their help and contributions to this story.




Related Links