Teton COVID-19 spike

Data from Sept. 22, 2021 to January 14, 2022. Data from the Wyoming Department of Health for Teton County, Wyoming.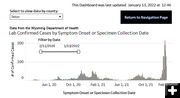 COVID-19 in Teton County

Cases as of January 14, 2022. Their alpha and delta earlier surges are dwarfed by the latest (omicron?) case spike due to the graphing scale. Teton County is overall 86% vaccinated.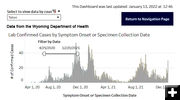 Teton County pre-surge

Data pre-December 20th surge looks like other county charts showing case peaks in Wyoming. Note left hand scale showing # of confirmed cases only goes up to 50.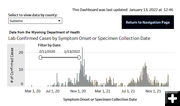 Sublette County COVID-19 cases

For comparison, as of January 13, 2022 showing alpha and delta case spikes in the neighboring county to the south. There is a small uptick in cases in December 2021/January 2022, but nothing like what Teton County is experiencing. Sublette County population is 34% vaccinated.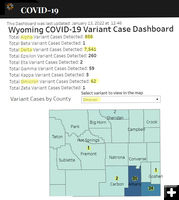 Omicron in Wyoming

As of January 14, 2022. No test data showing omicron in Teton County. Wyoming Public Health believes this is just due to a lag in the lab sequencing test result data.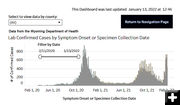 All Wyoming

Data as of January 13, 2022. In all counties except Teton, the new case spikes have not surpassed both earlier case spikes.


Vaccines not stopping the spread of COVID-19 in Teton County, Wyoming
by Pinedale Online!
January 16, 2022

In Teton County, Wyoming, which has the highest vaccination rate in the state, COVID-19 cases skyrocketed at the end of December 2021, to numbers many times higher in their county than at any time during the two years of the pandemic. Those high case counts have continued into mid-January 2022.

The Wyoming Department of Health (WDH) insists they believe the bulk of Wyoming's current cases, including Teton County's recent surge in case numbers, are due to the omicron variant. To date, testing numbers have not backed that up. There are currently only 63 tested positive cases lab sequenced as omicron in Wyoming, almost all in the southeast corner of the state, compared to over 7500 delta cases. There have been no verified sequenced omicron cases in Teton County in the month since cases have started to be reported in the state. WDH insists this is only because the lab test variant sequencing data is delayed and has not yet caught up with the real time case number data.

The thing that is curious about Teton County's data is the huge spike in case numbers which started around December 20th, 2021, despite their high population vaccination rate. Teton County is the most vaccinated county population in the state of Wyoming, and they have had the longest lasting health restrictions and mandates of any county in the state. And people there have complied. The latest infection spike was orders of magnitude greater than spikes shown for the same time period in any other county in the state.

Teton County has 86% of their entire population vaccinated. Over 95% of their adult population age 18 and older is vaccinated. 42% of children age 5-11 are vaccinated in Teton County, 86% of their children age 12-18 are vaccinated, and 89% of their seniors age 65+ are vaccinated. (Data from the Wyoming Department of Health)

Teton County Public Health shows that they have given 21,290 1st doses, 19,528 2nd doses and 8,216 3rd doses of Pfizer/Moderna vaccine (county population 23,464). They have had 2,035 new cases of COVID-19 in the past two weeks (as of January 14, 2022). They have done 121,658 COVID tests in the county with a 17.6% positivity rate. 50% of their cases have been deemed through community spread. Their alpha spike high was 54 cases in a day on November 9, 2020. Their delta spike high was 38 cases in a day on September 13, 2021. Their high in the December 2021 (presumed omicron) spike was 214 cases in a day on January 4, 2022 (which may be an artifact of the New Year's holiday delayed data reporting. January 10th high count was 187 cases in a day.)

The bulk of their positive COVID-19 cases are in the 19-39 age range. No one has yet said their explosively high case rate is due to their high vaccination rate, but the question is obvious. Maybe it's omicron, maybe it's still delta or something else - we have to wait for the lab testing sequencing data to definitively answer that. We're a month into their surge with no positive omicron test results in that county to date.

When President Biden issued his Executive Order on September 9, 2021 requiring COVID-19 vaccines for all federal employees he wrote, "The Centers for Disease Control and Prevention (CDC) within the Department of Health and Human Services has determined that the best way to slow the spread of COVID-19 and to prevent infection by the Delta variant or other variants is to be vaccinated." It is quite evident now that vaccines are not working to slow the spread of COVID-19 or preventing infection in Teton County, the most vaccinated county in the state of Wyoming. This is not a pandemic of the unvaccinated there.

Fortunately, Teton County has had no new reported deaths in quite some time (14 total reported deaths in that county to date in two years due to COVID-19) and St. John's Medical Center in Jackson reports just three COVID-19 patients as of January 13, 2022. It is unknown if those patients are there because of COVID-19 or they are there WITH COVID-19. (In other words, they went into the hospital for another reason but tested positive for COVID-19 when they got there, so were counted as a covid case.) This is encouraging data to support the belief that the vaccines are helping reduce the severity of illnesses and reducing the number of people having to be hospitalized due to the virus.

So the bad news is it appears everyone now will probably get some version of COVID-19 eventually, including the multi-vaxxed. The good news is that it appears omicron is much milder than the earlier two strains. To date we could only find one reported death in the U.S. due to omicron, despite the CDC saying 95% of new cases now are due to it. Reports out of Britain are now indicating their omicron cases may have peaked and their daily case counts appear to be declining.

We hope that Wyoming Public Health will make it a priority to do more concerted lab sequence testing of positive COVID samples from Teton County to determine if these new case spikes are omicron or something else, so we have that actual data instead of them speculating. We highly believe their educated guessing is probably right that the new wave is probably omicron, we'd just like to see the lab data to confirm it. Teton County could be a leading indicator of what the rest of the state might be facing in the next couple of weeks, and that lab data is essential to determine what is actually going on.