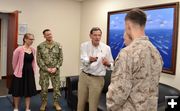 In Bahrain

Sen. Barrasso with Wyoming service members serving in Bahrain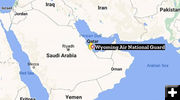 Bahrain

Map showing where WY service members are currently stationed


Senator Barrasso shares Thanksgiving dinner with Wyoming Troops in Bahrain
by U.S. Senator John Barrasso media release
November 26, 2021

BAHRAIN – On Thanksgiving day (Thursday, November 25, 2021), U.S. Senator John Barrasso (R-Wyo.) shared dinner with Wyoming sailors and Marines serving in Bahrain.

Barrasso visited with service members who are currently stationed at Naval Support Activity (NSA) Bahrain, which is home to U.S. Naval Forces Central Command (CENTCOM) and U.S. 5th Fleet. NSA Bahrain provides operational support to U.S. and Coalition Forces in the Middle East and ensures the security of ships, aircraft and remote sites.

"In Wyoming, we are always so grateful for the brave service of our men and women in uniform. This includes our sailors and Marines who are serving ten time zones away from home right now in Bahrain," said Barrasso. "They're eyeball to eyeball with Iran in the Persian Gulf and are doing an incredible job protecting America and our allies. Bringing a little bit of Wyoming to our troops serving overseas on Thanksgiving is a tradition I look forward to every year. I made sure to let them know that everyone at home is thinking of them and looking forward to their safe return."

Barrasso sat down for Thanksgiving dinner with service members and was briefed by military officials about operations in the Persian Gulf.