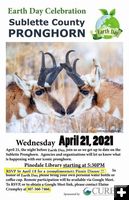 Sublette Pronghorn talk

April 21, 2021 at the Pinedale Library. Please RSVP by APRIL 18, 2021 (revised date) so they can get a head count for meals.

Sublette County Pronghorn talk April 21
Earth Day Celebration
April 12, 2021
April 21, the day before Earth Day, everyone is invited to a presentation to get up-to-date on the Sublette pronghorn. Agencies and organizations will be on hand to provide information. The event will begin at 5:30PM in the Pinedale Library. Please RSVP by Thursday, April 15th for a picnic dinner, or bring your own picnic. In honor of Earth Day, please bring your own personal water bottle or coffee cup. Remote participation will be available via Google Meet. To RSVP, or receive the Google Meet link, please contact Elaine Crumpley at 307-360-7466. This event is sponsored by Citizens for Responsible Energy Development (CURED).