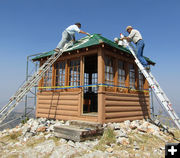 Painting the roof

Pictured from left to right are Dave Vlcek painting the 8, Clint Gilchrist in the back, and Bob Beiermann on the second ladder. Photo by Dawn Ballou.


Working on Deadline Ridge Lookout
by Dawn Ballou, Pinedale Online!
September 13, 2020

Members of the Sublette County Historic Preservation Board went up to Deadline Ridge Lookout on Sunday, Sept. 13, to do some repair work to shakes and touch up the paint on the roof. The giant 8 on the roof is so aircraft flying over can identify the lookout. This historic fire lookout tower is located at about 10,000 feet elevation in the Wyoming Range on the Big Piney Ranger District of the Bridger-Teton National Forest. It was built around 1941 by the CCC Corps as part of a network of towers that was the early Forest Service wildfire detection system. This lookout operated into the late 1960s. The members of the Historic Preservation Board have spent many summers doing restoration work on the historic lookout.