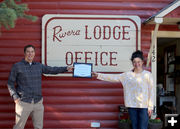 Rivera Award

Darren Hull of the Sublette County Chamber of Commerce presents the award to Rivera Lodge Bed & Breakfast owner Emi Domoto-Reilly for her exceptional work to protect guests from the spread of COVID-19.


One New Case, Plus Antibody Test Results
by Sublette COVID-19 Response Group
September 4, 2020

Sublette County has recorded only one new lab-confirmed case of COVID-19 in the last 10 days. So far during the pandemic, the county has had 40 confirmed cases, 9 probable cases, and the death of a county resident who contracted the virus and passed away while staying in an out-of-state care facility.

While most COVID-19 patients have been able to recover at home, one person remains hospitalized. Sublette County Public Health reports that there are currently 7 people in isolation or quarantine in the Pinedale and Daniel areas.

The slow increase in coronavirus cases in the county demonstrates the people of Sublette County are working to keep the economy and schools open by taking steps to slow the spread of COVID-19 in the county. Those steps include staying home while sick, maintaining social distancing, wearing face coverings, washing hands often, covering coughs and sneezes, and regularly disinfecting surfaces and frequently touched objects.

Excellence Award
This week the Sublette COVID-19 Response Group presented a certificate of excellence to Rivera Lodge for maintaining consistently high operational standards in protecting staff and customers from the spread of COVID-19. Well done!

Symptoms?
Patients experiencing symptoms of COVID-19 can call the medical clinics in either Pinedale (307-367-4133) or Marbleton (307-276-3306) to schedule an appointment for a COVID-19 test, which are available daily at both clinics. For those without insurance, call Public Health at 307-367-2157 to learn if you qualify for a free test voucher.

The Sublette County Rural Health Care District reports that there have been 457 COVID-19 tests completed from Sublette County, with 11 pending results from the state health laboratory.

Antibody Tests
Antibody testing is also being offered at both clinics in Sublette County. This test is to see if you have had the virus in the past. Call either clinic to schedule an appointment for the blood draw. The $50 testing fee must be paid at the time of service.

There have been 212 antibody tests completed in Sublette County, with 17 positives, for a positivity rate of 8%.