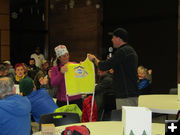 Getting the Yellow Leader Bib

Race Director, Dan Carter, awards musher Anny Malo the yellow Leader bib for winning the Alpine Stage of the race that day. She wore the yellow during the Pinedale Stage on Sunday in the Upper Green. Malo is from Quebec, Canada and she was the winner of the 2019 Pedigree Stage Stop Race. Photo by Dawn Ballou, Pinedale Online!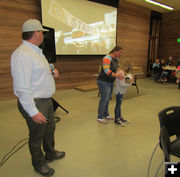 Pinedale Junior Musher

Pinedale race coordinators Randy and Katie Williams introduce a very shy Junior musher for Pinedale Koriann Shepherd.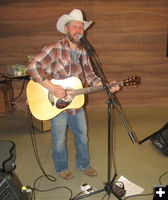 Jared Rogerson

Local musician Jared Rogerson played during the 2020 Pinedale musher banquet.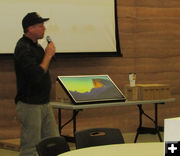 Race Director Dan Carter

Race Director Dan Carter introduced the mushers. Beside him is a photo of Square Top Mountain that was donated by Dave Bell that would be given to the winner of the Pinedale Stage.


Here Come the Dogs!
2020 Pedigree Stage Stop Sled Dog Race
by Pinedale Online!
February 2, 2020

The 2020 Pedigree Stage Stop Sled Dog Race kicked off in Jackson, Wyoming on Friday, January 31st. This premier "stage" format sled dog race is hosted by the areas local communities, with stages in Jackson, Alpine, Pinedale, Kemmerer, Big Piney/Marbleton, Lander, Driggs Idaho, and Teton County Wyoming. Teams race on public lands of the Bridger-Teton, Shoshone, and Caribou-Targhee National Forests, competing for $165,000 in prize money and the elusive title of "Stage Stop Champion." This year is the 25th Anniversary of the race.

The Pinedale Musher Banquet was held in the Lovatt Room of the Pinedale Library Saturday evening, February 1st. Local musician Jared Rogerson played live music during the event. Food was provided by Old Stones Country Pizza. Musher Anny Malo was presented with the yellow Leader bib during the Pinedale dinner which she wore during the Pinedale leg of the race the next day. Milo was the overall winner of the 2019 Pedigree Stage Stop Race. Pinedale has been a sponsor of this sled dog race for all 25 years it has been held. Pinedale race coordinators were Randy and Katie Williams. Each musher was given a special mug from Pinedale. Local photographer Dave Bell donated a beautiful photograph of Square Top Mountain that was to be given to the winner of the Pinedale Stage Stop. Swan Valley elementary students created the table centerpieces for the banquet.

On Sunday, race day for the Pinedale Stage, the events took place at the Upper Green, north of Cora, where the loop race course took team up the scenic groomed snowmobile trail along the Green River deep into the Upper Green. Kendall Valley Lodge, located nearby, had breakfast and lunch specials. Ridley's Family Market donated 200 donuts to have on hand at the starting line for the Pinedale Stage Stop race morning.

From Pinedale, teams headed to Kemmerer for that leg of the race. From Kemmerer, teams return to Sublette County for the Big Piney/Marbleton Stage of the race. The Big Piney/Marbleton Musher Banquet is Monday, February 3rd at the Marbleton Senior Center, 6:00PM. The race on Tuesday, February 4th, takes off from the Middle Piney parking lot. After the Big Piney/Marbleton leg, the teams head to Lander. Big Piney/Marbleton race coordinators were Bob Beiermann and Sherri Redden.

Junior musher for Pinedale was Koriann Shepherd.
Junior musher for Big Piney/Marbleton was Charlie Knotts.

Supporters for the Pinedale Stage Stop were:
• Town of Pinedale
• Kendall Valley Lodge
• Northern Title Company
• Pinedale Auto Supply/NAPA
• Proactive Rehab & Fitness
• Hamner Livestock
• Best Western Pinedale Inn
• Bucky's Outdoors
• Benchmark Plumbing & Heating Inc
• Rocky Mountain Fence
• Tri- County Sanitation
• Los Cabos Mexican Restaurant
• JD Butler Construction
• Paws In The Winds- Pet Boarding and Day Play
• Sublette Center
• The Garage Gym
• Pinedale Rocky Mountain Power
• Pinedale Lumber
• Black Mountain Rentals
• Auto Doc
• Flow Right Plumbing & Heating
• Great Outdoor Shop
• High Mountain Real Estate
• Sublette BOCES
• A to Z Hardware
• Baymont Inn & Suites
• Bousman CPA
• C. Roberts Trucking
• Creature Comforts Pet Shop
• Flugel Welding Inc
• Gannett Peak Lodge
• Geared Up
• Iron Kitchen Weightlifting Club
• Jay Fear Real Estate LLC
• Lake Side Lodge
• Log Cabin Motel
• Peter Scherbel State Farm
• High Mountain Taxidermy
• Pinedale Medical Center
• Pitchfork Fondue Western Cookout
• Ridley's Market
• Wyoming Mountain Photography Dave Bell

Supporters for the Big Piney/Marbleton Stage:
• Marbleton Inn
• Hughes Enterprises Inc.
• Surveyor Scherbel Ltd.
• Town of Big Piney
• Town of Marbleton
• Western Veterinary Services
• Big Piney Elementary 3rd Grade Class
• Meadow Canyon Ready-Mix Inc
• Southwest Sublette County Pioneers
• Wayne's Hot Oil Service Inc
• Tegeler & Associates
• Obo's Market
• Town of LaBarge
• Office Outlet
• LaBarge Elementary 3rd Grade Class
• Big Piney High School Band
• USFS Big Piney Ranger District
• Waggers 4-H Club
• The Bench Grill
• Big Piney Medical Clinic
• RS Bennett Construction Company Inc.
• Big Piney, Wyoming

2020 Racers:
#1 - Lina Streeper from Fort Nelson, British Columbia, Canada. Age 35.
#2 - Austin Forney from Leadville, Colorado. Age 38.
#3 - Chris Adkins from Sand Coulee, Montana.Age 51.
#4 - Tim Thiessen from Leadville, Colorado. Age 36.
#5 - Jeff Conn from Ester, Alaska. Age 67.
#6 - Anny Malo from Quebec, Canada. Age 48.
#7 - Fernando Ramirez from Peoa, Utah. Age 34.
#8 - Alix Crittenden Bondurant, Wyoming. Age 32.
#9 - Allan Berge from Glenrock, Wyoming. Age 47.
#10 –Linda Pierce from Okanogen, Washington. Age 61.
#11 - Rachel Courtney from Caliento, Manitoba, Canada. Age 27.
#12 – JR Anderson from Buyck, Minnesota. Age 40.
#13 - Maria Torgerson from Red Lodge, Montana. Age 17.
#14 - Elliot Rivest from St-Zιnon, Quιbec, Canada. Age 15.
#15 - Doug Butler from Middlebury, Vermont. Age 65.
#16 – Bruce Magnusson from Newberry, Michigan. Age 56.
#17 - Ben Barrett from Middlebury, Vermont. Age 21.
#18 - Rafael Nelson from Wayland, Michigan. Age 29.

Click on this link for the race schedule, photos, and daily updates: www.wyomingstagestop.org