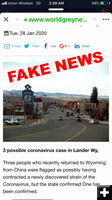 Fake News

This is a fake news story circulating on social media.


Beware of fake news about Coronavirus in Lander, Wyoming
by Pinedale Online!
January 29, 2020

K2 Radio News in Casper posted a news story on their website cautioning that a post going around on social media saying there are cases of Coronavirus in Lander, Wyoming is fake. There are no known or suspected cases of the virus in Wyoming. The post was generated from a website that allows people to intentionally generate "fake news" to prank their friends. The website, worldgreynews.com, has links to fake stories that redirect the reader to riskware or malware.

The domain for the website originates out of Serbia/Kosovo with .rs (Russia) as the country code of origin. The contact information for the creators of this fake news website has all been redacted from the WHOIS lookup. It is not known who originally posted the fake news story about Coronavirus in Lander, but many people have spread the story over social media recently, adding to confusion and fear mongering over a growing potentially serious international health concern.

The public is cautioned that in today's world it is very easy to create untrue news content, either maliciously or in the name of 'fun', and spread it vastly over social media. Photos can be stolen or easily altered to create false content for fake stories. Audio clips can also be realistically faked with claims to have been spoken by an individual, but be totally untrue. There is no umbrella government agency or organization to police and pull these false stories from social media. Each of us needs to be our own media police with our own BS Meter on the stories we take in, believe and spread. In the case of claims on the Coronavirus, check the CDC and Wyoming Department of Health websites as resources for correct current information.