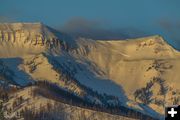 Fault line

Avalanche faultline forming in the snow on Ramshorn in the Hoback Range mid-January. Photo by Dave Bell.


Avalanche Danger Considerable
by Pinedale Online!
January 20, 2020

The Bridger-Teton Avalanche Center is reporting 'Considerable' avalanche danger in the mountains of western Wyoming at this time. The area received about 10 feet of snow in the latest round of storms in mid-January. The fault line shown developing in the snowpack on Ramshorn in the Hoback Range is definitely a big deep slide. Today's snowmobiles can probably climb this slope with their power and incredible design. This is trouble waiting to happen for sure. On Wednesday, Jan. 15, a snowmobiler was fully buried in a terrain trap in the Horse Creek Drainage in the Wyoming Range. Luckily, another party witnessed the event and performed a successful rescue. An 18-year old man in Utah was killed on Saturday, January 18th after being buried under six feet of snow in an avalanche north of Salt Lake City, despite wearing an inflatable backpack and carrying an avalanche beacon. Large to very large persistent deep slab avalanches remain a serious concern at all elevations, according to www.jhavalanche.org.