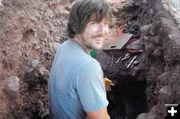 Dr. Spencer Pelton

Dr. Spencer Pelton was named new Wyoming State Archaeologist in November 2019.


Archaeology talk Jan. 21 in Pinedale
Paleoindian red ocher paint quarry in Wyoming
by Upper Green River Basin Chapter WAS
January 15, 2020

The Upper Green River Basin Chapter of the Wyoming Archaeology Society will be having a meeting on Tuesday, January 21st, at 6:30 pm at the Museum of the Mountain Man in Pinedale. There will be a short business meeting followed by a presentation by Dr. Spencer Pelton, the new Wyoming State Archaeologist. Everyone is welcome for the free program.

PRESENTATION: "The Powars II Paleoindian Red Ocher Quarry, located in Sunrise, Wyoming, is the only identified Indigenous paint mine in North America" by Spencer Pelton, Wyoming State Archaeologist

The site was discovered in the historic era around 1940, but hasn't been the subject of intensive archaeological inquiry until the last several years. Recent excavations have yielded a large assemblage of early and middle Paleoindian artifacts spanning Clovis to Hell Gap times (ca. 13,000 to 11,000 years ago). This presentation will summarize the history of investigations at the site, major findings from recent excavations, and ongoing historic preservation efforts at the site.

Spencer Pelton received his PhD from the University of Wyoming in 2018 and became the Wyoming State Archaeologist in November 2019. Spencer primarily researches the early Prehistory of the High Plains and Rocky Mountains, but also maintains interests in global human dispersal and the peopling of the Americas. Spencer conducts excavations at several Paleoindian sites in Wyoming, most recently at the Powars II ocher quarry and the Sisters Hill site. Spencer splits his time between Laramie and Douglas, WY with his wife Hallie and their dog Cashew.

UPCOMING MEETINGS: Please visit www.sublette.com/was for information about upcoming presentations. We already have speakers scheduled and posted for February and April meetings, and will post March when available.

MEMBERSHIP: Dues for 2020 membership are due by end of March. $20/Individual, $25/Family. If you would like to be a member and have not paid yet this year, please bring payment to the January, February or March meetings, or print and mail the membership form (http://www.sublette.com/was/pdf/Membershipform.pdf) along with your dues. Membership dues help support WAS efforts at the state and local level including paying travel for speakers to come here to give great presentations.