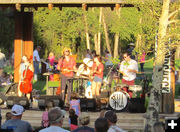 Kuinka

The band Kuinka, from Seattle, performed on Friday at the Wind River Mountain Festival in Pinedale.

Wind River Mountain Festival Schedule of Events
July 19, 2019
Go to www.windrivermountainfest.com for more details and current information.

FRIDAY, JULY 19
8:00 AM - 12:00 Noon: Vendor booth check-in and setup (check in at Wind River Mountain Festival booth)
12:00 PM Vendor booths open to the public
2:00 PM: Tip Top Search and Rescue compass course (start at TTSAR booth and bring your compass!)
4:00 PM Live music begins in the Gazebo:
4:00 PM: Inaiah Lujan
5:30 PM: The Lonesome Heroes
6:45 PM: Kuinka

SATURDAY, JULY 20:
8:00 AM - 10:00 AM: Lions Club Pancake Breakfast For everyone, not just 5K participants
8:00 AM - 9:00 AM: Vendor booth check-in and setup for Saturday exhibitors (check in at WRMF booth)
8:00 AM: Pathways and Pancake 5k Fun Run This is a pet friendly event (remember a leash). Free, no pre-registration. Register at 8:00AM at the American Legion Park on Saturday morning (on North Madison Avenue near the park restrooms).
Live Music:
4:00 PM: The Boom & The Bust
5:30 PM: Them Coulee Boys
6:45 PM: Dead Winter Carpenters

Sunday, July 21: Surly Pika Adventure Race
Race goes from 6:00 am - 6:00 pm.
2019 features two divisions: a six- and a twelve-hour race.
More info at www.surlypika.com/


Related Links
www.visitpinedale.org - Pinedale area visitor information. See the Visitor Center in downtown Pinedale or call 307-367-2242 for info.