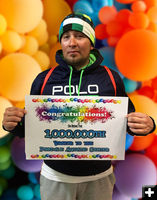 Gabriel Becerril

PAC patron Gabriel Becerril is the Pinedale Aquatic Centerís One Millionth Visitor.


PAC celebrates its One Millionth Visit
by Pinedale Aquatic Center
February 13, 2019

PAC started the 2019 year off with a milestone achievement -- our ONE MILLIONTH VISITOR! Congratulations to PAC patron Gabriel Becerril for earning the honor!

What does it take to make it to a million visits? A whole lot of visitors, a community dedicated to youth services and an active lifestyle, and a staff with endless creativity, dedication, and passion for recreation.

In the 10 years, 10 months, and 25 days it took to achieve the millionth visitor, PAC provided more than 3,700 days of recreational service to the residents and visitors of Sublette County!

During this time PAC welcomed over 300,000 adult visits, 100,000 senior visits (60+), 160,000 youth visits, and 22,000 out-of-county or guest visits. Additionally, PAC provided services for over 100,000 SCSD#1 student and staff visits including hosting dozens of swim meets, offering facility space and instruction for physical education classes, welcoming award parties, and providing a practice venue for many athletic teams.

The ten plus years also included a wide variety of programs, classes, and special events accommodating over 220,000 participants. From exercise specific classes and adult leagues to toddler programs, youth clubs, outdoor programs, and summer day camp, PAC has aimed to meet the recreational needs of the full community. Since February 2008, PAC has shared the importance of water safety with nearly 4,000 participants in our learn-to-swim lessons and has been proud to introduce over 1,700 young athletes, along with their parents, to the excitement of traditional sports.

This milestone, the visits, the programs, and the events, were all possible because of the support of our community. In fiscal year 2017-2018 alone, PACís programs were made possible by 192 volunteers who donated 1214 hours to the sharing of fitness and sport, much of which was focused around youth sports. Over the past 10 years, it is estimated that over 1,000 volunteers have been a part of PACís success, donating over 10,000 hours of service to recreation in the community. Coupled with the commitment for providing access to youth and the adoption of free youth, the community has shown its belief in promoting and living an active lifestyle.

PAC staff are a dedicated crew, with the current staff bringing a combined 204 years of PAC service to the community. It is our honor and privilege to serve Sublette County. We enjoy the creativity of recreation, the positive impacts of being active, the excitement and challenges of introducing new things, and the daily opportunity to inspire others. But more than anything, we enjoy seeing each of our patrons. Thank you to all of our visitors, from one to one-million. Thank you for choosing PAC! We look forward to the next million visits.