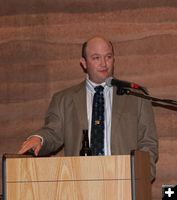 Brian Nesvik

In this 2011 photo, Brian Nesvik speaks at the Sublette County Chamber of Commerce annual banquet in honor of county commissioner and rancher Joel Bousman.


Nesvik appointed as WG&F Director
Former Sublette game warden gets top post
by Cat Urbigkit, Pinedale Online!
February 28, 2019

Wyoming Governor Mark Gordon has appointed Brian Nesvik as the next director of the Wyoming Game and Fish Department replacing Scott Talbott, who has retired. Nesvik was a game warden in Sublette County from 2005 to 2010, and became the agency's chief game warden in 2011.

"Brian Nesvik brings tremendous experience in dealing with wildlife management, endangered species and law enforcement throughout the state," Governor Gordon said.

"I am incredibly honored by this opportunity to lead a team of the best and brightest in managing world-class natural resources for the citizens of our great State," Nesvik said. "I am grateful for the Governor's appointment and will discharge my duties commensurate with the tremendous value Wyoming places in our outdoors, our fish and our wildlife."

Nesvik currently serves as the chief of the Wildlife Division for Wyoming Game and Fish. Nesvik's 24 years with the department have included stints as game warden throughout the state of Wyoming, regional wildlife supervisor in the Cody region and chief of the wildlife division.

Nesvik served as District Game Warden in Elk Mountain for seven years before being selected for the South Pinedale Game Warden District in western Wyoming.

Nesvik also took on responsibility as the department's lead mounted horse patrol instructor. In 2010, Nesvik was promoted to serve as the Cody Regional Wildlife Supervisor charged with overseeing a large staff of game wardens, biologists and administrative folks.

Additionally, Nesvik spent time working with biologists and wardens in some of the most remote country in the lower 48 states. After a short ten months, Nesvik was appointed to serve as Wyoming's Chief Game Warden and Chief of the Wildlife Division in 2011.

Nesvik has also served in the Wyoming Army National Guard since 1986. He currently serves as the Commanding General of the Wyoming Army National Guard and the Assistant Adjutant General holding the rank of Brigadier General. Nesvik has commanded Wyoming units on two combat tours to Iraq and Kuwait: the 2nd Battalion, 300th Field Artillery Forward in Iraq from February 2004 to April 2005, and the 2nd 300th Field Artillery in Kuwait from April 2009 to March 2010. He is a 1988 graduate of Cheyenne East High School and earned a bachelor's degree in wildlife management in 1994 from the University of Wyoming.