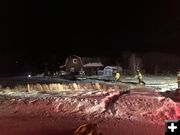 House fire

Photo courtesy Sublette County Unified Fire


Fire damages home in Barger
No one home, cause under investigation
by Sublette County Unified Fire
January 23, 2019

On Tuesday January 23rd, 2019 at approximately 3:49 PM, Sublette County Unified Fire responded to the report of a single family residence structure fire in Barger yesterday.

SCUF units from Battalions 1, 2, 4 and 6 –were all present during the suppression operations.

Wintertime conditions, such as deep snow and below freezing temperatures along with limited access to the scene presented challenges to the suppression efforts. A water shuttle operation was set up to ensure adequate water during suppression. The traffic was controlled on the road in front of the residence at times due to the fire apparatus and support equipment being set up on the road itself for the safety firefighters and of the public.

Once the fire was suppressed overhaul and cleanup operation continued on into the night. No one was home at the time of the fire. There were no injuries involved in the incident. The cause of the fire is still under investigation.