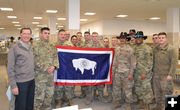 Wyoming soldiers in Poland

Photo courtesy Senator Barrasso's office. Update 11/30/18: We've had it pointed out that one of the people in this photo is from Pinedale. Standing just to the right of Senator Barrasso is Master Gunner Sgt. Ryan Duginski. He lived in Pinedale through middle school and graduated from Pinedale High School.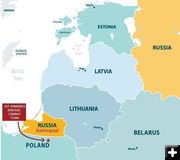 Map

Map showing where Wyoming soldiers are currently stationed.


Senator Barrasso spends Thanksgiving with Wyoming Troops
Stationed along Polish-Russian border
by Senator Barrasso's office media release
November 22, 2018

ORZYSZ, Poland – U.S. Senator John Barrasso (R-Wyoming) shared Thanksgiving dinner with Wyoming troops serving in Poland, near the Russian province of Kaliningrad. Senator Barrasso visited with members of the U.S. Army's 1st Armored Brigade Combat Team, 1st Cavalry Division stationed on the Polish-Russian (Kaliningrad) border. Wyoming currently has service members attached to the division, which is charged with assisting North Atlantic Treaty Organization (NATO) allies in deterring Russian aggression and increasing European border security.

"Sharing Thanksgiving dinner with Wyoming troops serving overseas is always a highlight of my year," said Barrasso. "Wyoming is blessed with so many men and women who have bravely answered the call to serve our nation. I had the honor of meeting some of them who are stationed near the Polish-Russian border. They are a long way from home, so it was a pleasure to bring a little bit of Wyoming to them this holiday season. As we count our blessings this Thanksgiving, I am grateful for the brave service of our men and women in uniform."

In addition to sharing Thanksgiving dinner with the troops, Barrasso toured training facilities and was briefed by U.S. and NATO military leaders on the status of their mission.