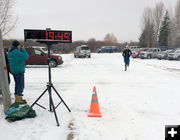 David Rule, fasterst time

David Rule takes first place in Turkey Trot (in the snow) with a time of 19 minutes, 48 seconds. Photo courtesy Bob Rule.


2018 Annual Pinedale Turkey Trot
by R. Craig Sheppard
November 24, 2018

182 registered turkey trotters toed the line for the 28th annual Pinedale Turkey Trot. The temperature was 25F degrees at the start of the race with a little wind and light snow. The light snow added another dimension to the elements of this beautiful 3-mile adventure on the "over the river and through the woods" course. However, the iconic Wind River Mountains backdrop was obscured by snow and clouds this year.

Ellen Sheppard was in charge of the hospitality garage and she had plenty of warm coffee and cold water ready for the early birds. A big thank you to Kirk Thomas of Salt Lake City, who usually runs this every year-but couldnít this year, provided the special coffee.

As usual there were all types of exercisers participating. We had participants from 3-month old Colton Walker to a couple of 70-year young trotters. We had walkers, runners, run/walkers, trotters, and baby strollers. A family trio of Jennifer, Clara and Jeremy Kunzman came in in an overall 5th place while pushing a stroller. Aaron Stewart once again rode his unicycle around the course in a remarkable time of 28:30. Shane Rogers was the first biker in 27:03.

There were people from 11 different states and 8 towns or cities in Wyoming. There were also plenty of dogs around to help pull their owners through the course. If we added the canines to our list of participants we would have been close to 230 involved.

Even though this is a fun run/walk we would like to recognize a few individuals. David Rule of Pinedale made it back into the winnerís circle, for the second year in a row, with a time of 19:48, followed by Kris Holmes in 21:40 and Joe Hockett (24:01) of Albuquerque, NM. Christen Thonhoff won the womenís division with a time of 26:26, followed by Amber Robbins (26:36). All of our hardy participants are winners for getting out and getting some exercise on such a perfect Pinedale morning.

The walking division is the hardest one to judge on whether they walked the entire course or ran and walked it, and it is definitely the largest division. This year the first true walkers were Don Jackson in 34:47 and Karen Stewart in 37:35, which was a personal record for her on this course.

This yearís high school division winner was Summer Lundberg (26:48) and Anthony Rigo (29:50). I think Anthony ran that fast because he was just in a big hurry to check out my silver tuba in the house when he finished.

This year there were a lot of young school-age participants. It is so good to see so many out doing physical activity. Many were in strollers when they first participated in this trot. Maybe someday they will be named as the winner of the Pinedale Turkey Trot. If not, just being out and pushing their limits on a beautiful Pinedale morning will be a great Thanksgiving memory.

I know there are many names not mentioned in this article, but it is fun to see so many friends, families, school alumni, former band students and visitors gathering to take in the beautiful scenery and fresh air of Pinedale. Thanks go out to the Pinedale schools for use of their tables, bull horn and cones; Pinedale Half Marathon for use of their timer; and also to the Pinedale newspapers, banks and Pinedale Online for advertising. I especially need to thank my wife Ellen for putting up with my many passions of which one is running the Pinedale Turkey Trot.

This was the 28th running of the Pinedale Turkey Trot and with all the favorable comments it seems to have developed into a great annual tradition for the Pinedale community and their Thanksgiving guests. Donít forget it is never too late to get in shape for the 29th annual Pinedale Turkey Trot which will be held Thanksgiving morning 2019 at the Sheppardís house at 9AM. See you then!

Photos courtesy Bob Rule.