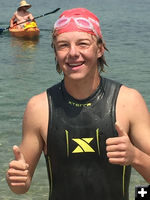 David Rule

David Rule completes his five hour 45 minute swim of 9-mile Fremont Lake. Photo by Karen Rule.

Swimming Fremont Lake
August 5, 2018
David Rule completed a 9-mile swim across Fremont Lake on Thursday, August 2nd. This was his third time of finishing the length of the lake. He did it in 5 hours and 45 minutes. His record was two years ago in 2016 at 5 hours and 35 minutes.

Safety crew for the swim were John Kelly on a boat alongside and Chase Harber in a Kayak. John has completed this swim in years past.

14-year old Sierra Hattan also attempted the swim this year along with David. She completed two miles, an impressive swim for her age.

Shown behind David in this photo is Chase Harber, part of Davidís safety crew. Photo by Karen Rule.