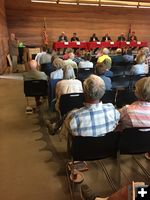 GOP Governor Forum

Sublette GOP primary election candidate forum in the Lovatt Room of the Pinedale Library on August 6, 2018. Photo courtesy Bob Rule, KPIN 101.1 FM Radio.

Sublette GOP concludes primary election candidate events
August 10, 2018
August 6th, 2018, all six Republican candidates running for Wyoming Governor came to Pinedale for a local forum. The candidates were Bill Dahlin, Foster Friess, Harriet Hageman, Sam Galeotos, Mark Gordon, and Taylor Haynes. The forum was conducted by State Senator Fred Baldwin from Kemmerer.

After the Pledge of Allegiance and prayer, each candidate shared opening remarks, followed by each answering questions, and then each gave their closing remarks. The public was asked to submit questions, and the local party thanked those who submitted questions.

Three candidates for US Senate also spoke - Dave Dodson, Charlie Hardy, and Anthony Van Risseghem.

To raise funds for the Sublette County Republican Party, a quilt donated by Deanne Bradley was auctioned. Foster Friess was the high bidder.

Nathan Winters, running for State Auditor, and Leland Christensen, running for State Treasurer, as well as many of the local candidates also attended.

Five of the Gubernatorial candidates also were in Marbleton at the senior center at 8 am for cinnamon rolls and coffee. Liz Cheney, running for US Representative; Dave Dodson and Charlie Hardy, both running for US Senate also attended. With an estimated 60 local people present, the crowd was given the opportunity to ask several questions of each group of candidates.

Several of the candidates also went to Rendezvous Pointe in Pinedale for lunch later that day, and a Meet & Greet following the noon meal.

The August 6th candidate functions concludes the scheduled Sublette County Republican Party primary election events. For anyone who missed the Governor or County Clerk/County Attorney forums, they were recorded and are available on the public Sublette County Republican Party Approved Facebook page. Sublette GOP encourages citizens to vote in the primary election on or before August 21st.

Thank you to Donna Shafer, Sublette County Republican Party Chairman, for her contribution to this story.