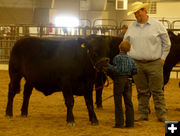 Judging

Sublette County Born and Bred Livestock Show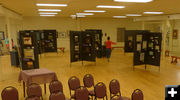 Art Show

Mixed Media Artists' 5th Annual Sublette County Fair Lynn Thomas Memorial Art Show


Sublette County Fair 2018
by Pinedale Online!
July 28, 2018

The 2018 Sublette County Fair was from Monday, July 16 through Sunday, July 29th, held at the Sublette County Fairgrounds north of Big Piney/Marbleton. The Sublette County Fair Board strives to provide wholesome, entertaining, and educational fair which enhances the spirit of community, supports and provides a venue for the 4-H and FFA programs, and showcases the rural heritage of Sublette County and the surrounding area. Exhibitors in the Fair are limited to youth enrolled in the Sublette County 4-H and/or FFA programs, except for the open class events. All animals entered in the Fair have been treated ethically and are under the inspection of a veterinarian for health checks.

Musical entertainment included Marty Davis performing western music. Small Town Legend, hailing from Sublette County, playing country, folk and popular styles. Headlining the music was a concert on Friday night by country western singer Michael Ray.

Other entertainment included Action Entertainment laser tag and bounce house, the West Coast Lumberjack Show featuring chainsaw and crosscut saw skills, log rolling, and spar tree climbing. The Live Shark Encounter featured a large tank with real sharks and the host diving in and swimming with them, while explaining the importance of understanding the species. The X-POGO Stunt Team performed extreme high air pogo feats and stunts.

Livestock events included categories for cattle, sheep, goats, pigs, chickens and rabbits. 4-H livestock competitions included the Bred & Raised Market Lamb Show, the Bred & Raised Market Beef Show. In these competitions, the animals must be bred and spend the summer and fed out entirely in Sublette County or LaBarge.

Fun competitions included the Greased Pig Contest, Pig Wrestling, Little Buckaroo Rodeo, Chocolate Dessert Bake-Off, the 4th Annual Sublette County Cornhole Championship,

Horse events included an Open 4-D barrel race, Open Jackpot Team Roping, with the highlight being the Horse Pulls on Saturday evening presented by the Utah Horse Pullers Association.

Demonstrations included the stock dog trials with demonstrations of canine skills with both cattle and sheep. Competitors must have their dogs herd the livestock on a challenging course, being judged on points and time.

Open Class categories included fruits & vegetables grown outside and in greenhouses, cut flowers and floral arrangements, needlework and sewing, quilts and wall hangings; culinary arts featuring cakes, breads, cookies and pies, jellies and canned preserved foods; crafts, ceramics and pottery, wood and metal craft..

The local Mixed Media Artists group held their 5th annual Lynn Thomas Memorial Art Show & Sale. The art show was set up for display from the 23rd through the 26th. There were categories for beginners and amateurs for painting, sculpting, and photography. They held a Quick Draw and Reception on Saturday, July 28th with professional artists competing a painting in just one hour. Many local businesses and individuals committed to purchasing a piece of artwork at the show.

Fun competitions included a Painted Rock Contest sponsored by JL Gray Rock Shop in Marbleton. The Recycled Western Art Contest was a chance to create a sculpture or piece of art incorporating any recycled wester items such as hats, boots, ropes, stirrups, feed bags, horseshoes, etc. Categories included most creative, most used & recycled, Best use of Fair Theme ("Windmills and Wagon Wheels")

Vendors provided great food, booths selling products, and information. Local politicians running for office also had a presence with booths and signs. The 4-H Foundation put on a Buyer's Appreciation Luncheon on Saturday before the Livestock Sale.

Special thanks to top-level entertainment Jonah Energy and Exxon Mobil Corporation. Additional sponsors include The Den Restaurant & Bar/Daniel Junction, Milleg Ranch, Animal Clinic of Pinedale, Nancy Espenscheid, Gary & Jennifer Rees, Wayne & Marsha Barlow, Alan & Donna Vickrey, Bucky's Outdoors, Get Western Electric, 1st Bank, Sublette County 4-H Council, Eddie & Cheryl Sackett, John & Jody Fear, JB's Welding & Excavation, and Windbigler Transport. Many other local area businesses donated items and gift cards for the raffle for the stock dog competition handler awards.