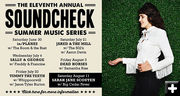 2018 Soundcheck

Free Summer Music Series presented by the Pinedale Fine Arts Council


4th of July concerts in Pinedale feature two Nashville duos
by Pinedale Fine Arts Council
June 26, 2018

Pinedale's Soundcheck Summer Music Series continues on July 4th with high-energy Nashville honky-tonk duo Sally & George. Special guests and fellow Nashville-based duo Freddy & Francine will open the show.

All Soundcheck shows are presented by the Pinedale Fine Arts Council (PFAC) and take place at American Legion Park in downtown Pinedale. Music starts at 5pm and all shows are free to the public.

This particular Soundcheck will coincide with the Town of Pinedale's annual 4th of July Picnic which takes place from 2pm-4pm and is free. So come early for free hot dogs and hamburgers (please bring a side), kids games and then stay late for a night of music and Pinedale's famous fireworks show at sundown!

The Nashville based duo, Sally and George, consists of Joel Timmons on guitar, percussion and vocals and GRAMMY nominated Shelby Means playing upright bass and singing. Drawing from their love for the classic duet styles of Johnny Cash and June Carter, Sally and George breathe life and love into the ever-widening world of Americana.

Freddy & Francine is an Americana-Soul duo comprised of Bianca Caruso & Lee Ferris. With voices reminiscent of Aretha Franklin & Van Morrison, their songs blend Soul, R&B, Folk, and Americana with a modern, yet timeless appeal to all ages.

For the full Soundcheck lineup and more info please visit www.pinedalefinearts.com.