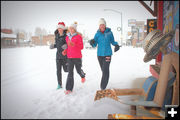 The Iron Guitar Player

The Iron Guitar Player from in front of Boondocks in Pinedale has gone missing. Please be on the lookout and report any information about whereabouts. (as of Feb. 28, 2018)

Terry Hill's Iron Guitar Player
February 28, 2018
Editor's update, March 1, 2018: Blue is safe and not missing.

Original post 2/28/18:
Terry Allen sent in this notice asking for help from readers:
"For years he has been a permanent fixture outside of Dan Abernathy's Rock Rabbit in Pinedale, Wyoming. Legendary Pinedale Musician Terry Hill welded him up and loaned him to Dan who chained him to a Western blues anchor out front where he has entertained many a local with The Whispering Blues...every time the wind blew. So far, we don't know if the Iron Guitar Player is on tour, has run away...or been kidnapped by desperado's making their escape thru Muddy Gap. Anyone who hears his boot heels clicking can let me know (txpartisan@gmail.com)...or call the Sublette County Sheriff's Office (307-367-4378). Please share this notice widely!"