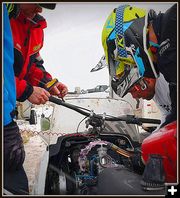 Racing Fuel Baptism

When all else fails, baptise the whole engine and say a few holy cuss words.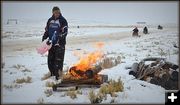 Racing Fuel Bonfire

Wyoming: Where we start bonfires with racing fuel and knock coconuts out of trees with dynamite.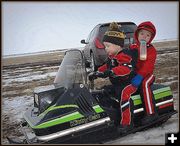 The Twins

Henry: I'm a racer! Pearson: I've got a chauffeur!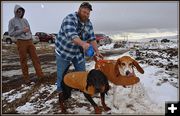 Carhart Dogs

Rooster and Midas. Midas is a Happy Endings Animal Rescue Dog.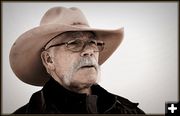 Ty Baxley

Came down outta the high country for the race.


One Lunger Vintage Snow Machine Race 2018
18th Annual Gathering held Feb. 3rd at Sagebrush Downs track in Cora
by Terry Allen
February 5, 2018

Ty Baxley was standing on a snow berm with his eyes fixed on the pack of buzzing vintage snow machines as they fought for the fast line around the finish curve. He was the only person in a cowboy hat so I sauntered on over to say hello. "I've been up on the WaPika (ranch) all winter and I figured I'd come down and see what was causing all the noise."

Just then a big round yellow machine bore down on us.

It was young Joe Shenefelt standing up as he drove by, wearing a green military flight helmet from the 50's, a sport coat, aviator glasses and cowboy boots. "Uh huuuh," said Ty in what I swear was a natural Gus voice from Lonesome Dove…and right then is when I clicked my shutter.

Mike Carrillo was stretched out on his machine like a sun-worshiper so I asked him what kind of racing we were going to see today. "We've got a one lap Kid's Mini Sled Race for those under 12 years of age, we've got a three lap for juniors, then we have a 10 lap/10 Mile Vintage Open Class for one and two cylinder sleds, we have a whole bunch of Hot Laps, and our main event is a 100 lap, 100 lap race for both single and twin cylinder snowmobiles, workes out to 52 miles or so."

Turned out Mike was waiting for Jay Fear to get the bidding started on the Calcutta. I went up to the booth to get a shot of Jay doing his auctioneering. While I was up there I heard him saying something like: "Mike Carrillo…$25…etc." and I told Jay I'd take that bet. Shoot, Mike is an engine Guru around here and I knew right away that was a great price. I went back down to talk with Mike about race strategy and that's when I learned he'd gotten the 1980 Ski-Doo for free. "Don't worry," he said. "I just gotta finish to win." Okay…

I took a picture of a pretty girl, and then I walked across to the middle of the track where Tip Top Search and Rescue were perched. Just before I got there, I fell into a badger hole and while the dirt was still falling into my eyes, I saw the hands of Kenna Tanner and her SAR partner Bruce Bartley from Alaska reach down and they pulled me out. Bruce lived in Alaska for 34 years and was with the Alaska Mountain Rescue Group. btw, the cabin that was a cookhouse that I mentioned a couple weeks ago. "That came from our ranch, the "John C," she said.

The aroma of grilling beef pulled me over to the Bradthauer tailgate and while I tried to get a focused shot of smoke, I was offered a big, thick juicy burger with onions. Yeah! They were over from Pocatello so their son Jarak could race. "I ride a 1980 Moto-Ski," he said. "It's pretty rare. My racing plan is to keep it wide open." He did good because he got first place in his class.

I decided I better eat before I shoot so just as I was taking a big bite, Taylor, riding a big yellow machine with #215 on it did a complete barrel role right in front of me. Taylor stayed in the saddle and just kept going like he'd planned the whole thing. "I didn't let go of the handle bars and it just jumped back up," he said. "It's a 1969 Olympic and I bought it from Mike Carrillo."

I found Buck Schouboe and his pit crew packing snow all around the engine of sled #69. "We've got to cool it down or it won't start back up," he said.

The pits were full of action. It was more like a MASH tent…fluids and discarded parts were flying everywhere. New and old parts were getting wired back on, pulleys were getting new pull ropes, carburetors were getting primed in a generous fashion, belts were getting replaced, girls were cussing easily, but it seemed more creatively than the men. In fact, cussing seemed like a tool some of them packed for the track. I noticed a couple of the women change the cuss in mid-cuss stride, but I told them to feel free, I wasn't going to mention names. There was so much racing fuel being splashed around and coming out of seals and hoses that just about every sled out there looked like a Molotov cocktail...so my notes probably weren't going to survive anyway.

Little Ciera who is now 5 years old showed me her medal and told me her racing secret. "I take a lot of Hot Laps, I control my speed and I eat a lot of Daddies pancakes and chocolate milk," she said.

Blaine Matthews was working feverishly as a pit crew member this year. "This kind of race is won in the pits," he said. "We keep the machines going the whole time. All the rider has to do is hold the throttle wide open, and once in a while do a spectacular recover. The rider just needs to stay on and keep the throttle smashed."

Kaili and Shania lost their Grandpa 5 years ago and were riding his sled in his honor. "It's a 1971 Ski-Doo that Grandpa used for ice fishing," said Kaili. A little while later I saw the girls riding tandem and they gave me a wave as they went by on the big curve.

The Trophy Girls brought out the awards and I heard them discussing that they were over-dressed and next year they might wear actual costumes of some kind.

The checks came out too, so I was busy taking photos when I heard my name announced and someone thrust a check into my hand. Somehow my horse, Mike Carrillo had won second place and second place paid money. Some days you just get lucky start to finish.

Thanks to Dawn Ballou of Pinedale Online for sponsoring this story.

The 2018 One Lunger Vintage Snow Machine Race was hosted by Snow Explorers/Altitude Off-Road Inc. For more information about the club, email: pse1271965@gmail.com

You are all welcome to share these photos personally among yourselves. I do sell hi-rez photos if you want them.
Terry Allen: Txpartisan@gmail.com