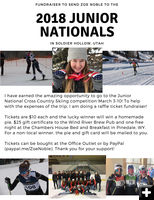 Zoe Noble fundraiser

The fundraiser is to help pay to get Zoe to the Junior National Cross Country Ski Competition in Utah in March, 2018.

Fundraiser to help Zoe Noble go to the 2018 Junior Nationals
Cross Country Skiing Competition in Utah
February 28, 2018
Pinedale High School senior, Zoe Noble, age 17, has earned the opportunity to go to the Junior National Cross Country Skiing competition March 3-10, 2018 in Soldier Hollow, Utah. To help with the expenses of the trip, she is doing a raffle ticket fundraiser. Tickets are $10 each and the winner will win a delicious homemade pie, $25 gift certificate to the Wind River Brew Pub in Pinedale, and one free night stay at the Chambers House Bed and Breakfast in Pinedale, Wyoming. For a non-local winner, the pie and gift card will be mailed to them. Tickets can be bought at the Office Outlet in Pinedale or by PayPal at paypal.me/ZoeNoble.


Related Links