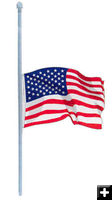 Flag Half Staff Notice

For victims of shooting at high school in Parkland, Florida on Wednesday, February 14, 2018.

Flag Half Staff notice – for victims of shooting at high school in Parkland, Florida
17 people killed on February 14th
February 15, 2018
Governor Matthew H. Mead, pursuant to President Donald Trump's Proclamation today (Thursday, February 15, 2018), has ordered both the U.S. and State of Wyoming flag be flown at half-staff statewide beginning immediately until sunset on Monday, February 19, 2018 as a mark of respect for the victims in Parkland, Florida.

Editor's note: On Wednesday, February 14th, a 19-year old man entered Marjory Stoneman Douglas High School in Parkland, Florida and shot and killed 17 people inside and outside the school. He was taken into custody without incident and taken to the local jail. He is charged with 17 counts of premeditated murder. Twelve additional people are in the hospital, 5 are in critical condition. No motive is known at this time for the attack. Victims were students at the school and the school football coach who reportedly died while shielding students from the hail of gunfire.