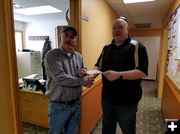 Donation to Fire Department

Tim Forrester (left), Superintendent of Maintenance from Enterprise Products (EPROD) gives a donation check to Michael Petty (right), Sublette County Unified Fire. Photo courtesy SCUF.

Sublette County Unified Fire receives donation from Enterprise Products
December 12, 2017
Sublette County Unified Fire recently received a $750 donation from Enterprise Product's Jonah Gas Gathering Asset.

"Sublette County Unified Fire Department would like to thank Enterprise Products for their generous contribution to the department," said Shad Cooper, Sublette County Unified Fire Chief

The Sublette County Unified Fire is a volunteer department comprised of six fire stations which provide many services to the residents of Sublette County. "Donations such as these not only help the department to provide their fire fighters with the tools, personal protective equipment and other resources needed for emergency response but to also continue the first class customer service provided to the county," the department media release said.

Sublette County Unified Fire offers a Smoke Alarm Installation program for about 50 homes per year in the community. They are targeting the following groups:

• Low income families
• Elderly
• Families with small children
• People with disabilities
• Others that are at high risk

This program to make smoke alarms and installation of smoke alarms in Sublette County homes has been sponsored free of charge by the Sublette County Commissioners and Sublette County Unified Fire in conjunction with grant support from Federal and State Agencies. They also provide free installation of carbon monoxide detectors for those who cannot afford to buy their own CO alarms. Call the local Sublette County Fire Prevention Officer for more information or to set up an appointment, (307) 367-4550.