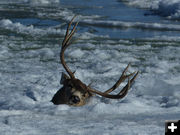 Frozen buck deer

This big buck fell through the ice and into the partially frozen New Fork River. He couldn't get back out, but managed to keep his head above the water. He died in the middle of the river with his head and magnificent antler rack sticking out of the frozen ice. Photo by Dawn Ballou, Pinedale Online!


Sad Ending
by Dawn Ballou, Pinedale Online!
December 17, 2017

This buck deer fell through the ice while trying to cross the partially frozen New Fork River in early December. He died frozen in the ice with his head still above the water, the accident likely having happened within the past day or two. He had a magnificent antler rack.

We waited to post this story and these pictures fearing someone would try to cross the dangerous ice to get to the antlers and become a second victim to the river, but we did report it to Wyoming Game & Fish. When we returned to that spot today, a week later to look again, the open channel of the river path had changed course going right through where he had been and he was gone, lost into the icy depths. One misstep and Nature proved she can be brutal and unforgiving.