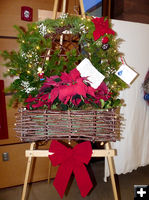 Sage & Snow Garden Club

Living wreath created by Carol Grimes and the woven basket was made by Pat Poletti. This wreath was one of the two top Fan Favorites.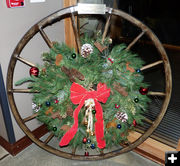 Gayle McMurry Kinnison Memorial Wreath

This special wreath is in honor of Museum benefactor Gayle McMurry Kinnison. Each year, the winning bidder could keep the wreath for that year, then had to redecorate it and bring it back the following year so it could be re-auctioned. Over ten years, it has raised more than $15,000 for the Museum. This wreath is being retired from the auction, but will be brought back for display each year.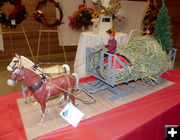 Hay sled

Toni David made and donated this unique hay sled wagon display. The horses are antiques of 1950s vintage. The wagon is filled with real hay and the rancher is bringing a Christmas tree tied to the sled back home for the family. This display sold for $550.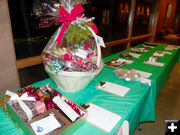 Silent Auction

Many delicious hand-made chocolate delights were donated for the silent auction for chocolates.


Pictures of this yearís wreaths
Museum of the Mountain Man 2017 Wreath & Chocolate Auction
by Dawn Ballou, Pinedale Online!
December 5, 2017

The Museum of the Mountain Man held their 24th Annual Wreath & Chocolate Auction on Friday, December 1st in the Lovatt Room of the Pinedale Library. The annual event is a fundraiser for the Museumís programs and events for the upcoming year.

Each year, members of the community create beautiful hand-made wreaths and holiday displays for the event, somehow managing to come up with even more gorgeous and grander creations than the year before. The artistic creativity and craftsmanship in these pieces is truly breathtaking. In addition to the live auction for the holiday wreaths, they also have a silent auction for home-made chocolate delights and other items. This year there were 35 wreaths and creations donated for the live auction and 23 silent auction items. Julie Early arranged the wreath for the display around the room,

The food and beverages were generously donated by 1st Bank, and the catering was done by The Den. Auctioneer for the event was Jay Fear.

The Museum of the Mountain Man and Sublette County Historical Society would like to thank the following people, organizations and businesses:

Sponsor
1st Bank

Auctioneer
Jay Fear

Top 3 Buyers
Jonah Energy
Dennis Trucking
Bank of Sublette County

Buyers
John & Jami Anderson
Bighorn Quality Construction
Josie Brown
Jon & Trudy Doak
Julie Early
Jim & Dereth Gehlhausen
Clint Gilchrist
Greenwood Law Office
Retta Hudlow
Jack Hunter
Ken Konicek
Maggie Miller
Janet Montgomery
Obo's Market
Annette Pape
Millie & Raina Pape
Norm & Barb Pape
Pitchfork Fondue
Albert Sommers
Jonita Sommers
Hort & Juli Spitzer
The Den
Maike Tan
Nicole Thiele
Rob & Nancy Tolley
Joy Ufford
Sandy Wanfalt
Brittany White
Zane & Chris White
Larry Zuckerman

Wreath & Chocolate Donors
Meg Alley
Mellisa Anderson
Bighorn Quality Construction
BOCES #1 After School Program
Bomgaars Supply
Toni David
Dennis Trucking
Sam Drucker
Julie Early
Jim & Dereth Gehlhausen
Green River Gear
Green River Valley Museum
Green River Valley Program
Interior Design and Visual Arts 4H Group
Jay Fear Real Estate
Jonah Energy
Lineback Design
Moose Creek Catering
Mountain Man Back Country Horseman
Northern Title Company
Obo's Market & Deli
Office Outlet
Annette Pape
Millie Pape
Pinedale Aquatic Center
Pinedale Roundup
Yvonne Primanis
Rio Verde Engineering
Rural Health Foundation
Sage & Snow Garden Club
Jeness Saxton
Quade Saxton
Aaron & Mindy Seehafer
Bev Sharp & Rachael Miller
Sandy Smith
Melita Snow
Sherry Snyder
Stained Glass Sundays
Don Strube
Sublette Examiner
Rob & Nancy Tolley
Triple Peak Lodge
White Mountain Operating

Helpers
Jami Anderson
John Anderson
Dawn Ballou
Travis Bing
Jon Boroff
Sheryl Boroff
Julie Early
Jay Fear
Dereth Gehlhausen
Jim Gehlhausen
Jon Gibson
Clint Gilchrist
Ken Marincic
Casey Saxton
Jeness Saxton
Aaron Seehafer
Mindy Seehafer
Sandy Smith
Nancy Tolley
Rob Tolley
Betsy Watry
Jamie Wood