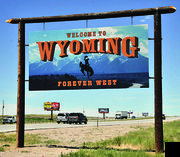 Decommissioned WYDOT sign

WYDOT auctioned off five decommissioned tourism signs. The auction netted $33,000 which will be used for future road improvement projects. WYDOT courtesy photo.


Sign auction nets WYDOT $33,005 for road improvement projects
by Wyoming Department of Transportation
October 11, 2017

Tiffany Gamble loves everything Wyoming. As a collector, she's always on the lookout for items with the famous bucking horse logo that represents her home state.

When she learned the Wyoming Department of Transportation (WYDOT) was auctioning five decommissioned Welcome to Wyoming signs, the Casper woman immediately placed a bid that won her a sign.

WYDOT raised about $33,000 from the auction, which will go back into the department's road improvement fund. For the five winners like Gamble, they not only helped put money back into road improvements, but they now own a piece of WYDOT's history.

Gamble already has plans for her sign. She said she will proudly display it at her Casper-based business, the Hat Six Travel Center.

"I'm not sure exactly where we'll put it, but I'm going to talk to my managers to figure out the best spot," said Gamble, who is the business advisor for the Hat Six Travel Center. "I know I want it to be displayed similarly to how it was on the interstate."

The auction marked the first time WYDOT gave the public the opportunity to bid on decommissioned signs. Previously, the department disposed of the signs by recycling them.

"The public was very excited in obtaining signs WYDOT is no longer using," said Gregg Fredrick, WYDOT's chief engineer. "We felt the auction would provide the best and fairest way possible for the public to own a piece of WYDOT's history. These signs are unique aspect of transportation because they welcomed visitors to our state every day."

The five, 8-by-4-foot aluminum signs came from different parts of the state. The department changes the welcome signs whenever the state issues a new license plate. The state changes its license plates every eight years, and the Welcome to Wyoming signs typically last about the same time. After that, the signs need replacement because of normal wear and tear.

Like Gamble, Rick Mollner has plans for his signs. Mollner, of Appleton, Wisconsin, placed successful bids on two signs.

"I really love everything western, and I consider these western art," Mollner said. "I may put one in my driveway and another in my garage."

WYDOT officials aren't sure when there will be another sign auction. If there is another one, WYDOT will again hold it at http://www.publicsurplus.com/sms/wyoming,wy/browse/home, which is on the state's public surplus website.