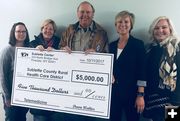 $5000 donqtion

L to R: Dawn Walker, Patty Racich, Dave Racich, Amanda Key, Brandi Stallman. Photo courtesy Sublette County Rural Health Care District.


Rural Health Care District gets $5,000 donation for telemedicine
by Sublette County Rural Health Care District
October 15, 2017

The Sublette Center, in collaboration with the Rural Health Foundation, presented a $5,000 donation to the Sublette County Rural Health Care District this month. The donation will help with connectivity fees and neurology fees for the District's Telestroke Program allowing the only FDA-approved medicine, Tissue Plasminogen Activator (tPA), to be administered in SCRHCD Emergency Room.

This medicine helps dissolve the clot, restores blood flow, and improves function when given early. Regional affiliate, Eastern Idaho Regional Medical Center, will supply the tPA.

The Telestroke Program will be connecting with Board Certified Neurologists from the Swedish Medical Group and Blue Sky Neurology of Denver, Colorado during a stroke alert. "Timing is very important when treating a stroke in our emergency room," said Amanda Key, Practice Manager for SCRHCD. "This is the most cost effective way to offer telemedicine that can help save time and save lives. We could not offer a more genuine thank you to the Sublette Center for their support on this very important health care service for our rural communities."