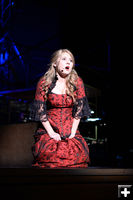 Nancy

Sage Albrecht plays Nancy

More photos from Oliver!
October 31, 2017
Arnold Brokling has shared his photos from the recent performance of 'Oliver!' Contact Arnie at 307-749-8231 or http://www.arniebrokling.photo, or email abrokling@centurytel.net for information about reprints.

"Oliver!" was performed October 26, 27 and 28, 2017 in the Pinedale Auditorium as a production of the Pinedale Community Theatre. Books, music & lyrics by Lional Bart. The performance had 44 cast members, 24 students. Participants ages ranged from 8 to 82. Total participants including cast, crew, parents and spouses: 200+. Two families had four cast members in the performance. Two families had three cast members each. The Pinedale Community Theatre operates under the Pinedale Fine Arts Council and their non-profit organization.

Directed By: Mark Hennessy

CAST:
Oliver Twist: Kyle Donaldson
Artful Dodger: Parker Donaldson
Fagin: Curt Haws
Bill Sikes: Rhett Breedlove
Nancy: Sage Albrecht
Mr. Bumble: Greg Allen
Mini-Bumble, Ensemble: Toby Allen
Widow Corney, Ensemble: Jocelyn Moore
Mr. Sowerberry, Ensemble: Scott Kosiba
Mrs. Sowerberry, Ensemble: Kim Buchanan
Charlotte, Ensemble: Megan Anspach
Noah Claypole, Lamp Lighter, Ensemble: Jaxon Buchanan
Bet, Ensemble: Jamie Espeland
Mr. Brownlow, Ensemble: Ian McCusker
Dr. Grimwig, Hussar, Ensemble: Matt Daniels
Chairwoman, Ensemble: Ritamarie Martin
Matron, Ensemble: Sarah Murdock
Mrs. Bedwin, Ensemble: Mae Orm
Bow Street Runner, Ensemble: Shawn Buchanan
Delivery boy, Bow Street Runner, Ensemble: Logan Bing
Circus, Ensemble: Cassidy Bateman
Circle, Ensemble: Preslie Simkins
Quartet/Ensemble: Sabrina Donaldson, Adrianna Ruby, Chayla Saxton, Sawn Buchanan
Jester: Frances Cuprill
Uni-cyclists: Dan Stewart, Aaron Stewart, Trevor Moritsch
Orphans/Fagin's Gang: Ruben Allen, KaLee Bohnet, Miranda Bousman (Nipper), Eva Collins, Zeman Collins, Adrianna Daniels, Noah Daniels, Delaney Day, Travis Donaldson, Adrienne Jones, Otis Leniger (Charlie Bates), Nolan Orm, Sydney Wise (The Captain), Konner Ziegler

PRODUCTION STAFF:
Director/Choreographer: Mark Hennessy
Musical Director/Conductor: David Dyer
Choreographer: Jason Celaya
Choreographer: Jamie Espeland
Vocal Coach/Rehearsal Musical Director: Candy Herda-Scott
Rehearsal Musical Director: Valerie Lee
Stage Manager: Jenn Burton
Sound Engineer: Dave Rice
Assistant Sound Engineer: Josh Davis
Lighting Design: Doug Vogel, Mark Hennessy
Tech Crew: Kari DeWitt, Jenn Burton, Bethany Essington, Patrick Rookus, Rachel Allen, Josh Davis
Student Assistant Stage Manager: Bethany Essington
Spot Operators: Thane Daniels, Riley Murdock
Makeup/Hair Designer: Margie Nystron
Makeup/Hair Team: Madeleine Robicheaux, Renate Linn, Jamie Espeland, Chayla Saxton, Caleb Campbell, Bethany Essington
Set Design: Madeleine Murdock, Mark Hennessy, Sharron Ziegler
House Manager: Kari DeWitt
Set Construction: Dave Carney, Doug Hudlow
Props: Elaine Crumpley
Scaffolding Maestros: Van Huffman, Jack Hegardt, Chad Mitchell, Dave Rouge, Casey Saxton, Ben Davis, Justin Sanders, Ty Roberts, Tanner Roberts
Agnes Brownlow Portrait: Martha Ptasnik, Dawn Ballou, Kristy Sims, Valerie Lee
Costumes: Mary Brodie, Cyndee Alfrey, Joni Mack, Kristy Sims, Barb Hartwick, Jo Crandall, Barb Burrough, Connie Berry, Preslie Simkins,
Auditorium Director: Patrick Rookus
Rehearsal Pianists: Marianne Mrak, JJ Huntley
Apprentice Accompanists: Oakley Preece, Landon Preece
Orchestral Arrangements: David Dyer
Program Design: Tesa Manning
Web Design: Tim Ruland
Photography: Matthew Daniels, Sharron Ziegler, Thane Daniels

ORCHESTRA
Conductor/Musical Director: David Dyer
Violin: Chandra Stough
Cello: Karin Loya
Piccolo, Recorder, Flute: Sue Holz
Trumpet, Flugelhorn, Clarinet: Justin Smith
Trumpet: Craig Sheppard
Baritone, Tuba: Luke Myszewski
Percussion: Katie Smith
Piano: Marianne Mrak
Piano: David Dyer

A special thank you also to Sublette County School District #1, Board of Trustees and administration and staff, and Patrick Rookus – Auditorium Manager.

Funding partially provided by the Pinedale Fine Arts Council, Wyoming Community Foundation, National Endowment for the Arts, Wyoming Arts Council, and the Sublette County Rec Board, 1st Bank, Sonja and Jason Rife, Curt and Charisse Haws, Sue Holz, Leslie Hagenstein, Valerie Lee, Jo Crandall, Lakeside Lodge, Barbara and Les Burrough, Pinedale Natural Gas.